Local News - Rare Comics Arrive - New TPB and HC Shipments
Howdy!
I am having a hard time maintaining my composure this afternoon, as I spent all morning creating 200 cold weather survival kits, and then passing them out to the kids living on the streets around Urban Peak, and the elderly and disabled who were huddled up in the St. Francis Center. If you have ever personally tried to help alleviate the misery on the streets, you will know what I mean when I say that it is beyond emotionally gut-wrenching. Telling an eighty year-old woman with a cane that you are out of food bags, or a shivering 14 year-old boy that you have no sweater or jacket to give him, just rips the heart right out of you. No matter how hard I try, I have not been able to stop spontaneously crying.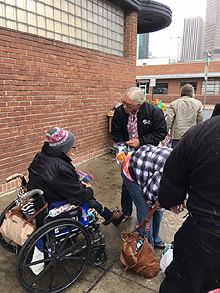 The number of disabled living on
the streets is beyond dismaying.

I am telling you about my feelings because I am hoping that it helps to illustrate for you the intense need for all of us to pitch in to help our less fortunate brethren. I am not asking any more from you than that you please take a look in your closet and see if there are any cold weather clothes that you might be willing to donate. We have donation boxes set up at all three of our Mile High Comics locations, and I promise you that I will personally deliver any items that you donate into the hands of people on the street. Today's cold front is temporary, but we already know that the seriously cold weather is just around the corner. I just cannot imagine the intensity of the hardships that will arise when the temperatures drop to -10...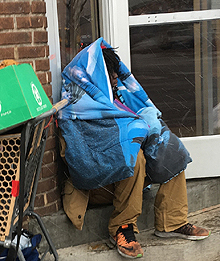 The snow had just begun falling
in earnest when we came across
this boy huddled against the cold.

On a much more upbeat note, our poker game last weekend was a resounding success, with our raising enough money to buy over 50 brand new fleece-lined hoodies to donate to the kids being helped by Urban Peak. We were also able to get these kids socks, scarves, gloves, and thermal underwear as a result of donations from our online clients. We will be donating these items to ICRME Empress 43 Norrie Reynolds at her gala Snow Ball on Saturday evening, beginning at 7 PM, at the Timbers Hotel (I-70/Peoria).
If you have never before attended a formal ball featuring drag queens performing in their finest gowns and jewelry, you are in for a treat. Please do arrive early, however, as our 200-seat ballroom is almost sold out. You can write to me personally for tickets at chuckrozanski@gmail.com. FYI, I have only four tickets left of the 64 seats that I purchased at my eight reserved tables, so please do get in touch ASAP. All performer tips and product donations received at the ball will go to Urban Peak and Rainbow Alley.
My only other news for today is a quick mention that the first of our really large holiday shipments of trade paperbacks and hardbacks have arrived at our stores. Jason St. has also been flooded with great collections of older comics. Below are just a few sample photos of what we have available for you right now.
Happy collecting!
Chuck Rozanski,
President - Mile High Comics, Inc.
November 17, 2016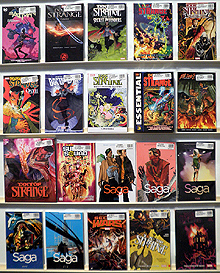 A few of the newly arrived trade
paperbacks and hardbacks.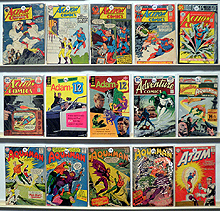 Comics From This Week's
New-In-Stock.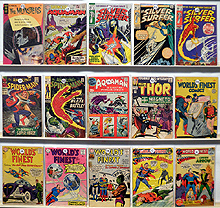 More Comics From This
Week's New-In-Stock.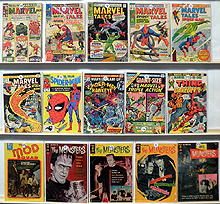 More comics From This
Week's New-In-Stock.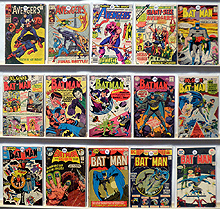 More comics From This
Week's New-In-Stock.

Mile High Comics - Jason Street Mega-Store


Mile High Comics Retail Store Locations