Comics For Socks and Underwear Donations
Howdy!
Have you ever lived in a car? I did for four months in 1974, when I was trying to raise the working capital to open my first comic book store. I came from a family of limited means (i.e. we were among the almost poor...), so my only option to attend comics shows that year was to borrow my mom's old 1963 Chevy Impala, and to sleep in the back seat. I wasn't in the car every night, as I also couch surfed, slept in apartment building hallways, on picnic tables in public parks, and (when I was really lucky) on the floor in someone's hotel room at a convention. I did not really consider myself to be homeless during those four months, but by all current definitions, that was exactly the case.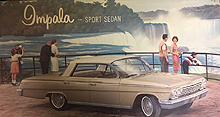 My 1963 Chevy looked almost
identical to this 1964 version.

I mention this bit of my personal history because it helps to explain why I am so dedicated today to doing whatever I can to help the less fortunate. I have had the personal experience of sleeping in a car when it was below freezing (Minneapolis, May 1974), so I am well aware of how bone-chilling that it can be. That having been said, our first cold front is supposed to arrive here in Denver tomorrow, with a low tomorrow night of 21 degrees (-6 C). By the City of Denver's best count, there are 1,000 - 1,200 children, teens, and young adults who will have no choice but to try and find some sort of improvised shelter. Many will not succeed, and will have to sleep in cars, under bridges, in alleys, and on the sidewalk near the Urban Peak shelter. Sadly, only 60 kids can be protected in the actual shelter, as that is their limit. The rest will have to fend for themselves.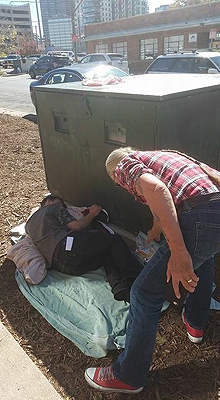 Kids sleeping outside of Urban Peak

The good news is that our benefit poker game here last Saturday allowed me to purchase 50 brand new fleece-lined hoodies yesterday at our local Costco. Our benefit comics auction of the previous Saturday provided the funds for 300 pairs of brand new cotton gloves. And our incredibly generous friend, John Paul of New Jersey's Pug Productions, sent us 240 new scarves. I am combining those three elements together into 50 gift bags that we will be presenting to Urban Peak at Saturday night's Snow Ball. That will give them a warm clothing safety kit that they can pass out to kids that they have to turn away because of a lack of beds in the shelter. It is far from enough to help all of the kids in need, but it will definitely make a difference.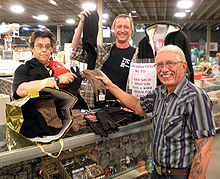 Our survival kit for homeless teens

The reason that I mention this donation is that an am now looking for funds to buy socks and thermal underwear to include in these gift bags. Many of the kids living on the streets have torn up shoes, and when the snow comes, their socks get soaked. Having a reserve pair of socks is critical. The long johns are also quite important to those sleeping outdoors. Five homeless men froze to death last winter in Denver, and many more had toes amputated due to frostbite. I do not want any of these kids to suffer that same fate.
If you would like to contribute to my socks and underwear fund, please order a $25 Mile High Comics gift certificate from us. We can either send you a physical certificate, or we can e-mail you a registration number that you can use with your next order. You will receive full value from us for your $25 donation, while we will dedicate 100% of your donation to the Snow Ball charities of Urban Peak and Rainbow Alley, both of whom help Denver teens in need. I am personally providing all of the comics and books that are redeemed by these certificates, as I think it of paramount importance that we get these desperate kids some warm clothes before the weather turns really bitter.
For those of you who have already donated, I want to sincerely thank you for providing enough funds to make ICRME Empress Norrie Reynolds Snow Ball a wonderful success. I do not yet have a final figure from the existing donations, but I am certain that we will be able to also provide Urban Peak and Rainbow Alley with a very helpful cash donation on Saturday evening. FYI, I am estimating that we will have about 150 people who have qualified for the drawing for the $1,000.00 Mile High Comics shopping spree that we will be giving away. Everyone who purchases a $25 gift certificate by Saturday will be entered into this drawing.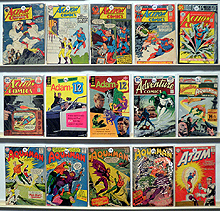 Comics From This Week's
New-In-Stock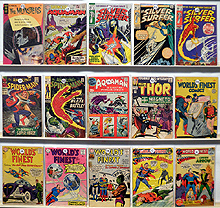 More comics From This
Week's New-In-Stock

I will close today's newsletter with a bit of comics news. While my awesome assistant, Will Moulton, is on a well-deserved vacation this week, Pam is continuing to buy amazing collections that have been walking in the door here at Jason St. Today's Premium New-In-Stock link is yet another in an ongoing series that have boosted the size of our core website inventory by over 230,000 comics during the past six months. If you could, I would really appreciate it if you could take the time to peruse our website for bargains that would look great in your collection. I slashed all of our prices for you three weeks ago by 50%-70% off, which was an action that has been drawing rave reviews from our longtime fans. Please take a fresh look, and I think that you will be pleasantly surprised. Your help and support today will allow us to continue to provide you with great deals for years to come.
Happy collecting!
Chuck Rozanski,
President - Mile High Comics, Inc.
November 16, 2016

You can request in the "notes" that one of the great comics and books listed below be included in your order for free for every $50 you spend with us during this holiday season. These gifts are our way of thanking you for your kindness and support during all of 2016. Please enjoy...
Free Comics for every $50 you spend
(Just put the title in the "notes" section of your order)

AMAZING SPIDER-MAN (1999) #1 in Near Mint
Only $9.95


AVENGERS ANNUAL (1967) #4 in Fine
Only $9.95


BATMAN (1940) #610 in Near Mint
Only $9.95


CAPTAIN AMERICA (1968) #132 in Fine
Only $9.95


GI JOE #27 2nd Print in Near Mint
Only $9.95


STAR WARS (1977) #10 in Very Fine
Only $9.95


STAR WARS (2015) #1 MCLEOD cover in Near Mint
Only $9.95


STRANGE TALES (1951) #155 in Very Good
Only $9.95


UNCANNY X-MEN (2013) #1 DEADPOOL Cover in Near Mint
Only $9.95


WALKING DEAD (2003) #75 SDCC 2010 Cover in Near Mint
Only $9.95


WALKING DEAD (2003) #115 NYCC Cover in Near Mint
Only $9.95


X-MEN ANNUAL (1970) #6 Newsstand in Near Mint
Only $9.95

Free Trade Paperbacks for every $50 you spend
(Just put the title in the "notes" section of your order)

ARANA VOL. 1: HEART OF THE SPIDER DIGEST TPB (MARVEL) (2005) #1
Only $9.95

BLACK PANTHER: CIVIL WAR TPB (2007) #1
Only $9.95

BUGS BUNNY & FRIENDS: A COMIC CELEBRATION TPB (1998) #1
Only $9.95

DARK REIGN: ELEKTRA TPB (2009) #1
Only $9.95

DARKNESS VOL. 5: DEMON INSIDE TPB (2006) #1
Only $9.95

ESSENTIAL SAVAGE SHE-HULK TPB (2006) #1
Only $9.95

FATHOM TPB (2002) #1
Only $9.95

HEROES REBORN: THE RETURN TPB (2009) #1
Only $9.95

MIGHTY AVENGERS: SECRET INVASION BOOK II TPB (VOL. 4) (2009) #1
Only $9.95

NAM TRADE PAPERBACK (1987) #3
Only $9.95

PUNISHER WAR JOURNAL: GOIN OUT WEST (VOL.2) TPB (2008) #1
Only $9.95

SPIDER-MAN: FAMILY TIES TPB (2009) #1
Only $9.95

THOR VS. HERCULES TPB (2010) #1
Only $9.95

ULTIMATUM: MARCH ON ULTIMATUM TPB (2009) #1
Only $9.95

WOLVERINE: FIRST CLASS - ROOKIE TPB (2008) #1
Only $9.95

X-MEN: DIVIDED WE STAND TPB (2008) #1
Only $9.95