Last Week to Win $1,000 Comics Shopping Spree
Howdy!
I want to begin today by mentioning that Pam and Will Moulton have been adding large numbers of newly arrived comics into our website inventory for you all of this week. Take just a minute to view our weekly New-In-Stock and Premium New-In-Stock listings, and I think that you will be quite impressed. I would caution you, however, to go ahead and order any comics that you might want in those listings right away, as our New-In-Stock items are often one-of-a-kind, and oftentimes sell out quickly.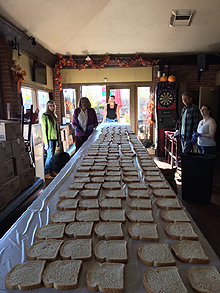 Getting the assembly line ready to make sandwiches

In other news, I spent 12 hours over the past two days working as a volunteer for "Feeding Denver's Hungry." This is an awesome grass roots organization (staffed entirely by volunteers) that purchases donated food in bulk at steep discount at the Food Bank of the Rockies. We then repackage our purchased case lots of protein bars, cookies, crackers and other lightweight snacks into one gallon zip-locks, and then add delicious sandwiches that we prepare that morning in donated space at Li'l Devils bar.
At lunchtime, we then distribute our hundreds of lunch bags to the homeless and disabled people living on the streets in lower downtown Denver, along with a selection of fresh fruit, hard boiled eggs, yogurt, and juice. Since we are all volunteers who work elsewhere, we can only perform this service twice a month, but I can assure you that our efforts are still very much appreciated. We had an orderly line of hungry people form yesterday that emptied our trucks of over three tons of food in just under 30 minutes. It was very hard work, but the tearful gratitude and appreciation that we received from those desperately poor people made it all worthwhile.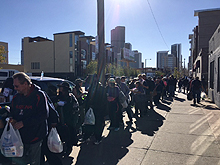 The line of people looking for food

All of the above having been said, we have one week remaining in my latest offer of $25 donations being made to the poor in exchange for your purchasing a $25 gift certificate from us. This donation essentially costs you nothing, as we reimburse you immediately with a certificate at 100% of the cost of your contribution. We can either mail you a paper gift certificate, or e-mail you a registration number that you can utilize with your next order.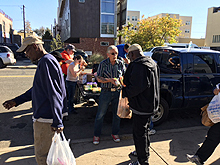 Handing out food to those in need

In addition to getting your money back on your gift certificate, you will also be entered into a drawing once for each $25 that you donate for a $1,000.00 Mile High Comics shopping spree. I am personally providing all of the comics and books to recompense you for your gift certificate cost, and also the $1,000.00 prize for the drawing, because I think it of paramount importance that we do whatever we can right now to help the estimated 9,500 people living on Denver's streets. Bitter cold weather is coming, and I want to do whatever I can to help them.
That is why we are also requesting that those of you who live in Denver please drop off any surplus hats, coats, sweaters etc. at any of our stores. I cannot emphasize enough how much we really need your clothing donation. According to the Denver Post, five homeless people froze to death in Denver last winter. Need I say more?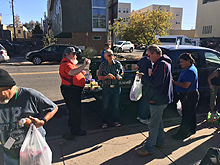 Trying to help out as many as we can

I will close with a sincere Thank You! to my good friend, John Paul, of Pug Productions. John sent us a case of 240 brand new scarves today that we will be passing out to homeless teens. John has been putting on one day comics shows in Northern New Jersey for over 30 years, with my favorite being his awesome Clifton event, and his Hasbrook Heights show running a close second. I highly recommend visiting any of John's shows for a completely enjoyable day.
Happy Collecting!
Chuck Rozanski,
President - Mile High Comics, Inc.
November 11, 2016

P.S. Below are an array of photos of comics that Will and Pam just added into our inventory for you. We are +200,000 comics on our website since just last January! With all of our prices lowered, there are some simply incredible deals to be had on our website.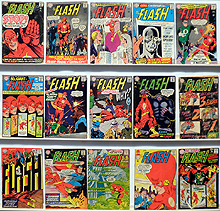 Some of the Flash comics put on the last couple weeks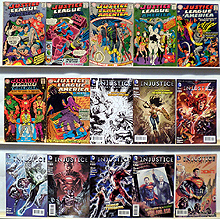 Some of the Justice League & Injustice comics put on the last couple weeks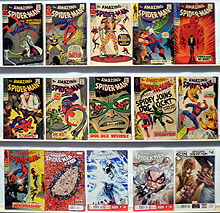 Some of the Spider-Man comics put on the last couple weeks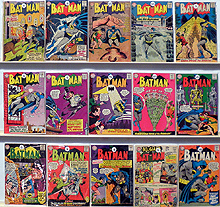 Some of the Batman comics put on the last couple weeks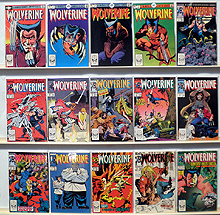 Some of the Wolverine comics put on the last couple weeks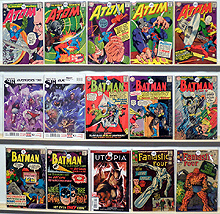 Some of the Misc comics put on the last couple weeks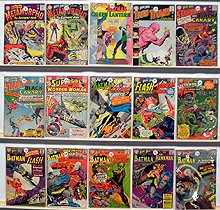 Some of the Brave & the Bold comics put on the last couple weeks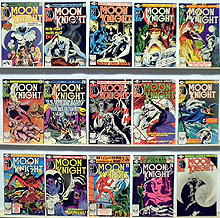 Some of the Moon Knight comics put on the last couple weeks