We're Buying Comics - Poker Tournament This Saturday
Howdy!
I will begin today by letting you know that we are getting a handle on our small shipping backlog that was prompted by our recent decision to lower all of our website comics prices. The picking tickets that Lynne ran this morning included all orders received through Saturday, so we should be completely current again by midweek. If you had an order that took a couple of days longer than normal to ship, we thank you for your patience.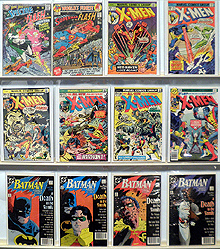 A few of the comics entered in the last couple weeks.

Similar thanks are also due to our many new comics subscribers, as that area has also recently experienced some delays. We have shifted staff to help our subscriptions team to also catch up, and have hired three new staff members in the last two weeks. In all honesty, this is the first time in my memory that business has been so strong during this time of year that we have ever had to add staff in November. That's a great sign for the upcoming holiday season!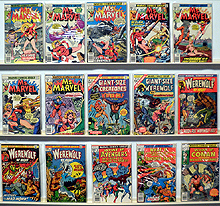 Some more comics from the Nebraska Collection

In other news, Will and Pam have been continuing to purchase very nice collections of older comics and trade paperbacks. Our New-In-Stock and Premium New-In-Stock links reflect some of these purchases, but even more good books are waiting in the wings. One thing that we have been noticing, however, is that quite a few of our items that we are listing in New-In-Stock are selling almost right away due to our extremely low pricing. That most certainly makes it more of a challenge for me to keep us well stocked...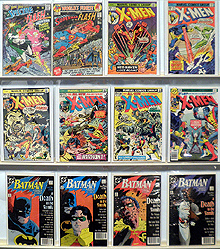 Even more comics from the awesome collections

All of the above having been said, I am departing from tradition by planning a buying trip to the East Coast for early December. This is normally a time of year when we are focused almost entirely on filling holiday orders, but two major collections have been offered to me, so I'm going to be booking my tickets to Newark this afternoon. If you know of anyone else living in the upper East Coast who might be interested in having me stop by their home to consider purchasing a collection of comics, books, toys, etc., please have them contact Will Moulton via moulton@milehighcomics.com. Will can then see if he can arrange room in my schedule on this trip. I am currently booked to look at collections in New Hampshire and Philadelphia, and to visit stores in the Boston area and Allentown, PA.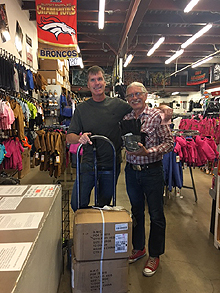 Chuck and Ron Borho, manager of the Army and Navy Surplus

I will close today's newsletter by sincerely thanking everyone who supported my efforts to help Denver's burgeoning homeless population, either by purchasing a $25 gift certificate, or by just placing an order with us. I picked up our first shipment of 300 pairs of lightweight gloves this morning at the Army and Navy Surplus store on N. Pecos, and used $207 from this weekend's donations to order another 300 pairs.
So you know, that first shipment of gloves will be donated to Urban Peak and Rainbow Alley at Norrie Reynold's upcoming Snow Ball (both of those organizations help homeless teens), while the 300 pair that I ordered this morning will be handed out on Thanksgiving morning to elderly and disabled homeless folks by the awesome volunteers from Jim Scharper's Feeding Denver's Hungry organization. It is still unseasonably warm here during the days, but our colder nights are harbingers of the winter weather about to hit us. Thank you for your kind assistance.
Happy Collecting!
Chuck Rozanski,
President - Mile High Comics, Inc.
November 7, 2016

P.S. If you live anywhere near Denver, and would like to have a really fun time on Saturday morning, our special Texas Hold'em Poker Tournament for Snow Ball Charities will be this Saturday, commencing at 11 AM. I have personally put up $2,000.00 in Mile High Comics gift certificates as prizes. It essentially costs you nothing to play in our tournament if you register at any of our stores before the day of the game, as we immediately give you a $25 gift certificate in exchange for your $25 entry fee. Our last major tournament had 56 players, and we are hoping to top that number on Saturday. All proceeds will be donated to Norrie's Snow Ball charities of Urban Peak and Rainbow Alley.