Local News - $1,000 Comics Poker Tournament and Comic Book Gift Certificates
Howdy!
Does anyone have any size 11 men's shoes that they can spare? I ask because I spent this morning volunteering with Jim Scharper's "Feeding Denver's Hungry" organization. We not only passed out meals today, but also hundreds of donated hats, scarves, gloves, sweaters, and jackets. About midway through our clothing giveaway, a young man of about 16 years of age approached us, and politely asked us if we could help him find a pair of shoes. I looked down, and was shocked to observe that this desperate boy was out on the streets in only a pair of broken down old house slippers.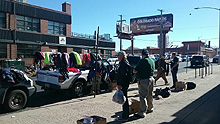 Laying out the clothes to giveaway.

Suffice it to say, it took all the emotional strength I had to not break down and start crying on the spot. I have no idea what circumstances forced this gentle young man to leave home and live on the streets, but that really doesn't matter. All that I care about at this point is that I want to get him a pair of shoes. If you could drop off a pair of men's size 11 shoes (or boots) at any Mile High Comics location, I promise you that I will track this young man down, and make sure that he no longer has to wander the streets in his house slippers.
All of the above having been said, I want you to know that this young man's plight is by no means unique. Handing out food and clothes in lower downtown Denver brings one face-to-face with dismaying levels of extreme poverty and desperation. I have helped people as young as their early teens, and as old as their eighties. The one commonality that I have experienced is that the people that we serve are all genuinely grateful for the help that we bring them, and send their personal blessings to everyone who has contributed to making their lives just a little more tolerable.
If you would like to help me in my efforts, I have a couple of suggestions:
First, please drop off any spare warm weather clothing, boots, and individual toiletries (the little ones like they give you at hotels...) that you might have available at any one of our three Mile High Comics locations. I am gathering clothing donations right now for Urban Peak and Rainbow Alley, both of whom serve homeless and abused teens. I will be presenting these donations at this year's Snow Ball, which is the Empress of the Imperial Court's annual Christmas fundraiser. Nearly 500 readers of this newsletter voted for this year's Empress, Norrie Reynolds, and I am hoping that those of you who supported her will especially take the time to help her in her laudable charitable efforts.
Second, if you would like to make a small cash donation, please order a $25 Mile High Comics gift certificate through our online store. If you want to use that certificate in one of our stores, we will mail you a paper certificate. If you want to use your certificate through our online store, we will e-mail you a registration number you can use with your next order. Either way, we will donate 100% of your $25 purchase to this year's Snow Ball.
Third, we will be hosting a major Texas Hold'em poker tournament at our Jason St. location on Saturday morning, November 12th. The tournament begins at 11 AM, and should last about 3 hours. First prize is a $1,000.00 Mile High Comics shopping spree, with $1,000 in additional prizes for 2nd-6th. Cost to enter is $25, but if you register in advance at any of our stores, you will immediately receive a $25 gift certificate that will completely offset your cost of playing in the tournament. All proceeds from our tournament will also be donated to Snow Ball.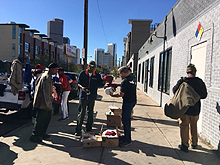 Trying to find something to keep them warm.

Finally, you could actually join us in making lunches and passing them out. Our next food giveaway is next Thrusday, November 10th. We begin by making sandwiches at 10 AM at L'il Devils bar, Broadway and Alameda. We then pack thousands of granola bars, cookies, etc. into 800 one-gallon ziplocks, and hit the streets by noon. We are generally done by 1 PM. It is emotionally difficult to hand out food, but it most certainly humanizes the homeless crisis when you can personally provide a meal to another human being who is in desperate need. We will also be making and distributing meals on Thanksgiving morning...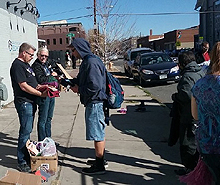 Chuck and Jim handing out clothes.

I will close today's newsletter by thanking you for reading, and for just being a part of our Mile High Comics family.
Chuck Rozanski,
President - Mile High Comics, Inc.
November 3, 2016

Mile High Comics - Jason Street Mega-Store


Mile High Comics Retail Store Locations