$1,000 Mile High Comics Shopping Spree
Howdy!
I just finished a brief staff meeting, during which Pam surprised me by letting me know that she was retaining over 50% of the "bulk" comics from my recent purchase in Las Vegas. Pam doesn't keep deep stock on comics for our online system unless we clearly have a use for them in a relatively short period of time, so it was quite gratifying to hear that some many of the Las Vegas issues were deemed to be useful. That one warehouse accumulation contained over 100,000 back issues, so it is definitely heart-warming to know that I achieved so much good for the company with my purchase.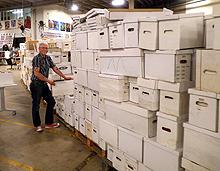 Chuck going through the 300,000 comics

In case you are wondering, the actual goal of my purchasing that truckload of comics in Las Vegas was for us to obtain the seller's 12,000+ Silver Age and Bronze Age issues. Those older issues are also being sorted and graded right now, which explains why we are posting a steady stream of very nice 1960-1985 comics to our website. Most are priced very low right now, so I recommend viewing our overall New-In-Stock link to see the broadest spectrums of new additions. Premium New-In-stock is much smaller these days, mostly because we drastically lowered our prices on over 500,000 different issues...
Speaking of lowered prices, we are experiencing such steady growth in orders being placed on our website since we slashed all of our prices, that we are reversing the normal seasonal trend, and actually putting out word that we are hiring. If you know of anyone in the Denver area who has comics knowledge and is seeking employment, please have them stop by Jason St., and fill out an application. Our inexpensive website prices are causing a real boom in our business!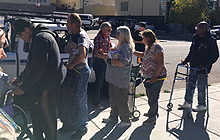 Disabled homeless people seeking food.

In other news, I am working today with our master videographer, Chris Brunn, to shoot a YouTube video for you that provides you with documentation of our efforts to help the estimated 9,600 poor and desperate people who are currently living on the streets of lower downtown Denver. Included in this video will be footage of my handing out bags of food on the street, and an interview with Urban Peak representative, Joshua Zmroczek. Joshua and I have been friends for several years, as we have both been working to help our urban poor. This video will be edited overnight, and should be available for you to view on Friday.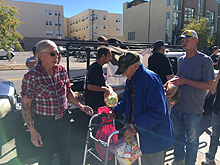 Chuck helping a man with a walker

In case you missed my earlier announcements, I am giving away thousands of dollars in comics right now to help the poor. The initial giveaway begins when you place an order with us for a $25 Mile High Comics gift certificate. We will either mail you the certificate, or e-mail you the registration number on the certificate (whichever you prefer, please just put it in the ìnotesî section...), and you can then use that $25 at full value on your next order with us. In the meantime, I will donate 100% of the money from your certificate(s) to the Imperial Court of the Rocky Mountain Empire, a local 501-C3 of which I am a leader. Simply put, the ICRME exists only to raise money for other registered charities, which in this instance are Rainbow Alley who works closely with Urban Peak. Our Empress for this year, Norrie Reynolds, is putting on a gala ball (Snow Ball) on November 19th, and she chose Rainbow Alley and Urban Peak as her beneficiaries.
So you know, both Rainbow Alley and Urban Peak seek to help Denver's homeless teens. There are approximately 1,000-1,200 homeless young people in Denver today, but only 40 beds reserved for teens. There are many more beds for homeless adults, but I can assure you that traditional homeless shelters are far too dangerous for teens. That means that a discouraging number of our homeless youth are having to seek shelter each night in alleys, hallways, and public parks. That is a barely tolerable situation right now, as our weather is still temperate, but I am sincerely worried about what will happen to these kids when the temperatures drop below zero. Many are new to the streets, and have no idea about the dangers of hypothermia and frostbite...
All of the above having been said, the comics, magazines, and books that you are receiving from us when you redeem your $25 gift certificate(s) are coming directly from me. I personally own all of Mile High Comics, so I still have the latitude to make the personal decision to give away some of my inventory for the greater good. That is why I am also offering everyone who contributes $25 toward a gift certificate one entry into a very special drawing for a $1,000 shopping spree at Mile High Comics for every $25 that they contribute. We had only 151 entries for the $1,000 drawing last month, which made the odds of winning this awesome shopping spree rather good for everyone.
I will close today's newsletter by mentioning that those who know me well can tell you many stories about just how dearly I love all of my comics. But, if giving up a few of my comics and/or books results in a young person not freezing to death this winter, or losing toes to frostbite, then I'm OK with giving up a few comics. If you can, please purchase a $25 gift certificate from us over the next few days. The weather is about to turn, and I want to have the resources to help as many kids as I can.
Happy Collecting!
Chuck Rozanski,
President - Mile High Comics, Inc.
November 2, 2016