Free Amazing Spider-Man #102 in Good
Howdy!
As word has spread throughout the Internet about our decision to radically lower our website prices, our online sales have been growing by the day. What pleases me the most about this trend is that we are not only inspiring new clients, but also experiencing an amazingly positive response from our existing fans. In retrospect, I guess that I should have gone ahead and slashed all of our comics prices long ago. While our codeword sales were quite popular, what we are now experiencing is much, much better.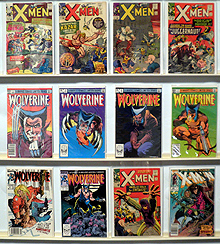 Comics from the Nebraska Collection

For those of you who have placed orders with us during this past week, I need to ask you to please be patient as we ramp up our fulfillment capabilities to handle this sudden increase in our business. We're only a couple of days behind right now, but given that we were shipping most orders within 24 hours up until last week, I thought I would at least mention that we're having to adjust. Thank you for your understanding.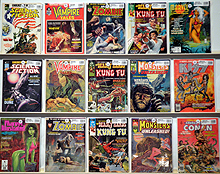 Some of the Magazines from the California Collections

In other news, my offer of free entries into a drawing for a $1,000.00 Mile High Comics shopping spree inspired another 20 fans to order $25 gift certificates from us over the weekend. If you missed my earlier announcement, I am offering this $1,000 shopping spree in order to raise money to support Empress 43 Norrie Reynolds' Snow Ball charities. Norrie's wonderful ball will be held on Saturday night, November 19th, and Norrie has chosen Urban Peak and Rainbow Alley as her designated beneficiaries.
In case you're wondering, Urban Peak is an awesome Denver organization that specializes in helping all of our homeless teens with food, shelter, and job searches. Rainbow Alley works closely with Urban Peak to help address the specialized needs of the LGBTQ youth that comprise about 40% of the 1,000+ teens currently forced to live on Denver's streets. Together, these two wonderful organizations work diligently to keep kids from dying from exposure in Denver's harsh winter weather, or losing fingers and toes to frostbite. Thanks to their efforts no kids died on Denver's streets last winter, but we did have five of our homeless adults freeze to death. That is why I will be working to help our homeless all winter...
As regards how you can be entered into our drawing for the $1,000.00 shopping spree, just order one or more $25 gift certificates from us, and we'll enter you into the drawing one time for each $25 increment. I will then use your money to support Norrie's Snow Ball, with all of the net proceeds from the ball evenly divided between Urban Peak and Rainbow Alley. The drawing will be held at Snow Ball, on November 19th. In the meantime, you essentially get 100% of your donation back, as your gift certificate (or certificates) are just like cash which can be used to buy anything that we offer on our website. Any help that you could provide us in helping these desperate kids would be most appreciated.

AMAZING SPIDER-MAN (1963) #102

I will close today's newsletter with a special giveaway offer for you. Thirty-one years ago I purchased the legendary Mile High II collection of 1,800,000 Silver Age and Bronze Age comics. Three decades later, I am down to my last few comics from that awesome collection, but not quite entirely out. To be specific, I have a few copies left of AMAZING SPIDER-MAN (1963) #102 in Good condition, featuring the first appearance of Morbius. Place any minimum $50 order with us this week, and you can the request a free copy of AMAZING SPIDER-MAN (1963) #102 in Good be included with your order. Just let us know in the "notes" that you would like a copy. Offer ends when we run out, or Friday at noon, whichever comes first...
Happy Collecting!
Chuck Rozanski,
President - Mile High Comics, Inc.
October 31, 2016