Local News - Huge Auction this Saturday
Rare Undergounds, Frazetta, Silver Age Comics
Howdy!
We had an amazingly eclectic collection of older material arrive at Jason St. today, including rare first printing Underground Comix, MAD MAGAZINE Specials, BATMAN cars, PENTHOUSE Comix, British weeklies, and much more. At least 100 of these cool items will now be included in this Saturday's auction, all at no minimum bid! These awesome collectibles are in addition to the 500+ items that we had already chosen to auction, including a very rare autographed Ray Bradbury hardback, and a signed Frank Frazetta KUBLAI KHAN portfolio. If you can at all take time from your schedule to visit Jason St. on Saturday morning, I think that you will be very pleased by the remarkable bargains that you pick up in our auction. The auction begins at 11:30 AM.
While our own items in the auction are quite remarkable, we are still very much seeking additional donations of unwanted comics and collectibles for the charity portion of our auction. In case you were unaware of how our auctions function, we alternate between our own items, and those that have been donated. Our donated items are always sold under the auspices of the Imperial Court of the Rocky Mountain Empire, a registered 501-C3 charity. In this instance, we will be selling donated items for Empress 43 Norrie Reynolds' Snow Ball charities, which this year are Urban Peak and Rainbow Alley. Both of these wonderful organizations help desperate teens who are living on Denver's streets with finding both food, and shelter.
As regards what will be done with the money that we generate from donations, I located a kindly clothing retailer who has access to light pairs of cotton gloves for $1 each. My goal is to raise $300 on Saturday morning from donations, and then use that money to purchase 150 pairs of gloves to be given away at Urban Peak, and another 150 pairs to be given away at Rainbow Alley. It will take about two weeks for these gloves to arrive, so I figure that's just about perfect timing for when the first of the cold weather will arrive. Frostbite is a real concern among the homeless, but especially among teens who have never before spent a winter outdoors. Without our help, I am afraid that more than a few of these at-risk kids will suffer serious injury.
In addition to comics and collectibles donations we are seeking for our auction, we are also seeking warm clothes and single serving toiletries to pass out to the homeless kids. If you have a jacket, sweater, scarf, boots, or other good used clothes that you could donate, we will have a donation box set up at the front of Jason St. You can also drop off donations at our other stores, and we will ship them to Jason for you.

MICKEY'S INFERNO HALLOWEEN COMICFEST MINI COMIC (2016)

On a more positive note, I did want to mention that we will be giving away thousands of this year's limited edition HALLOWEEN COMICFEST variants on Saturday. Anyone visiting any of our three stores this Saturday can receive any 3 HALLOWEEN COMICFEST comics for free, while those who come in costume can receive their choice of any 6. If you want more, you can receive another title for each $10 you spend with us that day, including what you might spend in the auction! There is a limit, however, of one full set per person, as our supplies are truly small this year on each of the HALLOWEEN COMICFEST titles. Cover images of all 32 HALLOWEEN COMICFEST titles be viewed here.
I will close today's newsletter with a few photos from today's effort by "Feeding Denver's Hungry" organization to provide free lunches to the homeless in lower downtown Denver. We made up 800 bags of food, including 200 with really good sandwiches. When we set up our truck at the St. Francis Center at noon we were immediately overwhelmed by desperate people seeking meals. Our 200 sandwich meals were gone in 15 minutes, with the last few people only able to receive bags filled with granola bars, chips, cookies, etc. that had been donated to the Food Bank of the Rockies.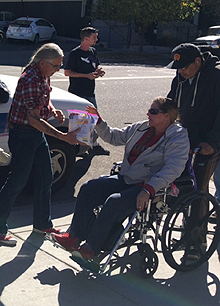 Women in a wheelchair and her husband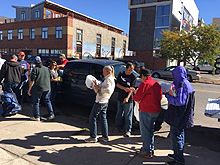 Handing out all the food we had.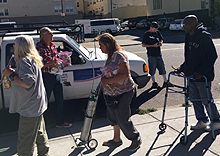 Many of the people are disabled.

Hunger is becoming a crisis situation in Denver, as the number of people being made homeless by rising rents has overwhelmed the ability of our social services system to cope. Private donations are the only way to bridge that gap, so if you can help by participating in our auction on Saturday, you kindness would be most appreciated. We will help you to provide assistance to desperate people who have become the victims in Denver's booming economy.
Happy collecting!,
Chuck Rozanski,
President - Mile High Comics, Inc.
October 27, 2016

Mile High Comics - Jason Street Mega-Store


Mile High Comics Retail Store Locations