X-MEN And WALKING DEAD Collections Arrive + More
Howdy!
I was diagnosed with basal cell carcinoma (skin cancer) on my upper lip six weeks ago. Basal cell is one of the least dangerous cancers, but does have the ability to spread significantly, so you should never ignore it. That being the case, I took the first opening available at Kaiser's surgery center, and had them cut a significant piece out of the inside of my nose this morning. That may sound rather bad (and it most certainly was not pleasant), but I was incredibly blessed to receive the news that, while they indeed found more cancer, it had not spread. If it had, the surgeon would have been forced to keep removing tissue from my nose in successive stages until a specimen finally came back cancer-free. It was even remotely possible that I might have lost a goodly portion of my upper lip and nose. Under those circumstances, coming away from today's operation with only a few stitches and a small scar is a wonderful blessing!
As regards Mile High Comics, our inventory manager, Pam Brandle, has been covering for Lynne this week, and she has been kicking serious butt! Despite our having achieved exceptionally high revenues from this last weekend, Pam has our online order shipping completely current. That almost never is the case during one of our special 60% off codeword sales! That makes me really happy, as our annual 60% off HALLOWEEN! codeword sale will be ending after next week, which means that we will most likely be receiving an end-of-the-sale rush of orders. Unlike sales past, this time we should be able to ship everyone right away. Woo!

WALKING DEAD (#1-UP) (IMAGE) (2003) #100 A

In between shipping orders, Pam also found time to purchase an awesome collection containing over 4,000 choice back issues. Included in the great deal were X-MEN (1963) #97-#175 and WALKING DEAD #70-#150, many in NM, and hundreds of other very desirable back issues. All will be posted for you either today, or by the end of the week, in Premium New-In-Stock. Almost all of these newly-arrived issues are eligible for the 60% off HALLOWEEN! codeword discount. Only new issues, a few variants, and our professionally-graded issues are excluded from the HALLOWEEN! sale. At 60% off, many of these great comics can be yours for mere pennies on the dollar. Enjoy!
That's it from me today. Quite honestly, I am feeling rather exhausted. I can't go home tonight, however, as I am catching a 1:00 AM flight tonight for Washington, DC, that will arrive at 6 AM. I am very good at sleeping on planes, so I should be able to get a little rest... I am then going to be at the Smithsonian at 10:00 AM for a special ceremony where Dennis and Judy Shepard will be turning over some of Matthew Shepard's personal effects (including his childhood SUPERMAN cape) for a special exhibition. I will then be at DuPont Circle at 7:00 PM tomorrow for a Matthew Shepard candlelight vigil. On Friday morning, I will be at the National Cathedral for his internment ceremony, followed by a private reception. Exhaustion aside, I am truly honored to be included in these historic events.
Happy collecting!
Chuck Rozanski,
President - Mile High Comics, Inc.
October 24, 2018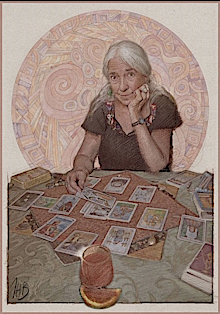 Tom Buchanan painting of Nanette

P.S. Noted Denver illustrator, Tom Buchanan, painted this incredible portrait of my beloved wife, Nanette. She has been reading tarot for people for five decades, and is well known for her amazing insights and interpretations.
MARVEL

ADAM: LEGEND OF BLUE MARVEL (2008) #1

ADAM: LEGEND OF BLUE MARVEL (2008) #1 Very Fine

AMAZING SPIDER-MAN (1999) (#1-700.5) (MARVEL) #569 VAR CGC9.0 Near Mint/Mint
AMAZING SPIDER-MAN (1999) (#1-700.5) (MARVEL) #700 CGC 9.6 SS Near Mint/Mint

CIVIL WAR (2006) (#1-7) #1 Very Fine

DEADPOOL: ASSASSIN TPB (2018) #1 Near Mint/Mint

DOMINO (2018) (#1-UP) (MARVEL) #1 MIDTOWN ED Near Mint/Mint

HUNT FOR WOLVERINE HC (2018) #1 Near Mint/Mint

MARVEL AGE (1983) #1 Near Mint/Mint

MARVEL FANFARE (1982) #1 Very Fine
MARVEL FANFARE (1982) #2 Near Mint/Mint

MARVEL ZOMBIES/ARMY OF DARKNESS (2007) #1 Near Mint/Mint

MOON KNIGHT (1989) (#1-60) (MARVEL) (MARC SPECTOR) #57 Near Mint/Mint

NEW AVENGERS (2004) (#1-64) (MARVEL) #1 QUESADA Near Mint/Mint

NEW AVENGERS: ILLUMINATI (#1-6) (MARVEL LIMITED SERIES) (2006) #2 Near Mint/Mint

NEW X-MEN: ACADEMY X (2004) #32 Very Fine

PETER PARKER (1976) (#1-263) (SPECTACULAR SPIDER-MAN) #30 BLANK CODE Near Mint/Mint
PETER PARKER (1976) (#1-263) (SPECTACULAR SPIDER-MAN) #66 NEWSSTAND Near Mint/Mint
PETER PARKER (1976) (#1-263) (SPECTACULAR SPIDER-MAN) #86 Near Mint/Mint

RETURN OF WOLVERINE (2018) #2 BRADSHAW Near Mint/Mint
RETURN OF WOLVERINE (2018) #2 MARQUEZ Near Mint/Mint

SHE-HULK (1989) (#1-60) (SENSATIONAL SHE-HULK)(MARVEL) #1 NEWSSTAND Near Mint/Mint
SHE-HULK (1989) (#1-60) (SENSATIONAL SHE-HULK)(MARVEL) #42 Very Fine
SHE-HULK (1989) (#1-60) (SENSATIONAL SHE-HULK)(MARVEL) #43 Very Fine
SHE-HULK (1989) (#1-60) (SENSATIONAL SHE-HULK)(MARVEL) #44 Very Fine
SHE-HULK (1989) (#1-60) (SENSATIONAL SHE-HULK)(MARVEL) #45 Near Mint/Mint
SHE-HULK (1989) (#1-60) (SENSATIONAL SHE-HULK)(MARVEL) #48 Near Mint/Mint


SHE-HULK (1989) (#1-60) (SENSATIONAL SHE-HULK)(MARVEL) #49

SHE-HULK (1989) (#1-60) (SENSATIONAL SHE-HULK)(MARVEL) #49 Very Fine

SPIDER-GWEN: GHOST-SPIDER (2018) #1 RIVERA Near Mint/Mint

SPIDER-MAN (1963) (AMAZING SPIDER-MAN) (#1-441) #239 CGC 9.4 Near Mint/Mint
SPIDER-MAN (1963) (AMAZING SPIDER-MAN) (#1-441) #252 NEWSPGX8.5 Very Fine
SPIDER-MAN (1963) (AMAZING SPIDER-MAN) (#1-441) #365 NEWSSTAND Near Mint/Mint
SPIDER-MAN (1963) (AMAZING SPIDER-MAN) (#1-441) #375 Very Fine
SPIDER-MAN (1963) (AMAZING SPIDER-MAN) (#1-441) #379 Very Fine

SPIDER-MAN AND DAREDEVIL (1984) #1 Near Mint/Mint

SPIDER-MAN ANNUAL (1964) #16 Very Fine
SPIDER-MAN ANNUAL (1964) #24 NEWSSTAND Near Mint/Mint

SPIDER-MAN/DEADPOOL (2015) #1 Near Mint/Mint

STAR BRAND (1986) #16 Near Mint/Mint
STAR BRAND (1986) #19 Fine

UNCANNY X-FORCE (2010) (#1-35) (MARVEL) #1 CGC 9.4 Near Mint/Mint
UNCANNY X-FORCE (2010) (#1-35) (MARVEL) #4 CGC 9.6 Near Mint/Mint

WOLVERINE: ORIGINS (2006) #10 VARIANT Near Mint/Mint

X-MEN (1963) (#1-113, UNCANNY X-MEN #114-544) (MARVEL) #96 Very Fine
X-MEN (1963) (#1-113, UNCANNY X-MEN #114-544) (MARVEL) #97 Fine
X-MEN (1963) (#1-113, UNCANNY X-MEN #114-544) (MARVEL) #98 Fine
X-MEN (1963) (#1-113, UNCANNY X-MEN #114-544) (MARVEL) #99 Very Good
X-MEN (1963) (#1-113, UNCANNY X-MEN #114-544) (MARVEL) #100 Fine
X-MEN (1963) (#1-113, UNCANNY X-MEN #114-544) (MARVEL) #102 Very Good
X-MEN (1963) (#1-113, UNCANNY X-MEN #114-544) (MARVEL) #103 Very Good
X-MEN (1963) (#1-113, UNCANNY X-MEN #114-544) (MARVEL) #105 Very Good
X-MEN (1963) (#1-113, UNCANNY X-MEN #114-544) (MARVEL) #106 CGC 9.4 Near Mint/Mint
X-MEN (1963) (#1-113, UNCANNY X-MEN #114-544) (MARVEL) #107 Very Good
X-MEN (1963) (#1-113, UNCANNY X-MEN #114-544) (MARVEL) #108 Fine
X-MEN (1963) (#1-113, UNCANNY X-MEN #114-544) (MARVEL) #109 Very Good
X-MEN (1963) (#1-113, UNCANNY X-MEN #114-544) (MARVEL) #110 Very Good
X-MEN (1963) (#1-113, UNCANNY X-MEN #114-544) (MARVEL) #111 Very Fine
X-MEN (1963) (#1-113, UNCANNY X-MEN #114-544) (MARVEL) #112 Near Mint/Mint
X-MEN (1963) (#1-113, UNCANNY X-MEN #114-544) (MARVEL) #113 Very Fine
X-MEN (1963) (#1-113, UNCANNY X-MEN #114-544) (MARVEL) #114 CGC 9.4 Near Mint/Mint
X-MEN (1963) (#1-113, UNCANNY X-MEN #114-544) (MARVEL) #115 Very Fine
X-MEN (1963) (#1-113, UNCANNY X-MEN #114-544) (MARVEL) #116 Very Fine


X-MEN (1963) (#1-113, UNCANNY X-MEN #114-544) (MARVEL) #117

X-MEN (1963) (#1-113, UNCANNY X-MEN #114-544) (MARVEL) #117 Near Mint/Mint
X-MEN (1963) (#1-113, UNCANNY X-MEN #114-544) (MARVEL) #118 Near Mint/Mint
X-MEN (1963) (#1-113, UNCANNY X-MEN #114-544) (MARVEL) #119 Near Mint/Mint
X-MEN (1963) (#1-113, UNCANNY X-MEN #114-544) (MARVEL) #120 Fine
X-MEN (1963) (#1-113, UNCANNY X-MEN #114-544) (MARVEL) #122 NEWSSTAND Near Mint/Mint
X-MEN (1963) (#1-113, UNCANNY X-MEN #114-544) (MARVEL) #123 Fine
X-MEN (1963) (#1-113, UNCANNY X-MEN #114-544) (MARVEL) #124 CGC 9.6 Near Mint/Mint
X-MEN (1963) (#1-113, UNCANNY X-MEN #114-544) (MARVEL) #125 Near Mint/Mint
X-MEN (1963) (#1-113, UNCANNY X-MEN #114-544) (MARVEL) #126 Fine
X-MEN (1963) (#1-113, UNCANNY X-MEN #114-544) (MARVEL) #127 NEWSSTAND Very Fine
X-MEN (1963) (#1-113, UNCANNY X-MEN #114-544) (MARVEL) #128 NEWSSTAND Very Fine
X-MEN (1963) (#1-113, UNCANNY X-MEN #114-544) (MARVEL) #129 NEWSSTAND Fine
X-MEN (1963) (#1-113, UNCANNY X-MEN #114-544) (MARVEL) #130 NEWSSTAND Fine
X-MEN (1963) (#1-113, UNCANNY X-MEN #114-544) (MARVEL) #131 CGC 9.0 Very Fine
X-MEN (1963) (#1-113, UNCANNY X-MEN #114-544) (MARVEL) #132 Very Fine
X-MEN (1963) (#1-113, UNCANNY X-MEN #114-544) (MARVEL) #133 Very Fine
X-MEN (1963) (#1-113, UNCANNY X-MEN #114-544) (MARVEL) #134 Near Mint/Mint
X-MEN (1963) (#1-113, UNCANNY X-MEN #114-544) (MARVEL) #135 CGC 9.2 Near Mint/Mint
X-MEN (1963) (#1-113, UNCANNY X-MEN #114-544) (MARVEL) #136 CGC 9.4 Near Mint/Mint
X-MEN (1963) (#1-113, UNCANNY X-MEN #114-544) (MARVEL) #137 CGC 9.2 Near Mint/Mint
X-MEN (1963) (#1-113, UNCANNY X-MEN #114-544) (MARVEL) #138 Near Mint/Mint
X-MEN (1963) (#1-113, UNCANNY X-MEN #114-544) (MARVEL) #139 Very Fine
X-MEN (1963) (#1-113, UNCANNY X-MEN #114-544) (MARVEL) #140 Fine
X-MEN (1963) (#1-113, UNCANNY X-MEN #114-544) (MARVEL) #141 NEWSSTAND Very Good
X-MEN (1963) (#1-113, UNCANNY X-MEN #114-544) (MARVEL) #142 Fine
X-MEN (1963) (#1-113, UNCANNY X-MEN #114-544) (MARVEL) #145 NEWSSTAND Very Fine
X-MEN (1963) (#1-113, UNCANNY X-MEN #114-544) (MARVEL) #147 Fine
X-MEN (1963) (#1-113, UNCANNY X-MEN #114-544) (MARVEL) #148 Fine
X-MEN (1963) (#1-113, UNCANNY X-MEN #114-544) (MARVEL) #152 Very Fine
X-MEN (1963) (#1-113, UNCANNY X-MEN #114-544) (MARVEL) #153 NEWSSTAND Near Mint/Mint
X-MEN (1963) (#1-113, UNCANNY X-MEN #114-544) (MARVEL) #154 Near Mint/Mint
X-MEN (1963) (#1-113, UNCANNY X-MEN #114-544) (MARVEL) #155 Fine
X-MEN (1963) (#1-113, UNCANNY X-MEN #114-544) (MARVEL) #156 Very Fine
X-MEN (1963) (#1-113, UNCANNY X-MEN #114-544) (MARVEL) #157 Very Fine
X-MEN (1963) (#1-113, UNCANNY X-MEN #114-544) (MARVEL) #158 NEWSSTAND Very Good
X-MEN (1963) (#1-113, UNCANNY X-MEN #114-544) (MARVEL) #160 NEWSSTAND Very Good
X-MEN (1963) (#1-113, UNCANNY X-MEN #114-544) (MARVEL) #161 Fine
X-MEN (1963) (#1-113, UNCANNY X-MEN #114-544) (MARVEL) #164 NEWSSTAND Very Good
X-MEN (1963) (#1-113, UNCANNY X-MEN #114-544) (MARVEL) #167 NEWSSTAND Very Good
X-MEN (1963) (#1-113, UNCANNY X-MEN #114-544) (MARVEL) #168 Very Fine
X-MEN (1963) (#1-113, UNCANNY X-MEN #114-544) (MARVEL) #169 Fine
X-MEN (1963) (#1-113, UNCANNY X-MEN #114-544) (MARVEL) #171 NEWSSTAND Very Fine
X-MEN (1963) (#1-113, UNCANNY X-MEN #114-544) (MARVEL) #172 Very Fine
X-MEN (1963) (#1-113, UNCANNY X-MEN #114-544) (MARVEL) #173 Fine


X-MEN (1963) (#1-113, UNCANNY X-MEN #114-544) (MARVEL) #175

X-MEN (1963) (#1-113, UNCANNY X-MEN #114-544) (MARVEL) #175 Fine
X-MEN (1963) (#1-113, UNCANNY X-MEN #114-544) (MARVEL) #267 CGC 9.4 SS Near Mint/Mint

DC
DETECTIVE COMICS REBIRTH HC (2017) #3 Near Mint/Mint

JUSTICE LEAGUE OF AMERICA: ANOTHER NAIL (2004) #3 Near Mint/Mint

JUSTICE LEAGUE UNLIMITED (2004) #17 Very Fine

KINGDOM COME (1996) #2 Near Mint/Mint
KINGDOM COME (1996) #3 Near Mint/Mint
KINGDOM COME (1996) #4 Good

LEGENDS OF TOMORROW (2016) #1 Near Mint/Mint
LEGENDS OF TOMORROW (2016) #3 Very Fine
LEGENDS OF TOMORROW (2016) #4 Very Fine
LEGENDS OF TOMORROW (2016) #5 Very Fine
LEGENDS OF TOMORROW (2016) #6 Very Fine

MAD MAX: FURY ROAD - MAD MAX (2015) #1 NERD BLOCK Near Mint/Mint

MISTER MIRACLE (1971) (#1-25) (DC) #3 Good
MISTER MIRACLE (1971) (#1-25) (DC) #4 Very Good
MISTER MIRACLE (1971) (#1-25) (DC) #5 Good
MISTER MIRACLE (1971) (#1-25) (DC) #6 Good
MISTER MIRACLE (1971) (#1-25) (DC) #7 Good
MISTER MIRACLE (1971) (#1-25) (DC) #8 Good
MISTER MIRACLE (1971) (#1-25) (DC) #9 Very Good
MISTER MIRACLE (1971) (#1-25) (DC) #12 Very Good

NEW GODS (1984) #3 Near Mint/Mint
NEW GODS (1984) #6 Near Mint/Mint

PREACHER (1995) #2 CGC 9.8 (DC: Vertigo Press) Near Mint/Mint
PREACHER (1995) #13 CGC 9.4 (DC: Vertigo Press) Near Mint/Mint

PREACHER SPECIAL: CASSIDY - BLOOD & WHISKEY (1998) #1 (DC: Vertigo Press) Fine

PREACHER SPECIAL: GOOD OLD BOYS (1997) #1 Fine

PREACHER SPECIAL: ONE MAN'S WAR (1998) #1 (DC: Vertigo Press) Fine


PREACHER SPECIAL: SAINT OF KILLERS (1996) #1

PREACHER SPECIAL: SAINT OF KILLERS (1996) #1 (DC: Vertigo Press) Near Mint/Mint
PREACHER SPECIAL: SAINT OF KILLERS (1996) #2 (DC: Vertigo Press) Very Fine
PREACHER SPECIAL: SAINT OF KILLERS (1996) #3 (DC: Vertigo Press) Near Mint/Mint
PREACHER SPECIAL: SAINT OF KILLERS (1996) #4 (DC: Vertigo Press) Fine

PREACHER SPECIAL: STORY OF YOU-KNOW-WHO (1996) #1 (DC: Vertigo Press) Near Mint/Mint

PREACHER: TALL IN THE SADDLE (2000) #1 (DC: Vertigo Press) Near Mint/Mint

SCALPED (2006) #3 Fine

SLEEPER (2003) #2 (DC/Wildstorm) Near Mint/Mint
SLEEPER (2003) #4 (DC/Wildstorm) Near Mint/Mint

SUPERMAN (1986) (#0-226, #650-714) (DC) #75 UNBAGGED Near Mint/Mint

SUPERMAN REBIRTH (2016) #1 Very Fine

SUPERMAN/BATMAN ANNUAL (2006) #1 Near Mint/Mint

DARK HORSE COMICS
SHINOBI: RISE OF HOTSUMA ONE-SHOT (2002) #1 Near Mint/Mint

STAR WARS: CHEWBACCA (2000) #1 Fine

IMAGE COMICS
PHONOGRAM (2006) #3 Near Mint/Mint

SAGA (2012) #2 Near Mint/Mint

SEVEN TO ETERNITY (2016) #1 A CGC 9.8 Near Mint/Mint

SPAWN (1992) #165 Near Mint/Mint

WALKING DEAD (#1-UP) (IMAGE) (2003) #1 15THB&W Near Mint/Mint
WALKING DEAD (#1-UP) (IMAGE) (2003) #1 15THB&WVIR Near Mint/Mint
WALKING DEAD (#1-UP) (IMAGE) (2003) #1 15THCOLVIR Near Mint/Mint
WALKING DEAD (#1-UP) (IMAGE) (2003) #28 Near Mint/Mint
WALKING DEAD (#1-UP) (IMAGE) (2003) #48 CGC 9.4 Near Mint/Mint
WALKING DEAD (#1-UP) (IMAGE) (2003) #70 Fine
WALKING DEAD (#1-UP) (IMAGE) (2003) #71 Fine


WALKING DEAD (#1-UP) (IMAGE) (2003) #72

WALKING DEAD (#1-UP) (IMAGE) (2003) #72 Very Fine
WALKING DEAD (#1-UP) (IMAGE) (2003) #73 Very Good
WALKING DEAD (#1-UP) (IMAGE) (2003) #74 Near Mint/Mint
WALKING DEAD (#1-UP) (IMAGE) (2003) #75 Near Mint/Mint
WALKING DEAD (#1-UP) (IMAGE) (2003) #75 ULTIMATE Fine
WALKING DEAD (#1-UP) (IMAGE) (2003) #76 Fine
WALKING DEAD (#1-UP) (IMAGE) (2003) #77 Very Good
WALKING DEAD (#1-UP) (IMAGE) (2003) #78 Fine
WALKING DEAD (#1-UP) (IMAGE) (2003) #79 Fine
WALKING DEAD (#1-UP) (IMAGE) (2003) #80 Fine
WALKING DEAD (#1-UP) (IMAGE) (2003) #81 Very Fine
WALKING DEAD (#1-UP) (IMAGE) (2003) #82 Near Mint/Mint
WALKING DEAD (#1-UP) (IMAGE) (2003) #83 Near Mint/Mint
WALKING DEAD (#1-UP) (IMAGE) (2003) #84 Near Mint/Mint
WALKING DEAD (#1-UP) (IMAGE) (2003) #85 Near Mint/Mint
WALKING DEAD (#1-UP) (IMAGE) (2003) #85 VARIANT Near Mint/Mint
WALKING DEAD (#1-UP) (IMAGE) (2003) #86 Fine
WALKING DEAD (#1-UP) (IMAGE) (2003) #87 Near Mint/Mint
WALKING DEAD (#1-UP) (IMAGE) (2003) #87 SDCC 2011 Near Mint/Mint
WALKING DEAD (#1-UP) (IMAGE) (2003) #88 Near Mint/Mint
WALKING DEAD (#1-UP) (IMAGE) (2003) #89 Near Mint/Mint
WALKING DEAD (#1-UP) (IMAGE) (2003) #90 Very Fine
WALKING DEAD (#1-UP) (IMAGE) (2003) #91 Near Mint/Mint
WALKING DEAD (#1-UP) (IMAGE) (2003) #92 Near Mint/Mint
WALKING DEAD (#1-UP) (IMAGE) (2003) #93 Near Mint/Mint
WALKING DEAD (#1-UP) (IMAGE) (2003) #94 Very Fine
WALKING DEAD (#1-UP) (IMAGE) (2003) #95 Near Mint/Mint
WALKING DEAD (#1-UP) (IMAGE) (2003) #96 Near Mint/Mint
WALKING DEAD (#1-UP) (IMAGE) (2003) #97 Near Mint/Mint
WALKING DEAD (#1-UP) (IMAGE) (2003) #98 Near Mint/Mint
WALKING DEAD (#1-UP) (IMAGE) (2003) #99 Fine
WALKING DEAD (#1-UP) (IMAGE) (2003) #100 A Very Fine
WALKING DEAD (#1-UP) (IMAGE) (2003) #100 3RD PRINT Near Mint/Mint
WALKING DEAD (#1-UP) (IMAGE) (2003) #100 A Fine
WALKING DEAD (#1-UP) (IMAGE) (2003) #100 C Fine
WALKING DEAD (#1-UP) (IMAGE) (2003) #100 D Near Mint/Mint
WALKING DEAD (#1-UP) (IMAGE) (2003) #100 E Fine
WALKING DEAD (#1-UP) (IMAGE) (2003) #100 F Fine
WALKING DEAD (#1-UP) (IMAGE) (2003) #100 G Fine
WALKING DEAD (#1-UP) (IMAGE) (2003) #100 H Near Mint/Mint
WALKING DEAD (#1-UP) (IMAGE) (2003) #101 Near Mint/Mint
WALKING DEAD (#1-UP) (IMAGE) (2003) #102 Near Mint/Mint
WALKING DEAD (#1-UP) (IMAGE) (2003) #103 Very Fine


WALKING DEAD (#1-UP) (IMAGE) (2003) #104

WALKING DEAD (#1-UP) (IMAGE) (2003) #104 Near Mint/Mint
WALKING DEAD (#1-UP) (IMAGE) (2003) #105 Near Mint/Mint
WALKING DEAD (#1-UP) (IMAGE) (2003) #106 A Near Mint/Mint
WALKING DEAD (#1-UP) (IMAGE) (2003) #107 Very Fine
WALKING DEAD (#1-UP) (IMAGE) (2003) #108 Near Mint/Mint
WALKING DEAD (#1-UP) (IMAGE) (2003) #109 Near Mint/Mint
WALKING DEAD (#1-UP) (IMAGE) (2003) #109 BLANK CVR Near Mint/Mint
WALKING DEAD (#1-UP) (IMAGE) (2003) #110 Near Mint/Mint
WALKING DEAD (#1-UP) (IMAGE) (2003) #111 Fine
WALKING DEAD (#1-UP) (IMAGE) (2003) #112 Near Mint/Mint
WALKING DEAD (#1-UP) (IMAGE) (2003) #113 Near Mint/Mint
WALKING DEAD (#1-UP) (IMAGE) (2003) #114 Near Mint/Mint
WALKING DEAD (#1-UP) (IMAGE) (2003) #115 2ND PRINT Very Fine
WALKING DEAD (#1-UP) (IMAGE) (2003) #115 A Fine
WALKING DEAD (#1-UP) (IMAGE) (2003) #115 M Fine
WALKING DEAD (#1-UP) (IMAGE) (2003) #116 Near Mint/Mint
WALKING DEAD (#1-UP) (IMAGE) (2003) #117 Near Mint/Mint
WALKING DEAD (#1-UP) (IMAGE) (2003) #118 Near Mint/Mint
WALKING DEAD (#1-UP) (IMAGE) (2003) #119 Near Mint/Mint
WALKING DEAD (#1-UP) (IMAGE) (2003) #120 Near Mint/Mint
WALKING DEAD (#1-UP) (IMAGE) (2003) #121 Near Mint/Mint
WALKING DEAD (#1-UP) (IMAGE) (2003) #122 Near Mint/Mint
WALKING DEAD (#1-UP) (IMAGE) (2003) #123 Near Mint/Mint
WALKING DEAD (#1-UP) (IMAGE) (2003) #124 Near Mint/Mint
WALKING DEAD (#1-UP) (IMAGE) (2003) #125 Near Mint/Mint
WALKING DEAD (#1-UP) (IMAGE) (2003) #126 Near Mint/Mint
WALKING DEAD (#1-UP) (IMAGE) (2003) #127 Near Mint/Mint
WALKING DEAD (#1-UP) (IMAGE) (2003) #128 Near Mint/Mint
WALKING DEAD (#1-UP) (IMAGE) (2003) #129 Near Mint/Mint
WALKING DEAD (#1-UP) (IMAGE) (2003) #130 Near Mint/Mint
WALKING DEAD (#1-UP) (IMAGE) (2003) #131 Near Mint/Mint
WALKING DEAD (#1-UP) (IMAGE) (2003) #132 Near Mint/Mint
WALKING DEAD (#1-UP) (IMAGE) (2003) #132 LOOTCRATE Near Mint/Mint
WALKING DEAD (#1-UP) (IMAGE) (2003) #136 Near Mint/Mint
WALKING DEAD (#1-UP) (IMAGE) (2003) #137 Near Mint/Mint
WALKING DEAD (#1-UP) (IMAGE) (2003) #138 Near Mint/Mint
WALKING DEAD (#1-UP) (IMAGE) (2003) #139 Near Mint/Mint
WALKING DEAD (#1-UP) (IMAGE) (2003) #140 Near Mint/Mint
WALKING DEAD (#1-UP) (IMAGE) (2003) #142 Near Mint/Mint
WALKING DEAD (#1-UP) (IMAGE) (2003) #143 Near Mint/Mint
WALKING DEAD (#1-UP) (IMAGE) (2003) #144 Near Mint/Mint
WALKING DEAD (#1-UP) (IMAGE) (2003) #144 Very Fine
WALKING DEAD (#1-UP) (IMAGE) (2003) #147 Near Mint/Mint
WALKING DEAD (#1-UP) (IMAGE) (2003) #148 Near Mint/Mint


WALKING DEAD (#1-UP) (IMAGE) (2003) #149

WALKING DEAD (#1-UP) (IMAGE) (2003) #149 Near Mint/Mint
WALKING DEAD (#1-UP) (IMAGE) (2003) #150 A ADLARD Near Mint/Mint
WALKING DEAD (#1-UP) (IMAGE) (2003) #150 B BLANK Near Mint/Mint
WALKING DEAD (#1-UP) (IMAGE) (2003) #150 C LATOUR Near Mint/Mint
WALKING DEAD (#1-UP) (IMAGE) (2003) #150 D MOORE Near Mint/Mint

WALKING DEAD WEEKLY (2011) #1 CGC 9.8 Near Mint/Mint

INDEPENDENTS
ERIC STANTON & THE HISTORY OF THE BIZARRE UNDERGROUND (2018) #1 HC (SCHIFFER PUBLISHING LTD.) Near Mint/Mint

JUSTICE TRAPS THE GUILTY (1947) #44 (PRIZE PUBLICATIONS) Very Good

LADY DEATH: BLACKLANDS (2006) #3 ALVES (Avatar Comics) Near Mint/Mint

LOCAL (2005) #8 (Oni Press Inc.) Near Mint/Mint

LONG DISTANCE (2015) #2 (IDW Publishing) Near Mint/Mint
LONG DISTANCE (2015) #4 (IDW Publishing) Near Mint/Mint

RAI (1992) (#0-33) (RAI & THE FUTURE FORCE #8-23) #0 (Acclaim/Valiant) Fine

ROCKETEER SPECIAL EDITION (1984) #1 (Eclipse Enterprises) Very Good

SHI POISONED PARADISE (2002) #2 TUCCI (Avatar Comics) Near Mint/Mint

SHI: SEMPO (2003) #1 TUCCI (Avatar Comics) Near Mint/Mint

SILENT HILL DYING INSIDE (2004) #1 (IDW Publishing) Near Mint/Mint

SPACE MAN (Dell Publishing) #2 (Dell Publishing) Fine

SPIRIT (2015) (#1-UP) (DYNAMITE) #1 POWELL (DYNAMITE Entertainment) Very Fine

STAR TREK: NEW VISIONS - 1971/4860.2 (2015) #1 (IDW Publishing) Very Fine

STAR TREK: NEW VISIONS - HIDDEN FACE (2016) #1 (IDW Publishing) Near Mint/Mint

STAR TREK: NEW VISIONS - HOLLOW MAN (2015) #1 (IDW Publishing) Very Fine

STAR TREK: NEW VISIONS - MISTER CHEKOV (2016) #1 (IDW Publishing) Near Mint/Mint

STAR TREK: NEW VISIONS - OF WOMAN BORN (2016) #1 (IDW Publishing) Near Mint/Mint


STAR TREK: NEW VISIONS - SURVIVAL EQUATION (2015) #1

STAR TREK: NEW VISIONS - SURVIVAL EQUATION (2015) #1 (IDW Publishing) Very Fine

STAR TREK: NEW VISIONS - SWARM (2016) #1 (IDW Publishing) Very Fine

STAR TREK: NEW VISIONS - TIME OUT OF JOINT (2017) #1 (IDW Publishing) Near Mint/Mint