Local News - Pro Wrestling at Mile High Comics Saturday - Help Feeding Denver's Hungry
Howdy!
I am recovering this morning from having spent an emotionally trying day yesterday helping the team of dedicated volunteers who create meals for Jim Scharper's "Feeding Denver's Hungry" charity. We put together over 700 meals in the morning, and spent most of yesterday afternoon distributing them to the homeless in lower downtown Denver. As is always the case, we eventually ran out of food, and had to turn hungry people away. To say that this breaks my heart, does not even begin to express my pain.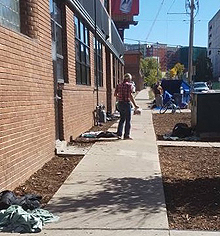 Chuck passing out food near the Urban Peak teen shelter

One consideration that particularly drives home to me the desperation of some of the people that we seek to help is the fact that I sometimes leave our group to individually seek out people who are unable, or unwilling, to brave the crowds to come to our food distribution truck. Wandering alone on the sidewalks of lower downtown Denver with bags of food is gut-wrenching, as you quickly come to realize just how many people are in desperate need, and how little is being done to help them.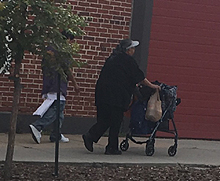 Lady with walker near the Denver Rescue Mission

To be absolutely clear, I want you to know that I am not talking about helping chronically homeless adult men, but rather entire populations of young kids, elderly people, and the infirm. It is unimaginable to me that so many people who use walkers and wheelchairs are now forced by Denver's skyrocketing rents to live on the streets. And that does not even touch upon the fact that so many of these incredibly destitute people are women of all ages. Their vulnerability and dismay in being forced to live outside among the hardcore homeless is absolutely heartbreaking.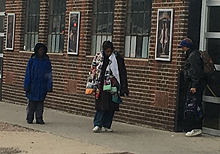 Two homeless ladies by the St. Francis Center

I mention all of this to you because I have heard from many of you that you want to help. With that thought in mind, I am going to be publicizing opportunities for everyone to help all winter, such as food and coat drives. For right now, however, I have four immediate ways for you to make a positive contribution:
1) This Saturday evening, beginning at 7 PM, we will be hosting an awesome New Era professional wrestling event at our Mile High Comics Jason St. Mega-Store. The wrestling begins at 7 PM, and I promise you that it will provide incredible fun for kids of all ages! I will personally be in attendance from 6 PM - 9 PM, dispensing refreshments as a benefit for the Imperial Court of the Rocky Mountain Empire, which is the umbrella organization for all of my charitable efforts. Please bring your entire family to join us! Every dollar that you then drop in the tips jar will be put to positive use in helping our charities. The flyer for this awesome family event is at the end of this newsletter.
2) If you sincerely wish to help me advance my future charitable efforts, I would be incredibly grateful if you could stop by for a few minutes on Sunday morning at 1077 Race St. for a free brunch that I am hosting. The event will be in the ground floor events room of a beautiful apartment high rise located next to Cheeseman Park. There will be copious quantities of free food and drinks at this event, which is open to all the members of the Denver community.
At noon at my brunch, I will give a very short talk in which I outline my future plans for working with all of the ICRME's charities, including Feeding Denver's Hungry, Urban Peak, the Denver Rescue Mission, Rainbow Alley, Freedom Service Dogs, and the Denver Children's Advocacy Center. I am not allowed at this point to reveal any more about my future plans, but suffice it to say that I would especially like you to be at my free brunch if you voted for Norrie Reynolds for Empress of the ICRME in last April's election. If you at all can spare the time, please do stop by 1077 Race St. on Sunday morning. I promise you that this will be an event of very short duration. Thank you.
3) Next Saturday, September 22nd, we will be putting on a smallish poker tournament to help us purchase chips, tables, and new cards for our upcoming big tournament on November 4th, which will benefit the homeless teens helped by Urban Peak. We only have four volunteer dealers available right now for next Saturday's tournament, so we must limit this tournament to only 36 players. Our buy-in is only $25, which (if you sign up in advance) you get back immediately in the form of a credit memo that you can use in any of our stores. Sign up today at any of our stores, as seats to this fun event are going quickly.
4) In two weeks, on Saturday morning, October 29th will be hosting another of our awesome no-minimum-bid comics and toy auctions. This auction will be a 50-50 benefit, with the kids served by Rainbow Alley as the beneficiaries. I am trying to raise money right now to help fund the annual Rainbow Alley Children's Christmas dinner, which has grown from 30 participants, up to 150!, in just three years. If you have some unwanted comics, toys, or collectibles at home that you could donate to our auction, your help would be sincerely appreciated. We also really need bidders, so please plan on stopping by on the morning of the 29th. Our auction fun begins at 11:30 AM.
I will close by mentioning that your continuing support of Mile High Comics is also critical to my being able to help the homeless and all of the others benefit by our efforts. Every time that you make any kind of purchase at one of our stores, or through our online service, you are helping to provide me with the financial resources that I need to help others. I thank you very sincerely for being a part of our Mile High Comics family, and for helping us to make life a little bit better for some of our neediest citizens.
Sincerely,
Chuck Rozanski,
President - Mile High Comics, Inc.
October 14, 2016

Mile High Comics - Jason Street Mega-Store


Mile High Comics Retail Store Locations