Chuck's Surgery News - Plus Thousands of Great Comics
Howdy!
Thanks to the kindness and support of our Mile High Comics clients, I was able to utilize some of our revenues from this year's sale of complete sets of the 2020 Free Comic Book Day variant editions to purchase 120(!) large quilted moving blankets to distribute to the poor. We already have another $2,000.00 set aside to help my elderly, disabled, and indigent clients, which I will use next week to order fleece hats, gloves, and personal hygiene products such as soap, toothbrushes, toothpaste, and shampoo.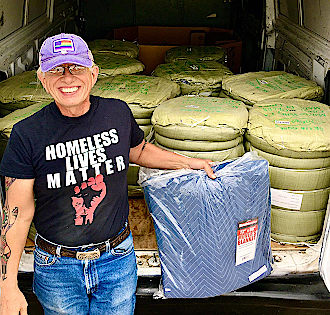 Chuck with the 120 large quilted moving blanket

Thank you ever so much to everyone who donated for helping me to make such a positive difference in so many desperate lives. If you would like to purchase a complete 2020 FCBD set, we have a few left at $99.95. Half of the proceeds from each these sets will go into a special winter clothing fund for the poor. Thank you!
So you know, I have been hustling to get things done since Saturday because I am going to finally submit to having my groin cut open, in just two days (Thursday). I have had a hernia for the past ten years which has slowly been causing me more and more excruciating pain, but only on a very intermittent basis. I was OK with dealing with the discomfort on once-a-month basis, but the pain has increased in frequency of late, and my doctor has informed me that a serious complication might soon arise that could kill me very quickly. Sigh...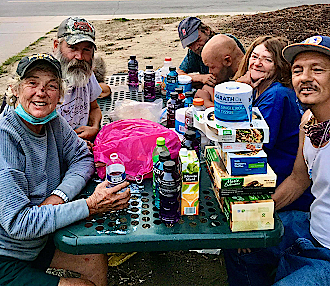 Just a few of the people I try and help out.

In any event, the mesh that they are sticking inside of me on Thursday should remedy the problem. The bad news is that it takes damn near forever to heal from this kind of invasive procedure. I have been told to seriously rest at home for three weeks, and to then take it really easy for another three weeks. That makes it truly difficult for me to work at Mile High Comics, and even harder do me to deliver food and winter clothing to my 100+ elderly, disabled, and indigent clients who live in the park across from the Five Points public library.
I have my fingers crossed right now that my recovery time from this surgery will be shorter than predicted, but given some of the horror stories about this kind of procedure that my online friends have been sharing with me, I am growing increasingly pessimistic. It looks like I am going to be stuck at home on my farm for many weeks.
The only good news coming out of this forced recovery at home is that I have about 10,000 Undergound Comix in my personal comics vault that have been awaiting sorting and grading for many years. As soon as I can get out of my bed, that massive project will be how I occupy my time. As I get the sorting of given UG titles completed, I will send those issues to Will Moulton at our Mega-Store to put into our online inventory for you. Making lemonade out of lemons...
Will and Pam will also be adding thousands more back issue comics, graphic novels, trade paperbacks, and comics hardbacks into our online system for you. We have been blessed to purchase 10,000+ comics per week from private collectors throughout this entire year, so our New-In-Stock and Premium New-In-Stock links have just been brimming over with awesome titles every day. Check out the list at the end of this newsletter for just a few of our thousands of recent additions.
I will close by quickly mentioning that our 40% off FALL2020! codeword sale is still in effect for you on all ten million+ back issue comics and magazines offered via our website and in our Mega-Store. Only new issues, a few variants, and our professionally-graded comics are excluded.
That's it for today. Wish me luck. I will write to you again, just as soon as I am able.
Happy collecting!
Chuck Rozanski/Bettie Pages,
President - Mile High Comics, Inc.
September 29, 2020
Here is a small sample of some of our recent additions:
MARVEL

ALIAS (2001) (#1-28) (MARVEL) (BRIAN MICHAEL BENDIS) #12

ALIAS (2001) (#1-28) (MARVEL) (BRIAN MICHAEL BENDIS) #12 Near Mint/Mint
ALIAS (2001) (#1-28) (MARVEL) (BRIAN MICHAEL BENDIS) #13 Near Mint/Mint

ALICE COOPER: LAST TEMPTATION OF ALICE (2000) #1 Near Mint/Mint

ALIEN LEGION (1984) (#1-20) (MARVEL EPIC) #19 Near Mint/Mint
ALIEN LEGION (1987) (#1-18) (MARVEL EPIC) #2 Near Mint/Mint

ALPHA FLIGHT (1983) (#1-130) #1 NEWSSTAND Good

AMAZING SPIDER-MAN (1999) (#1-58, #500-700.5) (MARVEL) #9 Near Mint/Mint
AMAZING SPIDER-MAN (1999) (#1-58, #500-700.5) (MARVEL) #536 Near Mint/Mint
AMAZING SPIDER-MAN (1999) (#1-58, #500-700.5) (MARVEL) #554 Near Mint/Mint
AMAZING SPIDER-MAN (1999) (#1-58, #500-700.5) (MARVEL) #561 Near Mint/Mint
AMAZING SPIDER-MAN (1999) (#1-58, #500-700.5) (MARVEL) #562 Near Mint/Mint
AMAZING SPIDER-MAN (1999) (#1-58, #500-700.5) (MARVEL) #563 Near Mint/Mint
AMAZING SPIDER-MAN (1999) (#1-58, #500-700.5) (MARVEL) #594 Near Mint/Mint

AMAZING SPIDER-MAN (2014) (#1-20.1) (MARVEL) #4 Very Good
AMAZING SPIDER-MAN (2014) (#1-20.1) (MARVEL) #11 LUGZ Very Fine

ASTONISHING X-MEN (2004) (#1-68) (MARVEL)(JOSS WHENDON) #67 Near Mint/Mint
ASTONISHING X-MEN (2004) (#1-68) (MARVEL)(JOSS WHENDON) #68 Near Mint/Mint

ASTONISHING X-MEN: XENOGENESIS (WARREN ELLIS) (2010) #1 Near Mint/Mint

AVENGERS (1963) (#1-402) (MARVEL) #135 Good
AVENGERS (1963) (#1-402) (MARVEL) #136 Very Good


AVENGERS (1963) (#1-402) (MARVEL) #155

AVENGERS (1963) (#1-402) (MARVEL) #155 Very Good
AVENGERS (1963) (#1-402) (MARVEL) #156 Very Good
AVENGERS (1963) (#1-402) (MARVEL) #195 NEWSSTAND Very Fine

AVENGERS A.I. (2013) #2 Near Mint/Mint
AVENGERS A.I. (2013) #4 Near Mint/Mint
AVENGERS A.I. (2013) #5 Near Mint/Mint

AVENGERS ASSEMBLE (#1-25) (2012) #15 Near Mint/Mint

AVENGERS OF THE WASTELANDS (2020) #5 NAUCK Near Mint/Mint

BEWARE (1973) (#1-8) (MARVEL) #2 Good

BLACK PANTHER (1976) (#1-15) (MARVEL) #4 Very Good

CHAMBER OF CHILLS (1972) (#1-25) (MARVEL) #9 Good

CONAN (1970) (#1-275) (CONAN THE BARBARIAN) (MARVEL) #4 Good
CONAN (1970) (#1-275) (CONAN THE BARBARIAN) (MARVEL) #14 Very Good

CONAN: BATTLE FOR THE SERPENT CROWN (2020) #5 GIANGIORDA Near Mint/Mint

DARK CRYSTAL (1983) #1 NEWSSTAND Very Good

DARTH VADER (STAR WARS) (2015) #1 GAMESTOP Near Mint/Mint

DAZZLER (2010) #1 Very Fine

DEFENDERS (1972) (#1-152) (MARVEL) #27 STAN LEE Very Good

EMPYRE (2020) #6 MCKONE Near Mint/Mint

FANTASTIC FOUR: ANTITHESIS (2020) #1 PICHELLI Near Mint/Mint

GAMBIT (1997) (#1-4) (MARVEL) #4 Near Mint/Mint

GAMBIT (1999) (#1-25) (MARVEL) #1 QUEEN Near Mint/Mint

GHOST RIDER (1973) (#1-81) (MARVEL) #13 Good
GHOST RIDER (1973) (#1-81) (MARVEL) #38 NEWSSTAND Very Good
GHOST RIDER (1973) (#1-81) (MARVEL) #43 NEWSSTAND Very Good
GHOST RIDER (1973) (#1-81) (MARVEL) #48 NEWSSTAND Very Good
GHOST RIDER (1973) (#1-81) (MARVEL) #61 NEWSSTAND Fine
GHOST RIDER (1973) (#1-81) (MARVEL) #62 NEWSSTAND Fine
GHOST RIDER (1973) (#1-81) (MARVEL) #63 NEWSSTAND Fine
GHOST RIDER (1973) (#1-81) (MARVEL) #73 NEWSSTAND Fine
GHOST RIDER (1973) (#1-81) (MARVEL) #81 NEWSSTAND Fine

GI JOE #46 NEWSSTAND Very Good

HELLIONS (2020) #3 GIANGIORDA Near Mint/Mint
HELLIONS (2020) #4 GOMEZ B&W Near Mint/Mint

HEROIC AGE: X-MEN (2010) #1 Near Mint/Mint


HULK (1962) (#1-6, #102-474, #600-635)(INCREDIBLE)(MV) #270 NEWSSTAND

HULK (1962) (#1-6, #102-474, #600-635)(INCREDIBLE)(MV) #270 NEWSSTAND Very Good
HULK (1962) (#1-6, #102-474, #600-635)(INCREDIBLE)(MV) #293 NEWSSTAND Fine
HULK (1962) (#1-6, #102-474, #600-635)(INCREDIBLE)(MV) #300 NEWSSTAND Very Good

IRON MAN (1968) (#1-332) (INVINCIBLE IRON MAN)(MARVEL) #30 Fair
IRON MAN (1968) (#1-332) (INVINCIBLE IRON MAN)(MARVEL) #121 Very Good
IRON MAN (1968) (#1-332) (INVINCIBLE IRON MAN)(MARVEL) #139 NEWSSTAND Good
IRON MAN (1968) (#1-332) (INVINCIBLE IRON MAN)(MARVEL) #150 NEWSSTAND Very Good
IRON MAN (1968) (#1-332) (INVINCIBLE IRON MAN)(MARVEL) #152 NEWSSTAND Good

IRON MAN 2020 (2020) #6 OKAZAKI Near Mint/Mint

IRON MAN ANNUAL (1970) #3 Very Good

MAESTRO (2020) #1 PEREZ Near Mint/Mint

MARVEL PRESENTS (1975) #3 Very Fine

MARVEL SPOTLIGHT (1979) (#1-11) (MARVEL) #7 NEWSSTAND Good

MARVEL TWO-IN-ONE ANNUAL (1976) #1 Very Good
MARVEL TWO-IN-ONE ANNUAL (1976) #2 Very Good
MARVEL TWO-IN-ONE ANNUAL (1976) #7 NEWSSTAND Very Good

MASTER OF KUNG FU (1974) (#15-125) (MARVEL) (SHANG-CHI) #23 JEWELERS Very Good

MILES MORALES: SPIDER-MAN (2019) #18 LIM Very Fine


NEW MUTANTS (1983) (#1-100) (MARVEL) #86 NEWSSTAND

NEW MUTANTS (1983) (#1-100) (MARVEL) #86 NEWSSTAND Very Good
NEW MUTANTS (1983) (#1-100) (MARVEL) #87 Fine
NEW MUTANTS (1983) (#1-100) (MARVEL) #98 Good

NOVA (1976) (#1-25) (RICHARD RIDER) (MARVEL) #1 Fine

RED SONJA (1977) (#1-15) (MARVEL) #4 Very Good

SHE-HULK (1989) (#1-60) (SENSATIONAL SHE-HULK)(MARVEL) #1 NEWSSTAND Very Fine
SHE-HULK (1989) (#1-60) (SENSATIONAL SHE-HULK)(MARVEL) #1 NEWSSTAND Fine
SHE-HULK (1989) (#1-60) (SENSATIONAL SHE-HULK)(MARVEL) #2 Near Mint/Mint
SHE-HULK (1989) (#1-60) (SENSATIONAL SHE-HULK)(MARVEL) #2 Fine
SHE-HULK (1989) (#1-60) (SENSATIONAL SHE-HULK)(MARVEL) #5 Near Mint/Mint
SHE-HULK (1989) (#1-60) (SENSATIONAL SHE-HULK)(MARVEL) #5 Very Fine
SHE-HULK (1989) (#1-60) (SENSATIONAL SHE-HULK)(MARVEL) #6 Near Mint/Mint
SHE-HULK (1989) (#1-60) (SENSATIONAL SHE-HULK)(MARVEL) #6 Fine
SHE-HULK (1989) (#1-60) (SENSATIONAL SHE-HULK)(MARVEL) #6 Very Fine
SHE-HULK (1989) (#1-60) (SENSATIONAL SHE-HULK)(MARVEL) #7 Fine
SHE-HULK (1989) (#1-60) (SENSATIONAL SHE-HULK)(MARVEL) #7 Very Fine
SHE-HULK (1989) (#1-60) (SENSATIONAL SHE-HULK)(MARVEL) #10 Fine
SHE-HULK (1989) (#1-60) (SENSATIONAL SHE-HULK)(MARVEL) #10 Very Fine
SHE-HULK (1989) (#1-60) (SENSATIONAL SHE-HULK)(MARVEL) #11 Fine
SHE-HULK (1989) (#1-60) (SENSATIONAL SHE-HULK)(MARVEL) #11 Near Mint/Mint
SHE-HULK (1989) (#1-60) (SENSATIONAL SHE-HULK)(MARVEL) #11 Very Fine
SHE-HULK (1989) (#1-60) (SENSATIONAL SHE-HULK)(MARVEL) #12 Fine
SHE-HULK (1989) (#1-60) (SENSATIONAL SHE-HULK)(MARVEL) #13 Near Mint/Mint
SHE-HULK (1989) (#1-60) (SENSATIONAL SHE-HULK)(MARVEL) #13 Fine
SHE-HULK (1989) (#1-60) (SENSATIONAL SHE-HULK)(MARVEL) #13 Very Fine
SHE-HULK (1989) (#1-60) (SENSATIONAL SHE-HULK)(MARVEL) #29 Near Mint/Mint
SHE-HULK (1989) (#1-60) (SENSATIONAL SHE-HULK)(MARVEL) #29 Fine
SHE-HULK (1989) (#1-60) (SENSATIONAL SHE-HULK)(MARVEL) #29 Very Good


SHE-HULK (1989) (#1-60) (SENSATIONAL SHE-HULK)(MARVEL) #29

SHE-HULK (1989) (#1-60) (SENSATIONAL SHE-HULK)(MARVEL) #29 Very Fine
SHE-HULK (1989) (#1-60) (SENSATIONAL SHE-HULK)(MARVEL) #30 Very Fine
SHE-HULK (1989) (#1-60) (SENSATIONAL SHE-HULK)(MARVEL) #31 Near Mint/Mint
SHE-HULK (1989) (#1-60) (SENSATIONAL SHE-HULK)(MARVEL) #31 Fine
SHE-HULK (1989) (#1-60) (SENSATIONAL SHE-HULK)(MARVEL) #31 Very Fine
SHE-HULK (1989) (#1-60) (SENSATIONAL SHE-HULK)(MARVEL) #33 Near Mint/Mint
SHE-HULK (1989) (#1-60) (SENSATIONAL SHE-HULK)(MARVEL) #33 Very Fine
SHE-HULK (1989) (#1-60) (SENSATIONAL SHE-HULK)(MARVEL) #41 Near Mint/Mint
SHE-HULK (1989) (#1-60) (SENSATIONAL SHE-HULK)(MARVEL) #41 Very Good
SHE-HULK (1989) (#1-60) (SENSATIONAL SHE-HULK)(MARVEL) #41 Very Fine
SHE-HULK (1989) (#1-60) (SENSATIONAL SHE-HULK)(MARVEL) #42 Fine
SHE-HULK (1989) (#1-60) (SENSATIONAL SHE-HULK)(MARVEL) #42 Near Mint/Mint
SHE-HULK (1989) (#1-60) (SENSATIONAL SHE-HULK)(MARVEL) #42 Very Fine
SHE-HULK (1989) (#1-60) (SENSATIONAL SHE-HULK)(MARVEL) #44 Near Mint/Mint
SHE-HULK (1989) (#1-60) (SENSATIONAL SHE-HULK)(MARVEL) #44 Fine
SHE-HULK (1989) (#1-60) (SENSATIONAL SHE-HULK)(MARVEL) #44 Very Fine
SHE-HULK (1989) (#1-60) (SENSATIONAL SHE-HULK)(MARVEL) #44 Very Good
SHE-HULK (1989) (#1-60) (SENSATIONAL SHE-HULK)(MARVEL) #47 Very Fine
SHE-HULK (1989) (#1-60) (SENSATIONAL SHE-HULK)(MARVEL) #53 Good
SHE-HULK (1989) (#1-60) (SENSATIONAL SHE-HULK)(MARVEL) #53 Very Good
SHE-HULK (1989) (#1-60) (SENSATIONAL SHE-HULK)(MARVEL) #53 Very Fine
SHE-HULK (1989) (#1-60) (SENSATIONAL SHE-HULK)(MARVEL) #55 Fine
SHE-HULK (1989) (#1-60) (SENSATIONAL SHE-HULK)(MARVEL) #55 Near Mint/Mint
SHE-HULK (1989) (#1-60) (SENSATIONAL SHE-HULK)(MARVEL) #55 Very Fine
SHE-HULK (1989) (#1-60) (SENSATIONAL SHE-HULK)(MARVEL) #57 Very Fine

SHE-HULK (2004) (#1-12) (MARVEL) #2 Very Good

SHE-HULK (2014) (#1-12) (MARVEL) #1 YOUNG BABY Near Mint/Mint
SHE-HULK (2014) (#1-12) (MARVEL) #3 Near Mint/Mint
SHE-HULK (2014) (#1-12) (MARVEL) #3 Very Fine


SHE-HULK (2014) (#1-12) (MARVEL) #4

SHE-HULK (2014) (#1-12) (MARVEL) #4 Near Mint/Mint
SHE-HULK (2014) (#1-12) (MARVEL) #6 Near Mint/Mint
SHE-HULK (2014) (#1-12) (MARVEL) #6 Very Fine
SHE-HULK (2014) (#1-12) (MARVEL) #10 Near Mint/Mint
SHE-HULK (2014) (#1-12) (MARVEL) #12 Near Mint/Mint

SHE-HULK (2005) (#1-38) (MARVEL) #2 Fine
SHE-HULK (2005) (#1-38) (MARVEL) #11 Fine
SHE-HULK (2005) (#1-38) (MARVEL) #11 Near Mint/Mint
SHE-HULK (2005) (#1-38) (MARVEL) #11 Very Fine
SHE-HULK (2005) (#1-38) (MARVEL) #12 Near Mint/Mint
SHE-HULK (2005) (#1-38) (MARVEL) #14 Fine
SHE-HULK (2005) (#1-38) (MARVEL) #14 Near Mint/Mint
SHE-HULK (2005) (#1-38) (MARVEL) #14 Very Fine
SHE-HULK (2005) (#1-38) (MARVEL) #15 Fine
SHE-HULK (2005) (#1-38) (MARVEL) #15 Very Fine
SHE-HULK (2005) (#1-38) (MARVEL) #16 Fine
SHE-HULK (2005) (#1-38) (MARVEL) #16 Very Fine
SHE-HULK (2005) (#1-38) (MARVEL) #17 Fine
SHE-HULK (2005) (#1-38) (MARVEL) #17 Very Fine
SHE-HULK (2005) (#1-38) (MARVEL) #18 Fine
SHE-HULK (2005) (#1-38) (MARVEL) #20 Near Mint/Mint
SHE-HULK (2005) (#1-38) (MARVEL) #20 Fine
SHE-HULK (2005) (#1-38) (MARVEL) #20 Very Fine
SHE-HULK (2005) (#1-38) (MARVEL) #21 Near Mint/Mint
SHE-HULK (2005) (#1-38) (MARVEL) #21 Fine
SHE-HULK (2005) (#1-38) (MARVEL) #21 Very Fine
SHE-HULK (2005) (#1-38) (MARVEL) #22 Fine
SHE-HULK (2005) (#1-38) (MARVEL) #23 Near Mint/Mint
SHE-HULK (2005) (#1-38) (MARVEL) #23 Very Fine


SHE-HULK (2005) (#1-38) (MARVEL) #24

SHE-HULK (2005) (#1-38) (MARVEL) #24 Near Mint/Mint
SHE-HULK (2005) (#1-38) (MARVEL) #24 Fine
SHE-HULK (2005) (#1-38) (MARVEL) #24 Very Fine
SHE-HULK (2005) (#1-38) (MARVEL) #25 Near Mint/Mint
SHE-HULK (2005) (#1-38) (MARVEL) #25 Fine
SHE-HULK (2005) (#1-38) (MARVEL) #25 Very Fine
SHE-HULK (2005) (#1-38) (MARVEL) #26 Near Mint/Mint
SHE-HULK (2005) (#1-38) (MARVEL) #26 Very Fine
SHE-HULK (2005) (#1-38) (MARVEL) #28 Near Mint/Mint
SHE-HULK (2005) (#1-38) (MARVEL) #28 Very Fine
SHE-HULK (2005) (#1-38) (MARVEL) #32 Fine
SHE-HULK (2005) (#1-38) (MARVEL) #32 Near Mint/Mint
SHE-HULK (2005) (#1-38) (MARVEL) #32 Very Fine
SHE-HULK (2005) (#1-38) (MARVEL) #33 Fine
SHE-HULK (2005) (#1-38) (MARVEL) #33 Near Mint/Mint
SHE-HULK (2005) (#1-38) (MARVEL) #33 Very Fine
SHE-HULK (2005) (#1-38) (MARVEL) #34 Near Mint/Mint
SHE-HULK (2005) (#1-38) (MARVEL) #34 Very Fine

SILVER SURFER (1987) (#1-146) (MARVEL) #9 NEWSSTAND Good

SOLO AVENGERS (AVENGERS SPOTLIGHT #21-40) (1987) #12 NEWSSTAND Very Good

SON OF SATAN (1975) #3 Very Good

SPIDER-MAN (1963) (AMAZING SPIDER-MAN) (#1-441) #365 NEWSSTAND Near Mint/Mint

SPIDER-MAN 2099 (1992) (#1-46) (MARVEL) #1 Fine
SPIDER-MAN 2099 (1992) (#1-46) (MARVEL) #1 Very Fine

SPIDER-MAN: BLACK CAT STRIKES (GAMERVERSE) (2020) #5 LEE Near Mint/Mint


STAR WARS (1977) (#1-107) (MARVEL) #39 NEWSSTAND

STAR WARS (1977) (#1-107) (MARVEL) #39 NEWSSTAND Very Good
STAR WARS (1977) (#1-107) (MARVEL) #41 NEWSSTAND Good
STAR WARS (1977) (#1-107) (MARVEL) #42 NEWSSTAND Good
STAR WARS (1977) (#1-107) (MARVEL) #56 NEWSSTAND Fine
STAR WARS (1977) (#1-107) (MARVEL) #61 NEWSSTAND Very Good
STAR WARS (1977) (#1-107) (MARVEL) #71 NEWSSTAND Fine

STAR WARS: DOCTOR APHRA (2020) (#1-UP) (MARVEL) #3 ASRAR Near Mint/Mint

THOR (1962) (#83-125 JOURNEY INTO MYSTERY, 126-502) #239 Very Good
THOR (1962) (#83-125 JOURNEY INTO MYSTERY, 126-502) #244 Very Good
THOR (1962) (#83-125 JOURNEY INTO MYSTERY, 126-502) #245 Fine
THOR (1962) (#83-125 JOURNEY INTO MYSTERY, 126-502) #249 Very Good
THOR (1962) (#83-125 JOURNEY INTO MYSTERY, 126-502) #251 Fine
THOR (1962) (#83-125 JOURNEY INTO MYSTERY, 126-502) #288 NEWSSTAND Very Good
THOR (1962) (#83-125 JOURNEY INTO MYSTERY, 126-502) #292 NEWSSTAND Very Good
THOR (1962) (#83-125 JOURNEY INTO MYSTERY, 126-502) #314 NEWSSTAND Fine
THOR (1962) (#83-125 JOURNEY INTO MYSTERY, 126-502) #332 NEWSSTAND Very Good

STRANGE ACADEMY (2020) #1 Near Mint/Mint

THANOS (2016) (#1-18) (MARVEL NOW) #13 Near Mint/Mint
THANOS (2016) (#1-18) (MARVEL NOW) #15 Near Mint/Mint
THANOS (2016) (#1-18) (MARVEL NOW) #16 Near Mint/Mint

THOR (2014) (#1-8) (MARVEL) (FEMALE THOR) #1 Near Mint/Mint
THOR (2014) (#1-8) (MARVEL) (FEMALE THOR) #1 HASTINGS Near Mint/Mint

THOR ANNUAL (1965) #7 Fine
THOR ANNUAL (1965) #10 NEWSSTAND Fine


THOR ANNUAL (1965) #12 NEWSSTAND

THOR ANNUAL (1965) #12 NEWSSTAND Good

THOR GIANT-SIZE (1975) #1 Very Good

TOMB OF DRACULA (1972) (#1-70) (MARVEL) #52 Very Good

VENOM CUSTOM EDITION SONY PICTURES ENGLISH EDITION (2018) #1 Very Fine

VENOM: ENEMY WITHIN (1994) #1 Fine

VENOM: TOOTH & CLAW (1996) #1 Very Fine
VENOM: TOOTH & CLAW (1996) #2 Very Fine
VENOM: TOOTH & CLAW (1996) #3 Near Mint/Mint

WHAT IF... (1977) (#1-47) (MARVEL) #37 NEWSSTAND Fine

WHAT IF... (1989) (#1-114, & 200) (MARVEL) #60 Very Fine
WHAT IF... (1989) (#1-114, & 200) (MARVEL) #77 NEWSSTAND Fine
WHAT IF... (1989) (#1-114, & 200) (MARVEL) #107 Fine
WHAT IF... (1989) (#1-114, & 200) (MARVEL) #114 NEWSSTAND Good

WOLVERINE (1988) (#1/2-189) (MARVEL) #126 Very Fine

WOLVERINE (2003) (#1-90 & 900) (MARVEL) #82 Near Mint/Mint
WOLVERINE (2003) (#1-90 & 900) (MARVEL) #83 Near Mint/Mint
WOLVERINE (2003) (#1-90 & 900) (MARVEL) #84 Near Mint/Mint


WOLVERINE (2003) (#1-90 & 900) (MARVEL) #85

WOLVERINE (2003) (#1-90 & 900) (MARVEL) #85 Near Mint/Mint
WOLVERINE (2003) (#1-90 & 900) (MARVEL) #86 Near Mint/Mint
WOLVERINE (2003) (#1-90 & 900) (MARVEL) #89 Near Mint/Mint
WOLVERINE (2003) (#1-90 & 900) (MARVEL) #90 Near Mint/Mint
WOLVERINE (2003) (#1-90 & 900) (MARVEL) #900 Near Mint/Mint

WOLVERINE (2010) (#1-20, 300-317, & 1000) (MARVEL) #3 Near Mint/Mint
WOLVERINE (2010) (#1-20, 300-317, & 1000) (MARVEL) #4 Near Mint/Mint
WOLVERINE (2010) (#1-20, 300-317, & 1000) (MARVEL) #5 Near Mint/Mint
WOLVERINE (2010) (#1-20, 300-317, & 1000) (MARVEL) #6 Near Mint/Mint
WOLVERINE (2010) (#1-20, 300-317, & 1000) (MARVEL) #1000 Near Mint/Mint

WOLVERINE (2020) (#1-UP) (MARVEL) #4 GLEASON Near Mint/Mint

WOLVERINE & JUBILEE (2011) #1 Near Mint/Mint

WOLVERINE: MR. X (2010) #1 Near Mint/Mint

WOLVERINE: ORIGINS (2006) #46 Near Mint/Mint
WOLVERINE: ORIGINS (2006) #47 Near Mint/Mint
WOLVERINE: ORIGINS (2006) #48 Near Mint/Mint
WOLVERINE: ORIGINS (2006) #49 Near Mint/Mint
WOLVERINE: ORIGINS (2006) #50 Near Mint/Mint

WOLVERINE: ROAD TO HELL (2010) #1 Near Mint/Mint

WOLVERINE: SAVAGE (2010) #1 Near Mint/Mint

WOLVERINE: WEAPON X (2009) #5 VARIANT Near Mint/Mint


WOLVERINE: WEAPON X (2009) #6 VARIANT

WOLVERINE: WEAPON X (2009) #6 VARIANT Near Mint/Mint
WOLVERINE: WEAPON X (2009) #11 Near Mint/Mint
WOLVERINE: WEAPON X (2009) #12 Near Mint/Mint
WOLVERINE: WEAPON X (2009) #13 Near Mint/Mint
WOLVERINE: WEAPON X (2009) #14 Near Mint/Mint
WOLVERINE: WEAPON X (2009) #16 Near Mint/Mint

WOLVERINE: WENDIGO (2010) #1 Near Mint/Mint

X-FACTOR (1986) (#1-149) (ORIGINAL X-MEN) #92 Near Mint/Mint

X-FACTOR (2020) (#1-UP) #2 MEDINA Near Mint/Mint

X-FORCE (2008) (#1-28) (MARVEL) #20 Near Mint/Mint
X-FORCE (2008) (#1-28) (MARVEL) #21 Near Mint/Mint
X-FORCE (2008) (#1-28) (MARVEL) #22 Near Mint/Mint
X-FORCE (2008) (#1-28) (MARVEL) #25 Near Mint/Mint
X-FORCE (2008) (#1-28) (MARVEL) #26 Near Mint/Mint
X-FORCE (2008) (#1-28) (MARVEL) #27 Near Mint/Mint
X-FORCE (2008) (#1-28) (MARVEL) #28 Near Mint/Mint

X-FORCE ANNUAL (2010) #1 Near Mint/Mint

X-FORCE: SEX & VIOLENCE (2010) #1 Near Mint/Mint
X-FORCE: SEX & VIOLENCE (2010) #2 Near Mint/Mint
X-FORCE: SEX & VIOLENCE (2010) #3 Near Mint/Mint

X-MAN (1995) #1 Near Mint/Mint
X-MAN (1995) #2 Near Mint/Mint

X-MAN (1995) #3 Near Mint/Mint
X-MAN (1995) #4 Near Mint/Mint

X-MEN (1963) (#1-113, UNCANNY X-MEN #114-544) (MARVEL) #125 NEWSSTAND Very Good
X-MEN (1963) (#1-113, UNCANNY X-MEN #114-544) (MARVEL) #127 NEWSSTAND Very Good
X-MEN (1963) (#1-113, UNCANNY X-MEN #114-544) (MARVEL) #128 Good
X-MEN (1963) (#1-113, UNCANNY X-MEN #114-544) (MARVEL) #131 Good
X-MEN (1963) (#1-113, UNCANNY X-MEN #114-544) (MARVEL) #132 Good
X-MEN (1963) (#1-113, UNCANNY X-MEN #114-544) (MARVEL) #132 NEWSSTAND Good
X-MEN (1963) (#1-113, UNCANNY X-MEN #114-544) (MARVEL) #138 Good
X-MEN (1963) (#1-113, UNCANNY X-MEN #114-544) (MARVEL) #150 NEWSSTAND Good
X-MEN (1963) (#1-113, UNCANNY X-MEN #114-544) (MARVEL) #151 NEWSSTAND Very Good
X-MEN (1963) (#1-113, UNCANNY X-MEN #114-544) (MARVEL) #153 NEWSSTAND Very Good
X-MEN (1963) (#1-113, UNCANNY X-MEN #114-544) (MARVEL) #154 NEWSSTAND Very Good
X-MEN (1963) (#1-113, UNCANNY X-MEN #114-544) (MARVEL) #162 NEWSSTAND Very Good
X-MEN (1963) (#1-113, UNCANNY X-MEN #114-544) (MARVEL) #163 NEWSSTAND Fine
X-MEN (1963) (#1-113, UNCANNY X-MEN #114-544) (MARVEL) #164 NEWSSTAND Very Good
X-MEN (1963) (#1-113, UNCANNY X-MEN #114-544) (MARVEL) #165 NEWSSTAND Good
X-MEN (1963) (#1-113, UNCANNY X-MEN #114-544) (MARVEL) #172 NEWSSTAND Very Good
X-MEN (1963) (#1-113, UNCANNY X-MEN #114-544) (MARVEL) #177 NEWSSTAND Very Good
X-MEN (1963) (#1-113, UNCANNY X-MEN #114-544) (MARVEL) #178 Near Mint/Mint
X-MEN (1963) (#1-113, UNCANNY X-MEN #114-544) (MARVEL) #178 NEWSSTAND Very Good
X-MEN (1963) (#1-113, UNCANNY X-MEN #114-544) (MARVEL) #179 Near Mint/Mint
X-MEN (1963) (#1-113, UNCANNY X-MEN #114-544) (MARVEL) #181 NEWSSTAND Very Good
X-MEN (1963) (#1-113, UNCANNY X-MEN #114-544) (MARVEL) #184 Near Mint/Mint
X-MEN (1963) (#1-113, UNCANNY X-MEN #114-544) (MARVEL) #190 NEWSSTAND Very Good
X-MEN (1963) (#1-113, UNCANNY X-MEN #114-544) (MARVEL) #192 NEWSSTAND Fine


X-MEN (1963) (#1-113, UNCANNY X-MEN #114-544) (MARVEL) #194 NEWSSTAND

X-MEN (1963) (#1-113, UNCANNY X-MEN #114-544) (MARVEL) #194 NEWSSTAND Very Good
X-MEN (1963) (#1-113, UNCANNY X-MEN #114-544) (MARVEL) #195 NEWSSTAND Fine
X-MEN (1963) (#1-113, UNCANNY X-MEN #114-544) (MARVEL) #197 NEWSSTAND Very Good
X-MEN (1963) (#1-113, UNCANNY X-MEN #114-544) (MARVEL) #198 NEWSSTAND Very Good
X-MEN (1963) (#1-113, UNCANNY X-MEN #114-544) (MARVEL) #516 Near Mint/Mint
X-MEN (1963) (#1-113, UNCANNY X-MEN #114-544) (MARVEL) #523 Near Mint/Mint
X-MEN (1963) (#1-113, UNCANNY X-MEN #114-544) (MARVEL) #524 Near Mint/Mint
X-MEN (1963) (#1-113, UNCANNY X-MEN #114-544) (MARVEL) #525 Near Mint/Mint
X-MEN (1963) (#1-113, UNCANNY X-MEN #114-544) (MARVEL) #532 Near Mint/Mint

X-MEN (1991) (#1-275) (MARVEL) #236 Near Mint/Mint
X-MEN (1991) (#1-275) (MARVEL) #237 Near Mint/Mint
X-MEN (1991) (#1-275) (MARVEL) #238 Near Mint/Mint
X-MEN (1991) (#1-275) (MARVEL) #239 Near Mint/Mint
X-MEN (1991) (#1-275) (MARVEL) #240 Near Mint/Mint
X-MEN (1991) (#1-275) (MARVEL) #241 Near Mint/Mint
X-MEN (1991) (#1-275) (MARVEL) #242 Near Mint/Mint
X-MEN (1991) (#1-275) (MARVEL) #244 Near Mint/Mint

X-MEN ANNUAL (1970) #7 NEWSSTAND Very Good
X-MEN ANNUAL (1970) #14 Very Good

X-MEN FOREVER (2009) (#1-24) #24 Near Mint/Mint

X-MEN FOREVER 2 (2010) (#1-16) #13 Near Mint/Mint

X-MEN: CURSE OF THE MUTANTS - X-MEN VS. VAMPIRES (2010) #1 Near Mint/Mint


X-MEN: CURSE OF THE MUTANTS - X-MEN VS. VAMPIRES (2010) #2

X-MEN: CURSE OF THE MUTANTS - X-MEN VS. VAMPIRES (2010) #2 Near Mint/Mint

X-MEN: HELLBOUND (2010) #1 Near Mint/Mint
X-MEN: HELLBOUND (2010) #2 Near Mint/Mint
X-MEN: HELLBOUND (2010) #3 Near Mint/Mint

X-MEN: MARVELS SNAPSHOT (2020) #1 MCKONE Near Mint/Mint

X-MEN: PIXIE STRIKES BACK (2010) #1 Near Mint/Mint
X-MEN: PIXIE STRIKES BACK (2010) #4 Near Mint/Mint

X-MEN: SECOND COMING (2010) #1 Very Fine

X-NECROSHA: GATHERING (2009) #1 Near Mint/Mint

X-WOMEN (2010) #1 Near Mint/Mint

DC
ACTION COMICS (2016) (#957-UP) (DC REBIRTH) #990 LENTICULAR Near Mint/Mint

ADVENTURES OF SUPERMAN (#1-17) (2013) #14 Near Mint/Mint

ALL-STAR WESTERN (2011) (#0-34) (JONAH HEX) (DC NEW 52) #31 Near Mint/Mint
ALL-STAR WESTERN (2011) (#0-34) (JONAH HEX) (DC NEW 52) #32 Near Mint/Mint
ALL-STAR WESTERN (2011) (#0-34) (JONAH HEX) (DC NEW 52) #33 Near Mint/Mint

AMETHYST (1984) (#1-16) (DC) #6 Near Mint/Mint

AQUAMAN (2011) (#0-52) (DC NEW52) #32 Near Mint/Mint


AQUAMAN (2011) (#0-52) (DC NEW52) #33

AQUAMAN (2011) (#0-52) (DC NEW52) #33 Near Mint/Mint
AQUAMAN (2011) (#0-52) (DC NEW52) #40 Near Mint/Mint

ARKHAM MANOR (2014) #6 Near Mint/Mint

ARKHAM MANOR: ENDGAME (2015) #1 Near Mint/Mint

ARROW (DC) (GREEN ARROW) (2013) #1 Near Mint/Mint
ARROW (DC) (GREEN ARROW) (2013) #1 VARIANT Fine

ARROW: SEASON 2.5 (DC) (GREEN ARROW) (2014) #7 Near Mint/Mint

AZRAEL (1995) (#1-100) (DC) #4 Near Mint/Mint

BATGIRL (2011) (#0-52) (DC NEW52) #40 Near Mint/Mint
BATGIRL (2011) (#0-52) (DC NEW52) #40 MOVIESTYLE Near Mint/Mint

BATMAN (2011) (#0-52) (DC NEW52) #31 Near Mint/Mint
BATMAN (2011) (#0-52) (DC NEW52) #32 Near Mint/Mint
BATMAN (2011) (#0-52) (DC NEW52) #33 Near Mint/Mint
BATMAN (2011) (#0-52) (DC NEW52) #40 Near Mint/Mint

BATMAN (2016) (#1-UP) (DC REBIRTH) #98 JIMENEZ Near Mint/Mint
BATMAN (2016) (#1-UP) (DC REBIRTH) #99 JIMENEZ Near Mint/Mint

BATMAN & ROBIN (2011) (#0-40) (NEW 52) #40 Near Mint/Mint

BATMAN & ROBIN ANNUAL (2013) #3 Near Mint/Mint


BATMAN ANNUAL (1961) (#1-28) (DC) #13

BATMAN ANNUAL (1961) (#1-28) (DC) #13 Near Mint/Mint

BATMAN ETERNAL (2014) #51 Near Mint/Mint
BATMAN ETERNAL (2014) #52 Near Mint/Mint

BATMAN LOST (2017) #1 Near Mint/Mint

BATMAN/SUPERMAN (2013) (#1-32) (DC) #2 Near Mint/Mint
BATMAN/SUPERMAN (2013) (#1-32) (DC) #10 Near Mint/Mint
BATMAN/SUPERMAN (2013) (#1-32) (DC) #11 Near Mint/Mint
BATMAN/SUPERMAN (2013) (#1-32) (DC) #12 Near Mint/Mint
BATMAN/SUPERMAN (2013) (#1-32) (DC) #20 Near Mint/Mint

BATMAN/SUPERMAN ANNUAL (2014) #2 Near Mint/Mint

BATMAN: ARKHAM KNIGHT (2015) #1 GAMESTOP Near Mint/Mint
BATMAN: ARKHAM KNIGHT (2015) #2 Near Mint/Mint
BATMAN: ARKHAM KNIGHT (2015) #3 Near Mint/Mint

BATMAN: BEYOND UNIVERSE (2013) #10 Near Mint/Mint
BATMAN: BEYOND UNIVERSE (2013) #11 Near Mint/Mint
BATMAN: BEYOND UNIVERSE (2013) #12 Near Mint/Mint

BATMAN: CATWOMAN DEFIANT (1992) #1 Near Mint/Mint

BATMAN: DAWNBREAKER (2017) #1 2ND PRINT Near Mint/Mint

BATMAN: DROWNED (2017) #1 2ND PRINT Near Mint/Mint


BATMAN: MERCILESS (2017) #1 2ND PRINT

BATMAN: MERCILESS (2017) #1 2ND PRINT Near Mint/Mint

BATMAN: MURDER MACHINE (2017) #1 2ND PRINT Near Mint/Mint

BATMAN: PRELUDE TO THE WEDDING - HARLEY VS. JOKER (2018) #1 Near Mint/Mint

BATMAN: RED DEATH (2017) #1 Near Mint/Mint

BATMAN: THE DEVASTATOR (2017) #1 Near Mint/Mint

BATMAN: THREE JOKERS (2020) #1 FABOK B&W Near Mint/Mint

BATWOMAN (2011) (#0-40) (DC NEW52) #33 Near Mint/Mint
BATWOMAN (2011) (#0-40) (DC NEW52) #40 Near Mint/Mint

BATWOMAN ANNUAL (2014) #2 Near Mint/Mint

BEFORE WATCHMEN: COMEDIAN (2012) #6 Near Mint/Mint

BEFORE WATCHMEN: MINUTEMEN (2012) #4 Near Mint/Mint
BEFORE WATCHMEN: MINUTEMEN (2012) #6 Near Mint/Mint

BEFORE WATCHMEN: RORSCHACH (2012) #4 Near Mint/Mint

CATWOMAN (2011) (#0-52) (DC NEW52) #33 Near Mint/Mint
CATWOMAN (2011) (#0-52) (DC NEW52) #40 Near Mint/Mint

CONSTANTINE (2013) #14 Near Mint/Mint

CONSTANTINE (2013) #15 Near Mint/Mint
CONSTANTINE (2013) #16 Near Mint/Mint

CONVERGENCE (2015) #0 Near Mint/Mint
CONVERGENCE (2015) #1 Near Mint/Mint
CONVERGENCE (2015) #3 Near Mint/Mint
CONVERGENCE (2015) #4 Near Mint/Mint
CONVERGENCE (2015) #8 Near Mint/Mint

CONVERGENCE: ACTION COMICS (2015) #1 Near Mint/Mint
CONVERGENCE: ACTION COMICS (2015) #2 Near Mint/Mint

CONVERGENCE: ADVENTURES OF SUPERMAN (2015) #2 Near Mint/Mint

CONVERGENCE: AQUAMAN (2015) #1 Near Mint/Mint
CONVERGENCE: AQUAMAN (2015) #2 Near Mint/Mint

CONVERGENCE: JUSTICE LEAGUE (2015) #1 Near Mint/Mint

CONVERGENCE: SPEED FORCE (2015) #1 Near Mint/Mint

CONVERGENCE: THE ATOM (2015) #1 Near Mint/Mint

CRISIS ON INFINITE EARTHS (1985) #7 Very Fine

DARK NIGHTS: DEATH METAL - TRINITY CRISIS (2020) #1 HOTZ Near Mint/Mint

DC 100 PAGE SUPER SPECTACULAR (1971) #14 Fair

DC SPECIAL (1968) #12 Very Good

DC SUPER-STARS (1976) #18 Very Good

DEADMAN (2018) (#1-6) (DC) #1 GLOWINDARK Near Mint/Mint

DEATHSTROKE (2014) (#1-20) (DC NEW52) #6 Near Mint/Mint

DETECTIVE COMICS (2011) (#0-52) (DC NEW52) #31 Near Mint/Mint
DETECTIVE COMICS (2011) (#0-52) (DC NEW52) #32 Near Mint/Mint

EARTH 2 (2012) #25 Near Mint/Mint

EARTH 2: WORLD'S END (2014) #25 Near Mint/Mint
EARTH 2: WORLD'S END (2014) #26 Near Mint/Mint

FIRESTORM (1978) (#1-5) #1 Very Good

FLASH (2011) (#0-52) (DC NEW52) #33 Near Mint/Mint
FLASH (2011) (#0-52) (DC NEW52) #40 Near Mint/Mint

FLASH: SEASON ZERO (2014) #7 Near Mint/Mint

FOREVER EVIL (2013) #7 Near Mint/Mint

FROM BEYOND THE UNKNOWN (1969) #15 Good


GI COMBAT (1957) (#44-288) (DC) #154

GI COMBAT (1957) (#44-288) (DC) #154 Good

GOTHAM ACADEMY (DC NEW52) (2014) #6 Near Mint/Mint

GOTHAM BY MIDNIGHT (2014) #5 Near Mint/Mint

GRAYSON (2014) #1 Near Mint/Mint

GREEN ARROW (2011) (#0-52) (DC NEW52) #32 Near Mint/Mint
GREEN ARROW (2011) (#0-52) (DC NEW52) #33 Near Mint/Mint

GREEN LANTERN (1960) (#1-224) (DC) #76 Very Good

GREEN LANTERN (1960) (#1-224) (DC) #77 Very Good
GREEN LANTERN (1960) (#1-224) (DC) #82 Very Good
GREEN LANTERN (1960) (#1-224) (DC) #86 Very Good
GREEN LANTERN (1960) (#1-224) (DC) #89 Very Good
GREEN LANTERN (1960) (#1-224) (DC) #92 Very Good
GREEN LANTERN (1960) (#1-224) (DC) #93 Very Good
GREEN LANTERN (1960) (#1-224) (DC) #95 Fine
GREEN LANTERN (1960) (#1-224) (DC) #96 Fine
GREEN LANTERN (1960) (#1-224) (DC) #97 Very Good
GREEN LANTERN (1960) (#1-224) (DC) #98 Near Mint/Mint
GREEN LANTERN (1960) (#1-224) (DC) #99 Near Mint/Mint
GREEN LANTERN (1960) (#1-224) (DC) #100 Near Mint/Mint
GREEN LANTERN (1960) (#1-224) (DC) #100 Very Good
GREEN LANTERN (1960) (#1-224) (DC) #111 Fine
GREEN LANTERN (1960) (#1-224) (DC) #118 Near Mint/Mint

GREEN LANTERN (2011) (#0-52) (DC NEW52) #31 Near Mint/Mint


GREEN LANTERN (2011) (#0-52) (DC NEW52) #32

GREEN LANTERN (2011) (#0-52) (DC NEW52) #32 Near Mint/Mint
GREEN LANTERN (2011) (#0-52) (DC NEW52) #33 Near Mint/Mint

GREEN LANTERN CORPS (2011) (#0-40) (DC NEW52) #32 Near Mint/Mint
GREEN LANTERN CORPS (2011) (#0-40) (DC NEW52) #33 Near Mint/Mint

GREEN LANTERN: EMERALD DAWN (1989) #5 Near Mint/Mint
GREEN LANTERN: EMERALD DAWN (1989) #6 Near Mint/Mint

GREEN LANTERN: NEW GUARDIANS (2011) #32 Near Mint/Mint
GREEN LANTERN: NEW GUARDIANS (2011) #33 Near Mint/Mint
GREEN LANTERN: NEW GUARDIANS (2011) #40 Near Mint/Mint

HARLEY QUINN (2013) (#0-30) (DC NEW52) #6 Near Mint/Mint
HARLEY QUINN (2013) (#0-30) (DC NEW52) #7 Fine

HARLEY QUINN INVADES COMIC-CON INTERNATIONAL SAN DIEGO (2014) #1 Near Mint/Mint

HOUSE OF MYSTERY (1951) #190 Good

HOUSE OF SECRETS (1956) #97 Good
HOUSE OF SECRETS (1956) #97 Very Good
HOUSE OF SECRETS (1956) #98 Very Good

ICON (1993) #4 (DC: Milestone Press) Near Mint/Mint
ICON (1993) #5 (DC: Milestone Press) Near Mint/Mint

ICON (1993) #6 (DC: Milestone Press) Near Mint/Mint
ICON (1993) #15 (DC: Milestone Press) Near Mint/Mint
ICON (1993) #18 (DC: Milestone Press) Near Mint/Mint

INFINITE CRISIS: FIGHT FOR THE MULTIVERSE (2014) #11 Near Mint/Mint

INJUSTICE: YEAR FOUR (2015) #2 Near Mint/Mint

INJUSTICE: YEAR THREE ANNUAL (2015) #1 Near Mint/Mint

INJUSTICE: YEAR TWO (2014) #7 Near Mint/Mint
INJUSTICE: YEAR TWO (2014) #8 Near Mint/Mint

JLA 1,000,000 (1998) #1 Near Mint/Mint

JLA ANNUAL (1996) #2 Near Mint/Mint

JLA CLASSIFIED: COLD STEEL (2005) #1 Near Mint/Mint
JLA CLASSIFIED: COLD STEEL (2005) #2 Near Mint/Mint

JUST IMAGINE: JLA (2001) #1 Near Mint/Mint

JUST IMAGINE: ROBIN (2002) #1 Near Mint/Mint

JUSTICE LEAGUE (2011) (#0-52) (DC NEW52) #1 7TH PRINT Very Fine
JUSTICE LEAGUE (2011) (#0-52) (DC NEW52) #30 Near Mint/Mint
JUSTICE LEAGUE (2011) (#0-52) (DC NEW52) #40 Near Mint/Mint

JUSTICE LEAGUE 3000 (2013) #8 Near Mint/Mint

JUSTICE LEAGUE DARK (2011) (#0-40) (DC NEW52) #33 Near Mint/Mint
JUSTICE LEAGUE DARK (2011) (#0-40) (DC NEW52) #40 MOVIESTYLE Near Mint/Mint

JUSTICE LEAGUE OF AMERICA (1960) (#1-261) (DC) #123 Very Good

KAMANDI (1972) #3 Good

LEGEND OF AQUAMAN SPECIAL (1989) #1 Near Mint/Mint

LEGION OF SUPER-HEROES (1984) (#1-63) (DC) #13 Near Mint/Mint

MASK (1986) (#1-9) (DC) #1 Near Mint/Mint

METAL MEN (1963) (#1-56) (DC) #42 Very Fine

NEW 52 - FUTURE'S END FCBD (2014) #0 Near Mint/Mint

NEW GODS (1971) #7 Good
NEW GODS (1971) #10 Good

OMEGA MEN (1982) (#1-38) (DC) #20 Near Mint/Mint

OUR ARMY AT WAR (1952) #243 Very Good

OUR ARMY AT WAR (1952) #246 Very Good

OUR FIGHTING FORCES (1954) #145 Very Good

OUTSIDERS (1985) (#1-28) #26 Near Mint/Mint

RED HOOD & THE OUTLAWS (2011) (#0-40) (DC NEW52) #32 Near Mint/Mint
RED HOOD & THE OUTLAWS (2011) (#0-40) (DC NEW52) #33 Near Mint/Mint

RED LANTERNS (2011) #32 Near Mint/Mint
RED LANTERNS (2011) #33 Near Mint/Mint

ROBIN RISES: OMEGA (2014) #1 Near Mint/Mint

SECRET SIX (1968) (#1-7) (DC) #6 Good

SHAZAM (2018) #1 VARIANT Near Mint/Mint

SHAZAM! (1973) (#1-35) (WITH ONE MAGIC WORD...) #1 Near Mint/Mint
SHAZAM! (1973) (#1-35) (WITH ONE MAGIC WORD...) #2 Good

SHOWCASE (1956) (#1-104) (SHOWCASE PRESENTS...) (DC) #44 Good

SINESTRO (2014) #3 Near Mint/Mint

SMALLVILLE (2003) #1 Fine


SMALLVILLE SEASON 11: LANTERN (2014) #2

SMALLVILLE SEASON 11: LANTERN (2014) #2 Near Mint/Mint

STAR SPANGLED WAR STORIES (1952) #170 Very Good
STAR SPANGLED WAR STORIES (1952) #172 Good
STAR SPANGLED WAR STORIES (1952) #173 Good
STAR SPANGLED WAR STORIES (1952) #178 Very Good

SUICIDE SQUAD (2011) (#0-30) (DC NEW52) #30 Near Mint/Mint

SUPERGIRL (2011) (#0-40) (DC NEW52) #32 Near Mint/Mint
SUPERGIRL (2011) (#0-40) (DC NEW52) #40 MOVIESTYLE Very Fine

SUPERMAN (2011) (#0-52) (DC NEW52) #31 Near Mint/Mint
SUPERMAN (2011) (#0-52) (DC NEW52) #40 Near Mint/Mint

SUPERMAN (2018) (#1-UP) (DC UNIVERSE) #25 REIS Near Mint/Mint

SUPERMAN/WONDER WOMAN (2013) #8 Near Mint/Mint
SUPERMAN/WONDER WOMAN (2013) #9 Near Mint/Mint

SUPERMAN: DOOMED (2014) #1 Near Mint/Mint

TEEN TITANS (1980) (#1-91) (DC) #21 Near Mint/Mint
TEEN TITANS (1980) (#1-91) (DC) #23 Near Mint/Mint
TEEN TITANS (1980) (#1-91) (DC) #26 Near Mint/Mint
TEEN TITANS (1980) (#1-91) (DC) #31 Near Mint/Mint

TEEN TITANS (2014) (#1-24) (DC NEW52) #1 Near Mint/Mint

TEEN TITANS ANNUAL (2012) #3 Near Mint/Mint

TEEN TITANS ANNUAL (2015) #1 Near Mint/Mint

UNEXPECTED (1956) (TALES OF THE UNEXPECTED #1-104) #133 Good

WEIRD WESTERN TALES (1972) #19 Good
WEIRD WESTERN TALES (1972) #31 Good

WEIRD WORLDS (1972) #7 Very Good

WONDER WOMAN (2016) (#1-83, #750-UP) (DC REBIRTH) #762 JANIN Near Mint/Mint

WORLDS FINEST (1941) (#2-323) (DC) (WORLD'S FINEST) #302 Near Mint/Mint

DARK HORSE COMICS
ALIENS (1988) (#1-6) (DARK HORSE) (BLACK & WHITE) #3 Near Mint/Mint

ALIENS (2009) (#1-4) (DARK HORSE) #2 Near Mint/Mint

ALIENS (1989) (#1-4) (DARK HORSE) #4 Near Mint/Mint

ALIENS VS. PREDATOR (DARK HORSE) (AVP) (1990) #4 Near Mint/Mint

ALIENS: COLONIAL MARINES (DARK HORSE) (1993) #1 Near Mint/Mint
ALIENS: COLONIAL MARINES (DARK HORSE) (1993) #5 Near Mint/Mint

INDEPENDENTS

ALIEN ENCOUNTERS (ECLIPSE) (1985) #1

ALIEN ENCOUNTERS (ECLIPSE) (1985) #1 (Eclipse Enterprises) Near Mint/Mint
ALIEN ENCOUNTERS (ECLIPSE) (1985) #12 (Eclipse Enterprises) Near Mint/Mint

ALIEN NATION: A BREED APART (ADVENTURE) (1990) #3 (Adventure Comics) Near Mint/Mint
ALIEN NATION: A BREED APART (ADVENTURE) (1990) #4 (Adventure Comics) Near Mint/Mint

ALIEN WORLDS (PACIFIC) (1982) #2 (Pacific Comics) Near Mint/Mint

AMAZING HEROES (FANTAGRAPHICS) (1981) #124 (Fantagraphics) Near Mint/Mint
AMAZING HEROES (FANTAGRAPHICS) (1981) #130 (Fantagraphics) Near Mint/Mint

AMY PAPUDA RETURNS (NORTHSTAR) (ADULT) (1992) #1 (Northstar Publications) Near Mint/Mint

ANGEL FIRE (CRUSADE) (1997) #1 WHITE (Crusade) Near Mint/Mint

ANGEL OF DEATH (1991) #2 (Innovation Publishing) Near Mint/Mint

ARCHIE'S DATE BOOK (ARCHIE CHRISTIAN SPIRE) (1981) #1 69 CENT CV (Archie: Spire Christian Comics) Fair

ARCHIE'S FESTIVAL (ARCHIE CHRISTIAN SPIRE) (1980) #1 59C ED (Archie Comics) Good

ASPEN (MICHAEL TURNER) (2003) #2 (Aspen) Near Mint/Mint

ASTRO BOY, THE ORIGINAL (NOW COMICS) (1987) #13 (Now Comics) Near Mint/Mint

ATOMIK ANGELS (CRUSADE) (1996) #3 TUCCI (Crusade) Near Mint/Mint

BAD COMPANY (FLEETWAY QUALITY COMICS) (UK) (1985) #16 (Fleetway-Quality Comics) Near Mint/Mint


BADGER (1983) (#1-70) (CAPITAL/FIRST) (MIKE BARON) #5

BADGER (1983) (#1-70) (CAPITAL/FIRST) (MIKE BARON) #5 (First Comics) Near Mint/Mint
BADGER (1983) (#1-70) (CAPITAL/FIRST) (MIKE BARON) #25 (First Comics) Near Mint/Mint

BALLAD OF HALO JONES (QUALITY COMICS) (ALAN MOORE) (UK) (1987) #5 (Fleetway-Quality Comics) Near Mint/Mint

BETTIE PAGE (2020) (#1-UP) (DYNAMITE) #2 K LINSNB&W (DYNAMITE Entertainment) Fine

BUFFY THE VAMPIRE SLAYER (2019) (#1-UP) (BOOM STUDIOS) #17 D LOPEZ (Boom Studios Publishing) Near Mint/Mint

FIREFLY (2018) #20 C CORONA (Boom Studios Publishing) Near Mint/Mint

GI JOE (#155-UP) (2010) #274 INCENTIVE (IDW Publishing) Fine

HEROINES SHOWCASE ART PORTFOLIO (1985) #16 (Comics Heroines Fan Club) Very Fine

HIGHBALL & PEPE (2015) #1 SIGNED (Roy Chang) Very Fine

JUNGLE TWINS (1972) (#1-17) (GOLD KEY) #1 (Gold Key) Very Good

PHANTOM (1969) (#30-74) (CHARLTON) #50 (Charlton) Good

SAD SACK (1949) #241 (Harvey Comics) Very Good

SAD SACK AND THE SARGE (1957) #88 (Harvey Comics) Good

U.K. HEROINES SHOWCASE (1979) #2 (Comics Heroines Fan Club) Near Mint/Mint

UNKINDNESS OF RAVENS (2020) #1 D KENNARD (Boom Studios Publishing) Near Mint/Mint


VAMPIRE LESTAT (ANNE RICE) (1990) #6

VAMPIRE LESTAT (ANNE RICE) (1990) #6 (Innovation Publishing) Near Mint/Mint

VAMPIRELLA (2019) (#0-UP) (DYNAMITE) #13 J GUNDUVIR (DYNAMITE Entertainment) Near Mint/Mint
VAMPIRELLA (2019) (#0-UP) (DYNAMITE) #13 K JUSKOB&W (DYNAMITE Entertainment) Very Fine
VAMPIRELLA (2019) (#0-UP) (DYNAMITE) #13 L PARRIVIR (DYNAMITE Entertainment) Very Fine

VAMPIRELLA CLASSIC #2 (Harris Comics) Near Mint/Mint

VAMPIRELLA OF DRAKULON (1996) #4 (Harris Comics) Near Mint/Mint

WE ONLY FIND THEM WHEN THEY'RE DEAD (2020) #1 C WARD (Boom Studios Publishing) Very Fine

WORLD OF ASPEN FCBD (2018) #1 (Aspen) Near Mint/Mint

WORLD'S GREATEST CARTOONISTS FREE COMIC BOOK DAY (2018) #1 (Fantagraphics) Near Mint/Mint

WYND (2020) #3 C DIALYNAS (Boom Studios Publishing) Near Mint/Mint