5,000 Silver and Bronze Age Comics Arrive From California
Howdy!
My two pallets of awesome comics from my California buying trip arrived at Jason St. about an hour ago. Will and Pam both immediately selected boxes filled with nice old Silver Age comics from those pallets to grade, so I can guarantee you that tomorrow's Premium New-In-Stock link on our website will be exceptional. That first New-In-Stock list will be just the beginning, however, as I purchased well over 5,000 pre-1984 comics in California. Woo!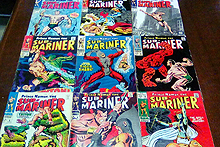 Some of the Sub-Mariner comics from California

So you know, my buying trip of earlier this week to California is but the first of many that I will be making this fall. I am off at the beginning of next week to eastern Nebraska to look at another collection, and will be in Las Vegas the week of October 3rd. The week of October 11th, I am heading to central Arizona, and the week of October 18th I have committed to a trip to the upper East Coast, and southern Canada. If you live in any of those regions, and have a comics or book collection you're considering selling, please contact my assistant, Will Moulton with a few details. He can be reached at moulton@milehighcomics.com. If a price consensus can be reached, he will then see if we can fit a visit to your home into my already crazy schedule.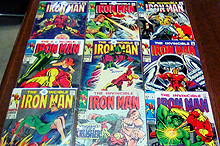 Some of the Iron Man comics from California

Another important consideration that will determine my ability to purchase even more collections will be the strength of support we receive from our clients from around the world. My beloved wife, Nanette, is in charge of our budgeting, and it is no secret that she keeps me on a tight rein when it comes to our spending on collections. She is experienced enough in the mechanics of our collecting world to also recognize, the critical importance of our striving to enhance our website selections for you every day. As long as we receive enough orders from our fans to cover all of our operating costs, Nanette has no problem with my searching for even more great comics to offer you.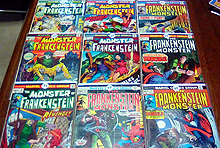 Some of the Frankenstein Monster comics from California

All of the above having been said, I am delighted to report that our current 60% off NANETTE2 codeword sale has already generated enough in the way of new orders to cover the cost of the collections that I purchased in California. That is awesome news, as this typically tends to be our slowest sales period of the year. Experiencing such excellent sales results in late September is a blessing for which I am deeply grateful. My thanks go out to everyone!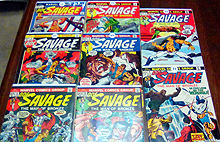 Some of the Doc Savage comics from California

On a related note, I did want to quickly mention that both Pam and Will have worked very hard this week to grade and enter large stacks of exceptional newer comics into our New-In-Stock links for you. Will has concentrated on adding over 1,000 scarce variants, while Pam entered over 2,000 new issues from the past 18 months, most of which had previously been sold out. Meanwhile, Pam's assistant, Josh, entered over 1,000 Silver Age, Bronze, and Copper Age issues from several smaller collections that simply walked into Jason St. If you have not checked out our New-In-Stock and Premium New-In-Stock links this week, I urge you to do so right away. On most of these scarce issues we added but a single copy, so many will be sold out again very soon.
Happy Collecting!
Chuck Rozanski,
President - Mile High Comics, Inc.
September 23, 2016

P.S. In case you missed my earlier announcement, the new 60% off NANETTE2 codeword sale is valid on all ten million of our back issue comics and magazines, excluding only new issues, a few variants, and our CGC's. To receive your 60% off savings on all qualifying items, just type NANETTE2 into the "Discount Codeword" box on our website order form. Free shipping is also still available to you on comics orders to USA destinations over $50, and to all International destinations over $125. Orders containing books are charged per item fees to help cover those extra costs, but book purchases do also count toward achieving free base shipping.
MARVEL
ALL-NEW ALL-DIFFERENT AVENGERS (2015) #1 KIRBY Near Mint/Mint

ALL-NEW ALL-DIFFERENT MARVEL POINT ONE (2015) #1 Near Mint/Mint


ALL-NEW ALL-DIFFERENT MARVEL POINT ONE (2015) #1

ALL-NEW ALL-DIFFERENT MARVEL POINT ONE (2015) #1 Very Fine

ALL-NEW X-FACTOR (2014) #1 BLANK CVR Near Mint/Mint

ASTONISHING X-MEN (JOSS WHEDON) (2004) #48 VARIANT Near Mint/Mint

BIG THUNDER MOUNTAIN RAILROAD (2015) #1 RANEY Near Mint/Mint

BLACK KNIGHT (2015) #1 FIGURE VAR Near Mint/Mint
BLACK KNIGHT (2015) #1 POWELL Fine
BLACK KNIGHT (2015) #2 EPTING VAR Near Mint/Mint

BLACK PANTHER (2009) (#1-12 & #513-529) (MARVEL) #2 2ND PRINT Near Mint/Mint

BLACK PANTHER (2016) (#1-UP) (MARVEL) #6 UDON Near Mint/Mint

BLACK WIDOW (2014) #12 CHRISTOPHE Near Mint/Mint

CIVIL WAR II (2016) #2 CHO Near Mint/Mint

CONTEST OF CHAMPIONS (2015) #3 ANDRASOFSZ Near Mint/Mint
CONTEST OF CHAMPIONS (2015) #3 CLASSIC Near Mint/Mint
CONTEST OF CHAMPIONS (2015) #4 VON Near Mint/Mint

DAREDEVIL (2014) (#0-18) (MARVEL) #3 VARIANT Near Mint/Mint

DEADPOOL & THE MERCS FOR MONEY (VOL. 2) (2016) #3 LIEFELD Near Mint/Mint

DEADPOOL VS. GAMBIT (2016) #1 FRIED PIE Near Mint/Mint

DEADPOOL'S ART OF WAR (2014) #1 VARIANT Near Mint/Mint

DEATHLOK (2014) #2 VARIANT Near Mint/Mint
DEATHLOK (2014) #4 BUCKLER Near Mint/Mint

DOCTOR STRANGE (2015) #1 FRIED PIE Near Mint/Mint
DOCTOR STRANGE (2015) #11 HUGHES Very Fine

E IS FOR EXTINCTION (2015) #1 FIGURE VAR Near Mint/Mint

EXTRAORDINARY X-MEN (2015) #2 WADA Near Mint/Mint

FANTASTIC FOUR (2013) (#1-16) (MARVEL) #1 DFE S&N Near Mint/Mint

FANTASTIC FOUR (2014) (#1-14, #642-645) (MARVEL) #1 HASTINGS Near Mint/Mint

FANTOMEX MAX (2013) #1 DFE S&N Near Mint/Mint

FEAR ITSELF (2011) #7 TAN Near Mint/Mint

GUARDIANS OF INFINITY (2015) #1 BARBERI Near Mint/Mint
GUARDIANS OF INFINITY (2015) #2 CHOO Near Mint/Mint

GUARDIANS OF THE GALAXY (2013) #1 HASTINGS Near Mint/Mint

GWENPOOL (2016) #6 COSPLAY Near Mint/Mint

HAWKEYE & MOCKINGBIRD (2010) #1 WOMEN Near Mint/Mint

HAWKEYE VS. DEADPOOL (2014) #4 GRANOV Near Mint/Mint

HOWARD THE DUCK (MAY) (2015) #1 2ND SIGNED Fine

HULK (1962) (#1-6, #102-635) (INCREDIBLE) (MARVEL) #605 70TH ANN Near Mint/Mint
HULK (2014) (#1-16) (MARVEL) #1 BLANK CVR Near Mint/Mint

INDESTRUCTIBLE HULK (2012) #1 BLANK CVR Near Mint/Mint

INFERNO (2015) #3 CLARKE Near Mint/Mint

INHUMAN (2014) #5 OTTLEY Near Mint/Mint
INHUMAN (2014) #6 VARIANT Near Mint/Mint

INHUMANS: ATTILAN RISING (2015) #5 JOHNSON Near Mint/Mint

INTERNATIONAL IRON MAN (2016) #1 DELL OTTO Near Mint/Mint

IRON FIST: LIVING WEAPON (2014) #1 BLANK CVR Near Mint/Mint

KARNAK (2015) #2 NOWLAN Near Mint/Mint

MOON KNIGHT (2016) #6 CLASSIC Near Mint/Mint

PRINCESS LEIA (STAR WARS) (2015) #1 DFE ALTS&N Near Mint/Mint
PRINCESS LEIA (STAR WARS) (2015) #1 DFESILVS&N Very Fine

SCARLET WITCH (2015) #10 COSPLAY Near Mint/Mint


SGT. FURY AND HIS HOWLING COMMANDOS (1963) #41

SGT. FURY AND HIS HOWLING COMMANDOS (1963) #41 Fine
SGT. FURY AND HIS HOWLING COMMANDOS (1963) #99 Very Good
SGT. FURY AND HIS HOWLING COMMANDOS (1963) #105 Fine
SGT. FURY AND HIS HOWLING COMMANDOS (1963) #105 Very Good
SGT. FURY AND HIS HOWLING COMMANDOS (1963) #107 Fine
SGT. FURY AND HIS HOWLING COMMANDOS (1963) #107 BRITISH Very Fine
SGT. FURY AND HIS HOWLING COMMANDOS (1963) #107 Very Good
SGT. FURY AND HIS HOWLING COMMANDOS (1963) #108 Fine
SGT. FURY AND HIS HOWLING COMMANDOS (1963) #108 BRITISH Very Good
SGT. FURY AND HIS HOWLING COMMANDOS (1963) #113 Fine
SGT. FURY AND HIS HOWLING COMMANDOS (1963) #115 Fine
SGT. FURY AND HIS HOWLING COMMANDOS (1963) #115 Very Good
SGT. FURY AND HIS HOWLING COMMANDOS (1963) #115 Very Fine
SGT. FURY AND HIS HOWLING COMMANDOS (1963) #116 Fine
SGT. FURY AND HIS HOWLING COMMANDOS (1963) #117 Fine
SGT. FURY AND HIS HOWLING COMMANDOS (1963) #117 Very Good
SGT. FURY AND HIS HOWLING COMMANDOS (1963) #117 Very Fine
SGT. FURY AND HIS HOWLING COMMANDOS (1963) #118 Fine
SGT. FURY AND HIS HOWLING COMMANDOS (1963) #118 Very Good
SGT. FURY AND HIS HOWLING COMMANDOS (1963) #119 Fine
SGT. FURY AND HIS HOWLING COMMANDOS (1963) #119 Very Good
SGT. FURY AND HIS HOWLING COMMANDOS (1963) #120 Very Fine
SGT. FURY AND HIS HOWLING COMMANDOS (1963) #121 Fine
SGT. FURY AND HIS HOWLING COMMANDOS (1963) #128 BRITISH Fine
SGT. FURY AND HIS HOWLING COMMANDOS (1963) #164 BRITISH Very Fine

SHADOWLAND (2010) #3 VARIANT Very Fine

SHADOWLAND (2010) #5 TAN Near Mint/Mint

SHE-HULK (1979) #2 NEWSSTAND Near Mint/Mint
SHE-HULK (1979) #2 NEWSSTAND Fine
SHE-HULK (1979) #9 Near Mint/Mint

SHE-HULK 2 (2005) #22 VARIANT Very Fine

SHIELD (2010) #4 VAMPIRE Near Mint/Mint
SHIELD (2010) #5 VARIANT Near Mint/Mint
SHIELD (2010) #6 VARIANT Near Mint/Mint
SHIELD (2010) #6 VARIANT Very Fine

SHIELD (2011) #1 VARIANT Near Mint/Mint
SHIELD (2011) #3 VARIANT Near Mint/Mint

SIEGE (2010) #2 DELL OTTO Near Mint/Mint

SIEGE: LOKI (2010) #1 VARIANT Near Mint/Mint

SIEGE: SECRET WARRIORS (2010) #1 VARIANT Near Mint/Mint

SIGIL (2011) #1 VARIANT Near Mint/Mint

SILK (NOVEMBER) (2015) #12 COSPLAY Near Mint/Mint

SILVER SURFER (1987) #100 Very Fine

SKAAR: KING OF THE SAVAGE LAND (2011) #1 VARIANT Very Fine

SKAAR: SON OF HULK (2008) #1 VARIANT Very Fine

SKRULL KILL KREW (2009) #1 VARIANT Very Fine
SKRULL KILL KREW (2009) #2 VARIANT Near Mint/Mint
SKRULL KILL KREW (2009) #4 VARIANT Very Fine
SKRULL KILL KREW (2009) #5 VARIANT Near Mint/Mint
SKRULL KILL KREW (2009) #5 VARIANT Very Fine

SKULL THE SLAYER (1975) #2 Fine
SKULL THE SLAYER (1975) #2 Near Mint/Mint
SKULL THE SLAYER (1975) #2 Very Fine

SKY DOLL (2008) #3 Near Mint/Mint

SON OF HULK (#13-UP) (2009) #13 VARIANT Near Mint/Mint

SON OF SATAN (1975) #2 Fine
SON OF SATAN (1975) #4 Fine
SON OF SATAN (1975) #4 Very Good
SON OF SATAN (1975) #5 Very Good
SON OF SATAN (1975) #6 Fine
SON OF SATAN (1975) #6 Very Good
SON OF SATAN (1975) #7 Fine

SPECIAL MARVEL EDITION #4 Good
SPECIAL MARVEL EDITION #4 Very Good

SPIDER-MAN (1963) (AMAZING SPIDER-MAN) (#1-441) #165 WHITMAN Good
SPIDER-MAN (1963) (AMAZING SPIDER-MAN) (#1-441) #166 Fine
SPIDER-MAN (1963) (AMAZING SPIDER-MAN) (#1-441) #166 Very Good
SPIDER-MAN (1963) (AMAZING SPIDER-MAN) (#1-441) #166 WHITMAN Good
SPIDER-MAN (1963) (AMAZING SPIDER-MAN) (#1-441) #167 Fine
SPIDER-MAN (1963) (AMAZING SPIDER-MAN) (#1-441) #167 Very Fine
SPIDER-MAN (1963) (AMAZING SPIDER-MAN) (#1-441) #167 Very Good
SPIDER-MAN (1963) (AMAZING SPIDER-MAN) (#1-441) #167 WHITMAN Very Good
SPIDER-MAN (1963) (AMAZING SPIDER-MAN) (#1-441) #168 WHITMAN Very Good
SPIDER-MAN (1963) (AMAZING SPIDER-MAN) (#1-441) #170 WHITMAN Fine
SPIDER-MAN (1963) (AMAZING SPIDER-MAN) (#1-441) #171 Good
SPIDER-MAN (1963) (AMAZING SPIDER-MAN) (#1-441) #171 Fine
SPIDER-MAN (1963) (AMAZING SPIDER-MAN) (#1-441) #171 Very Good
SPIDER-MAN (1963) (AMAZING SPIDER-MAN) (#1-441) #172 Fine
SPIDER-MAN (1963) (AMAZING SPIDER-MAN) (#1-441) #172 Very Good
SPIDER-MAN (1963) (AMAZING SPIDER-MAN) (#1-441) #183 Fine
SPIDER-MAN (1963) (AMAZING SPIDER-MAN) (#1-441) #183 WHITMAN Very Good
SPIDER-MAN (1963) (AMAZING SPIDER-MAN) (#1-441) #183 Very Fine
SPIDER-MAN (1963) (AMAZING SPIDER-MAN) (#1-441) #183 Very Good
SPIDER-MAN (1963) (AMAZING SPIDER-MAN) (#1-441) #183 WHITMAN Good
SPIDER-MAN (1963) (AMAZING SPIDER-MAN) (#1-441) #184 Fine
SPIDER-MAN (1963) (AMAZING SPIDER-MAN) (#1-441) #184 Very Good
SPIDER-MAN (1963) (AMAZING SPIDER-MAN) (#1-441) #186 Very Good
SPIDER-MAN (1963) (AMAZING SPIDER-MAN) (#1-441) #189 Fine
SPIDER-MAN (1963) (AMAZING SPIDER-MAN) (#1-441) #189 Very Good
SPIDER-MAN (1963) (AMAZING SPIDER-MAN) (#1-441) #190 Near Mint/Mint
SPIDER-MAN (1963) (AMAZING SPIDER-MAN) (#1-441) #214 NEWSSTAND Fine
SPIDER-MAN (1963) (AMAZING SPIDER-MAN) (#1-441) #214 NEWSSTAND Very Good
SPIDER-MAN (1963) (AMAZING SPIDER-MAN) (#1-441) #216 Fine
SPIDER-MAN (1963) (AMAZING SPIDER-MAN) (#1-441) #224 NEWSSTAND Fine
SPIDER-MAN (1963) (AMAZING SPIDER-MAN) (#1-441) #225 NEWSSTAND Fine
SPIDER-MAN (1963) (AMAZING SPIDER-MAN) (#1-441) #237 NEWSSTAND Fine
SPIDER-MAN (1963) (AMAZING SPIDER-MAN) (#1-441) #253 NEWSSTAND Very Fine
SPIDER-MAN (1963) (AMAZING SPIDER-MAN) (#1-441) #253 NEWSSTAND Fine
SPIDER-MAN (1963) (AMAZING SPIDER-MAN) (#1-441) #253 NEWSSTAND Very Good
SPIDER-MAN (1963) (AMAZING SPIDER-MAN) (#1-441) #254 NEWSSTAND Very Fine
SPIDER-MAN (1963) (AMAZING SPIDER-MAN) (#1-441) #254 NEWSSTAND Fine
SPIDER-MAN (1963) (AMAZING SPIDER-MAN) (#1-441) #255 NEWSSTAND Very Fine
SPIDER-MAN (1963) (AMAZING SPIDER-MAN) (#1-441) #255 NEWSSTAND Fine
SPIDER-MAN (1963) (AMAZING SPIDER-MAN) (#1-441) #255 NEWSSTAND Very Good
SPIDER-MAN (1963) (AMAZING SPIDER-MAN) (#1-441) #257 NEWSSTAND Very Good
SPIDER-MAN (1963) (AMAZING SPIDER-MAN) (#1-441) #262 NEWSSTAND Very Fine
SPIDER-MAN (1963) (AMAZING SPIDER-MAN) (#1-441) #263 NEWSSTAND Very Fine
SPIDER-MAN (1963) (AMAZING SPIDER-MAN) (#1-441) #263 NEWSSTAND Fine
SPIDER-MAN (1963) (AMAZING SPIDER-MAN) (#1-441) #263 NEWSSTAND Very Good
SPIDER-MAN (1963) (AMAZING SPIDER-MAN) (#1-441) #264 NEWSSTAND Very Good
SPIDER-MAN (1963) (AMAZING SPIDER-MAN) (#1-441) #266 NEWSSTAND Very Fine
SPIDER-MAN (1963) (AMAZING SPIDER-MAN) (#1-441) #266 NEWSSTAND Fine
SPIDER-MAN (1963) (AMAZING SPIDER-MAN) (#1-441) #267 NEWSSTAND Very Fine
SPIDER-MAN (1963) (AMAZING SPIDER-MAN) (#1-441) #267 NEWSSTAND Fine
SPIDER-MAN (1963) (AMAZING SPIDER-MAN) (#1-441) #267 NEWSSTAND Very Good
SPIDER-MAN (1963) (AMAZING SPIDER-MAN) (#1-441) #268 NEWSSTAND Very Fine
SPIDER-MAN (1963) (AMAZING SPIDER-MAN) (#1-441) #268 NEWSSTAND Fine
SPIDER-MAN (1963) (AMAZING SPIDER-MAN) (#1-441) #268 NEWSSTAND Very Good
SPIDER-MAN (1963) (AMAZING SPIDER-MAN) (#1-441) #271 NEWSSTAND Very Fine
SPIDER-MAN (1963) (AMAZING SPIDER-MAN) (#1-441) #271 NEWSSTAND Fine
SPIDER-MAN (1963) (AMAZING SPIDER-MAN) (#1-441) #271 NEWSSTAND Very Good


SPIDER-MAN (1963) #273 NEWSSTAND

SPIDER-MAN (1963) (AMAZING SPIDER-MAN) (#1-441) #273 NEWSSTAND Very Fine
SPIDER-MAN (1963) (AMAZING SPIDER-MAN) (#1-441) #273 NEWSSTAND Fine
SPIDER-MAN (1963) (AMAZING SPIDER-MAN) (#1-441) #273 NEWSSTAND Very Good
SPIDER-MAN (1963) (AMAZING SPIDER-MAN) (#1-441) #283 NEWSSTAND Very Fine
SPIDER-MAN (1963) (AMAZING SPIDER-MAN) (#1-441) #283 NEWSSTAND Fine
SPIDER-MAN (1963) (AMAZING SPIDER-MAN) (#1-441) #288 NEWSSTAND Very Fine
SPIDER-MAN (1963) (AMAZING SPIDER-MAN) (#1-441) #291 NEWSSTAND Fine
SPIDER-MAN (1963) (AMAZING SPIDER-MAN) (#1-441) #291 NEWSSTAND Very Good
SPIDER-MAN (1963) (AMAZING SPIDER-MAN) (#1-441) #302 NEWSSTAND Fine
SPIDER-MAN (1963) (AMAZING SPIDER-MAN) (#1-441) #307 NEWSSTAND Very Good
SPIDER-MAN (1963) (AMAZING SPIDER-MAN) (#1-441) #314 NEWSSTAND Very Fine
SPIDER-MAN (1963) (AMAZING SPIDER-MAN) (#1-441) #314 NEWSSTAND Fine
SPIDER-MAN (1963) (AMAZING SPIDER-MAN) (#1-441) #314 NEWSSTAND Very Good
SPIDER-MAN (1963) (AMAZING SPIDER-MAN) (#1-441) #393 Near Mint/Mint
SPIDER-MAN (1963) (AMAZING SPIDER-MAN) (#1-441) #437 NEWSSTAND Very Fine

SPIDER-MAN (1990) (#1-74, PETER PARKER SPIDEY #75-98) #65 NEWSSTAND Very Fine
SPIDER-MAN (1990) (#1-74, PETER PARKER SPIDEY #75-98) #70 1.50 COVER Fine

SPIDER-MAN & THE HULK: BATTLE OF THE CENTURY (COLUMBUS) #1 Near Mint/Mint
SPIDER-MAN & THE HULK: BATTLE OF THE CENTURY (COLUMBUS) #1 Very Fine

SPIDER-MAN & THE HULK: WHAT PRICE A LIFE (CHICAGO) #1 Fine

SPIDER-MAN (MILES MORALES) (2016) #8 COSPLAY Near Mint/Mint
SPIDER-MAN (MILES MORALES) (2016) #8 COSPLAY Very Fine
SPIDER-MAN (MILES MORALES) (2016) #8 COSPLAY Fine

SPIDER-MAN ANNUAL (1964) #18 NEWSSTAND Very Fine
SPIDER-MAN ANNUAL (1964) #21 Near Mint/Mint
SPIDER-MAN ANNUAL (1964) #21 Very Fine

SPIDER-MAN DE JOHN ROMITA (SPANISH) (1999) #6 Fine

SPIDER-MAN HALLOWEEN MASK (1981) #1 Near Mint/Mint

SPIDER-MAN VS. PRODIGY (1976) #1 Near Mint/Mint

SPIDER-MAN: TRIAL OF VENOM (1992) #1 Very Fine

SPIDER-WOMAN (1978) (#1-50) (JESSICA DREW) (MARVEL) #24 BRITISH Very Fine
SPIDER-WOMAN (1978) (#1-50) (JESSICA DREW) (MARVEL) #30 BRITISH Very Fine
SPIDER-WOMAN (1978) (#1-50) (JESSICA DREW) (MARVEL) #33 BRITISH Very Fine

SPIDEY SUPER STORIES #13 Fine
SPIDEY SUPER STORIES #13 Near Mint/Mint
SPIDEY SUPER STORIES #13 Very Fine
SPIDEY SUPER STORIES #20 Fine
SPIDEY SUPER STORIES #21 Near Mint/Mint
SPIDEY SUPER STORIES #21 Fine
SPIDEY SUPER STORIES #21 Very Fine
SPIDEY SUPER STORIES #22 Fine
SPIDEY SUPER STORIES #22 Very Fine
SPIDEY SUPER STORIES #23 Near Mint/Mint
SPIDEY SUPER STORIES #23 Fine
SPIDEY SUPER STORIES #23 Very Fine

STAR WARS (2015) #23 MILE HIGH Near Mint/Mint
STAR WARS (2015) #23 MOLINA Near Mint/Mint
STAR WARS (2015) #23 SKETCH CV Near Mint/Mint

STAR WARS: FORCE AWAKENS ADAPTATION (2016) #4 PHOTO Near Mint/Mint
STAR WARS: FORCE AWAKENS ADAPTATION (2016) #4 PHOTO Very Fine

STAR WARS: HAN SOLO (2016) #1 ZING B&W Near Mint/Mint

TOMB OF DARKNESS (1974) #9 Very Good
TOMB OF DARKNESS (1974) #14 Good
TOMB OF DARKNESS (1974) #18 Good
TOMB OF DARKNESS (1974) #19 Good

TOMB OF DRACULA (1972) #1 Fair
TOMB OF DRACULA (1972) #22 Good
TOMB OF DRACULA (1972) #23 Good
TOMB OF DRACULA (1972) #24 Very Good

TOMB OF DRACULA (1972) #25 Good
TOMB OF DRACULA (1972) #27 Very Good
TOMB OF DRACULA (1972) #30 Very Good
TOMB OF DRACULA (1972) #32 Good
TOMB OF DRACULA (1972) #32 Very Good
TOMB OF DRACULA (1972) #33 Very Good
TOMB OF DRACULA (1972) #34 Very Good
TOMB OF DRACULA (1972) #35 Very Good
TOMB OF DRACULA (1972) #37 Very Good
TOMB OF DRACULA (1972) #40 Very Good
TOMB OF DRACULA (1972) #44 Very Good
TOMB OF DRACULA (1972) #49 Very Good
TOMB OF DRACULA (1972) #52 Very Good
TOMB OF DRACULA (1972) #53 Very Good
TOMB OF DRACULA (1972) #54 Very Good
TOMB OF DRACULA (1972) #56 Fine
TOMB OF DRACULA (1972) #57 Very Good
TOMB OF DRACULA (1972) #58 Good
TOMB OF DRACULA (1972) #58 Very Good
TOMB OF DRACULA (1972) #59 Good
TOMB OF DRACULA (1972) #60 Very Good
TOMB OF DRACULA (1972) #64 Very Good
TOMB OF DRACULA (1972) #65 Very Good
TOMB OF DRACULA (1972) #66 Very Good
TOMB OF DRACULA (1972) #68 Very Good
TOMB OF DRACULA (1972) #69 Very Good

TOTALLY AWESOME HULK (2015) #10 JIMENEZ Near Mint/Mint

ULTIMATES (2015) #3 SALE Near Mint/Mint

UNBEATABLE SQUIRREL GIRL (MARCH) (2015) #2 QUINONES Near Mint/Mint

UNCANNY AVENGERS (2012) #1 HASTINGS Very Fine

UNCANNY AVENGERS (DECEMBER) (2015) #2 JIMENEZ Near Mint/Mint

UNCANNY AVENGERS ANNUAL (2014) #1 VARIANT Near Mint/Mint

UNCANNY INHUMANS (2015) #1 CHEUNG Near Mint/Mint

UNCANNY X-MEN (2011) #20 KOMEN Near Mint/Mint

VENOM: SPACE KNIGHT (2015) #1 LIM Near Mint/Mint

VOTE LOKI (2016) #1 FRIED PIE Near Mint/Mint

WOLVERINES (2015) #4 SANDOVAL Near Mint/Mint

X-FORCE (2008) #2 BLOODY Near Mint/Mint

X-MEN '92 (2016) #1 FERRY Near Mint/Mint

X-MEN: BATTLE OF THE ATOM (2013) #1 BLANK CVR Near Mint/Mint
X-MEN: BATTLE OF THE ATOM (2013) #2 HASTINGS Near Mint/Mint

X-TINCTION AGENDA (2015) #3 BENGAL Near Mint/Mint

DC
ACTION COMICS (2011) (#0-52) (DC NEW52) #5 VARIANT Near Mint/Mint
ACTION COMICS (2011) (#0-52) (DC NEW52) #9 VARIANT Near Mint/Mint
ACTION COMICS (2011) (#0-52) (DC NEW52) #10 VARIANT Near Mint/Mint
ACTION COMICS (2011) (#0-52) (DC NEW52) #11 VARIANT Near Mint/Mint
ACTION COMICS (2011) (#0-52) (DC NEW52) #13 VARIANT Near Mint/Mint

BATMAN (1940) (#0-713) (DC) #713 Very Fine

BATMAN (2011) (#0-52) (DC NEW52) #50 DFE ALT CV Near Mint/Mint

BATMAN INCORPORATED (2012) #5 VARIANT Near Mint/Mint

BATMAN/TEENAGE MUTANT NINJA TURTLES (2015) #5 VARIANT Near Mint/Mint

BATMAN: ARKHAM KNIGHT (2015) #3 VARIANT Near Mint/Mint

BATMAN: BEYOND (5TH SERIES) (#1-UP) (BATMAN BEYOND) (2015) #1 VARIANT Near Mint/Mint

BATMAN: THE DARK KNIGHT (2010) #3 VARIANT Near Mint/Mint

BIRDS OF PREY (DC) (2010) #1 3RD PRINT Near Mint/Mint

DC COMICS PRESENTS: BATMAN - CONSPIRACY (2011) #1 Near Mint/Mint

DETECTIVE COMICS (1937) (#1-881) (DC) #871 2ND PRINT Near Mint/Mint

DETECTIVE COMICS (2011) (#0-52) (DC NEW52) #39 HARLEY Near Mint/Mint

EARTH 2: WORLD'S END (2014) #5 Near Mint/Mint

EFFIGY (2014) #1 VARIANT Near Mint/Mint

GOTHAM ACADEMY (2014) #2 VARIANT Near Mint/Mint
GOTHAM ACADEMY (2014) #2 VARIANT Very Fine

GRAYSON (2014) #7 HARLEY Near Mint/Mint
GRAYSON (2014) #11 BOMBSHELL Near Mint/Mint

GREEN LANTERN (2005) #49 VARIANT Near Mint/Mint
GREEN LANTERN (2011) #8 VARIANT Near Mint/Mint

HARLEY QUINN (2016) (#1-UP) (DC REBIRTH) #1 DFE ALTB&W Near Mint/Mint

JUSTICE LEAGUE (DC NEW52) (2011) #12 VARIANT Near Mint/Mint

JUSTICE LEAGUE 3000 (2013) #8 Near Mint/Mint

JUSTICE LEAGUE DARK ANNUAL (2012) #2 Very Fine

JUSTICE LEAGUE: CRY FOR JUSTICE (2009) #2 2ND PRINT Near Mint/Mint

TOMAHAWK (1950) #122 Good
TOMAHAWK (1950) #125 Very Good
TOMAHAWK (1950) #127 Good
TOMAHAWK (1950) #127 Very Good
TOMAHAWK (1950) #128 Very Good
TOMAHAWK (1950) #130 Good
TOMAHAWK (1950) #133 Good

TRINITY OF SIN (2014) #3 Near Mint/Mint
TRINITY OF SIN (2014) #3 VARIANT Near Mint/Mint

IMAGE COMICS
BERSERKER (2009) #1 D Very Fine

BIG MAN PLANS (2015) #4 FRANCAVILL Near Mint/Mint

BURN THE ORPHANAGE: BORN TO LOSE (2013) #1 HASTINGS Near Mint/Mint

I HATE FAIRYLAND (2015) #1 Near Mint/Mint
I HATE FAIRYLAND (2015) #1 VARIANT Near Mint/Mint

IXTH GENERATION (2014) #1 C Near Mint/Mint

MONSTRESS (2015) #1 Near Mint/Mint

WITCHBLADE #172 B (Image Top Cow) Near Mint/Mint

WOLF (2015) #2 Near Mint/Mint

INDEPENDENTS
ADVENTURE TIME COMICS (2016) #3 INCENTIVE (Boom Studios Publishing) Near Mint/Mint

BATTLESTAR GALACTICA (VOL. 3) (2016) #1 G DOEVIRGI (DYNAMITE Entertainment) Very Fine

BATTLESTAR GALACTICA: DEATH OF APOLLO (2014) #6 SMITH RED (DYNAMITE Entertainment) Near Mint/Mint

BELLADONNA (2016) #0 PURE ART (Boundless Comics) Near Mint/Mint

BEN 10 (2013) #1 HASTINGS (IDW Publishing) Near Mint/Mint

BIG TROUBLE IN LITTLE CHINA (2014) #2 POWELL (Boom Studios Publishing) Near Mint/Mint
BIG TROUBLE IN LITTLE CHINA (2014) #5 ZIRITT (Boom Studios Publishing) Near Mint/Mint
BIG TROUBLE IN LITTLE CHINA (2014) #8 CHUCK BB (Boom Studios Publishing) Near Mint/Mint
BIG TROUBLE IN LITTLE CHINA (2014) #17 DONOVAN (Boom Studios Publishing) Near Mint/Mint

BILL & TED'S MOST TRIUMPHANT RETURN (2015) #1 10TH ANN (Boom Studios Publishing) Near Mint/Mint
BILL & TED'S MOST TRIUMPHANT RETURN (2015) #1 WONDERCON (Boom Studios Publishing) Very Fine
BILL & TED'S MOST TRIUMPHANT RETURN (2015) #4 VILLALOBOS (Boom Studios Publishing) Near Mint/Mint
BILL & TED'S MOST TRIUMPHANT RETURN (2015) #5 RANDOLPH (Boom Studios Publishing) Near Mint/Mint

BLOOD QUEEN (2014) #1 ANACLETB&W (DYNAMITE Entertainment) Fine

BLOODSHOT REBORN (2015) #6 LIEBER (Valiant Comics) Near Mint/Mint
BLOODSHOT REBORN (2015) #6 MARRA (Valiant Comics) Near Mint/Mint
BLOODSHOT REBORN (2015) #9 GILL (Valiant Comics) Near Mint/Mint
BLOODSHOT REBORN (2015) #9 RYP (Valiant Comics) Near Mint/Mint
BLOODSHOT REBORN (2015) #10 LAFUENTE (Valiant Comics) Near Mint/Mint
BLOODSHOT REBORN (2015) #10 LEMIRE (Valiant Comics) Near Mint/Mint
BLOODSHOT REBORN (2015) #12 TORRE (Valiant Comics) Near Mint/Mint
BLOODSHOT REBORN (2015) #13 CHOI (Valiant Comics) Near Mint/Mint
BLOODSHOT REBORN (2015) #14 F BODENHEL (Valiant Comics) Near Mint/Mint
BLOODSHOT REBORN (2015) #14 G ROBERTSO (Valiant Comics) Near Mint/Mint
BLOODSHOT REBORN (2015) #14 I LEMIRE (Valiant Comics) Near Mint/Mint
BLOODSHOT REBORN (2015) #15 E ROBERTSO (Valiant Comics) Near Mint/Mint
BLOODSHOT REBORN (2015) #15 F LEMIRE (Valiant Comics) Near Mint/Mint

BLOODSHOT REBORN ANNUAL (2016) #1 D GRANT (Valiant Comics) Near Mint/Mint

BOOK OF DEATH: FALL OF NINJAK (2015) #1 GILL (Valiant Comics) Very Fine

BRAVEST WARRIORS (2012) #23 C (Boom Studios Publishing) Near Mint/Mint
BRAVEST WARRIORS (2012) #28 C (Boom Studios Publishing) Near Mint/Mint

BURNING FIELDS (2015) #1 ROSSMO (Boom Studios Publishing) Near Mint/Mint
BURNING FIELDS (2015) #2 ROSSMO (Boom Studios Publishing) Near Mint/Mint

CARPE NOCTEM (2015) #3 VARIANT (Hashtag Comics) Fine

CAVEWOMAN: KILLING DINOS 101 - SUMMER BREAK (2015) #1 B (Amryl Entertainment) Near Mint/Mint

CAVEWOMAN: RAPTORELLA (2016) #2 B (Amryl Entertainment) Near Mint/Mint

CAVEWOMAN: RIVER STYX (2016) #1 B (Amryl Entertainment) Near Mint/Mint

CHAOS (2014) #1 DAVILA (DYNAMITE Entertainment) Near Mint/Mint
CHAOS (2014) #1 MIDTOWN ED (DYNAMITE Entertainment) Near Mint/Mint
CHAOS (2014) #5 SEELEY B&W (DYNAMITE Entertainment) Near Mint/Mint

CLARENCE (2015) #1 VARIANT (Boom Studios Publishing) Very Fine
CLARENCE (2015) #2 VARIANT (Boom Studios Publishing) Near Mint/Mint

CLASSIC POPEYE (2012) #31 INCENTIVE (IDW Publishing) Near Mint/Mint
CLASSIC POPEYE (2012) #35 INCENTIVE (IDW Publishing) Near Mint/Mint

CLOCKWORK ANGELS (RUSH) (2014) #1 ECCC (Boom Studios Publishing) Near Mint/Mint

CLUSTER (2015) #1 A (Boom Studios Publishing) Near Mint/Mint


COLONIZED (2013) #1 INC SIGNED

COLONIZED (2013) #1 INC SIGNED (IDW Publishing) Very Fine

COMING OF RAGE (WES CRAVEN) (2015) #5 A B&W (Liquid Comics) Near Mint/Mint
COMING OF RAGE (WES CRAVEN) (2015) #5 B LIMITED (Liquid Comics) Near Mint/Mint

CROSSED SPECIAL (2014) #1 POOLPARTYA (Avatar Comics) Near Mint/Mint
CROSSED SPECIAL (2014) #1 POOLPARTYB (Avatar Comics) Near Mint/Mint
CROSSED SPECIAL (2014) #1 POOLPARTYC (Avatar Comics) Near Mint/Mint
CROSSED SPECIAL (2014) #1 POOLPARTYD (Avatar Comics) Near Mint/Mint

CURB STOMP (2015) #1 10TH ANN (Boom Studios Publishing) Near Mint/Mint

DAMNATION OF CHARLIE WORMWOOD (2014) #1 CHEE (DYNAMITE Entertainment) Near Mint/Mint

DAWN OF THE PLANET OF THE APES (2014) #6 GRAFFITI (Boom Studios Publishing) Near Mint/Mint

DEEP STATE (2014) #3 LIMITED ED (Boom Studios Publishing) Near Mint/Mint
DEEP STATE (2014) #5 LIMITED ED (Boom Studios Publishing) Near Mint/Mint

DEVI REBIRTH (2016) #2 FRISON B&W (Graphic India Pte. Ltd) Near Mint/Mint

DEVOLUTION (2016) #3 VIRGIN CVR (DYNAMITE Entertainment) Near Mint/Mint
DEVOLUTION (2016) #4 VIRGIN CVR (DYNAMITE Entertainment) Near Mint/Mint
DEVOLUTION (2016) #5 VIRGIN CVR (DYNAMITE Entertainment) Near Mint/Mint

DIRK GENTLY'S HOLISTIC DETECTIVE AGENCY (2015) #2 SUBSCRIPT (IDW Publishing) Near Mint/Mint
DIRK GENTLY'S HOLISTIC DETECTIVE AGENCY (2015) #3 INCENTIVE (IDW Publishing) Near Mint/Mint
DIRK GENTLY'S HOLISTIC DETECTIVE AGENCY (2015) #4 INCENTIVE (IDW Publishing) Near Mint/Mint

DIVINITY (2015) #2 BERNARD (Valiant Comics) Near Mint/Mint

DIVINITY II (2016) #1 E JIMENEZ (Valiant Comics) Near Mint/Mint
DIVINITY II (2016) #1 F GORHAM (Valiant Comics) Near Mint/Mint
DIVINITY II (2016) #1 G HAIRSB&W (Valiant Comics) Near Mint/Mint
DIVINITY II (2016) #2 D LOTAY (Valiant Comics) Near Mint/Mint
DIVINITY II (2016) #2 E GORHAM (Valiant Comics) Near Mint/Mint
DIVINITY II (2016) #3 D CARNERO (Valiant Comics) Near Mint/Mint

DOCTOR WHO: 12TH DOCTOR (2014) #1 NYCC (TITAN BOOKS) Near Mint/Mint
DOCTOR WHO: 12TH DOCTOR (2014) #1 ZHANG VAR (TITAN BOOKS) Near Mint/Mint
DOCTOR WHO: 12TH DOCTOR (2014) #3 CLARAPHOTO (TITAN BOOKS) Near Mint/Mint

DOCTOR WHO: FOUR DOCTORS (2015) #3 CASAGRANDE (Titan Distributing) Near Mint/Mint

DONALD DUCK (2015) #8 INCENTIVE (IDW Publishing) Near Mint/Mint

DR. MIRAGE: SECOND LIVES (2015) #1 COOVER (Valiant Comics) Near Mint/Mint

ESCAPE FROM NEW YORK (2014) #1 ECCC (Boom Studios Publishing) Near Mint/Mint
ESCAPE FROM NEW YORK (2014) #2 PANOSIAN (Boom Studios Publishing) Near Mint/Mint
ESCAPE FROM NEW YORK (2014) #3 VISIONS (Boom Studios Publishing) Near Mint/Mint
ESCAPE FROM NEW YORK (2014) #6 ROBERTSON (Boom Studios Publishing) Near Mint/Mint
ESCAPE FROM NEW YORK (2014) #7 CHOI (Boom Studios Publishing) Near Mint/Mint
ESCAPE FROM NEW YORK (2014) #8 HAIRSINE (Boom Studios Publishing) Near Mint/Mint
ESCAPE FROM NEW YORK (2014) #9 SMALLWOOD (Boom Studios Publishing) Near Mint/Mint
ESCAPE FROM NEW YORK (2014) #10 PANOSIAN (Boom Studios Publishing) Near Mint/Mint
ESCAPE FROM NEW YORK (2014) #11 MOUSTAFA (Boom Studios Publishing) Near Mint/Mint
ESCAPE FROM NEW YORK (2014) #12 MOUSTAFA (Boom Studios Publishing) Near Mint/Mint

ETERNAL (2014) #1 LIMITED ED (Boom Studios Publishing) Near Mint/Mint

EVIL EMPIRE (2014) #1 RODRIGUEZ (Boom Studios Publishing) Near Mint/Mint

EVIL ERNIE (2014) #4 SYAF B&W (DYNAMITE Entertainment) Fine

EXTERMINATION (2012) #1 E (Boom Studios Publishing) Near Mint/Mint

EXTINCTION PARADE (MAX BROOKS) (2013) #1 BLAST A (Avatar Comics) Near Mint/Mint

FEATHERS (2014) #1 NIIMURA (Boom Studios Publishing) Near Mint/Mint
FEATHERS (2014) #1 PEREZ (Boom Studios Publishing) Near Mint/Mint

FEMFORCE #173 VARIANTSGN (Americomics) Near Mint/Mint

FICTION (2015) #1 LOTAY (Boom Studios Publishing) Near Mint/Mint

FOUR POINTS (2015) #4 E (Aspen) Near Mint/Mint

GARBAGE PAIL KIDS: GROSS ENCOUNTERS ONE-SHOT (2015) #1 BLANK CVR (IDW Publishing) Near Mint/Mint

GARBAGE PAIL KIDS: LOVE STINKS ONE-SHOT (2015) #1 INCENTIVE (IDW Publishing) Near Mint/Mint

GARFIELD (2012) #34 LIMITED ED (Boom Studios Publishing) Near Mint/Mint

GI JOE (#156-UP) (2010) #219 SUBSCRIPT (IDW Publishing) Near Mint/Mint

GOLD KEY ALLIANCE (2016) #2 B MASS VIR (DYNAMITE Entertainment) Very Fine
GOLD KEY ALLIANCE (2016) #4 B MASS VIR (DYNAMITE Entertainment) Near Mint/Mint

GRIMM (2009) #1 INCENTIVE (IDW Publishing) Near Mint/Mint

HACKTIVIST (VOL. 2) (2015) #1 10TH ANN (Boom Studios Publishing) Near Mint/Mint
HACKTIVIST (VOL. 2) (2015) #1 VARIANT (Boom Studios Publishing) Near Mint/Mint

HELLRAISER: BESTIARY (2014) #5 VARIANT (Boom Studios Publishing) Near Mint/Mint

HIT 1957 (2015) #1 10TH ANN (Boom Studios Publishing) Near Mint/Mint

IMPERIUM (2015) #1 ALLEN C (Valiant Comics) Near Mint/Mint
IMPERIUM (2015) #1 BRAITHWAIT (Valiant Comics) Near Mint/Mint
IMPERIUM (2015) #1 HAIRSINE (Valiant Comics) Near Mint/Mint
IMPERIUM (2015) #11 WALSH (Valiant Comics) Near Mint/Mint
IMPERIUM (2015) #12 PALO (Valiant Comics) Near Mint/Mint
IMPERIUM (2015) #13 RYP (Valiant Comics) Near Mint/Mint
IMPERIUM (2015) #14 RYP (Valiant Comics) Near Mint/Mint
IMPERIUM (2015) #15 DOYLE (Valiant Comics) Near Mint/Mint
IMPERIUM (2015) #16 C MONTOYA (Valiant Comics) Near Mint/Mint

INDIE COMICS MAGAZINE (2011) #5 VARIANT (Aazurn Publishing) Near Mint/Mint

IVAR, TIMEWALKER (2015) #9 BARRIONUEV (Valiant Comics) Near Mint/Mint
IVAR, TIMEWALKER (2015) #9 PORTELA (Valiant Comics) Near Mint/Mint
IVAR, TIMEWALKER (2015) #12 KANO (Valiant Comics) Near Mint/Mint

JINNRISE (2013) #3 INCENTIVE (IDW Publishing) Fine

JOHN CARTER: WARLORD OF MARS (2014) #8 SEARS B&W (DYNAMITE Entertainment) Near Mint/Mint

JUDGE DREDD: MEGA-CITY TWO (2013) #1 INCENTIVE (IDW Publishing) Fine

JUNGLE GIRL SEASON 3 (2015) #3 VIRGIN CVR (DYNAMITE Entertainment) Near Mint/Mint

JUSTICE INC. (2014) #4 FRANCA VIR (DYNAMITE Entertainment) Near Mint/Mint
JUSTICE INC. (2014) #4 FRANCA VIR (DYNAMITE Entertainment) Very Fine

KAIJUMAX (2015) #1 OMALLEY (Oni Press Inc.) Near Mint/Mint

LEGENDERRY: RED SONJA (2015) #1 DAVILA B&W (DYNAMITE Entertainment) Near Mint/Mint

LUMBERJANES/GOTHAM ACADEMY (2016) #4 MCCLAREN (Boom Studios Publishing) Near Mint/Mint

MARGE'S TUBBY (1952) #7 (Dell Publishing) Fair
MARGE'S TUBBY (1952) #20 (Dell Publishing) Fair
MARGE'S TUBBY (1952) #20 (Dell Publishing) Good

MARGE'S TUBBY (1952) #24 (Dell Publishing) Very Good
MARGE'S TUBBY (1952) #36 (Dell Publishing) Very Good
MARGE'S TUBBY (1952) #43 (Dell Publishing) Good

MUNCHKIN (2015) #1 VARIANT (Boom Studios Publishing) Near Mint/Mint

NIGHTBREED (CLIVE BARKER'S) (2014) #5 LIMITED ED (Boom Studios Publishing) Near Mint/Mint
NIGHTBREED (CLIVE BARKER'S) (2014) #6 LIMITED ED (Boom Studios Publishing) Near Mint/Mint
NIGHTBREED (CLIVE BARKER'S) (2014) #7 LIMITED ED (Boom Studios Publishing) Near Mint/Mint

NINJAK (2015) #9 GERADS (Valiant Comics) Near Mint/Mint

OCTOBER FACTION (2014) #7 SUBSCRIPT (IDW Publishing) Near Mint/Mint
OCTOBER FACTION (2014) #8 (IDW Publishing) Near Mint/Mint

RED SONJA (VOL. 3) (2016) #1 DOYLE (DYNAMITE Entertainment) Near Mint/Mint
RED SONJA (VOL. 3) (2016) #1 SCOTT (DYNAMITE Entertainment) Near Mint/Mint

RICK & MORTY (2015) #6 VARIANT (Oni Press Inc.) Near Mint/Mint
RICK & MORTY (2015) #6 VARIANT (Oni Press Inc.) Very Fine
RICK & MORTY (2015) #6 VARIANT (Oni Press Inc.) Fine

SIRENS (GEORGE PEREZ) (2014) #4 D (Boom Studios Publishing) Near Mint/Mint

SONIC SUPER SPECIAL (1997) #12 NEWSSTAND (Archie Comics) Very Fine

SONIC THE HEDGEHOG-THE SERIES (1993) #34 NEWSSTAND (Archie Comics) Very Good
SONIC THE HEDGEHOG-THE SERIES (1993) #35 NEWSSTAND (Archie Comics) Good
SONIC THE HEDGEHOG-THE SERIES (1993) #38 NEWSSTAND (Archie Comics) Fair
SONIC THE HEDGEHOG-THE SERIES (1993) #40 NEWSSTAND (Archie Comics) Good
SONIC THE HEDGEHOG-THE SERIES (1993) #41 NEWSSTAND (Archie Comics) Good
SONIC THE HEDGEHOG-THE SERIES (1993) #50 NEWSSTAND (Archie Comics) Good
SONIC THE HEDGEHOG-THE SERIES (1993) #53 NEWSSTAND (Archie Comics) Very Good
SONIC THE HEDGEHOG-THE SERIES (1993) #62 NEWSSTAND (Archie Comics) Very Good
SONIC THE HEDGEHOG-THE SERIES (1993) #75 NEWSSTAND (Archie Comics) Very Good

STEAMPUNK BATTLESTAR GALACTICA 1880 (2014) #2 APOLLO (DYNAMITE Entertainment) Very Fine

TAILS (BASED ON THE SONIC THE HEDGEHOG GAME) (1995) #3 (Archie Comics) Very Good

TAROT: WITCH OF THE BLACK ROSE #100 BLANK CVR (Broadsword Comics) Near Mint/Mint

TIME FOR LOVE (1967) #41 (Charlton) Very Good
TIME FOR LOVE (1967) #42 (Charlton) Very Good
TIME FOR LOVE (1967) #43 (Charlton) Very Good
TIME FOR LOVE (1967) #44 (Charlton) Very Good

TIMMY, THE TIMID GHOST VOL. II (1967) #24 (Charlton) Fine
TIMMY, THE TIMID GHOST VOL. II (1967) #24 (Charlton) Very Fine
TIMMY, THE TIMID GHOST VOL. II (1967) #25 (Charlton) Fine
TIMMY, THE TIMID GHOST VOL. II (1967) #25 (Charlton) Very Fine

TIPPY TEEN (1965) #22 (Tower Comics) Very Good

TOM AND JERRY (1948) (#1-212) (Dell Publishing) #111 (Dell Publishing) Good
TOM AND JERRY (1948) (#1-212) (Dell Publishing) #149 (Dell Publishing) Good
TOM AND JERRY (1948) (#1-212) (Dell Publishing) #172 (Dell Publishing) Very Good
TOM AND JERRY (1948) (#1-212) (Dell Publishing) #191 (Dell Publishing) Very Good
TOM AND JERRY (1948) (#1-212) (Dell Publishing) #197 (Dell Publishing) Very Good
TOM AND JERRY (1948) (#1-212) (Dell Publishing) #199 15 CENT CV (Dell Publishing) Good

TOM AND JERRY (1962) (#213-327) (GOLD KEY) #223 (Gold Key) Very Good
TOM AND JERRY (1962) (#213-327) (GOLD KEY) #236 (Gold Key) Very Good

TOM AND JERRY MOUSE FROM T.R.A.P. GIANT #1 (Gold Key) Very Good


TOM AND JERRY'S TOY FAIR (1958) #1

TOM AND JERRY'S TOY FAIR (1958) #1 (Dell Publishing) Fair

TOM TERRIFIC (1957) #6 (PINES COMICS) Fair

TOM THUMB (1959) #1 FC #972 (Dell Publishing) Good

TONTO (Dell Publishing) (1951) #31 (Dell Publishing) Good

TOP CAT (1970) #15 (Charlton) Good

TOP COMICS (1967) #3 TOM&JERRY (Top Comics) Good

TRAGG AND THE SKY GODS (1975) (#1-8) (GOLD KEY) #1 (Gold Key) Fine

TREASURE CHEST (VOL 17) #2 (George A. Pflaum) Very Good
TREASURE CHEST (VOL 17) #10 (George A. Pflaum) Good

TREASURE CHEST (VOL 19) #20 (George A. Pflaum) Good

TREASURE CHEST (VOL 21) #1 (St. John Publ. Co.) Very Good
TREASURE CHEST (VOL 21) #3 (St. John Publ. Co.) Very Good
TREASURE CHEST (VOL 21) #4 (St. John Publ. Co.) Very Good
TREASURE CHEST (VOL 21) #5 (St. John Publ. Co.) Very Good
TREASURE CHEST (VOL 21) #6 (St. John Publ. Co.) Fine
TREASURE CHEST (VOL 21) #7 (St. John Publ. Co.) Very Good
TREASURE CHEST (VOL 21) #8 (St. John Publ. Co.) Fine
TREASURE CHEST (VOL 21) #8 (St. John Publ. Co.) Very Good
TREASURE CHEST (VOL 21) #10 (St. John Publ. Co.) Very Good
TREASURE CHEST (VOL 21) #20 (St. John Publ. Co.) Very Good

TREASURE CHEST (VOL 27) #5 (George A. Pflaum) Very Good

TREASURE CHEST (VOL 9) #12 (George A. Pflaum) Good

TRUE COMICS (1941) #83 (True Comics) Very Good

TRUE STORY OF SMOKEY THE BEAR #1 1969 (Dell Publishing) Very Good

TUFF GHOSTS STARRING SPOOKY #19 (Harvey Comics) Very Good
TUFF GHOSTS STARRING SPOOKY #26 (Harvey Comics) Very Good

TUROK, SON OF STONE (1954) (#1-29) (Dell Publishing) #25 (Dell Publishing) Fair

TUROK, SON OF STONE (1962) (#30-125) (GOLD KEY) #41 (Gold Key) Fair
TUROK, SON OF STONE (1962) (#30-125) (GOLD KEY) #78 15 CENT CV (Gold Key) Good
TUROK, SON OF STONE (1962) (#30-125) (GOLD KEY) #80 (Gold Key) Good
TUROK, SON OF STONE (1962) (#30-125) (GOLD KEY) #109 (Gold Key) Very Good
TUROK, SON OF STONE (1962) (#30-125) (GOLD KEY) #113 (Gold Key) Good
TUROK, SON OF STONE (1962) (#30-125) (GOLD KEY) #114 (Gold Key) Good
TUROK, SON OF STONE (1962) (#30-125) (GOLD KEY) #118 WHITMAN (Gold Key) Fine

TUROK, SON OF STONE (1981) (#126-130) (WHITMAN) #127 (Whitman Publishing) Good
TUROK, SON OF STONE (1981) (#126-130) (WHITMAN) #128 (Whitman Publishing) Very Good

TUROK: DINOSAUR HUNTER (2014) #8 SEARS B&W (DYNAMITE Entertainment) Very Fine

TV CASPER & COMPANY #12 (Harvey Comics) Very Good

TWEETY AND SYLVESTER (1963) (#1-102) (GOLD KEY) #5 (Gold Key) Very Good
TWEETY AND SYLVESTER (1963) (#1-102) (GOLD KEY) #10 (Gold Key) Very Good
TWEETY AND SYLVESTER (1963) (#1-102) (GOLD KEY) #38 WHITMAN (Gold Key) Fine

TWILIGHT ZONE: SHADOW & SUBSTANCE (2015) #1 FRANCA VIR (DYNAMITE Entertainment) Fine

UFOLOGY (2015) #1 10TH ANN (Boom Studios Publishing) Very Fine

UNCLE GRANDPA (2014) #1 B (Boom Studios Publishing) Near Mint/Mint
UNCLE GRANDPA (2014) #3 C (Boom Studios Publishing) Near Mint/Mint

UNCLE GRANDPA: PIZZA STEVE SPECIAL (2015) #1 LIMITED (Boom Studios Publishing) Near Mint/Mint

UNCLE SCROOGE (2015) #2 INCENTIVE (IDW Publishing) Near Mint/Mint

UNITY (2013) #24 BARRIONUEV (Valiant Comics) Near Mint/Mint

WEAVERS (2016) #1 RUBIN (Boom Studios Publishing) Near Mint/Mint

WILD'S END: ENEMY WITHIN (2015) #1 10TH ANN (Boom Studios Publishing) Near Mint/Mint

WOODS (2014) #13 VARIANT (Boom Studios Publishing) Near Mint/Mint

WRAITH: WELCOME TO CHRISTMASLAND (JOE HILL) (2013) #1 HASTINGS (IDW Publishing) Near Mint/Mint

WRATH OF THE ETERNAL WARRIOR (2015) #2 LAFUENTB&W (Valiant Comics) Near Mint/Mint
WRATH OF THE ETERNAL WARRIOR (2015) #3 LAFUENTB&W (Valiant Comics) Near Mint/Mint
WRATH OF THE ETERNAL WARRIOR (2015) #3 POLLINA (Valiant Comics) Near Mint/Mint
WRATH OF THE ETERNAL WARRIOR (2015) #4 LAFUENTB&W (Valiant Comics) Near Mint/Mint
WRATH OF THE ETERNAL WARRIOR (2015) #4 POLLINA (Valiant Comics) Near Mint/Mint
WRATH OF THE ETERNAL WARRIOR (2015) #5 CHEN (Valiant Comics) Near Mint/Mint
WRATH OF THE ETERNAL WARRIOR (2015) #9 E HASPIEL (Valiant Comics) Near Mint/Mint

X-O MANOWAR (2012) #0 LAFUENTE (Valiant Comics) Near Mint/Mint
X-O MANOWAR (2012) #41 PALO (Valiant Comics) Near Mint/Mint
X-O MANOWAR (2012) #43 CHOI (Valiant Comics) Near Mint/Mint
X-O MANOWAR (2012) #44 SEGOVIA (Valiant Comics) Near Mint/Mint
X-O MANOWAR (2012) #45 DEKAL (Valiant Comics) Near Mint/Mint
X-O MANOWAR (2012) #46 CHRISCROSS (Valiant Comics) Near Mint/Mint
X-O MANOWAR (2012) #47 F LAFUENTE (Valiant Comics) Near Mint/Mint
X-O MANOWAR (2012) #48 E SILAS (Valiant Comics) Near Mint/Mint
X-O MANOWAR (2012) #49 E RYP (Valiant Comics) Near Mint/Mint
X-O MANOWAR (2012) #49 F GORHAM (Valiant Comics) Near Mint/Mint

X-O MANOWAR ANNUAL (2016) #1 D DEKAL (Valiant Comics) Near Mint/Mint


XANADU (THOUGHTS & IMAGES) (1988) #5

XANADU (THOUGHTS & IMAGES) (1988) #5 (Thoughts and Images) Near Mint/Mint

ZACK THE ZOMBIE EXTERMINATOR (2016) #1 CHAINSAS&N (Coffin Comics) Near Mint/Mint

ZOMBIES VS. ROBOTS (2015) #1 INCENTIVE (IDW Publishing) Near Mint/Mint