LOCAL NEWS - Huge Comics and Toy Auction This Saturday - Please Help "Feeding Denver's Hungry"
Howdy!
I spent most of this morning helping to prepare free meals for our homeless citizens served by Jim Scharper's "Feeding Denver's Hungry" organization. We then distributed those meals at lunchtime to the homeless teens outside Urban Peak, and the destitute adults served by the St. Francis Center. Neither of those two support facilities serve food, so our presence there (once every two weeks...) is most welcome.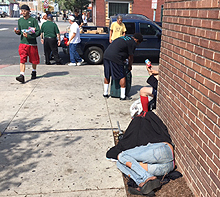 "Feeding Denver's Hungry" founder, Jim Scharper, outside Urban Peak's Offices

I mention "Feeding Denver's Hungry" because they are our designated charity for our huge no-minimum-bid comics, toys, and collectibles auction that will be held at our Jason St. Mega-Store, 4600 Jason St., beginning at 11:30 AM this Saturday morning. As the photos accompanying this newsletter clearly attest, we have an incredible number of items coming up for bid on Saturday morning, including a slew of really nice Golden Age and Silver Age comics. Everyone, it seems, wants to donate items for us to sell to benefit the desperately poor people helped by "Feeding Denver's Hungry."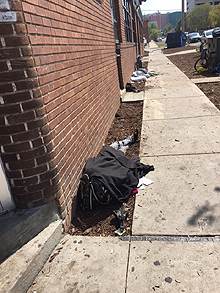 Adult shelters are too dangerous, so homeless children are forced to sleep outside Urban Peak's offices for safety

All of the above having been said, I have to admit that I am worried about Saturday's auction. Having great items to sell is quite important, but for an auction to be successful, we also need bidders. It has been six months since our last auction, which creates a concern in me that we may have a very low turnout on Saturday. If that turns out to be the case, we will be practically giving away many of the awesome donations that we received for "Feeding Denver's Hungry." That is why I am asking all comics and toy collectors in the Denver area to please stop by our Jason St. Store this Saturday morning, and sign up to support our auction. Even if you only end up bidding a single item, your presence would still be very much welcomed. "Feeding Denver's Hungry" serves a critical need in our community, and clearly deserves our wholehearted support. Please help, if you can.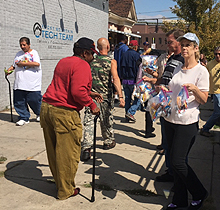 Norrie Reynolds, Empress 43 of the Imperial Court of the Rocky Mountain Empire,
helped us to distribute free meals today. It is distressing to see so many disabled
veterans among the homeless, with many suffering from PTSD.

I will close today's newsletter by quickly mentioning that we are expecting a delivery tomorrow morning at Jason St. of 5,000 Silver Age and Bronze Age comics that I purchased in California earlier this week. Included are about 1,500 pre-1984 Marvels in VF and NM conditions! Marvels from this time period are extremely desirable right now, and sell like hotcakes on eBay. Most of these comics will not be graded until next week, but you can feel free to stop by Jason St. on Saturday morning for a sneak peek of our awesome new collection. I'm hoping we'll have the first 200-300 VF/NM Marvel issues graded for you by then...
Happy Collecting!
Chuck Rozanski,
President - Mile High Comics, Inc.
September 22, 2016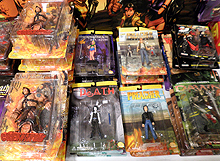 Some more of the Donated items

Mile High Comics - Jason Street Mega-Store


Mile High Comics Retail Store Locations