Chuck Buys 130,000 Comics in California - 5,000+ Silver Age
Howdy,
I am writing this newsletter at the San Francisco airport, as I await boarding of my return flight to Colorado. I am quite tired this morning, but also elated because my comics buying trip to California has been such a wonderful success. I looked at four collections over the past 48 hours, and was able to work amicable deals on all four. As a result, I am shipping over 130,000 comics back to Colorado, including more than an astounding 5,000 Silver Age (1956-1975) and Bronze Age (1976-1983) Marvel and DC back issues! I cannot remember any buying trip that I have taken in recent memory that was anywhere near as productive.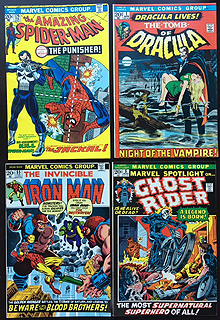 A few of the comic in the California collections

All of that having been said, it is now all the more important that I keep in effect for you the 60% off NANETTE2 codeword sale that I first mentioned on Monday. Simply put, one of the main reasons that I am so successful in buying collections is that I am willing to pay more for choice back issues than any other dealer that I know. My willingness to pay top dollar does put me in a bit of a pickle with my wife, Nanette, however, as I am oftentimes committing working capital to buying comics for which she had other plans. That is why I promised her (before I even left on this buying trip) that I would raise my own working capital via the 60% off NANETTE2 sale.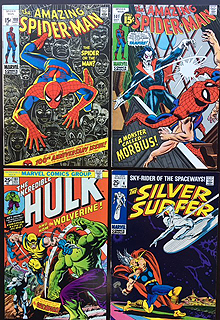 A few more of the comic in the California collections

So you know, the NANETTE2 sale has been performing quite well, and if I had purchased just a couple of the collections that I was examining in California, I would already be ending that overly generous promotion. After all, it does no good for us to give away even the rarest of our back issues at 60% off unless we are immediately replacing them with equally scarce material. In this instance, however, with my purchasing efforts producing such a wonderful bounty of great comics, I have no reason not to continue the 60% off sale for a while longer. If you want to add some great comics to your own collection at the lowest possible cost, I urge you to place a NANETTE2 order with us right away. In effect, I am sharing the benefits of my success with you via this 60% off sale...
I will close today's newsletter with a quick mention that we are hosting a benefit auction at Jason St. this Saturday morning at 11:30 AM for "Feeding Denver's Hungry" If you live near Denver, and could come and bid in our auction, your participation would be very much appreciated. We will be alternating in the auction between our own items, and donated items for "Feeding Denver's Hungry." If you have unwanted items in your own collection that you would be willing to donate, please do! Thanks are already due to John Paul, of Pug Productions in New Jersey, and Tom Molacea of Youngstown, Ohio, for their generous contributions of rare comics to the "Feeding Denver's Hungry" portion of our auction.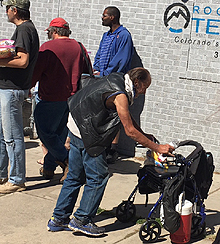 People waiting for meals at St. Francis

If you live too far away to attend, my offer of contributing all the funds from $25 gift certificates to "Feeding Denver's Hungry" remains in effect. All you need to do to participate is to tell us to charge your card $25, and we will then make a $25 donation in your name. In exchange, you will receive a $25 gift certificates (we can just e-mail you the registration number, if you wish) that you can use with your next order. Your donation effectively costs you nothing, but does get you an entry into a drawing for a $1,000 Mile High Comics shopping spree that we will be giving away on September 30th. Each $25 gift certificates you order earns you another entry into this drawing. Cold weather is rapidly approaching, so our helping Jim Scharper and his 20 volunteers at "Feeding Denver's Hungry" is critically important.
Happy Collecting!
Chuck Rozanski,
President - Mile High Comics, Inc.
September 21, 2016

MARVEL
ALL-NEW CAPTAIN AMERICA (2014) #1 DFE S&N Near Mint/Mint

AMAZING SPIDER-MAN & SILK: SPIDER(FLY) EFFECT TPB (2016) #1 Near Mint/Mint

AVENGERS (1997) (#0-84, 500-503) (MARVEL) #2 VARIANT Near Mint/Mint
AVENGERS (1997) (#0-84, 500-503) (MARVEL) #11 Near Mint/Mint

AVENGERS (1997) (#0-84, 500-503) (MARVEL) #59 Very Fine
AVENGERS (1997) (#0-84, 500-503) (MARVEL) #60 Near Mint/Mint
AVENGERS (1997) (#0-84, 500-503) (MARVEL) #62 Very Fine
AVENGERS (1997) (#0-84, 500-503) (MARVEL) #64 Very Fine
AVENGERS (1997) (#0-84, 500-503) (MARVEL) #68 Near Mint/Mint
AVENGERS (1997) (#0-84, 500-503) (MARVEL) #68 Very Fine
AVENGERS (1997) (#0-84, 500-503) (MARVEL) #70 Near Mint/Mint
AVENGERS (1997) (#0-84, 500-503) (MARVEL) #70 Very Fine
AVENGERS (1997) (#0-84, 500-503) (MARVEL) #72 Near Mint/Mint
AVENGERS (1997) (#0-84, 500-503) (MARVEL) #83 Near Mint/Mint
AVENGERS (1997) (#0-84, 500-503) (MARVEL) #83 Very Fine

AVENGERS 2000 ANNUAL (HELLCAT) #1 Near Mint/Mint

CAPTAIN MARVEL (2012) #7 Near Mint/Mint
CAPTAIN MARVEL (2012) #7 Very Fine
CAPTAIN MARVEL (2012) #13 Near Mint/Mint

CAPTAIN MARVEL (2014) #1 Near Mint/Mint
CAPTAIN MARVEL (2014) #2 Very Fine
CAPTAIN MARVEL (2014) #5 Near Mint/Mint
CAPTAIN MARVEL (2014) #8 Near Mint/Mint
CAPTAIN MARVEL (2014) #9 Near Mint/Mint
CAPTAIN MARVEL (2014) #10 Near Mint/Mint
CAPTAIN MARVEL (2014) #11 Near Mint/Mint
CAPTAIN MARVEL (2014) #13 Near Mint/Mint

CAPTAIN MARVEL (2014) #14 Near Mint/Mint
CAPTAIN MARVEL (2014) #15 Near Mint/Mint

CIVIL WAR: FRONT LINE (2006) #3 Near Mint/Mint
CIVIL WAR: FRONT LINE (2006) #3 Fine
CIVIL WAR: FRONT LINE (2006) #3 Very Good
CIVIL WAR: FRONT LINE (2006) #3 Very Fine
CIVIL WAR: FRONT LINE (2006) #4 Fine
CIVIL WAR: FRONT LINE (2006) #4 Very Good
CIVIL WAR: FRONT LINE (2006) #5 Fine
CIVIL WAR: FRONT LINE (2006) #5 Very Good
CIVIL WAR: FRONT LINE (2006) #6 Fine
CIVIL WAR: FRONT LINE (2006) #6 Very Good
CIVIL WAR: FRONT LINE (2006) #7 Fine
CIVIL WAR: FRONT LINE (2006) #7 Near Mint/Mint
CIVIL WAR: FRONT LINE (2006) #7 Very Good
CIVIL WAR: FRONT LINE (2006) #7 Very Fine
CIVIL WAR: FRONT LINE (2006) #8 Fine
CIVIL WAR: FRONT LINE (2006) #8 Very Good
CIVIL WAR: FRONT LINE (2006) #9 Fine
CIVIL WAR: FRONT LINE (2006) #9 Very Good
CIVIL WAR: FRONT LINE (2006) #10 Fine
CIVIL WAR: FRONT LINE (2006) #10 Very Good
CIVIL WAR: FRONT LINE (2006) #11 Fine
CIVIL WAR: FRONT LINE (2006) #11 Very Good

CIVIL WAR: THE RETURN (2006) #1 Near Mint/Mint
CIVIL WAR: THE RETURN (2006) #1 Fine
CIVIL WAR: THE RETURN (2006) #1 Good
CIVIL WAR: THE RETURN (2006) #1 Very Fine
CIVIL WAR: THE RETURN (2006) #1 Very Good

DAREDEVIL (2014) (#0-18) (MARVEL) #3 Near Mint/Mint

HAUNTED MANSION HC (2016) #1 Near Mint/Mint

HULK (1999) (#1-112) (MARVEL) #100 Good

HULK (1999) (#1-112) (MARVEL) #100 Very Good

MARVEL HIP HOP COVERS HC (2016) #1 Near Mint/Mint

MARVEL NOW: POINT ONE (2012) #1 YOUNG BABY Near Mint/Mint

MARVEL TALES (1964) #50 Fine
MARVEL TALES (1964) #52 Fine
MARVEL TALES (1964) #98 Fine

MARVELMAN FAMILY'S FINEST (2010) #1 BRAITHWAIT Near Mint/Mint

MAX RIDE: FINAL FLIGHT (2016) #1 OUM Near Mint/Mint

MOON GIRL & DEVIL DINOSAUR VOL. 1: BFF TPB (2016) #1 Near Mint/Mint

NOVA (1976) #13 BRITISH Fine
NOVA (1976) #14 BRITISH Fine
NOVA (1976) #20 BRITISH Fine
NOVA (1976) #21 BRITISH Fine

NOVA (2007) #26 VARIANT Very Fine
NOVA (2007) #28 70TH ANN Near Mint/Mint

OMEGA (1976) #4 BRITISH Fine
OMEGA (1976) #5 BRITISH Fine
OMEGA (1976) #6 BRITISH Fine

ONSLAUGHT UNLEASHED (2011) #1 LIEFELD 2 Very Fine

PETER PARKER (SPECTACULAR SPIDER-MAN) (1976) #4 Near Mint/Mint
PETER PARKER (SPECTACULAR SPIDER-MAN) (1976) #4 Fine

PETER PARKER (SPECTACULAR SPIDER-MAN) (1976) #4 Very Good
PETER PARKER (SPECTACULAR SPIDER-MAN) (1976) #4 Very Fine
PETER PARKER (SPECTACULAR SPIDER-MAN) (1976) #4 WHITMAN Very Good
PETER PARKER (SPECTACULAR SPIDER-MAN) (1976) #8 WHITMAN Very Good
PETER PARKER (SPECTACULAR SPIDER-MAN) (1976) #11 Near Mint/Mint
PETER PARKER (SPECTACULAR SPIDER-MAN) (1976) #20 Near Mint/Mint

PETER PARKER ES SPIDER-MAN #49 Very Good

PETER PORKER, THE SPECTACULAR SPIDER-HAM (1985) #12 NEWSSTAND Fine
PETER PORKER, THE SPECTACULAR SPIDER-HAM (1985) #14 Good
PETER PORKER, THE SPECTACULAR SPIDER-HAM (1985) #14 Very Good

POINT ONE (2011) #1 VARIANT Very Fine

POWER MAN/IRON FIST (LUKE CAGE, POWER MAN #1-49) (1972) #20 Fine
POWER MAN/IRON FIST (LUKE CAGE, POWER MAN #1-49) (1972) #20 Very Good
POWER MAN/IRON FIST (LUKE CAGE, POWER MAN #1-49) (1972) #22 BRITISH Very Good
POWER MAN/IRON FIST (LUKE CAGE, POWER MAN #1-49) (1972) #23 BRITISH Fine
POWER MAN/IRON FIST (LUKE CAGE, POWER MAN #1-49) (1972) #26 BRITISH Fine
POWER MAN/IRON FIST (LUKE CAGE, POWER MAN #1-49) (1972) #31 Very Fine
POWER MAN/IRON FIST (LUKE CAGE, POWER MAN #1-49) (1972) #33 BRITISH Fine
POWER MAN/IRON FIST (LUKE CAGE, POWER MAN #1-49) (1972) #35 BRITISH Fine
POWER MAN/IRON FIST (LUKE CAGE, POWER MAN #1-49) (1972) #36 BRITISH Fine
POWER MAN/IRON FIST (LUKE CAGE, POWER MAN #1-49) (1972) #37 BRITISH Fine
POWER MAN/IRON FIST (LUKE CAGE, POWER MAN #1-49) (1972) #38 BRITISH Fine
POWER MAN/IRON FIST (LUKE CAGE, POWER MAN #1-49) (1972) #39 BRITISH Fine
POWER MAN/IRON FIST (LUKE CAGE, POWER MAN #1-49) (1972) #40 BRITISH Fine
POWER MAN/IRON FIST (LUKE CAGE, POWER MAN #1-49) (1972) #41 BRITISH Fine


POWER MAN/IRON FIST (LUKE CAGE, POWER MAN #1-49) (1972) #44 BRITISH

POWER MAN/IRON FIST (LUKE CAGE, POWER MAN #1-49) (1972) #44 BRITISH Fine
POWER MAN/IRON FIST (LUKE CAGE, POWER MAN #1-49) (1972) #46 Near Mint/Mint
POWER MAN/IRON FIST (LUKE CAGE, POWER MAN #1-49) (1972) #46 BRITISH Fine
POWER MAN/IRON FIST (LUKE CAGE, POWER MAN #1-49) (1972) #47 WHITMAN Fine
POWER MAN/IRON FIST (LUKE CAGE, POWER MAN #1-49) (1972) #47 BRITISH Very Good
POWER MAN/IRON FIST (LUKE CAGE, POWER MAN #1-49) (1972) #57 NEWSSTAND Good
POWER MAN/IRON FIST (LUKE CAGE, POWER MAN #1-49) (1972) #71 BRITISH Very Fine
POWER MAN/IRON FIST (LUKE CAGE, POWER MAN #1-49) (1972) #84 Fine
POWER MAN/IRON FIST (LUKE CAGE, POWER MAN #1-49) (1972) #84 NEWSSTAND Fine
POWER MAN/IRON FIST (LUKE CAGE, POWER MAN #1-49) (1972) #84 NEWSSTAND Very Good
POWER MAN/IRON FIST (LUKE CAGE, POWER MAN #1-49) (1972) #84 Very Fine

PUNISHER (1985) (#1-5) (MARVEL) #2 Very Fine

PUNISHER (1987) (#1-104) (MARVEL) #104 Very Fine

PUNISHER (2000) (#1-12) (MARVEL KNIGHTS) #1 VARIANT Very Fine

PUNISHER (2009) (#1-21) (MARVEL) #8 RANEY Very Fine
PUNISHER (2009) (#1-21) (MARVEL) #8 VARIANT Near Mint/Mint
PUNISHER (2009) (#1-21) (MARVEL) #9 RANEY Very Fine

PUNISHER (2011) (#1-16) (MARVEL) #8 Very Fine

PUNISHER MAX (2004) #75 VARIANT Very Fine

PUNISHERMAX (PUNISHER MAX) (2009) #1 VARIANT Near Mint/Mint
PUNISHERMAX (PUNISHER MAX) (2009) #1 VARIANT Very Fine

RAWHIDE KID (1955) #97 Good
RAWHIDE KID (1955) #99 Fine
RAWHIDE KID (1955) #99 Very Good
RAWHIDE KID (1955) #117 JEWELERS Very Good
RAWHIDE KID (1955) #146 Fine
RAWHIDE KID (1955) #151 Very Good

REALM OF KINGS: SON OF HULK (2010) #1 VARIANT Very Fine

RED SHE-HULK (#58-UP) (2012) #58 YOUNG BABY Near Mint/Mint

RED SONJA (1977) #8 Fine

RED WOLF (1972) #1 Fine

RINGO KID (1970) #11 Very Good
RINGO KID (1970) #25 Fine

ROCKET RACCOON & GROOT VOL. 00: BITE & BARK TPB (2016) #1 Near Mint/Mint

RUSE (2011) #1 VARIANT Near Mint/Mint

SATURDAY MORNING COMIC (1996) #1 NEWSSTAND Near Mint/Mint

SAVAGE WOLVERINE (2013) #1 YOUNG BABY Near Mint/Mint
SAVAGE WOLVERINE (2013) #1 YOUNG BABY Very Fine
SAVAGE WOLVERINE (2013) #1 HASTINGS Near Mint/Mint
SAVAGE WOLVERINE (2013) #1 YOUNG BABY Fine

SCARLET (2010) #1 LAFUENTE Very Fine

SCARLET SPIDER (2012) #3 2ND PRINT Near Mint/Mint

SCARLET WITCH (2015) #3 CHO Near Mint/Mint

SECRET AVENGERS (2010) #5 SUPERHERO Near Mint/Mint
SECRET AVENGERS (2010) #11 CAP AMERIC Near Mint/Mint
SECRET AVENGERS (2010) #14 VARIANT Near Mint/Mint
SECRET AVENGERS (2010) #17 VARIANT Near Mint/Mint
SECRET AVENGERS (2010) #17 VARIANT Very Fine
SECRET AVENGERS (2010) #18 VARIANT Near Mint/Mint

SECRET AVENGERS (2013) #1 HASTINGS Very Fine
SECRET AVENGERS (2013) #5 RENAUD Fine

SECRET INVASION (2008) #1 MCNIVEN Near Mint/Mint
SECRET INVASION (2008) #2 MCNIVEN Near Mint/Mint
SECRET INVASION (2008) #2 MCNIVEN Very Fine
SECRET INVASION (2008) #2 DFE VAR. Near Mint/Mint
SECRET INVASION (2008) #2 MCNIVEN Fine
SECRET INVASION (2008) #3 MCNIVEN Near Mint/Mint


SECRET INVASION (2008) #4 MCNIVEN

SECRET INVASION (2008) #4 MCNIVEN Near Mint/Mint
SECRET INVASION (2008) #4 MCNIVEN Fine
SECRET INVASION (2008) #4 YU Near Mint/Mint
SECRET INVASION (2008) #5 YU Near Mint/Mint
SECRET INVASION (2008) #5 YU Very Fine
SECRET INVASION (2008) #8 VARIANT Near Mint/Mint
SECRET INVASION (2008) #8 VARIANT Very Fine

SECRET INVASION: INHUMANS (2008) #1 Near Mint/Mint

SECRET WAR (2004) #2 Near Mint/Mint
SECRET WAR (2004) #2 Fine
SECRET WAR (2004) #2 Very Fine

SECRET WARRIORS (2009) #7 70TH ANN Near Mint/Mint
SECRET WARRIORS (2009) #7 70TH ANN Very Fine
SECRET WARRIORS (2009) #9 SUPERHERO Near Mint/Mint
SECRET WARRIORS (2009) #9 ZOMBIE Near Mint/Mint
SECRET WARRIORS (2009) #16 HEROIC AGE Near Mint/Mint
SECRET WARRIORS (2009) #28 VARIANT Near Mint/Mint

SECRET WARS (1984) #2 NEWSSTAND Near Mint/Mint

SECRET WARS (2015) #1 DFE ALT CV Near Mint/Mint
SECRET WARS (2015) #3 FIGURE VAR Near Mint/Mint
SECRET WARS (2015) #3 FIGURE VAR Very Fine
SECRET WARS (2015) #3 FIGURE VAR Fine


SECRET WARS (2015) #9 PICHELLI

SECRET WARS (2015) #9 PICHELLI Near Mint/Mint
SECRET WARS (2015) #9 YOUNG BABY Near Mint/Mint
SECRET WARS (2015) #9 PICHELLI Fine
SECRET WARS (2015) #9 YOUNG BABY Very Fine

SENTRY (2005) #1 DFE S&N Near Mint/Mint

SGT. FURY AND HIS HOWLING COMMANDOS (1963) #34 Fine
SGT. FURY AND HIS HOWLING COMMANDOS (1963) #35 Good
SGT. FURY AND HIS HOWLING COMMANDOS (1963) #37 Good
SGT. FURY AND HIS HOWLING COMMANDOS (1963) #39 Very Good
SGT. FURY AND HIS HOWLING COMMANDOS (1963) #40 Very Good
SGT. FURY AND HIS HOWLING COMMANDOS (1963) #41 Near Mint/Mint
SGT. FURY AND HIS HOWLING COMMANDOS (1963) #41 Very Fine
SGT. FURY AND HIS HOWLING COMMANDOS (1963) #42 Fine
SGT. FURY AND HIS HOWLING COMMANDOS (1963) #46 Good
SGT. FURY AND HIS HOWLING COMMANDOS (1963) #46 Very Good
SGT. FURY AND HIS HOWLING COMMANDOS (1963) #51 Very Good
SGT. FURY AND HIS HOWLING COMMANDOS (1963) #55 Very Good
SGT. FURY AND HIS HOWLING COMMANDOS (1963) #59 Very Good
SGT. FURY AND HIS HOWLING COMMANDOS (1963) #60 Fine
SGT. FURY AND HIS HOWLING COMMANDOS (1963) #60 Very Good
SGT. FURY AND HIS HOWLING COMMANDOS (1963) #61 Fine
SGT. FURY AND HIS HOWLING COMMANDOS (1963) #62 Fine
SGT. FURY AND HIS HOWLING COMMANDOS (1963) #63 Fine
SGT. FURY AND HIS HOWLING COMMANDOS (1963) #63 Very Fine
SGT. FURY AND HIS HOWLING COMMANDOS (1963) #63 Very Good

SHIELD (2014) #1 PHOTO Near Mint/Mint
SHIELD (2014) #1 PHOTO Very Fine

STAR WARS: EPISODE II - ATTACK OF THE CLONES HC (2016) #1 Near Mint/Mint

WOLVERINE: THE ORIGIN (2001) #3 Near Mint/Mint
WOLVERINE: THE ORIGIN (2001) #6 Near Mint/Mint


WOLVERINE: WEAPON X (2009) #10

WOLVERINE: WEAPON X (2009) #10 Very Fine

X-FORCE (2014) #7 Very Fine

X-MEN (2013) (#1-26) (ALL FEMALE TEAM) (MARVEL) #15 Very Fine

X-MEN: SEIGE AND DESTROY (DRAKE'S CAKES PROMO) (1994) #5 Fine

DC
ADVENTURES OF SUPERGIRL TPB (2016) #1 Near Mint/Mint

BATMAN/TEENAGE MUTANT NINJA TURTLES (2015) #3 Near Mint/Mint

COLORING DC: SUPERGIRL TPB (2016) #1 Near Mint/Mint

DETECTIVE COMICS (2011) (#0-52) (DC NEW52) #12 COMBO Near Mint/Mint

DETECTIVE COMICS (2011) (#0-52) (DC NEW52) #18 Very Fine

FABLES HC (2009) #13 Near Mint/Mint

FIRESTORM (1982) #2 NEWSSTAND Very Fine
FIRESTORM (1982) #3 NEWSSTAND Fine
FIRESTORM (1982) #4 NEWSSTAND Very Fine
FIRESTORM (1982) #5 Near Mint/Mint
FIRESTORM (1982) #7 Fine
FIRESTORM (1982) #9 Near Mint/Mint
FIRESTORM (1982) #10 Near Mint/Mint
FIRESTORM (1982) #12 Near Mint/Mint
FIRESTORM (1982) #14 Near Mint/Mint
FIRESTORM (1982) #15 Near Mint/Mint
FIRESTORM (1982) #16 Near Mint/Mint
FIRESTORM (1982) #17 Near Mint/Mint
FIRESTORM (1982) #19 Near Mint/Mint
FIRESTORM (1982) #20 Near Mint/Mint

FIRESTORM (1982) #21 Near Mint/Mint
FIRESTORM (1982) #22 Near Mint/Mint
FIRESTORM (1982) #23 Near Mint/Mint
FIRESTORM (1982) #24 Very Fine
FIRESTORM (1982) #25 Near Mint/Mint
FIRESTORM (1982) #26 Near Mint/Mint
FIRESTORM (1982) #27 Near Mint/Mint
FIRESTORM (1982) #28 Near Mint/Mint
FIRESTORM (1982) #29 Near Mint/Mint
FIRESTORM (1982) #30 Near Mint/Mint
FIRESTORM (1982) #31 Near Mint/Mint
FIRESTORM (1982) #32 Near Mint/Mint
FIRESTORM (1982) #35 NEWSSTAND Very Fine
FIRESTORM (1982) #36 Near Mint/Mint
FIRESTORM (1982) #39 Near Mint/Mint
FIRESTORM (1982) #40 Near Mint/Mint
FIRESTORM (1982) #43 Near Mint/Mint
FIRESTORM (1982) #44 Near Mint/Mint
FIRESTORM (1982) #45 Near Mint/Mint
FIRESTORM (1982) #48 Near Mint/Mint
FIRESTORM (1982) #49 Near Mint/Mint
FIRESTORM (1982) #50 Near Mint/Mint

FLASH (1959) #319 Near Mint/Mint

JUSTICE LEAGUE DARK (2011) #32 BOMBSHELL Near Mint/Mint

JUSTICE LEAGUE VOL. 7: DARKSEID WAR PART 1 HC (2016) #1 Near Mint/Mint

JUSTICE LEAGUE VOL. 7: DARKSEID WAR PART 1 TPB (2016) #1 Near Mint/Mint

SCRIBBLENAUTS UNMASKED: A CRISIS OF IMAGINATION (2013) #1 VARIANT Near Mint/Mint

IMAGE COMICS
EAST OF WEST (2013) #1 Near Mint/Mint
EAST OF WEST (2013) #1 Fine
EAST OF WEST (2013) #1 Very Fine

EAST OF WEST (2013) #2 Near Mint/Mint
EAST OF WEST (2013) #3 Near Mint/Mint

GRIZZLY SHARK TPB (2016) #1 Near Mint/Mint

SEX (2013) #3 Near Mint/Mint
SEX (2013) #4 Near Mint/Mint
SEX (2013) #5 Near Mint/Mint
SEX (2013) #6 Near Mint/Mint
SEX (2013) #7 Near Mint/Mint
SEX (2013) #8 Near Mint/Mint

SHUTTER (2014) #7 F MCKELVIE Near Mint/Mint
SHUTTER (2014) #7 F MCKELVIE Very Fine

INDEPENDENTS
BOB'S BURGERS ADULT COLORING BOOK SC (2016) #1 (Universe) Near Mint/Mint

BRITANNIA (2016) #1 E LEE (Valiant Comics) Near Mint/Mint
BRITANNIA (2016) #1 F JOHNSON (Valiant Comics) Near Mint/Mint

CHOKE (1994) #1 (Anubis Press) Fine

RED SONJA: VULTURE'S CIRCLE (2015) #1 ANACLETB&W (DYNAMITE Entertainment) Very Fine

RICK & MORTY TPB (2015) #3 (Oni Press Inc.) Near Mint/Mint

SCOURGE (2010) #1 D (Aspen) Very Fine
SCOURGE (2010) #1 D (Aspen) Fine

SEPARATORS (2014) #1 SANTOS (Ossm Comics) Near Mint/Mint

SHADOW SHOW (2014) #1 INCENTIVE (IDW Publishing) Near Mint/Mint

SHAFT (2014) #1 SIENKIEB&W (DYNAMITE Entertainment) Very Fine
SHAFT (2014) #2 COWAN B&W (DYNAMITE Entertainment) Near Mint/Mint
SHAFT (2014) #3 COWAN B&W (DYNAMITE Entertainment) Near Mint/Mint
SHAFT (2014) #6 GREENE B&W (DYNAMITE Entertainment) Very Fine

SHEENA (2014) #2 C (Moonstone) Near Mint/Mint

SHERWOOD TEXAS (2014) #3 B (12-GAUGE COMICS) Near Mint/Mint

SIRENS (GEORGE PEREZ) (2014) #1 C (Boom Studios Publishing) Near Mint/Mint
SIRENS (GEORGE PEREZ) (2014) #1 D (Boom Studios Publishing) Near Mint/Mint
SIRENS (GEORGE PEREZ) (2014) #1 E (Boom Studios Publishing) Near Mint/Mint

SIX MILLION DOLLAR MAN - SEASON 6 (2014) #1 DAVILA (DYNAMITE Entertainment) Very Fine

SLEEPY HOLLOW: PROVIDENCE (2015) #1 HICKS (Boom Studios Publishing) Very Fine

SOLAR: MAN OF THE ATOM (2014) #1 BLANK CVR (DYNAMITE Entertainment) Near Mint/Mint
SOLAR: MAN OF THE ATOM (2014) #1 BLANK CVR (DYNAMITE Entertainment) Very Fine

SONS OF ANARCHY (2013) #1 NYCC (Boom Studios Publishing) Fine
SONS OF ANARCHY (2013) #2 PAINTED (Boom Studios Publishing) Near Mint/Mint
SONS OF ANARCHY (2013) #2 PAINTED (Boom Studios Publishing) Very Fine
SONS OF ANARCHY (2013) #4 PAINTED (Boom Studios Publishing) Near Mint/Mint
SONS OF ANARCHY (2013) #6 PAINTED (Boom Studios Publishing) Very Fine
SONS OF ANARCHY (2013) #7 METALLIC (Boom Studios Publishing) Near Mint/Mint

SOULFIRE COLORING BOOK SPECIAL TPB (2016) #1 (Aspen) Near Mint/Mint

STAR WARS: I AM... LIBRARY HC (LITTLE GOLDEN BOOK) (2016) #1 (Random House) Near Mint/Mint

STAR*REACH (1974) (#1-15) (COMIC SIZE) #8 (Star Reach Publication) Fine


STAR*REACH (1974) (#1-15) (COMIC SIZE) #10

STAR*REACH (1974) (#1-15) (COMIC SIZE) #10 (Star Reach Publication) Fine

X-O MANOWAR (2012) #5 TAN (Valiant Comics) Very Fine