Even More Comics Collections Arrive - Marvel, DC, Image, IDW, Dark Horse
Howdy,
We had even more good news yesterday, as yet another great collection of comics and magazines arrived at our Jason St. Mega-Store. This latest acquisition makes more than a dozen large and small collections that we have purchased over the past eight weeks. Life is good!
Another awesome development is that Pam Brandle, and her amazing inventory team, have been keeping up with the rapid pace of our purchasing of collections. To see just how productive Pam's team has been, take a moment to view our massive 7-day Premium New-In-Stock listing. I think you will be amazed at the remarkable diversity of back issues that we have been able to obtain in recent days.
In case you are wondering, the 40% off GREATDEAL! codeword sale that I put into effect for you last week is still ongoing, and can be used to save significantly on your purchase of any of the ten million older comics and magazines we offer on our website. Only new issues, a few variants, and our CGC's are not included as a part of the GREATDEAL! codeword sale.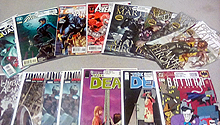 Comics array Walking Dead plus many others

Another factor that is making me quite happy the days is that we are totally current with all shipping of orders, e-mail responses, and all other aspects of customer service. It took us a little while to get caught up after our consolidation of our old 56th Ave. warehouse into Jason St., but now that we've merged our operations together, we are vastly more efficient, and are again providing excellent service.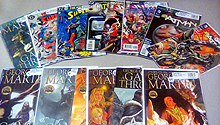 Comics array Game of Thrones plus more

I did also want to remind everyone today that we still offer free shipping of domestic comics orders over $50, and International orders over $125. I mention this fact only because I still occasionally see orders coming through that are just a few dollars below those minimums. So you know, we offer free shipping on larger orders as a way of thanking you for your patronage, so we definitely want you to be able to take advantage of that opportunity. Orders containing trade paperbacks and/or hardbacks do still incur small per item fees, but those are only there to help offset the cost of their extra weight.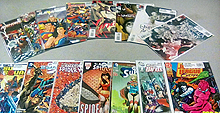 Comics array Spider-man plsu more

My last news item for today is a final opportunity for you to obtain some highly desirable Marvel variant editions as free Bonus items for placing an order with us. You can choose any one of the variants listed below for free if your order (after discounts are applied) exceeds $30, or all three for free if your net order exceeds $75. Let us know in the "notes" as to which free variants you would like to receive. Our remaining supplies on these scarce variants are limited, so this offer needs to end as of noon, on Friday.

DEADPOOL (2016) #1 HASTINGS
Free with a minimum $30.00 order


DEADPOOL VS. GAMBIT (2016) #1 GAMESTOP
Free with a minimum $30.00 order


GWENPOOL (2016) #1 FRIED PIE
Free with a minimum $30.00 order

Happy Collecting!
Chuck Rozanski,
President - Mile High Comics, Inc.
September 14, 2016

P.S. We are still accepting orders for $25 gift certificate, where we donate your $25 to helping the infirm and destitute being fed by Jim Scharper's "Feeding Denver's Hungry." Your donation essentially costs you nothing, as you immediately receive a $25 certificate from us that you can use for your next order. We can either mail you your $25 certificate, or just e-mail the registration number to you. For each $25 certificate you purchase you will also be entered into a free drawing that will be held on the 30th of September for a $1,000 Mile High Comics shopping spree. Please help us to provide food for our neediest citizens, and we'll donate all the comics!
P.P.S. Below is a partial New-In-Stock listing from this week. The entire listing is too large for inclusion with this newsletter!
MARVEL
AMAZING SPIDER-MAN (1999) #668 Near Mint/Mint


AMAZING SPIDER-MAN (1999) #669

AMAZING SPIDER-MAN (1999) #669 Fine
AMAZING SPIDER-MAN (1999) #670 Near Mint/Mint
AMAZING SPIDER-MAN (1999) #671 Very Fine
AMAZING SPIDER-MAN (1999) #672 Fine
AMAZING SPIDER-MAN (1999) #675 Fine
AMAZING SPIDER-MAN (1999) #679 Near Mint/Mint
AMAZING SPIDER-MAN (1999) #679 .1 Near Mint/Mint
AMAZING SPIDER-MAN (1999) #680 Near Mint/Mint
AMAZING SPIDER-MAN (1999) #681 Fine
AMAZING SPIDER-MAN (1999) #682 Very Fine
AMAZING SPIDER-MAN (1999) #683 Near Mint/Mint
AMAZING SPIDER-MAN (1999) #684 Near Mint/Mint
AMAZING SPIDER-MAN (1999) #685 Very Fine
AMAZING SPIDER-MAN (1999) #687 Near Mint/Mint
AMAZING SPIDER-MAN (1999) #688 Very Fine
AMAZING SPIDER-MAN (1999) #689 Near Mint/Mint
AMAZING SPIDER-MAN (1999) #690 Very Fine
AMAZING SPIDER-MAN (1999) #692 Fine
AMAZING SPIDER-MAN (1999) #695 Fine
AMAZING SPIDER-MAN (1999) #696 Near Mint/Mint
AMAZING SPIDER-MAN (1999) #697 Very Fine
AMAZING SPIDER-MAN (1999) #698 Near Mint/Mint
AMAZING SPIDER-MAN (1999) #699 Very Fine
AMAZING SPIDER-MAN (1999) #700 Fine

CIVIL WAR (2006) #1 Near Mint/Mint
CIVIL WAR (2006) #2 Near Mint/Mint
CIVIL WAR (2006) #3 Fine
CIVIL WAR (2006) #4 Fine
CIVIL WAR (2006) #5 Near Mint/Mint
CIVIL WAR (2006) #6 Near Mint/Mint
CIVIL WAR (2006) #7 Near Mint/Mint

CLOAK AND DAGGER (1988) #1 Very Fine
CLOAK AND DAGGER (1988) #3 NEWSSTAND Near Mint/Mint
CLOAK AND DAGGER (1988) #5 NEWSSTAND Near Mint/Mint
CLOAK AND DAGGER (1988) #7 NEWSSTAND Near Mint/Mint
CLOAK AND DAGGER (1988) #8 NEWSSTAND Near Mint/Mint
CLOAK AND DAGGER (1988) #9 NEWSSTAND Near Mint/Mint
CLOAK AND DAGGER (1988) #10 NEWSSTAND Near Mint/Mint
CLOAK AND DAGGER (1988) #14 Near Mint/Mint
CLOAK AND DAGGER (1988) #15 Near Mint/Mint
CLOAK AND DAGGER (1988) #16 Near Mint/Mint
CLOAK AND DAGGER (1988) #18 Near Mint/Mint
CLOAK AND DAGGER (1988) #19 Fine

FANTASTIC FOUR (1997) (#1-79, 509-611) (MARVEL) #579 Near Mint/Mint
FANTASTIC FOUR (1997) (#1-79, 509-611) (MARVEL) #580 Near Mint/Mint
FANTASTIC FOUR (1997) (#1-79, 509-611) (MARVEL) #581 Near Mint/Mint
FANTASTIC FOUR (1997) (#1-79, 509-611) (MARVEL) #582 Near Mint/Mint

FANTASTIC FOUR (1997) (#1-79, 509-611) (MARVEL) #583 Near Mint/Mint
FANTASTIC FOUR (1997) (#1-79, 509-611) (MARVEL) #584 Very Fine
FANTASTIC FOUR (1997) (#1-79, 509-611) (MARVEL) #585 Near Mint/Mint
FANTASTIC FOUR (1997) (#1-79, 509-611) (MARVEL) #586 Near Mint/Mint
FANTASTIC FOUR (1997) (#1-79, 509-611) (MARVEL) #588 Very Fine
FANTASTIC FOUR (1997) (#1-79, 509-611) (MARVEL) #600 Near Mint/Mint
FANTASTIC FOUR (1997) (#1-79, 509-611) (MARVEL) #604 Very Fine
FANTASTIC FOUR (1997) (#1-79, 509-611) (MARVEL) #605 Near Mint/Mint
FANTASTIC FOUR (1997) (#1-79, 509-611) (MARVEL) #610 Near Mint/Mint

HULK (1962) (#1-6, #102-635) (INCREDIBLE) (MARVEL) #359 Very Fine
HULK (1962) (#1-6, #102-635) (INCREDIBLE) (MARVEL) #361 Near Mint/Mint
HULK (1962) (#1-6, #102-635) (INCREDIBLE) (MARVEL) #363 Very Fine
HULK (1962) (#1-6, #102-635) (INCREDIBLE) (MARVEL) #364 Very Fine
HULK (1962) (#1-6, #102-635) (INCREDIBLE) (MARVEL) #365 Very Fine
HULK (1962) (#1-6, #102-635) (INCREDIBLE) (MARVEL) #366 Very Fine
HULK (1962) (#1-6, #102-635) (INCREDIBLE) (MARVEL) #367 Very Fine
HULK (1962) (#1-6, #102-635) (INCREDIBLE) (MARVEL) #370 Near Mint/Mint
HULK (1962) (#1-6, #102-635) (INCREDIBLE) (MARVEL) #371 Near Mint/Mint
HULK (1962) (#1-6, #102-635) (INCREDIBLE) (MARVEL) #372 Near Mint/Mint
HULK (1962) (#1-6, #102-635) (INCREDIBLE) (MARVEL) #373 Very Fine
HULK (1962) (#1-6, #102-635) (INCREDIBLE) (MARVEL) #377 Near Mint/Mint
HULK (1962) (#1-6, #102-635) (INCREDIBLE) (MARVEL) #434 Near Mint/Mint
HULK (1962) (#1-6, #102-635) (INCREDIBLE) (MARVEL) #446 Fine
HULK (1962) (#1-6, #102-635) (INCREDIBLE) (MARVEL) #457 Near Mint/Mint
HULK (1962) (#1-6, #102-635) (INCREDIBLE) (MARVEL) #608 Near Mint/Mint

IMMORTAL IRON FIST (2006) #4 Near Mint/Mint
IMMORTAL IRON FIST (2006) #5 Near Mint/Mint

MARVEL PREMIERE (1972) #16 Very Fine
MARVEL PREMIERE (1972) #49 Very Fine

PETER PARKER (SPECTACULAR SPIDER-MAN) (1976) #69 Very Fine
PETER PARKER (SPECTACULAR SPIDER-MAN) (1976) #81 Near Mint/Mint
PETER PARKER (SPECTACULAR SPIDER-MAN) (1976) #82 Near Mint/Mint
PETER PARKER (SPECTACULAR SPIDER-MAN) (1976) #107 NEWSSTAND Fine
PETER PARKER (SPECTACULAR SPIDER-MAN) (1976) #108 NEWSSTAND Fine
PETER PARKER (SPECTACULAR SPIDER-MAN) (1976) #110 NEWSSTAND Fine
PETER PARKER (SPECTACULAR SPIDER-MAN) (1976) #116 Near Mint/Mint

PSYLOCKE (2009) #1 Near Mint/Mint
PSYLOCKE (2009) #2 Near Mint/Mint

PSYLOCKE (2009) #3 Near Mint/Mint
PSYLOCKE (2009) #4 Near Mint/Mint

SPIDER-ISLAND: SPIDER-GIRL (2011) #3 Near Mint/Mint

SPIDER-MAN (1990) (#1-74, PETER PARKER SPIDEY #75-98) #84 Near Mint/Mint
SPIDER-MAN (1990) (#1-74, PETER PARKER SPIDEY #75-98) #88 Near Mint/Mint
SPIDER-MAN (1990) (#1-74, PETER PARKER SPIDEY #75-98) #89 Near Mint/Mint
SPIDER-MAN (1990) (#1-74, PETER PARKER SPIDEY #75-98) #91 VARIANT Near Mint/Mint
SPIDER-MAN (1990) (#1-74, PETER PARKER SPIDEY #75-98) #92 Near Mint/Mint
SPIDER-MAN (1990) (#1-74, PETER PARKER SPIDEY #75-98) #97 Near Mint/Mint
SPIDER-MAN (1990) (#1-74, PETER PARKER SPIDEY #75-98) #98 Near Mint/Mint

SUPERIOR SPIDER-MAN (2013) #1 Fine

DC
ANIMAL MAN ANNUAL (DC VERTIGO) (CHILDERN'S CRUSADE) (1993) #1 (DC: Vertigo Press) Fine

ARKHAM MANOR (2014) #1 Near Mint/Mint

BATMAN & ROBIN ANNUAL (2013) #1 Very Fine

BIRDS OF PREY (DC) (2010) #1 Near Mint/Mint
BIRDS OF PREY (DC) (2010) #2 Near Mint/Mint
BIRDS OF PREY (DC) (2010) #5 Near Mint/Mint

BIRDS OF PREY (DC) (NEW52) (2011) #9 Near Mint/Mint

BRAVE AND THE BOLD (1955) #185 Very Fine

CHRISTMAS WITH THE SUPERHEROES (1988) #2 Near Mint/Mint

CHUCK (2008) #4 Near Mint/Mint
CHUCK (2008) #5 Near Mint/Mint
CHUCK (2008) #6 Near Mint/Mint

DC COMICS BOMBSHELLS (2015) #1 Fine

DR. FATE (2015) #1 Near Mint/Mint

GOTHAM BY MIDNIGHT (2014) #4 Near Mint/Mint

GRAYSON (2014) #8 MOVIESTYLE Near Mint/Mint
GRAYSON (2014) #11 BOMBSHELL Near Mint/Mint

GREEN LANTERN (2011) #1 VARIANT Very Fine


GREEN LANTERN/GREEN ARROW (1983) #1

GREEN LANTERN/GREEN ARROW (1983) #1 Very Fine
GREEN LANTERN/GREEN ARROW (1983) #5 Fine

HITMAN (1996) #1 Near Mint/Mint
HITMAN (1996) #2 Near Mint/Mint
HITMAN (1996) #3 Very Fine

HITMAN ANNUAL (1997) #1 Near Mint/Mint

MARTIAN MANHUNTER (2015) #2 Near Mint/Mint

MULTIVERSITY (2014) #1 BURNHAM Fine
MULTIVERSITY (2014) #2 Very Fine

NEW SUICIDE SQUAD (2014) #1 Near Mint/Mint
NEW SUICIDE SQUAD (2014) #2 Very Fine
NEW SUICIDE SQUAD (2014) #3 Fine

POWER GIRL (2009) (#1-27) #1 VARIANT Near Mint/Mint

RED LANTERNS (2011) #0 Near Mint/Mint
RED LANTERNS (2011) #1 Very Fine
RED LANTERNS (2011) #4 Near Mint/Mint
RED LANTERNS (2011) #5 Near Mint/Mint
RED LANTERNS (2011) #6 Near Mint/Mint
RED LANTERNS (2011) #17 Near Mint/Mint
RED LANTERNS (2011) #25 Near Mint/Mint
RED LANTERNS (2011) #26 Near Mint/Mint
RED LANTERNS (2011) #30 Near Mint/Mint
RED LANTERNS (2011) #33 Near Mint/Mint
RED LANTERNS (2011) #34 Near Mint/Mint
RED LANTERNS (2011) #36 Near Mint/Mint
RED LANTERNS (2011) #37 Near Mint/Mint

SUICIDE SQUAD: AMANDA WALLER (2014) #1 Very Fine

SUPERGIRL (2011) #2 Near Mint/Mint
SUPERGIRL (2011) #5 Near Mint/Mint
SUPERGIRL (2011) #6 Near Mint/Mint
SUPERGIRL (2011) #27 Near Mint/Mint
SUPERGIRL (2011) #28 Near Mint/Mint
SUPERGIRL (2011) #34 Very Fine
SUPERGIRL (2011) #35 Near Mint/Mint
SUPERGIRL (2011) #40 MOVIESTYLE Very Fine

SUPERMAN (DC REBIRTH) (2016) #1 VARIANT Near Mint/Mint

SWAMP THING (2011) #1 Very Fine
SWAMP THING (2011) #4 Fine
SWAMP THING (2011) #6 Very Fine
SWAMP THING (2011) #7 Near Mint/Mint
SWAMP THING (2011) #11 Very Fine
SWAMP THING (2011) #12 Near Mint/Mint
SWAMP THING (2011) #13 Near Mint/Mint

SWAMP THING (2011) #17 Very Fine
SWAMP THING (2011) #19 Very Fine
SWAMP THING (2011) #20 Near Mint/Mint

WONDER WOMAN (DC NEW52) (2011) #1 Near Mint/Mint

DARK HORSE COMICS
INCREDIBLES (2004) #1 Very Fine

PREDATORS (2010) #2 NEWSSTAND Near Mint/Mint
PREDATORS (2010) #3 NEWSSTAND Near Mint/Mint

UMBRELLA ACADEMY: APOCALYPSE SUITE (2007) #2 Near Mint/Mint
UMBRELLA ACADEMY: APOCALYPSE SUITE (2007) #3 Near Mint/Mint
UMBRELLA ACADEMY: APOCALYPSE SUITE (2007) #4 Near Mint/Mint
UMBRELLA ACADEMY: APOCALYPSE SUITE (2007) #5 Near Mint/Mint
UMBRELLA ACADEMY: APOCALYPSE SUITE (2007) #6 Near Mint/Mint

IMAGE COMICS
7 DAYS FROM HELL: PILOT SEASON (2010) #1 (Image Top Cow) Near Mint/Mint

BOMB QUEEN (2006) #1 Fine
BOMB QUEEN (2006) #2 Fine
BOMB QUEEN (2006) #3 Very Fine
BOMB QUEEN (2006) #4 Very Fine

CASANOVA: ACEDIA (2014) #1 Near Mint/Mint

CHRONONAUTS (2015) #1 D PANOSIAN Fine
CHRONONAUTS (2015) #2 A Fine
CHRONONAUTS (2015) #3 A Near Mint/Mint

CLONE (2012) #1 Very Fine
CLONE (2012) #2 Near Mint/Mint
CLONE (2012) #3 Near Mint/Mint
CLONE (2012) #4 Near Mint/Mint
CLONE (2012) #5 Very Fine

DREAM MERCHANT (2013) #3 Near Mint/Mint

DRUMHELLAR (2013) #1 2ND PRINT Near Mint/Mint

FATALE (2012) #1 2ND PRINT Near Mint/Mint
FATALE (2012) #2 Near Mint/Mint

FATALE (2012) #3 Very Fine
FATALE (2012) #4 Very Fine

INDEPENDENTS
BUCKAROO BANZAI (2011) #2 B (Moonstone) Near Mint/Mint

CHASTITY (2014) #2 SEELEY (DYNAMITE Entertainment) Very Fine
CHASTITY (2014) #3 LUPACCHINO (DYNAMITE Entertainment) Near Mint/Mint
CHASTITY (2014) #4 LUPACCHINO (DYNAMITE Entertainment) Near Mint/Mint
CHASTITY (2014) #5 LUPACCHINO (DYNAMITE Entertainment) Near Mint/Mint
CHASTITY (2014) #5 LUPACCHINO (DYNAMITE Entertainment) Very Fine
CHASTITY (2014) #6 LUPACCHINO (DYNAMITE Entertainment) Near Mint/Mint

COVEN: SPELLCASTER #1 VIGIL (Avatar Comics) Near Mint/Mint

DIFFERENT BEAT COMICS #1 (Fantagraphics) Near Mint/Mint

HOBBIT (1990) #1 (Eclipse Enterprises) Near Mint/Mint
HOBBIT (1990) #2 (Eclipse Enterprises) Very Fine
HOBBIT (1990) #3 (Eclipse Enterprises) Near Mint/Mint

HYPERNATURALS (2012) #2 A (Boom Studios Publishing) Near Mint/Mint

STAR TREK: INFESTATION (2011) #1 A (IDW Publishing) Near Mint/Mint
STAR TREK: INFESTATION (2011) #2 B (IDW Publishing) Near Mint/Mint