LOCAL NEWS - Poker Tournament This Saturday - Comics Auction Next Saturday
Howdy!
A couple of quick notes today about upcoming events at our Mile High Comics Jason St. Mega-Store. First, our biggest benefit poker tournament in our history is scheduled for this Saturday morning, beginning at 11 AM. Our advance registration for this tournament is running double the norm, so we anticipating that as many as 60-80 players may participate. We only have chips for 80, so if you want to play on Saturday, I encourage you to register in advance at one of our stores. Advance registration costs $25, but you immediately receive a $25 gift certificate as a reward, so playing essentially costs you nothing. FYI, our tournaments are very fast-paced, and generally end by 3 PM.
Our other upcoming event is our long-awaited resumption of our no-minimum-bid comics and toy auctions. It will be held on Saturday morning, September 24, beginning at 11:30 AM. We already have over 200 items set aside for this auction, with more coming in by the day. Half of this auction will be a benefit for "Feeding Denver's Hungry," a wonderful grassroots organization that distributes free lunches twice a month to the elderly and infirm. Please do try to set aside time for this fun event. Additional donations of items to help "Feeding Denver's Hungry" would be sincerely appreciated.
Both the ICRME and Feeding Denver's Hungry are registered 501-C3 charities. Both our poker tournament, and our upcoming auction are official Imperial Court of the Rocky Mountain Empire events hosted by me (personally) in my capacity as Prince Royale 42 of the ICRME. All the money we will raise from these two events will go directly to help the hungry, excepting only a small percentage that we need to help keep ICRME functioning.
Here are two photos from our food distribution in front of the St. Francis Center just this last Thursday. The St. Francis Center offers the elderly and infirm access to free showers, counseling, and help with job searches, but no meals. That is why we are so popular when we pass out sandwiches, granola bars, and fresh fruit twice a month. It really isn't much that we are able to give, but these poor people are still incredibly grateful for our help.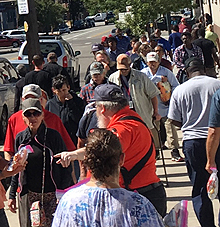 More people getting food and snacks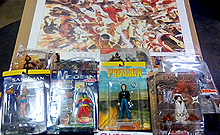 A few of the more than 200 donated items

Happy Collecting!
Chuck Rozanski,
President - Mile High Comics, Inc.
September 13, 2016

Mile High Comics - Jason Street Mega-Store


Mile High Comics Retail Store Locations