50% off NANETTE Codeword Sale
Hello!
This is Chris Boyd with Mile High Comics, as Chuck is in Washington D.C. for the International Court System and Will is on vacation I will fill you in on some of the happenings here at Mile High Comics.
First we are still working hard to finish up the backlog from our LABORDAY! codeword sale and get those orders out as fast as possible. It looks like we should be caught up by next week.
We do have a great new codeword in effect, NANETTE! for %50 off backissue comics and magazines. Only new issues, a few variants, and our professionally-graded back issues are exempt from this awesome half price sale. Almost all of the back issues comics in the list I have included below are available to you at 50% off with this codeword.
Pam also asked me to mention that she purchased a couple more collections today and to keep an eye on the New-In-Stock and the Premium New-In-Stock listings.
I will close with a picture Chuck shared with me via text message this afternoon of him visiting Matthew Shepard's Tomb at the National Cathedral in Washington, D.C.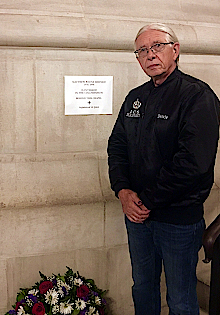 Chuck visiting Matthew Shepard's Tomb.

As always,
Happy collecting!

Chris Boyd
September 6, 2019

MARVEL

ALL-NEW WOLVERINE (2015) #1 ADAMS Near Mint/Mint
ALL-NEW WOLVERINE (2015) #1 HIP HOP Very Fine
ALL-NEW WOLVERINE (2015) #1 LOPEZ Near Mint/Mint
ALL-NEW WOLVERINE (2015) #1 LOPEZDESIG Near Mint/Mint
ALL-NEW WOLVERINE (2015) #1 MARQUEZ Near Mint/Mint

ANGELA: ASGARD'S ASSASSIN (MARVEL) (2014) #2 Near Mint/Mint
ANGELA: ASGARD'S ASSASSIN (MARVEL) (2014) #5 Near Mint/Mint
ANGELA: ASGARD'S ASSASSIN (MARVEL) (2014) #6 Near Mint/Mint

ANT-MAN (MARVEL) (2015) #1 LARROCA Very Fine
ANT-MAN (MARVEL) (2015) #3 CHIANG Near Mint/Mint

ASTONISHING ANT-MAN (2015) #1 ALLRED Fine

ASTONISHING X-MEN: XENOGENESIS TPB (WARREN ELLIS) (2011) #1 Near Mint/Mint

AVENGERS (2013) (#1-44) (MARVEL) #3 GRANOV Very Fine
AVENGERS (2013) (#1-44) (MARVEL) #44 MOVIE A CV Fine

AVENGERS: ULTRON FOREVER (2015) #1 MOVIE B CV Near Mint/Mint
AVENGERS: ULTRON FOREVER (2015) #1 MOVIE C CV Fine

CAPTAIN AMERICA: FOREVER ALLIES TPB (2011) #1 Near Mint/Mint
CAPTAIN AMERICA: FOREVER ALLIES TPB (2011) #1 Very Fine


DAREDEVIL (2014) (#0-18) (MARVEL) #1 2ND PRINT Near Mint/Mint
DAREDEVIL (2014) (#0-18) (MARVEL) #1 SAMNEE Near Mint/Mint
DAREDEVIL (2014) (#0-18) (MARVEL) #2 Near Mint/Mint
DAREDEVIL (2014) (#0-18) (MARVEL) #8 Near Mint/Mint
DAREDEVIL (2014) (#0-18) (MARVEL) #10 Near Mint/Mint
DAREDEVIL (2014) (#0-18) (MARVEL) #12 Near Mint/Mint
DAREDEVIL (2014) (#0-18) (MARVEL) #15 Near Mint/Mint
DAREDEVIL (2014) (#0-18) (MARVEL) #18 Near Mint/Mint

DAREDEVIL (2017) (#595-612) (MARVEL LEAGCY) #596 2ND PRINT Near Mint/Mint
DAREDEVIL (2017) (#595-612) (MARVEL LEAGCY) #603 Near Mint/Mint
DAREDEVIL (2017) (#595-612) (MARVEL LEAGCY) #605 Near Mint/Mint
DAREDEVIL (2017) (#595-612) (MARVEL LEAGCY) #606 Near Mint/Mint
DAREDEVIL (2017) (#595-612) (MARVEL LEAGCY) #607 Near Mint/Mint

DAREDEVIL/PUNISHER (2016) #1 Near Mint/Mint

FANTASTIC FOUR VS. THE X-MEN TPB (1990) #1 Fine

LEGENDARY STAR-LORD (2014) #1 MOVIEPHOTO Near Mint/Mint

MARVEL ZOMBIES (VOL.2) (2007) #5 Very Good

NEW AVENGERS: ULTRON FOREVER (2015) #1 MOVIE E CV Near Mint/Mint
NEW AVENGERS: ULTRON FOREVER (2015) #1 MOVIE F CV Near Mint/Mint

OLD MAN LOGAN (2016) (#1-50) (MARVEL) #1 Near Mint/Mint
OLD MAN LOGAN (2016) (#1-50) (MARVEL) #3 Near Mint/Mint
OLD MAN LOGAN (2016) (#1-50) (MARVEL) #4 Near Mint/Mint
OLD MAN LOGAN (2016) (#1-50) (MARVEL) #6 Near Mint/Mint
OLD MAN LOGAN (2016) (#1-50) (MARVEL) #7 Near Mint/Mint

ORIGINAL SIN (2014) (#0-8) (MARVEL) #5 ADAMS Very Fine

PUNISHER (2016) (#1-17) (MARVEL) #2 Very Fine

REVOLUTIONARY WAR TPB (2014) #1 Near Mint/Mint


RIFTWAR PREMIERE HC (2010) #1 Near Mint/Mint

SHIELD (1968) (#1-18) (MARVEL) #4 Fine
SHIELD (1968) (#1-18) (MARVEL) #7 Good

SILVER SURFER (2003) (#1-14) (MARVEL) #11 Near Mint/Mint

THANOS QUEST COLLECTED EDITION (2000) #1 Near Mint/Mint

THANOS RISING (2013) #2 VARIANT Fine
THANOS RISING (2013) #4 VARIANT Very Fine

THANOS VS. HULK (2014) #1 LIM Very Fine

THOR (2007) (#1-12, 600-621) (MARVEL) #609 IRON MAN Fine

THOR (2014) (#1-8) (MARVEL) (FEMALE THOR) #1 BLANK CVR Near Mint/Mint
THOR (2014) (#1-8) (MARVEL) (FEMALE THOR) #3 Very Fine
THOR (2014) (#1-8) (MARVEL) (FEMALE THOR) #4 Very Fine
THOR (2014) (#1-8) (MARVEL) (FEMALE THOR) #5 Near Mint/Mint
THOR (2014) (#1-8) (MARVEL) (FEMALE THOR) #7 AVENGERS Near Mint/Mint
THOR (2014) (#1-8) (MARVEL) (FEMALE THOR) #8 Fine

THOR VISIONARIES: WALT SIMONSON TPB (2001) #4 Very Fine

THOR: ETERNALS SAGA TPB (2006) #2 Very Fine

TRANSFORMERS THE MOVIE (1986) #1 Very Fine

TRANSFORMERS: GENERATION 2 (1993) #1 DELUXE Near Mint/Mint

UNCANNY AVENGERS: ULTRON FOREVER (2015) #1 MOVIE G CV Fine

WAR IS HELL: FIRST FLIGHT PHANTOM EAGLE TPB (2009) #1 Near Mint/Mint


WEAPONS OF MUTANT DESTRUCTION TPB (WMD) (W.M.D) (2017) #1 Near Mint/Mint

WEREWOLF BY NIGHT: IN THE BLOOD TPB (2009) #1 Fine
WEREWOLF BY NIGHT: IN THE BLOOD TPB (2009) #1 Very Fine

WHAT IF CLASSIC TPB (2004) #3 Near Mint/Mint

WOLVERINE & THE X-MEN (2014) (#1-12) (MARVEL) #1 BROOKS Very Fine

WOLVERINE: BEST THERE IS - CONTAGION TPB (2012) #1 Near Mint/Mint

X-FACTOR FOREVER TPB (2010) #1 Very Fine

DC
ALL-STAR BATMAN AND ROBIN THE BOY WONDER (2005) #1 SPECIAL ED Near Mint/Mint
ALL-STAR BATMAN AND ROBIN THE BOY WONDER (2005) #2 Near Mint/Mint
ALL-STAR BATMAN AND ROBIN THE BOY WONDER (2005) #2 VARIANT Fine
ALL-STAR BATMAN AND ROBIN THE BOY WONDER (2005) #3 VARIANT Near Mint/Mint
ALL-STAR BATMAN AND ROBIN THE BOY WONDER (2005) #4 VARIANT Near Mint/Mint
ALL-STAR BATMAN AND ROBIN THE BOY WONDER (2005) #5 Near Mint/Mint
ALL-STAR BATMAN AND ROBIN THE BOY WONDER (2005) #5 VARIANT Near Mint/Mint
ALL-STAR BATMAN AND ROBIN THE BOY WONDER (2005) #6 Near Mint/Mint
ALL-STAR BATMAN AND ROBIN THE BOY WONDER (2005) #6 VARIANT Very Fine
ALL-STAR BATMAN AND ROBIN THE BOY WONDER (2005) #7 VARIANT Near Mint/Mint
ALL-STAR BATMAN AND ROBIN THE BOY WONDER (2005) #8 Near Mint/Mint
ALL-STAR BATMAN AND ROBIN THE BOY WONDER (2005) #8 VARIANT Very Fine
ALL-STAR BATMAN AND ROBIN THE BOY WONDER (2005) #9 Near Mint/Mint
ALL-STAR BATMAN AND ROBIN THE BOY WONDER (2005) #9 VARIANT Very Fine
ALL-STAR BATMAN AND ROBIN THE BOY WONDER (2005) #10 VARIANT Near Mint/Mint


ARKHAM ASYLUM: LIVING HELL (BATMAN) (DC) (2003) #1 Very Fine

BATMAN (2011) (#0-52) (DC NEW52) #44 GREENLANTE Near Mint/Mint

BATMAN (2016) (#1-UP) (DC REBIRTH) #1 DIRECT CUT Very Fine
BATMAN (2016) (#1-UP) (DC REBIRTH) #1 Very Fine
BATMAN (2016) (#1-UP) (DC REBIRTH) #2 Near Mint/Mint
BATMAN (2016) (#1-UP) (DC REBIRTH) #11 VARIANT Near Mint/Mint
BATMAN (2016) (#1-UP) (DC REBIRTH) #12 VARIANT Near Mint/Mint
BATMAN (2016) (#1-UP) (DC REBIRTH) #16 Near Mint/Mint
BATMAN (2016) (#1-UP) (DC REBIRTH) #21 VARIANT Very Fine
BATMAN (2016) (#1-UP) (DC REBIRTH) #22 VARIANT Near Mint/Mint
BATMAN (2016) (#1-UP) (DC REBIRTH) #24 2ND PRINT Very Fine
BATMAN (2016) (#1-UP) (DC REBIRTH) #27 VARIANT Very Fine
BATMAN (2016) (#1-UP) (DC REBIRTH) #44 VARIANT Very Fine
BATMAN (2016) (#1-UP) (DC REBIRTH) #45 2ND PRINT Near Mint/Mint
BATMAN (2016) (#1-UP) (DC REBIRTH) #49 Near Mint/Mint
BATMAN (2016) (#1-UP) (DC REBIRTH) #50 LEE Near Mint/Mint
BATMAN (2016) (#1-UP) (DC REBIRTH) #54 VARIANT Near Mint/Mint

BATMAN & ROBIN ETERNAL (2015) #1 Near Mint/Mint

BATMAN & ROBIN MOVIE ADAPTATION (1997) #1 NEWSSTAND Fine

BATMAN ANNUAL (2016) (#1-UP) (DC REBIRTH) #2 2ND PRINT Fine

BATMAN FOREVER MOVIE ADAPTATION (1995) #1 DELUXE Near Mint/Mint

BATMAN MOVIE ADAPTATION (DELUXE) (1989) #1 Very Fine

BATMAN REBIRTH (2016) #1 2ND PRINT Near Mint/Mint

BATMAN VS. PREDATOR II: BLOODMATCH (1994) #2 Near Mint/Mint


BATMAN VS. PREDATOR III: BLOOD TIES (1997) #1 Very Fine
BATMAN VS. PREDATOR III: BLOOD TIES (1997) #3 Fine
BATMAN VS. PREDATOR III: BLOOD TIES (1997) #4 Fine

BATMAN: ARKHAM ASYLUM SPECIAL (2009) #1 Near Mint/Mint

BATMAN: CACOPHONY (KEVIN SMITH) (2008) #1 SKETCH CV Near Mint/Mint
BATMAN: CACOPHONY (KEVIN SMITH) (2008) #2 VARIANT Near Mint/Mint
BATMAN: CACOPHONY (KEVIN SMITH) (2008) #3 VARIANT Near Mint/Mint

BATMAN: CONFIDENTIAL (2006) #7 Near Mint/Mint
BATMAN: CONFIDENTIAL (2006) #8 Near Mint/Mint
BATMAN: CONFIDENTIAL (2006) #11 Near Mint/Mint

BATMAN: THE KILLING JOKE (ALAN MOORE) (1988) #1 3RD PRINT Near Mint/Mint

BATMAN: WIDENING GYRE (KEVIN SMITH) (2009) #4 Near Mint/Mint
BATMAN: WIDENING GYRE (KEVIN SMITH) (2009) #5 Very Fine

BIZARRO (2015) #1 Near Mint/Mint

BRAVE AND THE BOLD (1955) #98 Very Good
BRAVE AND THE BOLD (1955) #100 Good
BRAVE AND THE BOLD (1955) #101 Very Good
BRAVE AND THE BOLD (1955) #102 Very Good
BRAVE AND THE BOLD (1955) #104 Fine
BRAVE AND THE BOLD (1955) #105 Fine
BRAVE AND THE BOLD (1955) #107 Very Good
BRAVE AND THE BOLD (1955) #108 Fine
BRAVE AND THE BOLD (1955) #112 Fine
BRAVE AND THE BOLD (1955) #113 Good
BRAVE AND THE BOLD (1955) #114 Very Good


BRAVE AND THE BOLD (1955) #115 Fine
BRAVE AND THE BOLD (1955) #116 Good
BRAVE AND THE BOLD (1955) #117 Fine

CATWOMAN (2018) (#1-UP) (DC UNIVERSE) #1 VARIANT Near Mint/Mint

DARK KNIGHT STRIKES AGAIN (2001) #3 Near Mint/Mint

GREEN ARROW (1988) (#0-137) (DC) #85 Near Mint/Mint
GREEN ARROW (1988) (#0-137) (DC) #86 Near Mint/Mint
GREEN ARROW (1988) (#0-137) (DC) #91 Near Mint/Mint
GREEN ARROW (1988) (#0-137) (DC) #100 DELUXE Very Fine
GREEN ARROW (1988) (#0-137) (DC) #101 Very Fine
GREEN ARROW (1988) (#0-137) (DC) #134 Near Mint/Mint
GREEN ARROW (1988) (#0-137) (DC) #135 Very Fine
GREEN ARROW (1988) (#0-137) (DC) #137 Near Mint/Mint

GREEN ARROW (2001) (#1-75) (DC) #1 Very Fine

JUDGE DREDD: JUDGMENT DAY TPB (2004) #1 Near Mint/Mint

KAMANDI CHALLENGE (2017) #1 GIFFEN Near Mint/Mint
KAMANDI CHALLENGE (2017) #1 Very Fine
KAMANDI CHALLENGE (2017) #3 Near Mint/Mint
KAMANDI CHALLENGE (2017) #4 Near Mint/Mint

LOVELESS: BLACKWATER FALLS TPB (VOL. 3) (2008) #1 Near Mint/Mint

MISTER MIRACLE (2017) (#1-12) (DC) #1 2ND PRINT Very Fine

RE-GIFTERS (2007) #1 Fine
RE-GIFTERS (2007) #1 Very Fine

RIGHT STATE HC (2012) #1 Near Mint/Mint


ROGUE TROOPER: FORT NEURO TPB (VOL. 2) (2005) #1 Very Fine

WAR THAT TIME FORGOT TPB (2009) #1 Near Mint/Mint
WAR THAT TIME FORGOT TPB (2009) #2 Near Mint/Mint

WE 3 TPB (NEW EDITION) (2013) #1 Near Mint/Mint

DARK HORSE COMICS
NIGHTMARE CARNIVAL NOVEL SC (2014) #1 Very Fine

POPULAR SKULLTURE: SKULL MOTIF IN COMICS HC (2014) #1 Very Fine

ROME WEST TPB (2018) #1 Near Mint/Mint

WEREWOLVES ON THE MOON VS. VAMPIRES TPB (2010) #1 Near Mint/Mint

IMAGE COMICS
LIGHT TPB (2010) #1 Very Fine

REED GUNTHER TPB (2011) #2 Very Fine

RETROVIRUS HC (2012) #1 Near Mint/Mint

RIDE TPB (2005) #2 Very Fine

ROCK BOTTOM HC (2012) #1 Very Fine

ROCKETO: JOURNEY TO THE HIDDEN SEA TPB (2007) #2 Near Mint/Mint
ROCKETO: JOURNEY TO THE HIDDEN SEA TPB (2007) #2 Very Fine

SACRED CREATURES TPB (2018) #1 Near Mint/Mint

SAINT GERMAINE: SHADOWS FALL TPB (VOL. 1) (2005) #1 Near Mint/Mint


SPREAD (2014) #1 Near Mint/Mint
SPREAD (2014) #2 Near Mint/Mint
SPREAD (2014) #7 B Near Mint/Mint
SPREAD (2014) #8 Near Mint/Mint
SPREAD (2014) #21 Near Mint/Mint

VAULT TPB (2012) #1 Very Good

WYTCHES (2014) #1 Near Mint/Mint
WYTCHES (2014) #1 HASTINGS Very Fine

INDEPENDENTS
ARMY @ LOVE VOL. 1: THE HOT ZONE TPB (DC VERTIGO) (2007) #1 (DC: Vertigo Press) Fine
ARMY @ LOVE VOL. 1: THE HOT ZONE TPB (DC VERTIGO) (2007) #1 (DC: Vertigo Press) Near Mint/Mint

CEREBUS: WATCHVARK (2018) #1 (Aardvark Vanaheim) Near Mint/Mint

GREEN CANDLES GN (1995) #1 (DC: Paradox Press) Fine
GREEN CANDLES GN (1995) #2 (DC: Paradox Press) Fine
GREEN CANDLES GN (1995) #3 (DC: Paradox Press) Near Mint/Mint

JUGHEAD TPB (2016) #1 (Archie Comics) Very Fine

LA PACIFICA (1994) #3 (DC: Paradox Press) Near Mint/Mint

LITTLE STAR TPB (2006) #1 (Oni Press Inc.) Very Fine

LOVE AND CAPES TPB (2008) #1 (IDW Publishing) Near Mint/Mint

LOVE THE WAY YOU LOVE DIGEST TPB (2006) #5 (Oni Press Inc.) Near Mint/Mint

NAKED ARTIST: COMIC BOOK LEGENDS SC (2007) #1 (Moonstone) Near Mint/Mint

PYONGYANG A JOURNEY INTO NORTH KOREA TPB (2007) #1 (Trade Items) Near Mint/Mint

REDFOX TPB (1986) #2 (Harrier) Near Mint/Mint


REGULAR SHOW (2013) #1 PHOENIX (Boom Studios Publishing) Near Mint/Mint

RETICENT HEART & OTHER STORIES #1 (Fantagraphics) Very Fine

RETURN OF THE VALKYRIE COLLECTION #1 (Eclipse Enterprises) Near Mint/Mint
RETURN OF THE VALKYRIE COLLECTION #1 (Eclipse Enterprises) Very Fine

REVOLUTION: HEROES TPB (2017) #1 (IDW Publishing) Near Mint/Mint

RICANSTRUCTION : REMINISCING & REBUILDING PUERTO RICO (2018) #1 (Somos Arte) Near Mint/Mint

RICK & MORTY (2015) #1 5TH PRINT (Oni Press Inc.) Near Mint/Mint
RICK & MORTY (2015) #2 4TH PRINT (Oni Press Inc.) Very Fine
RICK & MORTY (2015) #2 (Oni Press Inc.) Very Fine
RICK & MORTY (2015) #3 3RD PRINT (Oni Press Inc.) Near Mint/Mint
RICK & MORTY (2015) #5 (Oni Press Inc.) Near Mint/Mint
RICK & MORTY (2015) #6 (Oni Press Inc.) Near Mint/Mint
RICK & MORTY (2015) #7 (Oni Press Inc.) Near Mint/Mint
RICK & MORTY (2015) #12 VARIANT (Oni Press Inc.) Near Mint/Mint
RICK & MORTY (2015) #13 VARIANT (Oni Press Inc.) Near Mint/Mint
RICK & MORTY (2015) #14 VARIANT (Oni Press Inc.) Near Mint/Mint

RIP HAYWIRE & THE CURSE OF THE TANGAROA TPB (2011) #1 (IDW Publishing) Fine
RIP HAYWIRE & THE CURSE OF THE TANGAROA TPB (2011) #1 (IDW Publishing) Very Fine

RIPLEY'S BELIEVE IT OR NOT TPB (2019) #1 (Zenescope Entertainment Inc) Near Mint/Mint

ROCKETEER AT WAR TPB (2016) #1 (IDW Publishing) Near Mint/Mint

ROCKY & BULLWINKLE CLASSICS TPB (2014) #1 (IDW Publishing) Near Mint/Mint

ROM TPB (2017) #3 (IDW Publishing) Near Mint/Mint

ROUGH RIDERS (2016) #1 (After-Shock Comics) Very Fine

ROUTE 666: HIGHWAY OF HORROR TPB (VOL. 1) (2003) #1 (Crossgen Comics) Fine

SABBATH: ALL YOUR SINS REBORN TPB (2008) #1 (Devil's Due) Near Mint/Mint

SAGA OF SEVEN SUNS HC (2003) #1 (DC/Wildstorm) Near Mint/Mint

SPARROW TPB #1 (DC: Piranha Press) Fine


SUICIDE RISK (2013) #17 (Boom Studios Publishing) Near Mint/Mint
SUICIDE RISK (2013) #18 (Boom Studios Publishing) Near Mint/Mint
SUICIDE RISK (2013) #24 (Boom Studios Publishing) Near Mint/Mint
SUICIDE RISK (2013) #25 (Boom Studios Publishing) Near Mint/Mint

SULK GN (2008) #1 (Top Shelf Productions) Fine

TALES OF THE SHADOWMEN NOVEL (2005) #1 (BLACK COAT PRESS) Fine

TEENAGE MUTANT NINJA TURTLES ANNUAL (2012) #1 (IDW Publishing) Fine

THREE DAYS IN EUROPE TPB (2003) #1 (Oni Press Inc.) Good

TOOTH HC (2011) #1 (Oni Press Inc.) Near Mint/Mint

TROUBLE WITH GIRLS TPB (2006) #1 (CHECKER COMICS) Near Mint/Mint

WATSON & HOLMES VOL. 1: STUDY IN BLACK TPB (2013) #1 (New Paradigm Studios Co) Near Mint/Mint

WEAVERS TPB (2017) #1 (Boom Studios Publishing) Near Mint/Mint

WEST COAST BLUES HC (2009) #1 (Fantagraphics) Very Fine

WET HOT AMERICAN SUMMER ORIGINAL TPB (2018) #1 (Boom Studios Publishing) Near Mint/Mint

WET MOON TPB (2016) #1 (Oni Press Inc.) Very Fine

WORLD OF WARCRAFT TPB (2009) #1 (DC/Wildstorm) Very Fine

X-FILES SEASON 10 (2013) #17 (IDW Publishing) Near Mint/Mint
X-FILES SEASON 10 (2013) #18 (IDW Publishing) Near Mint/Mint