Star Wars Variants Collection Plus 2,700 Marvel, DC, Independent Titles
Howdy,
Our ongoing quest to greatly increase the opportunities for you on our website took another positive stride forward yesterday, with over 2,750 more comics being added. If you take just a few moments to peruse our Premium New-In-Stock list for September 2nd, I think that you will be astonished by the stunning diversity of high quality titles that we added for you in just one day. In all honesty, I cannot remember another moment in time when we have so consistently expanded the overall diversity of our website inventory on a daily basis.
In case you are wondering, we have only been able to offer you the opportunity to purchase these choice comics because we have been buying remarkable number of great collections of late, with many simply walking in through the door of our Jason St. Mega-Store. I have no idea if our good fortune in purchasing collections is going to continue, but given that we do still have quite a backlog of unsorted comics to finish grading and entering, I can guarantee you that all of our upcoming New-In-Stock links are going to be excellent for at least the next couple of weeks.
In other news, our annual 50% off LABORDAY! codeword sale is inspiring a significant number of back issue comics orders, especially in light of the fact that all 250,000 of our trade paperbacks and comics hardbacks are also on sale right now at 50% off. The only difference between our books and comics discounting is that you only receive your 50% discount on comics if you enter LABORDAY! into the "Discount Codeword" line on our order form, while our book prices are simply slashed in half for you on our website. You can, however, still combine steeply discounted books and comics into a single order to achieve our free shipping minimums of $50 on Domestic orders, and $125 on orders being delivered to most International destinations. Please bear in mind, however, that books do still need to incur small per item surcharges, even after free base shipping has been achieved.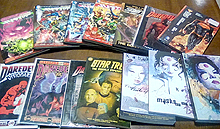 Some Trade paperback and Hardcovers

Another topic I need to cover today is the upcoming release of our next installment in our series of STAR WARS (2015) variant editions. Our STAR WARS #23 Mile High Comics variant edition can now be pre-ordered through our NICE subscription at only $19.95. As we have done with all of our past variants, our price on #23 will rise to $24.95 once it officially releases on Wednesday. We set our print run for this latest variant at the minimum of only 3,000 copies, which works out to only a tiny 60 copies per state. If you would like to lock in your copy before it ships at only $19.95, please order right away.

STAR WARS (2015) #23 MILE HIGH
Only $19.95

On a closely related topic, our list prices on our Mile High Comics variant editions of STAR WARS #1-#20 will also be rising on Tuesday, as our remaining supplies are starting to dwindle away, again. Most will be rising by just $5, but some of the earlier editions will need to rise by $10-$20. With the much-anticipated ROGUE SQUADRON movie releasing in December, we are already seeing the beginnings of a new wave of demand for all STAR WARS (2015) variants, with our exclusive Mile High Comics editions definitely leading the way. Hardcore STAR WARS fans are clearly becoming increasingly aware that our Mile High Comics variants form the only limited edition STAR WARS comics run (3,000 copies...) ever produced by anyone, including the major publishers. I think that is rather cool.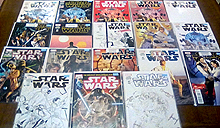 Some Star Wars #1 variant covers

My only other STAR WARS news is that we received a remarkable array of 20 different STAR WARS (2015) #1 variant editions from a single collector yesterday. This uber fan also had about 100 other variants in his collection, all of which are listed for you in today's Premium New-In-Stock list. We only received one copy of each of these variants, however, so if you see one, or more, that you would like to add to your own collection, please do place your order with us right away to avoid possible disappointment. We see many of these issues so seldom that I am certain that quite a few of these scarce variants will be long gone by Monday morning. 'Nuff said.
My final item for today is a quick request that those of you placing orders with us this weekend please consider adding a $25 gift certificate into your purchases. We are donating the proceeds of the gift certificates to "Feeding Denver's Hungry," a local 501-C3 charity that helps our very poorest citizens. Ordering a gift certificate really costs you nothing, as you can immediately utilize it with your next order with us. If you like, we can even just forward a gift certificate number to you, so you do not even have to have it mailed. Write to my assistant, Will Moulton, at moulton@milehighcomics.com if you would like a certificate number sent to you.
Everyone who orders a $25 certificate is then entered into a drawing for a $1,000 Mile High Comics shopping spree, that I am donating. So far, we have only about 45 people entered into the drawing for the $1,000, so your odds of winning are still quite good. I helped distribute food with "Feeding Denver's Hungry" last week, so I can assure you that this is a legitimate organization (made up entirely of volunteers) that creates enormous good in our community. Please help us, if you can.
Happy Collecting!
Chuck Rozanski,
President - Mile High Comics, Inc.
September 2, 2016

P.S. Below are all 22 of the STAR WARS (2015) Mile High Comics variants that have been released to date. Prices listed are in effect through Tuesday, only.

STAR WARS (2015) #1 MILE HIGH
Only $99.95


STAR WARS (2015) #2 MILE HIGH
Only $59.95


STAR WARS (2015) #3 MILE HIGH
Only $49.95


STAR WARS (2015) #4 MILE HIGH
Only $49.95


STAR WARS (2015) #5 MILE HIGH
Only $39.95


STAR WARS (2015) #6 MILE HIGH
Only $39.95


STAR WARS (2015) #7 MILE HIGH
Only $29.95


STAR WARS (2015) #8 MILE HIGH
Only $29.95


STAR WARS (2015) #9 MILE HIGH
Only $29.95


STAR WARS (2015) #10 MILE HIGH
Only $29.95


STAR WARS (2015) #11 MILE HIGH
Only $29.95


STAR WARS (2015) #12 MILE HIGH
Only $29.95


STAR WARS (20150 #13 MILE HIGH
Only $24.95


STAR WARS (2015) #14 MILE HIGH
Only $24.95


STAR WARS (2015) #15 MILE HIGH
Only $24.95


STAR WARS (2015) #16 MILE HIGH
Only $24.95


STAR WARS (2015) #17 MILE HIGH
Only $24.95


STAR WARS (20150 #18 MILE HIGH
Only $24.95


STAR WARS (2015) #19 MILE HIGH
Only $24.95


STAR WARS (2015) #20 MILE HIGH
Only $24.95


STAR WARS (2015) #21 MILE HIGH
Only $24.95


STAR WARS (2015) #22 MILE HIGH
Only $24.95