LOCAL NEWS - All Comics Trade Paperbacks and Hardbacks Half Price -This Weekend Only
Howdy!
The big news for today is that our annual Labor Day book sale will be in effect for you over this holiday weekend. We are being especially generous this year, with all of our in-stock trade paperbacks and hardbacks available to you at half price. Only new books and a few oversize titles are exempt from the sale. For best selection shop at our Jason St. Mega-Store, as we have over 250,000 trades and hardbacks available on the storage shelves. You cannot browse those storage shelves, but if you see any book title listed on our website, it can easily be made available to you. Just ask!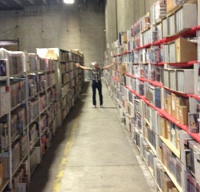 Some of our book shelves at Jason

So you know, most of our back issue comics are also on sale in our stores during this holiday weekend, at 50% off. Only new issues, blue sticker comics, and our CGC's are excluded. Our holiday store sale ends at the close of business on Monday, which will be 5 PM at all of our locations. We will be open our usual hours on Friday-Sunday, but only from Noon - 5 PM on Monday.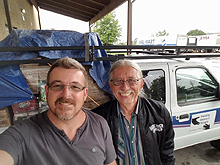 Chuck and Jim Sharper of Feeding Denver's Hungry

Another topic that is near and dear to my heart is my upcoming benefit poker game for "Feeding Denver's Hungry." Our tournament will be held on Saturday morning, September 17th, beginning at 11 AM. This should be an exceptionally fun event, as I am working to make this our biggest tournament, ever. With luck, we may have 80 players! After working with them in distributing free lunches last week, I can assure you that our beneficiary, Feeding Denver's Hungry, is truly worthy of our support. I cannot believe how hard they work, and how many hungry people they serve...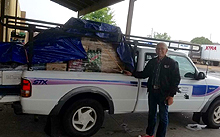 Picking up donations at the Food Bank of the Rockies

Full details for the game are listed on the poster at the end of this newsletter, but what really matters is that your $25 entry fee will be donated by us to Feeding Denver's Hungry. In addition, as long as you register in advance at any of our stores, the full amount of your entry fee will be immediately refunded to you in the form of a $25 store credit. In effect, you will be playing for free!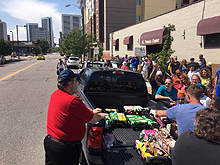 Passing out food by the St. Francis Center

My last item for today is a quick mention that we will finally be again hosting one of our very popular no-minimum-bid comics, toys, and collectibles auctions on Saturday morning, September 24th, beginning at 11:30 AM. Aside from the 300+ Mile High Comics items that we will be auctioning, I am also seeking donations of items that we can auction that Saturday for the benefit of Feeding Denver's Hungry. If you have any cool items in your personal collection that you would be willing to contribute to this awesome cause, please bring them in to your favorite Mile High Comics location. If you can attend the auction on the 24th as a bidder, that would be very much appreciated, too. Cold weather is coming, and I think it would be great if we could all work together to help the unfortunate people who are forced to live on Denver's chilly streets.
Happy Collecting!
Chuck Rozanski,
President - Mile High Comics, Inc.
September 1, 2016

Mile High Comics - Jason Street Mega-Store


Mile High Comics Retail Store Locations