Ten Million Comic Books - Half Price
Howdy!
A quick newsletter today, as I am leaving for the airport in a few minutes. I have to be in Frankfurt, Germany tomorrow morning, as my beloved Uncle Christoph passed away last week, and his funeral is on Wednesday. Christoph helped to raise me as a small child, and became my traveling companion for nearly 30 years during innumerable epic road trips that we took together all across America. He was an exceptionally good man, and will be very much missed.
While I am in Germany, Nanette and Will Moulton are minding the fort. That should be relatively easy, as our most difficult task right now is to somehow find the time to grade and enter all of the amazing back issues that people have been selling to us here at Jason St. I swear that an hour seldom passes without either Will, Pam, or Lisa purchasing some sort of collection. Just yesterday, for example, Lisa purchased an awesome collection of toys, including well over 100 Funko Pop! Figures, and several boxes of American toys (such as Star Wars figures) purchased in Japan. It is the sum of these purchases that combines to make Jason St. The single coolest (and largest) comics and toy store anywhere in the world. 'Nuff said.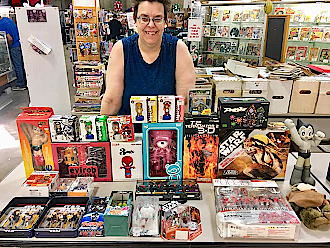 Lisa with some of the figures she just purchased

On a slightly different subject, our 6th installment of our monthly family-friendly Drag Show will be held this Sunday, August 25th, with the doors opening at 5:00 PM, and the show beginning at 6:00. We have had some noisy and obnoxious protestors at our previous five shows, so if you would like to help escort our families into the building when they arrive, bring an umbrella, and join our Parasol Patrol. We generally set up the patrol at about 4:30 PM. And, just so you know, we never confront or engage with any of the protestors, but rather just shield our attendees from their vitriol using umbrellas. It works great! Rainbow umbrellas are the best...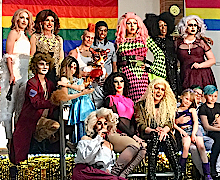 Performers from the last Family Friendly Drag Show

I will close today by quickly mentioning that all ten million of our back issue comics and magazines are on sale for you right now at half price via our ongoing 50% off GERMANY! codeword sale. Only new issues, a few variants, and our professionally-graded comics are exempt from this massive sale. Just enter GERMANY! in the line provided at checkout, and our computer will automatically drop your cost on all qualifying items in half.
Happy collecting!
Chuck Rozanski/Bettie Pages,
President - Mile High Comics, Inc.
August 19, 2019
P.S. Below are even more new arrivals from Will and Pam!
MARVEL

AVENGERS ORIGINS: ANT-MAN & WASP (2011) #1

AVENGERS ORIGINS: ANT-MAN & WASP (2011) #1 Fine

AVENGERS ORIGINS: LUKE CAGE (2011) #1 Very Fine

AVENGERS ORIGINS: SCARLET WITCH & QUICKSILVER (2011) #1 Fine

AVENGERS ORIGINS: THOR (2011) #1 Very Fine

AVENGERS PRIME (2010) #1 DJURDJEVIC Very Fine
AVENGERS PRIME (2010) #4 Near Mint/Mint
AVENGERS PRIME (2010) #5 Fine
AVENGERS PRIME (2010) #5 Near Mint/Mint

AVENGERS STANDOFF: ASSAULT ON PLEASANT HILL - ALPHA (2016) #1 ADAMS Near Mint/Mint
AVENGERS STANDOFF: ASSAULT ON PLEASANT HILL - ALPHA (2016) #1 GWENPOOB&W Very Fine

AVENGERS STANDOFF: ASSAULT ON PLEASANT HILL - OMEGA (2016) #1 ADAMS Near Mint/Mint

AVENGERS STANDOFF: WELCOME TO PLEASANT HILL (2016) #1 HIP HOP Very Fine

AVENGERS UNIVERSE (2000) #2 Near Mint/Mint

AVENGERS VS. AGENTS OF ATLAS (2010) #3 Very Fine

AVENGERS VS. PET AVENGERS (2010) #1 Fine
AVENGERS VS. PET AVENGERS (2010) #2 Fine

AVENGERS WORLD (2014) #6 Very Fine
AVENGERS WORLD (2014) #16 Near Mint/Mint

AVENGERS: INFINITY (2000) #2 Near Mint/Mint

AVENGERS: X-SANCTION (2011) #3 Very Fine
AVENGERS: X-SANCTION (2011) #4 Fine

EXILES: EARN YOUR WINGS TPB (VOL. 8) (2004) #1 Very Fine

FEAR ITSELF: FEARLESS TPB (2013) #1 Near Mint/Mint

KICK ASS VOL. 2 TPB (2013) #1 2ND PRINT Very Fine

KILLRAVEN PREMIERE HC (2007) #1 Near Mint/Mint


MIGHTY THOR BY FRACTION HC (2011) #2

MIGHTY THOR BY FRACTION HC (2011) #2 Near Mint/Mint
MIGHTY THOR BY FRACTION HC (2011) #3 Near Mint/Mint

MIGHTY THOR/JOURNEY INTO MYSTERY: EVERYTHING BURNS TPB (2013) #1 Near Mint/Mint

REALM OF KINGS TPB (2ND EDITION) (2014) #1 Near Mint/Mint

SECRET INVASION: WHO DO YOU TRUST TPB (2009) #1 Near Mint/Mint

THING CLASSIC TPB (2011) #1 Near Mint/Mint

THOR (1962) (#83-125 JOURNEY INTO MYSTERY, 126-502) #179 Very Good

THOR BY JURGENS AND ROMITA JR. TPB (2009) #3 Very Fine
THOR BY JURGENS AND ROMITA JR. TPB (2009) #4 Very Fine

THOR BY WALTER SIMONSON TPB (2013) #1 Near Mint/Mint
THOR BY WALTER SIMONSON TPB (2013) #2 Near Mint/Mint
THOR BY WALTER SIMONSON TPB (2013) #2 Very Fine
THOR BY WALTER SIMONSON TPB (2013) #5 Very Fine

THOR VS. HULK TPB (2017) #1 Near Mint/Mint

THOR: SPIRAL TPB (2ND EDITION) (2011) #1 Near Mint/Mint

X-FACTOR: INVISIBLE WOMAN HAS VANISHED PREMIERE HC (2010) #1 Near Mint/Mint

X-FACTOR: SCAR TISSUE PREMIERE HC (2011) #1 Near Mint/Mint

X-FACTOR: SECRET INVASION PREMIERE HC (2009) #1 Very Fine

DC
ACTION COMICS (1938) (#0-600, 643-904) (DC) #361 Very Good
ACTION COMICS (1938) (#0-600, 643-904) (DC) #378 Good

ACTION COMICS MILLENNIUM EDITION #1 Near Mint/Mint

ALL-STAR SUPERMAN (2005) #1 VARIANT Near Mint/Mint

BATMAN MILLENNIUM EDITION (REPRINT 1940'S #1) (2001) #1 Fine

BATMAN: GHOSTS-DARK KNIGHT HALLOWEEN SPECIAL (TIM SALE) (1995) #1 Very Fine


BATMAN: LEGENDS OF THE DARK KNIGHT SPECIAL (2010) #1

BATMAN: LEGENDS OF THE DARK KNIGHT SPECIAL (2010) #1 Very Fine

BATMAN: MADNESS - LEGENDS OF THE DARK KNIGHT HALLOWEEN (1994) #1 Near Mint/Mint

DETECTIVE COMICS (1937) (#0-881) (DC) #582 NEWSSTAND Very Fine
DETECTIVE COMICS (1937) (#0-881) (DC) #583 Near Mint/Mint
DETECTIVE COMICS (1937) (#0-881) (DC) #584 Very Fine
DETECTIVE COMICS (1937) (#0-881) (DC) #585 NEWSSTAND Very Good
DETECTIVE COMICS (1937) (#0-881) (DC) #586 Very Fine
DETECTIVE COMICS (1937) (#0-881) (DC) #591 NEWSSTAND Very Fine
DETECTIVE COMICS (1937) (#0-881) (DC) #593 Very Fine
DETECTIVE COMICS (1937) (#0-881) (DC) #594 Very Fine
DETECTIVE COMICS (1937) (#0-881) (DC) #595 NEWSSTAND Very Good
DETECTIVE COMICS (1937) (#0-881) (DC) #596 NEWSSTAND Very Fine
DETECTIVE COMICS (1937) (#0-881) (DC) #597 NEWSSTAND Fine

DETECTIVE COMICS MILLENNIUM EDITION (2000) #27 Very Fine

FLASH (1959) (#105-350) (DC) #194 Very Good
FLASH (1959) (#105-350) (DC) #195 Very Good
FLASH (1959) (#105-350) (DC) #207 Very Good
FLASH (1959) (#105-350) (DC) #208 Fine
FLASH (1959) (#105-350) (DC) #217 Very Good
FLASH (1959) (#105-350) (DC) #218 Good
FLASH (1959) (#105-350) (DC) #219 Good

GREEN LANTERN (1960) (#1-224) (DC) #76 Good
GREEN LANTERN (1960) (#1-224) (DC) #77 Good
GREEN LANTERN (1960) (#1-224) (DC) #78 Fair
GREEN LANTERN (1960) (#1-224) (DC) #79 Fair
GREEN LANTERN (1960) (#1-224) (DC) #80 Very Good
GREEN LANTERN (1960) (#1-224) (DC) #81 Good
GREEN LANTERN (1960) (#1-224) (DC) #82 Good
GREEN LANTERN (1960) (#1-224) (DC) #83 Good
GREEN LANTERN (1960) (#1-224) (DC) #84 Fine
GREEN LANTERN (1960) (#1-224) (DC) #85 Good
GREEN LANTERN (1960) (#1-224) (DC) #86 Very Good
GREEN LANTERN (1960) (#1-224) (DC) #87 Very Good
GREEN LANTERN (1960) (#1-224) (DC) #88 Good
GREEN LANTERN (1960) (#1-224) (DC) #89 Good


JSA: GHOST STORIES TPB (VOL. 12) (2006) #1

JSA: GHOST STORIES TPB (VOL. 12) (2006) #1 Very Fine

KANE & LYNCH TPB (2011) #1 Very Fine

KENTS TPB (1998) #1 Near Mint/Mint
KENTS TPB (1998) #1 Very Fine

KID ETERNITY HC (DELUXE EDITION) (2015) #1 Very Fine

KID ETERNITY TPB (2017) #1 Near Mint/Mint

KILL YOUR BOYFRIEND/VIMANARAMA HC (2016) #1 Near Mint/Mint

KILLAPALOOZA TPB (2010) #1 Very Fine

KIMMIE66 TPB (2007) #1 Near Mint/Mint

LA PACIFICA (1994) #3 (DC: Paradox Press) Very Fine

LEGENDS OF THE DARK KNIGHT (BATMAN) (1989) #15 Near Mint/Mint
LEGENDS OF THE DARK KNIGHT (BATMAN) (1989) #50 Very Fine
LEGENDS OF THE DARK KNIGHT (BATMAN) (1989) #62 Very Fine
LEGENDS OF THE DARK KNIGHT (BATMAN) (1989) #65 Very Fine
LEGENDS OF THE DARK KNIGHT (BATMAN) (1989) #137 Near Mint/Mint
LEGENDS OF THE DARK KNIGHT (BATMAN) (1989) #138 Near Mint/Mint
LEGENDS OF THE DARK KNIGHT (BATMAN) (1989) #139 Near Mint/Mint
LEGENDS OF THE DARK KNIGHT (BATMAN) (1989) #140 Near Mint/Mint
LEGENDS OF THE DARK KNIGHT (BATMAN) (1989) #145 Near Mint/Mint
LEGENDS OF THE DARK KNIGHT (BATMAN) (1989) #150 Near Mint/Mint
LEGENDS OF THE DARK KNIGHT (BATMAN) (1989) #181 Near Mint/Mint
LEGENDS OF THE DARK KNIGHT (BATMAN) (1989) #200 Near Mint/Mint
LEGENDS OF THE DARK KNIGHT (BATMAN) (1989) #211 Near Mint/Mint
LEGENDS OF THE DARK KNIGHT (BATMAN) (1989) #214 Very Fine

LEGENDS OF THE DARK KNIGHT ANNUAL (BATMAN) (1991) #5 Very Fine

LEGENDS OF THE DARK KNIGHT HALLOWEEN SPECIAL (1993) #1 Very Fine

NEW GODS (1971) #1 Good

NEW TEEN TITANS ARCHIVES HC #3 Near Mint/Mint

NEW TEEN TITANS TPB (2014) #2 Very Fine
NEW TEEN TITANS TPB (2014) #3 Near Mint/Mint
NEW TEEN TITANS TPB (2014) #4 Very Fine
NEW TEEN TITANS TPB (2014) #6 Near Mint/Mint
NEW TEEN TITANS TPB (2014) #7 Very Fine
NEW TEEN TITANS TPB (2014) #8 Very Fine

NEW TEEN TITANS: JUDAS CONTRACT DELUXE HC (2018) #1 Very Fine

NEW TEEN TITANS: TERRA INCOGNITO TPB (2006) #1 Very Fine

NEW TEEN TITANS: WHO IS DONNA TROY? TPB (2005) #1 Near Mint/Mint

SPECTRE (1967) (#1-10) (DC) #3 Good
SPECTRE (1967) (#1-10) (DC) #5 Good

SPIRIT TPB (2008) #3 Near Mint/Mint

SUPERBOY & THE LEGION OF SUPER-HEROES HC (2017) #1 Near Mint/Mint

SUPERMAN (1939) (#1-423) (DC) #205 Very Good
SUPERMAN (1939) (#1-423) (DC) #233 Good
SUPERMAN (1939) (#1-423) (DC) #235 Fine
SUPERMAN (1939) (#1-423) (DC) #240 Good
SUPERMAN (1939) (#1-423) (DC) #251 Fine
SUPERMAN (1939) (#1-423) (DC) #423 NEWSSTAND Very Fine

TEEN TITANS SPOTLIGHT: CYBORG TPB (2009) #1 Very Fine

TEEN TITANS SPOTLIGHT: RAVEN TPB (2008) #1 Near Mint/Mint

TEEN TITANS SPOTLIGHT: WONDER GIRL TPB (2008) #1 Very Fine

TEEN TITANS VOL. 4: WHEN TITANS FALL TPB (2017) #1 Near Mint/Mint

TEEN TITANS: CHILD'S PLAY TPB (2010) #1 Very Fine

TEEN TITANS: PRIME OF LIFE TPB (2012) #1 Very Fine

TEEN TITANS: SILVER AGE TPB (2017) #1 Near Mint/Mint

TEEN TITANS: TITANS EAST TPB (VOL. 7) (2007) #1 Very Fine


TELARA CHRONICLES TPB (2010) #1

TELARA CHRONICLES TPB (2010) #1 Near Mint/Mint

TIME MASTERS TPB (2008) #1 Very Fine

DARK HORSE COMICS
BLADE OF THE IMMORTAL: BADGER HOLE TPB (VOL. 19) (2008) #1 Very Fine

SIN CITY: A DAME TO KILL FOR TPB (2005) #1 Fine

SIN CITY: HARD GOODBYE TPB (2005) #1 Fine

TEMPUS FUGITIVE TPB (1996) #1 Near Mint/Mint
TEMPUS FUGITIVE TPB (1996) #1 Very Good

TUROK: SON OF STONE ARCHIVES HC (2009) #5 Near Mint/Mint

IMAGE COMICS
INVINCIBLE: MY FAVORITE MARTIAN TPB (VOL. 8) (2007) #1 2ND PRINT Near Mint/Mint

KANE: PARTNERS TPB (VOL. 6) (2006) #1 Fine

KANE: UNTOUCHABLE RICO COSTAS & OTHER STORIES TPB (V.5) (2005) #1 Very Fine

KILL OR BE KILLED TPB (2017) #3 Near Mint/Mint

KILLING GIRL TPB (2008) #1 Near Mint/Mint
KILLING GIRL TPB (2008) #1 Very Good

KILROY IS HERE TPB (2006) #1 Near Mint/Mint

INDEPENDENTS
BLANKETS SC (2015) #1 (Drawn & Quarterly) Very Fine

KAPUT & ZOSKY GN (2008) #1 (:01 FIRST SECOND) Very Fine

KILL SHAKESPEARE VOL. 3: TIDE OF BLOOD TPB (2013) #1 (IDW Publishing) Near Mint/Mint


KILL SHAKESPEARE VOL. 4: MASK OF THE NIGHT TPB (2014) #1

KILL SHAKESPEARE VOL. 4: MASK OF THE NIGHT TPB (2014) #1 (IDW Publishing) Very Fine

KILL THEM ALL TPB (2017) #1 (Oni Press Inc.) Near Mint/Mint

KILLER INSTINCT TPB (2018) #1 (DYNAMITE Entertainment) Near Mint/Mint

KILLOGY TPB (2013) #1 (IDW Publishing) Very Fine

KING LEAR GN (2007) #1 (Comicolor) Fine

KISSING CHAOS TPB (2002) #1 2ND PRINT (Oni Press Inc.) Very Fine

KLAUS: NEW ADVENTURES OF SANTA CLAUS HC (2018) #1 (Boom Studios Publishing) Very Fine

KOLCHAK: NIGHT STALKER-BARE BONES TPB (2006) #1 (Moonstone) Very Good

LEGENDS OF RED SONJA TPB (2014) #1 (DYNAMITE Entertainment) Very Fine

REST TPB (2010) #1 (Image Top Cow) Fine

TIM GINGER TPB (2015) #1 (IDW Publishing) Very Fine

UNCLE SCROOGE (2003) (GEMSTONE) (#319-383) #331 (Gemstone) Very Fine