60% Off NANETTE Codeword Sale On All Comics
Howdy,
My wife, Nanette, and I have been married for over 38 years. During that time she has been my trusted counselor and guide, providing both emotional support and cogent insights as to how to guide Mile High Comics through the many dangerous shoals that continuously threaten a small family-owned business. She had to take some time off this past year after becoming extremely ill last fall with a deadly intestinal disorder called c. diff, but she is now back to helping us.
I mention Nanette's return to active return to Mile High Comics because she requested of me yesterday that I immediately offer you a short term codeword sale, at a staggering 60% off discount. Her reasoning is that she wants us to be ahead with all of our vendors going into the fall, so she doesn't have to worry about bills not getting paid when she finally has her much-anticipated hip replacement surgery. The date for that operation has not yet been set, but Nanette wants us to be completely current with everyone in case Kaiser slots her in sooner than anticipated.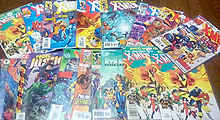 Some comics newly instock now!

So you know, Nanette has been with us long enough that she knows full and well that a 60% off discount is a magical trigger point that blows up our website sales. While she is certainly correct, my core strategic plan for this year has been to get us moved, and to then shift our entire crew to the task of sorting and grading the one million+ comics that we've had stashed in the back of Jason St. for the last several years. As our incredible New-In-Stock and Premium New-In-Stock links of the past 6 weeks have clearly shown, my plan has been working just fine. I do dearly love and appreciate Nanette, however, so I am going to honor her request for a short term 60% off sale.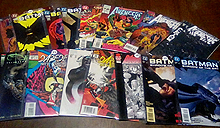 Some more comics newly instock now!

Effective immediately, you can earn a staggering 60% discount off of any of the ten million+ back issue comics that we have listed on our website by typing simply NANETTE! into the "discount codeword" box on our online order form. Our computer will then automatically apply your 60% savings to all qualifying items. This sale excludes new issues, our CGC's, books, and a few variants, but all of the comics that we just listed in our New-In-Stock links ARE included, as are the thousands of high grade Silver Age and Bronze Age comics that we have added into our website offerings over the past six weeks. Purchasing our VF and NM Silver Age at a 60% discount is an opportunity that you may not see again for quite some time, if ever.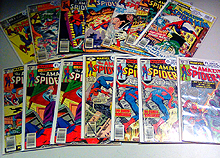 Even more comics newly instock now!

I will close by mentioning that we are still going to honor the offer that I made on Wednesday of 1 free Skottie Young variant edition for each $50 (net) order placed with us over the weekend. The Skottie Young offer will end promptly at noon on Monday, however, so please be sure and get your order in to us right away. This list is at the end of this newsletter. Limit three of any one variant, please.
Please do enjoy this awesome 60% off NANETTE! sale with the sincere thanks and gratitude of all of us in the Rozanski family. We all appreciate your support of our company very much.
Happy Collecting!
Chuck Rozanski,
President - Mile High Comics, Inc.
August 19, 2016

Skottie Young list:

GUARDIANS OF THE GALAXY (2013) #1

ORIGIN 2 (WOLVERINE) (2013) #1

SUPERIOR FOES OF SPIDER-MAN (2013) #1