60% Off SUMMER Sale Ends Soon!
Hello!
A quick reminder that our 60% off SUMMER! codeword sale on all ten million of our back issue comics and magazines is ending on Tuesday (8/13). Only new issues, a few variants, and our professionally-graded comics are excluded. Almost all of the back issues comics in the list that follows are still available to you at 60% off, but only through Tuesday. Please enjoy these great savings with our sincere thanks for your continuing support of Mile High Comics!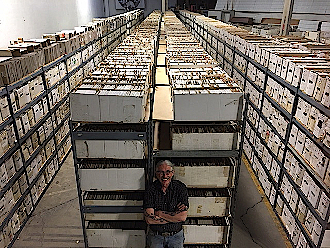 Chuck standing in front of our Back Issue Files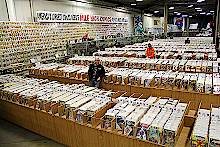 Chuck standing in the Ocean of Comics

Have a great weekend!
William Moulton,
Operations Manager - Mile High Comics, Inc.
August 10, 2019
MARVEL

ADVENTURES OF SNAKE PLISSKEN (MARVEL) (1997) #1

ADVENTURES OF SNAKE PLISSKEN (MARVEL) (1997) #1 Near Mint/Mint

AKIRA (MARVEL) (1988) #36 Near Mint/Mint

ALIAS (2001) (#1-28) (MARVEL) (BRIAN MICHAEL BENDIS) #1 Very Fine
ALIAS (2001) (#1-28) (MARVEL) (BRIAN MICHAEL BENDIS) #2 Near Mint/Mint

ALL-NEW WOLVERINE (2015) #1 HIP HOP Near Mint/Mint

ALPHA FLIGHT (1983) (#1-130) #10 TOY INSERT Very Fine

AMAZING SPIDER-MAN (1999) (#1-58, #500-700.5) (MARVEL) #19 Very Fine
AMAZING SPIDER-MAN (1999) (#1-58, #500-700.5) (MARVEL) #21 Very Fine
AMAZING SPIDER-MAN (1999) (#1-58, #500-700.5) (MARVEL) #36 Very Fine
AMAZING SPIDER-MAN (1999) (#1-58, #500-700.5) (MARVEL) #529 2ND PRINT Near Mint/Mint
AMAZING SPIDER-MAN (1999) (#1-58, #500-700.5) (MARVEL) #530 Near Mint/Mint
AMAZING SPIDER-MAN (1999) (#1-58, #500-700.5) (MARVEL) #531 Very Fine
AMAZING SPIDER-MAN (1999) (#1-58, #500-700.5) (MARVEL) #532 Very Fine
AMAZING SPIDER-MAN (1999) (#1-58, #500-700.5) (MARVEL) #533 Near Mint/Mint
AMAZING SPIDER-MAN (1999) (#1-58, #500-700.5) (MARVEL) #534 Near Mint/Mint
AMAZING SPIDER-MAN (1999) (#1-58, #500-700.5) (MARVEL) #535 Near Mint/Mint
AMAZING SPIDER-MAN (1999) (#1-58, #500-700.5) (MARVEL) #537 Fine
AMAZING SPIDER-MAN (1999) (#1-58, #500-700.5) (MARVEL) #539 Near Mint/Mint
AMAZING SPIDER-MAN (1999) (#1-58, #500-700.5) (MARVEL) #545 Near Mint/Mint

ASTONISHING X-MEN (2004) (#1-68) (MARVEL)(JOSS WHENDON) #4 TOY BIZ Fine
ASTONISHING X-MEN (2004) (#1-68) (MARVEL)(JOSS WHENDON) #6 TOY BIZ Very Fine

AVENGERS (1963) (#1-402) (MARVEL) #51 HASBRO Fine
AVENGERS (1963) (#1-402) (MARVEL) #195 TOY BIZ Near Mint/Mint

AVENGERS ANNUAL (1967) #10 TOY BIZ Very Fine

CAPTAIN MARVEL (1968) (#1-62) (MARVEL) #25 TOY BIZ Near Mint/Mint
CAPTAIN MARVEL (1968) (#1-62) (MARVEL) #34 Very Good
CAPTAIN MARVEL (1968) (#1-62) (MARVEL) #34 Very Fine
CAPTAIN MARVEL (1968) (#1-62) (MARVEL) #36 Very Fine
CAPTAIN MARVEL (1968) (#1-62) (MARVEL) #38 Very Fine
CAPTAIN MARVEL (1968) (#1-62) (MARVEL) #39 Very Fine
CAPTAIN MARVEL (1968) (#1-62) (MARVEL) #40 Very Fine
CAPTAIN MARVEL (1968) (#1-62) (MARVEL) #41 Very Fine
CAPTAIN MARVEL (1968) (#1-62) (MARVEL) #43 Very Fine
CAPTAIN MARVEL (1968) (#1-62) (MARVEL) #50 Very Fine


CAPTAIN MARVEL (1968) (#1-62) (MARVEL) #51

CAPTAIN MARVEL (1968) (#1-62) (MARVEL) #51 Very Fine
CAPTAIN MARVEL (1968) (#1-62) (MARVEL) #52 Very Fine
CAPTAIN MARVEL (1968) (#1-62) (MARVEL) #58 Fine
CAPTAIN MARVEL (1968) (#1-62) (MARVEL) #59 Fine
CAPTAIN MARVEL (1968) (#1-62) (MARVEL) #61 Very Fine
CAPTAIN MARVEL (1968) (#1-62) (MARVEL) #62 Fine

CAPTAIN SAVAGE (1968) #1 Good
CAPTAIN SAVAGE (1968) #1 Very Good

CONTEST OF CHAMPIONS (2015) #1 HIP HOP Very Fine

DEADPOOL (1997) (#0-69) (MARVEL) #4 TOY INSERT Fine

DEADPOOL (2008) (#1-63, 900, 1000) (MARVEL) #9 2ND PRINT Fine
DEADPOOL (2008) (#1-63, 900, 1000) (MARVEL) #10 Near Mint/Mint
DEADPOOL (2008) (#1-63, 900, 1000) (MARVEL) #11 Fine
DEADPOOL (2008) (#1-63, 900, 1000) (MARVEL) #16 Very Fine
DEADPOOL (2008) (#1-63, 900, 1000) (MARVEL) #17 Fine
DEADPOOL (2008) (#1-63, 900, 1000) (MARVEL) #18 Very Good
DEADPOOL (2008) (#1-63, 900, 1000) (MARVEL) #19 Fine
DEADPOOL (2008) (#1-63, 900, 1000) (MARVEL) #20 Fine
DEADPOOL (2008) (#1-63, 900, 1000) (MARVEL) #21 Fine
DEADPOOL (2008) (#1-63, 900, 1000) (MARVEL) #23 Fine
DEADPOOL (2008) (#1-63, 900, 1000) (MARVEL) #24 Fine

DEADPOOL TEAM-UP (2009) (#883-899) #892 Fine
DEADPOOL TEAM-UP (2009) (#883-899) #893 Fine
DEADPOOL TEAM-UP (2009) (#883-899) #894 Fine
DEADPOOL TEAM-UP (2009) (#883-899) #895 Fine

DEADPOOL: MERC WITH A MOUTH (2009) #1 Fine
DEADPOOL: MERC WITH A MOUTH (2009) #2 Fine
DEADPOOL: MERC WITH A MOUTH (2009) #3 Fine
DEADPOOL: MERC WITH A MOUTH (2009) #4 Fine
DEADPOOL: MERC WITH A MOUTH (2009) #5 Fine
DEADPOOL: MERC WITH A MOUTH (2009) #6 Fine
DEADPOOL: MERC WITH A MOUTH (2009) #8 Fine
DEADPOOL: MERC WITH A MOUTH (2009) #9 Fine
DEADPOOL: MERC WITH A MOUTH (2009) #12 Very Fine
DEADPOOL: MERC WITH A MOUTH (2009) #13 Fine

DEADPOOL: SUICIDE KINGS (2009) #1 Fine


DEADPOOL: SUICIDE KINGS (2009) #2

DEADPOOL: SUICIDE KINGS (2009) #2 Fine
DEADPOOL: SUICIDE KINGS (2009) #3 Fine
DEADPOOL: SUICIDE KINGS (2009) #4 Fine

DEADPOOL: WADE WILSON'S WAR (2010) #1 Fine
DEADPOOL: WADE WILSON'S WAR (2010) #2 Near Mint/Mint

ETERNALS (1976) (#1-19) (MARVEL) (JACK KIRBY) #1 Fine
ETERNALS (1976) (#1-19) (MARVEL) (JACK KIRBY) #2 Good
ETERNALS (1976) (#1-19) (MARVEL) (JACK KIRBY) #3 Good
ETERNALS (1976) (#1-19) (MARVEL) (JACK KIRBY) #4 Fine
ETERNALS (1976) (#1-19) (MARVEL) (JACK KIRBY) #5 Fine
ETERNALS (1976) (#1-19) (MARVEL) (JACK KIRBY) #6 Good
ETERNALS (1976) (#1-19) (MARVEL) (JACK KIRBY) #7 Very Good
ETERNALS (1976) (#1-19) (MARVEL) (JACK KIRBY) #8 Good
ETERNALS (1976) (#1-19) (MARVEL) (JACK KIRBY) #9 Very Fine
ETERNALS (1976) (#1-19) (MARVEL) (JACK KIRBY) #10 Very Good
ETERNALS (1976) (#1-19) (MARVEL) (JACK KIRBY) #11 Good
ETERNALS (1976) (#1-19) (MARVEL) (JACK KIRBY) #12 WHITMAN Very Good
ETERNALS (1976) (#1-19) (MARVEL) (JACK KIRBY) #13 Good
ETERNALS (1976) (#1-19) (MARVEL) (JACK KIRBY) #14 Good
ETERNALS (1976) (#1-19) (MARVEL) (JACK KIRBY) #15 Fair
ETERNALS (1976) (#1-19) (MARVEL) (JACK KIRBY) #16 Good
ETERNALS (1976) (#1-19) (MARVEL) (JACK KIRBY) #17 Fine
ETERNALS (1976) (#1-19) (MARVEL) (JACK KIRBY) #18 Good
ETERNALS (1976) (#1-19) (MARVEL) (JACK KIRBY) #19 Very Good

FEAR (ADVENTURE INTO...) (1970) #17 Fine

FEAR ITSELF: DEADPOOL (2011) #2 Fine
FEAR ITSELF: DEADPOOL (2011) #2 Very Fine

FEAR ITSELF: FEARLESS (2011) #6 Near Mint/Mint

FEARLESS DEFENDERS (2013) #1 BLANK CVR Very Fine

FF (2011) (#1-23) (HICKMAN) (MARVEL) #1 50TH ANN Very Fine
FF (2011) (#1-23) (HICKMAN) (MARVEL) #1 ACUNA Near Mint/Mint
FF (2011) (#1-23) (HICKMAN) (MARVEL) #1 BLANK CVR Near Mint/Mint
FF (2011) (#1-23) (HICKMAN) (MARVEL) #1 GOLDBERG Very Fine
FF (2011) (#1-23) (HICKMAN) (MARVEL) #17 VARIANT Near Mint/Mint


FF (2013) (#1-16) (ALLRED) (MARVEL) #1 YOUNG BABY

FF (2013) (#1-16) (ALLRED) (MARVEL) #1 YOUNG BABY Fine
FF (2013) (#1-16) (ALLRED) (MARVEL) #15 Near Mint/Mint

FRANKLIN RICHARDS: SON OF A GENIUS ULTIMATE TPB (2010) #2 Near Mint/Mint

GHOST RIDER (1990) (#1-94) (MARVEL) #1 Near Mint/Mint
GHOST RIDER (1990) (#1-94) (MARVEL) #2 Near Mint/Mint
GHOST RIDER (1990) (#1-94) (MARVEL) #3 Near Mint/Mint
GHOST RIDER (1990) (#1-94) (MARVEL) #5 Near Mint/Mint
GHOST RIDER (1990) (#1-94) (MARVEL) #5 2ND PRT Near Mint/Mint
GHOST RIDER (1990) (#1-94) (MARVEL) #5 NEWSSTAND Near Mint/Mint
GHOST RIDER (1990) (#1-94) (MARVEL) #6 Near Mint/Mint
GHOST RIDER (1990) (#1-94) (MARVEL) #7 Near Mint/Mint
GHOST RIDER (1990) (#1-94) (MARVEL) #7 NEWSSTAND Very Fine
GHOST RIDER (1990) (#1-94) (MARVEL) #8 Near Mint/Mint
GHOST RIDER (1990) (#1-94) (MARVEL) #10 Near Mint/Mint
GHOST RIDER (1990) (#1-94) (MARVEL) #10 Very Fine
GHOST RIDER (1990) (#1-94) (MARVEL) #12 Near Mint/Mint
GHOST RIDER (1990) (#1-94) (MARVEL) #13 Near Mint/Mint
GHOST RIDER (1990) (#1-94) (MARVEL) #14 Near Mint/Mint
GHOST RIDER (1990) (#1-94) (MARVEL) #15 Near Mint/Mint
GHOST RIDER (1990) (#1-94) (MARVEL) #15 2ND PRT Near Mint/Mint
GHOST RIDER (1990) (#1-94) (MARVEL) #15 Very Fine
GHOST RIDER (1990) (#1-94) (MARVEL) #17 Near Mint/Mint
GHOST RIDER (1990) (#1-94) (MARVEL) #23 Near Mint/Mint
GHOST RIDER (1990) (#1-94) (MARVEL) #24 Near Mint/Mint
GHOST RIDER (1990) (#1-94) (MARVEL) #27 NEWSSTAND Near Mint/Mint
GHOST RIDER (1990) (#1-94) (MARVEL) #40 Near Mint/Mint

GHOST RIDER, WOLVERINE, PUNISHER: HEARTS OF DARKNESS (1991) #1 TOY BIZ Fine

GI JOE #1 HASBRO Fine
GI JOE #2 TOY INSERT Near Mint/Mint
GI JOE #3 HASBRO Near Mint/Mint
GI JOE #4 HASBRO Fine
GI JOE #4 Very Good
GI JOE #21 TOY INSERT Very Fine
GI JOE #24 HASBRO Near Mint/Mint
GI JOE #44 HASBRO Fine
GI JOE #49 TOY INSERT Very Fine
GI JOE #73 Near Mint/Mint
GI JOE #75 HASBRO Near Mint/Mint

GI JOE #75 Very Fine
GI JOE #77 NEWSSTAND Near Mint/Mint
GI JOE #78 NEWSSTAND Very Fine
GI JOE #79 NEWSSTAND Very Good
GI JOE #80 NEWSSTAND Very Fine
GI JOE #81 NEWSSTAND Fine
GI JOE #83 NEWSSTAND Fine
GI JOE #84 NEWSSTAND Fine
GI JOE #85 NEWSSTAND Fine
GI JOE #86 NEWSSTAND Fine
GI JOE #87 NEWSSTAND Very Fine
GI JOE #88 NEWSSTAND Very Fine
GI JOE #89 NEWSSTAND Very Fine
GI JOE #90 NEWSSTAND Fine
GI JOE #93 NEWSSTAND Fine
GI JOE #95 NEWSSTAND Very Fine
GI JOE #96 NEWSSTAND Fine
GI JOE #97 NEWSSTAND Very Fine
GI JOE #98 NEWSSTAND Near Mint/Mint
GI JOE #99 NEWSSTAND Very Fine
GI JOE #100 NEWSSTAND Fine
GI JOE #101 NEWSSTAND Fine
GI JOE #102 NEWSSTAND Very Good
GI JOE #103 NEWSSTAND Very Good
GI JOE #104 NEWSSTAND Fine
GI JOE #105 NEWSSTAND Very Good
GI JOE #106 NEWSSTAND Very Fine
GI JOE #107 NEWSSTAND Fine
GI JOE #108 NEWSSTAND Very Good
GI JOE #109 NEWSSTAND Fine
GI JOE #110 NEWSSTAND Near Mint/Mint
GI JOE #111 NEWSSTAND Near Mint/Mint
GI JOE #112 NEWSSTAND Near Mint/Mint
GI JOE #113 NEWSSTAND Very Fine
GI JOE #114 NEWSSTAND Fine
GI JOE #115 NEWSSTAND Fine
GI JOE #116 NEWSSTAND Very Fine
GI JOE #117 NEWSSTAND Near Mint/Mint
GI JOE #118 NEWSSTAND Fine
GI JOE #119 NEWSSTAND Very Fine
GI JOE #120 NEWSSTAND Fine
GI JOE #121 NEWSSTAND Very Fine
GI JOE #123 Near Mint/Mint
GI JOE #124 Fine

GI JOE #125 Near Mint/Mint
GI JOE #127 Fine
GI JOE #137 NO BAG Fine

GI JOE AND THE TRANSFORMERS (1987) #3 NEWSSTAND Fine

GI JOE SPECIAL MISSIONS (1986) #15 NEWSSTAND Fine
GI JOE SPECIAL MISSIONS (1986) #16 Very Fine
GI JOE SPECIAL MISSIONS (1986) #18 NEWSSTAND Fine
GI JOE SPECIAL MISSIONS (1986) #24 NEWSSTAND Fine
GI JOE SPECIAL MISSIONS (1986) #26 NEWSSTAND Fine
GI JOE SPECIAL MISSIONS (1986) #28 NEWSSTAND Fine

HOWLING COMMANDOS OF SHIELD (2015) #1 HIP HOP Near Mint/Mint

HULK (1962) (#1-6, #102-474, #600-635)(INCREDIBLE)(MV) #107 Very Good

HULK (1999) (#1-112) (MARVEL) #25 TOY BIZ Fine

LEGION: SON OF X TPB (2017) #2 Near Mint/Mint
LEGION: SON OF X TPB (2017) #3 Near Mint/Mint

LEGION: TRAUMA TPB (2018) #1 Near Mint/Mint

MARVEL PREMIERE (1972) #47 TOY INSERT Very Fine

MARVEL UNIVERSE VS. PUNISHER (2010) #4 Very Fine

MARVELS (1994) #1 Fine
MARVELS (1994) #2 Very Fine
MARVELS (1994) #3 Very Fine

MIGHTY THOR (2015) (#1-23) (FEMALE THOR) (JANE FOSTER) #1 HIP HOP Near Mint/Mint

PUNISHER WAR ZONE (1992) #1 TOY INSERT Very Fine

SIEGE: MIGHTY AVENGERS TPB (2011) #1 Near Mint/Mint

SPIDER-MAN VISIONARIES: JOHN ROMITA, SR. TPB (2001) #1 Fine

SPIDER-MAN/DEADPOOL (2015) #1 Near Mint/Mint


SPIDER-MAN/DEADPOOL (2015) #2 4TH PRINT

SPIDER-MAN/DEADPOOL (2015) #2 4TH PRINT Near Mint/Mint
SPIDER-MAN/DEADPOOL (2015) #3 3RD PRINT Near Mint/Mint
SPIDER-MAN/DEADPOOL (2015) #4 2ND PRINT Near Mint/Mint

SUPER-VILLAIN TEAM-UP/M.O.D.O.K.'S 11 TPB (2008) #1 Fine

SUPREME POWER: HIGH COMMAND TPB (VOL. 3) (2005) #1 Near Mint/Mint
SUPREME POWER: HIGH COMMAND TPB (VOL. 3) (2005) #1 Very Fine

SUPREME POWER: HYPERION TPB (2006) #1 Near Mint/Mint

ULTIMATE COMICS: NEW ULTIMATES - THOR REBORN TPB (2011) #1 Near Mint/Mint

WOLVERINE: SABRETOOTH HC (2013) #1 Near Mint/Mint

X-MEN (1963) (#1-113, UNCANNY X-MEN #114-544) (MARVEL) #209 Near Mint/Mint
X-MEN (1963) (#1-113, UNCANNY X-MEN #114-544) (MARVEL) #210 Very Fine
X-MEN (1963) (#1-113, UNCANNY X-MEN #114-544) (MARVEL) #211 Near Mint/Mint
X-MEN (1963) (#1-113, UNCANNY X-MEN #114-544) (MARVEL) #212 Very Fine
X-MEN (1963) (#1-113, UNCANNY X-MEN #114-544) (MARVEL) #213 Fine
X-MEN (1963) (#1-113, UNCANNY X-MEN #114-544) (MARVEL) #216 Near Mint/Mint
X-MEN (1963) (#1-113, UNCANNY X-MEN #114-544) (MARVEL) #217 Near Mint/Mint
X-MEN (1963) (#1-113, UNCANNY X-MEN #114-544) (MARVEL) #218 Very Fine
X-MEN (1963) (#1-113, UNCANNY X-MEN #114-544) (MARVEL) #219 Near Mint/Mint
X-MEN (1963) (#1-113, UNCANNY X-MEN #114-544) (MARVEL) #223 Near Mint/Mint
X-MEN (1963) (#1-113, UNCANNY X-MEN #114-544) (MARVEL) #230 Near Mint/Mint
X-MEN (1963) (#1-113, UNCANNY X-MEN #114-544) (MARVEL) #231 Near Mint/Mint
X-MEN (1963) (#1-113, UNCANNY X-MEN #114-544) (MARVEL) #233 Near Mint/Mint
X-MEN (1963) (#1-113, UNCANNY X-MEN #114-544) (MARVEL) #234 Near Mint/Mint
X-MEN (1963) (#1-113, UNCANNY X-MEN #114-544) (MARVEL) #237 Near Mint/Mint
X-MEN (1963) (#1-113, UNCANNY X-MEN #114-544) (MARVEL) #239 NEWSSTAND Very Fine
X-MEN (1963) (#1-113, UNCANNY X-MEN #114-544) (MARVEL) #245 Near Mint/Mint
X-MEN (1963) (#1-113, UNCANNY X-MEN #114-544) (MARVEL) #256 NEWSSTAND Very Good
X-MEN (1963) (#1-113, UNCANNY X-MEN #114-544) (MARVEL) #262 NEWSSTAND Near Mint/Mint
X-MEN (1963) (#1-113, UNCANNY X-MEN #114-544) (MARVEL) #265 Near Mint/Mint
X-MEN (1963) (#1-113, UNCANNY X-MEN #114-544) (MARVEL) #267 Fine
X-MEN (1963) (#1-113, UNCANNY X-MEN #114-544) (MARVEL) #268 Near Mint/Mint
X-MEN (1963) (#1-113, UNCANNY X-MEN #114-544) (MARVEL) #269 Near Mint/Mint
X-MEN (1963) (#1-113, UNCANNY X-MEN #114-544) (MARVEL) #270 Near Mint/Mint
X-MEN (1963) (#1-113, UNCANNY X-MEN #114-544) (MARVEL) #271 Near Mint/Mint
X-MEN (1963) (#1-113, UNCANNY X-MEN #114-544) (MARVEL) #272 Near Mint/Mint
X-MEN (1963) (#1-113, UNCANNY X-MEN #114-544) (MARVEL) #273 Near Mint/Mint


X-MEN (1963) (#1-113, UNCANNY X-MEN #114-544) (MARVEL) #277

X-MEN (1963) (#1-113, UNCANNY X-MEN #114-544) (MARVEL) #277 Near Mint/Mint
X-MEN (1963) (#1-113, UNCANNY X-MEN #114-544) (MARVEL) #280 Near Mint/Mint

X-MEN ANNUAL (1970) #3 NEWSSTAND Very Good
X-MEN ANNUAL (1970) #3 Very Good
X-MEN ANNUAL (1970) #9 Very Fine
X-MEN ANNUAL (1970) #12 Near Mint/Mint

DC
ARCANA ANNUAL (BOOKS OF MAGIC) (DC VERTIGO) (1994) #1 (DC: Vertigo Press) Near Mint/Mint

BATMAN (1940) (#0-713) (DC) #683 Near Mint/Mint
BATMAN (1940) (#0-713) (DC) #686 ROSS Near Mint/Mint
BATMAN (1940) (#0-713) (DC) #686 Very Fine
BATMAN (1940) (#0-713) (DC) #694 NEWSSTAND Good

BATMAN: SON OF THE DEMON SC (1987) #1 Very Fine

BLACKEST NIGHT (2009) #0 FCBD Fine
BLACKEST NIGHT (2009) #3 Very Fine
BLACKEST NIGHT (2009) #4 Near Mint/Mint
BLACKEST NIGHT (2009) #7 Very Fine

BLOOD AND WATER TPB (2009) #1 Near Mint/Mint
BLOOD AND WATER TPB (2009) #1 Very Fine

DARK KNIGHT (1986) #1 1ST PRT Very Fine
DARK KNIGHT (1986) #2 1ST PRT Near Mint/Mint
DARK KNIGHT (1986) #3 1ST PRT Near Mint/Mint
DARK KNIGHT (1986) #4 1ST PRT Very Fine

DETECTIVE COMICS (1937) (#0-881) (DC) #853 Near Mint/Mint

I, ZOMBIE (2010) #1 Very Fine
I, ZOMBIE (2010) #2 Very Fine
I, ZOMBIE (2010) #3 Fine
I, ZOMBIE (2010) #4 Near Mint/Mint
I, ZOMBIE (2010) #5 Very Fine
I, ZOMBIE (2010) #12 Near Mint/Mint
I, ZOMBIE (2010) #13 Near Mint/Mint
I, ZOMBIE (2010) #14 Near Mint/Mint
I, ZOMBIE (2010) #20 Near Mint/Mint

I, ZOMBIE (2010) #21 Near Mint/Mint
I, ZOMBIE (2010) #22 Near Mint/Mint
I, ZOMBIE (2010) #23 Near Mint/Mint
I, ZOMBIE (2010) #25 Near Mint/Mint

JOKER'S ASYLUM: HARLEY QUINN (2010) #1 Very Fine

LEGION BY DAN ABNETT & ANDY LANNING TPB (2017) #2 Near Mint/Mint

LEGION OF SUPER-HEROES: AN EYE FOR AN EYE TPB (2007) #1 Near Mint/Mint
LEGION OF SUPER-HEROES: AN EYE FOR AN EYE TPB (2007) #1 Very Fine

LEGION OF SUPER-HEROES: THE BEGINNING OF TOMORROW TPB (1999) #1 Fine
LEGION OF SUPER-HEROES: THE BEGINNING OF TOMORROW TPB (1999) #1 Very Fine

LEGION OF SUPER-HEROES: THE MORE THINGS CHANGE TPB (2008) #1 Very Fine

LOBO: HIGHWAY TO HELL (2009) #2 Very Fine

LOIS & CLARK: NEW ADVENTURES OF SUPERMAN TPB (1994) #1 Very Fine

LOONEY TUNES (1994) (#1-UP) (DC) #217 NEWSSTAND Fine
LOONEY TUNES (1994) (#1-UP) (DC) #222 NEWSSTAND Good

LUTHOR HC (2010) #1 Near Mint/Mint

MYSTERY PLAY SC (1995) #1 2ND PRINT (DC: Vertigo Press) Near Mint/Mint

NEW TEEN TITANS TPB (2014) #7 Near Mint/Mint

OZZIE SMITH IN THE KID WHO COULD (1992) #1 Very Good

QUITTER HC (HARVEY PEKAR) (2005) #1 (DC: Vertigo Press) Near Mint/Mint

RESIDENT EVIL: FIRE & ICE (2000) #2 Very Fine
RESIDENT EVIL: FIRE & ICE (2000) #4 Very Fine

SUPERMAN: RED SON (2003) #1 Near Mint/Mint
SUPERMAN: RED SON (2003) #2 Fine
SUPERMAN: RED SON (2003) #3 Very Fine

SURVIVORS CLUB TPB (2016) #1 Near Mint/Mint


SWAMP THING BY BRIAN K. VAUGHAN TPB (2014) #2

SWAMP THING BY BRIAN K. VAUGHAN TPB (2014) #2 Very Fine

SWAMP THING VOL. 2: FAMILY TREE TPB (2013) #1 Near Mint/Mint

SWAMP THING, SAGA OF TPB (DIRECT) (VOL. 1) (1987) #1 4TH PRINT (DC: Vertigo Press) Near Mint/Mint

SWAMP THING: BAD SEED TPB (BOOK 1) (2004) #1 (DC: Vertigo Press) Near Mint/Mint

SWAMP THING: DARKER GENESIS TPB (2015) #1 Near Mint/Mint

SWAMP THING: HEALING THE BREACH TPB (BOOK 3) (2006) #1 (DC: Vertigo Press) Near Mint/Mint

SWAMP THING: INFERNAL TRIANGLES TPB (VOL. 9) (2006) #1 (DC: Vertigo Press) Near Mint/Mint

SWAMP THING: LOVE IN VAIN TPB (BOOK 2) (2005) #1 (DC: Vertigo Press) Near Mint/Mint

SWAMP THING: SPONTANEOUS GENERATION TPB (VOL. 8) (2005) #1 (DC: Vertigo Press) Near Mint/Mint

SWEET TOOTH BOOK TPB (2017) #1 Near Mint/Mint
SWEET TOOTH BOOK TPB (2017) #2 Near Mint/Mint

SWEET TOOTH VOL. 5: UNNATURAL HABITATS TPB (2012) #1 Near Mint/Mint

SWEET TOOTH VOL. 6: WILD GAME TPB (2013) #1 Near Mint/Mint

WONDER WOMAN: TRUE AMAZON TPB (2017) #1 Near Mint/Mint

DARK HORSE COMICS
FEAR AGENT (2007) (#17-32) (DARK HORSE) #24 Near Mint/Mint
FEAR AGENT (2007) (#17-32) (DARK HORSE) #25 Near Mint/Mint

IMAGE COMICS
68 (2011) #1 A Near Mint/Mint
68 (2011) #2 A Near Mint/Mint
68 (2011) #3 B Near Mint/Mint
68 (2011) #4 A Near Mint/Mint

68 ONE-SHOT (2006) #1 ENCORE Near Mint/Mint


FEAR AGENT (2005) (#1-11) (IMAGE) #7

FEAR AGENT (2005) (#1-11) (IMAGE) #7 Very Fine
FEAR AGENT (2005) (#1-11) (IMAGE) #10 Very Fine
FEAR AGENT (2005) (#1-11) (IMAGE) #11 Very Fine

FEW (2017) #1 3RD PRINT Near Mint/Mint
FEW (2017) #2 A SHERMAN Near Mint/Mint
FEW (2017) #2 B TRIBUTE Near Mint/Mint
FEW (2017) #5 B SPAWN Near Mint/Mint
FEW (2017) #6 Near Mint/Mint

FIX (2016) (#1-12) (IMAGE) #1 2ND PRINT Near Mint/Mint
FIX (2016) (#1-12) (IMAGE) #1 4TH PRINT Near Mint/Mint
FIX (2016) (#1-12) (IMAGE) #2 3RD PRINT Near Mint/Mint
FIX (2016) (#1-12) (IMAGE) #4 Very Fine

HAUNT (2009) #1 Near Mint/Mint
HAUNT (2009) #2 MCFARLANE Near Mint/Mint
HAUNT (2009) #3 MCFARLANE Near Mint/Mint
HAUNT (2009) #4 MCFARLANE Near Mint/Mint

MYTHIC TPB (2016) #1 Near Mint/Mint

NAILBITER VOL. 2: BLOODY HANDS TPB (2015) #1 Very Fine

SPAWN (1992) #223 Near Mint/Mint

SUPERPATRIOT: AMERICA'S FIGHTING FORCE TPB (2011) #1 Very Fine

SWEETS: A NEW ORLEANS CRIME STORY (2011) #1 Very Fine

SWORD TPB (2008) #1 2ND PRINT Near Mint/Mint
SWORD TPB (2008) #2 Near Mint/Mint

SWORD VOL. 3: EARTH TPB (2009) #1 Very Fine

SWORD VOL. 4: AIR TPB (2010) #1 Very Fine

INDEPENDENTS
ACCLAIM ADVENTURE ZONE: TUROK EXTINCTION (1997) #1 (Acclaim/Valiant) Fine


ARAKNIS (1995) (#1-4) (MUSHROOM COMICS) #1

ARAKNIS (1995) (#1-4) (MUSHROOM COMICS) #1 (Mushroom Comics) Near Mint/Mint

ARAKNIS: RETRIBUTION (MORNING STAR PROD) (1997) #3 (Morning Star Productions) Very Fine

ARCANA (WELLS & CLARK) (1995) #1 S&N (Wells & Clark) Very Fine
ARCANA (WELLS & CLARK) (1995) #2 (Wells & Clark) Very Fine
ARCANA (WELLS & CLARK) (1995) #5 (Wells & Clark) Near Mint/Mint
ARCANA (WELLS & CLARK) (1995) #6 (Wells & Clark) Near Mint/Mint
ARCANA (WELLS & CLARK) (1995) #7 (Wells & Clark) Very Fine
ARCANA (WELLS & CLARK) (1995) #8 (Wells & Clark) Very Fine

ARCHANGELS: THE SAGA (ETERNAL COMICS) (1995) #5 (Eternal Comics) Near Mint/Mint
ARCHANGELS: THE SAGA (ETERNAL COMICS) (1995) #6 (Eternal Comics) Near Mint/Mint

ARCHER & ARMSTRONG (VALIANT) (2012) #20 CRYSTAL (Valiant Comics) Near Mint/Mint
ARCHER & ARMSTRONG (VALIANT) (2012) #21 WALSH (Valiant Comics) Near Mint/Mint
ARCHER & ARMSTRONG (VALIANT) (2012) #22 WALSH (Valiant Comics) Near Mint/Mint
ARCHER & ARMSTRONG (VALIANT) (2012) #24 HENRY (Valiant Comics) Near Mint/Mint

ARCHIE (ARCHIE MLJ) (1942) #617 VARIANT (Archie Comics) Fine
ARCHIE (ARCHIE MLJ) (1942) #617 (Archie Comics) Very Fine
ARCHIE (ARCHIE MLJ) (1942) #639 (Archie Comics) Very Fine
ARCHIE (ARCHIE MLJ) (1942) #642 VARIANT (Archie Comics) Very Fine
ARCHIE (ARCHIE MLJ) (1942) #642 VARIANT (Archie Comics) Fine
ARCHIE (ARCHIE MLJ) (1942) #643 VARIANT (Archie Comics) Fine
ARCHIE (ARCHIE MLJ) (1942) #644 VARIANT (Archie Comics) Very Fine
ARCHIE (ARCHIE MLJ) (1942) #644 VARIANT (Archie Comics) Fine
ARCHIE (ARCHIE MLJ) (1942) #644 (Archie Comics) Very Fine
ARCHIE (ARCHIE MLJ) (1942) #645 (Archie Comics) Very Fine
ARCHIE (ARCHIE MLJ) (1942) #646 (Archie Comics) Near Mint/Mint
ARCHIE (ARCHIE MLJ) (1942) #648 (Archie Comics) Near Mint/Mint
ARCHIE (ARCHIE MLJ) (1942) #648 VARIANT (Archie Comics) Very Fine
ARCHIE (ARCHIE MLJ) (1942) #649 (Archie Comics) Fine
ARCHIE (ARCHIE MLJ) (1942) #651 (Archie Comics) Very Fine
ARCHIE (ARCHIE MLJ) (1942) #652 VARIANT (Archie Comics) Very Fine
ARCHIE (ARCHIE MLJ) (1942) #654 (Archie Comics) Very Fine
ARCHIE (ARCHIE MLJ) (1942) #655 (Archie Comics) Fine
ARCHIE (ARCHIE MLJ) (1942) #657 VARIANT (Archie Comics) Very Fine
ARCHIE (ARCHIE MLJ) (1942) #657 (Archie Comics) Very Fine
ARCHIE (ARCHIE MLJ) (1942) #658 (Archie Comics) Fine
ARCHIE (ARCHIE MLJ) (1942) #658 (Archie Comics) Near Mint/Mint
ARCHIE (ARCHIE MLJ) (1942) #659 (Archie Comics) Near Mint/Mint
ARCHIE (ARCHIE MLJ) (1942) #659 VARIANT (Archie Comics) Very Fine


ARCHIE (ARCHIE MLJ) (1942) #661

ARCHIE (ARCHIE MLJ) (1942) #661 (Archie Comics) Very Fine
ARCHIE (ARCHIE MLJ) (1942) #662 (Archie Comics) Near Mint/Mint
ARCHIE (ARCHIE MLJ) (1942) #664 (Archie Comics) Very Fine
ARCHIE (ARCHIE MLJ) (1942) #665 VARIANT (Archie Comics) Near Mint/Mint
ARCHIE (ARCHIE MLJ) (1942) #665 VARIANT (Archie Comics) Very Fine
ARCHIE (ARCHIE MLJ) (1942) #665 (Archie Comics) Very Fine

ARCHIE (2015) #1 PEREZ (Archie Comics) Very Fine

ARMY OF DARKNESS: ASH SAVES OBAMA (DYNAMITE) (2009) #2 A (DYNAMITE Entertainment) Very Fine
ARMY OF DARKNESS: ASH SAVES OBAMA (DYNAMITE) (2009) #3 A (DYNAMITE Entertainment) Near Mint/Mint
ARMY OF DARKNESS: ASH SAVES OBAMA (DYNAMITE) (2009) #4 PARRILLO (DYNAMITE Entertainment) Fine

DISNEY'S HERO SQUAD VOL. 3: ULTRAHEROES TPB (2010) #1 (Boom Studios Publishing) Near Mint/Mint

DONALD DUCK CLASSICS VOL. 1: QUACK UP HC (2010) #1 (Boom Studios Publishing) Very Fine

DRAGON PUNCHER VOL. 1: HC (2010) #1 (Top Shelf Productions) Very Fine

DREAMLAND CHRONICLES TPB (2006) #3 (Blue Dream Productions) Very Fine

FEAR & LOATHING IN LAS VEGAS (2016) #1 (IDW Publishing) Near Mint/Mint
FEAR & LOATHING IN LAS VEGAS (2016) #1 SUBSCRIPT (IDW Publishing) Near Mint/Mint

FEEDING GROUND (2010) #1 (Archaia Studios Press) Near Mint/Mint

FEM FANTASTIQUE (AC COMICS) (1988) #1 (Americomics) Fine

FEMALE FORCE: BARBARA WALTERS (2009) #1 (Blue Water Comics) Very Good

FEMALE FORCE: CARLA BRUNI-SARKOZY (2010) #1 (Blue Water Comics) Near Mint/Mint

FEMALE FORCE: CAROLINE KENNEDY (2009) #1 (Blue Water Comics) Near Mint/Mint

FEMALE FORCE: CONDOLEEZZA RICE (2009) #1 (Blue Water Comics) Very Fine

FEMALE FORCE: ELLEN DEGENERES (2010) #1 (Blue Water Comics) Very Fine

FEMALE FORCE: HILLARY CLINTON (2009) #1 2ND PRINT (Blue Water Comics) Very Fine

FEMALE FORCE: J.K. ROWLING (2009) #1 (Blue Water Comics) Near Mint/Mint

FEMALE FORCE: MARGARET THATCHER (2010) #1 (Blue Water Comics) Near Mint/Mint


FEMALE FORCE: MARTHA STEWART (2011) #1

FEMALE FORCE: MARTHA STEWART (2011) #1 (Blue Water Comics) Near Mint/Mint

FEMALE FORCE: MEREDITH VIEIRA (2010) #1 (Blue Water Comics) Very Fine

FEMALE FORCE: MICHELLE OBAMA YEAR ONE (2010) #1 (Blue Water Comics) Near Mint/Mint

FEMALE FORCE: NANCY PELOSI (2010) #1 (Blue Water Comics) Near Mint/Mint

FEMALE FORCE: OPRAH WINFREY (2009) #1 (Blue Water Comics) Very Good

FEMALE FORCE: RUTH HANDLER (2011) #1 (Blue Water Comics) Near Mint/Mint

FEMALE FORCE: SONIA SOTOMAYOR (2010) #1 (Blue Water Comics) Near Mint/Mint

FEMALE FORCE: STEPHENIE MEYER (2009) #1 (Blue Water Comics) Near Mint/Mint

FEMFORCE #3 (Americomics) Fine
FEMFORCE #4 (Americomics) Very Fine
FEMFORCE #5 (Americomics) Fine
FEMFORCE #5 (Americomics) Very Fine
FEMFORCE #6 (Americomics) Fine
FEMFORCE #10 (Americomics) Fine
FEMFORCE #11 (Americomics) Very Fine
FEMFORCE #12 (Americomics) Near Mint/Mint
FEMFORCE #14 (Americomics) Very Fine
FEMFORCE #15 (Americomics) Very Fine
FEMFORCE #21 (Americomics) Very Fine
FEMFORCE #22 (Americomics) Fine
FEMFORCE #23 (Americomics) Fine
FEMFORCE #25 (Americomics) Fine
FEMFORCE #26 (Americomics) Near Mint/Mint
FEMFORCE #28 (Americomics) Very Fine
FEMFORCE #31 (Americomics) Very Fine
FEMFORCE #93 (Americomics) Near Mint/Mint
FEMFORCE #94 (Americomics) Near Mint/Mint
FEMFORCE #164 (Americomics) Near Mint/Mint
FEMFORCE #167 (Americomics) Near Mint/Mint

FEMINA: DREAMGIRLS #1 (Caliber Press) Very Fine

FERALS (2012) #1 GORE (Avatar Comics) Near Mint/Mint
FERALS (2012) #2 WRAPAROUND (Avatar Comics) Near Mint/Mint
FERALS (2012) #3 GORE (Avatar Comics) Near Mint/Mint

FERALS (2012) #3 SLASHED ED (Avatar Comics) Near Mint/Mint
FERALS (2012) #4 GORE (Avatar Comics) Near Mint/Mint

FEVRE DREAM (GEORGE R R MARTIN) (2010) #1 NIGHTMARE (Avatar Comics) Near Mint/Mint
FEVRE DREAM (GEORGE R R MARTIN) (2010) #5 WRAPAROUND (Avatar Comics) Near Mint/Mint
FEVRE DREAM (GEORGE R R MARTIN) (2010) #7 NIGHTMARE (Avatar Comics) Near Mint/Mint

FICTION SQUAD (2014) #4 (Boom Studios Publishing) Near Mint/Mint

INVADER ZIM TPB (2015) #2 (Oni Press Inc.) Near Mint/Mint
INVADER ZIM TPB (2015) #3 (Oni Press Inc.) Near Mint/Mint
INVADER ZIM TPB (2015) #4 (Oni Press Inc.) Near Mint/Mint
INVADER ZIM TPB (2015) #6 (Oni Press Inc.) Near Mint/Mint

JOHNNY THE HOMICIDAL MANIAC (1995) #1 15TH PRINT (Slave Labor Graphics) Very Fine
JOHNNY THE HOMICIDAL MANIAC (1995) #2 21ST PRINT (Slave Labor Graphics) Near Mint/Mint
JOHNNY THE HOMICIDAL MANIAC (1995) #3 16TH PRINT (Slave Labor Graphics) Very Fine
JOHNNY THE HOMICIDAL MANIAC (1995) #4 19TH PRINT (Slave Labor Graphics) Fine
JOHNNY THE HOMICIDAL MANIAC (1995) #5 20TH PRINT (Slave Labor Graphics) Near Mint/Mint
JOHNNY THE HOMICIDAL MANIAC (1995) #6 17TH PRINT (Slave Labor Graphics) Near Mint/Mint
JOHNNY THE HOMICIDAL MANIAC (1995) #7 (Slave Labor Graphics) Very Fine

KISS ON THE LIPS (MARILYN MONROE ILLUSTRATIONS) (1992) #1 (Caliber Press) Fine

LEGENDERRY: STEAMPUNK ADVENTURE TPB (2015) #1 (DYNAMITE Entertainment) Near Mint/Mint

LENORE (1998) #1 5TH PRINT (Amaze Ink) Fine
LENORE (1998) #2 4TH PRINT (Amaze Ink) Fine
LENORE (1998) #4 7TH PRINT (Amaze Ink) Very Fine
LENORE (1998) #5 6TH PRINT (Amaze Ink) Near Mint/Mint
LENORE (1998) #6 (Amaze Ink) Very Fine
LENORE (1998) #7 (Amaze Ink) Fine
LENORE (1998) #9 (Amaze Ink) Very Fine
LENORE (1998) #10 (Amaze Ink) Fine

LIFE AND ADVENTURES OF SANTA CLAUS HC #1 (Trade Items) Near Mint/Mint

LIFER GN (2006) #2 (Cassandra Comics) Very Fine

LITTLE DOT (1953) #120 (Harvey Comics) Very Good

LOVELY LADIES #1 (Caliber Press) Very Fine

METALLICA (CELEBRITY COMICS) (1992) #1 (Celebrity Comics) Very Fine

MYSTIC: DEMON QUEEN TPB (VOL. 2) (2002) #1 (Crossgen Comics) Fine

NAKED ARTIST: COMIC BOOK LEGENDS SC (2007) #1 (Moonstone) Fine
NAKED ARTIST: COMIC BOOK LEGENDS SC (2007) #1 (Moonstone) Very Fine
NAKED ARTIST: COMIC BOOK LEGENDS SC (2007) #1 (Moonstone) Very Good

OVERSTREET'S COMIC BOOK PRICE GUIDE #48 HC FLASH (Gemstone) Very Fine

SPIRIT (1966) (#1-2) (HARVEY) #2 (Harvey Comics) Fine

SQUEE #4 6TH PRINT (Slave Labor Graphics) Near Mint/Mint

SUICIDE GIRLS (2011) #1 (IDW Publishing) Near Mint/Mint
SUICIDE GIRLS (2011) #3 (IDW Publishing) Near Mint/Mint
SUICIDE GIRLS (2011) #4 (IDW Publishing) Very Fine

SUPERZERO TPB (2016) #1 (After-Shock Comics) Near Mint/Mint

SURROGATES: FLESH AND BONE TPB (2009) #1 (Top Shelf Productions) Near Mint/Mint

TALES OF THE SHADOWMEN NOVEL (2005) #1 (BLACK COAT PRESS) Near Mint/Mint
TALES OF THE SHADOWMEN NOVEL (2005) #1 (BLACK COAT PRESS) Very Fine

TICK: RAW, UNCOOKED JUSTICE GN (FOX FUNHOUSE) (1997) #1 (Acclaim/Valiant) Fine

TROUBLE WITH GIRLS TPB (2006) #1 (CHECKER COMICS) Very Fine
TROUBLE WITH GIRLS TPB (2006) #2 (CHECKER COMICS) Near Mint/Mint

WJHC: HOLD TIGHT TPB (VOL. 2) (2005) #1 (Wilson Place) Near Mint/Mint