New Collection Arrives 3,200 Comics
Spider-Man, Batman, X-Men
Howdy!
More good fortune came our way on Saturday, as yet another very nice comics collection was offered to us at our Jason St. Mega-Store. This latest collection was nowhere near as large as the two that I purchased in July, but within those 3,200 back issues were included well over 100 key and semi-key issues published during the 1980's and early 1990's, with a special emphasis on SPIDER-MAN, X-MEN, and BATMAN titles. Nice collections like this one come along seldom enough that I just cannot ever turn them away.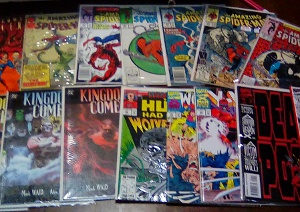 Some comics from the New Collection

That having been said, the sellers also realized the quality of what they had, and thus drove a particularly hard bargain. They also demanded cash upfront, rather than payments over a couple of weeks. The purchase price was obviously adjusted downward to reflect that immediate payment, but that adjustment did little to offset the fact that we typically limit our buying during early August, as that is precisely the time that most families with school-age children are investing in back-to-school supplies. Will Moulton and I both looked through this awesome collection, however, and easily reached consensus that we had to buy it, regardless of the timing.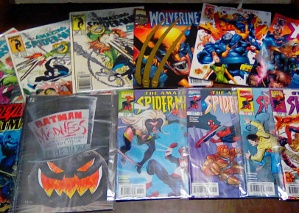 Some more comics from the New Collection

The very fact that you are reading today's newsletter now provides you with an opportunity to score some of these scarce comics at a lowered price, but only if you can place your order with us by this upcoming Saturday, at noon. Simply put, in order to help us to recover some of the funding required for us to obtain this most recent collection, I am going to offer you a very limited time 50% off FEASTDAY codeword sale. This half price sale applies to all ten million of our back issue comics and magazines listed on our website, excepting only new comics, a few variants, and our CGC-graded issues.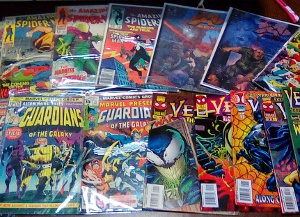 Even more comics from the New Collection

So you know, all 3,200 comics from this newest collection ARE included as a part of this short term 50% off sale, as are all of Pam's New-In-Stock books from the past week. Also included at half price are all of the higher grade Silver Age and Bronze Age comics which we obtained in July. As much as I am averse to letting some of these great comics get away, sharing our good fortune with you makes the most sense. Please do enjoy this little sale with our sincere thanks for your continuing support of Mile High Comics.
I will leave you with a couple of final notes. First, Feast Day (August 12th) is the annual gathering day at Santa Clara Pueblo, a small traditional Indian village just north of Santa Fe, NM. I have attended Santa Clara Feast Day ceremonies for the past 16 years, as viewing their centuries-old dances and hearing their sacred songs is particularly inspirational for me. By sheer coincidence, I was at the Feast Day celebration in 2003 when I first began to feel the initial wave of symptoms from the virulent case of West Nile-induced encephalitis that almost killed me that year, and again in 2007. Since recovering from that dreadful illness, I have made a special point to attend Feast Day every year, primarily to give thanks for still being alive.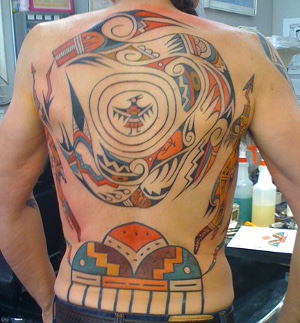 Avanyus are deities from the Pueblos, with one interpretation being that they represent the power of the never-ending flow of energy that permeates the universe. I had a prayer comprised of seven Avanyus inked on me after my second near-death experience. Artwork is by Van Gutierrez, a noted pottery artist of the 1930's. Used with permission of his family.

Second, while I am off on my annual pilgrimage to Santa Fe, our entire inventory team will be focused on adding even more comics for you each day into our Premium New-In-Stock and New-In-Stock links. Pam just killed it on Friday, adding nearly 1,000 different titles and issue numbers, many with multiple copies and grades. This amazing productivity was made possible by her sorting team providing her with restock on a huge number of titles beginning with "SE" and "SI." If you collect titles such as SILVER SURFER, SIMPSONS, SERENITY, SENSATIONAL SPIDER-MAN, SIN CITY, SECRET DEFENDERS, SECRET INVASION, and/or any other comics title beginning with "SE" or "SI," Pam has just added a cornucopia of scarce comics for you!
Happy Collecting!
Chuck Rozanski,
President - Mile High Comics, Inc.
August 8, 2016

P.S. Below is a list of SPIDER-MAN comics. Some that were contained in Saturday's collection and others that have been enter this past week. Will Moulton is grading even more of those issues as I write this newsletter, with those issues being available for purchase in tomorrow's (Tuesday) New-In-Stock. We will be grading even more of those comics all week, so it would probably serve you well to keep an eye on New-In-Stock each day...
AMAZING SPIDER-MAN (1999) #1 DFE VAR. Near Mint/Mint
AMAZING SPIDER-MAN (1999) #1 VARIANT Near Mint/Mint
AMAZING SPIDER-MAN (1999) #2 VARIANT Near Mint/Mint
AMAZING SPIDER-MAN (1999) #2 VARIANT Very Good
AMAZING SPIDER-MAN (1999) #3 Fine
AMAZING SPIDER-MAN (1999) #3 Near Mint/Mint
AMAZING SPIDER-MAN (1999) #4 Fine
AMAZING SPIDER-MAN (1999) #5 Near Mint/Mint
AMAZING SPIDER-MAN (1999) #5 Very Fine

AMAZING SPIDER-MAN (1999) #6 Fine
AMAZING SPIDER-MAN (1999) #7 Near Mint/Mint
AMAZING SPIDER-MAN (1999) #7 Fine
AMAZING SPIDER-MAN (1999) #7 NEWSSTAND Near Mint/Mint
AMAZING SPIDER-MAN (1999) #8 Near Mint/Mint
AMAZING SPIDER-MAN (1999) #8 Very Good
AMAZING SPIDER-MAN (1999) #13 Near Mint/Mint
AMAZING SPIDER-MAN (1999) #14 Near Mint/Mint
AMAZING SPIDER-MAN (1999) #15 Near Mint/Mint
AMAZING SPIDER-MAN (1999) #15 NEWSSTAND Near Mint/Mint
AMAZING SPIDER-MAN (1999) #16 Near Mint/Mint
AMAZING SPIDER-MAN (1999) #17 Near Mint/Mint
AMAZING SPIDER-MAN (1999) #18 Near Mint/Mint
AMAZING SPIDER-MAN (1999) #19 Near Mint/Mint
AMAZING SPIDER-MAN (1999) #20 Near Mint/Mint
AMAZING SPIDER-MAN (1999) #21 Near Mint/Mint
AMAZING SPIDER-MAN (1999) #22 Near Mint/Mint
AMAZING SPIDER-MAN (1999) #23 Near Mint/Mint
AMAZING SPIDER-MAN (1999) #24 Near Mint/Mint
AMAZING SPIDER-MAN (1999) #25 Near Mint/Mint
AMAZING SPIDER-MAN (1999) #25 DELUXE Near Mint/Mint
AMAZING SPIDER-MAN (1999) #26 Near Mint/Mint
AMAZING SPIDER-MAN (1999) #27 Near Mint/Mint
AMAZING SPIDER-MAN (1999) #28 Near Mint/Mint
AMAZING SPIDER-MAN (1999) #29 UNBAGGED Near Mint/Mint
AMAZING SPIDER-MAN (1999) #30 Near Mint/Mint
AMAZING SPIDER-MAN (1999) #34 Near Mint/Mint
AMAZING SPIDER-MAN (1999) #36 Near Mint/Mint
AMAZING SPIDER-MAN (1999) #37 Near Mint/Mint
AMAZING SPIDER-MAN (1999) #38 Near Mint/Mint
AMAZING SPIDER-MAN (1999) #55 Near Mint/Mint
AMAZING SPIDER-MAN (1999) #500 Near Mint/Mint
AMAZING SPIDER-MAN (1999) #500 DFE S&N Near Mint/Mint
AMAZING SPIDER-MAN (1999) #502 Near Mint/Mint
AMAZING SPIDER-MAN (1999) #505 Near Mint/Mint
AMAZING SPIDER-MAN (1999) #506 Near Mint/Mint
AMAZING SPIDER-MAN (1999) #507 Near Mint/Mint
AMAZING SPIDER-MAN (1999) #508 Near Mint/Mint
AMAZING SPIDER-MAN (1999) #519 Near Mint/Mint
AMAZING SPIDER-MAN (1999) #521 Very Fine
AMAZING SPIDER-MAN (1999) #525 Near Mint/Mint
AMAZING SPIDER-MAN (1999) #525 VARIANT Near Mint/Mint


AMAZING SPIDER-MAN (1999) #526 VARIANT

AMAZING SPIDER-MAN (1999) #526 VARIANT Near Mint/Mint
AMAZING SPIDER-MAN (1999) #527 Near Mint/Mint
AMAZING SPIDER-MAN (1999) #527 VARIANT Near Mint/Mint
AMAZING SPIDER-MAN (1999) #528 WIERINGO Near Mint/Mint
AMAZING SPIDER-MAN (1999) #529 Near Mint/Mint
AMAZING SPIDER-MAN (1999) #529 DFE S&N Near Mint/Mint
AMAZING SPIDER-MAN (1999) #530 Near Mint/Mint
AMAZING SPIDER-MAN (1999) #531 Near Mint/Mint
AMAZING SPIDER-MAN (1999) #532 Near Mint/Mint
AMAZING SPIDER-MAN (1999) #533 Near Mint/Mint
AMAZING SPIDER-MAN (1999) #533 SAN DIEGO Near Mint/Mint
AMAZING SPIDER-MAN (1999) #534 Near Mint/Mint
AMAZING SPIDER-MAN (1999) #537 Near Mint/Mint
AMAZING SPIDER-MAN (1999) #539 Near Mint/Mint
AMAZING SPIDER-MAN (1999) #566 Near Mint/Mint
AMAZING SPIDER-MAN (1999) #569 Near Mint/Mint
AMAZING SPIDER-MAN (1999) #570 MONKEY Near Mint/Mint
AMAZING SPIDER-MAN (1999) #570 VARIANT Near Mint/Mint
AMAZING SPIDER-MAN (1999) #571 Near Mint/Mint
AMAZING SPIDER-MAN (1999) #572 Near Mint/Mint
AMAZING SPIDER-MAN (1999) #573 Near Mint/Mint
AMAZING SPIDER-MAN (1999) #573 VARIANT Near Mint/Mint
AMAZING SPIDER-MAN (1999) #573 ZOMBIE Near Mint/Mint
AMAZING SPIDER-MAN (1999) #582 Near Mint/Mint
AMAZING SPIDER-MAN (1999) #583 OBAMA 2ND Near Mint/Mint
AMAZING SPIDER-MAN (1999) #583 OBAMA 3RD Near Mint/Mint
AMAZING SPIDER-MAN (1999) #592 WOLVERINE Near Mint/Mint
AMAZING SPIDER-MAN (1999) #595 VARIANT Near Mint/Mint
AMAZING SPIDER-MAN (1999) #596 Near Mint/Mint
AMAZING SPIDER-MAN (1999) #598 Near Mint/Mint
AMAZING SPIDER-MAN (1999) #600 QUESADA Very Fine
AMAZING SPIDER-MAN (1999) #600 ROMITA JR. Near Mint/Mint
AMAZING SPIDER-MAN (1999) #600 ROSS Near Mint/Mint
AMAZING SPIDER-MAN (1999) #601 Near Mint/Mint
AMAZING SPIDER-MAN (1999) #601 VARIANT Near Mint/Mint
AMAZING SPIDER-MAN (1999) #602 VARIANT Near Mint/Mint
AMAZING SPIDER-MAN (1999) #603 VARIANT Near Mint/Mint
AMAZING SPIDER-MAN (1999) #606 Near Mint/Mint
AMAZING SPIDER-MAN (1999) #607 Near Mint/Mint
AMAZING SPIDER-MAN (1999) #611 Near Mint/Mint
AMAZING SPIDER-MAN (1999) #612 Near Mint/Mint
AMAZING SPIDER-MAN (1999) #612 VARIANT Near Mint/Mint
AMAZING SPIDER-MAN (1999) #613 Near Mint/Mint
AMAZING SPIDER-MAN (1999) #615 Fine
AMAZING SPIDER-MAN (1999) #615 Near Mint/Mint
AMAZING SPIDER-MAN (1999) #652 Near Mint/Mint
AMAZING SPIDER-MAN (1999) #653 Near Mint/Mint
AMAZING SPIDER-MAN (1999) #654 Near Mint/Mint
AMAZING SPIDER-MAN (1999) #654 .1 Near Mint/Mint
AMAZING SPIDER-MAN (1999) #655 Near Mint/Mint
AMAZING SPIDER-MAN (1999) #657 Near Mint/Mint
AMAZING SPIDER-MAN (1999) #658 Near Mint/Mint
AMAZING SPIDER-MAN (1999) #668 Near Mint/Mint
AMAZING SPIDER-MAN (1999) #670 Near Mint/Mint
AMAZING SPIDER-MAN (1999) #678 Near Mint/Mint
AMAZING SPIDER-MAN (1999) #679 .1 Near Mint/Mint
AMAZING SPIDER-MAN (1999) #683 Near Mint/Mint
AMAZING SPIDER-MAN (1999) #688 Near Mint/Mint


AMAZING SPIDER-MAN (1999) #699

AMAZING SPIDER-MAN (1999) #699 Near Mint/Mint
AMAZING SPIDER-MAN (1999) #700 Near Mint/Mint