Chuck Buys Another Huge Collection!
Howdy!
I have just left California, and entered Nevada through Reno. I spent all day yesterday hauling 400 cases of toys, books, comics, and all sorts of pop-culture collectibles from a huge house on top of a mountain in Oroville, California. When you take a look at the sheer mass of material that I picked up, this ends up being the largest private collection that I have ever purchased. Of even greater importance is that this collection is incredibly diverse, as the gentleman who put it together was a thrift store devotee for the past 40 years, shopping pretty much every day on his lunch break. He picked up an amazing array of fun pop culture collectibles.
In case you are wondering, yes, this is the same collection that I mentioned back in June that I was going to return to pick up in California. There was so much material that it took six weeks for it to all get packed up. When I finished unpacking my two truckloads, I ended up with 13 full pallets out at FedEx, which is about 20,000 pounds. I have at least another thousand pounds in my cargo van, including a mint-in-box customized bicycle that was painted by the same guys who do the custom motorcycles down in LA. The last one sold on eBay for $4000…
The one thing about my buying this awesome collection that benefits almost everyone who reads this newsletter is that this gentleman also had 10,000 old comic books. I am going to use those back issues to support the continuation of our 50% off 10YEARS! 10th anniversary sale for you through the end of the month. Thank you ever so much for all your kindness and support, and for helping us to grow Mile High Comics into such a wonderful national institution.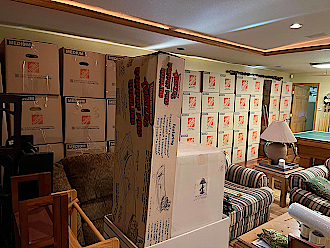 Some of the 400 boxes in the house.

That's it for today, as I need to get back on the road and headed for Colorado. This journey is going to end up being about 2400 miles, and I need to get home and get at least a day's rest before I head down to Albuquerque on Friday morning. Please do take care, and have a great week!
Happy collecting!
Chuck Rozanski/Bettie Pages,
President - Mile High Comics, Inc.
August 3, 2021
P. S. As per usual, our 10YEARS! codeword sale applies to all 10 million of our back issue comics and magazines, excepting only new issues, a few variants, and our professionally-graded items. Will and Pam have been putting hundreds upon hundreds of great back issues into our new in stock system this week, and almost all of those do qualify for the 50% off discount. Enjoy!
Here are a few of the just added items:
MARVEL

CAPTAIN AMERICA (2004) (#1-50, 600-619) (MARVEL) #7

CAPTAIN AMERICA (2004) (#1-50, 600-619) (MARVEL) #7 Near Mint/Mint

CLASSIC X-MEN (1986) #1 Fine
CLASSIC X-MEN (1986) #2 Fine
CLASSIC X-MEN (1986) #6 NEWSSTAND Very Good
CLASSIC X-MEN (1986) #8 Fine
CLASSIC X-MEN (1986) #10 NEWSSTAND Very Fine
CLASSIC X-MEN (1986) #11 NEWSSTAND Fine
CLASSIC X-MEN (1986) #12 NEWSSTAND Near Mint/Mint
CLASSIC X-MEN (1986) #15 NEWSSTAND Fine
CLASSIC X-MEN (1986) #16 Near Mint/Mint
CLASSIC X-MEN (1986) #17 Very Fine
CLASSIC X-MEN (1986) #18 NEWSSTAND Very Good
CLASSIC X-MEN (1986) #19 Fine
CLASSIC X-MEN (1986) #23 Near Mint/Mint
CLASSIC X-MEN (1986) #25 Fine
CLASSIC X-MEN (1986) #26 Near Mint/Mint
CLASSIC X-MEN (1986) #27 Fine
CLASSIC X-MEN (1986) #29 Very Fine
CLASSIC X-MEN (1986) #31 Very Fine
CLASSIC X-MEN (1986) #32 Fine
CLASSIC X-MEN (1986) #33 Very Good
CLASSIC X-MEN (1986) #34 Very Good
CLASSIC X-MEN (1986) #35 Very Good
CLASSIC X-MEN (1986) #36 NEWSSTAND Fine
CLASSIC X-MEN (1986) #37 Fine
CLASSIC X-MEN (1986) #38 Fine
CLASSIC X-MEN (1986) #39 Fine
CLASSIC X-MEN (1986) #41 NEWSSTAND Very Good
CLASSIC X-MEN (1986) #42 Fine
CLASSIC X-MEN (1986) #43 Fine


CRIMINAL (2006) (#1-10) (MARVEL ICON) #1

CRIMINAL (2006) (#1-10) (MARVEL ICON) #1 Near Mint/Mint
CRIMINAL (2006) (#1-10) (MARVEL ICON) #2 Near Mint/Mint
CRIMINAL (2006) (#1-10) (MARVEL ICON) #3 Near Mint/Mint
CRIMINAL (2006) (#1-10) (MARVEL ICON) #4 Near Mint/Mint
CRIMINAL (2006) (#1-10) (MARVEL ICON) #5 Near Mint/Mint
CRIMINAL (2006) (#1-10) (MARVEL ICON) #6 Near Mint/Mint
CRIMINAL (2006) (#1-10) (MARVEL ICON) #7 Near Mint/Mint
CRIMINAL (2006) (#1-10) (MARVEL ICON) #8 Near Mint/Mint
CRIMINAL (2006) (#1-10) (MARVEL ICON) #9 Very Fine
CRIMINAL (2006) (#1-10) (MARVEL ICON) #10 Near Mint/Mint

CRIMINAL (2008) (#1-7) (MARVEL ICON) #1 Near Mint/Mint
CRIMINAL (2008) (#1-7) (MARVEL ICON) #2 Near Mint/Mint
CRIMINAL (2008) (#1-7) (MARVEL ICON) #3 Near Mint/Mint
CRIMINAL (2008) (#1-7) (MARVEL ICON) #4 Near Mint/Mint
CRIMINAL (2008) (#1-7) (MARVEL ICON) #5 Near Mint/Mint
CRIMINAL (2008) (#1-7) (MARVEL ICON) #6 Near Mint/Mint
CRIMINAL (2008) (#1-7) (MARVEL ICON) #7 Near Mint/Mint

DAREDEVIL (1964) (#1-380) (MAN WITHOUT FEAR) (MARVEL) #159 NEWSSTAND Good
DAREDEVIL (1964) (#1-380) (MAN WITHOUT FEAR) (MARVEL) #375 Near Mint/Mint

DAREDEVIL (2019) (#1-UP) (MARVEL) #25 LASHLEY Near Mint/Mint

DARK REIGN: SINISTER SPIDER-MAN (2009) #3 Very Fine

DEATH'S HEAD II/KILLPOWER: BATTLETIDE #3 (Marvel United Kingdom Publishings) Near Mint/Mint

DRACULA GIANT-SIZE (1974) #2 Very Good
DRACULA GIANT-SIZE (1974) #3 Fine
DRACULA GIANT-SIZE (1974) #4 Very Good

DRACULA GIANT-SIZE (1974) #5 Fine

EXCALIBUR (1988) (#1-125) (MARVEL) #101 Near Mint/Mint
EXCALIBUR (1988) (#1-125) (MARVEL) #102 Fine
EXCALIBUR (1988) (#1-125) (MARVEL) #103 Fine
EXCALIBUR (1988) (#1-125) (MARVEL) #104 Fine
EXCALIBUR (1988) (#1-125) (MARVEL) #105 Fine
EXCALIBUR (1988) (#1-125) (MARVEL) #106 Fine
EXCALIBUR (1988) (#1-125) (MARVEL) #107 Near Mint/Mint
EXCALIBUR (1988) (#1-125) (MARVEL) #108 Near Mint/Mint
EXCALIBUR (1988) (#1-125) (MARVEL) #109 Near Mint/Mint
EXCALIBUR (1988) (#1-125) (MARVEL) #110 Very Fine
EXCALIBUR (1988) (#1-125) (MARVEL) #111 Near Mint/Mint
EXCALIBUR (1988) (#1-125) (MARVEL) #112 Fine
EXCALIBUR (1988) (#1-125) (MARVEL) #113 Fine
EXCALIBUR (1988) (#1-125) (MARVEL) #114 Near Mint/Mint
EXCALIBUR (1988) (#1-125) (MARVEL) #115 Fine
EXCALIBUR (1988) (#1-125) (MARVEL) #116 Fine
EXCALIBUR (1988) (#1-125) (MARVEL) #117 Very Fine
EXCALIBUR (1988) (#1-125) (MARVEL) #118 Very Fine
EXCALIBUR (1988) (#1-125) (MARVEL) #119 Very Fine
EXCALIBUR (1988) (#1-125) (MARVEL) #120 Near Mint/Mint
EXCALIBUR (1988) (#1-125) (MARVEL) #121 Very Fine
EXCALIBUR (1988) (#1-125) (MARVEL) #122 Fine
EXCALIBUR (1988) (#1-125) (MARVEL) #124 Near Mint/Mint
EXCALIBUR (1988) (#1-125) (MARVEL) #125 Near Mint/Mint

FANTASTIC FOUR (1961) (#1-416) (MARVEL) #185 Good
FANTASTIC FOUR (1961) (#1-416) (MARVEL) #327 NEWSSTAND Very Fine
FANTASTIC FOUR (1961) (#1-416) (MARVEL) #328 NEWSSTAND Near Mint/Mint
FANTASTIC FOUR (1961) (#1-416) (MARVEL) #328 NEWSSTAND Very Fine


FANTASTIC FOUR (1961) (#1-416) (MARVEL) #339

FANTASTIC FOUR (1961) (#1-416) (MARVEL) #339 Near Mint/Mint
FANTASTIC FOUR (1961) (#1-416) (MARVEL) #402 Very Fine
FANTASTIC FOUR (1961) (#1-416) (MARVEL) #414 Near Mint/Mint
FANTASTIC FOUR (1961) (#1-416) (MARVEL) #414 Very Fine

FANTASTIC FOUR (1998) (#1-79, 509-611) (MARVEL) #30 Near Mint/Mint
FANTASTIC FOUR (1998) (#1-79, 509-611) (MARVEL) #31 Near Mint/Mint
FANTASTIC FOUR (1998) (#1-79, 509-611) (MARVEL) #32 Near Mint/Mint
FANTASTIC FOUR (1998) (#1-79, 509-611) (MARVEL) #36 Near Mint/Mint
FANTASTIC FOUR (1998) (#1-79, 509-611) (MARVEL) #38 Near Mint/Mint
FANTASTIC FOUR (1998) (#1-79, 509-611) (MARVEL) #41 Near Mint/Mint
FANTASTIC FOUR (1998) (#1-79, 509-611) (MARVEL) #42 Near Mint/Mint
FANTASTIC FOUR (1998) (#1-79, 509-611) (MARVEL) #44 Near Mint/Mint
FANTASTIC FOUR (1998) (#1-79, 509-611) (MARVEL) #53 Near Mint/Mint
FANTASTIC FOUR (1998) (#1-79, 509-611) (MARVEL) #57 Near Mint/Mint
FANTASTIC FOUR (1998) (#1-79, 509-611) (MARVEL) #59 Very Fine
FANTASTIC FOUR (1998) (#1-79, 509-611) (MARVEL) #63 Near Mint/Mint
FANTASTIC FOUR (1998) (#1-79, 509-611) (MARVEL) #67 Near Mint/Mint
FANTASTIC FOUR (1998) (#1-79, 509-611) (MARVEL) #71 NEWSSTAND Fine
FANTASTIC FOUR (1998) (#1-79, 509-611) (MARVEL) #79 Near Mint/Mint
FANTASTIC FOUR (1998) (#1-79, 509-611) (MARVEL) #509 Very Fine
FANTASTIC FOUR (1998) (#1-79, 509-611) (MARVEL) #510 Near Mint/Mint
FANTASTIC FOUR (1998) (#1-79, 509-611) (MARVEL) #512 Near Mint/Mint
FANTASTIC FOUR (1998) (#1-79, 509-611) (MARVEL) #513 Near Mint/Mint
FANTASTIC FOUR (1998) (#1-79, 509-611) (MARVEL) #517 Near Mint/Mint
FANTASTIC FOUR (1998) (#1-79, 509-611) (MARVEL) #519 Near Mint/Mint
FANTASTIC FOUR (1998) (#1-79, 509-611) (MARVEL) #520 Near Mint/Mint
FANTASTIC FOUR (1998) (#1-79, 509-611) (MARVEL) #521 Very Fine
FANTASTIC FOUR (1998) (#1-79, 509-611) (MARVEL) #522 Very Fine

FANTASTIC FOUR ANNUAL (1963) #21 Fine


GHOST RIDER (1990) (#1-94) (MARVEL) #50 DELUXENEWS

GHOST RIDER (1990) (#1-94) (MARVEL) #50 DELUXENEWS Very Good

HULK (1962) (#1-6, #102-474, #600-635)(INCREDIBLE)(MV) #240 NEWSSTAND Near Mint/Mint
HULK (1962) (#1-6, #102-474, #600-635)(INCREDIBLE)(MV) #243 NEWSSTAND Good
HULK (1962) (#1-6, #102-474, #600-635)(INCREDIBLE)(MV) #259 NEWSSTAND Very Good
HULK (1962) (#1-6, #102-474, #600-635)(INCREDIBLE)(MV) #259 NEWSSTAND Good
HULK (1962) (#1-6, #102-474, #600-635)(INCREDIBLE)(MV) #260 NEWSSTAND Good
HULK (1962) (#1-6, #102-474, #600-635)(INCREDIBLE)(MV) #263 NEWSSTAND Very Good
HULK (1962) (#1-6, #102-474, #600-635)(INCREDIBLE)(MV) #388 NEWSSTAND Fine
HULK (1962) (#1-6, #102-474, #600-635)(INCREDIBLE)(MV) #391 NEWSSTAND Good
HULK (1962) (#1-6, #102-474, #600-635)(INCREDIBLE)(MV) #463 NEWSSTAND Good

HULK: FUTURE IMPERFECT (1993) #1 Fine
HULK: FUTURE IMPERFECT (1993) #2 Very Fine

INCOGNITO (2008) #3 Near Mint/Mint
INCOGNITO (2008) #4 Near Mint/Mint
INCOGNITO (2008) #5 Near Mint/Mint
INCOGNITO (2008) #6 Near Mint/Mint

KICK ASS (2008) (#1-8) (MARVEL ICON) #1 Near Mint/Mint
KICK ASS (2008) (#1-8) (MARVEL ICON) #2 Near Mint/Mint
KICK ASS (2008) (#1-8) (MARVEL ICON) #3 Very Fine
KICK ASS (2008) (#1-8) (MARVEL ICON) #4 Fine
KICK ASS (2008) (#1-8) (MARVEL ICON) #6 Near Mint/Mint
KICK ASS (2008) (#1-8) (MARVEL ICON) #7 Near Mint/Mint

MARVEL COMICS PRESENTS (1988) (#1-175) (MARVEL) #49 NEWSSTAND Good

MARVEL SUPER-HEROES (1967) #57 Fine


MORBIUS (1992) (#1-32) (MARVEL) #1 NEWSUNBAGD

MORBIUS (1992) (#1-32) (MARVEL) #1 NEWSUNBAGD Very Fine
MORBIUS (1992) (#1-32) (MARVEL) #2 NEWSSTAND Very Good

NEW MUTANTS (1983) (#1-100) (MARVEL) #45 NEWSSTAND Very Fine
NEW MUTANTS (1983) (#1-100) (MARVEL) #86 Very Good

POWERS (2004) (#1-30) (MARVEL/ICON) #3 NEWSSTAND Near Mint/Mint
POWERS (2004) (#1-30) (MARVEL/ICON) #12 BENDIS Near Mint/Mint
POWERS (2004) (#1-30) (MARVEL/ICON) #16 NEWSSTAND Near Mint/Mint
POWERS (2004) (#1-30) (MARVEL/ICON) #17 NEWSSTAND Near Mint/Mint
POWERS (2004) (#1-30) (MARVEL/ICON) #18 NEWSSTAND Near Mint/Mint
POWERS (2004) (#1-30) (MARVEL/ICON) #19 NEWSSTAND Near Mint/Mint
POWERS (2004) (#1-30) (MARVEL/ICON) #20 NEWSSTAND Near Mint/Mint
POWERS (2004) (#1-30) (MARVEL/ICON) #22 Near Mint/Mint
POWERS (2004) (#1-30) (MARVEL/ICON) #23 Near Mint/Mint
POWERS (2004) (#1-30) (MARVEL/ICON) #24 Near Mint/Mint
POWERS (2004) (#1-30) (MARVEL/ICON) #25 OEMING Near Mint/Mint
POWERS (2004) (#1-30) (MARVEL/ICON) #26 Near Mint/Mint
POWERS (2004) (#1-30) (MARVEL/ICON) #27 Near Mint/Mint
POWERS (2004) (#1-30) (MARVEL/ICON) #28 Near Mint/Mint
POWERS (2004) (#1-30) (MARVEL/ICON) #29 NEWSSTAND Near Mint/Mint
POWERS (2004) (#1-30) (MARVEL/ICON) #30 NEWSSTAND Near Mint/Mint

POWERS ANNUAL (2008) (MARVEL) #1 Very Fine

PROFESSOR XAVIER AND THE X-MEN (1995) #10 DIRECT Very Fine

PUNISHER WAR JOURNAL (1988) #12 NEWSSTAND Very Good

QUASAR (1989) #38 Fine

QUASAR (1989) #39 Fine
QUASAR (1989) #40 Very Good

ROM (1979) (#1-75) (MARVEL) #24 NEWSSTAND Very Fine
ROM (1979) (#1-75) (MARVEL) #30 NEWSSTAND Fine
ROM (1979) (#1-75) (MARVEL) #68 NEWSSTAND Very Good

SENSATIONAL SPIDER-MAN (#23-UP) (2006) #33 Near Mint/Mint

SILVER SURFER (1987) (#1-146) (MARVEL) #75 Very Fine

SPIDER-MAN (1963) (AMAZING SPIDER-MAN) (#1-441) #199 NEWSSTAND Very Good

SPIDER-MAN (1990) (#1-74, PETER PARKER SPIDEY #75-98) #1 SILVER Fine
SPIDER-MAN (1990) (#1-74, PETER PARKER SPIDEY #75-98) #10 NEWSSTAND Good

SPIDER-MAN 2099 (1992) (#1-46) (MARVEL) #1 Very Good

SPIDER-WOMAN (1978) (#1-50) (JESSICA DREW) (MARVEL) #2 Very Good
SPIDER-WOMAN (1978) (#1-50) (JESSICA DREW) (MARVEL) #3 Fine
SPIDER-WOMAN (1978) (#1-50) (JESSICA DREW) (MARVEL) #11 Fine
SPIDER-WOMAN (1978) (#1-50) (JESSICA DREW) (MARVEL) #12 Very Good
SPIDER-WOMAN (1978) (#1-50) (JESSICA DREW) (MARVEL) #28 NEWSSTAND Good
SPIDER-WOMAN (1978) (#1-50) (JESSICA DREW) (MARVEL) #31 NEWSSTAND Very Good
SPIDER-WOMAN (1978) (#1-50) (JESSICA DREW) (MARVEL) #41 NEWSSTAND Very Good

THOR (2007) (#1-12, 600-621) (MARVEL) #1 TURNER Good


TOMB OF DRACULA (1972) (#1-70) (MARVEL) #22

TOMB OF DRACULA (1972) (#1-70) (MARVEL) #22 Very Good
TOMB OF DRACULA (1972) (#1-70) (MARVEL) #23 Very Good
TOMB OF DRACULA (1972) (#1-70) (MARVEL) #24 Fine
TOMB OF DRACULA (1972) (#1-70) (MARVEL) #25 Fine
TOMB OF DRACULA (1972) (#1-70) (MARVEL) #26 Fine
TOMB OF DRACULA (1972) (#1-70) (MARVEL) #27 Fine
TOMB OF DRACULA (1972) (#1-70) (MARVEL) #28 Fine
TOMB OF DRACULA (1972) (#1-70) (MARVEL) #29 Very Good
TOMB OF DRACULA (1972) (#1-70) (MARVEL) #30 Very Good
TOMB OF DRACULA (1972) (#1-70) (MARVEL) #31 Fine
TOMB OF DRACULA (1972) (#1-70) (MARVEL) #32 Fine
TOMB OF DRACULA (1972) (#1-70) (MARVEL) #33 Fine
TOMB OF DRACULA (1972) (#1-70) (MARVEL) #34 Fine
TOMB OF DRACULA (1972) (#1-70) (MARVEL) #35 Very Good
TOMB OF DRACULA (1972) (#1-70) (MARVEL) #36 Fine
TOMB OF DRACULA (1972) (#1-70) (MARVEL) #37 Good
TOMB OF DRACULA (1972) (#1-70) (MARVEL) #38 Fine
TOMB OF DRACULA (1972) (#1-70) (MARVEL) #39 Fine
TOMB OF DRACULA (1972) (#1-70) (MARVEL) #40 Very Good
TOMB OF DRACULA (1972) (#1-70) (MARVEL) #41 Good
TOMB OF DRACULA (1972) (#1-70) (MARVEL) #42 Good
TOMB OF DRACULA (1972) (#1-70) (MARVEL) #43 Very Good
TOMB OF DRACULA (1972) (#1-70) (MARVEL) #44 Good
TOMB OF DRACULA (1972) (#1-70) (MARVEL) #45 Fine
TOMB OF DRACULA (1972) (#1-70) (MARVEL) #46 Very Good
TOMB OF DRACULA (1972) (#1-70) (MARVEL) #47 Very Good
TOMB OF DRACULA (1972) (#1-70) (MARVEL) #48 Very Good
TOMB OF DRACULA (1972) (#1-70) (MARVEL) #49 Very Good
TOMB OF DRACULA (1972) (#1-70) (MARVEL) #52 Very Good
TOMB OF DRACULA (1972) (#1-70) (MARVEL) #53 Very Good


TOMB OF DRACULA (1972) (#1-70) (MARVEL) #54

TOMB OF DRACULA (1972) (#1-70) (MARVEL) #54 Fine
TOMB OF DRACULA (1972) (#1-70) (MARVEL) #55 Very Fine
TOMB OF DRACULA (1972) (#1-70) (MARVEL) #56 Very Fine
TOMB OF DRACULA (1972) (#1-70) (MARVEL) #57 Fine
TOMB OF DRACULA (1972) (#1-70) (MARVEL) #58 Very Good
TOMB OF DRACULA (1972) (#1-70) (MARVEL) #59 Very Good
TOMB OF DRACULA (1972) (#1-70) (MARVEL) #60 Fine
TOMB OF DRACULA (1972) (#1-70) (MARVEL) #61 Fine
TOMB OF DRACULA (1972) (#1-70) (MARVEL) #62 Very Good
TOMB OF DRACULA (1972) (#1-70) (MARVEL) #68 Good
TOMB OF DRACULA (1972) (#1-70) (MARVEL) #69 Good

WARHEADS (1992) #8 Fine
WARHEADS (1992) #9 Fine

WARLOCK (1972) (#1-15) (MARVEL) #8 Fine
WARLOCK (1972) (#1-15) (MARVEL) #9 Very Good
WARLOCK (1972) (#1-15) (MARVEL) #12 Good
WARLOCK (1972) (#1-15) (MARVEL) #13 Good
WARLOCK (1972) (#1-15) (MARVEL) #14 Good

WHAT IF... (1989) (#1-114, & 200) (MARVEL) #9 Fine
WHAT IF... (1989) (#1-114, & 200) (MARVEL) #23 NEWSSTAND Very Good
WHAT IF... (1989) (#1-114, & 200) (MARVEL) #24 NEWSSTAND Good
WHAT IF... (1989) (#1-114, & 200) (MARVEL) #29 NEWSSTAND Good
WHAT IF... (1989) (#1-114, & 200) (MARVEL) #30 NEWSSTAND Good
WHAT IF... (1989) (#1-114, & 200) (MARVEL) #37 NEWSSTAND Good

X-CALIBRE (1995) #2 NEWSSTAND Fine

X-FACTOR (1986) (#1-149) (ORIGINAL X-MEN) #126 Near Mint/Mint


X-FACTOR (1986) (#1-149) (ORIGINAL X-MEN) #127

X-FACTOR (1986) (#1-149) (ORIGINAL X-MEN) #127 Very Fine
X-FACTOR (1986) (#1-149) (ORIGINAL X-MEN) #130 Near Mint/Mint
X-FACTOR (1986) (#1-149) (ORIGINAL X-MEN) #131 Very Fine
X-FACTOR (1986) (#1-149) (ORIGINAL X-MEN) #132 Fine
X-FACTOR (1986) (#1-149) (ORIGINAL X-MEN) #133 Fine
X-FACTOR (1986) (#1-149) (ORIGINAL X-MEN) #134 Fine
X-FACTOR (1986) (#1-149) (ORIGINAL X-MEN) #135 Fine
X-FACTOR (1986) (#1-149) (ORIGINAL X-MEN) #136 Near Mint/Mint
X-FACTOR (1986) (#1-149) (ORIGINAL X-MEN) #137 Fine
X-FACTOR (1986) (#1-149) (ORIGINAL X-MEN) #138 Near Mint/Mint
X-FACTOR (1986) (#1-149) (ORIGINAL X-MEN) #140 Very Fine
X-FACTOR (1986) (#1-149) (ORIGINAL X-MEN) #142 Near Mint/Mint
X-FACTOR (1986) (#1-149) (ORIGINAL X-MEN) #143 Near Mint/Mint
X-FACTOR (1986) (#1-149) (ORIGINAL X-MEN) #144 Near Mint/Mint
X-FACTOR (1986) (#1-149) (ORIGINAL X-MEN) #146 Near Mint/Mint
X-FACTOR (1986) (#1-149) (ORIGINAL X-MEN) #147 Near Mint/Mint
X-FACTOR (1986) (#1-149) (ORIGINAL X-MEN) #148 Near Mint/Mint
X-FACTOR (1986) (#1-149) (ORIGINAL X-MEN) #149 Near Mint/Mint

X-MAN (1995) #1 NEWSSTAND Very Fine

X-MEN (1963) (#1-113, UNCANNY X-MEN #114-544) (MARVEL) #140 NEWSSTAND Good
X-MEN (1963) (#1-113, UNCANNY X-MEN #114-544) (MARVEL) #142 NEWSSTAND Very Good
X-MEN (1963) (#1-113, UNCANNY X-MEN #114-544) (MARVEL) #142 NEWSSTAND Good
X-MEN (1963) (#1-113, UNCANNY X-MEN #114-544) (MARVEL) #143 NEWSSTAND Good
X-MEN (1963) (#1-113, UNCANNY X-MEN #114-544) (MARVEL) #144 NEWSSTAND Good

X-MEN (1991) (#1-275) (MARVEL) #5 NEWSSTAND Near Mint/Mint
X-MEN (1991) (#1-275) (MARVEL) #6 Near Mint/Mint

X-MEN 2099 (1993) #35 Very Fine

DC

ADVENTURE COMICS (1938) (#32-503) (DC) #436

ADVENTURE COMICS (1938) (#32-503) (DC) #436 Good
ADVENTURE COMICS (1938) (#32-503) (DC) #440 Fine

BATMAN (1940) (#0-713) (DC) #475 Very Fine
BATMAN (1940) (#0-713) (DC) #689 Very Fine
BATMAN (1940) (#0-713) (DC) #690 Fine
BATMAN (1940) (#0-713) (DC) #691 Near Mint/Mint

BLACKHAWK (1957) (#108-273) (DC) #244 Fine

FROM BEYOND THE UNKNOWN (1969) #20 Good
FROM BEYOND THE UNKNOWN (1969) #23 Good
FROM BEYOND THE UNKNOWN (1969) #24 Good

GI COMBAT (1957) (#44-288) (DC) #153 Fair
GI COMBAT (1957) (#44-288) (DC) #160 Good
GI COMBAT (1957) (#44-288) (DC) #161 Good
GI COMBAT (1957) (#44-288) (DC) #162 Good
GI COMBAT (1957) (#44-288) (DC) #163 Good
GI COMBAT (1957) (#44-288) (DC) #165 Very Good
GI COMBAT (1957) (#44-288) (DC) #166 Very Good

GI WAR TALES (1973) #1 Fair
GI WAR TALES (1973) #2 Good

KAMANDI (1972) #2 Fair
KAMANDI (1972) #3 Fair
KAMANDI (1972) #7 Good
KAMANDI (1972) #8 Good

KAMANDI (1972) #9 Good
KAMANDI (1972) #29 Very Good
KAMANDI (1972) #32 Very Good
KAMANDI (1972) #36 Very Good
KAMANDI (1972) #42 Very Good
KAMANDI (1972) #52 Very Good

OMAC (1974) (#1-8) (ONE MAN ARMY CORPS) (JACK KIRBY) #3 Good
OMAC (1974) (#1-8) (ONE MAN ARMY CORPS) (JACK KIRBY) #4 Good
OMAC (1974) (#1-8) (ONE MAN ARMY CORPS) (JACK KIRBY) #5 Good
OMAC (1974) (#1-8) (ONE MAN ARMY CORPS) (JACK KIRBY) #6 Good

OUR ARMY AT WAR (1952) #237 Fair
OUR ARMY AT WAR (1952) #251 Good
OUR ARMY AT WAR (1952) #255 Good
OUR ARMY AT WAR (1952) #256 Good
OUR ARMY AT WAR (1952) #258 Good
OUR ARMY AT WAR (1952) #259 Good
OUR ARMY AT WAR (1952) #260 Good
OUR ARMY AT WAR (1952) #262 Good
OUR ARMY AT WAR (1952) #263 Good
OUR ARMY AT WAR (1952) #264 Very Good
OUR ARMY AT WAR (1952) #265 Very Good
OUR ARMY AT WAR (1952) #266 Good
OUR ARMY AT WAR (1952) #275 Good
OUR ARMY AT WAR (1952) #286 Very Good

SECRET HEARTS (1949) #130 Fine

SHOWCASE (1956) (#1-104) (SHOWCASE PRESENTS...) (DC) #80 Good


STRANGE ADVENTURES (1950) (#1-244) (DC) #244

STRANGE ADVENTURES (1950) (#1-244) (DC) #244 Good

SUPERMAN (1939) (#1-423) (DC) #278 Good
SUPERMAN (1939) (#1-423) (DC) #331 Very Good
SUPERMAN (1939) (#1-423) (DC) #334 Very Good

SUPERMAN (1986) (#0-226, #650-714) (DC) #75 BAGGED Very Fine
SUPERMAN (1986) (#0-226, #650-714) (DC) #75 BAGGED Fine
SUPERMAN (1986) (#0-226, #650-714) (DC) #75 BAGGED Very Good

SUPERMAN FAMILY (1974) #170 Good

SWAMP THING (1972) (#1-24) #8 Very Good

WONDER WOMAN (1942) (#1-329) (DC) #183 Very Good

DARK HORSE COMICS
BABE (DARK HORSE) (JOHN BYRNE) (1994) #1 Near Mint/Mint

BASIL WOLVERTON'S FANTASTIC FABLES (DARK HORSE) (1993) #1 Fine
BASIL WOLVERTON'S FANTASTIC FABLES (DARK HORSE) (1993) #2 Very Fine

CRIMINAL MACABRE (2003) #1 Near Mint/Mint
CRIMINAL MACABRE (2003) #2 Fine
CRIMINAL MACABRE (2003) #3 Very Fine
CRIMINAL MACABRE (2003) #4 Very Fine
CRIMINAL MACABRE (2003) #5 Near Mint/Mint

DARK HORSE PRESENTS (1986) (#1-157) #36 Very Good


JUDGE DREDD VS. ALIENS: INCUBUS (2003) #1

JUDGE DREDD VS. ALIENS: INCUBUS (2003) #1 Very Fine
JUDGE DREDD VS. ALIENS: INCUBUS (2003) #2 Very Fine
JUDGE DREDD VS. ALIENS: INCUBUS (2003) #3 Near Mint/Mint
JUDGE DREDD VS. ALIENS: INCUBUS (2003) #4 Near Mint/Mint

LIVING WITH THE DEAD (2007) #1 Near Mint/Mint
LIVING WITH THE DEAD (2007) #2 Near Mint/Mint
LIVING WITH THE DEAD (2007) #3 Near Mint/Mint

SHAPER (2015) #1 Very Fine

SPYBOY (1999) #1 Near Mint/Mint
SPYBOY (1999) #3 Near Mint/Mint
SPYBOY (1999) #4 Near Mint/Mint
SPYBOY (1999) #7 Near Mint/Mint
SPYBOY (1999) #8 Near Mint/Mint
SPYBOY (1999) #9 Fine
SPYBOY (1999) #10 Very Fine
SPYBOY (1999) #12 Near Mint/Mint
SPYBOY (1999) #14 Fine
SPYBOY (1999) #15 DANIEL CVR Very Fine

SPYBOY SPECIAL (2002) #1 Near Mint/Mint

SPYBOY/YOUNG JUSTICE (2002) #1 Fine
SPYBOY/YOUNG JUSTICE (2002) #2 Fine
SPYBOY/YOUNG JUSTICE (2002) #3 Near Mint/Mint

SPYBOY: FINAL EXAM (2004) #1 Fine
SPYBOY: FINAL EXAM (2004) #2 Fine
SPYBOY: FINAL EXAM (2004) #3 Fine

SPYBOY: FINAL EXAM (2004) #4 Near Mint/Mint

SPYBOY: MANGA AFFAIR 13 (2003) #1 Fine
SPYBOY: MANGA AFFAIR 13 (2003) #2 Fine

XENA: WARRIOR PRINCESS (1999) (#1-14) (DARK HORSE) #1 PHOTO Near Mint/Mint

IMAGE COMICS
BONE (2005) (#1-27) (IMAGE) #3 Near Mint/Mint

I HATE FAIRYLAND (2015) #1 Fine
I HATE FAIRYLAND (2015) #2 Very Good
I HATE FAIRYLAND (2015) #11 VARIANT Very Fine
I HATE FAIRYLAND (2015) #19 A YOUNG Fine
I HATE FAIRYLAND (2015) #20 A YOUNG Fine

POWERS (2000) (#1-37) (IMAGE) #1 Fine
POWERS (2000) (#1-37) (IMAGE) #1 WIZARD 1/2 Near Mint/Mint
POWERS (2000) (#1-37) (IMAGE) #1 WIZARD 1/2 Very Fine
POWERS (2000) (#1-37) (IMAGE) #3 Near Mint/Mint
POWERS (2000) (#1-37) (IMAGE) #4 Fine
POWERS (2000) (#1-37) (IMAGE) #5 SIGNED Very Fine
POWERS (2000) (#1-37) (IMAGE) #6 Near Mint/Mint
POWERS (2000) (#1-37) (IMAGE) #7 Fine
POWERS (2000) (#1-37) (IMAGE) #8 Near Mint/Mint
POWERS (2000) (#1-37) (IMAGE) #9 Near Mint/Mint
POWERS (2000) (#1-37) (IMAGE) #11 Near Mint/Mint
POWERS (2000) (#1-37) (IMAGE) #12 Near Mint/Mint


POWERS (2000) (#1-37) (IMAGE) #14

POWERS (2000) (#1-37) (IMAGE) #14 Near Mint/Mint
POWERS (2000) (#1-37) (IMAGE) #37 Near Mint/Mint

POWERS ANNUAL (2001) (IMAGE) #1 Very Fine

PROPHET (1995) (#1-8) (IMAGE) #1 NEWSSTAND Very Fine

SAVAGE DRAGON (1992) (#1-3) #1 NEWSSTAND Near Mint/Mint

SECTION ZERO (2019) (#1-6) (IMAGE) #1 B SIMONSON Near Mint/Mint

SONATA (2019) #1 B DYKE Fine
SONATA (2019) #2 A HABERLIN Very Fine

SUPREME (1992) (#0-56) (IMAGE) #50 Very Fine

SWAMP DEMON ONE-SHOT (FRANK FRAZETTA) (2008) #1 B Very Fine

TARTARUS (2020) #1 B CHRISTMA Near Mint/Mint

TEN GRAND (2013) #1 SIENKIEWIC Very Fine

THUMBS (2019) #1 Near Mint/Mint
THUMBS (2019) #2 Near Mint/Mint

WEATHERMAN (2018) #1 A FOX Near Mint/Mint

INDEPENDENTS
101 DALMATIANS (1961) #1 FC #1183 (Dell Publishing) Good


30 DAYS OF NIGHT: 30 DAYS 'TIL DEATH (2008) #4

30 DAYS OF NIGHT: 30 DAYS 'TIL DEATH (2008) #4 (IDW Publishing) Near Mint/Mint

ADVENTURES OF THE BIG BOY (1956) #198 (Timely Comics) Fine
ADVENTURES OF THE BIG BOY (1956) #198 (Timely Comics) Very Fine
ADVENTURES OF THE BIG BOY (1956) #200 (Timely Comics) Fine
ADVENTURES OF THE BIG BOY (1956) #204 (Timely Comics) Fine
ADVENTURES OF THE BIG BOY (1956) #210 (Timely Comics) Fine
ADVENTURES OF THE BIG BOY (1956) #210 (Timely Comics) Very Good

ANGEL: AFTER THE FALL (IDW Publishing) (2007) #18 B (IDW Publishing) Near Mint/Mint
ANGEL: AFTER THE FALL (IDW Publishing) (2007) #19 A (IDW Publishing) Near Mint/Mint
ANGEL: AFTER THE FALL (IDW Publishing) (2007) #20 B (IDW Publishing) Near Mint/Mint
ANGEL: AFTER THE FALL (IDW Publishing) (2007) #21 B (IDW Publishing) Near Mint/Mint
ANGEL: AFTER THE FALL (IDW Publishing) (2007) #22 A (IDW Publishing) Near Mint/Mint
ANGEL: AFTER THE FALL (IDW Publishing) (2007) #23 A (IDW Publishing) Very Fine
ANGEL: AFTER THE FALL (IDW Publishing) (2007) #24 C (IDW Publishing) Near Mint/Mint
ANGEL: AFTER THE FALL (IDW Publishing) (2007) #25 B (IDW Publishing) Near Mint/Mint

ANGEL: BLOOD & TRENCHES (IDW Publishing) (2009) #4 (IDW Publishing) Near Mint/Mint

ANGEL: ONLY HUMAN (IDW Publishing) (2009) #1 A (IDW Publishing) Near Mint/Mint
ANGEL: ONLY HUMAN (IDW Publishing) (2009) #2 A (IDW Publishing) Near Mint/Mint

ANGEL: SMILE TIME (IDW Publishing) (2008) #2 B (IDW Publishing) Near Mint/Mint
ANGEL: SMILE TIME (IDW Publishing) (2008) #3 A (IDW Publishing) Near Mint/Mint

ARMY OF DARKNESS (#5-13,19-27)(DYNAMITE) (2006) #19 (DYNAMITE Entertainment) Very Fine
ARMY OF DARKNESS (#5-13,19-27)(DYNAMITE) (2006) #20 (DYNAMITE Entertainment) Near Mint/Mint
ARMY OF DARKNESS (#5-13,19-27)(DYNAMITE) (2006) #22 (DYNAMITE Entertainment) Near Mint/Mint
ARMY OF DARKNESS (#5-13,19-27)(DYNAMITE) (2006) #23 (DYNAMITE Entertainment) Near Mint/Mint
ARMY OF DARKNESS (#5-13,19-27)(DYNAMITE) (2006) #24 (DYNAMITE Entertainment) Near Mint/Mint


ARMY OF DARKNESS: ASH SAVES OBAMA (DYNAMITE) (2009) #1 A

ARMY OF DARKNESS: ASH SAVES OBAMA (DYNAMITE) (2009) #1 A (DYNAMITE Entertainment) Fine

ARMY OF DARKNESS: LONG ROAD HOME (DYNAMITE) (2008) #17 (DYNAMITE Entertainment) Near Mint/Mint
ARMY OF DARKNESS: LONG ROAD HOME (DYNAMITE) (2008) #18 (DYNAMITE Entertainment) Near Mint/Mint

ATHENA (DYNAMITE) (2009) #1 RENAUD (DYNAMITE Entertainment) Very Fine

BALLISTIC (BLACK MASK COMICS) (2013) #1 (Black Mask) Near Mint/Mint
BALLISTIC (BLACK MASK COMICS) (2013) #2 (Black Mask) Near Mint/Mint
BALLISTIC (BLACK MASK COMICS) (2013) #3 (Black Mask) Near Mint/Mint
BALLISTIC (BLACK MASK COMICS) (2013) #4 (Black Mask) Near Mint/Mint
BALLISTIC (BLACK MASK COMICS) (2013) #5 (Black Mask) Near Mint/Mint

BATTLESTAR GALACTICA: CYLON WAR (2009) #2 SEGOVIA (DYNAMITE Entertainment) Near Mint/Mint
BATTLESTAR GALACTICA: CYLON WAR (2009) #3 RAYNOR (DYNAMITE Entertainment) Very Fine
BATTLESTAR GALACTICA: CYLON WAR (2009) #4 SEGOVIA (DYNAMITE Entertainment) Fine

BATTLESTAR GALACTICA: FINAL FIVE (2009) #1 RUBI (DYNAMITE Entertainment) Near Mint/Mint
BATTLESTAR GALACTICA: FINAL FIVE (2009) #2 RUBI (DYNAMITE Entertainment) Near Mint/Mint
BATTLESTAR GALACTICA: FINAL FIVE (2009) #3 RUBI (DYNAMITE Entertainment) Near Mint/Mint
BATTLESTAR GALACTICA: FINAL FIVE (2009) #4 RUBI (DYNAMITE Entertainment) Fine

BONE (1991) (#1-55) (CARTOON BOOKS) #14 (Cartoon Books) Near Mint/Mint
BONE (1991) (#1-55) (CARTOON BOOKS) #15 (Cartoon Books) Very Fine
BONE (1991) (#1-55) (CARTOON BOOKS) #17 (Cartoon Books) Near Mint/Mint
BONE (1991) (#1-55) (CARTOON BOOKS) #18 (Cartoon Books) Near Mint/Mint

BOYS (2007) (#7-72) (DYNAMITE) #28 VARIANT (DYNAMITE Entertainment) Near Mint/Mint
BOYS (2007) (#7-72) (DYNAMITE) #29 (DYNAMITE Entertainment) Near Mint/Mint
BOYS (2007) (#7-72) (DYNAMITE) #30 (DYNAMITE Entertainment) Near Mint/Mint
BOYS (2007) (#7-72) (DYNAMITE) #31 (DYNAMITE Entertainment) Near Mint/Mint


BOYS (2007) (#7-72) (DYNAMITE) #32

BOYS (2007) (#7-72) (DYNAMITE) #32 (DYNAMITE Entertainment) Near Mint/Mint
BOYS (2007) (#7-72) (DYNAMITE) #33 (DYNAMITE Entertainment) Near Mint/Mint
BOYS (2007) (#7-72) (DYNAMITE) #34 (DYNAMITE Entertainment) Near Mint/Mint

BOYS: HEROGASM (2009) #2 (DYNAMITE Entertainment) Near Mint/Mint
BOYS: HEROGASM (2009) #3 (DYNAMITE Entertainment) Near Mint/Mint
BOYS: HEROGASM (2009) #4 (DYNAMITE Entertainment) Near Mint/Mint

BUCK ROGERS (2009) #1 CASSADAY (DYNAMITE Entertainment) Near Mint/Mint
BUCK ROGERS (2009) #2 CASSADAY (DYNAMITE Entertainment) Near Mint/Mint
BUCK ROGERS (2009) #3 CASSADAY (DYNAMITE Entertainment) Near Mint/Mint
BUCK ROGERS (2009) #4 CASSADAY (DYNAMITE Entertainment) Near Mint/Mint

BUGS BUNNY (1942) (#1-85) (Dell Publishing) #76 (Dell Publishing) Good

BUGS BUNNY (1962) (#86-218) (GOLD KEY) #87 (Gold Key) Good

BULLWINKLE (1962) (GOLD KEY) (#1-25) #3 WHITMAN (Gold Key) Fair
BULLWINKLE (1962) (GOLD KEY) (#1-25) #5 WHITMAN (Gold Key) Good
BULLWINKLE (1962) (GOLD KEY) (#1-25) #9 (Gold Key) Good

CLASSICS ILLUSTRATED (1942) #147 HRN166ED8A (Gilberton Publications) Very Good

CLASSICS ILLUSTRATED JUNIOR (1953) #523 HRN565 (Gilberton Publications) Good

COMIC ALBUM (1958) #12 (Dell Publishing) Fine

COMPLETE DRACULA (2009) #1 (DYNAMITE Entertainment) Near Mint/Mint
COMPLETE DRACULA (2009) #2 (DYNAMITE Entertainment) Near Mint/Mint

DAFFY DUCK (1953) (#1-30) (Dell Publishing) #21 (Dell Publishing) Very Good


DAFFY DUCK (1953) (#1-30) (Dell Publishing) #27

DAFFY DUCK (1953) (#1-30) (Dell Publishing) #27 (Dell Publishing) Good

DAFFY DUCK (1962) (#31-127) (GOLD KEY) #33 (Gold Key) Good

DAWN OF THE DEAD (2004) #2 (IDW Publishing) Very Fine

DEATH DEFYING DEVIL (2008) #3 ROSS (DYNAMITE Entertainment) Near Mint/Mint

DONALD DUCK (1940) (Dell Publishing) (#1-84) #45 (Dell Publishing) Good
DONALD DUCK (1940) (Dell Publishing) (#1-84) #68 (Dell Publishing) Fair

FIGHTIN' MARINES (1955) (#14-176) (CHARLTON) #118 (Charlton) Very Good
FIGHTIN' MARINES (1955) (#14-176) (CHARLTON) #121 (Charlton) Very Good

FUN-IN (1970) #15 (Gold Key) Very Good

FUNKY PHANTOM (1972) #13 (Gold Key) Good

GOOD, THE BAD, AND THE UGLY (2009) #1 A (DYNAMITE Entertainment) Near Mint/Mint
GOOD, THE BAD, AND THE UGLY (2009) #2 A (DYNAMITE Entertainment) Near Mint/Mint
GOOD, THE BAD, AND THE UGLY (2009) #3 A (DYNAMITE Entertainment) Very Fine

HEARTBEAT (2019) #1 A LLOVET (Boom Studios Publishing) Near Mint/Mint

HEAVY (2020) #1 C DANIEL (Vault) Near Mint/Mint

HIGHLANDER ORIGINS: KURGAN (2009) #2 HIGHLANDER (DYNAMITE Entertainment) Near Mint/Mint

JIMINY CRICKET (1956) #1 FC #989 (Dell Publishing) Very Good

JUNGLE GIRL SEASON 2 (2008) #3 (DYNAMITE Entertainment) Near Mint/Mint


JUNGLE GIRL SEASON 2 (2008) #4

JUNGLE GIRL SEASON 2 (2008) #4 (DYNAMITE Entertainment) Near Mint/Mint
JUNGLE GIRL SEASON 2 (2008) #5 (DYNAMITE Entertainment) Near Mint/Mint

LONE RANGER (2006) #17 (DYNAMITE Entertainment) Near Mint/Mint
LONE RANGER (2006) #18 B&W (DYNAMITE Entertainment) Near Mint/Mint

LOONEY TUNES (1941) (#1-246) (Dell Publishing) (MERRIE MELODIES) #139 (Dell Publishing) Good
LOONEY TUNES (1941) (#1-246) (Dell Publishing) (MERRIE MELODIES) #225 (Dell Publishing) Very Good
LOONEY TUNES (1941) (#1-246) (Dell Publishing) (MERRIE MELODIES) #230 (Dell Publishing) Very Good
LOONEY TUNES (1941) (#1-246) (Dell Publishing) (MERRIE MELODIES) #233 (Dell Publishing) Very Good

LOVE AND ROCKETS VOL. 2 (2001) #3 (Fantagraphics) Very Fine
LOVE AND ROCKETS VOL. 2 (2001) #11 (Fantagraphics) Very Fine

LUBA (1998) #1 (Fantagraphics) Very Fine

LUBA'S COMICS & STORIES (2002) #1 (Fantagraphics) Very Fine
LUBA'S COMICS & STORIES (2002) #7 (Fantagraphics) Fine

MAGNUS ROBOT FIGHTER (1963) (#1-46) (GOLD KEY) #37 (Gold Key) Good
MAGNUS ROBOT FIGHTER (1963) (#1-46) (GOLD KEY) #38 (Gold Key) Very Good
MAGNUS ROBOT FIGHTER (1963) (#1-46) (GOLD KEY) #39 (Gold Key) Good

MAN WITH NO NAME (2008) #8 (DYNAMITE Entertainment) Near Mint/Mint
MAN WITH NO NAME (2008) #9 (DYNAMITE Entertainment) Near Mint/Mint
MAN WITH NO NAME (2008) #10 (DYNAMITE Entertainment) Near Mint/Mint
MAN WITH NO NAME (2008) #11 (DYNAMITE Entertainment) Near Mint/Mint

MASQUERADE (2009) (#1-4) (DYNAMITE) #2 (DYNAMITE Entertainment) Near Mint/Mint
MASQUERADE (2009) (#1-4) (DYNAMITE) #3 ROSS (DYNAMITE Entertainment) Near Mint/Mint
MASQUERADE (2009) (#1-4) (DYNAMITE) #4 ROSS (DYNAMITE Entertainment) Near Mint/Mint


MICKEY MOUSE (1941) (#1-84) (Dell Publishing) #29

MICKEY MOUSE (1941) (#1-84) (Dell Publishing) #29 (Dell Publishing) Fair
MICKEY MOUSE (1941) (#1-84) (Dell Publishing) #36 (Dell Publishing) Good
MICKEY MOUSE (1941) (#1-84) (Dell Publishing) #40 (Dell Publishing) Good
MICKEY MOUSE (1941) (#1-84) (Dell Publishing) #44 (Dell Publishing) Very Good
MICKEY MOUSE (1941) (#1-84) (Dell Publishing) #45 (Dell Publishing) Very Good
MICKEY MOUSE (1941) (#1-84) (Dell Publishing) #47 (Dell Publishing) Fine
MICKEY MOUSE (1941) (#1-84) (Dell Publishing) #48 (Dell Publishing) Fine
MICKEY MOUSE (1941) (#1-84) (Dell Publishing) #49 (Dell Publishing) Very Good
MICKEY MOUSE (1941) (#1-84) (Dell Publishing) #50 (Dell Publishing) Fine
MICKEY MOUSE (1941) (#1-84) (Dell Publishing) #53 (Dell Publishing) Very Good
MICKEY MOUSE (1941) (#1-84) (Dell Publishing) #68 (Dell Publishing) Very Good
MICKEY MOUSE (1941) (#1-84) (Dell Publishing) #70 (Dell Publishing) Good
MICKEY MOUSE (1941) (#1-84) (Dell Publishing) #72 (Dell Publishing) Very Good
MICKEY MOUSE (1941) (#1-84) (Dell Publishing) #75 (Dell Publishing) Very Good
MICKEY MOUSE (1941) (#1-84) (Dell Publishing) #78 (Dell Publishing) Very Good
MICKEY MOUSE (1941) (#1-84) (Dell Publishing) #1 FC #819 (Dell Publishing) Fine
MICKEY MOUSE (1941) (#1-84) (Dell Publishing) #1 FC #1057 (Dell Publishing) Fair
MICKEY MOUSE (1941) (#1-84) (Dell Publishing) #1 FC #1151 (Dell Publishing) Very Good

MORRIGAN (1997) (#1) (SIRIUS) #1 (Sirius) Very Good

MORTY MEEKLE (1957) #1 FC #793 (Dell Publishing) Good

ONI PRESS COLOR SPECIAL #2001 (Oni Press Inc.) Fine

OUTLAWS OF THE WEST (1957) #59 (Charlton) Fine

PEBBLES & BAMM BAMM (1972) #25 (Charlton) Good

PICNIC PARTY (1955) #6 (Dell Publishing) Very Good

PLANET OF VAMPIRES (1975) #2 (Atlas/Seaboard) Very Good
PLANET OF VAMPIRES (1975) #3 (Atlas/Seaboard) Good

PROJECT SUPERPOWERS CHAPTER TWO (2009) #2 ROSS (DYNAMITE Entertainment) Near Mint/Mint
PROJECT SUPERPOWERS CHAPTER TWO (2009) #3 ROSS (DYNAMITE Entertainment) Near Mint/Mint

RED SONJA (2005) (#0-80) (DYNAMITE) #42 NEVES (DYNAMITE Entertainment) Very Fine
RED SONJA (2005) (#0-80) (DYNAMITE) #43 NEVES (DYNAMITE Entertainment) Near Mint/Mint
RED SONJA (2005) (#0-80) (DYNAMITE) #44 HERBERT (DYNAMITE Entertainment) Very Fine
RED SONJA (2005) (#0-80) (DYNAMITE) #45 RENAUD (DYNAMITE Entertainment) Near Mint/Mint
RED SONJA (2005) (#0-80) (DYNAMITE) #46 NEVES (DYNAMITE Entertainment) Very Fine
RED SONJA (2005) (#0-80) (DYNAMITE) #47 RUBI (DYNAMITE Entertainment) Very Fine

RED SONJA ANNUAL (2006) #2 PRADO (DYNAMITE Entertainment) Near Mint/Mint

RICHIE RICH JACKPOTS (1972) #5 (Harvey Comics) Fair

RICHIE RICH MILLIONS (1961) #62 (Harvey Comics) Good

SCAMP (GOLDKEY) (1967) #9 (Gold Key) Good

SCOOBY DOO (1970) (#1-30) (GOLD KEY) #14 (Gold Key) Fair

SHERLOCK HOLMES (2009) (#1-5) (DYNAMITE) #1 (DYNAMITE Entertainment) Near Mint/Mint
SHERLOCK HOLMES (2009) (#1-5) (DYNAMITE) #2 (DYNAMITE Entertainment) Near Mint/Mint
SHERLOCK HOLMES (2009) (#1-5) (DYNAMITE) #3 (DYNAMITE Entertainment) Near Mint/Mint
SHERLOCK HOLMES (2009) (#1-5) (DYNAMITE) #4 (DYNAMITE Entertainment) Near Mint/Mint

SPACE FAMILY ROBINSON (1962) (#1-54) (GOLD KEY) #38 (Gold Key) Very Good
SPACE FAMILY ROBINSON (1962) (#1-54) (GOLD KEY) #42 (Gold Key) Very Good

SUPER-ZOMBIES (2009) #2 RUBI (DYNAMITE Entertainment) Near Mint/Mint
SUPER-ZOMBIES (2009) #3 RUBI (DYNAMITE Entertainment) Near Mint/Mint
SUPER-ZOMBIES (2009) #4 NEVES (DYNAMITE Entertainment) Very Fine
SUPER-ZOMBIES (2009) #4 RUBI (DYNAMITE Entertainment) Near Mint/Mint

SWEETHEARTS (VOL. 2) (1954) #63 (Charlton) Very Good
SWEETHEARTS (VOL. 2) (1954) #64 (Charlton) Very Good

TRAGG AND THE SKY GODS (1975) (#1-8) (GOLD KEY) #1 (Gold Key) Good
TRAGG AND THE SKY GODS (1975) (#1-8) (GOLD KEY) #3 (Gold Key) Very Good

TURNCOAT (ALEX PAKNADEL) (ARTYOM TRAKHANOV) (2016) #1 TRAKHANOV (Boom Studios Publishing) Near Mint/Mint

TUROK, SON OF STONE (1962) (#30-125) (GOLD KEY) #67 (Gold Key) Good
TUROK, SON OF STONE (1962) (#30-125) (GOLD KEY) #77 (Gold Key) Good
TUROK, SON OF STONE (1962) (#30-125) (GOLD KEY) #78 (Gold Key) Good
TUROK, SON OF STONE (1962) (#30-125) (GOLD KEY) #78 15 CENT CV (Gold Key) Good
TUROK, SON OF STONE (1962) (#30-125) (GOLD KEY) #79 (Gold Key) Good
TUROK, SON OF STONE (1962) (#30-125) (GOLD KEY) #80 (Gold Key) Good
TUROK, SON OF STONE (1962) (#30-125) (GOLD KEY) #81 (Gold Key) Good
TUROK, SON OF STONE (1962) (#30-125) (GOLD KEY) #82 (Gold Key) Good
TUROK, SON OF STONE (1962) (#30-125) (GOLD KEY) #84 (Gold Key) Good
TUROK, SON OF STONE (1962) (#30-125) (GOLD KEY) #85 (Gold Key) Good
TUROK, SON OF STONE (1962) (#30-125) (GOLD KEY) #86 (Gold Key) Very Good
TUROK, SON OF STONE (1962) (#30-125) (GOLD KEY) #87 (Gold Key) Very Good
TUROK, SON OF STONE (1962) (#30-125) (GOLD KEY) #92 (Gold Key) Fair
TUROK, SON OF STONE (1962) (#30-125) (GOLD KEY) #95 (Gold Key) Good
TUROK, SON OF STONE (1962) (#30-125) (GOLD KEY) #105 (Gold Key) Good

UFO FLYING SAUCERS (GOLD KEY) #5 (Gold Key) Very Good
UFO FLYING SAUCERS (GOLD KEY) #7 (Gold Key) Very Good


WALT DISNEY'S COMICS AND STORIES (1940) (#1-263) (Dell Publishing) #127

WALT DISNEY'S COMICS AND STORIES (1940) (#1-263) (Dell Publishing) #127 (Dell Publishing) Fair
WALT DISNEY'S COMICS AND STORIES (1940) (#1-263) (Dell Publishing) #178 (Dell Publishing) Very Good
WALT DISNEY'S COMICS AND STORIES (1940) (#1-263) (Dell Publishing) #179 (Dell Publishing) Very Good
WALT DISNEY'S COMICS AND STORIES (1940) (#1-263) (Dell Publishing) #184 (Dell Publishing) Very Good
WALT DISNEY'S COMICS AND STORIES (1940) (#1-263) (Dell Publishing) #185 (Dell Publishing) Very Good
WALT DISNEY'S COMICS AND STORIES (1940) (#1-263) (Dell Publishing) #187 (Dell Publishing) Fine
WALT DISNEY'S COMICS AND STORIES (1940) (#1-263) (Dell Publishing) #188 (Dell Publishing) Very Good
WALT DISNEY'S COMICS AND STORIES (1940) (#1-263) (Dell Publishing) #192 (Dell Publishing) Fine
WALT DISNEY'S COMICS AND STORIES (1940) (#1-263) (Dell Publishing) #199 (Dell Publishing) Very Good
WALT DISNEY'S COMICS AND STORIES (1940) (#1-263) (Dell Publishing) #200 (Dell Publishing) Fine
WALT DISNEY'S COMICS AND STORIES (1940) (#1-263) (Dell Publishing) #203 (Dell Publishing) Fine
WALT DISNEY'S COMICS AND STORIES (1940) (#1-263) (Dell Publishing) #204 (Dell Publishing) Fine
WALT DISNEY'S COMICS AND STORIES (1940) (#1-263) (Dell Publishing) #207 (Dell Publishing) Very Good
WALT DISNEY'S COMICS AND STORIES (1940) (#1-263) (Dell Publishing) #208 (Dell Publishing) Fine
WALT DISNEY'S COMICS AND STORIES (1940) (#1-263) (Dell Publishing) #209 (Dell Publishing) Very Good
WALT DISNEY'S COMICS AND STORIES (1940) (#1-263) (Dell Publishing) #215 (Dell Publishing) Very Good
WALT DISNEY'S COMICS AND STORIES (1940) (#1-263) (Dell Publishing) #216 (Dell Publishing) Fine
WALT DISNEY'S COMICS AND STORIES (1940) (#1-263) (Dell Publishing) #217 (Dell Publishing) Very Good
WALT DISNEY'S COMICS AND STORIES (1940) (#1-263) (Dell Publishing) #220 (Dell Publishing) Very Good
WALT DISNEY'S COMICS AND STORIES (1940) (#1-263) (Dell Publishing) #226 (Dell Publishing) Very Good
WALT DISNEY'S COMICS AND STORIES (1940) (#1-263) (Dell Publishing) #228 (Dell Publishing) Very Good
WALT DISNEY'S COMICS AND STORIES (1940) (#1-263) (Dell Publishing) #230 (Dell Publishing) Very Good
WALT DISNEY'S COMICS AND STORIES (1940) (#1-263) (Dell Publishing) #240 (Dell Publishing) Very Good

WOLFCOP (2016) #2 (DYNAMITE Entertainment) Near Mint/Mint

ZORRO (2008) (#1-20) (DYNAMITE) #11 B (DYNAMITE Entertainment) Near Mint/Mint