New CARNAGE Statue Arrives + Part Three of Chuck's Near Death Experience
Howdy!
Today's newsletter is predominately part three of my history with West Nile Fever. If you have no interest, just skip to the end, where we have a delightful new listing of great comics for you that just were purchased in Jason St., along with photos of our awesome new 6' high CARNAGE figure that was specially built for us by sculptor extraordinaire, Jason Cook It is just too damn cool!
I am going to start off part three by backtracking a little today, in order to explain why West Nile hit me so hard during my first illness, in August, 2003. As I mentioned last time, West Nile is an insidious disease, as most people who are bitten by an infected mosquito only get mildly ill (with symptoms much like the flu) for a day, or two. They then recover, and move on with their lives never even knowing that they were infected with a potentially deadly virus. Only through specific blood screening for antibodies (at least 30 days after the initial infection...) can they ever know if they had West Nile.
In my case, I initially got those flu-like symptoms, but they then immediately morphed into an overall feeling of massive fatigue, and a total clouding of my thinking and reasoning capabilities. For nearly three months I slept (or dozed) for 18-20 hours a day, and was so mentally addled that I had to struggle to even speak in coherent sentences. My short term memory totally disappeared, and after about 30 days, the excruciating migraines began. Suffice it to say, working during that period was almost impossible.
Throughout all this dreadful illness, my doctors were utterly useless. The only good thing that they did for me was to awaken me to the fact (after an emergency room CT scan) that I was born with a large brain anomaly in my left temporal lobe. Instead of having normal brain tissue, the left side of my brain is home to what's called an "Arachnoid Cyst," over seven centimeters long, and three centimeters in diameter. Arachnoid Cysts are made up of hardened cerebrospinal fluid that seeps into areas of the brain that simply never develop in the fetus. This fluid eventually hardens into a mass not dissimilar to glass, with long branching tentacles sometimes reaching deep into the brain. As long as this brittle mass is not disturbed, it is relatively benign. But if ever shattered, an Arachnoid Cyst can instantly cause massive brain damage, paralysis, or even death. That may have been the case with my half-sister, Patsy, as she died suddenly at age 50, and her autopsy revealed that she was born with a very similar brain anomaly to mine...
As regards my own brain defect, I had no idea that it was there until that emergency CT scan. I have done some research in recent years, however, and finally made sense of why I had such difficulty moderating my emotional state, why certain physical movements (such as skipping) were impossible, why any kind of art was damn near impossible for me create, and why even the mundane act of writing in cursive had been so difficulty for me as a youth. In addition, I finally found a possible physical origin for my overwhelming sense of not fitting well into traditional male gender. All of these functions were in some measure controlled by parts of the very parts of the brain that I simply did not have.
Returning to the topic of West Nile, it typically disrupts brain function by eating pits into the myelin sheath that protects the transmitter nerves in the brain. The good news (for most people) is that if one hemisphere of the brain is attacked by this disease, the other can help to compensate. Myelin is constantly being produced in the brain, so given enough healing time, the brain can continue functioning with little interruption of cognitive abilities.
In my case, however, I experienced a double whammy. First, my birth defect meant that I had decreased cognitive redundancy as compared to most people, and second, my doctors totally missed that I was actually suffering from encephalitis of the hypothalamus. Encephalitis is simply a fancy word for swelling of the brain. Under normal circumstances it is fairly easy to detect via a CT scan of the brain, as the skull acts as a severe limiting factor to brain growth. For most people who have encephalitis, excruciating headaches quickly result, which when left untreated can lead to brain damage, strokes, or death. That generally does not happen, however, as most of this swelling is normally readily apparent in a CT scan, and high doses of steroids are oftentimes an effective treatment.
What I have since learned is that encephalitis of the hypothalamus (which was what afflicted me) is almost impossible to detect through imaging, as that part of the brain is very small and buried in the middle near where the spine and the brain come together. The marginal differential in hypothalamus size during encephalitis is so tiny that it is effectively undetectable. This meant that my doctors gave me zero treatment, assuming (incorrectly) that I was merely suffering from a prolonged fever. Three months later, after I finally started getting better on my own, they finally acknowledged that something had seriously gone wrong. But, even then, they made no attempt to determine what had happened to me. With 6,000+ other sick people needing to be saved, I was by then, old news.
To be continued...
I now have some fun photos to share with you. In the first, Jason and I shake hands in the traditional congratulatory fashion. Yawn. That does, however, give you a great view of his amazing sculpting. In the second photo, the damn thing bites me! And in the third photo, it's our savage store Flerkin vs. Carnage...Cammie for the win! (yes, we gladly use our charming store kitty in fun photo ops).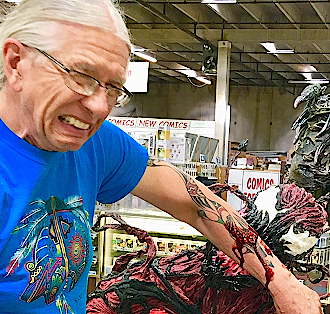 Carnage takes a bite out of Chuck

Other than picking up Carnage, we have also been buying comics, Funko Pop! figures, statues, toys, trade paperbacks, and comics hardbacks in unbelievably large quantities this week. Visit the store for best selections, or shop the amazing comics list at the end of this newsletter. All back issue comics and magazines remain at 60% off via our SUMMER! codeword sale. Only new issues, a few variants, and our professionally-graded comics are exempt. Enjoy!
Happy collecting!
Chuck Rozanski/Bettie Pages,
President - Mile High Comics, Inc.
July 31, 2019
MARVEL

A PLUS X (AVENGERS & X-MEN) (A+X) (2012) #1 YOUNG BABY

A PLUS X (AVENGERS & X-MEN) (A+X) (2012) #1 YOUNG BABY Near Mint/Mint
A PLUS X (AVENGERS & X-MEN) (A+X) (2012) #3 TAN Near Mint/Mint

AGE OF ULTRON (AVENGERS) (2013) #1 YOUNG BABY Very Fine

AMAZING SPIDER-MAN (1999) (#1-58, #500-700.5) (MARVEL) #641 Fine
AMAZING SPIDER-MAN (1999) (#1-58, #500-700.5) (MARVEL) #700 .2 VARIANT Near Mint/Mint
AMAZING SPIDER-MAN (1999) (#1-58, #500-700.5) (MARVEL) #700 .3 VARIANT Near Mint/Mint
AMAZING SPIDER-MAN (1999) (#1-58, #500-700.5) (MARVEL) #700 .4 VARIANT Near Mint/Mint

AMAZING SPIDER-MAN (2014) (#1-20.1) (MARVEL) #1 Near Mint/Mint
AMAZING SPIDER-MAN (2014) (#1-20.1) (MARVEL) #1 CAMPBELL Near Mint/Mint
AMAZING SPIDER-MAN (2014) (#1-20.1) (MARVEL) #1 MHAN Near Mint/Mint
AMAZING SPIDER-MAN (2014) (#1-20.1) (MARVEL) #2 Near Mint/Mint
AMAZING SPIDER-MAN (2014) (#1-20.1) (MARVEL) #3 Near Mint/Mint
AMAZING SPIDER-MAN (2014) (#1-20.1) (MARVEL) #4 Near Mint/Mint

AVENGERS (1963) (#1-402) (MARVEL) #273 Very Fine

AVENGERS A.I. (2013) #1 YOUNG BABY Near Mint/Mint

AVENGERS VS. X-MEN (AVX) (2012) #10 AVENGERS Near Mint/Mint

AVX: CONSEQUENCES (AVENGERS VS. X-MEN) (2012) #1 RIVERA Near Mint/Mint

BLACK PANTHER (1988) (#1-4) (MARVEL) #1 Fine
BLACK PANTHER (1988) (#1-4) (MARVEL) #2 Fine
BLACK PANTHER (1988) (#1-4) (MARVEL) #4 Fine

CAPTAIN AMERICA (1968) (#100-454) (MARVEL) #120 Very Good

CATACLYSM: ULTIMATES (2013) #1 VARIANT Very Fine

CATACLYSM: ULTIMATES - LAST STAND (2013) #1 VARIANT Near Mint/Mint
CATACLYSM: ULTIMATES - LAST STAND (2013) #2 VARIANT Very Fine
CATACLYSM: ULTIMATES - LAST STAND (2013) #3 VARIANT Very Fine

CIVIL WAR II (2016) #1 Very Fine
CIVIL WAR II (2016) #2 Near Mint/Mint
CIVIL WAR II (2016) #3 Very Fine
CIVIL WAR II (2016) #4 Near Mint/Mint
CIVIL WAR II (2016) #5 Near Mint/Mint

CIVIL WAR II (2016) #7 Near Mint/Mint

CONAN THE BARBARIAN (2019) (#1-UP) (MARVEL) #8 SAIZ Near Mint/Mint

CONAN THE SAVAGE (1995) #1 Fine
CONAN THE SAVAGE (1995) #6 Very Fine
CONAN THE SAVAGE (1995) #9 NEWSSTAND Fine
CONAN THE SAVAGE (1995) #10 Fine

DAREDEVIL (2014) (#0-18) (MARVEL) #1 YOUNG BABY Near Mint/Mint

DARKHAWK (1991) (#1-50) (MARVEL) #1 Fine

DEADLY HANDS OF KUNG FU (1974) #9 Fine
DEADLY HANDS OF KUNG FU (1974) #18 Very Fine

DEADPOOL (2013) (#1-45, 250) (MARVEL) #28 Near Mint/Mint
DEADPOOL (2013) (#1-45, 250) (MARVEL) #29 Near Mint/Mint
DEADPOOL (2013) (#1-45, 250) (MARVEL) #30 Near Mint/Mint
DEADPOOL (2013) (#1-45, 250) (MARVEL) #31 Near Mint/Mint
DEADPOOL (2013) (#1-45, 250) (MARVEL) #31 VARIANT Near Mint/Mint
DEADPOOL (2013) (#1-45, 250) (MARVEL) #32 Near Mint/Mint

DEATH OF WOLVERINE (2014) #2 Very Good
DEATH OF WOLVERINE (2014) #4 Fine

DEATH OF WOLVERINE: DEADPOOL & CAPTAIN AMERICA (2014) #1 Fine

EMPIRE OF THE DEAD: ACT ONE (GEORGE A. ROMERO) (2013) #3 Fine
EMPIRE OF THE DEAD: ACT ONE (GEORGE A. ROMERO) (2013) #4 Fine
EMPIRE OF THE DEAD: ACT ONE (GEORGE A. ROMERO) (2013) #4 Very Fine

EMPIRE OF THE DEAD: ACT THREE (GEORGE A. ROMERO) (2015) #3 Near Mint/Mint

EMPIRE OF THE DEAD: ACT TWO (GEORGE A. ROMERO) (2014) #5 Near Mint/Mint
EMPIRE OF THE DEAD: ACT TWO (GEORGE A. ROMERO) (2014) #5 Very Fine

EMPRESS (2016) #1 IMMONEN Near Mint/Mint
EMPRESS (2016) #1 BLANK CVR Near Mint/Mint
EMPRESS (2016) #1 IMMONEN Very Fine
EMPRESS (2016) #2 MAYHEW Very Fine
EMPRESS (2016) #2 YU Very Fine


ETERNALS (1976) (#1-19) (MARVEL) (JACK KIRBY) #1

ETERNALS (1976) (#1-19) (MARVEL) (JACK KIRBY) #1 Very Good

ETERNALS (1985) (#1-12) (MARVEL LIMITED SERIES) #1 Very Fine
ETERNALS (1985) (#1-12) (MARVEL LIMITED SERIES) #2 Fine
ETERNALS (1985) (#1-12) (MARVEL LIMITED SERIES) #7 Near Mint/Mint
ETERNALS (1985) (#1-12) (MARVEL LIMITED SERIES) #9 Near Mint/Mint

ETERNALS (2006) (#1-7) (MARVEL) (GAIMAN & ROMITA JR.) #1 ROM SKETCH Fine
ETERNALS (2006) (#1-7) (MARVEL) (GAIMAN & ROMITA JR.) #1 ROMITA JR. Near Mint/Mint
ETERNALS (2006) (#1-7) (MARVEL) (GAIMAN & ROMITA JR.) #2 ROMITA Near Mint/Mint
ETERNALS (2006) (#1-7) (MARVEL) (GAIMAN & ROMITA JR.) #4 ROMITA JR. Fine
ETERNALS (2006) (#1-7) (MARVEL) (GAIMAN & ROMITA JR.) #5 ROMITA JR. Fine
ETERNALS (2006) (#1-7) (MARVEL) (GAIMAN & ROMITA JR.) #6 ROMITA JR. Near Mint/Mint
ETERNALS (2006) (#1-7) (MARVEL) (GAIMAN & ROMITA JR.) #7 ROMITA JR. Near Mint/Mint

ETERNALS (2008) (#1-9) (MARVEL) #6 Very Fine

FEAR ITSELF (2011) #1 BLANK CVR Near Mint/Mint

FEAR ITSELF: FEARLESS (2011) #1 2ND PRINT Near Mint/Mint

GROO THE WANDERER (1985) #99 Very Fine
GROO THE WANDERER (1985) #100 Fine

GROOT (2015) #1 GWEN Near Mint/Mint

GUARDIANS OF THE GALAXY (2015) (#1-19) (MARVEL) #1 GAMESTOP Near Mint/Mint

HULK (1962) (#1-6, #102-474, #600-635)(INCREDIBLE)(MV) #161 Good

IRON MAN (2005) (#1-35) (MARVEL) #15 GRANOV Near Mint/Mint

LEGENDARY STAR-LORD (2014) #1 YOUNG BABY Very Fine

LOGAN (2008) (#1-3) (MARVEL KNIGHTS) #1 Near Mint/Mint
LOGAN (2008) (#1-3) (MARVEL KNIGHTS) #2 Near Mint/Mint

MARVEL FANFARE (1982) #11 Near Mint/Mint

MARVEL KNIGHTS: SPIDER-MAN (2013) #1 VARIANT Very Fine

MARVEL NOW: POINT ONE (2012) #1 YOUNG BABY Very Fine


MARVEL PREMIERE (1972) #50 NEWSSTAND

MARVEL PREMIERE (1972) #50 NEWSSTAND Fine
MARVEL PREMIERE (1972) #57 Fine

MINIMUM CARNAGE: ALPHA (2012) #1 Near Mint/Mint

MINIMUM CARNAGE: OMEGA (2012) #1 LIM Near Mint/Mint

MS. MARVEL (1977) (#1-23) (MARVEL) (CAROL DANVERS) #1 Very Good

ORIGINAL SIN (2014) (#0-8) (MARVEL) #1 MCNIVEN Near Mint/Mint
ORIGINAL SIN (2014) (#0-8) (MARVEL) #2 ALESSIO Near Mint/Mint
ORIGINAL SIN (2014) (#0-8) (MARVEL) #3 HANS Near Mint/Mint
ORIGINAL SIN (2014) (#0-8) (MARVEL) #4 GUICE Near Mint/Mint

POWERS OF X (2019) #1 HANS Near Mint/Mint

SCARLET SPIDER (2012) (#1-25) (MARVEL) #10 Very Fine

SILVER SURFER (2014) (#1-15) (MARVEL) #1 Near Mint/Mint
SILVER SURFER (2014) (#1-15) (MARVEL) #2 Near Mint/Mint
SILVER SURFER (2014) (#1-15) (MARVEL) #3 Near Mint/Mint

SPIDER-GWEN (2015) (#1-UP) (MARVEL)(RADIOACTIVE) #1 GAMESTOP Very Fine
SPIDER-GWEN (2015) (#1-UP) (MARVEL)(RADIOACTIVE) #7 CAMPBELL Very Fine

SPIDER-MAN (1963) (AMAZING SPIDER-MAN) (#1-441) #161 Very Good
SPIDER-MAN (1963) (AMAZING SPIDER-MAN) (#1-441) #188 WHITMAN Good
SPIDER-MAN (1963) (AMAZING SPIDER-MAN) (#1-441) #197 Fine
SPIDER-MAN (1963) (AMAZING SPIDER-MAN) (#1-441) #263 Fine
SPIDER-MAN (1963) (AMAZING SPIDER-MAN) (#1-441) #282 Fine
SPIDER-MAN (1963) (AMAZING SPIDER-MAN) (#1-441) #283 Very Fine
SPIDER-MAN (1963) (AMAZING SPIDER-MAN) (#1-441) #284 Very Fine
SPIDER-MAN (1963) (AMAZING SPIDER-MAN) (#1-441) #285 Fine
SPIDER-MAN (1963) (AMAZING SPIDER-MAN) (#1-441) #289 Very Good
SPIDER-MAN (1963) (AMAZING SPIDER-MAN) (#1-441) #293 Very Fine
SPIDER-MAN (1963) (AMAZING SPIDER-MAN) (#1-441) #294 Fine
SPIDER-MAN (1963) (AMAZING SPIDER-MAN) (#1-441) #297 Near Mint/Mint
SPIDER-MAN (1963) (AMAZING SPIDER-MAN) (#1-441) #298 Near Mint/Mint
SPIDER-MAN (1963) (AMAZING SPIDER-MAN) (#1-441) #302 Fine
SPIDER-MAN (1963) (AMAZING SPIDER-MAN) (#1-441) #303 Fine
SPIDER-MAN (1963) (AMAZING SPIDER-MAN) (#1-441) #304 Near Mint/Mint
SPIDER-MAN (1963) (AMAZING SPIDER-MAN) (#1-441) #305 Fine
SPIDER-MAN (1963) (AMAZING SPIDER-MAN) (#1-441) #305 NEWSSTAND Fine


SPIDER-MAN (1963) (AMAZING SPIDER-MAN) (#1-441) #306

SPIDER-MAN (1963) (AMAZING SPIDER-MAN) (#1-441) #306 Fine
SPIDER-MAN (1963) (AMAZING SPIDER-MAN) (#1-441) #307 Very Fine
SPIDER-MAN (1963) (AMAZING SPIDER-MAN) (#1-441) #308 Fine
SPIDER-MAN (1963) (AMAZING SPIDER-MAN) (#1-441) #309 Fine
SPIDER-MAN (1963) (AMAZING SPIDER-MAN) (#1-441) #310 Fine
SPIDER-MAN (1963) (AMAZING SPIDER-MAN) (#1-441) #311 Fine
SPIDER-MAN (1963) (AMAZING SPIDER-MAN) (#1-441) #312 Very Fine
SPIDER-MAN (1963) (AMAZING SPIDER-MAN) (#1-441) #313 Very Fine
SPIDER-MAN (1963) (AMAZING SPIDER-MAN) (#1-441) #314 Near Mint/Mint
SPIDER-MAN (1963) (AMAZING SPIDER-MAN) (#1-441) #315 Very Fine
SPIDER-MAN (1963) (AMAZING SPIDER-MAN) (#1-441) #316 Fine
SPIDER-MAN (1963) (AMAZING SPIDER-MAN) (#1-441) #317 Very Fine
SPIDER-MAN (1963) (AMAZING SPIDER-MAN) (#1-441) #318 Fine
SPIDER-MAN (1963) (AMAZING SPIDER-MAN) (#1-441) #319 Very Fine
SPIDER-MAN (1963) (AMAZING SPIDER-MAN) (#1-441) #320 Fine
SPIDER-MAN (1963) (AMAZING SPIDER-MAN) (#1-441) #321 Fine
SPIDER-MAN (1963) (AMAZING SPIDER-MAN) (#1-441) #322 Fine
SPIDER-MAN (1963) (AMAZING SPIDER-MAN) (#1-441) #323 Fine
SPIDER-MAN (1963) (AMAZING SPIDER-MAN) (#1-441) #325 Fine
SPIDER-MAN (1963) (AMAZING SPIDER-MAN) (#1-441) #328 Fine
SPIDER-MAN (1963) (AMAZING SPIDER-MAN) (#1-441) #343 INSERT Very Fine
SPIDER-MAN (1963) (AMAZING SPIDER-MAN) (#1-441) #345 Very Fine
SPIDER-MAN (1963) (AMAZING SPIDER-MAN) (#1-441) #348 INSERT Very Fine
SPIDER-MAN (1963) (AMAZING SPIDER-MAN) (#1-441) #380 Very Fine
SPIDER-MAN (1963) (AMAZING SPIDER-MAN) (#1-441) #389 Near Mint/Mint
SPIDER-MAN (1963) (AMAZING SPIDER-MAN) (#1-441) #392 Near Mint/Mint
SPIDER-MAN (1963) (AMAZING SPIDER-MAN) (#1-441) #393 Near Mint/Mint
SPIDER-MAN (1963) (AMAZING SPIDER-MAN) (#1-441) #394 DELUXENEWS Fine
SPIDER-MAN (1963) (AMAZING SPIDER-MAN) (#1-441) #397 Very Fine
SPIDER-MAN (1963) (AMAZING SPIDER-MAN) (#1-441) #400 DELUXE Near Mint/Mint

SPIDER-MAN 2099 (2014) (#1-12) (MARVEL) #1 Near Mint/Mint
SPIDER-MAN 2099 (2014) (#1-12) (MARVEL) #1 YOUNG BABY Very Fine

SPIDER-MAN ANNUAL (1964) (#1-28) (MARVEL) #16 Very Fine

SPIDER-MAN ANNUAL (1964) (#1-28) (MARVEL) #21 NEWS Very Fine
SPIDER-MAN ANNUAL (1964) (#1-28) (MARVEL) #22 Near Mint/Mint

SPIDER-MAN: TRIAL OF VENOM (1992) #1 Near Mint/Mint

STRANGE TALES 2 (2010) #3 Near Mint/Mint


SUPERIOR SPIDER-MAN (2013) (#1-33) (MARVEL) #31 MAGUIRE

SUPERIOR SPIDER-MAN (2013) (#1-33) (MARVEL) #31 MAGUIRE Very Fine

SUPERIOR SPIDER-MAN TEAM-UP (2013) #1 SKETCH CV Very Fine

THUNDERBOLTS (2012) (#1-32) (MARVEL) #31 Near Mint/Mint
THUNDERBOLTS (2012) (#1-32) (MARVEL) #32 Near Mint/Mint

ULTIMATE COMICS: SPIDER-MAN (2009) #157 VARIANT Near Mint/Mint
ULTIMATE COMICS: SPIDER-MAN (2009) #160 BAGLEY Fine

ULTIMATE COMICS: X (2010) #1 VARIANT Fine

UNCANNY AVENGERS (2015) (#1-5) (MARCH) #1 GAMESTOP Near Mint/Mint

VENOM (2011) (#1-42) (MARVEL) #27 Near Mint/Mint

VENOM ANNUAL (2019) #1 GONZALES Near Mint/Mint

X 23 (2018) (#1-UP) (MARVEL) #2 Near Mint/Mint

X 23 VOL. 2: X-ASSASSIN TPB (2019) #1 Near Mint/Mint

X-FORCE (2008) (#1-28) (MARVEL) #25 Near Mint/Mint

X-MEN (1963) (#1-113, UNCANNY X-MEN #114-544) (MARVEL) #535 THOR Near Mint/Mint

X-MEN BLUE (2017) #2 Very Fine

X-MEN: GRAND DESIGN (2017) #2 Near Mint/Mint

DC
AQUAMAN (2011) (#0-52) (DC NEW52) #2 Fine
AQUAMAN (2011) (#0-52) (DC NEW52) #3 Near Mint/Mint
AQUAMAN (2011) (#0-52) (DC NEW52) #4 Fine
AQUAMAN (2011) (#0-52) (DC NEW52) #6 Fine
AQUAMAN (2011) (#0-52) (DC NEW52) #7 Near Mint/Mint
AQUAMAN (2011) (#0-52) (DC NEW52) #8 Near Mint/Mint

BATMAN (2016) (#1-UP) (DC REBIRTH) #21 LENTICULAR Near Mint/Mint


BATMAN (2016) (#1-UP) (DC REBIRTH) #22 LENTICULAR

BATMAN (2016) (#1-UP) (DC REBIRTH) #22 LENTICULAR Near Mint/Mint

BATMAN & ROBIN ADVENTURES (1995) #4 NEWSSTAND Near Mint/Mint
BATMAN & ROBIN ADVENTURES (1995) #25 Near Mint/Mint

BATMAN & ROBIN ADVENTURES ANNUAL (1996) #2 Near Mint/Mint

BATMAN: THE DARK KNIGHT (2011) (#0-29) (DC NEW52) #23 .1 DELUXE Near Mint/Mint

BEFORE WATCHMEN: OZYMANDIAS (2012) #1 JIMENEZ Fine

DARK KNIGHT RETURNS: LAST CRUSADE (2016) #1 Very Fine

DARK NIGHTS: METAL (2017) #3 Near Mint/Mint
DARK NIGHTS: METAL (2017) #4 Near Mint/Mint
DARK NIGHTS: METAL (2017) #5 Near Mint/Mint
DARK NIGHTS: METAL (2017) #6 Very Fine

DC BOMBSHELLS HC (2018) #2 Near Mint/Mint

ELSEWORLD'S FINEST: SUPERGIRL & BATGIRL (1998) #1 Near Mint/Mint

ESSENTIAL VERTIGO: THE SANDMAN (1996) #4 (DC: Vertigo Press) Near Mint/Mint

EX MACHINA (2004) #1 (DC/Wildstorm) Very Fine
EX MACHINA (2004) #50 (DC/Wildstorm) Very Fine

MAN OF STEEL (2018) (#1-6) (DC) #1 Near Mint/Mint

POWER GIRL (2009) (#1-27) #17 Near Mint/Mint

SUPER SONS/DYNOMUTT SPECIAL (2018) #1 Near Mint/Mint

SUPERGIRL (2016) (#1-UP) (DC REBIRTH) #22 Near Mint/Mint
SUPERGIRL (2016) (#1-UP) (DC REBIRTH) #22 VARIANT Near Mint/Mint

SUPERMAN (2018) (#1-UP) (DC UNIVERSE) #2 Near Mint/Mint
SUPERMAN (2018) (#1-UP) (DC UNIVERSE) #2 HUGHES Near Mint/Mint
SUPERMAN (2018) (#1-UP) (DC UNIVERSE) #2 MACK Near Mint/Mint
SUPERMAN (2018) (#1-UP) (DC UNIVERSE) #3 Near Mint/Mint
SUPERMAN (2018) (#1-UP) (DC UNIVERSE) #3 MACK Near Mint/Mint

TEEN TITANS (2016) (#1-UP) (DC REBIRTH) #20 Near Mint/Mint
TEEN TITANS (2016) (#1-UP) (DC REBIRTH) #20 VARIANT Near Mint/Mint
TEEN TITANS (2016) (#1-UP) (DC REBIRTH) #21 Near Mint/Mint
TEEN TITANS (2016) (#1-UP) (DC REBIRTH) #21 VARIANT Near Mint/Mint
TEEN TITANS (2016) (#1-UP) (DC REBIRTH) #22 Near Mint/Mint

TITANS (2016) (#1-UP) (DC REBIRTH) #24 VARIANT Near Mint/Mint
TITANS (2016) (#1-UP) (DC REBIRTH) #25 Near Mint/Mint
TITANS (2016) (#1-UP) (DC REBIRTH) #25 VARIANT Near Mint/Mint
TITANS (2016) (#1-UP) (DC REBIRTH) #26 Near Mint/Mint
TITANS (2016) (#1-UP) (DC REBIRTH) #26 VARIANT Near Mint/Mint

UNEXPECTED (2018) (#1-UP) (DC UNIVERSE) #3 Near Mint/Mint

UNITED STATES VS. MURDER, INC. (2018) #1 VARIANT Near Mint/Mint

WILD STORM (DC) (WARREN ELLIS) (WILDSTORM) (2017) #16 Near Mint/Mint
WILD STORM (DC) (WARREN ELLIS) (WILDSTORM) (2017) #17 Near Mint/Mint

WILDSTORM: MICHAEL CRAY (2017) #10 Near Mint/Mint
WILDSTORM: MICHAEL CRAY (2017) #11 Near Mint/Mint


WONDER WOMAN (1987) (#0-226) (DC) #189

WONDER WOMAN (1987) (#0-226) (DC) #189 Fine

WONDER WOMAN (2006) (#1-44, 600-614) (DC) #29 VARIANT Near Mint/Mint

WONDER WOMAN (2016) (#1-UP) (DC REBIRTH) #51 Near Mint/Mint
WONDER WOMAN (2016) (#1-UP) (DC REBIRTH) #51 VARIANT Near Mint/Mint
WONDER WOMAN (2016) (#1-UP) (DC REBIRTH) #52 VARIANT Near Mint/Mint
WONDER WOMAN (2016) (#1-UP) (DC REBIRTH) #53 Near Mint/Mint
WONDER WOMAN (2016) (#1-UP) (DC REBIRTH) #53 VARIANT Near Mint/Mint
WONDER WOMAN (2016) (#1-UP) (DC REBIRTH) #54 Near Mint/Mint
WONDER WOMAN (2016) (#1-UP) (DC REBIRTH) #54 VARIANT Near Mint/Mint
WONDER WOMAN (2016) (#1-UP) (DC REBIRTH) #55 Near Mint/Mint

YOUNG MONSTERS IN LOVE (2018) #1 Near Mint/Mint

DARK HORSE COMICS
EMPOWERED (2009) #1 Near Mint/Mint
EMPOWERED (2009) #5 Near Mint/Mint

STARCRAFT SCAVENGERS (2018) #1 A GUZMAN Near Mint/Mint
STARCRAFT SCAVENGERS (2018) #3 Near Mint/Mint

STRANGER THINGS (2018) #1 A BRICLOT Near Mint/Mint
STRANGER THINGS (2018) #1 B ALBUQUER Near Mint/Mint
STRANGER THINGS (2018) #1 C LAMBERT Near Mint/Mint
STRANGER THINGS (2018) #1 D PHOTO Near Mint/Mint

IMAGE COMICS
BODY COUNT (1996) (#1-4) (TEENAGE MUTANT NINJA TURTLES) #3 Near Mint/Mint

CHRONONAUTS (2015) #1 C SHALVEY Near Mint/Mint

ELSEWHERE (2017) (#1-UP) (IMAGE) #3 D TRIBUB&W Near Mint/Mint

EMPTY (2015) #4 Near Mint/Mint

EMPTY ZONE (2015) (#1-9) (IMAGE) #2 Near Mint/Mint

EVOLUTION ASHCAN (2017) #1 Near Mint/Mint


LIBERTY MEADOWS (#27-37) (IMAGE) (2002) #37

LIBERTY MEADOWS (#27-37) (IMAGE) (2002) #37 Very Fine

STELLAR (2018) #4 Near Mint/Mint

INDEPENDENTS
ARCHIE 1941 (2018) #1 B ANWAR (Archie Comics) Near Mint/Mint
ARCHIE 1941 (2018) #1 C FRANCAVI (Archie Comics) Near Mint/Mint
ARCHIE 1941 (2018) #1 D JOHNSON (Archie Comics) Near Mint/Mint

ARCHIE MEETS BATMAN '66 (2018) #1 A ALLRED (Archie Comics) Near Mint/Mint
ARCHIE MEETS BATMAN '66 (2018) #1 D JARRELL (Archie Comics) Near Mint/Mint
ARCHIE MEETS BATMAN '66 (2018) #1 F TEMPLETO (Archie Comics) Near Mint/Mint
ARCHIE MEETS BATMAN '66 (2018) #3 C CHAYKIN (Archie Comics) Near Mint/Mint
ARCHIE MEETS BATMAN '66 (2018) #3 D FISH (Archie Comics) Near Mint/Mint
ARCHIE MEETS BATMAN '66 (2018) #3 E FRANCO (Archie Comics) Near Mint/Mint
ARCHIE MEETS BATMAN '66 (2018) #3 F MACK (Archie Comics) Near Mint/Mint

ATHENA VOLTAIRE (2018) #5 C SHOONOVE (Action Lab Entertainment) Near Mint/Mint
ATHENA VOLTAIRE (2018) #6 A BRYANT (Action Lab Entertainment) Near Mint/Mint
ATHENA VOLTAIRE (2018) #6 B MILLET (Action Lab Entertainment) Near Mint/Mint

BALLAD OF SANG (2018) #1 B ZARCONE (Oni Press Inc.) Near Mint/Mint
BALLAD OF SANG (2018) #3 (Oni Press Inc.) Near Mint/Mint
BALLAD OF SANG (2018) #4 (Oni Press Inc.) Near Mint/Mint

BART SIMPSON COMICS (2000) #38 (Bongo Comics) Near Mint/Mint

CEREBUS IN HELL (2017) #1 (Aardvark Vanaheim) Near Mint/Mint

COMIC BOOK GUY: THE COMIC BOOK (2010) #1 (Bongo Comics) Very Fine

COURTYARD (ALAN MOORE) (2003) #1 WRAPAROUND (Avatar Comics) Near Mint/Mint
COURTYARD (ALAN MOORE) (2003) #2 WRAPAROUND (Avatar Comics) Near Mint/Mint

ECLIPSE MAGAZINE (1981) #1 (Eclipse Enterprises) Fine
ECLIPSE MAGAZINE (1981) #6 (Eclipse Enterprises) Very Good
ECLIPSE MAGAZINE (1981) #7 (Eclipse Enterprises) Very Good
ECLIPSE MAGAZINE (1981) #8 (Eclipse Enterprises) Fine

ELVIS SHRUGGED (1993) #1 (Revolutionary Comics) Fine
ELVIS SHRUGGED (1993) #2 (Revolutionary Comics) Fine
ELVIS SHRUGGED (1993) #3 (Revolutionary Comics) Fine


EPIC (2014) (#1-3) (COMIX TRIBE) #1

EPIC (2014) (#1-3) (COMIX TRIBE) #1 (COMIXTRIBE) Near Mint/Mint

ESCAPE OF THE LIVING DEAD (2005) #1 GORE (Avatar Comics) Near Mint/Mint
ESCAPE OF THE LIVING DEAD (2005) #2 TERROR (Avatar Comics) Near Mint/Mint
ESCAPE OF THE LIVING DEAD (2005) #4 PLATINUM (Avatar Comics) Near Mint/Mint
ESCAPE OF THE LIVING DEAD (2005) #5 PLATINUM (Avatar Comics) Very Fine

ESCAPE OF THE LIVING DEAD: AIRBORNE (2006) #2 PLATINUM (Avatar Comics) Very Fine

ETERNAL WARRIOR (1992) #49 (Acclaim/Valiant) Very Fine
ETERNAL WARRIOR (1992) #50 (Acclaim/Valiant) Fine

ETERNAL WARRIOR: FIST & STEEL (1996) #2 (Acclaim/Valiant) Near Mint/Mint

ETERNAL WARRIORS: IMMORTAL ENEMY (1998) #1 (Acclaim/Valiant) Near Mint/Mint

EUREKA (2000) (#1-4) (EUREKA!) (RADIO COMIX) #4 (Radio Comix) Very Fine

EVIL DEAD 2: A MERRY DEADITE X-MAS ONE-SHOT (2016) #1 (Space Goat Productions) Near Mint/Mint
EVIL DEAD 2: A MERRY DEADITE X-MAS ONE-SHOT (2016) #1 (Space Goat Productions) Very Fine

EVIL DEAD 2: REVENGE OF EVIL ED (2016) #2 (Spg Comics) Near Mint/Mint

EVIL DEAD 2: REVENGE OF JACK THE RIPPER ONE-SHOT (2016) #1 JONES (Space Goat Productions) Near Mint/Mint

EVIL DEAD 2: REVENGE OF KRAMPUS ONE-SHOT (2016) #1 (Space Goat Productions) Near Mint/Mint

EVIL DEAD 2: TALES OF THE EXMORTIS (2015) #3 (Space Goat Productions) Near Mint/Mint

EVIL EMPIRE (2014) #6 (Boom Studios Publishing) Near Mint/Mint

EVIL EYE (1998) #4 (Fantagraphics) Near Mint/Mint
EVIL EYE (1998) #6 (Fantagraphics) Very Fine
EVIL EYE (1998) #7 (Fantagraphics) Very Fine
EVIL EYE (1998) #8 (Fantagraphics) Very Fine
EVIL EYE (1998) #9 (Fantagraphics) Fine
EVIL EYE (1998) #10 (Fantagraphics) Fine

FUTURAMA COMICS (2000) #5 (Bongo Comics) Near Mint/Mint
FUTURAMA COMICS (2000) #52 (Bongo Comics) Near Mint/Mint
FUTURAMA COMICS (2000) #53 (Bongo Comics) Near Mint/Mint
FUTURAMA COMICS (2000) #54 (Bongo Comics) Very Fine
FUTURAMA COMICS (2000) #55 (Bongo Comics) Very Fine


FUTURAMA/SIMPSONS SPECIAL CROSSOVER CRISIS (2002) #1

FUTURAMA/SIMPSONS SPECIAL CROSSOVER CRISIS (2002) #1 (Bongo Comics) Near Mint/Mint

GHOST MONEY (2017) #2 (Lion Forge) Near Mint/Mint

GUMBALLS (2016) #2 SUBSCRIPT (IDW Publishing) Near Mint/Mint
GUMBALLS (2016) #3 A NATIONS (IDW Publishing) Near Mint/Mint

ITCHY & SCRATCHY COMICS (1993) #3 (Bongo Comics) Near Mint/Mint

LOCKE & KEY: GUIDE TO THE KNOWN KEYS ONE-SHOT (2011) #1 2ND PRINT (IDW Publishing) Near Mint/Mint

NEONOMICON (2010) #1 (Avatar Comics) Near Mint/Mint
NEONOMICON (2010) #1 AUXILIARY (Avatar Comics) Near Mint/Mint
NEONOMICON (2010) #1 BOOK/DEAD (Avatar Comics) Near Mint/Mint
NEONOMICON (2010) #1 CHICAGOCON (Avatar Comics) Near Mint/Mint
NEONOMICON (2010) #1 NEW YORK (Avatar Comics) Near Mint/Mint
NEONOMICON (2010) #1 PROJECTCON (Avatar Comics) Near Mint/Mint
NEONOMICON (2010) #1 SDCC (Avatar Comics) Near Mint/Mint
NEONOMICON (2010) #1 WRAPAROUND (Avatar Comics) Near Mint/Mint
NEONOMICON (2010) #2 (Avatar Comics) Near Mint/Mint
NEONOMICON (2010) #2 AUXILIARY (Avatar Comics) Near Mint/Mint
NEONOMICON (2010) #2 BOOK/DEAD (Avatar Comics) Near Mint/Mint
NEONOMICON (2010) #2 NEW YORK (Avatar Comics) Very Fine
NEONOMICON (2010) #2 WRAPAROUND (Avatar Comics) Near Mint/Mint
NEONOMICON (2010) #3 (Avatar Comics) Near Mint/Mint
NEONOMICON (2010) #3 AUXILIARY (Avatar Comics) Near Mint/Mint
NEONOMICON (2010) #3 BOOK/DEAD (Avatar Comics) Near Mint/Mint
NEONOMICON (2010) #3 WRAPAROUND (Avatar Comics) Near Mint/Mint
NEONOMICON (2010) #4 (Avatar Comics) Near Mint/Mint
NEONOMICON (2010) #4 AUXILIARY (Avatar Comics) Near Mint/Mint
NEONOMICON (2010) #4 BOOK/DEAD (Avatar Comics) Near Mint/Mint
NEONOMICON (2010) #4 WRAPAROUND (Avatar Comics) Near Mint/Mint

NEONOMICON HORNBOOK (2009) #1 MOTOR CITY (Avatar Comics) Near Mint/Mint
NEONOMICON HORNBOOK (2009) #1 WONDERCON (Avatar Comics) Near Mint/Mint

RADIOACTIVE MAN 80-PAGE COLOSSAL #1 NEWSSTAND (Bongo Comics) Very Fine

RED SONJA (2005) (#0-80) (DYNAMITE) #7 HUGHES (DYNAMITE Entertainment) Near Mint/Mint

SIMPSONS COMICS (BONGO) (1993) #2 (Bongo Comics) Very Fine


SIMPSONS COMICS (BONGO) (1993) #4

SIMPSONS COMICS (BONGO) (1993) #4 (Bongo Comics) Near Mint/Mint

STAR TREK VS. TRANSFORMERS (2018) #1 A MURPHY (IDW Publishing) Near Mint/Mint
STAR TREK VS. TRANSFORMERS (2018) #1 B MURPHY (IDW Publishing) Near Mint/Mint

STAR TREK: DISCOVERY - SUCCESSION (2018) #3 A HERNANDE (IDW Publishing) Near Mint/Mint

STAR TREK: THE NEXT GENERATION - TERRA INCOGNITA (2018) #1 A SHASTEEN (IDW Publishing) Near Mint/Mint
STAR TREK: THE NEXT GENERATION - TERRA INCOGNITA (2018) #2 B PHOTO (IDW Publishing) Near Mint/Mint
STAR TREK: THE NEXT GENERATION - TERRA INCOGNITA (2018) #2 A SHASTEEN (IDW Publishing) Near Mint/Mint

STAR WARS ADVENTURES (2017) #13 A CHARRETI (IDW Publishing) Near Mint/Mint
STAR WARS ADVENTURES (2017) #14 A MAURICET (IDW Publishing) Near Mint/Mint

STARGATE ATLANTIS: SINGULARITY (2018) #2 A WHEATLEY (American Mythology) Near Mint/Mint
STARGATE ATLANTIS: SINGULARITY (2018) #2 B PHOTO (American Mythology) Near Mint/Mint
STARGATE ATLANTIS: SINGULARITY (2018) #2 C PHOTO (American Mythology) Near Mint/Mint

STEVEN UNIVERSE (2017) #18 OMAC (Boom Studios Publishing) Near Mint/Mint
STEVEN UNIVERSE (2017) #19 LEE (Boom Studios Publishing) Near Mint/Mint
STEVEN UNIVERSE (2017) #19 PENA (Boom Studios Publishing) Near Mint/Mint
STEVEN UNIVERSE (2017) #20 KURILICH (Boom Studios Publishing) Near Mint/Mint
STEVEN UNIVERSE (2017) #20 PENA (Boom Studios Publishing) Near Mint/Mint

STRANGERS IN PARADISE XXV (2017) #6 (Abstract Studio) Near Mint/Mint