Great New Comics Collection 4,000 Issues 1976-2000
Howdy!
After all of my heartfelt messages that I posted from this year's San Diego Comic-Con, I took a break on Monday in order to travel home. I cannot begin to express how comforting it feels to be out of the hubbub and limelight, and to just be back at Mile High Comics. I love our beautiful Mega-Store, and our awesome team who keep it functioning so well in my absence, more than words can tell. Rejoining them to strive to enhance our Jason St. selections even further truly fills my heart with joy.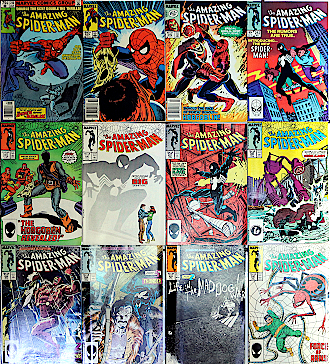 Some of the SPIDER-MAN comics we just got in

Before I had been back in the store for even an hour, Pam purchased a wonderful single-owner collection of comics. This collection is particularly nice because all the comics were purchased beginning in 1975, read once, and then put away in secure storage. Watch for the posting of the latest update of our Premium New-In-Stock link each morning for the latest availabilities.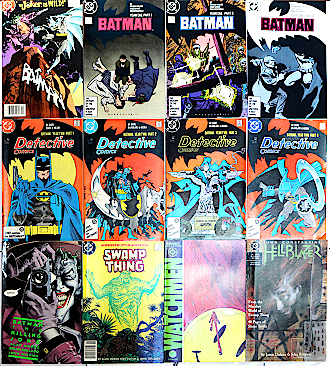 Some of DC comics we just got in

Speaking of buying new collections, I did want to (again) mention that that there is never a day that we close our Jason St. Mega-Store where we do not have more comics in stock at the end of the day than what we owned when we opened that morning. Pam, Lisa, and Will buy anywhere from 3-15 collections per day, with some of them numbering in the thousands of issues. Buying more than I sell on any given day has been my lifelong secret to accumulating what I believe is the largest and most comprehensive inventory of comics in the world, bar none. Truth be told, I have no idea of how many actual back issues that I currently own, but by my best estimates we passed ten million comics, magazines, and books in stock a couple of years back. Happiness is a full Mega-Store!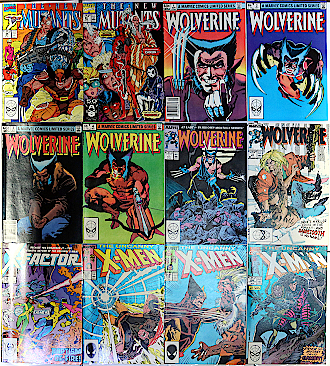 Some of X-MEN comics we just got in

That's all I really have for you today, so I will let Will fill the rest of today's newsletter with links to some of the great back issues that we just purchased. All are still available to you at 60% off of our list prices when you utilize our current SUMMER! codeword sale. Only new issues, a few variants, and our professionally-graded titles are exempt.
Happy collecting!
Chuck Rozanski/Bettie Pages,
President - Mile High Comics, Inc.
July 24, 2019
MARVEL
5 RONIN (2011) #1 Near Mint/Mint
5 RONIN (2011) #1 Very Fine
5 RONIN (2011) #4 Near Mint/Mint

CAPTAIN AMERICA (1968) (#100-454) (MARVEL) #115 Very Good
CAPTAIN AMERICA (1968) (#100-454) (MARVEL) #286 NEWSSTAND Very Fine
CAPTAIN AMERICA (1968) (#100-454) (MARVEL) #300 Near Mint/Mint

CLASSIC X-MEN (1986) #1 Very Fine
CLASSIC X-MEN (1986) #8 Very Fine
CLASSIC X-MEN (1986) #20 Very Fine
CLASSIC X-MEN (1986) #22 Near Mint/Mint
CLASSIC X-MEN (1986) #25 Very Fine
CLASSIC X-MEN (1986) #27 Very Fine
CLASSIC X-MEN (1986) #29 Very Fine

CONAN (1970) (#1-275) (CONAN THE BARBARIAN) (MARVEL) #1 Fine

DAMAGE CONTROL (1989) #4 Very Fine

DAREDEVIL (1964) (#1-380) (MAN WITHOUT FEAR) (MARVEL) #168 NEWSSTAND Very Fine

DAREDEVIL (2014) (#0-18) (MARVEL) #10 Near Mint/Mint
DAREDEVIL (2014) (#0-18) (MARVEL) #11 Near Mint/Mint
DAREDEVIL (2014) (#0-18) (MARVEL) #16 Near Mint/Mint
DAREDEVIL (2014) (#0-18) (MARVEL) #16 MALEEV Very Fine

DAREDEVIL (2016) (#1-28) (MARVEL) #6 MCLEOD Near Mint/Mint
DAREDEVIL (2016) (#1-28) (MARVEL) #9 RAHZZAH Near Mint/Mint
DAREDEVIL (2016) (#1-28) (MARVEL) #10 MCGUINNESS Near Mint/Mint

DAREDEVIL ANNUAL (2016) #1 YOUNG BABY Very Fine

DAREDEVIL/PUNISHER (2016) #4 Near Mint/Mint

DAREDEVIL: BLACK & WHITE (2010) #1 Very Fine

DAREDEVIL: END OF DAYS (2012) #4 MACK Very Fine
DAREDEVIL: END OF DAYS (2012) #6 VARIANT Near Mint/Mint

DAREDEVIL: FATHER (2004) #1 WIZ WORLD Near Mint/Mint

DAREDEVIL: FATHER (2004) #5 Near Mint/Mint

DAREDEVIL: YELLOW (2001) #4 Very Fine

DARK AVENGERS (2009) #4 VARIANT Near Mint/Mint
DARK AVENGERS (2009) #14 Near Mint/Mint
DARK AVENGERS (2009) #15 Near Mint/Mint
DARK AVENGERS (2009) #190 Near Mint/Mint

DARK AVENGERS: ARES (2009) #3 Very Fine

DARK REIGN FILES (2009) #1 Near Mint/Mint

DARK REIGN: THE LIST - AVENGERS (2009) #1 Very Fine

DARK REIGN: YOUNG AVENGERS (2009) #2 Very Fine

DARKHAWK (1991) (#1-50) (MARVEL) #1 Very Fine

FEAR (ADVENTURE INTO...) (1970) #10 Very Good

GI JOE #91 Fine

GROO THE WANDERER (1985) #50 Near Mint/Mint
GROO THE WANDERER (1985) #51 Near Mint/Mint
GROO THE WANDERER (1985) #78 Near Mint/Mint
GROO THE WANDERER (1985) #79 Near Mint/Mint

HULK (1962) (#1-6, #102-474, #600-635)(INCREDIBLE)(MV) #201 Fine
HULK (1962) (#1-6, #102-474, #600-635)(INCREDIBLE)(MV) #202 Very Fine
HULK (1962) (#1-6, #102-474, #600-635)(INCREDIBLE)(MV) #205 Very Fine
HULK (1962) (#1-6, #102-474, #600-635)(INCREDIBLE)(MV) #206 Near Mint/Mint
HULK (1962) (#1-6, #102-474, #600-635)(INCREDIBLE)(MV) #309 Near Mint/Mint
HULK (1962) (#1-6, #102-474, #600-635)(INCREDIBLE)(MV) #310 Near Mint/Mint
HULK (1962) (#1-6, #102-474, #600-635)(INCREDIBLE)(MV) #311 Near Mint/Mint
HULK (1962) (#1-6, #102-474, #600-635)(INCREDIBLE)(MV) #324 Fine
HULK (1962) (#1-6, #102-474, #600-635)(INCREDIBLE)(MV) #325 Fine
HULK (1962) (#1-6, #102-474, #600-635)(INCREDIBLE)(MV) #326 Very Fine
HULK (1962) (#1-6, #102-474, #600-635)(INCREDIBLE)(MV) #330 Fine
HULK (1962) (#1-6, #102-474, #600-635)(INCREDIBLE)(MV) #331 Fine
HULK (1962) (#1-6, #102-474, #600-635)(INCREDIBLE)(MV) #332 Fine
HULK (1962) (#1-6, #102-474, #600-635)(INCREDIBLE)(MV) #333 Fine
HULK (1962) (#1-6, #102-474, #600-635)(INCREDIBLE)(MV) #334 Fine


HULK (1962) (#1-6, #102-474, #600-635)(INCREDIBLE)(MV) #339

HULK (1962) (#1-6, #102-474, #600-635)(INCREDIBLE)(MV) #339 Very Fine
HULK (1962) (#1-6, #102-474, #600-635)(INCREDIBLE)(MV) #341 Near Mint/Mint
HULK (1962) (#1-6, #102-474, #600-635)(INCREDIBLE)(MV) #342 Fine
HULK (1962) (#1-6, #102-474, #600-635)(INCREDIBLE)(MV) #343 Very Fine
HULK (1962) (#1-6, #102-474, #600-635)(INCREDIBLE)(MV) #344 Near Mint/Mint
HULK (1962) (#1-6, #102-474, #600-635)(INCREDIBLE)(MV) #345 Near Mint/Mint
HULK (1962) (#1-6, #102-474, #600-635)(INCREDIBLE)(MV) #346 Very Fine
HULK (1962) (#1-6, #102-474, #600-635)(INCREDIBLE)(MV) #347 Very Fine
HULK (1962) (#1-6, #102-474, #600-635)(INCREDIBLE)(MV) #350 Fine
HULK (1962) (#1-6, #102-474, #600-635)(INCREDIBLE)(MV) #358 Near Mint/Mint
HULK (1962) (#1-6, #102-474, #600-635)(INCREDIBLE)(MV) #359 Very Fine
HULK (1962) (#1-6, #102-474, #600-635)(INCREDIBLE)(MV) #361 Near Mint/Mint
HULK (1962) (#1-6, #102-474, #600-635)(INCREDIBLE)(MV) #363 Near Mint/Mint

HULK VS. WOLVERINE (INCREDIBLE HULK AND WOLVERINE) (1986) #1 Fine

INFINITY GAUNTLET (1991) #1 Very Fine

INFINITY WAR (1992) #3 NEWSSTAND Very Fine
INFINITY WAR (1992) #4 Near Mint/Mint
INFINITY WAR (1992) #5 Near Mint/Mint

IRON MAN (1968) (#1-332) (INVINCIBLE IRON MAN)(MARVEL) #128 NEWSSTAND Very Good

IRON MAN & SUB-MARINER (1968) #1 Good

MAN-THING (1974) (#1-22) (MARVEL) #1 Good

MARVEL SPOTLIGHT (1971) (#1-33) (MARVEL) #32 Very Good

NEW MUTANTS (1983) (#1-100) (MARVEL) #87 Good
NEW MUTANTS (1983) (#1-100) (MARVEL) #88 Very Good
NEW MUTANTS (1983) (#1-100) (MARVEL) #89 Very Good
NEW MUTANTS (1983) (#1-100) (MARVEL) #90 Very Good
NEW MUTANTS (1983) (#1-100) (MARVEL) #91 NEWSSTAND Very Good
NEW MUTANTS (1983) (#1-100) (MARVEL) #93 Very Good
NEW MUTANTS (1983) (#1-100) (MARVEL) #94 Near Mint/Mint
NEW MUTANTS (1983) (#1-100) (MARVEL) #95 NEWSSTAND Good
NEW MUTANTS (1983) (#1-100) (MARVEL) #96 NEWSSTAND Good
NEW MUTANTS (1983) (#1-100) (MARVEL) #97 NEWSSTAND Good
NEW MUTANTS (1983) (#1-100) (MARVEL) #98 Near Mint/Mint


NEW MUTANTS (1983) (#1-100) (MARVEL) #98

NEW MUTANTS (1983) (#1-100) (MARVEL) #98 Very Good
NEW MUTANTS (1983) (#1-100) (MARVEL) #99 NEWSSTAND Very Good
NEW MUTANTS (1983) (#1-100) (MARVEL) #100 NEWSSTAND Very Good

NICK FURY VS. S.H.I.E.L.D. (1988) #2 Near Mint/Mint

PETER PARKER (1976) (#1-263) (SPECTACULAR SPIDER-MAN) #131 Very Fine
PETER PARKER (1976) (#1-263) (SPECTACULAR SPIDER-MAN) #132 Very Fine
PETER PARKER (1976) (#1-263) (SPECTACULAR SPIDER-MAN) #135 Near Mint/Mint
PETER PARKER (1976) (#1-263) (SPECTACULAR SPIDER-MAN) #136 Near Mint/Mint
PETER PARKER (1976) (#1-263) (SPECTACULAR SPIDER-MAN) #139 Very Fine
PETER PARKER (1976) (#1-263) (SPECTACULAR SPIDER-MAN) #148 Very Fine
PETER PARKER (1976) (#1-263) (SPECTACULAR SPIDER-MAN) #221 Near Mint/Mint

SHE-HULK (1989) (#1-60) (SENSATIONAL SHE-HULK)(MARVEL) #1 NEWSSTAND Near Mint/Mint
SHE-HULK (1989) (#1-60) (SENSATIONAL SHE-HULK)(MARVEL) #1 NEWSSTAND Very Good

SILVER SURFER (1987) (#1-146) (MARVEL) #1 Fine
SILVER SURFER (1987) (#1-146) (MARVEL) #8 Near Mint/Mint
SILVER SURFER (1987) (#1-146) (MARVEL) #9 Near Mint/Mint
SILVER SURFER (1987) (#1-146) (MARVEL) #10 Near Mint/Mint
SILVER SURFER (1987) (#1-146) (MARVEL) #14 Near Mint/Mint
SILVER SURFER (1987) (#1-146) (MARVEL) #15 Near Mint/Mint
SILVER SURFER (1987) (#1-146) (MARVEL) #18 Near Mint/Mint
SILVER SURFER (1987) (#1-146) (MARVEL) #19 Fine
SILVER SURFER (1987) (#1-146) (MARVEL) #23 Near Mint/Mint
SILVER SURFER (1987) (#1-146) (MARVEL) #25 Near Mint/Mint
SILVER SURFER (1987) (#1-146) (MARVEL) #27 Fine
SILVER SURFER (1987) (#1-146) (MARVEL) #31 Near Mint/Mint
SILVER SURFER (1987) (#1-146) (MARVEL) #49 Near Mint/Mint
SILVER SURFER (1987) (#1-146) (MARVEL) #50 Near Mint/Mint

SILVER SURFER (1988) (#1-2) (MARVEL) (EPIC) (MOEBIUS) #1 Near Mint/Mint
SILVER SURFER (1988) (#1-2) (MARVEL) (EPIC) (MOEBIUS) #2 Near Mint/Mint

SOLO AVENGERS (AVENGERS SPOTLIGHT #21-40) (1987) #12 Near Mint/Mint
SOLO AVENGERS (AVENGERS SPOTLIGHT #21-40) (1987) #14 Near Mint/Mint

SPEEDBALL (1988) #2 Near Mint/Mint
SPEEDBALL (1988) #4 Near Mint/Mint

SPIDER-MAN (1963) (AMAZING SPIDER-MAN) (#1-441) #69 Very Good
SPIDER-MAN (1963) (AMAZING SPIDER-MAN) (#1-441) #197 NEWSSTAND Very Good


SPIDER-MAN (1963) (AMAZING SPIDER-MAN) (#1-441) #198 NEWSSTAND

SPIDER-MAN (1963) (AMAZING SPIDER-MAN) (#1-441) #198 NEWSSTAND Fine
SPIDER-MAN (1963) (AMAZING SPIDER-MAN) (#1-441) #199 NEWSSTAND Fine
SPIDER-MAN (1963) (AMAZING SPIDER-MAN) (#1-441) #200 NEWSSTAND Near Mint/Mint
SPIDER-MAN (1963) (AMAZING SPIDER-MAN) (#1-441) #201 NEWSSTAND Fine
SPIDER-MAN (1963) (AMAZING SPIDER-MAN) (#1-441) #202 NEWSSTAND Fine
SPIDER-MAN (1963) (AMAZING SPIDER-MAN) (#1-441) #204 Very Fine
SPIDER-MAN (1963) (AMAZING SPIDER-MAN) (#1-441) #205 Fine
SPIDER-MAN (1963) (AMAZING SPIDER-MAN) (#1-441) #206 NEWSSTAND Very Fine
SPIDER-MAN (1963) (AMAZING SPIDER-MAN) (#1-441) #207 NEWSSTAND Very Fine
SPIDER-MAN (1963) (AMAZING SPIDER-MAN) (#1-441) #209 Near Mint/Mint
SPIDER-MAN (1963) (AMAZING SPIDER-MAN) (#1-441) #210 NEWSSTAND Very Good
SPIDER-MAN (1963) (AMAZING SPIDER-MAN) (#1-441) #211 Very Fine
SPIDER-MAN (1963) (AMAZING SPIDER-MAN) (#1-441) #213 Near Mint/Mint
SPIDER-MAN (1963) (AMAZING SPIDER-MAN) (#1-441) #214 Very Fine
SPIDER-MAN (1963) (AMAZING SPIDER-MAN) (#1-441) #231 NEWSSTAND Fine
SPIDER-MAN (1963) (AMAZING SPIDER-MAN) (#1-441) #232 NEWSSTAND Fine
SPIDER-MAN (1963) (AMAZING SPIDER-MAN) (#1-441) #236 NEWSSTAND Near Mint/Mint
SPIDER-MAN (1963) (AMAZING SPIDER-MAN) (#1-441) #242 NEWS JEWEL Fine
SPIDER-MAN (1963) (AMAZING SPIDER-MAN) (#1-441) #243 NEWS JEWEL Fine
SPIDER-MAN (1963) (AMAZING SPIDER-MAN) (#1-441) #244 NEWS JEWEL Fine
SPIDER-MAN (1963) (AMAZING SPIDER-MAN) (#1-441) #245 NEWSSTAND Near Mint/Mint
SPIDER-MAN (1963) (AMAZING SPIDER-MAN) (#1-441) #247 NEWSSTAND Very Fine
SPIDER-MAN (1963) (AMAZING SPIDER-MAN) (#1-441) #248 NEWSSTAND Fine
SPIDER-MAN (1963) (AMAZING SPIDER-MAN) (#1-441) #249 NEWSSTAND Very Fine
SPIDER-MAN (1963) (AMAZING SPIDER-MAN) (#1-441) #250 NEWSSTAND Very Fine
SPIDER-MAN (1963) (AMAZING SPIDER-MAN) (#1-441) #251 NEWSSTAND Fine
SPIDER-MAN (1963) (AMAZING SPIDER-MAN) (#1-441) #252 Near Mint/Mint
SPIDER-MAN (1963) (AMAZING SPIDER-MAN) (#1-441) #253 NEWSSTAND Very Fine
SPIDER-MAN (1963) (AMAZING SPIDER-MAN) (#1-441) #254 NEWSSTAND Fine
SPIDER-MAN (1963) (AMAZING SPIDER-MAN) (#1-441) #255 NEWSSTAND Very Fine
SPIDER-MAN (1963) (AMAZING SPIDER-MAN) (#1-441) #258 NEWSSTAND Fine
SPIDER-MAN (1963) (AMAZING SPIDER-MAN) (#1-441) #261 Near Mint/Mint
SPIDER-MAN (1963) (AMAZING SPIDER-MAN) (#1-441) #262 NEWSSTAND Fine
SPIDER-MAN (1963) (AMAZING SPIDER-MAN) (#1-441) #263 Fine
SPIDER-MAN (1963) (AMAZING SPIDER-MAN) (#1-441) #265 NEWSSTAND Very Fine
SPIDER-MAN (1963) (AMAZING SPIDER-MAN) (#1-441) #266 NEWSSTAND Very Fine
SPIDER-MAN (1963) (AMAZING SPIDER-MAN) (#1-441) #270 NEWSSTAND Very Fine
SPIDER-MAN (1963) (AMAZING SPIDER-MAN) (#1-441) #274 NEWSSTAND Fine
SPIDER-MAN (1963) (AMAZING SPIDER-MAN) (#1-441) #275 Fine
SPIDER-MAN (1963) (AMAZING SPIDER-MAN) (#1-441) #277 Very Fine
SPIDER-MAN (1963) (AMAZING SPIDER-MAN) (#1-441) #278 Very Fine
SPIDER-MAN (1963) (AMAZING SPIDER-MAN) (#1-441) #280 Very Fine
SPIDER-MAN (1963) (AMAZING SPIDER-MAN) (#1-441) #282 Very Fine


SPIDER-MAN (1963) (AMAZING SPIDER-MAN) (#1-441) #283

SPIDER-MAN (1963) (AMAZING SPIDER-MAN) (#1-441) #283 Fine
SPIDER-MAN (1963) (AMAZING SPIDER-MAN) (#1-441) #284 Fine
SPIDER-MAN (1963) (AMAZING SPIDER-MAN) (#1-441) #285 Fine
SPIDER-MAN (1963) (AMAZING SPIDER-MAN) (#1-441) #286 Very Fine
SPIDER-MAN (1963) (AMAZING SPIDER-MAN) (#1-441) #287 Very Fine
SPIDER-MAN (1963) (AMAZING SPIDER-MAN) (#1-441) #288 Near Mint/Mint
SPIDER-MAN (1963) (AMAZING SPIDER-MAN) (#1-441) #289 Near Mint/Mint
SPIDER-MAN (1963) (AMAZING SPIDER-MAN) (#1-441) #290 Near Mint/Mint
SPIDER-MAN (1963) (AMAZING SPIDER-MAN) (#1-441) #291 Near Mint/Mint
SPIDER-MAN (1963) (AMAZING SPIDER-MAN) (#1-441) #292 Near Mint/Mint
SPIDER-MAN (1963) (AMAZING SPIDER-MAN) (#1-441) #293 Near Mint/Mint
SPIDER-MAN (1963) (AMAZING SPIDER-MAN) (#1-441) #294 Near Mint/Mint
SPIDER-MAN (1963) (AMAZING SPIDER-MAN) (#1-441) #296 Very Fine
SPIDER-MAN (1963) (AMAZING SPIDER-MAN) (#1-441) #297 Near Mint/Mint
SPIDER-MAN (1963) (AMAZING SPIDER-MAN) (#1-441) #298 Near Mint/Mint
SPIDER-MAN (1963) (AMAZING SPIDER-MAN) (#1-441) #299 Near Mint/Mint
SPIDER-MAN (1963) (AMAZING SPIDER-MAN) (#1-441) #300 NEWSSTAND Near Mint/Mint
SPIDER-MAN (1963) (AMAZING SPIDER-MAN) (#1-441) #301 Near Mint/Mint
SPIDER-MAN (1963) (AMAZING SPIDER-MAN) (#1-441) #302 Near Mint/Mint
SPIDER-MAN (1963) (AMAZING SPIDER-MAN) (#1-441) #303 Near Mint/Mint
SPIDER-MAN (1963) (AMAZING SPIDER-MAN) (#1-441) #304 Very Fine
SPIDER-MAN (1963) (AMAZING SPIDER-MAN) (#1-441) #305 Fine
SPIDER-MAN (1963) (AMAZING SPIDER-MAN) (#1-441) #306 Near Mint/Mint
SPIDER-MAN (1963) (AMAZING SPIDER-MAN) (#1-441) #307 Near Mint/Mint
SPIDER-MAN (1963) (AMAZING SPIDER-MAN) (#1-441) #308 Near Mint/Mint
SPIDER-MAN (1963) (AMAZING SPIDER-MAN) (#1-441) #309 Near Mint/Mint
SPIDER-MAN (1963) (AMAZING SPIDER-MAN) (#1-441) #311 Fine
SPIDER-MAN (1963) (AMAZING SPIDER-MAN) (#1-441) #312 Near Mint/Mint
SPIDER-MAN (1963) (AMAZING SPIDER-MAN) (#1-441) #313 Fine
SPIDER-MAN (1963) (AMAZING SPIDER-MAN) (#1-441) #314 Very Fine
SPIDER-MAN (1963) (AMAZING SPIDER-MAN) (#1-441) #315 NEWSSTAND Fine
SPIDER-MAN (1963) (AMAZING SPIDER-MAN) (#1-441) #317 NEWSSTAND Very Fine
SPIDER-MAN (1963) (AMAZING SPIDER-MAN) (#1-441) #318 NEWSSTAND Fine
SPIDER-MAN (1963) (AMAZING SPIDER-MAN) (#1-441) #333 NEWSSTAND Very Fine
SPIDER-MAN (1963) (AMAZING SPIDER-MAN) (#1-441) #338 Near Mint/Mint
SPIDER-MAN (1963) (AMAZING SPIDER-MAN) (#1-441) #339 Near Mint/Mint
SPIDER-MAN (1963) (AMAZING SPIDER-MAN) (#1-441) #342 Very Fine
SPIDER-MAN (1963) (AMAZING SPIDER-MAN) (#1-441) #343 INSERT Near Mint/Mint
SPIDER-MAN (1963) (AMAZING SPIDER-MAN) (#1-441) #344 Near Mint/Mint
SPIDER-MAN (1963) (AMAZING SPIDER-MAN) (#1-441) #345 Near Mint/Mint
SPIDER-MAN (1963) (AMAZING SPIDER-MAN) (#1-441) #346 Fine


SPIDER-MAN (1963) (AMAZING SPIDER-MAN) (#1-441) #347

SPIDER-MAN (1963) (AMAZING SPIDER-MAN) (#1-441) #347 Very Fine
SPIDER-MAN (1963) (AMAZING SPIDER-MAN) (#1-441) #348 INSERT Fine

SPIDER-MAN (1990) (#1-74, PETER PARKER SPIDEY #75-98) #11 Fine
SPIDER-MAN (1990) (#1-74, PETER PARKER SPIDEY #75-98) #12 NEWSSTAND Fine
SPIDER-MAN (1990) (#1-74, PETER PARKER SPIDEY #75-98) #13 Near Mint/Mint
SPIDER-MAN (1990) (#1-74, PETER PARKER SPIDEY #75-98) #14 Near Mint/Mint
SPIDER-MAN (1990) (#1-74, PETER PARKER SPIDEY #75-98) #19 NEWSSTAND Good
SPIDER-MAN (1990) (#1-74, PETER PARKER SPIDEY #75-98) #36 Fine
SPIDER-MAN (1990) (#1-74, PETER PARKER SPIDEY #75-98) #37 Fine
SPIDER-MAN (1990) (#1-74, PETER PARKER SPIDEY #75-98) #44 Near Mint/Mint
SPIDER-MAN (1990) (#1-74, PETER PARKER SPIDEY #75-98) #45 Near Mint/Mint
SPIDER-MAN (1990) (#1-74, PETER PARKER SPIDEY #75-98) #47 Near Mint/Mint
SPIDER-MAN (1990) (#1-74, PETER PARKER SPIDEY #75-98) #48 Near Mint/Mint
SPIDER-MAN (1990) (#1-74, PETER PARKER SPIDEY #75-98) #50 DELUXE Near Mint/Mint
SPIDER-MAN (1990) (#1-74, PETER PARKER SPIDEY #75-98) #52 Near Mint/Mint
SPIDER-MAN (1990) (#1-74, PETER PARKER SPIDEY #75-98) #58 Near Mint/Mint

SPIDER-MAN 2099 (1992) (#1-46) (MARVEL) #20 Near Mint/Mint
SPIDER-MAN 2099 (1992) (#1-46) (MARVEL) #25 DELUXENEWS Near Mint/Mint
SPIDER-MAN 2099 (1992) (#1-46) (MARVEL) #36 VENOM 2099 Near Mint/Mint
SPIDER-MAN 2099 (1992) (#1-46) (MARVEL) #37 Near Mint/Mint

SPIDER-MAN ANNUAL (1964) (#1-28) (MARVEL) #13 NEWSSTAND Fine
SPIDER-MAN ANNUAL (1964) (#1-28) (MARVEL) #19 NEWSSTAND Fine
SPIDER-MAN ANNUAL (1964) (#1-28) (MARVEL) #21 NEWS Near Mint/Mint
SPIDER-MAN ANNUAL (1964) (#1-28) (MARVEL) #22 Fine

SPIDER-MAN VS. WOLVERINE (1987) #1 Fine

SPIDER-WOMAN (1978) (#1-50) (JESSICA DREW) (MARVEL) #1 Very Fine

STAR BRAND (1986) #16 Near Mint/Mint
STAR BRAND (1986) #17 NEWSSTAND Fine

TALES OF SUSPENSE (1959) (#1-99) (ATLAS/MARVEL) #43 Fair
TALES OF SUSPENSE (1959) (#1-99) (ATLAS/MARVEL) #47 Good

TALES TO ASTONISH (1959) (#1-21 ATLAS, #22-101 MARVEL) #81 Very Good
TALES TO ASTONISH (1959) (#1-21 ATLAS, #22-101 MARVEL) #95 Fine
TALES TO ASTONISH (1959) (#1-21 ATLAS, #22-101 MARVEL) #101 Fine


THOR (1962) (#83-125 JOURNEY INTO MYSTERY, 126-502) #141

THOR (1962) (#83-125 JOURNEY INTO MYSTERY, 126-502) #141 Fine

UNCANNY X-FORCE (2010) (#1-35) (MARVEL) #1 Very Fine
UNCANNY X-FORCE (2010) (#1-35) (MARVEL) #3 NEWSSTAND Fine
UNCANNY X-FORCE (2010) (#1-35) (MARVEL) #4 Fine
UNCANNY X-FORCE (2010) (#1-35) (MARVEL) #5 .1 NEWS Very Good
UNCANNY X-FORCE (2010) (#1-35) (MARVEL) #5 NEWSSTAND Fine
UNCANNY X-FORCE (2010) (#1-35) (MARVEL) #6 NEWSSTAND Very Fine
UNCANNY X-FORCE (2010) (#1-35) (MARVEL) #7 Very Fine
UNCANNY X-FORCE (2010) (#1-35) (MARVEL) #8 Near Mint/Mint
UNCANNY X-FORCE (2010) (#1-35) (MARVEL) #9 Near Mint/Mint

UNCANNY X-FORCE (2013) (#1-17) (MARVEL) #3 NEWSSTAND Near Mint/Mint
UNCANNY X-FORCE (2013) (#1-17) (MARVEL) #13 NEWSSTAND Very Fine

VISION/SCARLET WITCH (1985) #9 Near Mint/Mint
VISION/SCARLET WITCH (1985) #11 Fine

WARLOCK AND THE INFINITY WATCH (1992) #1 Fine

WEB OF SPIDER-MAN (1985) (#1-129) (MARVEL) #1 Fine
WEB OF SPIDER-MAN (1985) (#1-129) (MARVEL) #5 Near Mint/Mint
WEB OF SPIDER-MAN (1985) (#1-129) (MARVEL) #6 Near Mint/Mint
WEB OF SPIDER-MAN (1985) (#1-129) (MARVEL) #8 Near Mint/Mint
WEB OF SPIDER-MAN (1985) (#1-129) (MARVEL) #8 NEWSSTAND Very Good
WEB OF SPIDER-MAN (1985) (#1-129) (MARVEL) #19 Fine
WEB OF SPIDER-MAN (1985) (#1-129) (MARVEL) #21 Near Mint/Mint
WEB OF SPIDER-MAN (1985) (#1-129) (MARVEL) #22 Near Mint/Mint
WEB OF SPIDER-MAN (1985) (#1-129) (MARVEL) #24 Near Mint/Mint
WEB OF SPIDER-MAN (1985) (#1-129) (MARVEL) #27 NEWSSTAND Very Fine
WEB OF SPIDER-MAN (1985) (#1-129) (MARVEL) #29 Near Mint/Mint
WEB OF SPIDER-MAN (1985) (#1-129) (MARVEL) #31 Very Fine
WEB OF SPIDER-MAN (1985) (#1-129) (MARVEL) #32 Very Fine
WEB OF SPIDER-MAN (1985) (#1-129) (MARVEL) #37 Near Mint/Mint
WEB OF SPIDER-MAN (1985) (#1-129) (MARVEL) #38 Very Fine
WEB OF SPIDER-MAN (1985) (#1-129) (MARVEL) #39 Near Mint/Mint
WEB OF SPIDER-MAN (1985) (#1-129) (MARVEL) #40 Near Mint/Mint
WEB OF SPIDER-MAN (1985) (#1-129) (MARVEL) #41 Near Mint/Mint
WEB OF SPIDER-MAN (1985) (#1-129) (MARVEL) #42 Near Mint/Mint
WEB OF SPIDER-MAN (1985) (#1-129) (MARVEL) #44 Near Mint/Mint
WEB OF SPIDER-MAN (1985) (#1-129) (MARVEL) #50 Near Mint/Mint
WEB OF SPIDER-MAN (1985) (#1-129) (MARVEL) #51 Near Mint/Mint


WEB OF SPIDER-MAN (1985) (#1-129) (MARVEL) #52

WEB OF SPIDER-MAN (1985) (#1-129) (MARVEL) #52 Near Mint/Mint
WEB OF SPIDER-MAN (1985) (#1-129) (MARVEL) #53 Near Mint/Mint
WEB OF SPIDER-MAN (1985) (#1-129) (MARVEL) #54 Near Mint/Mint
WEB OF SPIDER-MAN (1985) (#1-129) (MARVEL) #94 Near Mint/Mint
WEB OF SPIDER-MAN (1985) (#1-129) (MARVEL) #103 Near Mint/Mint
WEB OF SPIDER-MAN (1985) (#1-129) (MARVEL) #111 Near Mint/Mint
WEB OF SPIDER-MAN (1985) (#1-129) (MARVEL) #116 Near Mint/Mint
WEB OF SPIDER-MAN (1985) (#1-129) (MARVEL) #118 Near Mint/Mint
WEB OF SPIDER-MAN (1985) (#1-129) (MARVEL) #119 Near Mint/Mint
WEB OF SPIDER-MAN (1985) (#1-129) (MARVEL) #122 Near Mint/Mint
WEB OF SPIDER-MAN (1985) (#1-129) (MARVEL) #125 DELUXE Very Fine

WEB OF SPIDER-MAN ANNUAL (1985) #3 Fine

WEB OF VENOM: FUNERAL PYRE (2019) #1 CRAIN Fine

WEST COAST AVENGERS (1985) (#1-102) (MARVEL) #45 Very Fine

WOLVERINE (1982) (#1-4) (MARVEL LIMITED SERIES) #1 NEWSSTAND Very Good
WOLVERINE (1982) (#1-4) (MARVEL LIMITED SERIES) #2 Very Fine
WOLVERINE (1982) (#1-4) (MARVEL LIMITED SERIES) #3 NEWSSTAND Fine
WOLVERINE (1982) (#1-4) (MARVEL LIMITED SERIES) #4 Very Fine

WOLVERINE (1988) (#1/2-189) (MARVEL) #1 Very Fine
WOLVERINE (1988) (#1/2-189) (MARVEL) #10 Near Mint/Mint

X 23 (2005) (#1-6) (MARVEL NEXT) #1 Good
X 23 (2005) (#1-6) (MARVEL NEXT) #2 LIMITED ED Very Good
X 23 (2005) (#1-6) (MARVEL NEXT) #3 Very Fine
X 23 (2005) (#1-6) (MARVEL NEXT) #4 Very Fine
X 23 (2005) (#1-6) (MARVEL NEXT) #5 Very Fine
X 23 (2005) (#1-6) (MARVEL NEXT) #6 Near Mint/Mint

X 23 (2010) (#1-21) (MARVEL) #2 Near Mint/Mint
X 23 (2010) (#1-21) (MARVEL) #4 Very Fine
X 23 (2010) (#1-21) (MARVEL) #5 Near Mint/Mint
X 23 (2010) (#1-21) (MARVEL) #6 Near Mint/Mint
X 23 (2010) (#1-21) (MARVEL) #7 Near Mint/Mint
X 23 (2010) (#1-21) (MARVEL) #8 Fine
X 23 (2010) (#1-21) (MARVEL) #9 Very Fine
X 23 (2010) (#1-21) (MARVEL) #10 Near Mint/Mint
X 23 (2010) (#1-21) (MARVEL) #11 Near Mint/Mint


X 23 (2010) (#1-21) (MARVEL) #12

X 23 (2010) (#1-21) (MARVEL) #12 Very Fine
X 23 (2010) (#1-21) (MARVEL) #13 Very Fine

X-FACTOR (1986) (#1-149) (ORIGINAL X-MEN) #1 Very Fine

X-MEN (1963) (#1-113, UNCANNY X-MEN #114-544) (MARVEL) #100 Good
X-MEN (1963) (#1-113, UNCANNY X-MEN #114-544) (MARVEL) #127 Very Fine
X-MEN (1963) (#1-113, UNCANNY X-MEN #114-544) (MARVEL) #128 JEWELERS Fine
X-MEN (1963) (#1-113, UNCANNY X-MEN #114-544) (MARVEL) #134 Very Fine
X-MEN (1963) (#1-113, UNCANNY X-MEN #114-544) (MARVEL) #135 Fine
X-MEN (1963) (#1-113, UNCANNY X-MEN #114-544) (MARVEL) #136 Very Good
X-MEN (1963) (#1-113, UNCANNY X-MEN #114-544) (MARVEL) #137 Fine
X-MEN (1963) (#1-113, UNCANNY X-MEN #114-544) (MARVEL) #138 NEWSSTAND Very Fine
X-MEN (1963) (#1-113, UNCANNY X-MEN #114-544) (MARVEL) #139 NEWSSTAND Good
X-MEN (1963) (#1-113, UNCANNY X-MEN #114-544) (MARVEL) #143 Very Fine
X-MEN (1963) (#1-113, UNCANNY X-MEN #114-544) (MARVEL) #221 Very Fine
X-MEN (1963) (#1-113, UNCANNY X-MEN #114-544) (MARVEL) #222 Fine
X-MEN (1963) (#1-113, UNCANNY X-MEN #114-544) (MARVEL) #266 Near Mint/Mint
X-MEN (1963) (#1-113, UNCANNY X-MEN #114-544) (MARVEL) #266 Very Fine
X-MEN (1963) (#1-113, UNCANNY X-MEN #114-544) (MARVEL) #450 Very Fine
X-MEN (1963) (#1-113, UNCANNY X-MEN #114-544) (MARVEL) #451 Near Mint/Mint

X-MEN AND THE TEEN TITANS (1982) #1 Very Fine

X-MEN INDEX (1987) #6 Near Mint/Mint

DC
52 (2006) #11 Near Mint/Mint
52 (2006) #11 Fine

BATMAN (1940) (#0-713) (DC) #169 Good
BATMAN (1940) (#0-713) (DC) #184 Good
BATMAN (1940) (#0-713) (DC) #186 Good
BATMAN (1940) (#0-713) (DC) #195 Good
BATMAN (1940) (#0-713) (DC) #366 NEWSSTAND Very Fine
BATMAN (1940) (#0-713) (DC) #404 Near Mint/Mint
BATMAN (1940) (#0-713) (DC) #405 Near Mint/Mint
BATMAN (1940) (#0-713) (DC) #406 Near Mint/Mint
BATMAN (1940) (#0-713) (DC) #407 Near Mint/Mint


BATMAN: THE KILLING JOKE (ALAN MOORE) (1988) #1

BATMAN: THE KILLING JOKE (ALAN MOORE) (1988) #1 Near Mint/Mint

DAMAGE (2017) (#1-UP) (DC) #1 Very Fine

DARK DAYS: THE FORGE & CASTING DIRECTOR'S CUT (2017) #1 Near Mint/Mint
DARK DAYS: THE FORGE & CASTING DIRECTOR'S CUT (2017) #1 Very Fine

DETECTIVE COMICS (1937) (#0-881) (DC) #575 Near Mint/Mint
DETECTIVE COMICS (1937) (#0-881) (DC) #576 Near Mint/Mint
DETECTIVE COMICS (1937) (#0-881) (DC) #577 Near Mint/Mint
DETECTIVE COMICS (1937) (#0-881) (DC) #578 Very Fine

GREEN ARROW (1988) (#0-137) (DC) #1 Very Fine
GREEN ARROW (1988) (#0-137) (DC) #9 Near Mint/Mint
GREEN ARROW (1988) (#0-137) (DC) #24 Near Mint/Mint
GREEN ARROW (1988) (#0-137) (DC) #25 Near Mint/Mint

HELLBLAZER (1988) (#1-300) (DC VERTIGO) #1 (DC: Vertigo Press) Fine

SWAMP THING, SAGA OF (1982) #37 NEWSSTAND (DC: Vertigo Press) Fine

WATCHMEN (1986) #1 Near Mint/Mint

YOUNG JUSTICE (1998) (#1-55) (DC) #1 Near Mint/Mint
YOUNG JUSTICE (1998) (#1-55) (DC) #1 Fine
YOUNG JUSTICE (1998) (#1-55) (DC) #1 Very Fine
YOUNG JUSTICE (1998) (#1-55) (DC) #2 Near Mint/Mint
YOUNG JUSTICE (1998) (#1-55) (DC) #3 Near Mint/Mint
YOUNG JUSTICE (1998) (#1-55) (DC) #7 NEWSSTAND Near Mint/Mint
YOUNG JUSTICE (1998) (#1-55) (DC) #30 Near Mint/Mint

DARK HORSE COMICS
300 (1998) #1 Fine
300 (1998) #1 Very Fine
300 (1998) #2 Near Mint/Mint
300 (1998) #4 Near Mint/Mint
300 (1998) #5 Very Fine

CHEVAL NOIR (1989) #17 Near Mint/Mint

DAMN NATION (2005) #2 Very Fine
DAMN NATION (2005) #3 Near Mint/Mint

IMAGE COMICS
68 (2011) #1 2ND PRINT Fine
68 (2011) #3 A Fine

68: JUNGLE JIM (2013) #2 A Near Mint/Mint

DANCER (2012) #1 Near Mint/Mint

DANGER CLUB (2012) #8 A Near Mint/Mint

DANTE ONE-SHOT (2017) #1 Near Mint/Mint

ERRAND BOYS (2018) #1 A KOUTSIS Near Mint/Mint
ERRAND BOYS (2018) #1 B LARSEN Near Mint/Mint

EVOLUTION (2017) (#1-UP) (IMAGE/SKYBOUND) #8 Near Mint/Mint
EVOLUTION (2017) (#1-UP) (IMAGE/SKYBOUND) #9 Near Mint/Mint
EVOLUTION (2017) (#1-UP) (IMAGE/SKYBOUND) #10 Near Mint/Mint

SAVAGE DRAGON-THE SERIES (1993) (#0-UP) #31 MATURE Near Mint/Mint

SPAWN/BATMAN (1994) #1 Near Mint/Mint

INDEPENDENTS
21ST CENTURY TANK GIRL (2015) #1 (Titan Distributing) Fine

3-D ALIEN TERROR (1986) #1 (Eclipse Enterprises) Near Mint/Mint

3-D SUBSTANCE #1 (3-D Zone) Fine
3-D SUBSTANCE #1 (3-D Zone) Very Fine

3-D THREE STOOGES (1986) #1 (Eclipse Enterprises) Near Mint/Mint
3-D THREE STOOGES (1986) #1 (Eclipse Enterprises) Fine
3-D THREE STOOGES (1986) #2 (Eclipse Enterprises) Fine
3-D THREE STOOGES (1986) #2 (Eclipse Enterprises) Very Fine
3-D THREE STOOGES (1986) #3 (Eclipse Enterprises) Fine

3-D ZONE (1987) #3 (3-D Zone) Very Fine
3-D ZONE (1987) #4 (3-D Zone) Very Good
3-D ZONE (1987) #5 (3-D Zone) Fine
3-D ZONE (1987) #9 (3-D Zone) Fine
3-D ZONE (1987) #10 (3-D Zone) Fine
3-D ZONE (1987) #10 (3-D Zone) Very Good
3-D ZONE (1987) #11 (3-D Zone) Fine
3-D ZONE (1987) #11 (3-D Zone) Very Good
3-D ZONE (1987) #17 (3-D Zone) Fine
3-D ZONE (1987) #17 (3-D Zone) Near Mint/Mint
3-D ZONE (1987) #17 (3-D Zone) Very Fine
3-D ZONE (1987) #17 (3-D Zone) Very Good

30 DAYS OF NIGHT (2002) (#1-3) (IDW Publishing) #3 (IDW Publishing) Fine
30 DAYS OF NIGHT (2002) (#1-3) (IDW Publishing) #3 (IDW Publishing) Very Good

30 DAYS OF NIGHT: DEAD SPACE (2005) #3 (IDW Publishing) Near Mint/Mint

30 DAYS OF NIGHT: SPREADING THE DISEASE (2006) #1 A (IDW Publishing) Near Mint/Mint
30 DAYS OF NIGHT: SPREADING THE DISEASE (2006) #2 B (IDW Publishing) Near Mint/Mint

303 (AVATAR) (2004) #3 PLATINUM (Avatar Comics) Near Mint/Mint
303 (AVATAR) (2004) #4 WRAPAROUND (Avatar Comics) Near Mint/Mint
303 (AVATAR) (2004) #5 WRAPAROUND (Avatar Comics) Very Fine

39 SCREAMS (1986) #2 (Thunder Baas Press) Near Mint/Mint

666: MARK OF THE BEAST #8 (Fleetway-Quality Comics) Near Mint/Mint
666: MARK OF THE BEAST #16 (Fleetway-Quality Comics) Near Mint/Mint
666: MARK OF THE BEAST #16 (Fleetway-Quality Comics) Very Fine

7 GUYS OF JUSTICE (2000) #1 (False Idol Studios) Near Mint/Mint
7 GUYS OF JUSTICE (2000) #13 (False Idol Studios) Very Fine

777: THE WRATH (AVATAR) (1997) #3 (Avatar Comics) Near Mint/Mint

99: FIRST LIGHT (2007) #1 PREVIEW (Teshkeel Media Group) Near Mint/Mint
99: FIRST LIGHT (2007) #1 PREVIEW (Teshkeel Media Group) Very Fine

ALL TIME CLASSIC NEW YORK CONVENTION PROGRAM #2000 (All Time Classic) Fine


DAMNED (2006) (#1-5) (ONI PRESS) #1

DAMNED (2006) (#1-5) (ONI PRESS) #1 (Oni Press Inc.) Near Mint/Mint
DAMNED (2006) (#1-5) (ONI PRESS) #4 (Oni Press Inc.) Near Mint/Mint
DAMNED (2006) (#1-5) (ONI PRESS) #5 (Oni Press Inc.) Near Mint/Mint

DAMSELS (2012) #1 CHEN (DYNAMITE Entertainment) Very Fine
DAMSELS (2012) #3 VIRGIN CVR (DYNAMITE Entertainment) Very Fine
DAMSELS (2012) #5 B&W (DYNAMITE Entertainment) Very Fine

DANGER GIRL: MAY DAY (2014) #2 (IDW Publishing) Near Mint/Mint
DANGER GIRL: MAY DAY (2014) #2 SUBSCRIPT (IDW Publishing) Near Mint/Mint

DANGER GIRL: RENEGADE (2015) #2 BLANK CVR (IDW Publishing) Near Mint/Mint

DANGER GIRL: THE CHASE (2013) #1 PHOTO (IDW Publishing) Near Mint/Mint
DANGER GIRL: THE CHASE (2013) #2 PHOTO (IDW Publishing) Near Mint/Mint
DANGER GIRL: THE CHASE (2013) #3 (IDW Publishing) Near Mint/Mint

DARE (1992) (#1-4) (DAN DARE) (GRANT MORRISON) #2 (Monster Comics (Fantagraphics)) Very Fine
DARE (1992) (#1-4) (DAN DARE) (GRANT MORRISON) #3 (Monster Comics (Fantagraphics)) Very Fine
DARE (1992) (#1-4) (DAN DARE) (GRANT MORRISON) #4 (Monster Comics (Fantagraphics)) Fine

EXECUTIVE ASSISTANT: IRIS (VOL. 5) (2018) #3 A TRAN (Aspen) Near Mint/Mint
EXECUTIVE ASSISTANT: IRIS (VOL. 5) (2018) #4 A TRAN (Aspen) Near Mint/Mint
EXECUTIVE ASSISTANT: IRIS (VOL. 5) (2018) #5 A TRAN (Aspen) Near Mint/Mint