San Diego Comic-Con Report #3 - Chuck Speaks Out!
Howdy!
It is very important for me to be very clear at the beginning of today's newsletter update from the 2019 San Diego Comic-Con that I am only here at this year's show because the convention made me an invited guest. As such, they paid for our hotel, our airfares, given us free tickets, and even meals budgets. My only specific obligation in return was to participate in a one-hour panel at noon today about trends in retailing over the years at the convention, which quite honestly sounds like a relatively harmless topic.
Truth be told, however, my visceral rage at the convention staff stems from precisely those trends. Most specifically, it deeply offends me to this day that the senior management of the convention decided about a dozen years ago to stop allowing their most loyal and dedicated supporters to renew for the following year's convention on Sunday evening. That change may not sound all that important, but in one savage cut the convention cruelly disenfranchised tens of thousands of comic book fans who had been attending show for years, and sometimes even decades. Many of those dedicated people were not only my friends, but also my core customers. Without their patronage, a spiral of steadily diminishing comics and book sales transpired, which ultimately forced us to abandon exhibiting at the convention, forever.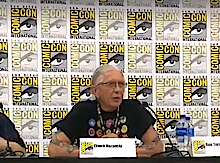 Chuck's opening statement at SDCC.

So you know, there was a live stream on Facebook of my panel posted by Parasol Patrol (Eli and Pasha's awesome group that protects our kids at our family-friendly drag shows), so you can view it, if you wish. I mellow considerably after my bitter and somewhat vitriolic opening statement, as I think it important for everyone to know that the fact that San Diego chose to evolve past it's original supporters is not entirely a bad thing. What exists today at this convention is truly unique, which is precisely why this show is now so admired all around the world.
In order for that transition from "San Diego fanboy central" to "world-famous popular culture Mecca" to effectively occur, however, it was first necessary for the convention staff to entice the lords of Hollywood into a devil's pact of mutual gratification. In simplest terms, the studios pay the enormous sums required to keep the convention functioning, and in exchange get huge publicity for their newest projects. With all those pesky comic book fanboys and fangirls now banished, thousands of popular culture fans can now crowd the exhibit halls and panels, flooding social media with the rumors and news tidbits about upcoming, movies, TV shows, and games that are avidly perused by the jealous millions who now desperately wish that they could afford to gain access to this epic event. That news, in turn, ultimately drives billions of dollars in sales of movie tickets, video games, and CD's. Everybody wins! Sigh...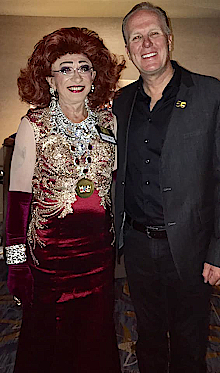 Bettie and San Diego Mayor Kevin Faulconer

Moving on to a slightly different subject, at an exclusive 50th Anniversary party that I crashed last evening I ran into San Diego Mayor Kevin Faulconer (who will soon need to step down due to term limits) and Todd Gloria, the California State Assemblyman who is the leading candidate to be San Diego's next mayor. I have had conversations with both of them in recent months at Imperial Court events, and Todd even issued proclamations declaring all of the Heir Apparents who serve Queen Mother I of the Americas Nicole the Great (myself included...) honorary citizens of California. Running into those two gentlemen whom I truly admire so much made my visit to Comic-Con this year just a little bit more worthwhile.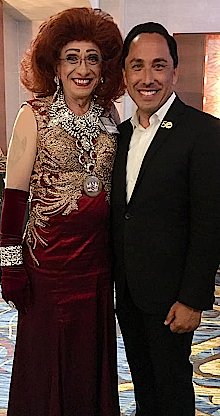 Bettie with State Assemblyman Todd Gloria

In closing, I am here in San Diego for another two days. I am staying primarily because Andy Mangels kindly invited me (as Bettie Pages) to participate in the annual "Out in Comics" panel on Saturday evening. This is an unexpected honor, for which I am entirely grateful. I will do my very best to be a positive contributor to this amazing and important LGBTQ event. If you are at the convention, please try to attend! It begins at 7 PM in room 29 AB (2nd floor, extreme south end of the building on the marina side, by the Hilton) and runs for two hours. RuPaul's star and Cher impersonator Chad Michaels will be sharing our stage, so this should be a great and very entertaining event. Love is love.
Happy collecting!
Chuck Rozanski/Bettie Pages,
President - Mile High Comics, Inc.
July 19, 2019

P.S. Below are even more newly-arrived back issues. All are discounted for you by 60% off when you utilize our ongoing SUMMER! codeword. Only new issues, a few variants, and our professionally-graded comics are exempt. Enjoy!
MARVEL

CAPTAIN MARVEL (1995) (#1-6) (MARVEL) #5 Near Mint/Mint
CAPTAIN MARVEL (1995) (#1-6) (MARVEL) #6 Near Mint/Mint

COSMIC POWERS UNLIMITED (1995) #5 Near Mint/Mint

DOCTOR STRANGE (1988) (#1-90) (MARVEL) (DR. STRANGE) #81 Near Mint/Mint

FEAR (ADVENTURE INTO...) (1970) #20 Very Good
FEAR (ADVENTURE INTO...) (1970) #23 Very Good

GAMBIT & BISHOP ALPHA (2000) #1 Near Mint/Mint

GAMBIT & BISHOP: SONS OF THE ATOM (2001) #2 Near Mint/Mint
GAMBIT & BISHOP: SONS OF THE ATOM (2001) #3 Near Mint/Mint
GAMBIT & BISHOP: SONS OF THE ATOM (2001) #5 Very Fine

GAMBIT & BISHOP: SONS OF THE ATOM GENESIS (2001) #1 Near Mint/Mint

GAMBIT 1999 ANNUAL #1 Very Fine

MARVEL VS. DC (1996) #3 Near Mint/Mint

WOLVERINE (1988) (#1/2-189) (MARVEL) #145 DELUXE Fine
WOLVERINE (1988) (#1/2-189) (MARVEL) #146 Near Mint/Mint
WOLVERINE (1988) (#1/2-189) (MARVEL) #147 Very Fine

DC

BATMAN/LOBO (ELSEWORLDS) (PRESTIGE) (2000) #1 Very Fine

BATMAN/SPAWN: WAR DEVIL SET (DC) (IMAGE) (PRESTIGE) (1994) #1 Fine

BATMAN/SPIDER-MAN (DC) (MARVEL) (BATMAN AND SPIDER-MAN) #1 Very Good

CATWOMAN 1,000,000 #1 Near Mint/Mint

DARKSEID VS. GALACTUS: THE HUNGER (1995) #1 Near Mint/Mint

DC 1,000,000 (1998) #1 Near Mint/Mint
DC 1,000,000 (1998) #2 Near Mint/Mint
DC 1,000,000 (1998) #3 Near Mint/Mint
DC 1,000,000 (1998) #4 Very Fine

DC VS. MARVEL (1996) #1 Near Mint/Mint

GREEN LANTERN/SILVER SURFER (1995) #1 Fine

HELLBLAZER (1988) (#1-300) (DC VERTIGO) #146 (DC: Vertigo Press) Very Fine
HELLBLAZER (1988) (#1-300) (DC VERTIGO) #147 (DC: Vertigo Press) Near Mint/Mint
HELLBLAZER (1988) (#1-300) (DC VERTIGO) #148 (DC: Vertigo Press) Near Mint/Mint
HELLBLAZER (1988) (#1-300) (DC VERTIGO) #149 (DC: Vertigo Press) Near Mint/Mint
HELLBLAZER (1988) (#1-300) (DC VERTIGO) #150 (DC: Vertigo Press) Near Mint/Mint

HITMAN/LOBO: THAT STUPID BASTICH (2000) #1 Very Fine

LOBO ANNUAL (1993) #2 Very Fine

LOBO GOES TO HOLLYWOOD (1996) #1 Near Mint/Mint

LOBO UNBOUND (2003) #2 Near Mint/Mint
LOBO UNBOUND (2003) #3 Near Mint/Mint
LOBO UNBOUND (2003) #4 Near Mint/Mint
LOBO UNBOUND (2003) #5 Near Mint/Mint
LOBO UNBOUND (2003) #6 Near Mint/Mint

LOBO/DEADMAN: BRAVE & THE BALD (1995) #1 Near Mint/Mint

LOBO/JUDGE DREDD: PSYCHO BIKERS VS. MUTANTS (1995) #1 Near Mint/Mint

LOBO: A CONTRACT ON GAWD (1994) #1 Near Mint/Mint
LOBO: A CONTRACT ON GAWD (1994) #3 Near Mint/Mint

LOBO: BIG BABE SPRING BREAK SPECIAL (1995) #1 Near Mint/Mint

LOBO: CHAINED (1997) #1 Very Fine

LOBO: DEATH & TAXES (1996) #1 Near Mint/Mint
LOBO: DEATH & TAXES (1996) #2 Near Mint/Mint
LOBO: DEATH & TAXES (1996) #3 Near Mint/Mint
LOBO: DEATH & TAXES (1996) #4 Near Mint/Mint


LOBO: FRAGTASTIC VOYAGE (1997) #1 Near Mint/Mint

LOBO: IN THE CHAIR (1994) #1 Near Mint/Mint

LOBOCOP (1994) #1 Near Mint/Mint

SANDMAN (1988) (#1-75) (DC/VERTIGO) #8 (DC: Vertigo Press) Near Mint/Mint
SANDMAN (1988) (#1-75) (DC/VERTIGO) #19 MISPRINT (DC: Vertigo Press) Fine
SANDMAN (1988) (#1-75) (DC/VERTIGO) #73 (DC: Vertigo Press) Near Mint/Mint
SANDMAN (1988) (#1-75) (DC/VERTIGO) #74 (DC: Vertigo Press) Fine
SANDMAN (1988) (#1-75) (DC/VERTIGO) #75 (DC: Vertigo Press) Near Mint/Mint

DARK HORSE COMICS
BODY BAGS (1996) (#1-4) (DARK HORSE) #1 Near Mint/Mint
BODY BAGS (1996) (#1-4) (DARK HORSE) #2 Fine
BODY BAGS (1996) (#1-4) (DARK HORSE) #3 Very Fine
BODY BAGS (1996) (#1-4) (DARK HORSE) #4 Fine

FRAY (2001) #1 Near Mint/Mint
FRAY (2001) #2 Near Mint/Mint

GHOST IN THE SHELL 2: MAN/MACHINE INTERFACE (2002) #1 Fine
GHOST IN THE SHELL 2: MAN/MACHINE INTERFACE (2002) #2 Near Mint/Mint
GHOST IN THE SHELL 2: MAN/MACHINE INTERFACE (2002) #2 Very Fine
GHOST IN THE SHELL 2: MAN/MACHINE INTERFACE (2002) #3 Near Mint/Mint
GHOST IN THE SHELL 2: MAN/MACHINE INTERFACE (2002) #4 Near Mint/Mint
GHOST IN THE SHELL 2: MAN/MACHINE INTERFACE (2002) #7 Very Fine
GHOST IN THE SHELL 2: MAN/MACHINE INTERFACE (2002) #10 Near Mint/Mint
GHOST IN THE SHELL 2: MAN/MACHINE INTERFACE (2002) #11 Near Mint/Mint

GODZILLA (1995) (#0-16) (DARK HORSE) #16 Fine

GODZILLA VS. BARKLEY (1993) #1 Very Fine

GODZILLA VS. HERO ZERO (1995) #1 Near Mint/Mint

GUNSMITH CATS: RETURN OF GRAY (1996) #1 Near Mint/Mint
GUNSMITH CATS: RETURN OF GRAY (1996) #3 Near Mint/Mint
GUNSMITH CATS: RETURN OF GRAY (1996) #4 Near Mint/Mint
GUNSMITH CATS: RETURN OF GRAY (1996) #5 Near Mint/Mint
GUNSMITH CATS: RETURN OF GRAY (1996) #6 Near Mint/Mint
GUNSMITH CATS: RETURN OF GRAY (1996) #7 Near Mint/Mint

OH! MY GODDESS! PART III (1995) #2 Near Mint/Mint

IMAGE COMICS

AVENGELYNE: ARMAGEDDON (IMAGE MAXIMUM) (1996) #1 LTD WHITE Near Mint/Mint

GEN-13 (1994) (#0-5) (IMAGE) #1 Near Mint/Mint
GEN-13 (1994) (#0-5) (IMAGE) #1 1/2 LTD ED Near Mint/Mint
GEN-13 (1994) (#0-5) (IMAGE) #3 Near Mint/Mint

GEN-13 (1995) (#1-36) (IMAGE) #1 ENCORE Near Mint/Mint

GEN-13 BIKINI PIN-UP SPECIAL (1997) #1 Near Mint/Mint

HAWAIIAN DICK (2002) #1 Near Mint/Mint
HAWAIIAN DICK (2002) #2 Near Mint/Mint

SPAWN (1992) #1 Fine
SPAWN (1992) #3 Near Mint/Mint
SPAWN (1992) #4 Near Mint/Mint
SPAWN (1992) #5 Near Mint/Mint
SPAWN (1992) #5 Fine
SPAWN (1992) #6 Near Mint/Mint
SPAWN (1992) #7 Near Mint/Mint
SPAWN (1992) #12 NEWSSTAND Fine
SPAWN (1992) #14 Near Mint/Mint
SPAWN (1992) #16 Fine
SPAWN (1992) #17 Near Mint/Mint
SPAWN (1992) #17 Fine
SPAWN (1992) #18 Near Mint/Mint
SPAWN (1992) #19 Near Mint/Mint
SPAWN (1992) #20 Near Mint/Mint
SPAWN (1992) #21 Near Mint/Mint
SPAWN (1992) #22 Near Mint/Mint
SPAWN (1992) #23 Near Mint/Mint
SPAWN (1992) #24 Near Mint/Mint
SPAWN (1992) #27 Near Mint/Mint
SPAWN (1992) #28 Near Mint/Mint
SPAWN (1992) #29 Near Mint/Mint
SPAWN (1992) #30 Near Mint/Mint
SPAWN (1992) #31 Near Mint/Mint
SPAWN (1992) #32 Near Mint/Mint
SPAWN (1992) #33 Fine
SPAWN (1992) #33 Near Mint/Mint
SPAWN (1992) #34 Near Mint/Mint
SPAWN (1992) #35 Near Mint/Mint
SPAWN (1992) #36 Near Mint/Mint
SPAWN (1992) #38 Near Mint/Mint
SPAWN (1992) #39 Near Mint/Mint


SPAWN (1992) #40 Near Mint/Mint
SPAWN (1992) #41 Near Mint/Mint
SPAWN (1992) #42 Very Fine
SPAWN (1992) #43 Near Mint/Mint
SPAWN (1992) #44 Near Mint/Mint
SPAWN (1992) #45 Near Mint/Mint
SPAWN (1992) #46 Near Mint/Mint
SPAWN (1992) #48 Near Mint/Mint
SPAWN (1992) #49 Near Mint/Mint
SPAWN (1992) #50 Near Mint/Mint
SPAWN (1992) #51 Near Mint/Mint
SPAWN (1992) #52 Near Mint/Mint
SPAWN (1992) #53 Near Mint/Mint
SPAWN (1992) #53 Very Fine
SPAWN (1992) #54 Near Mint/Mint
SPAWN (1992) #55 Near Mint/Mint
SPAWN (1992) #56 Near Mint/Mint
SPAWN (1992) #57 Fine
SPAWN (1992) #57 Near Mint/Mint
SPAWN (1992) #58 Near Mint/Mint
SPAWN (1992) #59 Near Mint/Mint
SPAWN (1992) #60 Near Mint/Mint
SPAWN (1992) #61 Near Mint/Mint
SPAWN (1992) #62 Fine
SPAWN (1992) #63 Near Mint/Mint
SPAWN (1992) #64 Near Mint/Mint
SPAWN (1992) #64 UNBAGGED Near Mint/Mint
SPAWN (1992) #70 Near Mint/Mint
SPAWN (1992) #71 Near Mint/Mint
SPAWN (1992) #73 Near Mint/Mint
SPAWN (1992) #74 Near Mint/Mint
SPAWN (1992) #75 Near Mint/Mint
SPAWN (1992) #76 Near Mint/Mint
SPAWN (1992) #77 Near Mint/Mint
SPAWN (1992) #78 Near Mint/Mint
SPAWN (1992) #79 Near Mint/Mint
SPAWN (1992) #80 Near Mint/Mint
SPAWN (1992) #81 Near Mint/Mint
SPAWN (1992) #82 Near Mint/Mint
SPAWN (1992) #83 Near Mint/Mint
SPAWN (1992) #84 Near Mint/Mint
SPAWN (1992) #84 Fine
SPAWN (1992) #85 Fine
SPAWN (1992) #85 Near Mint/Mint
SPAWN (1992) #86 Near Mint/Mint
SPAWN (1992) #87 Near Mint/Mint
SPAWN (1992) #88 Near Mint/Mint
SPAWN (1992) #89 Near Mint/Mint
SPAWN (1992) #90 Fine
SPAWN (1992) #90 Near Mint/Mint
SPAWN (1992) #91 Near Mint/Mint
SPAWN (1992) #92 Near Mint/Mint
SPAWN (1992) #93 Near Mint/Mint
SPAWN (1992) #94 Near Mint/Mint
SPAWN (1992) #95 Near Mint/Mint
SPAWN (1992) #96 Near Mint/Mint
SPAWN (1992) #96 Fine
SPAWN (1992) #97 Near Mint/Mint
SPAWN (1992) #98 Fine
SPAWN (1992) #99 Fine
SPAWN (1992) #99 Near Mint/Mint


SPAWN (1992) #100 ROSS Near Mint/Mint
SPAWN (1992) #100 WOOD Near Mint/Mint
SPAWN (1992) #100 CAPULLO Near Mint/Mint
SPAWN (1992) #100 MCFARLANE Near Mint/Mint
SPAWN (1992) #100 MIGNOLA Near Mint/Mint
SPAWN (1992) #100 MILLER Near Mint/Mint
SPAWN (1992) #100 ROSS Fine
SPAWN (1992) #100 WOOD Very Fine
SPAWN (1992) #101 Near Mint/Mint
SPAWN (1992) #102 Near Mint/Mint
SPAWN (1992) #103 Near Mint/Mint
SPAWN (1992) #104 Fine
SPAWN (1992) #105 Fine
SPAWN (1992) #106 Very Fine
SPAWN (1992) #107 Near Mint/Mint
SPAWN (1992) #108 Fine
SPAWN (1992) #109 Very Fine
SPAWN (1992) #110 Near Mint/Mint
SPAWN (1992) #111 Near Mint/Mint
SPAWN (1992) #112 Near Mint/Mint
SPAWN (1992) #113 Near Mint/Mint
SPAWN (1992) #114 Fine
SPAWN (1992) #114 Very Fine
SPAWN (1992) #115 Near Mint/Mint
SPAWN (1992) #116 Near Mint/Mint
SPAWN (1992) #117 Near Mint/Mint
SPAWN (1992) #118 Near Mint/Mint
SPAWN (1992) #119 Near Mint/Mint
SPAWN (1992) #119 Fine
SPAWN (1992) #120 Near Mint/Mint
SPAWN (1992) #121 Near Mint/Mint
SPAWN (1992) #122 Near Mint/Mint
SPAWN (1992) #123 Near Mint/Mint
SPAWN (1992) #124 Near Mint/Mint
SPAWN (1992) #125 Near Mint/Mint
SPAWN (1992) #126 Near Mint/Mint
SPAWN (1992) #127 Near Mint/Mint
SPAWN (1992) #128 Near Mint/Mint
SPAWN (1992) #128 Fine
SPAWN (1992) #129 Near Mint/Mint
SPAWN (1992) #130 Near Mint/Mint
SPAWN (1992) #131 Fine
SPAWN (1992) #131 Near Mint/Mint

INDEPENDENTS

AKIKO (SIRIUS) (1996) #13 (Sirius) Near Mint/Mint
AKIKO (SIRIUS) (1996) #14 (Sirius) Near Mint/Mint
AKIKO (SIRIUS) (1996) #19 (Sirius) Near Mint/Mint
AKIKO (SIRIUS) (1996) #27 (Sirius) Near Mint/Mint
AKIKO (SIRIUS) (1996) #33 (Sirius) Near Mint/Mint
AKIKO (SIRIUS) (1996) #37 (Sirius) Near Mint/Mint
AKIKO (SIRIUS) (1996) #38 (Sirius) Near Mint/Mint
AKIKO (SIRIUS) (1996) #39 (Sirius) Near Mint/Mint
AKIKO (SIRIUS) (1996) #41 (Sirius) Near Mint/Mint
AKIKO (SIRIUS) (1996) #43 (Sirius) Near Mint/Mint
AKIKO (SIRIUS) (1996) #44 (Sirius) Near Mint/Mint
AKIKO (SIRIUS) (1996) #47 (Sirius) Near Mint/Mint
AKIKO (SIRIUS) (1996) #48 (Sirius) Near Mint/Mint
AKIKO (SIRIUS) (1996) #49 (Sirius) Near Mint/Mint
AKIKO (SIRIUS) (1996) #51 (Sirius) Near Mint/Mint
AKIKO (SIRIUS) (1996) #52 (Sirius) Very Fine

BEAR (2003) #4 (Slave Labor Graphics) Near Mint/Mint
BEAR (2003) #5 (Slave Labor Graphics) Near Mint/Mint
BEAR (2003) #6 (Slave Labor Graphics) Near Mint/Mint
BEAR (2003) #7 (Slave Labor Graphics) Near Mint/Mint
BEAR (2003) #8 (Slave Labor Graphics) Near Mint/Mint
BEAR (2003) #9 (Slave Labor Graphics) Near Mint/Mint
BEAR (2003) #10 (Slave Labor Graphics) Near Mint/Mint

BUNNY TOWN (2002) #1 (Radio Comix) Near Mint/Mint
BUNNY TOWN (2002) #2 (Radio Comix) Near Mint/Mint

CLERKS THE COMIC BOOK (1998) #1 (Oni Press Inc.) Near Mint/Mint

CLERKS: LOST SCENE (1999) #1 (Oni Press Inc.) Near Mint/Mint

DEATHDEALER (1995) (#1-4) (VEROTIK) (FRANK FRAZETTA) #2 (Verotik) Near Mint/Mint

LADY DEATH (1994) (#0-3) (CHAOS) #1 (Chaos Comics) Near Mint/Mint
LADY DEATH (1994) (#0-3) (CHAOS) #3 (Chaos Comics) Near Mint/Mint

LADY DEATH (1998) (#1-16) (CHAOS) #2 (Chaos Comics) Near Mint/Mint
LADY DEATH (1998) (#1-16) (CHAOS) #5 (Chaos Comics) Near Mint/Mint
LADY DEATH (1998) (#1-16) (CHAOS) #15 (Chaos Comics) Near Mint/Mint
LADY DEATH (1998) (#1-16) (CHAOS) #16 (Chaos Comics) Near Mint/Mint

LADY DEATH & THE WOMEN OF CHAOS GALLERY (1996) #1 (Chaos Comics) Near Mint/Mint


LADY DEATH BY STEVEN HUGHES (2000) #1 (Chaos Comics) Near Mint/Mint

LADY DEATH SWIMSUIT SPECIAL (1994) #1 (Chaos Comics) Near Mint/Mint

LADY DEATH VS. VAMPIRELLA II (2000) #1 PREMIUM (Chaos Comics) Fine
LADY DEATH VS. VAMPIRELLA II (2000) #1 PREVIEW (Chaos Comics) Near Mint/Mint

LADY DEATH/JADE (2002) #1 (Chaos Comics) Near Mint/Mint

LADY DEATH/VAMPIRELLA: DARK HEARTS (1999) #1 PREMIUM (Chaos Comics) Near Mint/Mint
LADY DEATH/VAMPIRELLA: DARK HEARTS (1999) #1 (Chaos Comics) Very Fine

LADY DEATH: ALIVE (2001) #1 (Chaos Comics) Very Fine
LADY DEATH: ALIVE (2001) #2 (Chaos Comics) Very Fine
LADY DEATH: ALIVE (2001) #3 (Chaos Comics) Very Fine
LADY DEATH: ALIVE (2001) #4 (Chaos Comics) Very Fine

LADY DEATH: ALL HALLOW'S EVIL (FAN ED) #1 (Overstreet) Near Mint/Mint

LADY DEATH: BETWEEN HEAVEN & HELL (1995) #1 (Chaos Comics) Near Mint/Mint
LADY DEATH: BETWEEN HEAVEN & HELL (1995) #4 LADY DEMON (Chaos Comics) Near Mint/Mint

LADY DEATH: CRUCIBLE (1996) #4 (Chaos Comics) Near Mint/Mint

LADY DEATH: DARK MILLENNIUM (2000) #1 (Chaos Comics) Near Mint/Mint
LADY DEATH: DARK MILLENNIUM (2000) #1 PREMIUM (Chaos Comics) Fine
LADY DEATH: DARK MILLENNIUM (2000) #2 (Chaos Comics) Near Mint/Mint
LADY DEATH: DARK MILLENNIUM (2000) #3 (Chaos Comics) Near Mint/Mint

LADY DEATH: DEATH BECOMES HER (1997) #0 (Chaos Comics) Near Mint/Mint

LADY DEATH: DRAGON WARS (1998) #1 (Chaos Comics) Near Mint/Mint

LADY DEATH: JUDGEMENT WAR (1999) #1 (Chaos Comics) Near Mint/Mint
LADY DEATH: JUDGEMENT WAR (1999) #1 DFE ALT CV (Chaos Comics) Near Mint/Mint
LADY DEATH: JUDGEMENT WAR (1999) #1 PREMIUM (Chaos Comics) Near Mint/Mint
LADY DEATH: JUDGEMENT WAR (1999) #2 (Chaos Comics) Near Mint/Mint
LADY DEATH: JUDGEMENT WAR (1999) #3 (Chaos Comics) Near Mint/Mint

LADY DEATH: JUDGEMENT WAR PRELUDE (1999) #1 NEWSSTAND (Chaos Comics) Near Mint/Mint

LADY DEATH: ODYSSEY (1996) #1 (Chaos Comics) Near Mint/Mint
LADY DEATH: ODYSSEY (1996) #4 VARIANT (Chaos Comics) Near Mint/Mint

LADY DEATH: RAPTURE (1999) #1 (Chaos Comics) Near Mint/Mint
LADY DEATH: RAPTURE (1999) #1 DFE VAR. (Chaos Comics) Near Mint/Mint
LADY DEATH: RAPTURE (1999) #1 PREMIUM (Chaos Comics) Near Mint/Mint
LADY DEATH: RAPTURE (1999) #2 (Chaos Comics) Near Mint/Mint
LADY DEATH: RAPTURE (1999) #3 (Chaos Comics) Near Mint/Mint

LADY DEATH: RETRIBUTION (1998) #1 (Chaos Comics) Near Mint/Mint
LADY DEATH: RETRIBUTION (1998) #1 PREMIUM (Chaos Comics) Near Mint/Mint

LADY DEATH: RIVER OF FEAR (2001) #1 (Chaos Comics) Near Mint/Mint

LADY DEMON (2000) #1 DFE ALT CV (Chaos Comics) Near Mint/Mint
LADY DEMON (2000) #1 PREMIUM (Chaos Comics) Near Mint/Mint

LEGENDS OF KID DEATH & FLUFFY (1997) #1 DECARLO (Event Comics) Near Mint/Mint


MANKIND (1999) #1 DFE ALT CV (Chaos Comics) Near Mint/Mint
MANKIND (1999) #1 PREMIUM (Chaos Comics) Very Fine

PURGATORI (1998) (#0-7) (CHAOS) #2 (Chaos Comics) Fine
PURGATORI (1998) (#0-7) (CHAOS) #3 (Chaos Comics) Near Mint/Mint
PURGATORI (1998) (#0-7) (CHAOS) #4 (Chaos Comics) Near Mint/Mint
PURGATORI (1998) (#0-7) (CHAOS) #5 (Chaos Comics) Near Mint/Mint
PURGATORI (1998) (#0-7) (CHAOS) #7 (Chaos Comics) Near Mint/Mint

PURGATORI VS. CHASTITY (2000) #1 ALPHA (Chaos Comics) Near Mint/Mint
PURGATORI VS. CHASTITY (2000) #1 OMEGA (Chaos Comics) Near Mint/Mint

PURGATORI VS. VAMPIRELLA (2000) #1 (Chaos Comics) Near Mint/Mint

PURGATORI: GODDESS RISING (1999) #1 (Chaos Comics) Fine
PURGATORI: GODDESS RISING (1999) #1 DFE VAR. (Chaos Comics) Near Mint/Mint
PURGATORI: GODDESS RISING (1999) #1 PREMIUM (Chaos Comics) Near Mint/Mint

PURGATORI: GODDESS RISING (1999) #2 (Chaos Comics) Very Fine
PURGATORI: GODDESS RISING (1999) #3 (Chaos Comics) Very Fine
PURGATORI: GODDESS RISING (1999) #4 (Chaos Comics) Very Fine

PURGATORI: GODDESS RISING PREVIEW BOOK #1 (Chaos Comics) Near Mint/Mint

PURGATORI: VAMPIRE'S MYTH (1996) #2 WRAPAROUND (Chaos Comics) Near Mint/Mint

STEVEN HUGHES TRIBUTE BOOK #1 (Chaos Comics) Near Mint/Mint

STONE COLD STEVE AUSTIN (1999) #1 DF SUP ALT (Chaos Comics) Very Fine

STONE COLD STEVE AUSTIN PREVIEW BOOK #1 DFE (Chaos Comics) Very Good