San Diego Comic-Con Report #2 - Bettie Breaks Out!
Howdy!
In today's report about my adventures here at the 2019 50th San Diego Comic-Con I am going to breach forbidden walls by talking about both politics and religion. If you've heard about too much of both (as many of us have...) feel free to jump to the amazing list of great comics at the end of the newsletter. I won't blame you one bit.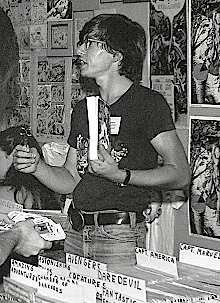 Chuck in 1974 at San Diego Comic-Con (photo taken by Jackie Estrada)

I want to start today by drawing what may at first seem like an odd parallel between 50th San Diego Comic-Con and Pride Parades. While it is nearly forgotten today, there was a point in time, long before Hollywood legitimized geekdom, that fans of popular culture (and most especially the readers of comic books) were viewed as either degenerate, moronic, or both. As a teenage comic book dealer in the early 1970's, I suffered innumerable insults and slights when members of the "straight" community learned of my chosen profession. When I dropped out of college in early 1974 to live in a borrowed 1963 Chevy, I was deemed by my peers to be beyond the pale of stupid. Those were hard, hard days, where only my ironclad personal resolve allowed me to persevere.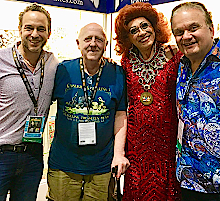 Vincent Zurzolo, Robert Beerbohm, Bettie Pages, and Steve Geppi

Within that 1970's environment of open hostility and denigration toward geekdom, conventions were our only refuges. Much like Pride Parades, conventions were the one moment in a year where geeks in a given city could feel a part of a greater Community. Conventions were the place where we could openly celebrate with our fellow travelers that which enriched our spirits, and brought joy to our hearts. Tucked away in oftentimes seedy hotels and convention center basements all around America, we shared our love of comics, science fiction, old movies, and even early radio programs. Blessedly, we eventually enchanted a young filmmaker by the name of George Lucas into joining our despised tribe, and the tides of history, and public opinion, finally began to shift in our favor. Today a degree that exceeds even the wildest imaginings of our teenage years...
I am now a member of another socially questioned tribe. While absolutely no one today would question the legitimacy of my company, Mile High Comics, the fact that I am also a gender-fluid drag queen still raises some eyebrows, and provokes a few homophobes into outright hostility. I do understand those reactions, as the norm in our country has been to always put everyone into the either/or binary male/female boxes. Truth be told, however, Kinsey figured out decades ago that both gender and sexual orientation are spectrum, and that many people are outside of the norms. As for myself, I present primarily as male, but my female side, Bettie, has become such a joyful extension of my core persona that I can no longer deny her existence. We are one, and will always be.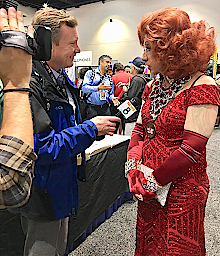 Bettie doing an interview at San Diego

So here I am at 50th San Diego Comic-Con, the greatest gathering of the tribes of geekdom, in a bright red sequined gown and covered sparklies. Why in the world would I do that? The "smart" (and safe) thing to do would be for Bettie to stay hidden, only to emerge in the company of those who already understand my gender fluidity. I have never in my life played it safe, however, and I'll be damned if I will begin now. Especially considering that those in control in Washington today have chosen Transgender and non-binary people as their new whipping boys (and girls). If I have been forced into standing up for the rights of my brothers and sisters of my newly embraced Community, then so be it. I will be out and proud as Bettie, and I will gladly share the pure joy that she brings forth from my heart.
As regards politics and religion, I will state unequivocally that no religion or creed gives anyone the right to tell us here in this great nation built upon ideals of freedom that we have to use separate drinking fountains (or bathrooms), sit in the back of a bus, hide in a closet, or find another lunch counter. We will cross whatever Edmund Pettus Bridge that is thrown in front of us, and brave those dogs and cudgels of repression. We have a right to be who we are, and dress in whatever attire that we find most comfortable, without any fear or intimidation, public or private. Period.
What I just said may sound overly dramatic, but word has already reached me that my advocacy for Transgender and gender-fluid children in Denver has potentially put me in the gunsights of some very dangerous people. White Nationalists and Proud Boys are not pleasant adversaries. So be it. I will not back down and I will not hide, but I will continue stand up and give voice to all my people. Most especially here at the 50th San Diego Comic-Con, where all are welcome and loved. Walking around this show in a beautiful gown is my public statement of commitment to my people, and most especially to our children, many of whom contemplate suicide on a daily basis. Never, ever, will I abandon my responsibility to give hope to those who most need to see it in the adults in their lives.
Returning to the topic of 50th San Diego Comic-Con, my experience here during Preview Night last evening was nothing short of euphoric. I am asking Will to provide you with a link to the 24 photos I posted to FB last evening so that you can bear witness to my joyful countenance throughout the Preview night. I was just so darn happy! Everyone here has been kind, accepting, and almost unbelievably welcoming to Bettie. We are really and truly grateful that we have returned to our beloved home, at last. Love is love.
Happy collecting!
Chuck Rozanski/Bettie Pages,
President - Mile High Comics, Inc.
July 18, 2019
P.S. Our run of purchasing amazing collections continued yesterday. Here are some of the best:
MARVEL
100TH ANNIVERSARY SPECIAL: X-MEN (2014) #1 Near Mint/Mint

AMAZING SPIDER-MAN (1999) (#1-58, #500-700.5) (MARVEL) #36 Very Good


AVENGERS (1963) (#1-402) (MARVEL) #4

AVENGERS (1963) (#1-402) (MARVEL) #4 Very Good

CABLE AND DEADPOOL (2003) #1 Very Fine
CABLE AND DEADPOOL (2003) #2 Very Fine
CABLE AND DEADPOOL (2003) #3 Very Fine
CABLE AND DEADPOOL (2003) #4 Very Fine
CABLE AND DEADPOOL (2003) #5 Very Fine
CABLE AND DEADPOOL (2003) #6 Fine
CABLE AND DEADPOOL (2003) #7 Very Fine
CABLE AND DEADPOOL (2003) #8 Very Fine
CABLE AND DEADPOOL (2003) #9 Very Fine
CABLE AND DEADPOOL (2003) #10 Very Fine
CABLE AND DEADPOOL (2003) #11 Near Mint/Mint
CABLE AND DEADPOOL (2003) #12 Near Mint/Mint
CABLE AND DEADPOOL (2003) #13 Near Mint/Mint
CABLE AND DEADPOOL (2003) #14 Very Fine
CABLE AND DEADPOOL (2003) #15 Near Mint/Mint
CABLE AND DEADPOOL (2003) #16 Fine
CABLE AND DEADPOOL (2003) #17 Very Fine
CABLE AND DEADPOOL (2003) #18 Fine
CABLE AND DEADPOOL (2003) #19 Very Fine
CABLE AND DEADPOOL (2003) #20 Near Mint/Mint
CABLE AND DEADPOOL (2003) #21 Fine
CABLE AND DEADPOOL (2003) #22 Very Fine
CABLE AND DEADPOOL (2003) #23 Very Fine
CABLE AND DEADPOOL (2003) #24 Fine
CABLE AND DEADPOOL (2003) #25 Near Mint/Mint
CABLE AND DEADPOOL (2003) #26 Fine
CABLE AND DEADPOOL (2003) #27 Very Fine
CABLE AND DEADPOOL (2003) #28 Near Mint/Mint
CABLE AND DEADPOOL (2003) #29 Near Mint/Mint
CABLE AND DEADPOOL (2003) #30 Near Mint/Mint
CABLE AND DEADPOOL (2003) #31 Very Fine

CAPTAIN MARVEL (2019) (#1-UP) (MARVEL) #8 Near Mint/Mint
CAPTAIN MARVEL (2019) (#1-UP) (MARVEL) #8 BLOODY Near Mint/Mint
CAPTAIN MARVEL (2019) (#1-UP) (MARVEL) #8 IZAAKSE Very Good

ELEKTRA (2001) (#1-35) (MARVEL) #1 Near Mint/Mint
ELEKTRA (2001) (#1-35) (MARVEL) #3 Near Mint/Mint


MOON KNIGHT (1989) (#1-60) (MARVEL) (MARC SPECTOR) #60

MOON KNIGHT (1989) (#1-60) (MARVEL) (MARC SPECTOR) #60 Near Mint/Mint

NEW MUTANTS GN (MARVEL GN #4) (1982) #1 Very Good

SPIDER-GIRL (1998) (#0-100) #97 Near Mint/Mint
SPIDER-GIRL (1998) (#0-100) #98 Near Mint/Mint
SPIDER-GIRL (1998) (#0-100) #99 Near Mint/Mint

ULTIMATE SPIDER-MAN (2000) #93 Near Mint/Mint
ULTIMATE SPIDER-MAN (2000) #111 VARIANT Near Mint/Mint

YOUNG ALLIES (2010) #1 Near Mint/Mint
YOUNG ALLIES (2010) #1 Very Fine

DC
100 BULLETS (1999) #2 (DC: Vertigo Press) Very Fine

100 BULLETS: BROTHER LONO (2013) #3 Near Mint/Mint

ADVENTURE COMICS 80-PAGE GIANT (1998) #1 Very Fine

ADVENTURES IN THE DC UNIVERSE (1997) #9 NEWSSTAND Near Mint/Mint
ADVENTURES IN THE DC UNIVERSE (1997) #11 Near Mint/Mint
ADVENTURES IN THE DC UNIVERSE (1997) #19 Near Mint/Mint

ADVENTURES OF SUPERMAN (#0,#424-649) (1987) #574 Very Fine

AQUAMAN ANNUAL (1995) (#1-5) (DC) #4 Near Mint/Mint

ARTEMIS REQUIEM (DC) (WONDER WOMAN) (1996) #2 Near Mint/Mint

AZRAEL ANNUAL (DC) (1995) #3 Near Mint/Mint

BATMAN (1940) (#0-713) (DC) #339 NEWSSTAND Very Good
BATMAN (1940) (#0-713) (DC) #367 NEWSSTAND Very Good
BATMAN (1940) (#0-713) (DC) #497 3RD PRINT Near Mint/Mint

BATMAN & ROBIN ADVENTURES (1995) #8 Near Mint/Mint

BATMAN ANNUAL (1961) (#1-28) (DC) #22 Near Mint/Mint


BATMAN: SHADOW OF THE BAT ANNUAL (1993) #3

BATMAN: SHADOW OF THE BAT ANNUAL (1993) #3 Near Mint/Mint
BATMAN: SHADOW OF THE BAT ANNUAL (1993) #5 Near Mint/Mint

BINKY'S BUDDIES #2 Good

DAY OF JUDGMENT (1999) #5 Near Mint/Mint

DETECTIVE COMICS (1937) (#0-881) (DC) #694 Near Mint/Mint

FANBOY (1999) #6 Near Mint/Mint

FLASH ANNUAL (1987) #11 Near Mint/Mint

GEN-13 (1999) (#37-77) (DC/Wildstorm) #40 VARIANT (DC/Wildstorm) Near Mint/Mint
GEN-13 (1999) (#37-77) (DC/Wildstorm) #45 (DC/Wildstorm) Near Mint/Mint
GEN-13 (1999) (#37-77) (DC/Wildstorm) #48 (DC/Wildstorm) Near Mint/Mint
GEN-13 (1999) (#37-77) (DC/Wildstorm) #55 (DC/Wildstorm) Near Mint/Mint
GEN-13 (1999) (#37-77) (DC/Wildstorm) #56 (DC/Wildstorm) Near Mint/Mint
GEN-13 (1999) (#37-77) (DC/Wildstorm) #71 (DC/Wildstorm) Near Mint/Mint
GEN-13 (1999) (#37-77) (DC/Wildstorm) #73 (DC/Wildstorm) Near Mint/Mint

GEN-ACTIVE (2000) #1 (DC/Wildstorm) Near Mint/Mint
GEN-ACTIVE (2000) #4 VARIANT (DC/Wildstorm) Near Mint/Mint

GREEN ARROW (1988) (#0-137) (DC) #37 Near Mint/Mint
GREEN ARROW (2001) (#1-75) (DC) #1 Near Mint/Mint

GREEN LANTERN (1990) (#0-181) (DC) #74 Near Mint/Mint
GREEN LANTERN (1990) (#0-181) (DC) #81 Near Mint/Mint
GREEN LANTERN (1990) (#0-181) (DC) #119 Near Mint/Mint
GREEN LANTERN (1990) (#0-181) (DC) #143 Near Mint/Mint
GREEN LANTERN (1990) (#0-181) (DC) #145 Near Mint/Mint

HITMAN (1996) #18 Near Mint/Mint

JENNY SPARKS: SECRET HISTORY OF THE AUTHORITY (2000) #2 Near Mint/Mint

LEGENDS OF THE DC UNIVERSE CRISIS ON INFINITE EARTHS (1999) #1 Near Mint/Mint

WONDER WOMAN (1987) (#0-226) (DC) #182 Near Mint/Mint
WONDER WOMAN (1987) (#0-226) (DC) #183 Near Mint/Mint
WONDER WOMAN (1987) (#0-226) (DC) #184 Fine


WONDER WOMAN GALLERY (1996) #1

WONDER WOMAN GALLERY (1996) #1 Fine

WONDER WOMAN/CONAN (2017) (#1-6) (DC) (DARK HORSE) #1 Near Mint/Mint

Y-THE LAST MAN (2002) #1 (DC: Vertigo Press) Very Fine
Y-THE LAST MAN (2002) #7 (DC: Vertigo Press) Very Fine
Y-THE LAST MAN (2002) #8 (DC: Vertigo Press) Near Mint/Mint
Y-THE LAST MAN (2002) #8 (DC: Vertigo Press) Fine
Y-THE LAST MAN (2002) #11 (DC: Vertigo Press) Fine
Y-THE LAST MAN (2002) #11 (DC: Vertigo Press) Very Fine
Y-THE LAST MAN (2002) #13 (DC: Vertigo Press) Near Mint/Mint
Y-THE LAST MAN (2002) #15 (DC: Vertigo Press) Near Mint/Mint
Y-THE LAST MAN (2002) #15 (DC: Vertigo Press) Very Fine
Y-THE LAST MAN (2002) #20 (DC: Vertigo Press) Near Mint/Mint
Y-THE LAST MAN (2002) #31 (DC: Vertigo Press) Near Mint/Mint
Y-THE LAST MAN (2002) #31 (DC: Vertigo Press) Very Fine
Y-THE LAST MAN (2002) #38 (DC: Vertigo Press) Very Fine
Y-THE LAST MAN (2002) #44 (DC: Vertigo Press) Near Mint/Mint
Y-THE LAST MAN (2002) #46 (DC: Vertigo Press) Near Mint/Mint
Y-THE LAST MAN (2002) #50 (DC: Vertigo Press) Very Fine
Y-THE LAST MAN (2002) #51 (DC: Vertigo Press) Near Mint/Mint
Y-THE LAST MAN (2002) #54 (DC: Vertigo Press) Near Mint/Mint
Y-THE LAST MAN (2002) #55 (DC: Vertigo Press) Near Mint/Mint
Y-THE LAST MAN (2002) #57 (DC: Vertigo Press) Very Fine
Y-THE LAST MAN (2002) #58 (DC: Vertigo Press) Very Fine
Y-THE LAST MAN (2002) #60 (DC: Vertigo Press) Fine
Y-THE LAST MAN (2002) #60 (DC: Vertigo Press) Very Fine

YEAR ONE: BATMAN/RAS AL GHUL (2005) #1 Near Mint/Mint
YEAR ONE: BATMAN/RAS AL GHUL (2005) #2 Near Mint/Mint

YEAR ONE: BATMAN/SCARECROW (2005) #2 Near Mint/Mint
YEAR ONE: BATMAN/SCARECROW (2005) #2 Very Fine

YOUNG ALL-STARS (1987) #2 Near Mint/Mint
YOUNG ALL-STARS (1987) #13 Very Fine
YOUNG ALL-STARS (1987) #16 Near Mint/Mint
YOUNG ALL-STARS (1987) #17 Near Mint/Mint
YOUNG ALL-STARS (1987) #17 Very Fine
YOUNG ALL-STARS (1987) #18 Near Mint/Mint
YOUNG ALL-STARS (1987) #18 Very Fine
YOUNG ALL-STARS (1987) #19 Near Mint/Mint

YOUNG ALL-STARS (1987) #19 Very Fine
YOUNG ALL-STARS (1987) #20 Near Mint/Mint
YOUNG ALL-STARS (1987) #20 Very Fine
YOUNG ALL-STARS (1987) #22 Near Mint/Mint
YOUNG ALL-STARS (1987) #22 Fine
YOUNG ALL-STARS (1987) #22 Very Fine
YOUNG ALL-STARS (1987) #23 Very Fine
YOUNG ALL-STARS (1987) #26 Near Mint/Mint
YOUNG ALL-STARS (1987) #26 Very Fine
YOUNG ALL-STARS (1987) #27 Near Mint/Mint
YOUNG ALL-STARS (1987) #27 Very Fine
YOUNG ALL-STARS (1987) #29 Fine
YOUNG ALL-STARS (1987) #29 Near Mint/Mint
YOUNG ALL-STARS (1987) #29 Very Fine
YOUNG ALL-STARS (1987) #30 Near Mint/Mint
YOUNG ALL-STARS (1987) #30 Fine
YOUNG ALL-STARS (1987) #30 Very Fine
YOUNG ALL-STARS (1987) #31 Fine
YOUNG ALL-STARS (1987) #31 Near Mint/Mint
YOUNG ALL-STARS (1987) #31 Very Fine

YOUNG ALL-STARS ANNUAL (1988) #1 Near Mint/Mint

DARK HORSE COMICS
ALIENS: MONDO HEAT (DARK HORSE) (1996) #1 ASHCAN Near Mint/Mint

STAR WARS 30TH ANNIV COLL: CRIMSON EMPIRE HC (VOL. 10) (2007) #1 Fine

STAR WARS 30TH ANNIV COLL: ENDGAME HC (VOL. 6) (2007) #1 Near Mint/Mint

IMAGE COMICS
10TH MUSE (#1-9) (IMAGE) (2000) #1 DFE BLUE Near Mint/Mint
10TH MUSE (#1-9) (IMAGE) (2000) #1 SAN DIEGO Very Fine
10TH MUSE (#1-9) (IMAGE) (2000) #1 DFE PHOTO Very Fine
10TH MUSE (#1-9) (IMAGE) (2000) #1 SAN DIEGO Fine
10TH MUSE (#1-9) (IMAGE) (2000) #2 PHOTO Near Mint/Mint
10TH MUSE (#1-9) (IMAGE) (2000) #2 DFE ALT CV Very Fine
10TH MUSE (#1-9) (IMAGE) (2000) #2 DFE BLUE Near Mint/Mint
10TH MUSE (#1-9) (IMAGE) (2000) #2 DFEREDFOIL Very Fine
10TH MUSE (#1-9) (IMAGE) (2000) #3 LASHLEY CV Near Mint/Mint


10TH MUSE (#1-9) (IMAGE) (2000) #3 PHOTO

10TH MUSE (#1-9) (IMAGE) (2000) #3 PHOTO Near Mint/Mint
10TH MUSE (#1-9) (IMAGE) (2000) #3 TOWERPHOTO Fine
10TH MUSE (#1-9) (IMAGE) (2000) #3 TOWERPHOTO Very Good
10TH MUSE (#1-9) (IMAGE) (2000) #4 SEXY PHOTO Near Mint/Mint
10TH MUSE (#1-9) (IMAGE) (2000) #7 PHOTO Near Mint/Mint
10TH MUSE (#1-9) (IMAGE) (2000) #8 PHOTO Near Mint/Mint
10TH MUSE (#1-9) (IMAGE) (2000) #9 PHOTO Near Mint/Mint
10TH MUSE (#1-9) (IMAGE) (2000) #9 PHOTO Very Fine

13 CHAMBERS ONE-SHOT (2008) #1 B Near Mint/Mint

1963 (IMAGE) (1993) #6 Near Mint/Mint

ARIA: SOUL MARKET (IMAGE) (2001) #1 DREW Very Fine
ARIA: SOUL MARKET (IMAGE) (2001) #2 ANACLETO Near Mint/Mint
ARIA: SOUL MARKET (IMAGE) (2001) #6 Near Mint/Mint

DARKCHYLDE (1996) (#1-5) (IMAGE) #1 REMASTERED Very Fine
DARKCHYLDE (1996) (#1-5) (IMAGE) #2 REMASTERED Near Mint/Mint
DARKCHYLDE (1996) (#1-5) (IMAGE) #3 REMASTERED Near Mint/Mint

DIVINE RIGHT (1997) (#1-8) (IMAGE) #4 AM VARIANT Near Mint/Mint

GEN-13 (1994) (#0-5) (IMAGE) #1 3-D VAR Near Mint/Mint
GEN-13 (1995) (#1-36) (IMAGE) #25 NEWSSTAND Near Mint/Mint
GEN-13 (1995) (#1-36) (IMAGE) #34 Near Mint/Mint
GEN-13 (1995) (#1-36) (IMAGE) #36 VARIANT Near Mint/Mint

GEN-13 ZINE #1 Near Mint/Mint

GEN-13: BOOTLEG #1 NEWSSTAND Near Mint/Mint
GEN-13: BOOTLEG #9 Near Mint/Mint

GEN-13: ORDINARY HEROES #1 195 COVER Near Mint/Mint

LIBERTY MEADOWS (#27-37) (IMAGE) (2002) #37 Near Mint/Mint

WITCHBLADE/DARKCHYLDE (2000) #1 (Image Top Cow) Near Mint/Mint

INDEPENDENTS
'93 VAMPIRE BIKINI COMIC CALENDAR (1993) #1 (Acid Rain Studios) Fine

.357! #1 (Mu Press) Fine

100 DEGREES IN THE SHADE (1992) #1 (Eros Comix (Fantagraphics)) Fine
100 DEGREES IN THE SHADE (1992) #4 (Eros Comix (Fantagraphics)) Fine

100 GIRLS (2004) #6 LARRYS VAR (Arcana Studio) Near Mint/Mint

100% (2002) #1 (DC: Vertigo Press) Near Mint/Mint
100% (2002) #2 (DC: Vertigo Press) Near Mint/Mint

1001 ARABIAN NIGHTS: ADVENTURES OF SINBAD (2008) #1 WRAPAROUND (Zenescope Entertainment Inc) Near Mint/Mint
1001 ARABIAN NIGHTS: ADVENTURES OF SINBAD (2008) #2 C (Zenescope Entertainment Inc) Fine

10TH MUSE 800 (BLUE WATER) (2009) #3 (Blue Water Comics) Near Mint/Mint

10TH MUSE GIANT-SIZED ONE-SHOT (2007) #1 VARIANT (Blue Water Comics) Near Mint/Mint
10TH MUSE GIANT-SIZED ONE-SHOT (2007) #1 VARIANT B (Blue Water Comics) Near Mint/Mint
10TH MUSE GIANT-SIZED ONE-SHOT (2007) #1 VARIANT (Blue Water Comics) Very Fine

10TH MUSE VOL. 2 (2002) (#1-2) (AVATAR) #1 COVER A (Avatar Comics) Near Mint/Mint
10TH MUSE VOL. 2 (2002) (#1-2) (AVATAR) #1 COVER B (Avatar Comics) Near Mint/Mint
10TH MUSE VOL. 2 (2002) (#1-2) (AVATAR) #1 COVER E (Avatar Comics) Near Mint/Mint
10TH MUSE VOL. 2 (2002) (#1-2) (AVATAR) #1 RANDYGREEN (Avatar Comics) Very Fine
10TH MUSE VOL. 2 (2002) (#1-2) (AVATAR) #2 COVER A (Avatar Comics) Near Mint/Mint
10TH MUSE VOL. 2 (2005) (#1-13) (ALIAS) #7 COVER A (Alias Enterprises Llc) Near Mint/Mint
10TH MUSE VOL. 2 (2005) (#1-13) (ALIAS) #7 COVER B (Alias Enterprises Llc) Near Mint/Mint
10TH MUSE VOL. 2 (2005) (#1-13) (ALIAS) #11 (Alias Enterprises Llc) Near Mint/Mint
10TH MUSE VOL. 2 (2005) (#1-13) (ALIAS) #12 (Alias Enterprises Llc) Near Mint/Mint
10TH MUSE VOL. 2 (2005) (#1-13) (ALIAS) #13 (Alias Enterprises Llc) Near Mint/Mint

10TH MUSE/DEMONSLAYER #1/2 (2002) #1 WALLER (Avatar Comics) Very Fine
10TH MUSE/DEMONSLAYER #1/2 (2002) #1 CONFLICT (Avatar Comics) Very Fine
10TH MUSE/DEMONSLAYER #1/2 (2002) #1 LYON CVR (Avatar Comics) Near Mint/Mint
10TH MUSE/DEMONSLAYER #1/2 (2002) #1 MYCHAELS (Avatar Comics) Near Mint/Mint
10TH MUSE/DEMONSLAYER #1/2 (2002) #1 PLATINUM (Avatar Comics) Very Fine
10TH MUSE/DEMONSLAYER #1/2 (2002) #1 SHAW (Avatar Comics) Near Mint/Mint

10TH MUSE/DEMONSLAYER PREVIEW (2002) #1 (Avatar Comics) Near Mint/Mint

10TH MUSE: LOST ISSUE (2010) #1 (Blue Water Comics) Near Mint/Mint

18 DAYS (GRANT MORRISON) (2015) #9 HEROES (Graphic India Pte. Ltd) Near Mint/Mint
18 DAYS (GRANT MORRISON) (2015) #9 WARRIOR (Graphic India Pte. Ltd) Near Mint/Mint

2 TO THE CHEST (2004) #3 (Dark Planet Productions) Very Fine

20 MILLION MILES MORE (RAY HARRYHAUSEN) (2007) #1 VARIANT (Blue Press) Near Mint/Mint

ACHILLES STORM (1997) (#1-2) (BRAINSTORM) (ADULT) #1 NUDE (Brainstorm Comics) Very Fine

ANGEL GIRL: HEAVEN SENT (ANGEL ENT.) (ADULT) #1 (Angel Entertainment) Near Mint/Mint

BETTY AND VERONICA (1987) #116 NEWSSTAND (Archie Comics) Very Fine

BLONDE AVENGER (1996) #23 DELUXE (Blonde Avenger Comics) Near Mint/Mint

CLERKS HOLIDAY SPECIAL (1998) #1 (Oni Press Inc.) Near Mint/Mint

CLERKS THE COMIC BOOK (1998) #1 3RD PRINT (Oni Press Inc.) Near Mint/Mint

CLERKS: LOST SCENE (1999) #1 (Oni Press Inc.) Very Fine

DARKCHYLDE PREVIEW #1 (Image Homage) Near Mint/Mint

DARKCHYLDE REMASTERED (2001) #0 (Darkchylde Entertainment) Near Mint/Mint

LADY DEATH: BETWEEN HEAVEN & HELL (1995) #1 HOLO S&N (Chaos Comics) Near Mint/Mint

SABRINA THE TEENAGE WITCH (1996) (ARCHIE) (#1) #1 NEWSSTAND (Archie Comics) Fine

SONIC THE HEDGEHOG-THE SERIES (1993) (#1-290) (ARCHIE) #20 NEWSSTAND (Archie Comics) Fine

STRANGERS IN PARADISE (1998) (#9-90) (ABSTRACT) #23 (Abstract Studio) Near Mint/Mint
STRANGERS IN PARADISE (1998) (#9-90) (ABSTRACT) #39 (Abstract Studio) Near Mint/Mint
STRANGERS IN PARADISE (1998) (#9-90) (ABSTRACT) #48 (Abstract Studio) Near Mint/Mint
STRANGERS IN PARADISE (1998) (#9-90) (ABSTRACT) #49 (Abstract Studio) Near Mint/Mint
STRANGERS IN PARADISE (1998) (#9-90) (ABSTRACT) #54 (Abstract Studio) Near Mint/Mint
STRANGERS IN PARADISE (1998) (#9-90) (ABSTRACT) #56 (Abstract Studio) Near Mint/Mint
STRANGERS IN PARADISE (1998) (#9-90) (ABSTRACT) #58 (Abstract Studio) Near Mint/Mint

STRANGERS IN PARADISE GOLD LOGO EDITION (#1-3) (1997) #1 (Abstract Studio) Very Fine

STRANGERS IN PARADISE GOLD LOGO EDITION VOL. 2 #1 (Abstract Studio) Near Mint/Mint
STRANGERS IN PARADISE GOLD LOGO EDITION VOL. 2 #7 (Abstract Studio) Near Mint/Mint
STRANGERS IN PARADISE GOLD LOGO EDITION VOL. 2 #9 (Abstract Studio) Near Mint/Mint

YAHOO #1 (Fantagraphics) Fine
YAHOO #4 (Fantagraphics) Fine


YAHOO #5 (Fantagraphics) Fine
YAHOO #5 (Fantagraphics) Near Mint/Mint
YAHOO #5 (Fantagraphics) Very Fine
YAHOO #6 (Fantagraphics) Near Mint/Mint
YAHOO #6 (Fantagraphics) Fine
YAHOO #6 (Fantagraphics) Very Fine


YENNY (2005) #5 (Alias Enterprises Llc) Near Mint/Mint
YENNY (2005) #6 (Alias Enterprises Llc) Near Mint/Mint


YIKES #1 (Yikes) Fine


YIN FEI THE CHINESE NINJA #3 (Leung's Publications) Near Mint/Mint
YIN FEI THE CHINESE NINJA #6 (Leung's Publications) Near Mint/Mint


YOU CAN DRAW MANGA (MASTER EDITION) (2004) #6 (Antarctic Press) Near Mint/Mint