2019 San Diego Comic-Con Report #1
Howdy!
I am in San Diego today, preparing for the opening night of the 50th San Diego Comic-Con. I truly wish that I could say that I am excited to be here, but that would be a lie. Truth be told, I would just as soon prefer to be almost anywhere on earth right now, besides here. It is not that San Diego isn't pretty or welcoming, as everyone here has been incredibly kind and helpful to us. I just cannot get past, however, my visceral rage at how badly we were treated three years ago, when our truck containing our entire 40,000 lbs of material for our 7 booths was denied the right to unload on Tuesday for twelve hours, despite being one of the first in line that morning.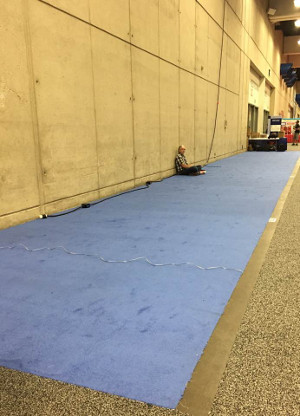 Chuck waiting twelve hours for our comics in 2016

Being out here again is like ripping open a wound that had almost healed, and now I am totally pissed off all over again. No one ever in three years apologized to us for that unload fiasco (which ultimately cost us over $10,000 in lost sales when we were not able to get set up before the opening...), nor for the fact that the union refused to load our freight on that Sunday evening until after 10 PM, even though our booth was completely packed up by 7:30, and they loaded every booth around us. Our entire trip that year was plagued with such astonishingly unprofessional and bush league behavior by everyone associated with the convention, and the convention center, that it remains quite difficult for me to believe that all their BS was inadvertent. In my darkest hours, I wish for nothing but a pox on all their houses.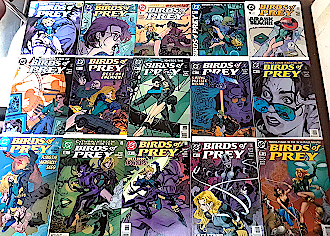 Some of the BIRDS OF PREY comics we just got in

OK, now that I've vented my rage, I will desist in any further talking about the past, and will try my very best to build new bridges of understanding. What truly matters today is celebrating the accomplishments of the entire San Diego fandom over the past 50 years in creating and maintaining the very best popular culture show in America. While the show that exists today is quite a bit different than what was originally envisioned by Shel Dorf, Ken Krueger, Richard Alf, and the dozens of other dedicated fans who helped to create the very first Golden State Comic-Con in 1969, I think that they would still very much applaud.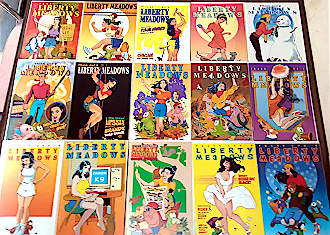 Some of the LIBERTY MEADOWS comics we just got in

While there are dozens of small regional comic-cons around the nation that nurture and support local comics fandom, San Diego Comic-Con International has elevated itself into worldwide recognition by skillfully adapting to the ever-shifting trends of movies, television, gaming, and (sometimes) even comics. They have also managed to keep a very expensive event solvent by cleverly partnering with the world's largest media companies. In doing so, I believe that the convention staff have enhanced the worldwide reputation of comics and graphic storytelling as not only a medium of expression, but also as the seminal point for vast popular culture franchises. I have little doubt (for example) that many hit series, such as THE WALKING DEAD, were helped greatly by deal-making that occurred as a result of exposure at SDCC. To judge this amazing convention as anything but an incredibly wonderful cultural phenomenon is to grossly miss the point. Put it on your bucket list. It is too cool to miss...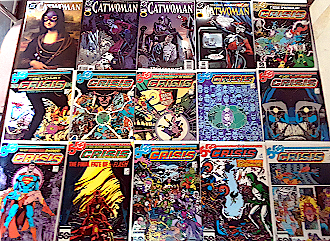 Some of the DC comics we just got in

OK, that's it for my thoughts about our arrival. I will have photos and observations for you about opening night in tomorrow's update. In the meantime, feel free to spend some of the many thousands of dollars that you are NOT spending in San Diego this week on some of the exceptionally nice comics that Will and Pam entered into our inventory for you over the past 48 hours. All are 60% off when you utilize the ongoing SUMMER! codeword. Only new issues, a few variants, and our professionally-graded comics are exempt.
Happy collecting!
Chuck Rozanski/Bettie Pages,
President - Mile High Comics, Inc.
July 15, 2019
Here are some of Will and Pam's additions:
MARVEL
AVENGERS VS. X-MEN (AVX) (2012) #1 7TH PRINT Fine

BIZARRE ADVENTURES (1981) #34 Near Mint/Mint

DEFENDERS (1972) (#1-152) (MARVEL) #50 Very Fine

EMMA FROST (2003) #1 Near Mint/Mint
EMMA FROST (2003) #2 Very Fine
EMMA FROST (2003) #3 Near Mint/Mint
EMMA FROST (2003) #4 Near Mint/Mint
EMMA FROST (2003) #5 Near Mint/Mint
EMMA FROST (2003) #6 Very Fine
EMMA FROST (2003) #7 Near Mint/Mint

FANTASTIC FOUR (1961) (#1-416) (MARVEL) #22 Fair

GAMBIT (1999) (#1-25) (MARVEL) #1 QUEEN Fine
GAMBIT (1999) (#1-25) (MARVEL) #4 NEWSSTAND Very Fine
GAMBIT (1999) (#1-25) (MARVEL) #7 NEWSSTAND Very Fine
GAMBIT (1999) (#1-25) (MARVEL) #11 NEWSSTAND Very Fine
GAMBIT (1999) (#1-25) (MARVEL) #13 NEWSSTAND Near Mint/Mint
GAMBIT (1999) (#1-25) (MARVEL) #16 Near Mint/Mint
GAMBIT (1999) (#1-25) (MARVEL) #17 Near Mint/Mint
GAMBIT (1999) (#1-25) (MARVEL) #18 Near Mint/Mint

IRON MAN (1968) (#1-332) (INVINCIBLE IRON MAN)(MARVEL) #126 Near Mint/Mint
IRON MAN (1968) (#1-332) (INVINCIBLE IRON MAN)(MARVEL) #127 Near Mint/Mint
IRON MAN (1968) (#1-332) (INVINCIBLE IRON MAN)(MARVEL) #128 Near Mint/Mint
IRON MAN (1968) (#1-332) (INVINCIBLE IRON MAN)(MARVEL) #129 Very Good
IRON MAN (1968) (#1-332) (INVINCIBLE IRON MAN)(MARVEL) #130 NEWSSTAND Very Fine
IRON MAN (1968) (#1-332) (INVINCIBLE IRON MAN)(MARVEL) #131 Near Mint/Mint
IRON MAN (1968) (#1-332) (INVINCIBLE IRON MAN)(MARVEL) #132 NEWSSTAND Very Good
IRON MAN (1968) (#1-332) (INVINCIBLE IRON MAN)(MARVEL) #133 Near Mint/Mint
IRON MAN (1968) (#1-332) (INVINCIBLE IRON MAN)(MARVEL) #134 NEWSSTAND Fine
IRON MAN (1968) (#1-332) (INVINCIBLE IRON MAN)(MARVEL) #135 NEWSSTAND Very Fine
IRON MAN (1968) (#1-332) (INVINCIBLE IRON MAN)(MARVEL) #136 Near Mint/Mint
IRON MAN (1968) (#1-332) (INVINCIBLE IRON MAN)(MARVEL) #137 NEWSSTAND Fine
IRON MAN (1968) (#1-332) (INVINCIBLE IRON MAN)(MARVEL) #139 NEWSSTAND Fine
IRON MAN (1968) (#1-332) (INVINCIBLE IRON MAN)(MARVEL) #140 NEWSSTAND Very Fine
IRON MAN (1968) (#1-332) (INVINCIBLE IRON MAN)(MARVEL) #141 Near Mint/Mint
IRON MAN (1968) (#1-332) (INVINCIBLE IRON MAN)(MARVEL) #143 Fine
IRON MAN (1968) (#1-332) (INVINCIBLE IRON MAN)(MARVEL) #144 NEWSSTAND Near Mint/Mint
IRON MAN (1968) (#1-332) (INVINCIBLE IRON MAN)(MARVEL) #145 NEWSSTAND Very Good
IRON MAN (1968) (#1-332) (INVINCIBLE IRON MAN)(MARVEL) #146 NEWSSTAND Near Mint/Mint
IRON MAN (1968) (#1-332) (INVINCIBLE IRON MAN)(MARVEL) #147 Fine


IRON MAN (1968) (#1-332) (INVINCIBLE IRON MAN)(MARVEL) #148

IRON MAN (1968) (#1-332) (INVINCIBLE IRON MAN)(MARVEL) #148 Very Fine
IRON MAN (1968) (#1-332) (INVINCIBLE IRON MAN)(MARVEL) #149 NEWSSTAND Fine
IRON MAN (1968) (#1-332) (INVINCIBLE IRON MAN)(MARVEL) #150 Near Mint/Mint
IRON MAN (1968) (#1-332) (INVINCIBLE IRON MAN)(MARVEL) #151 Near Mint/Mint
IRON MAN (1968) (#1-332) (INVINCIBLE IRON MAN)(MARVEL) #152 Very Fine
IRON MAN (1968) (#1-332) (INVINCIBLE IRON MAN)(MARVEL) #153 Very Fine
IRON MAN (1968) (#1-332) (INVINCIBLE IRON MAN)(MARVEL) #154 NEWSSTAND Near Mint/Mint
IRON MAN (1968) (#1-332) (INVINCIBLE IRON MAN)(MARVEL) #155 Very Fine
IRON MAN (1968) (#1-332) (INVINCIBLE IRON MAN)(MARVEL) #156 Near Mint/Mint
IRON MAN (1968) (#1-332) (INVINCIBLE IRON MAN)(MARVEL) #157 Near Mint/Mint
IRON MAN (1968) (#1-332) (INVINCIBLE IRON MAN)(MARVEL) #158 Very Fine
IRON MAN (1968) (#1-332) (INVINCIBLE IRON MAN)(MARVEL) #159 NEWSSTAND Fine
IRON MAN (1968) (#1-332) (INVINCIBLE IRON MAN)(MARVEL) #160 Very Fine
IRON MAN (1968) (#1-332) (INVINCIBLE IRON MAN)(MARVEL) #161 Near Mint/Mint
IRON MAN (1968) (#1-332) (INVINCIBLE IRON MAN)(MARVEL) #162 Very Fine
IRON MAN (1968) (#1-332) (INVINCIBLE IRON MAN)(MARVEL) #163 Near Mint/Mint
IRON MAN (1968) (#1-332) (INVINCIBLE IRON MAN)(MARVEL) #164 Near Mint/Mint
IRON MAN (1968) (#1-332) (INVINCIBLE IRON MAN)(MARVEL) #166 Near Mint/Mint
IRON MAN (1968) (#1-332) (INVINCIBLE IRON MAN)(MARVEL) #167 Near Mint/Mint
IRON MAN (1968) (#1-332) (INVINCIBLE IRON MAN)(MARVEL) #168 Very Fine
IRON MAN (1968) (#1-332) (INVINCIBLE IRON MAN)(MARVEL) #169 Very Fine
IRON MAN (1968) (#1-332) (INVINCIBLE IRON MAN)(MARVEL) #171 Near Mint/Mint

MOON KNIGHT (1980) (#1-38) (MARVEL) #1 Near Mint/Mint
MOON KNIGHT (1980) (#1-38) (MARVEL) #2 NEWSSTAND Near Mint/Mint
MOON KNIGHT (1980) (#1-38) (MARVEL) #3 Very Fine
MOON KNIGHT (1980) (#1-38) (MARVEL) #4 Near Mint/Mint
MOON KNIGHT (1980) (#1-38) (MARVEL) #5 Very Fine
MOON KNIGHT (1980) (#1-38) (MARVEL) #6 Near Mint/Mint
MOON KNIGHT (1980) (#1-38) (MARVEL) #7 Near Mint/Mint
MOON KNIGHT (1980) (#1-38) (MARVEL) #8 Very Fine
MOON KNIGHT (1980) (#1-38) (MARVEL) #9 Near Mint/Mint
MOON KNIGHT (1980) (#1-38) (MARVEL) #10 NEWSSTAND Very Fine
MOON KNIGHT (1980) (#1-38) (MARVEL) #11 NEWSSTAND Near Mint/Mint
MOON KNIGHT (1980) (#1-38) (MARVEL) #12 Very Fine
MOON KNIGHT (1980) (#1-38) (MARVEL) #13 Very Fine
MOON KNIGHT (1980) (#1-38) (MARVEL) #14 Very Fine
MOON KNIGHT (1980) (#1-38) (MARVEL) #15 Near Mint/Mint
MOON KNIGHT (1980) (#1-38) (MARVEL) #16 Near Mint/Mint
MOON KNIGHT (1980) (#1-38) (MARVEL) #17 Near Mint/Mint
MOON KNIGHT (1980) (#1-38) (MARVEL) #18 Very Fine
MOON KNIGHT (1980) (#1-38) (MARVEL) #19 Very Fine
MOON KNIGHT (1980) (#1-38) (MARVEL) #20 Very Fine


MOON KNIGHT (1980) (#1-38) (MARVEL) #21

MOON KNIGHT (1980) (#1-38) (MARVEL) #21 Near Mint/Mint
MOON KNIGHT (1980) (#1-38) (MARVEL) #22 Fine
MOON KNIGHT (1980) (#1-38) (MARVEL) #23 Near Mint/Mint
MOON KNIGHT (1980) (#1-38) (MARVEL) #24 Near Mint/Mint
MOON KNIGHT (1980) (#1-38) (MARVEL) #25 Very Fine
MOON KNIGHT (1980) (#1-38) (MARVEL) #26 Near Mint/Mint
MOON KNIGHT (1980) (#1-38) (MARVEL) #27 Very Fine
MOON KNIGHT (1980) (#1-38) (MARVEL) #28 Near Mint/Mint
MOON KNIGHT (1980) (#1-38) (MARVEL) #29 Very Fine
MOON KNIGHT (1980) (#1-38) (MARVEL) #30 Very Fine
MOON KNIGHT (1980) (#1-38) (MARVEL) #31 Near Mint/Mint
MOON KNIGHT (1980) (#1-38) (MARVEL) #32 Near Mint/Mint
MOON KNIGHT (1980) (#1-38) (MARVEL) #33 Near Mint/Mint
MOON KNIGHT (1980) (#1-38) (MARVEL) #34 Very Fine
MOON KNIGHT (1980) (#1-38) (MARVEL) #35 Very Fine
MOON KNIGHT (1980) (#1-38) (MARVEL) #37 Near Mint/Mint

PUNISHER (1987) (#1-104) (MARVEL) #18 Near Mint/Mint

ROGUE (2004) (#1-12) (MARVEL) #8 Very Fine
ROGUE (2004) (#1-12) (MARVEL) #12 Very Fine

SENTRY (2018) (#1-UP) (MARVEL) #4 DEL RAY Near Mint/Mint

SPIDER-GEDDON (2018) #0 TEDESCO Very Fine
SPIDER-GEDDON (2018) #1 GARRON Near Mint/Mint
SPIDER-GEDDON (2018) #3 HAWTHORNE Near Mint/Mint
SPIDER-GEDDON (2018) #4 GARRON Near Mint/Mint

SPIDER-GIRL (1998) (#0-100) #76 Very Fine

STAR WARS: HAN SOLO - IMPERIAL CADET (2018) #1 CHARRETIER Near Mint/Mint

TALES FROM THE AGE OF APOCALYPSE: SINISTER BLOODLINES (1997) #1 Near Mint/Mint


TALES OF THE AGE OF APOCALYPSE (STARRING THE X-MEN) #1

TALES OF THE AGE OF APOCALYPSE (STARRING THE X-MEN) #1 Near Mint/Mint

THANOS: LEGACY (2018) #1 LIM Near Mint/Mint

THOR (2018) (#1-UP) (MARVEL) #1 HARREN Near Mint/Mint
THOR (2018) (#1-UP) (MARVEL) #1 DAUTERMAN Very Fine
THOR (2018) (#1-UP) (MARVEL) #1 HARREN Very Fine
THOR (2018) (#1-UP) (MARVEL) #2 HARREN Very Fine
THOR (2018) (#1-UP) (MARVEL) #3 HARREN Near Mint/Mint
THOR (2018) (#1-UP) (MARVEL) #5 LUPACCHINO Near Mint/Mint

TONY STARK: IRON MAN (2018) #1 ANDREWSKET Very Fine
TONY STARK: IRON MAN (2018) #1 GRANOV Very Fine
TONY STARK: IRON MAN (2018) #2 BROOKS Near Mint/Mint
TONY STARK: IRON MAN (2018) #4 NAKAYAMA Near Mint/Mint
TONY STARK: IRON MAN (2018) #4 OPENA Very Fine

TYPHOID FEVER: IRON FIST (2018) #1 CHAN Near Mint/Mint

TYPHOID FEVER: SPIDER-MAN (2018) #1 SANDOVAL Near Mint/Mint

TYPHOID FEVER: X-MEN (2018) #1 MARTIN Near Mint/Mint

UNCANNY X-MEN (2018) (#1-UP) (MARVEL) #3 LUPACCHINO Very Fine
UNCANNY X-MEN (2018) (#1-UP) (MARVEL) #5 DAVIS Near Mint/Mint

WEAPON H (2018) #2 MAYHEW Near Mint/Mint
WEAPON H (2018) #8 Near Mint/Mint

WEAPON X (2017) (#1-UP) (MARVEL) #5 JIM LEE Very Fine

WEST COAST AVENGERS (2018) (#1-UP) (MARVEL) #1 RENAUD Near Mint/Mint
WEST COAST AVENGERS (2018) (#1-UP) (MARVEL) #1 TSAI Very Fine

WHAT IF: X-MEN (2018) #1 FIGURE VAR Near Mint/Mint

WONDERFUL WIZARD OF OZ (2008) #4 Near Mint/Mint

X-FORCE (1991) (#1-129) (MARVEL) #25 DFE S&N Fine

X-FORCE (2008) (#1-28) (MARVEL) #17 BLOODY Near Mint/Mint
X-FORCE (2008) (#1-28) (MARVEL) #17 BLOODY Very Fine


X-FORCE (2008) (#1-28) (MARVEL) #17 BLOODY

X-FORCE (2008) (#1-28) (MARVEL) #17 BLOODY Fine

X-MEN (1963) (#1-113, UNCANNY X-MEN #114-544) (MARVEL) #500 DODSON Near Mint/Mint
X-MEN (1963) (#1-113, UNCANNY X-MEN #114-544) (MARVEL) #500 DODSON Very Fine
X-MEN (1963) (#1-113, UNCANNY X-MEN #114-544) (MARVEL) #501 Fine

X-MEN (2013) (#1-26) (ALL FEMALE TEAM) (MARVEL) #1 PHANTOM Very Fine
X-MEN (2013) (#1-26) (ALL FEMALE TEAM) (MARVEL) #6 VARIANT Near Mint/Mint
X-MEN (2013) (#1-26) (ALL FEMALE TEAM) (MARVEL) #16 VARIANT Very Fine

X-MEN '92 (2015) (#1-4) (SECRET WARS) #1 NAKAYAMA Near Mint/Mint
X-MEN '92 (2015) (#1-4) (SECRET WARS) #1 CHIN Very Fine
X-MEN '92 (2015) (#1-4) (SECRET WARS) #1 NAKAYAMA Very Fine
X-MEN '92 (2015) (#1-4) (SECRET WARS) #2 NAKAYAMA Very Fine
X-MEN '92 (2015) (#1-4) (SECRET WARS) #3 TAKEDA Near Mint/Mint
X-MEN '92 (2015) (#1-4) (SECRET WARS) #4 NAKAYAMA Near Mint/Mint

X-MEN BLUE (2017) #23 CRAIN Very Fine
X-MEN BLUE (2017) #25 FRANCAVILL Near Mint/Mint

X-MEN GOLD (2017) #36 PORTACIO Near Mint/Mint

X-MEN RED (2018) #4 CHAREST Near Mint/Mint
X-MEN RED (2018) #6 CHAREST Near Mint/Mint
X-MEN RED (2018) #8 CAMPBELL Near Mint/Mint

X-MEN: PHOENIX ENDSONG (2005) #3 Near Mint/Mint

X-MEN: PHOENIX FORCE HANDBOOK (2010) #1 NEWS 5.99 Good

X-TINCTION AGENDA (2015) #1 BROOKS Near Mint/Mint
X-TINCTION AGENDA (2015) #1 BROOKS Very Fine
X-TINCTION AGENDA (2015) #1 DEODATO Near Mint/Mint
X-TINCTION AGENDA (2015) #2 ANKA Very Fine
X-TINCTION AGENDA (2015) #3 BENGAL Near Mint/Mint

YEARS OF FUTURE PAST (2015) #1 NORTON Near Mint/Mint
YEARS OF FUTURE PAST (2015) #1 PERKINS Very Fine
YEARS OF FUTURE PAST (2015) #2 NORTON Near Mint/Mint
YEARS OF FUTURE PAST (2015) #2 NORTON Fine


YEARS OF FUTURE PAST (2015) #2 NORTON

YEARS OF FUTURE PAST (2015) #2 NORTON Very Good
YEARS OF FUTURE PAST (2015) #3 NORTON Near Mint/Mint

ZOMBIE: SIMON GARTH (2007) #3 Near Mint/Mint

DC
A BIZARRO (1999) #3 NEWSSTAND Near Mint/Mint

ACTION COMICS (1938) (#0-600, 643-904) (DC) #700 SIGNED Very Fine
ACTION COMICS (1938) (#0-600, 643-904) (DC) #761 NEWSSTAND Near Mint/Mint
ACTION COMICS (1938) (#0-600, 643-904) (DC) #770 Near Mint/Mint

ADVENTURES OF SUPERMAN (#0,#424-649) (1987) #572 NEWSSTAND Very Fine
ADVENTURES OF SUPERMAN (#0,#424-649) (1987) #583 Near Mint/Mint

BATMAN (1940) (#0-713) (DC) #584 Near Mint/Mint

BATMAN & ROBIN ADVENTURES (1995) #2 Very Fine

BATMAN ADVENTURES (1992) #18 Near Mint/Mint
BATMAN ADVENTURES (1992) #32 Very Fine
BATMAN ADVENTURES (1992) #33 Very Fine

BATMAN: DARK VICTORY (JEPH LOEB) (TIM SALE) (1999) #0 Near Mint/Mint

CATWOMAN (2002) (#1-83) (DC) #1 Near Mint/Mint
CATWOMAN (2002) (#1-83) (DC) #2 Very Fine
CATWOMAN (2002) (#1-83) (DC) #3 Fine

CATWOMAN-THE SERIES (1993) (#1-94) (DC) #1 NEWSSTAND Fine
CATWOMAN-THE SERIES (1993) (#1-94) (DC) #40 NEWSSTAND Near Mint/Mint
CATWOMAN-THE SERIES (1993) (#1-94) (DC) #65 Near Mint/Mint
CATWOMAN-THE SERIES (1993) (#1-94) (DC) #92 Near Mint/Mint
CATWOMAN-THE SERIES (1993) (#1-94) (DC) #93 Near Mint/Mint
CATWOMAN-THE SERIES (1993) (#1-94) (DC) #94 Near Mint/Mint

DETECTIVE COMICS (1937) (#0-881) (DC) #648 Near Mint/Mint

INFINITE CRISIS (2005) #1 JIMENEZ SN Near Mint/Mint

JIMMY OLSEN (1954) #133 Very Good

JLA 1,000,000 (1998) #1 Near Mint/Mint

LEAVE IT TO BINKY (1948) #66 Good

LEGENDS OF THE DC UNIVERSE (1998) #10 Very Fine
LEGENDS OF THE DC UNIVERSE (1998) #11 Near Mint/Mint
LEGENDS OF THE DC UNIVERSE (1998) #30 Very Fine
LEGENDS OF THE DC UNIVERSE (1998) #31 Very Fine
LEGENDS OF THE DC UNIVERSE (1998) #32 Very Fine

MISTER MIRACLE (1971) (#1-25) (DC) #7 Good

SUPERGIRL (1972) (#1-10) (DC) #5 Good
SUPERGIRL (1972) (#1-10) (DC) #9 Good
SUPERGIRL (1972) (#1-10) (DC) #10 Good

SUPERGIRL (1996) (#1-80) (DC) #51 Near Mint/Mint

SUPERGIRL 1,000,000 (1998) #1 Near Mint/Mint

SUPERMAN (1986) (#0-226, #650-714) (DC) #161 Near Mint/Mint

SUPERMAN ADVENTURES (1996) #20 Very Fine
SUPERMAN ADVENTURES (1996) #21 Fine

SUPERMAN/GEN-13 (2000) #1 VARIANT Near Mint/Mint
SUPERMAN/GEN-13 (2000) #2 VARIANT Near Mint/Mint
SUPERMAN/GEN-13 (2000) #3 Near Mint/Mint

SUPERMAN: EMPEROR JOKER (2000) #1 Near Mint/Mint

TEEN TITANS (1980) (#1-91) (DC) #10 NEWS SIGN Fine
TEEN TITANS (1980) (#1-91) (DC) #10 Very Fine

UNEXPECTED (2018) (#1-UP) (DC UNIVERSE) #2 Near Mint/Mint
UNEXPECTED (2018) (#1-UP) (DC UNIVERSE) #3 Very Fine

WE ARE ROBIN (2015) #9 NEAL ADAMS Very Fine

WONDER WOMAN (1987) (#0-226) (DC) #0 Near Mint/Mint
WONDER WOMAN (1987) (#0-226) (DC) #72 NEWSSTAND Near Mint/Mint


WONDER WOMAN (1987) (#0-226) (DC) #73

WONDER WOMAN (1987) (#0-226) (DC) #73 Very Fine
WONDER WOMAN (1987) (#0-226) (DC) #74 Very Fine
WONDER WOMAN (1987) (#0-226) (DC) #75 Very Fine
WONDER WOMAN (1987) (#0-226) (DC) #76 Very Fine
WONDER WOMAN (1987) (#0-226) (DC) #77 Near Mint/Mint
WONDER WOMAN (1987) (#0-226) (DC) #78 Very Fine
WONDER WOMAN (1987) (#0-226) (DC) #79 Very Fine
WONDER WOMAN (1987) (#0-226) (DC) #80 Near Mint/Mint
WONDER WOMAN (1987) (#0-226) (DC) #81 Near Mint/Mint
WONDER WOMAN (1987) (#0-226) (DC) #82 Near Mint/Mint
WONDER WOMAN (1987) (#0-226) (DC) #83 Very Fine
WONDER WOMAN (1987) (#0-226) (DC) #84 Near Mint/Mint
WONDER WOMAN (1987) (#0-226) (DC) #85 Near Mint/Mint
WONDER WOMAN (1987) (#0-226) (DC) #86 Very Fine
WONDER WOMAN (1987) (#0-226) (DC) #87 Near Mint/Mint
WONDER WOMAN (1987) (#0-226) (DC) #89 Near Mint/Mint
WONDER WOMAN (1987) (#0-226) (DC) #90 Near Mint/Mint
WONDER WOMAN (1987) (#0-226) (DC) #91 Near Mint/Mint
WONDER WOMAN (1987) (#0-226) (DC) #92 Near Mint/Mint
WONDER WOMAN (1987) (#0-226) (DC) #94 Near Mint/Mint
WONDER WOMAN (1987) (#0-226) (DC) #95 Near Mint/Mint
WONDER WOMAN (1987) (#0-226) (DC) #96 Near Mint/Mint
WONDER WOMAN (1987) (#0-226) (DC) #97 Fine
WONDER WOMAN (1987) (#0-226) (DC) #189 Near Mint/Mint

WONDER WOMAN 1,000,000 (1998) #1 Near Mint/Mint

WONDER WOMAN MILLENNIUM EDITION (1942 SERIES) (2000) #1 Fine

WONDER WOMAN SECRET FILES (1998) #1 Near Mint/Mint
WONDER WOMAN SECRET FILES (1998) #2 Near Mint/Mint

DARK HORSE COMICS
PREDATOR VS. JUDGE DREDD VS. ALIENS (2016) #4 Near Mint/Mint

STAR WARS: DARK EMPIRE II TPB (2ND EDITION) (2006) #1 Very Good

IMAGE COMICS
FATHOM (1998) (#0-14) (IMAGE) #0 WIZARD ED. (Image Top Cow) Near Mint/Mint
FATHOM (1998) (#0-14) (IMAGE) #1 WIZARD 1/2 (Image Top Cow) Near Mint/Mint


FATHOM: KILLIAN'S TIDE (2001) #2 VARIANT

FATHOM: KILLIAN'S TIDE (2001) #2 VARIANT (Image Top Cow) Near Mint/Mint
FATHOM: KILLIAN'S TIDE (2001) #4 VARIANT (Image Top Cow) Near Mint/Mint

SPAWN (1992) #22 Very Fine
SPAWN (1992) #30 Fine

TOP COW CLASSICS: FATHOM #1 (Image Top Cow) Near Mint/Mint

UNDERWINTER: FIELD OF FEATHERS (2017) #3 Near Mint/Mint
UNDERWINTER: FIELD OF FEATHERS (2017) #5 Near Mint/Mint

WITCHBLADE ORIGIN SPECIAL (1997) #1 (Image Top Cow) Very Fine

INDEPENDENTS
DELL GIANTS (1959) #48 (Dell Publishing) Very Good

DONALD AND THE WHEEL (1961) #1 FC #1190 (Dell Publishing) Fair

GENE AUTRY COMICS (1946) (#1-121) (Dell Publishing) #67 (Dell Publishing) Very Good

JOHNNY THE HOMICIDAL MANIAC (1995) #4 19TH PRINT (Slave Labor Graphics) Fine
JOHNNY THE HOMICIDAL MANIAC (1995) #5 20TH PRINT (Slave Labor Graphics) Very Fine
JOHNNY THE HOMICIDAL MANIAC (1995) #6 17TH PRINT (Slave Labor Graphics) Very Fine
JOHNNY THE HOMICIDAL MANIAC (1995) #7 18TH PRINT (Slave Labor Graphics) Fine

JUSTICE TRAPS THE GUILTY (1947) #69 (PRIZE PUBLICATIONS) Good

LADY DEATH (1994) (#0-3) (CHAOS) #1 ENCORE SGN (Chaos Comics) Near Mint/Mint
LADY DEATH (1994) (#0-3) (CHAOS) #1 HUGHES SGN (Chaos Comics) Near Mint/Mint
LADY DEATH (1994) (#0-3) (CHAOS) #2 HUGHES SGN (Chaos Comics) Near Mint/Mint
LADY DEATH (1994) (#0-3) (CHAOS) #3 HUGHES SGN (Chaos Comics) Very Fine

LADY DEATH & THE WOMEN OF CHAOS GALLERY (1996) #1 HUGHES SGN (Chaos Comics) Near Mint/Mint

LADY DEATH IN LINGERIE (1995) #1 2X SIGNED (Chaos Comics) Near Mint/Mint
LADY DEATH IN LINGERIE (1995) #1 LEATHERSGN (Chaos Comics) Near Mint/Mint

LADY DEATH: BETWEEN HEAVEN & HELL (1995) #1 COMM SIGN (Chaos Comics) Near Mint/Mint
LADY DEATH: BETWEEN HEAVEN & HELL (1995) #1 HUGHES SGN (Chaos Comics) Near Mint/Mint
LADY DEATH: BETWEEN HEAVEN & HELL (1995) #1 VELVET SGN (Chaos Comics) Near Mint/Mint
LADY DEATH: BETWEEN HEAVEN & HELL (1995) #2 HUGHES SGN (Chaos Comics) Near Mint/Mint
LADY DEATH: BETWEEN HEAVEN & HELL (1995) #3 HUGHES SGN (Chaos Comics) Near Mint/Mint
LADY DEATH: BETWEEN HEAVEN & HELL (1995) #4 HUGHES SGN (Chaos Comics) Near Mint/Mint

LADY DEATH: CRUCIBLE (1996) #1 1/2 DLXSGN (Chaos Comics) Near Mint/Mint
LADY DEATH: CRUCIBLE (1996) #1 1/2 SIGNED (Chaos Comics) Near Mint/Mint
LADY DEATH: CRUCIBLE (1996) #1 HUGHES SGN (Chaos Comics) Near Mint/Mint
LADY DEATH: CRUCIBLE (1996) #2 2X SIGNED (Chaos Comics) Near Mint/Mint
LADY DEATH: CRUCIBLE (1996) #3 2X SIGNED (Chaos Comics) Near Mint/Mint
LADY DEATH: CRUCIBLE (1996) #4 2X SIGNED (Chaos Comics) Near Mint/Mint
LADY DEATH: CRUCIBLE (1996) #4 MEGA SGN (Chaos Comics) Near Mint/Mint


MARRIED WITH CHILDREN (1991) #6

MARRIED WITH CHILDREN (1991) #6 (Now Comics) Near Mint/Mint
MARRIED WITH CHILDREN (1991) #7 (Now Comics) Near Mint/Mint

MS. TREE (1983) #1 (Eclipse Enterprises) Near Mint/Mint

PHATHOM #1 (Blatant Comics) Very Fine

POIZON: CADILLACS & GREEN TOMATOES #2 PHOTO NUDE (London Night Studios) Very Fine

STAR TREK: THE NEXT GENERATION - TERRA INCOGNITA (2018) #1 INC A (IDW Publishing) Near Mint/Mint
STAR TREK: THE NEXT GENERATION - TERRA INCOGNITA (2018) #2 INC A (IDW Publishing) Near Mint/Mint

STAR TREK: THE NEXT GENERATION - THROUGH THE MIRROR (2018) #2 INC A (IDW Publishing) Near Mint/Mint
STAR TREK: THE NEXT GENERATION - THROUGH THE MIRROR (2018) #3 INC A (IDW Publishing) Near Mint/Mint
STAR TREK: THE NEXT GENERATION - THROUGH THE MIRROR (2018) #4 INC A (IDW Publishing) Near Mint/Mint

STEVEN UNIVERSE (2017) #1 PENA (Boom Studios Publishing) Near Mint/Mint

STRANGERS IN PARADISE (1998) (#9-90) (ABSTRACT) #63 (Abstract Studio) Near Mint/Mint
STRANGERS IN PARADISE (1998) (#9-90) (ABSTRACT) #65 (Abstract Studio) Near Mint/Mint
STRANGERS IN PARADISE (1998) (#9-90) (ABSTRACT) #68 (Abstract Studio) Near Mint/Mint
STRANGERS IN PARADISE (1998) (#9-90) (ABSTRACT) #70 (Abstract Studio) Near Mint/Mint
STRANGERS IN PARADISE (1998) (#9-90) (ABSTRACT) #73 (Abstract Studio) Near Mint/Mint
STRANGERS IN PARADISE (1998) (#9-90) (ABSTRACT) #74 (Abstract Studio) Near Mint/Mint
STRANGERS IN PARADISE (1998) (#9-90) (ABSTRACT) #77 (Abstract Studio) Near Mint/Mint
STRANGERS IN PARADISE (1998) (#9-90) (ABSTRACT) #82 (Abstract Studio) Near Mint/Mint
STRANGERS IN PARADISE (1998) (#9-90) (ABSTRACT) #83 (Abstract Studio) Near Mint/Mint
STRANGERS IN PARADISE (1998) (#9-90) (ABSTRACT) #84 (Abstract Studio) Near Mint/Mint
STRANGERS IN PARADISE (1998) (#9-90) (ABSTRACT) #86 (Abstract Studio) Near Mint/Mint
STRANGERS IN PARADISE (1998) (#9-90) (ABSTRACT) #87 (Abstract Studio) Near Mint/Mint
STRANGERS IN PARADISE (1998) (#9-90) (ABSTRACT) #89 (Abstract Studio) Near Mint/Mint

STRAWBERRY SHORTCAKE: FUNKO UNIVERSE (2017) #1 FUNKO ART (IDW Publishing) Near Mint/Mint

TEENAGE MUTANT NINJA TURTLES (2011) (#1-UP) (IDW Publishing) #84 INCENTIVE (IDW Publishing) Very Fine
TEENAGE MUTANT NINJA TURTLES (2011) (#1-UP) (IDW Publishing) #85 INCENTIVE (IDW Publishing) Near Mint/Mint

TEENAGE MUTANT NINJA TURTLES UNIVERSE (2016) #25 INCENTIVE (IDW Publishing) Very Fine

TEENAGE MUTANT NINJA TURTLES: MACRO-SERIES (2018) #1 INCENTIVE (IDW Publishing) Near Mint/Mint

TEENAGE MUTANT NINJA TURTLES: URBAN LEGENDS (2018) #1 INCENTIVE (IDW Publishing) Very Fine


UNCLE SCROOGE (1962) (GOLD KEY) (#40-173) #91

UNCLE SCROOGE (1962) (GOLD KEY) (#40-173) #91 (Gold Key) Good
UNCLE SCROOGE (1962) (GOLD KEY) (#40-173) #112 (Gold Key) Fine
UNCLE SCROOGE (1962) (GOLD KEY) (#40-173) #140 WHITMAN (Gold Key) Good

UNCLE SCROOGE (1986) (GLADSTONE) (#210-242) #226 (Gladstone) Near Mint/Mint
UNCLE SCROOGE (1986) (GLADSTONE) (#210-242) #227 (Gladstone) Fine
UNCLE SCROOGE (1986) (GLADSTONE) (#210-242) #227 (Gladstone) Very Fine
UNCLE SCROOGE (1986) (GLADSTONE) (#210-242) #228 (Gladstone) Fine

UNCLE SCROOGE (2015) #1 CAVAZZANO (IDW Publishing) Near Mint/Mint
UNCLE SCROOGE (2015) #2 (IDW Publishing) Near Mint/Mint
UNCLE SCROOGE (2015) #2 SUBSCRIPT (IDW Publishing) Near Mint/Mint
UNCLE SCROOGE (2015) #4 (IDW Publishing) Near Mint/Mint
UNCLE SCROOGE (2015) #6 INCENTIVE (IDW Publishing) Very Fine

WALT DISNEY COMICS DIGEST #2 (Gold Key) Fair

WALT DISNEY'S COMICS AND STORIES (1962) (#264-473) (Gold Key) #367 (Gold Key) Fine

WALT DISNEY'S COMICS AND STORIES (2003) (634-698) (GEM) #666 (Gemstone) Very Fine

XENA: WARRIOR PRINCESS (2016) (#1-6) (DYNAMITE) #2 FRISON VIR (DYNAMITE Entertainment) Very Fine

ZOLASTRAYA AND THE BARD (1987) #1 (Twilight Twins Productions) Near Mint/Mint
ZOLASTRAYA AND THE BARD (1987) #2 (Twilight Twins Productions) Near Mint/Mint
ZOLASTRAYA AND THE BARD (1987) #4 (Twilight Twins Productions) Near Mint/Mint

ZOMBIE TALES: DEAD (2006) #1 (Boom Productions) Near Mint/Mint

ZOMBIE TALES: DEATH VALLEY (2005) #2 (Boom Productions) Near Mint/Mint

ZOMBIE TALES: OBLIVION (2005) #1 (Boom Productions) Very Fine

ZOMBIE TRAMP VS. VAMPBLADE (2015) #3 (Danger Zone) Near Mint/Mint
ZOMBIE TRAMP VS. VAMPBLADE (2015) #3 (Danger Zone) Fine
ZOMBIE TRAMP VS. VAMPBLADE (2015) #3 RISQUE (Danger Zone) Very Fine
ZOMBIE TRAMP VS. VAMPBLADE (2015) #3 RISQUE (Danger Zone) Fine
ZOMBIE TRAMP VS. VAMPBLADE (2015) #3 (Danger Zone) Very Fine

ZOMBIE WAR (1992) #2 (Fantaco Enterprises) Near Mint/Mint

ZOMBIE WAR: EARTH MUST BE DESTROYED! (1993) #3 (Fantaco Enterprises) Near Mint/Mint