60% Off JULY4TH! Codeword all Weekend!
Hi
This is William with Mile High Comics, Chuck/Bettie is finishing up a trip on the east coast so I am writing this newsletter.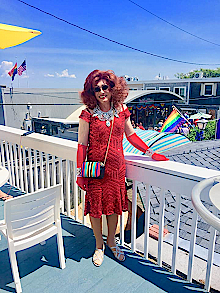 Bettie Pages on Fire Island for this year's "Invasion" of The Pines.

Yesterday Bettie Pages was at the "Invasion" of The Fire Island Pines for their 4th of July Celebration and from everything I heard she had a great time! Bettie will be back in town just in time for our 5th All-Ages Drag Show this Sunday (7/7) at our Jason Street Mega Store. Doors opens at 5:00 PM and show starts at 6:00 PM.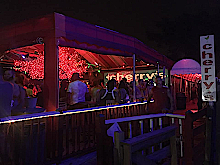 The last ferry to the mainland.

As for comic news here at Mile High, Pam and I have finished entering that great collection of Silver Age and Bronze Age comics that came in last Friday. To our surprise the collection also had some high grade Magazines. Those have also already been entered and are already on our website ready to sell. It had a good run of early Savage Sword of Conan and about 75 other Magazines all in very high condition. If you take a look at our Premium New-In-Stock you can see all the Magazines and everything else we have added these last couple days.

SAVAGE SWORD OF CONAN (MAGAZINE) (1974) #1

Our 60% off JULY4TH! codeword is still running all this weekend, and all the comics and magazines from that great collection are available at only 40% of retail price with the JULY4TH! codeword. The code also applies to all ten million+ back issues and magazines that we have instock. Only new issues, a few variants, and our professionally-graded items are exempt from this huge back issues sale.
Hope everyone has a great weekend!
Chuck Rozanski,
President - Mile High Comics, Inc.
July 5, 2019
P.S. Here is a small sample of some of the items we just put on:
MARVEL
A-TEAM (1984) #3 NEWSSTAND Fine

AKIRA (MARVEL) (1988) #18 NEWSSTAND Very Fine

ALPHA FLIGHT SPECIAL (1991) (#1-4) #4 Near Mint/Mint

AMAZING SPIDER-MAN (1999) (#1-58, #500-700.5) (MARVEL) #700 3RD PRINT Near Mint/Mint
AMAZING SPIDER-MAN (1999) (#1-58, #500-700.5) (MARVEL) #700 3RD PRINT Very Fine
AMAZING SPIDER-MAN (1999) (#1-58, #500-700.5) (MARVEL) #700 3RD PRINT Fine

AMAZING SPIDER-MAN (2014) (#1-20.1) (MARVEL) #9 YOUNG BABY Near Mint/Mint

ASSASSINS (MARVEL AMALGAM) (1996) #1 Near Mint/Mint
ASSASSINS (MARVEL AMALGAM) (1996) #1 Very Fine

AVENGERS (1963) (#1-402) (MARVEL) #241 NEWSSTAND Fine
AVENGERS (1963) (#1-402) (MARVEL) #260 Near Mint/Mint
AVENGERS (1963) (#1-402) (MARVEL) #318 NEWSSTAND Near Mint/Mint

AVENGERS: INITIATIVE (2007) #7 Near Mint/Mint
AVENGERS: INITIATIVE (2007) #7 Very Fine

CAPTAIN AMERICA (1968) (#100-454) (MARVEL) #363 Fine
CAPTAIN AMERICA (1968) (#100-454) (MARVEL) #363 NEWSSTAND Fine

CLOAK AND DAGGER (1985) (#1-11) (MARVEL) #1 NEWSSTAND Fine

DEADLY HANDS OF KUNG FU (1974) #1 Very Good
DEADLY HANDS OF KUNG FU (1974) #16 Fine

DOC SAVAGE (MAGAZINE) (1975) #1 Very Fine
DOC SAVAGE (MAGAZINE) (1975) #2 Near Mint/Mint
DOC SAVAGE (MAGAZINE) (1975) #4 Very Fine
DOC SAVAGE (MAGAZINE) (1975) #5 Very Good

DRACULA LIVES! ANNUAL MAGAZINE (1975) #1 Near Mint/Mint

ELRIC: DREAMING CITY GN (1982) #1 Very Fine

GI JOE #52 NEWSSTAND Fine
GI JOE #74 NEWSSTAND Fine
GI JOE #76 NEWSSTAND Fine

GI JOE #82 NEWSSTAND Fine
GI JOE #85 Very Fine
GI JOE #88 NEWSSTAND Fine
GI JOE #90 NEWSSTAND Very Good
GI JOE #91 Very Fine
GI JOE #92 Near Mint/Mint
GI JOE #93 Fine
GI JOE #94 Fine
GI JOE #95 Near Mint/Mint
GI JOE #96 NEWSSTAND Fine
GI JOE #97 Very Fine
GI JOE #98 Fine
GI JOE #99 Near Mint/Mint
GI JOE #101 NEWSSTAND Fine
GI JOE #112 Near Mint/Mint
GI JOE #113 Very Fine

GI JOE ORDER OF BATTLE (1986) #1 NEWSSTAND Fine

HOWARD THE DUCK (1979) (#1-9) (MAGAZINE) #1 Very Good
HOWARD THE DUCK (1979) (#1-9) (MAGAZINE) #2 Near Mint/Mint
HOWARD THE DUCK (1979) (#1-9) (MAGAZINE) #3 Near Mint/Mint
HOWARD THE DUCK (1979) (#1-9) (MAGAZINE) #4 Very Fine
HOWARD THE DUCK (1979) (#1-9) (MAGAZINE) #8 Fine
HOWARD THE DUCK (1979) (#1-9) (MAGAZINE) #9 Fine

HULK (1962) (#1-6, #102-474, #600-635)(INCREDIBLE)(MV) #261 NEWSSTAND Very Good
HULK (1962) (#1-6, #102-474, #600-635)(INCREDIBLE)(MV) #263 NEWSSTAND Very Good
HULK (1962) (#1-6, #102-474, #600-635)(INCREDIBLE)(MV) #324 NEWSSTAND Very Good
HULK (1962) (#1-6, #102-474, #600-635)(INCREDIBLE)(MV) #340 NEWSSTAND Very Good
HULK (1962) (#1-6, #102-474, #600-635)(INCREDIBLE)(MV) #341 NEWSSTAND Good
HULK (1962) (#1-6, #102-474, #600-635)(INCREDIBLE)(MV) #342 Very Fine
HULK (1962) (#1-6, #102-474, #600-635)(INCREDIBLE)(MV) #344 NEWSSTAND Fine
HULK (1962) (#1-6, #102-474, #600-635)(INCREDIBLE)(MV) #350 NEWSSTAND Fine
HULK (1962) (#1-6, #102-474, #600-635)(INCREDIBLE)(MV) #351 NEWSSTAND Fine
HULK (1962) (#1-6, #102-474, #600-635)(INCREDIBLE)(MV) #352 NEWSSTAND Fine

IRON MAN (1968) (#1-332) (INVINCIBLE IRON MAN)(MARVEL) #115 WHITMAN Very Good

KULL AND THE BARBARIANS (1975) #1 Very Fine
KULL AND THE BARBARIANS (1975) #2 Near Mint/Mint
KULL AND THE BARBARIANS (1975) #3 Very Fine

MARVEL PREVIEW (1975) #1 Very Fine

MARVEL SPOTLIGHT (1971) (#1-33) (MARVEL) #3 Good

MARVEL SUPER SPECIAL (1977) #2 Near Mint/Mint
MARVEL SUPER SPECIAL (1977) #9 Near Mint/Mint

MICRONAUTS (1979) (#1-59) (MARVEL) #1 Fine
MICRONAUTS (1979) (#1-59) (MARVEL) #4 Very Fine
MICRONAUTS (1979) (#1-59) (MARVEL) #5 Very Fine
MICRONAUTS (1979) (#1-59) (MARVEL) #7 Very Fine
MICRONAUTS (1979) (#1-59) (MARVEL) #8 Very Fine

MOON KNIGHT (1980) (#1-38) (MARVEL) #1 Fine
MOON KNIGHT (1980) (#1-38) (MARVEL) #35 NEWSSTAND Fine

NEW MUTANTS (1983) (#1-100) (MARVEL) #12 Very Fine
NEW MUTANTS (1983) (#1-100) (MARVEL) #15 Near Mint/Mint
NEW MUTANTS (1983) (#1-100) (MARVEL) #16 Fine
NEW MUTANTS (1983) (#1-100) (MARVEL) #23 Near Mint/Mint
NEW MUTANTS (1983) (#1-100) (MARVEL) #28 Good
NEW MUTANTS (1983) (#1-100) (MARVEL) #75 Near Mint/Mint
NEW MUTANTS (1983) (#1-100) (MARVEL) #89 Near Mint/Mint

PETER PARKER (1976) (#1-263) (SPECTACULAR SPIDER-MAN) #2 Very Good
PETER PARKER (1976) (#1-263) (SPECTACULAR SPIDER-MAN) #9 Very Fine
PETER PARKER (1976) (#1-263) (SPECTACULAR SPIDER-MAN) #11 Fine
PETER PARKER (1976) (#1-263) (SPECTACULAR SPIDER-MAN) #12 Fine
PETER PARKER (1976) (#1-263) (SPECTACULAR SPIDER-MAN) #13 Fine
PETER PARKER (1976) (#1-263) (SPECTACULAR SPIDER-MAN) #14 Near Mint/Mint
PETER PARKER (1976) (#1-263) (SPECTACULAR SPIDER-MAN) #15 Very Fine
PETER PARKER (1976) (#1-263) (SPECTACULAR SPIDER-MAN) #16 Near Mint/Mint
PETER PARKER (1976) (#1-263) (SPECTACULAR SPIDER-MAN) #17 Very Fine
PETER PARKER (1976) (#1-263) (SPECTACULAR SPIDER-MAN) #18 Fine
PETER PARKER (1976) (#1-263) (SPECTACULAR SPIDER-MAN) #19 Very Fine
PETER PARKER (1976) (#1-263) (SPECTACULAR SPIDER-MAN) #20 Very Fine
PETER PARKER (1976) (#1-263) (SPECTACULAR SPIDER-MAN) #24 Fine
PETER PARKER (1976) (#1-263) (SPECTACULAR SPIDER-MAN) #25 Fine
PETER PARKER (1976) (#1-263) (SPECTACULAR SPIDER-MAN) #27 Very Fine
PETER PARKER (1976) (#1-263) (SPECTACULAR SPIDER-MAN) #28 Fine
PETER PARKER (1976) (#1-263) (SPECTACULAR SPIDER-MAN) #29 Very Fine
PETER PARKER (1976) (#1-263) (SPECTACULAR SPIDER-MAN) #30 Near Mint/Mint


PETER PARKER (1976) (#1-263) (SPECTACULAR SPIDER-MAN) #33

PETER PARKER (1976) (#1-263) (SPECTACULAR SPIDER-MAN) #33 Very Fine
PETER PARKER (1976) (#1-263) (SPECTACULAR SPIDER-MAN) #38 NEWSSTAND Fine
PETER PARKER (1976) (#1-263) (SPECTACULAR SPIDER-MAN) #40 NEWSSTAND Fine
PETER PARKER (1976) (#1-263) (SPECTACULAR SPIDER-MAN) #41 NEWSSTAND Fine
PETER PARKER (1976) (#1-263) (SPECTACULAR SPIDER-MAN) #92 NEWSSTAND Very Fine

PETER PARKER ANNUAL (1979) #1 NEWSSTAND Near Mint/Mint
PETER PARKER ANNUAL (1979) #3 NEWSSTAND Fine

POWER MAN/IRON FIST (LUKE CAGE, POWER MAN) GIANT-SIZE (1975) #1 Fine

SAVAGE SWORD OF CONAN (MAGAZINE) (1974) #1 Very Fine
SAVAGE SWORD OF CONAN (MAGAZINE) (1974) #2 Very Good
SAVAGE SWORD OF CONAN (MAGAZINE) (1974) #3 Fine
SAVAGE SWORD OF CONAN (MAGAZINE) (1974) #4 Fine
SAVAGE SWORD OF CONAN (MAGAZINE) (1974) #5 Very Fine
SAVAGE SWORD OF CONAN (MAGAZINE) (1974) #6 Very Fine
SAVAGE SWORD OF CONAN (MAGAZINE) (1974) #7 Near Mint/Mint
SAVAGE SWORD OF CONAN (MAGAZINE) (1974) #8 Very Fine
SAVAGE SWORD OF CONAN (MAGAZINE) (1974) #9 Fine
SAVAGE SWORD OF CONAN (MAGAZINE) (1974) #10 Near Mint/Mint
SAVAGE SWORD OF CONAN (MAGAZINE) (1974) #11 Very Fine
SAVAGE SWORD OF CONAN (MAGAZINE) (1974) #12 Near Mint/Mint
SAVAGE SWORD OF CONAN (MAGAZINE) (1974) #13 Fine
SAVAGE SWORD OF CONAN (MAGAZINE) (1974) #14 Near Mint/Mint
SAVAGE SWORD OF CONAN (MAGAZINE) (1974) #15 Near Mint/Mint
SAVAGE SWORD OF CONAN (MAGAZINE) (1974) #16 Near Mint/Mint
SAVAGE SWORD OF CONAN (MAGAZINE) (1974) #17 Very Fine
SAVAGE SWORD OF CONAN (MAGAZINE) (1974) #18 Near Mint/Mint
SAVAGE SWORD OF CONAN (MAGAZINE) (1974) #19 Very Fine
SAVAGE SWORD OF CONAN (MAGAZINE) (1974) #20 Very Fine
SAVAGE SWORD OF CONAN (MAGAZINE) (1974) #21 Near Mint/Mint
SAVAGE SWORD OF CONAN (MAGAZINE) (1974) #22 Very Fine
SAVAGE SWORD OF CONAN (MAGAZINE) (1974) #23 Near Mint/Mint
SAVAGE SWORD OF CONAN (MAGAZINE) (1974) #24 Very Fine
SAVAGE SWORD OF CONAN (MAGAZINE) (1974) #25 Near Mint/Mint
SAVAGE SWORD OF CONAN (MAGAZINE) (1974) #26 Near Mint/Mint
SAVAGE SWORD OF CONAN (MAGAZINE) (1974) #26 Very Fine
SAVAGE SWORD OF CONAN (MAGAZINE) (1974) #27 Near Mint/Mint
SAVAGE SWORD OF CONAN (MAGAZINE) (1974) #27 Very Fine
SAVAGE SWORD OF CONAN (MAGAZINE) (1974) #28 Very Fine
SAVAGE SWORD OF CONAN (MAGAZINE) (1974) #29 Near Mint/Mint
SAVAGE SWORD OF CONAN (MAGAZINE) (1974) #30 Fine


SAVAGE SWORD OF CONAN (MAGAZINE) (1974) #31

SAVAGE SWORD OF CONAN (MAGAZINE) (1974) #31 Very Fine
SAVAGE SWORD OF CONAN (MAGAZINE) (1974) #32 Very Fine
SAVAGE SWORD OF CONAN (MAGAZINE) (1974) #33 Near Mint/Mint
SAVAGE SWORD OF CONAN (MAGAZINE) (1974) #34 Near Mint/Mint
SAVAGE SWORD OF CONAN (MAGAZINE) (1974) #35 Near Mint/Mint
SAVAGE SWORD OF CONAN (MAGAZINE) (1974) #36 Near Mint/Mint
SAVAGE SWORD OF CONAN (MAGAZINE) (1974) #37 Near Mint/Mint
SAVAGE SWORD OF CONAN (MAGAZINE) (1974) #38 Near Mint/Mint
SAVAGE SWORD OF CONAN (MAGAZINE) (1974) #39 Near Mint/Mint
SAVAGE SWORD OF CONAN (MAGAZINE) (1974) #40 Near Mint/Mint
SAVAGE SWORD OF CONAN (MAGAZINE) (1974) #41 Near Mint/Mint
SAVAGE SWORD OF CONAN (MAGAZINE) (1974) #42 Near Mint/Mint
SAVAGE SWORD OF CONAN (MAGAZINE) (1974) #43 Near Mint/Mint
SAVAGE SWORD OF CONAN (MAGAZINE) (1974) #44 Near Mint/Mint
SAVAGE SWORD OF CONAN (MAGAZINE) (1974) #45 Near Mint/Mint
SAVAGE SWORD OF CONAN (MAGAZINE) (1974) #46 Very Fine
SAVAGE SWORD OF CONAN (MAGAZINE) (1974) #47 Near Mint/Mint
SAVAGE SWORD OF CONAN (MAGAZINE) (1974) #48 Very Fine
SAVAGE SWORD OF CONAN (MAGAZINE) (1974) #49 Very Fine
SAVAGE SWORD OF CONAN (MAGAZINE) (1974) #50 Very Fine
SAVAGE SWORD OF CONAN (MAGAZINE) (1974) #51 Near Mint/Mint
SAVAGE SWORD OF CONAN (MAGAZINE) (1974) #52 NEWSSTAND Near Mint/Mint
SAVAGE SWORD OF CONAN (MAGAZINE) (1974) #53 NEWSSTAND Near Mint/Mint
SAVAGE SWORD OF CONAN (MAGAZINE) (1974) #54 NEWSSTAND Near Mint/Mint
SAVAGE SWORD OF CONAN (MAGAZINE) (1974) #55 NEWSSTAND Near Mint/Mint
SAVAGE SWORD OF CONAN (MAGAZINE) (1974) #56 NEWSSTAND Very Fine
SAVAGE SWORD OF CONAN (MAGAZINE) (1974) #56 Very Fine
SAVAGE SWORD OF CONAN (MAGAZINE) (1974) #57 NEWSSTAND Very Fine
SAVAGE SWORD OF CONAN (MAGAZINE) (1974) #58 NEWSSTAND Near Mint/Mint
SAVAGE SWORD OF CONAN (MAGAZINE) (1974) #61 NEWSSTAND Very Fine
SAVAGE SWORD OF CONAN (MAGAZINE) (1974) #62 NEWSSTAND Near Mint/Mint
SAVAGE SWORD OF CONAN (MAGAZINE) (1974) #63 NEWSSTAND Near Mint/Mint
SAVAGE SWORD OF CONAN (MAGAZINE) (1974) #64 NEWSSTAND Very Fine
SAVAGE SWORD OF CONAN (MAGAZINE) (1974) #67 NEWSSTAND Near Mint/Mint
SAVAGE SWORD OF CONAN (MAGAZINE) (1974) #73 Near Mint/Mint
SAVAGE SWORD OF CONAN (MAGAZINE) (1974) #74 Very Fine
SAVAGE SWORD OF CONAN (MAGAZINE) (1974) #75 NEWSSTAND Very Fine
SAVAGE SWORD OF CONAN (MAGAZINE) (1974) #88 NEWSSTAND Very Fine

SAVAGE SWORD OF CONAN ANNUAL (MAGAZINE) #1 Very Fine


SAVAGE TALES (1985) (#1-8) (MARVEL MAGAZINE) #3

SAVAGE TALES (1985) (#1-8) (MARVEL MAGAZINE) #3 Near Mint/Mint
SAVAGE TALES (1985) (#1-8) (MARVEL MAGAZINE) #4 Very Fine
SAVAGE TALES (1985) (#1-8) (MARVEL MAGAZINE) #5 Near Mint/Mint

SAVAGE TALES ANNUAL #1 Very Fine

SPIDER-MAN (1963) (AMAZING SPIDER-MAN) (#1-441) #239 NEWSSTAND Good
SPIDER-MAN (1963) (AMAZING SPIDER-MAN) (#1-441) #258 NEWSSTAND Very Good
SPIDER-MAN (1963) (AMAZING SPIDER-MAN) (#1-441) #261 Fine

THOR (1962) (#83-125 JOURNEY INTO MYSTERY, 126-502) #344 NEWSSTAND Fine
THOR (1962) (#83-125 JOURNEY INTO MYSTERY, 126-502) #351 NEWSSTAND Fine

TRANSFORMERS (1984) (#1-80) (MARVEL) #2 NEWSSTAND Very Good
TRANSFORMERS (1984) (#1-80) (MARVEL) #4 Fine
TRANSFORMERS (1984) (#1-80) (MARVEL) #5 Fine
TRANSFORMERS (1984) (#1-80) (MARVEL) #8 Fine
TRANSFORMERS (1984) (#1-80) (MARVEL) #19 NEWSSTAND Fine
TRANSFORMERS (1984) (#1-80) (MARVEL) #20 NEWSSTAND Fine
TRANSFORMERS (1984) (#1-80) (MARVEL) #21 NEWSSTAND Fine
TRANSFORMERS (1984) (#1-80) (MARVEL) #28 NEWSSTAND Fine
TRANSFORMERS (1984) (#1-80) (MARVEL) #67 NEWSSTAND Fine
TRANSFORMERS (1984) (#1-80) (MARVEL) #68 Fine

TRANSFORMERS THE MOVIE (1986) #1 NEWSSTAND Fine
TRANSFORMERS THE MOVIE (1986) #3 NEWSSTAND Fine

TRANSFORMERS UNIVERSE (1986) #1 NEWSSTAND Fine

UNKNOWN WORLDS OF SCIENCE FICTION (1975) #1 Very Fine

VENOM (2017) (#1-6, #150-165) (MARVEL) #5 2ND PRINT Near Mint/Mint
VENOM (2017) (#1-6, #150-165) (MARVEL) #159 2ND PRINT Near Mint/Mint

VENOM (2018) (#1-UP) (MARVEL) #3 2ND PRINT Near Mint/Mint

WAKANDA FOREVER: X-MEN (2018) #1 PUTRI Near Mint/Mint

WARLOCK (1998) (#1-4) (MARVEL) #3 Very Fine
WARLOCK (1998) (#1-4) (MARVEL) #4 Very Fine


WARLOCK (2004) (#1-4) (MARVEL) #4

WARLOCK (2004) (#1-4) (MARVEL) #4 Near Mint/Mint

WEAPON H (2018) #8 Near Mint/Mint

WEAPON X (2017) (#1-UP) (MARVEL) #3 Very Fine
WEAPON X (2017) (#1-UP) (MARVEL) #4 Near Mint/Mint
WEAPON X (2017) (#1-UP) (MARVEL) #11 Near Mint/Mint
WEAPON X (2017) (#1-UP) (MARVEL) #12 Near Mint/Mint
WEAPON X (2017) (#1-UP) (MARVEL) #13 Near Mint/Mint
WEAPON X (2017) (#1-UP) (MARVEL) #15 Near Mint/Mint
WEAPON X (2017) (#1-UP) (MARVEL) #19 Near Mint/Mint

WEB OF SPIDER-MAN (1985) (#1-129) (MARVEL) #1 NEWSSTAND Very Good
WEB OF SPIDER-MAN (1985) (#1-129) (MARVEL) #1 Very Good
WEB OF SPIDER-MAN (1985) (#1-129) (MARVEL) #19 NEWSSTAND Very Good

WEREWOLF BY NIGHT GIANT-SIZE (1974) #4 Good

WOLVERINE (1988) (#1/2-189) (MARVEL) #1 Very Fine
WOLVERINE (1988) (#1/2-189) (MARVEL) #2 Near Mint/Mint
WOLVERINE (1988) (#1/2-189) (MARVEL) #3 NEWSSTAND Near Mint/Mint
WOLVERINE (1988) (#1/2-189) (MARVEL) #4 Near Mint/Mint
WOLVERINE (1988) (#1/2-189) (MARVEL) #5 Near Mint/Mint
WOLVERINE (1988) (#1/2-189) (MARVEL) #6 Near Mint/Mint
WOLVERINE (1988) (#1/2-189) (MARVEL) #7 Near Mint/Mint
WOLVERINE (1988) (#1/2-189) (MARVEL) #8 Near Mint/Mint
WOLVERINE (1988) (#1/2-189) (MARVEL) #9 Near Mint/Mint
WOLVERINE (1988) (#1/2-189) (MARVEL) #10 Near Mint/Mint
WOLVERINE (1988) (#1/2-189) (MARVEL) #11 Near Mint/Mint
WOLVERINE (1988) (#1/2-189) (MARVEL) #12 Near Mint/Mint
WOLVERINE (1988) (#1/2-189) (MARVEL) #14 Near Mint/Mint
WOLVERINE (1988) (#1/2-189) (MARVEL) #15 Near Mint/Mint
WOLVERINE (1988) (#1/2-189) (MARVEL) #16 Near Mint/Mint
WOLVERINE (1988) (#1/2-189) (MARVEL) #17 Near Mint/Mint
WOLVERINE (1988) (#1/2-189) (MARVEL) #18 Near Mint/Mint
WOLVERINE (1988) (#1/2-189) (MARVEL) #20 Near Mint/Mint
WOLVERINE (1988) (#1/2-189) (MARVEL) #21 Near Mint/Mint
WOLVERINE (1988) (#1/2-189) (MARVEL) #23 Near Mint/Mint

X 23 (2018) (#1-UP) (MARVEL) #1 2ND PRINT Near Mint/Mint


X-MEN BLUE (2017) #2 2ND PRINT

X-MEN BLUE (2017) #2 2ND PRINT Near Mint/Mint

X-MEN RED (2018) #1 2ND PRINT Near Mint/Mint
X-MEN RED (2018) #2 2ND PRINT Near Mint/Mint

DC
ACTION COMICS (1938) (#0-600, 643-904) (DC) #320 Good

ALL-AMERICAN MEN OF WAR (1952) #115 Good

ANIMANIACS (DC) (1995) #58 Near Mint/Mint
ANIMANIACS (DC) (1995) #58 Very Fine

AQUAMAN (2011) (#0-52) (DC NEW52) #15 BLANK CVR Near Mint/Mint

BATMAN (1940) (#0-713) (DC) #436 Near Mint/Mint
BATMAN (1940) (#0-713) (DC) #436 Very Fine

BATMAN (2011) (#0-52) (DC NEW52) #47 BAGGED Near Mint/Mint

CAPTAIN STORM (1964) #1 Very Good
CAPTAIN STORM (1964) #2 Very Good
CAPTAIN STORM (1964) #3 Very Good
CAPTAIN STORM (1964) #4 Very Good
CAPTAIN STORM (1964) #6 Good

DARK KNIGHT (1986) #1 1ST PRT Fine
DARK KNIGHT (1986) #2 3RD PRT Fine

FLASH (1959) (#105-350) (DC) #336 NEWSSTAND Fine

GI COMBAT (1957) (#44-288) (DC) #123 Fair
GI COMBAT (1957) (#44-288) (DC) #125 Good

KINGDOM COME (1996) #2 Very Good
KINGDOM COME (1996) #4 Very Good

OUR ARMY AT WAR (1952) #150 Fair
OUR ARMY AT WAR (1952) #151 Very Good
OUR ARMY AT WAR (1952) #153 Very Good
OUR ARMY AT WAR (1952) #300 Fine


OUR FIGHTING FORCES (1954) #78

OUR FIGHTING FORCES (1954) #78 Good
OUR FIGHTING FORCES (1954) #79 Fair
OUR FIGHTING FORCES (1954) #85 Good
OUR FIGHTING FORCES (1954) #91 Very Good
OUR FIGHTING FORCES (1954) #95 Very Good

PHANTOM STRANGER (1969) (#1-42) #34 Fine
PHANTOM STRANGER (1969) (#1-42) #40 Fine
PHANTOM STRANGER (1969) (#1-42) #41 Fine

SPECTRE (1967) (#1-10) (DC) #10 Very Good

STAR SPANGLED WAR STORIES (1952) #66 Very Good

STAR SPANGLED WAR STORIES (1952) #117 Good
STAR SPANGLED WAR STORIES (1952) #118 Good
STAR SPANGLED WAR STORIES (1952) #119 Good
STAR SPANGLED WAR STORIES (1952) #120 Fair
STAR SPANGLED WAR STORIES (1952) #134 Good
STAR SPANGLED WAR STORIES (1952) #136 Fair

SUPERMAN (1939) (#1-423) (DC) #191 Good
SUPERMAN (1939) (#1-423) (DC) #195 Good

TITANS (2016) (#1-UP) (DC REBIRTH) #20 Near Mint/Mint

WILDSTORM: MICHAEL CRAY (2017) #5 VARIANT Near Mint/Mint

WONDER WOMAN (2016) (#1-UP) (DC REBIRTH) #40 Near Mint/Mint
WONDER WOMAN (2016) (#1-UP) (DC REBIRTH) #40 VARIANT Near Mint/Mint
WONDER WOMAN (2016) (#1-UP) (DC REBIRTH) #41 Near Mint/Mint

DARK HORSE COMICS
ALIENS (1989) (#1-4) (DARK HORSE) #2 Near Mint/Mint
ALIENS (1989) (#1-4) (DARK HORSE) #2 Very Fine

BATMAN VS. PREDATOR (1991) #1 NEWSSTAND Near Mint/Mint
BATMAN VS. PREDATOR (1991) #1 NEWSSTAND Very Fine

WAR BEARS (2018) #1 Near Mint/Mint

IMAGE COMICS

ADVENTURES OF SPAWN (2006) #1 DIRECT CUT

ADVENTURES OF SPAWN (2006) #1 DIRECT CUT Near Mint/Mint

WALKING DEAD (#1-UP) (IMAGE) (2003) #2 15THB&W Near Mint/Mint
WALKING DEAD (#1-UP) (IMAGE) (2003) #27 15THB&W Near Mint/Mint
WALKING DEAD (#1-UP) (IMAGE) (2003) #48 15THB&W Near Mint/Mint
WALKING DEAD (#1-UP) (IMAGE) (2003) #53 15THB&W Near Mint/Mint
WALKING DEAD (#1-UP) (IMAGE) (2003) #92 15THB&W Fine
WALKING DEAD (#1-UP) (IMAGE) (2003) #98 Near Mint/Mint
WALKING DEAD (#1-UP) (IMAGE) (2003) #98 Fine
WALKING DEAD (#1-UP) (IMAGE) (2003) #98 15THB&W Near Mint/Mint
WALKING DEAD (#1-UP) (IMAGE) (2003) #98 Very Fine
WALKING DEAD (#1-UP) (IMAGE) (2003) #103 Very Fine
WALKING DEAD (#1-UP) (IMAGE) (2003) #108 15THB&W Very Fine
WALKING DEAD (#1-UP) (IMAGE) (2003) #109 Very Good
WALKING DEAD (#1-UP) (IMAGE) (2003) #110 Very Good
WALKING DEAD (#1-UP) (IMAGE) (2003) #110 Very Fine
WALKING DEAD (#1-UP) (IMAGE) (2003) #112 Fine
WALKING DEAD (#1-UP) (IMAGE) (2003) #112 Very Good
WALKING DEAD (#1-UP) (IMAGE) (2003) #113 Near Mint/Mint
WALKING DEAD (#1-UP) (IMAGE) (2003) #114 Fine
WALKING DEAD (#1-UP) (IMAGE) (2003) #116 Very Fine
WALKING DEAD (#1-UP) (IMAGE) (2003) #117 Fine
WALKING DEAD (#1-UP) (IMAGE) (2003) #118 Fine
WALKING DEAD (#1-UP) (IMAGE) (2003) #118 Very Fine
WALKING DEAD (#1-UP) (IMAGE) (2003) #122 Fine
WALKING DEAD (#1-UP) (IMAGE) (2003) #122 Very Fine
WALKING DEAD (#1-UP) (IMAGE) (2003) #123 Fine
WALKING DEAD (#1-UP) (IMAGE) (2003) #124 Fine
WALKING DEAD (#1-UP) (IMAGE) (2003) #124 Very Fine
WALKING DEAD (#1-UP) (IMAGE) (2003) #127 15THB&W Near Mint/Mint
WALKING DEAD (#1-UP) (IMAGE) (2003) #132 Near Mint/Mint
WALKING DEAD (#1-UP) (IMAGE) (2003) #132 15THB&W Near Mint/Mint
WALKING DEAD (#1-UP) (IMAGE) (2003) #139 Very Fine
WALKING DEAD (#1-UP) (IMAGE) (2003) #149 Near Mint/Mint
WALKING DEAD (#1-UP) (IMAGE) (2003) #167 15THB&W Very Fine
WALKING DEAD (#1-UP) (IMAGE) (2003) #171 A ADLARD Near Mint/Mint
WALKING DEAD (#1-UP) (IMAGE) (2003) #171 15THB&W Near Mint/Mint
WALKING DEAD (#1-UP) (IMAGE) (2003) #175 A ADLARD Near Mint/Mint


WALKING DEAD (#1-UP) (IMAGE) (2003) #176 A ADLARD

WALKING DEAD (#1-UP) (IMAGE) (2003) #176 A ADLARD Near Mint/Mint
WALKING DEAD (#1-UP) (IMAGE) (2003) #177 A ADLARD Near Mint/Mint
WALKING DEAD (#1-UP) (IMAGE) (2003) #181 A ADLARD Near Mint/Mint
WALKING DEAD (#1-UP) (IMAGE) (2003) #181 B SIENKIEW Near Mint/Mint
WALKING DEAD (#1-UP) (IMAGE) (2003) #182 A ADLARD Near Mint/Mint

WAYWARD (2014) #3 A Near Mint/Mint
WAYWARD (2014) #8 B Near Mint/Mint
WAYWARD (2014) #9 B Near Mint/Mint
WAYWARD (2014) #25 B YAOSHITA Near Mint/Mint
WAYWARD (2014) #26 A CUMMINGS Near Mint/Mint
WAYWARD (2014) #27 A CUMMINGS Near Mint/Mint
WAYWARD (2014) #28 A CUMMINGS Near Mint/Mint
WAYWARD (2014) #29 A CUMMINGS Near Mint/Mint

INDEPENDENTS
ADVENTURES OF THE BIG BOY (1956) #323 (Timely Comics) Fine

ARCHIE GIANT SERIES (1954) #137 (Archie Comics) Good
ARCHIE GIANT SERIES (1954) #142 (Archie Comics) Good
ARCHIE GIANT SERIES (1954) #144 (Archie Comics) Very Good

ARCHIE'S PALS 'N' GALS (1952) #42 (Archie Comics) Very Good
ARCHIE'S PALS 'N' GALS (1952) #54 (Archie Comics) Very Good
ARCHIE'S PALS 'N' GALS (1952) #56 (Archie Comics) Very Good
ARCHIE'S PALS 'N' GALS (1952) #60 (Archie Comics) Very Good

AVENGERS (1968) (#1) (GOLD KEY) #1 (Gold Key) Good

BARBARIANS (ATLAS SEABOARD) (1975) #1 (Atlas/Seaboard) Fine
BARBARIANS (ATLAS SEABOARD) (1975) #1 (Atlas/Seaboard) Near Mint/Mint
BARBARIANS (ATLAS SEABOARD) (1975) #1 (Atlas/Seaboard) Very Good
BARBARIANS (ATLAS SEABOARD) (1975) #1 (Atlas/Seaboard) Very Fine

BETTY AND ME (1965) #1 (Archie Comics) Good
BETTY AND ME (1965) #8 (Archie Comics) Very Good
BETTY AND ME (1965) #17 (Archie Comics) Very Good
BETTY AND ME (1965) #18 (Archie Comics) Very Good
BETTY AND ME (1965) #21 (Archie Comics) Very Good

BETTY AND VERONICA (1950) #133 (Archie Comics) Very Good
BETTY AND VERONICA (1950) #138 (Archie Comics) Very Good
BETTY AND VERONICA (1950) #140 (Archie Comics) Very Good
BETTY AND VERONICA (1950) #164 (Archie Comics) Very Good

BLOODSHOT (1993) #7 (Acclaim/Valiant) Near Mint/Mint
BLOODSHOT (1993) #7 (Acclaim/Valiant) Fine
BLOODSHOT (1993) #7 (Acclaim/Valiant) Very Fine

BUGS BUNNY (1962) (#86-218) (GOLD KEY) #87 (Gold Key) Very Good

DARK SHADOWS (1969) (#1-35) (GOLD KEY) #8 (Gold Key) Good

HANNA-BARBERA BAND WAGON (1962) #2 (Gold Key) Good

I SPY (1966) #6 (Gold Key) Good

JUGHEAD (1949) (#1-352) #132 (Archie Comics) Good

LAUGH (1946) #199 (Archie Comics) Very Good
LAUGH (1946) #203 (Archie Comics) Very Good
LAUGH (1946) #211 (Archie Comics) Very Good
LAUGH (1946) #221 (Archie Comics) Very Good
LAUGH (1946) #226 (Archie Comics) Very Good

MAGNUS ROBOT FIGHTER (1963) (#1-46) (GOLD KEY) #23 (Gold Key) Good

MORLOCK 2001 (1975) #1 (Atlas/Seaboard) Fine
MORLOCK 2001 (1975) #2 (Atlas/Seaboard) Fine
MORLOCK 2001 (1975) #3 (Atlas/Seaboard) Fine

PEP COMICS (1946) (#56-411) (ARCHIE) #178 (Archie Comics) Good

PHOENIX (1975) (#1-4) (ATLAS/SEABOARD) #3 (Atlas/Seaboard) Very Fine
PHOENIX (1975) (#1-4) (ATLAS/SEABOARD) #4 (Atlas/Seaboard) Fine

PLANET OF VAMPIRES (1975) #1 (Atlas/Seaboard) Fine
PLANET OF VAMPIRES (1975) #2 (Atlas/Seaboard) Fine
PLANET OF VAMPIRES (1975) #3 (Atlas/Seaboard) Fine

REGGIE AND ME (1966) #39 (Archie Comics) Very Good

ROAD RUNNER (BEEP BEEP) (1966) (#1-88) (GOLD KEY) #9 (Gold Key) Very Good

STAR TREK (GOLD KEY) (1967) #9 (Gold Key) Good


TARGITT (JOHN TARGITT, MAN-STALKER) (1975) #1

TARGITT (JOHN TARGITT, MAN-STALKER) (1975) #1 (Atlas/Seaboard) Fine
TARGITT (JOHN TARGITT, MAN-STALKER) (1975) #2 (Atlas/Seaboard) Very Good
TARGITT (JOHN TARGITT, MAN-STALKER) (1975) #3 (Atlas/Seaboard) Fine

THRILLER (1962) (#1-2) (GOLD KEY) #2 (Gold Key) Good

TOM-TOM, THE JUNGLE BOY (1947) #2 IW REPRINT (MAGAZINE ENTERPRISES) Good

TOP CAT (1962) (#4-31) (GOLD KEY) #23 (Gold Key) Very Good

TRUE COMICS (1941) #58 (True Comics) Very Good

UNCLE SCROOGE (1952) (Dell Publishing) (#1-39) #34 (Dell Publishing) Very Good

VOYAGE TO THE BOTTOM OF THE SEA (1964) #13 (Gold Key) Very Good

WAR FOR THE PLANET OF THE APES (2017) #3 (Boom Studios Publishing) Near Mint/Mint

WAR STORIES (AVATAR) (2014) #15 WRAPAROUND (Avatar Comics) Near Mint/Mint

WARHAMMER 40K: DAWN OF WAR III (2017) #1 D QUALANO (Titan Distributing) Near Mint/Mint

WARHAMMER 40K: REVELATIONS (WILL OF IRON #5-8) (2017) #1 C LISTRANI (Titan Distributing) Near Mint/Mint
WARHAMMER 40K: REVELATIONS (WILL OF IRON #5-8) (2017) #2 A SHEDD (Titan Distributing) Near Mint/Mint

WARLORD OF MARS (2010) #100 NEVES (DYNAMITE Entertainment) Near Mint/Mint