High Grade Silver Age Comics 60% Off
Howdy!
I will start off today by mentioning that Will Moulton just purchased a spectacular single-owner collection of 800+ high grade Silver Age and Bronze Age comics from a long time Denver collector. The first few issues are already available on our website (the rest will be posted Wednesday morning), but only if you act quickly. With our 60% off JULY4TH! codeword sale in effect for you right now, these higher grade issues will simply not last. The codeword sale also applies to all ten million of our other back issue comics and magazines, except for new issues, a few variants, and our professionally-graded editions. Aside from those few minor exceptions all of the comics that Will just listed for you in Premium New-In-Stock are immediately available to you right now at 60% off.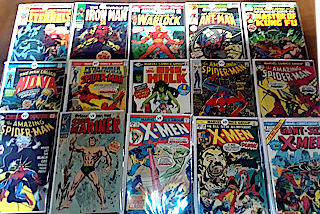 Some of the books on the system now!

Moving on, I want to bring some clarity to my writings about my personal life in this newsletter. If you only want to read about comics and our business dealings, you should stop reading now, as I am about to dive into some of that "gay crap" that a few readers have told me that they found personally offensive. If you want some insights into Bettie's origin story, however, I am about to be quite revealing.
To begin, I have been writing these columns now for nearly 40 years, and they have always been a mixture of business and my personal life. I have over the years celebrated the birth of our four daughters, the death of my parents, our purchase of our beloved farm, family vacations, and my forays into building the world's largest private collection of handmade Pueblo Indian pottery.
I also wrote at length (when I finally regained my cognitive abilities) about my two debilitating episodes (2003 and 2008) of West Nile Fever. It was in those columns that I mentioned that my doctors (finally) determined that my loss of eyesight, hearing, balance, and severe cognitive impairment resulted from extended bouts of Encephalitis of the Hypothalamus, the oldest and most primitive part of our brain. It took them a full 43 days, however, to reach the realization that I was experiencing severe swelling in my brain. By that time, I was so weak that I could no longer see, hear, or stand unassisted. In point of fact, when my wife, Nanette, finally took me in to the emergency room I went unconscious on the operating table during a spinal tap, and had to be revived.
After ten year's of reflection, I now realize that a part of me died on that operating table. As anyone who knew me well prior to my 2nd illness 2008 can attest, I always presented as traditionally masculine, and very All-American competitive. On many levels I believe that aggressive male-centered consciousness and fierceness is what allowed me to gradually build myself up from the abject poverty of sleeping under bridges in homeless shelters, to living in an old car, to eventually owning Mile High Comics.
After my illness of 2008, however, my entire personality and demeanor changed. Within just a few months of being released from the hospital I became a full-on vegetarian, gave up all television, softened my demeanor considerably, and (after never having been in one in my life...) started seeking out gay bars in every city that I visited on my numerous journeys to purchase old comics. What compelled me to do this was a complete mystery to me, but I quickly discovered that the gay community now felt totally like the right place for me to be. I felt especially comfortable among the small subset of drag queens, transgender people, and those who were gender-fluid.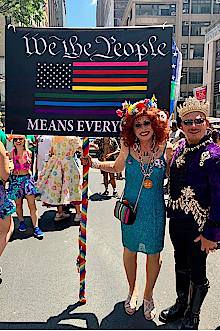 Bettie Pages at New York Pride

Fast-forward ten years, and my life journey has now led me to the realization that my fascination with drag queens and gender non-binary peoples was a part of my own transition into Bettie Pages. I now identify not only as a performance drag queen, but also as a gender fluid/two-spirit person. What does that mean? Well, even I am still not entirely sure, but as the following photographs pretty clearly illustrate, I am no longer the singularly masculine person that I once was. In point of fact, with every day that passes Bettie moves more to the forefront in my life, and the old Chuck recedes just a little bit more.
What I want to make clear is that this is a journey for me, but not one of my own making. Whatever happened to me during those 43 days of severe brain swelling, the net result was that my gender identity was somehow altered, and Bettie was born. The good news is that I didn't die, and I am quite comfortable on my journey. The bad news is that I am now experiencing some of the same homophobia and transphobia that caused the Stonewall riots to occur 50 years ago.
I mention all of this because this column has always been long on candor about my personal life. In point of fact, until recently I limited how much I wrote about my journey for a long time because I sincerely did not want to offend anyone. At the end of the day, however, I have risen on the national scene to now be counted among the leaders of the LGBTQ world. As such, it is beholden upon me to make abundantly clear to everyone that being gay, or transgender, or gender non-binary is not any sort of impediment for any position or role in our society. I may wear beautiful gowns and makeup these days, but I still have fifty years of experience of buying and selling comics, and I also remain dedicated to serving the poor and those in need in our community. Love is Love.
Happy collecting!
Chuck Rozanski/Bettie Pages,
President - Mile High Comics, Inc.
July 1, 2019
P.S. Below are some of the great comics that Will just purchased. Enjoy!
MARVEL

ADVENTURES ON THE PLANET OF THE APES (1975) #1

ADVENTURES ON THE PLANET OF THE APES (1975) #1 Fine

ASTONISHING TALES (MARVEL) (1970) #29 Very Good

CAPTAIN AMERICA (1968) (#100-454) (MARVEL) #119 Good
CAPTAIN AMERICA (1968) (#100-454) (MARVEL) #120 Good
CAPTAIN AMERICA (1968) (#100-454) (MARVEL) #255 Very Fine

ETERNALS (1976) (#1-19) (MARVEL) (JACK KIRBY) #1 Very Good

HUMAN FLY (1977) (#1-19) (MARVEL) #1 Near Mint/Mint

HUMAN TORCH (1974) #1 Near Mint/Mint


IRON MAN (1968) (#1-332) (INVINCIBLE IRON MAN)(MARVEL) #1

IRON MAN (1968) (#1-332) (INVINCIBLE IRON MAN)(MARVEL) #1 Very Fine

JOHN CARTER ANNUAL (1977) #1 Near Mint/Mint

MARVEL FEATURE (1975) (#1-7) (RED SONJA) #1 Very Fine

MARVEL PREMIERE (1972) #1 Very Good
MARVEL PREMIERE (1972) #25 Very Good
MARVEL PREMIERE (1972) #47 Very Fine

MARVEL SPOTLIGHT (1971) (#1-33) (MARVEL) #1 Good
MARVEL SPOTLIGHT (1971) (#1-33) (MARVEL) #29 Very Fine

MARVEL SUPER ACTION (1977) #1 Near Mint/Mint

MARVEL TEAM-UP (1972) (#1-150) (MARVEL) #95 NEWSSTAND Very Good

MASTER OF KUNG FU (1974) (#15-125) (MARVEL) (SHANG-CHI) #15 Very Fine

NOVA (1976) (#1-25) (RICHARD RIDER) (MARVEL) #1 Very Fine

PETER PARKER (1976) (#1-263) (SPECTACULAR SPIDER-MAN) #1 Very Fine
PETER PARKER (1976) (#1-263) (SPECTACULAR SPIDER-MAN) #7 Very Fine
PETER PARKER (1976) (#1-263) (SPECTACULAR SPIDER-MAN) #8 Near Mint/Mint
PETER PARKER (1976) (#1-263) (SPECTACULAR SPIDER-MAN) #22 Very Fine

RED SONJA (1977) (#1-15) (MARVEL) #1 Very Fine


SHE-HULK (1980) (#1-25) (SAVAGE SHE-HULK) (MARVEL) #1

SHE-HULK (1980) (#1-25) (SAVAGE SHE-HULK) (MARVEL) #1 Near Mint/Mint

SHOGUN WARRIORS (1979) #1 Fine

SPIDER-MAN (1963) (AMAZING SPIDER-MAN) (#1-441) #98 Very Good
SPIDER-MAN (1963) (AMAZING SPIDER-MAN) (#1-441) #99 Fine
SPIDER-MAN (1963) (AMAZING SPIDER-MAN) (#1-441) #100 Very Good
SPIDER-MAN (1963) (AMAZING SPIDER-MAN) (#1-441) #143 Fine
SPIDER-MAN (1963) (AMAZING SPIDER-MAN) (#1-441) #148 Fine
SPIDER-MAN (1963) (AMAZING SPIDER-MAN) (#1-441) #149 Near Mint/Mint
SPIDER-MAN (1963) (AMAZING SPIDER-MAN) (#1-441) #172 Very Fine
SPIDER-MAN (1963) (AMAZING SPIDER-MAN) (#1-441) #184 Very Fine
SPIDER-MAN (1963) (AMAZING SPIDER-MAN) (#1-441) #194 Very Fine

STAR TREK (1980) (#1-18) (MARVEL) #1 NEWSSTAND Very Fine

SUB-MARINER (1968) (#1-72) (PRINCE NAMOR SUB-MARINER) #1 Very Fine

TALES OF SUSPENSE (1959) (#1-99) (ATLAS/MARVEL) #59 Good
TALES OF SUSPENSE (1959) (#1-99) (ATLAS/MARVEL) #62 Fair
TALES OF SUSPENSE (1959) (#1-99) (ATLAS/MARVEL) #70 Good
TALES OF SUSPENSE (1959) (#1-99) (ATLAS/MARVEL) #77 Good


TALES OF SUSPENSE (1959) (#1-99) (ATLAS/MARVEL) #77

TALES OF SUSPENSE (1959) (#1-99) (ATLAS/MARVEL) #77 Very Good
TALES OF SUSPENSE (1959) (#1-99) (ATLAS/MARVEL) #82 Very Good

TALES OF SUSPENSE (2017) (#100-UP) (MARVEL LEGACY) #101 Near Mint/Mint
TALES OF SUSPENSE (2017) (#100-UP) (MARVEL LEGACY) #103 Near Mint/Mint
TALES OF SUSPENSE (2017) (#100-UP) (MARVEL LEGACY) #104 Near Mint/Mint

TALES TO ASTONISH (1959) (#1-21 ATLAS, #22-101 MARVEL) #101 Good

X-MEN (1963) (#1-113, UNCANNY X-MEN #114-544) (MARVEL) #93 Very Fine
X-MEN (1963) (#1-113, UNCANNY X-MEN #114-544) (MARVEL) #94 Very Fine
X-MEN (1963) (#1-113, UNCANNY X-MEN #114-544) (MARVEL) #155 Very Fine
X-MEN (1963) (#1-113, UNCANNY X-MEN #114-544) (MARVEL) #156 Very Fine
X-MEN (1963) (#1-113, UNCANNY X-MEN #114-544) (MARVEL) #244 NEWSSTAND Good

X-MEN GIANT-SIZE (1975) #1 Near Mint/Mint
X-MEN GIANT-SIZE (1975) #2 Fine