New Comics Collections 60% Off
Howdy!
Today's newsletter is coming to you from Long Island, where I am staying with friends overnight. We will be driving into New York tomorrow morning in order to participate in the dedication of the LGBTQ Wall of Honor at the historic Stonewall Inn. Mile High Comics is listed as a sponsor of this amazing event, as we donated the entire proceeds from our March Poker Tournament to help pay for the installation. We sincerely thank everyone who participated in that game, our volunteer dealers, the members of the Royal Poker Club, and (most importantly) tournament coordinator Rion (Bobb) Ringer. I will have photos from the Stonewall event in my next newsletter.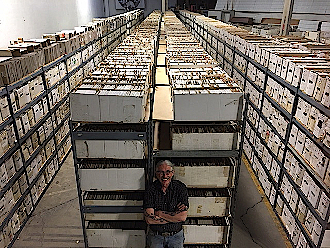 Chuck in front of our back issue racks

As regards what's happening at Mile High Comics, our operations manager, Will Moulton, has been coordinating the sorting and grading of a plethora of nice collections that we've purchased over the past week. A few of those newly-arrived comics are already on the system and available to you, with more being added into New-In-Stock and Premium New-In-Stock every day. Almost all are also available to you right now at 60% off when you utilize our current COMIC-CON! codeword sale. Only new issues, a few variants, and our professionally-graded issues are excluded. Enjoy!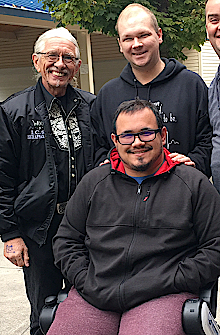 Chuck with Kayden and Jared Peterson-Craig

In other news, Kayden and Jared Peterson-Craig and are very good friends of mine who just reopened the Cafe' VilleBella, at 3679 Harrison Blvd. in Ogden, Utah. They are offering anyone who stops by to visit their Cafe this coupon for a free 12 oz coffee. I am taking his generous offer a step further by offering anyone who visits them a full credit up to $30 in Mile High Comics products. Just send us a copy of your receipt, and we will issue a credit to you for the full amount up to $30. Limit one credit per client, please, and do say "howdy!" from us. Kayden and Jared are great people, and I really hope that you will support them in his new endeavor...
That's all I have for you today, but I will have a slew of photos and reports for you over the next couple of days, including photos from New York Pride. Bettie will be marching the entire Pride parade route with the members of the Imperial Court of New York. Fun!
Happy collecting!
Chuck Rozanski,
President - Mile High Comics, Inc.
June 25, 2019
P.S. Here are a few of the nice comics that Will and Pam just added into inventory for you...
MARVEL
2099 UNLIMITED #10 Near Mint/Mint

A NEXT (1998) #10 Very Fine
A NEXT (1998) #12 Fine

AVENGERS (1998) (#0-84, 500-503) (MARVEL) #21 Fine
AVENGERS (1998) (#0-84, 500-503) (MARVEL) #503 Fine

BLACK PANTHER (1998) (#1-62) (MARVEL) #11 Very Fine

BLOODSTONE (2001) #1 Fine

CIVIL WAR CHRONICLES (2007) #9 Fine
CIVIL WAR CHRONICLES (2007) #12 Fine

MOON GIRL & DEVIL DINOSAUR (2015) #33 Near Mint/Mint
MOON GIRL & DEVIL DINOSAUR (2015) #34 Near Mint/Mint
MOON GIRL & DEVIL DINOSAUR (2015) #35 Near Mint/Mint

MOON KNIGHT (2017) (#188-UP) (MARVEL LEGACY) #198 Near Mint/Mint

PETER PARKER (1976) (#1-263) (SPECTACULAR SPIDER-MAN) #83 Fine
PETER PARKER (1976) (#1-263) (SPECTACULAR SPIDER-MAN) #84 Near Mint/Mint
PETER PARKER (1976) (#1-263) (SPECTACULAR SPIDER-MAN) #85 Near Mint/Mint


PETER PARKER (1976) (#1-263) (SPECTACULAR SPIDER-MAN) #86

PETER PARKER (1976) (#1-263) (SPECTACULAR SPIDER-MAN) #86 Near Mint/Mint
PETER PARKER (1976) (#1-263) (SPECTACULAR SPIDER-MAN) #87 Near Mint/Mint
PETER PARKER (1976) (#1-263) (SPECTACULAR SPIDER-MAN) #88 Near Mint/Mint
PETER PARKER (1976) (#1-263) (SPECTACULAR SPIDER-MAN) #89 Very Fine
PETER PARKER (1976) (#1-263) (SPECTACULAR SPIDER-MAN) #92 Near Mint/Mint
PETER PARKER (1976) (#1-263) (SPECTACULAR SPIDER-MAN) #93 Near Mint/Mint
PETER PARKER (1976) (#1-263) (SPECTACULAR SPIDER-MAN) #94 Near Mint/Mint
PETER PARKER (1976) (#1-263) (SPECTACULAR SPIDER-MAN) #95 Near Mint/Mint
PETER PARKER (1976) (#1-263) (SPECTACULAR SPIDER-MAN) #96 Near Mint/Mint
PETER PARKER (1976) (#1-263) (SPECTACULAR SPIDER-MAN) #97 Near Mint/Mint
PETER PARKER (1976) (#1-263) (SPECTACULAR SPIDER-MAN) #101 Near Mint/Mint
PETER PARKER (1976) (#1-263) (SPECTACULAR SPIDER-MAN) #102 Near Mint/Mint
PETER PARKER (1976) (#1-263) (SPECTACULAR SPIDER-MAN) #104 Near Mint/Mint
PETER PARKER (1976) (#1-263) (SPECTACULAR SPIDER-MAN) #107 Very Fine
PETER PARKER (1976) (#1-263) (SPECTACULAR SPIDER-MAN) #110 Near Mint/Mint
PETER PARKER (1976) (#1-263) (SPECTACULAR SPIDER-MAN) #111 Near Mint/Mint
PETER PARKER (1976) (#1-263) (SPECTACULAR SPIDER-MAN) #112 Near Mint/Mint
PETER PARKER (1976) (#1-263) (SPECTACULAR SPIDER-MAN) #114 Near Mint/Mint
PETER PARKER (1976) (#1-263) (SPECTACULAR SPIDER-MAN) #115 Near Mint/Mint
PETER PARKER (1976) (#1-263) (SPECTACULAR SPIDER-MAN) #116 Near Mint/Mint
PETER PARKER (1976) (#1-263) (SPECTACULAR SPIDER-MAN) #117 Near Mint/Mint
PETER PARKER (1976) (#1-263) (SPECTACULAR SPIDER-MAN) #118 Near Mint/Mint
PETER PARKER (1976) (#1-263) (SPECTACULAR SPIDER-MAN) #119 Near Mint/Mint


PETER PARKER (1976) (#1-263) (SPECTACULAR SPIDER-MAN) #120

PETER PARKER (1976) (#1-263) (SPECTACULAR SPIDER-MAN) #120 Near Mint/Mint
PETER PARKER (1976) (#1-263) (SPECTACULAR SPIDER-MAN) #121 Near Mint/Mint

PETER PARKER ANNUAL (1979) #3 Near Mint/Mint
PETER PARKER ANNUAL (1979) #4 Near Mint/Mint
PETER PARKER ANNUAL (1979) #5 Near Mint/Mint
PETER PARKER ANNUAL (1979) #6 Near Mint/Mint

TALES TO ASTONISH (1959) (#1-21 ATLAS, #22-101 MARVEL) #24 Fair

THOR (1962) (#83-125 JOURNEY INTO MYSTERY, 126-502) #134 Good

DC
ACTION COMICS (1938) (#0-600, 643-904) (DC) #663 Near Mint/Mint

AQUAMAN (1994) (#0-75) (DC) #1 DCUNIVERSE Very Good

HARLEY QUINN (2016) (#1-UP) (DC REBIRTH) #49 Near Mint/Mint
HARLEY QUINN (2016) (#1-UP) (DC REBIRTH) #49 VARIANT Near Mint/Mint
HARLEY QUINN (2016) (#1-UP) (DC REBIRTH) #50 Near Mint/Mint
HARLEY QUINN (2016) (#1-UP) (DC REBIRTH) #50 VARIANT Near Mint/Mint

HAWKMAN (2018) (#1-UP) (DC UNIVERSE) #3 Near Mint/Mint
HAWKMAN (2018) (#1-UP) (DC UNIVERSE) #3 VARIANT Near Mint/Mint

HELLBLAZER (2016) (#1-24) (DC REBIRTH) #24 Near Mint/Mint
HELLBLAZER (2016) (#1-24) (DC REBIRTH) #24 VARIANT Near Mint/Mint

HEROES IN CRISIS (2018) #1 Near Mint/Mint

HOUSE OF WHISPERS (2018) (#1-UP) (DC SANDMAN UNIVERSE) #1 Near Mint/Mint

INJUSTICE VS. MASTERS OF THE UNIVERSE (2018) #1 Near Mint/Mint
INJUSTICE VS. MASTERS OF THE UNIVERSE (2018) #2 Near Mint/Mint
INJUSTICE VS. MASTERS OF THE UNIVERSE (2018) #3 Near Mint/Mint

JUSTICE LEAGUE (2018) (#1-UP) (DC UNIVERSE) #4 Near Mint/Mint
JUSTICE LEAGUE (2018) (#1-UP) (DC UNIVERSE) #5 Near Mint/Mint
JUSTICE LEAGUE (2018) (#1-UP) (DC UNIVERSE) #5 VARIANT Near Mint/Mint
JUSTICE LEAGUE (2018) (#1-UP) (DC UNIVERSE) #6 Near Mint/Mint
JUSTICE LEAGUE (2018) (#1-UP) (DC UNIVERSE) #6 VARIANT Near Mint/Mint
JUSTICE LEAGUE (2018) (#1-UP) (DC UNIVERSE) #7 Near Mint/Mint
JUSTICE LEAGUE (2018) (#1-UP) (DC UNIVERSE) #8 Near Mint/Mint

JUSTICE LEAGUE DARK (2018) (#1-UP) (DC UNIVERSE) #1 Near Mint/Mint
JUSTICE LEAGUE DARK (2018) (#1-UP) (DC UNIVERSE) #2 Near Mint/Mint
JUSTICE LEAGUE DARK (2018) (#1-UP) (DC UNIVERSE) #2 VARIANT Near Mint/Mint
JUSTICE LEAGUE DARK (2018) (#1-UP) (DC UNIVERSE) #3 Near Mint/Mint
JUSTICE LEAGUE DARK (2018) (#1-UP) (DC UNIVERSE) #3 VARIANT Near Mint/Mint

JUSTICE LEAGUE: ODYSSEY (2018) #1 Near Mint/Mint

LEX LUTHOR/PORKY PIG SPECIAL (2018) #1 Near Mint/Mint

MERA: QUEEN OF ATLANTIS (2018) #6 Near Mint/Mint

MISTER MIRACLE (2017) (#1-12) (DC) #10 Near Mint/Mint
MISTER MIRACLE (2017) (#1-12) (DC) #10 VARIANT Near Mint/Mint
MISTER MIRACLE (2017) (#1-12) (DC) #11 Near Mint/Mint
MISTER MIRACLE (2017) (#1-12) (DC) #11 VARIANT Near Mint/Mint

INDEPENDENTS

BART SIMPSON'S TREEHOUSE OF HORROR (BONGO) (1995) #1

BART SIMPSON'S TREEHOUSE OF HORROR (BONGO) (1995) #1 (Bongo Comics) Fine

BLOODSHOT (1993) #28 (Acclaim/Valiant) Very Fine
BLOODSHOT (1993) #29 (Acclaim/Valiant) Fine
BLOODSHOT (1993) #39 (Acclaim/Valiant) Fine
BLOODSHOT (1993) #41 (Acclaim/Valiant) Very Fine
BLOODSHOT (1993) #42 (Acclaim/Valiant) Very Fine