Comic Book Burglary Suspect Arrested and Charged!
Howdy!
I will begin today's newsletter with the wonderful news that the police believe that they have arrested the person who broke into our store three weeks ago. They are certain enough that he is the culprit that the DA has already charged him with the crime, and he has bailed out of jail. I have a few further cogent details that I cannot yet reveal, but suffice it to say that all of us here at Mile High Comics are all quite happy.
In other news, our ongoing 60% off COMIC-CON! codeword sale is still in effect for you on all ten million of our back issue comics and magazines. Only new issues, a few variants, and our professionally-graded issues are excluded from this huge 60% off event. Please do enjoy this wonderful opportunity to build your collection at rock bottom prices with our sincere thanks for your continuing support.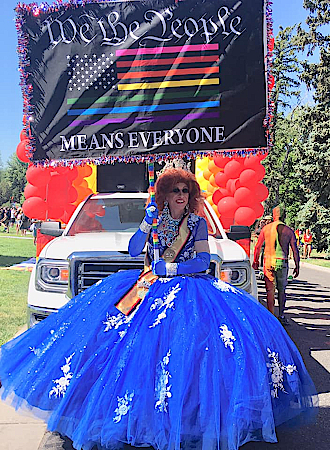 Bettie Pages in the Denver Pride Parade

On an entirely different subject, I was surprisingly popular on Sunday as I appeared as Bettie Pages in Denver's Pride Parade. I was somewhat aware that my reputation in Denver has been growing, but I was still quite surprised by the sheer number of people who ran into the street to congratulate me as I walked the parade route with the awesome "Feeding Denver's Hungry" contingent. I was also honored when my photo was published online by the Denver Post, and also by Westword, the largest alternative newspaper in Colorado. Cool!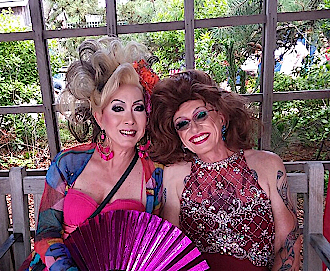 Empress Coco LaChine and Bettie Pages

As an aside, this was Bettie's first Pride Parade, despite the fact that I have been performing as a drag queen for over eight years. Simply put, I was concerned in past years as to what sort of negative blowback that we might receive at Mile High Comics if I was photographed in public as a drag queen. That reticence came to an end in June of last year, after a heart-to-heart talk with Empress Coco LaChine, of New York. Coco is a dear friend, and she had no hesitation in asking me why I was hiding Bettie from the world when she saw the sheer joy that Bettie created in my heart. I explained about how I didn't want to offend anyone, and she asked me one simple question: "Are you going to hide your true self forever?"
Long story made shorter, that one intimate conversation is what prompted me to finally come out to everyone, both via this newsletter, and in my personal life. In all honesty, it was one of the best decisions that I have ever made. Yes, we have had a few long time customers express outrage at my being a queen and lambast me, but the degree of kind support that I have received has been far, far greater than the sum of their nasty homophobic rantings.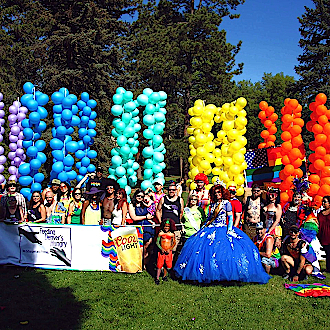 Bettie Pages and Feeding Denver's Hungry at Denver's Pride

Truth be told, I actually don't mind at all when bigots choose to go away, as I really have no use for people who hate. It's not that I would ever deny them the right to order from us, but rather that I believe that there are plenty of people left in the world to whom I can sell comic books who have kindness in their hearts. Simply put, I would much rather end my days on this earth while serving only good people. Thank you for being one of the good people, and for continuing to support us. Your kindness is much appreciated...
Happy collecting!
Chuck Rozanski,
President - Mile High Comics, Inc.
June 18, 2019