First Miles Morales as Spider-Man Still In Stock
Howdy!
I am running on fumes (again) today, as I marched last evening in the combined Denver Black Lives Matter/Pride Liberation March. I was there in my girl clothes as Bettie Pages, representing our International Imperial Court System, of which I am one of the national leaders. The ICS has been around for 55 years now, and has raised tens of millions of dollars for all manner of charitable causes, so it was truly an honor to be able to represent this great charitable organization.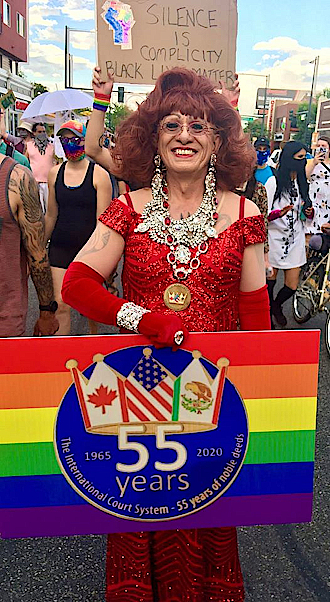 Bettie Pages at the Denver Black Lives Matter/Pride Liberation March

On a more personal level, five years ago, when I was Prince Royal XLII of the Imperial Court of the Rocky Mountain Empire, my Princess was a beautiful Black trans woman by the name of LaShay DiMarco. LaShay has now transitioned further to become Tanysha, and is going through the arduous process of changing her name with all of the respective governmental agencies.

LaShay DiMarco and Chuck Rozanski in 2015

While watching Tanysha deal with the frustrations of her paperwork has been enlightening, being her ICS partner for the past five years has helped to prepare me for the remarkable degrees of hatred and venom that some people choose to levy upon our Transgender Community. I cannot even begin to count the number of nasty looks, pointed fingers, and snotty remarks that I have witnessed while escorting Tanysha. All of that bothers me a lot, but where I really get upset is upon reading about yet another murder of a trans woman of color.
For people in the straight community, news of this plague of deaths among Black and Latinex trans women may seem unreal, but we lost 49 of our sisters to violent deaths last year, and that horrific pace has continued unabated in 2020. Just last week, two more girls were killed. This is truly insanity. I worry about Tanysha's safety, all the time...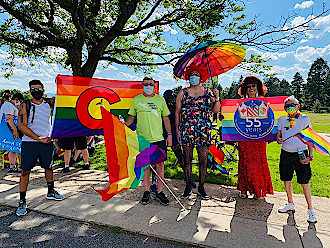 Christian, Jim Sharper, David Hailey (Freeda),Bettie Pages, and Corky at the Denver Black Lives Matter/Pride Liberation March

As for myself, I regrettably have to say that I am also at risk. My dear friends, Jim Sharper and David Hailey, walked me the 15 blocks back to my minivan last evening after the march, as they were genuinely worried that I would be attacked, or possibly even killed. Homophobia is still very real in America, and drag queens and trans women seem to set off a rage in some people that is really scary. I have been accosted while dressed as Bettie in the past, but escaped unscathed, at least in part because I am pretty fierce. Friends of mine have been attacked and beaten, however, so I take nothing for granted. An unsolved murder here in Denver from eight years ago was of a member of our Denver Imperial Court who was found dead in her apartment. The autopsy revealed that someone had forced to her drink bleach. The depravity of some people is beyond chilling.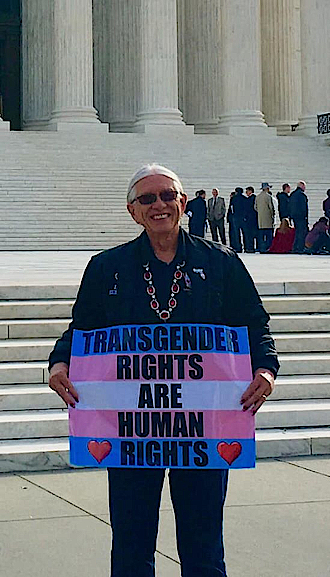 Chuck on the steps of the Supreme Court Building earlier this year

In any event, the Trump administration's decision last Friday to issue a ruling denying Transgender people the same right to medical care under the affordable health act as anyone else, finally pushed me to my breaking point. That was when I put up a post on our company Facebook page declaring that I am Transgender/Gender Fluid, and that if anyone had a problem with my living my truth, that maybe they should consider shopping elsewhere for their comics.
To be clear, I was by no means prohibiting folks who suffer from homophobia/transphobia from shopping with us. To be exclusionary in that fashion would be to make us no different from those profoundly bigoted bakers who refused to serve gay couples. I am drawing a line in the sand, however, about expressions of hate. We operate an open and loving company that seeks to bring joy into the lives of comics fans of all races, creeds, and persuasions. We totally recognize that here can be vast differences of opinion and perspective, and we thus seek to not discriminate in any way. We will not, however, tolerate any expressions of hate speech. If that prohibition against expressing hate doesn't sit well with some people, we hope that they just move on, (please). We'll be fine, and they will definitely be much happier, by shopping elsewhere. 'Nuff said.
As regards Mile High Comics business news, DC Comics finally figured out that their haste in screwing over Diamond Distributing last week might well result in their entire back stock of trade paperbacks and hardbacks (that were being stored in the Diamond warehouse) being dumped by the side of the road. So, they suddenly reversed course and decided to play nice(r), and let Diamond continue to fill orders for back list or the next six months. After that, they will need to find a new home for their hundreds of thousands of remaining books.
In the meantime, the litany of comic book store death notices has become a crescendo, with more permanent closings being announced every day. With DC having now royally screwed everything up for the new comics biz, very little incentive remains for most stores to reopen. One publisher projected to us that they believe that 90%+ of all Direct Market comics shops will fold over the next 90-180 days. That's just terrible, as it means that our 40-year old Direct Market is effectively dead. Thank you, DC Comics, for putting a bullet in our brain. Your malice will not be forgotten.

ULTIMATE FALLOUT #4 2nd Print Bagley Cover

As I mentioned last week, however, Mile High Comics is in a unique position to survive. We long ago reduced our dependence on new comics sales, so we really don't need them except as a stimulus for further back issue sales. Our business is now very family oriented and pop culture driven, with a very healthy dose of online back issue sales helping us to cover our bills. This past weekend, for example we experienced a huge surge in online sales because we are one of the few comics retailers with copies of the various editions of ULTIMATE FALLOUT #4 still in stock. That first appearance of Mile Morales as Spider-Man has become insanely popular, with copies in 9.8 supposedly selling for $700-$900 each on eBay. We still have them priced right now at "only" $105, and as a direct results, they are selling like hotcakes. Especially with a 40% codeword in effect.

ULTIMATE FALLOUT #4 2nd Print Pichelli Cover

All of this boils down to the benefits of owning (outright...) ten million+ back issue comics and books. While that mass of printed material takes up an enormous amount of storage space, having ten million "friends" watching our back makes me feel quite comfortable, even as the rest of the world is seemingly falling apart. No matter what happens, we know for certain that we will always have great comics to sell.
All of the above having been said, I think that I am going to surprise you (at least a little bit) by mentioning that I am leaving Colorado tomorrow, specifically in order to buy a major private collection of old comics. You see, even though I recognize that we have trouble on the horizon for new comics publishing, I have absolute confidence in the longer term demand for older comics. In a nutshell, that is why I am continuing to invest considerable sums in collections, even as the rest of the world is pulling back. Sometimes, you just have to go with your instincts...
I will close this rather lengthy column with a quick reminder that our 40% off SUMMER! codeword sale is in effect for you right now, with only new issues, a few variants, and our professionally-graded comics excluded. Pam and Will keep adding more diversity into our online selections every day, so there are some exceptionally attractive deals waiting for you right now at milehighcomics.com.
Happy collecting!
Chuck Rozanski/Bettie Pages,
President - Mile High Comics, Inc.
June 15, 2020
P.S. Here are even more new arrivals:
MARVEL

ALPHA FLIGHT (1983) (#1-130) #3

ALPHA FLIGHT (1983) (#1-130) #3 Near Mint/Mint
ALPHA FLIGHT (1983) (#1-130) #5 Near Mint/Mint
ALPHA FLIGHT (1983) (#1-130) #9 Near Mint/Mint
ALPHA FLIGHT (1983) (#1-130) #13 Near Mint/Mint
ALPHA FLIGHT (1983) (#1-130) #25 NEWSSTAND Near Mint/Mint
ALPHA FLIGHT (1983) (#1-130) #27 NEWSSTAND Near Mint/Mint
ALPHA FLIGHT (1983) (#1-130) #29 Near Mint/Mint
ALPHA FLIGHT (1983) (#1-130) #76 NEWSSTAND Near Mint/Mint

AMAZING X-MEN (1995) (#1-4) (AGE OF APOCALYPSE) #2 Near Mint/Mint
AMAZING X-MEN (1995) (#1-4) (AGE OF APOCALYPSE) #3 Near Mint/Mint

AMAZING X-MEN (2014) (#1-19) #2 Near Mint/Mint

COYOTE (1983) #11 Very Fine
COYOTE (1983) #13 Fine

DAREDEVIL (SPANISH) (1984) #19 Fine

FANTASY MASTERPIECES (1979) #5 NEWSSTAND Very Fine
FANTASY MASTERPIECES (1979) #5 NEWSSTAND Fine
FANTASY MASTERPIECES (1979) #6 NEWSSTAND Fine
FANTASY MASTERPIECES (1979) #6 NEWSSTAND Very Good
FANTASY MASTERPIECES (1979) #7 NEWSSTAND Fine


FANTASY MASTERPIECES (1979) #9 NEWSSTAND

FANTASY MASTERPIECES (1979) #9 NEWSSTAND Very Good
FANTASY MASTERPIECES (1979) #11 NEWSSTAND Fine
FANTASY MASTERPIECES (1979) #13 NEWSSTAND Fine
FANTASY MASTERPIECES (1979) #13 NEWSSTAND Good
FANTASY MASTERPIECES (1979) #14 NEWSSTAND Very Good

GHOST RIDER (1990) (#1-94) (MARVEL) #15 Fine
GHOST RIDER (1990) (#1-94) (MARVEL) #26 NEWSSTAND Fine
GHOST RIDER (1990) (#1-94) (MARVEL) #46 Near Mint/Mint
GHOST RIDER (1990) (#1-94) (MARVEL) #46 NEWSSTAND Near Mint/Mint
GHOST RIDER (1990) (#1-94) (MARVEL) #63 Fine
GHOST RIDER (1990) (#1-94) (MARVEL) #71 Fine

GI JOE #66 Near Mint/Mint

HULK (2017) (#709-UP) (MARVEL LEGACY)(INCREDIBLE HULK) #709 LENTICULAR Near Mint/Mint

INVINCIBLE IRON MAN (2015) (#1-14) (MARVEL) #7 3RD PRINT Near Mint/Mint

MARVEL TALES (1964) (#1-291) #229 NEWSSTAND Fine
MARVEL TALES (1964) (#1-291) #236 Fine
MARVEL TALES (1964) (#1-291) #238 Fine

PETER PARKER (1976) (#1-263) (SPECTACULAR SPIDER-MAN) #39 NEWSSTAND Fine

SILVER SURFER (1987) (#1-146) (MARVEL) #1 NEWSSTAND Fine
SILVER SURFER (1987) (#1-146) (MARVEL) #1 Very Fine


SILVER SURFER (1987) (#1-146) (MARVEL) #2

SILVER SURFER (1987) (#1-146) (MARVEL) #2 Near Mint/Mint
SILVER SURFER (1987) (#1-146) (MARVEL) #9 Very Good
SILVER SURFER (1987) (#1-146) (MARVEL) #17 NEWSSTAND Very Fine
SILVER SURFER (1987) (#1-146) (MARVEL) #18 NEWSSTAND Very Fine
SILVER SURFER (1987) (#1-146) (MARVEL) #33 NEWSSTAND Near Mint/Mint
SILVER SURFER (1987) (#1-146) (MARVEL) #36 Near Mint/Mint
SILVER SURFER (1987) (#1-146) (MARVEL) #37 Near Mint/Mint
SILVER SURFER (1987) (#1-146) (MARVEL) #40 NEWSSTAND Fine
SILVER SURFER (1987) (#1-146) (MARVEL) #46 Very Fine
SILVER SURFER (1987) (#1-146) (MARVEL) #47 Near Mint/Mint
SILVER SURFER (1987) (#1-146) (MARVEL) #48 Near Mint/Mint
SILVER SURFER (1987) (#1-146) (MARVEL) #70 Near Mint/Mint
SILVER SURFER (1987) (#1-146) (MARVEL) #82 Near Mint/Mint
SILVER SURFER (1987) (#1-146) (MARVEL) #100 DELUXENEWS Near Mint/Mint
SILVER SURFER (1987) (#1-146) (MARVEL) #102 Near Mint/Mint
SILVER SURFER (1987) (#1-146) (MARVEL) #108 Near Mint/Mint
SILVER SURFER (1987) (#1-146) (MARVEL) #110 Near Mint/Mint
SILVER SURFER (1987) (#1-146) (MARVEL) #111 NEWSSTAND Near Mint/Mint
SILVER SURFER (1987) (#1-146) (MARVEL) #113 Near Mint/Mint
SILVER SURFER (1987) (#1-146) (MARVEL) #117 Near Mint/Mint
SILVER SURFER (1987) (#1-146) (MARVEL) #118 Near Mint/Mint
SILVER SURFER (1987) (#1-146) (MARVEL) #121 Near Mint/Mint
SILVER SURFER (1987) (#1-146) (MARVEL) #128 Near Mint/Mint
SILVER SURFER (1987) (#1-146) (MARVEL) #142 Near Mint/Mint
SILVER SURFER (1987) (#1-146) (MARVEL) #143 Near Mint/Mint
SILVER SURFER (1987) (#1-146) (MARVEL) #144 Near Mint/Mint

SPIDER-MAN (1963) (AMAZING SPIDER-MAN) (#1-441) #229 NEWSSTAND Fine


SPIDER-MAN (1963) (AMAZING SPIDER-MAN) (#1-441) #320

SPIDER-MAN (1963) (AMAZING SPIDER-MAN) (#1-441) #320 Fine
SPIDER-MAN (1963) (AMAZING SPIDER-MAN) (#1-441) #321 Fine

TARZAN (1984) (#1-2) (MARVEL) #2 NEWSSTAND Very Fine

WISDOM (2006) #2 Near Mint/Mint
WISDOM (2006) #3 Near Mint/Mint
WISDOM (2006) #5 Near Mint/Mint

X-FACTOR (1986) (#1-149) (ORIGINAL X-MEN) #69 Near Mint/Mint

X-FORCE (1991) (#1-129) (MARVEL) #71 Near Mint/Mint
X-FORCE (1991) (#1-129) (MARVEL) #73 Near Mint/Mint
X-FORCE (1991) (#1-129) (MARVEL) #74 Near Mint/Mint
X-FORCE (1991) (#1-129) (MARVEL) #83 Near Mint/Mint
X-FORCE (1991) (#1-129) (MARVEL) #116 NO CODE Near Mint/Mint
X-FORCE (1991) (#1-129) (MARVEL) #116 NEWSSTAND Fine

X-MEN (1963) (#1-113, UNCANNY X-MEN #114-544) (MARVEL) #161 NEWSSTAND Fine
X-MEN (1963) (#1-113, UNCANNY X-MEN #114-544) (MARVEL) #462 Near Mint/Mint
X-MEN (1963) (#1-113, UNCANNY X-MEN #114-544) (MARVEL) #464 Near Mint/Mint
X-MEN (1963) (#1-113, UNCANNY X-MEN #114-544) (MARVEL) #466 Near Mint/Mint
X-MEN (1963) (#1-113, UNCANNY X-MEN #114-544) (MARVEL) #466 NEWSSTAND Fine
X-MEN (1963) (#1-113, UNCANNY X-MEN #114-544) (MARVEL) #472 Near Mint/Mint
X-MEN (1963) (#1-113, UNCANNY X-MEN #114-544) (MARVEL) #474 Near Mint/Mint


X-MEN (1963) (#1-113, UNCANNY X-MEN #114-544) (MARVEL) #486

X-MEN (1963) (#1-113, UNCANNY X-MEN #114-544) (MARVEL) #486 Near Mint/Mint
X-MEN (1963) (#1-113, UNCANNY X-MEN #114-544) (MARVEL) #488 Near Mint/Mint
X-MEN (1963) (#1-113, UNCANNY X-MEN #114-544) (MARVEL) #489 Near Mint/Mint
X-MEN (1963) (#1-113, UNCANNY X-MEN #114-544) (MARVEL) #491 Near Mint/Mint
X-MEN (1963) (#1-113, UNCANNY X-MEN #114-544) (MARVEL) #508 Near Mint/Mint
X-MEN (1963) (#1-113, UNCANNY X-MEN #114-544) (MARVEL) #515 Near Mint/Mint

X-MEN (1991) (#1-275) (MARVEL) #1 COVER E Near Mint/Mint
X-MEN (1991) (#1-275) (MARVEL) #4 Near Mint/Mint
X-MEN (1991) (#1-275) (MARVEL) #5 Near Mint/Mint
X-MEN (1991) (#1-275) (MARVEL) #6 Near Mint/Mint
X-MEN (1991) (#1-275) (MARVEL) #7 Near Mint/Mint
X-MEN (1991) (#1-275) (MARVEL) #30 Near Mint/Mint

X-MEN ORIGINS: ICEMAN (2009) #1 Near Mint/Mint

X-MEN ORIGINS: JEAN GREY (2008) #1 Near Mint/Mint
X-MEN ORIGINS: JEAN GREY (2008) #1 Very Fine

DC
52 (2006) #48 Near Mint/Mint

DOOMSDAY CLOCK (2017) #10 Near Mint/Mint


SUICIDE SQUAD (1987) (#1-67) (DC) #47

SUICIDE SQUAD (1987) (#1-67) (DC) #47 Very Fine

SUPERMAN (1986) (#0-226, #650-714) (DC) #7 Near Mint/Mint

SWAMP THING, SAGA OF (1982) #44 NEWSSTAND (DC: Vertigo Press) Good

DARK HORSE COMICS
BARB WIRE (1994) (#1-9) (DARK HORSE) #9 Near Mint/Mint

BARB WIRE MOVIE SPECIAL (DARK HORSE) (PAMELA ANDERSON) (1996) #1 NEWSSTAND Fine

INDEPENDENTS
2000 A.D. PRESENTS (#5-24) (1986) #17 (Fleetway-Quality Comics) Near Mint/Mint
2000 A.D. PRESENTS (#5-24) (1986) #18 (Fleetway-Quality Comics) Near Mint/Mint
2000 A.D. PRESENTS (#5-24) (1986) #21 (Fleetway-Quality Comics) Near Mint/Mint

2000 MANIACS (1991) #1 (Aircel Publications) Near Mint/Mint

2001 NIGHTS (1990) #9 (Viz Comics) Near Mint/Mint

3 GEEKS (1997) (#1-11) (3 FINGERS) #9 (Three Finger Prints Publishing) Near Mint/Mint

3 GEEKS: FULL CIRCLE (2003) #1 (Three Finger Prints Publishing) Near Mint/Mint

666: MARK OF THE BEAST #1 (Fleetway-Quality Comics) Near Mint/Mint

7TH SYSTEM (1997) #1 (Sirius) Near Mint/Mint

ADVENTURES OF ROBIN HOOD (GOLD KEY) (1974) #1 (Gold Key) Fine

AIRBOY (1986) (#1-50) (ECLIPSE) #5 (Eclipse Enterprises) Near Mint/Mint
AIRBOY (1986) (#1-50) (ECLIPSE) #6 (Eclipse Enterprises) Near Mint/Mint

AKIKO ON THE PLANET SMOO (SIRIUS) (1995) #1 (Sirius) Near Mint/Mint

ALBEDO (1985) #8 (Thoughts and Images) Near Mint/Mint
ALBEDO (1985) #9 (Thoughts and Images) Near Mint/Mint
ALBEDO (1985) #11 (Thoughts and Images) Near Mint/Mint

ALIEN WORLDS 3-D (PACIFIC) (1984) #1 (Pacific Comics) Near Mint/Mint

ASHEN VICTOR (Viz Comics) (MANGA) (1997) #3 (Viz Comics) Near Mint/Mint

BARACK THE BARBARIAN (DEVIL'S DUE) (2009) #2 (Devil's Due) Near Mint/Mint
BARACK THE BARBARIAN (DEVIL'S DUE) (2009) #2 (Devil's Due) Very Fine
BARACK THE BARBARIAN (DEVIL'S DUE) (2009) #3 (Devil's Due) Near Mint/Mint
BARACK THE BARBARIAN (DEVIL'S DUE) (2009) #3 (Devil's Due) Fine


BARACK THE BARBARIAN (DEVIL'S DUE) (2009) #3

BARACK THE BARBARIAN (DEVIL'S DUE) (2009) #3 (Devil's Due) Very Fine
BARACK THE BARBARIAN (DEVIL'S DUE) (2009) #4 (Devil's Due) Near Mint/Mint
BARACK THE BARBARIAN (DEVIL'S DUE) (2009) #4 (Devil's Due) Very Fine

BIRDLAND (Eros Comix (Fantagraphics)) (ADULT) (GILBERT HERNANDEZ) (1990) #1 2ND PRINT (Eros Comix (Fantagraphics)) Near Mint/Mint
BIRDLAND (Eros Comix (Fantagraphics)) (ADULT) (GILBERT HERNANDEZ) (1990) #1 2ND PRINT (Eros Comix (Fantagraphics)) Very Fine
BIRDLAND (Eros Comix (Fantagraphics)) (ADULT) (GILBERT HERNANDEZ) (1990) #1 2ND PRINT (Eros Comix (Fantagraphics)) Fine
BIRDLAND (Eros Comix (Fantagraphics)) (ADULT) (GILBERT HERNANDEZ) (1990) #2 2ND PRINT (Eros Comix (Fantagraphics)) Near Mint/Mint
BIRDLAND (Eros Comix (Fantagraphics)) (ADULT) (GILBERT HERNANDEZ) (1990) #2 2ND PRINT (Eros Comix (Fantagraphics)) Very Fine
BIRDLAND (Eros Comix (Fantagraphics)) (ADULT) (GILBERT HERNANDEZ) (1990) #2 2ND PRINT (Eros Comix (Fantagraphics)) Fine
BIRDLAND (Eros Comix (Fantagraphics)) (ADULT) (GILBERT HERNANDEZ) (1990) #3 (Eros Comix (Fantagraphics)) Near Mint/Mint
BIRDLAND (Eros Comix (Fantagraphics)) (ADULT) (GILBERT HERNANDEZ) (1990) #3 (Eros Comix (Fantagraphics)) Fine
BIRDLAND (Eros Comix (Fantagraphics)) (ADULT) (GILBERT HERNANDEZ) (1990) #3 (Eros Comix (Fantagraphics)) Very Fine

BIRDLAND (VOL.2) (Eros Comix (Fantagraphics)) (ADULT) (GILBERT HERNANDEZ) (1994) #1 2ND PRINT (Eros Comix (Fantagraphics)) Near Mint/Mint
BIRDLAND (VOL.2) (Eros Comix (Fantagraphics)) (ADULT) (GILBERT HERNANDEZ) (1994) #1 2ND PRINT (Eros Comix (Fantagraphics)) Very Fine
BIRDLAND (VOL.2) (Eros Comix (Fantagraphics)) (ADULT) (GILBERT HERNANDEZ) (1994) #1 2ND PRINT (Eros Comix (Fantagraphics)) Fine

CHILD'S PLAY (1991) #1 (Innovation Publishing) Fine
CHILD'S PLAY (1991) #1 (Innovation Publishing) Very Fine
CHILD'S PLAY (1991) #2 (Innovation Publishing) Fine
CHILD'S PLAY (1991) #2 (Innovation Publishing) Very Fine
CHILD'S PLAY (1991) #3 (Innovation Publishing) Fine

CHILD'S PLAY (1991) #4 (Innovation Publishing) Fine
CHILD'S PLAY (1991) #4 (Innovation Publishing) Very Good
CHILD'S PLAY (1991) #5 (Innovation Publishing) Fine
CHILD'S PLAY (1991) #5 (Innovation Publishing) Very Good
CHILD'S PLAY (1991) #5 (Innovation Publishing) Very Fine

CHILD'S PLAY 2 (1991) #1 (Innovation Publishing) Fine
CHILD'S PLAY 2 (1991) #1 (Innovation Publishing) Very Fine
CHILD'S PLAY 2 (1991) #2 (Innovation Publishing) Fine
CHILD'S PLAY 2 (1991) #2 (Innovation Publishing) Near Mint/Mint
CHILD'S PLAY 2 (1991) #2 (Innovation Publishing) Very Fine
CHILD'S PLAY 2 (1991) #3 (Innovation Publishing) Fine

CHILD'S PLAY 2 MOVIE ADAPTATION (1990) #1 (Innovation Publishing) Very Good

CHILD'S PLAY 3 (1992) #1 (Innovation Publishing) Near Mint/Mint
CHILD'S PLAY 3 (1992) #1 (Innovation Publishing) Very Fine
CHILD'S PLAY 3 (1992) #2 (Innovation Publishing) Fine
CHILD'S PLAY 3 (1992) #2 (Innovation Publishing) Near Mint/Mint
CHILD'S PLAY 3 (1992) #2 (Innovation Publishing) Very Good
CHILD'S PLAY 3 (1992) #3 (Innovation Publishing) Fine
CHILD'S PLAY 3 (1992) #3 (Innovation Publishing) Very Fine

FORCE OF BUDDHA'S PALM (1988) #52 (Jademan Comic) Near Mint/Mint
FORCE OF BUDDHA'S PALM (1988) #52 (Jademan Comic) Very Fine

HELL CAR COMIX (1998) #1 (Alternating Crimes) Near Mint/Mint

JAGUAR GOD (1995) #2 (Verotik) Near Mint/Mint

MIGHTY MORPHIN POWER RANGERS: SHATTERED GRID (2018) #1 A CAMPBELL (Boom Studios Publishing) Near Mint/Mint

PRIMAL RAGE (1994) #1 (Sirius) Near Mint/Mint

RARE BIT FIENDS (1994) #13 (King Hell Press) Near Mint/Mint
RARE BIT FIENDS (1994) #13 (King Hell Press) Very Fine
RARE BIT FIENDS (1994) #14 (King Hell Press) Near Mint/Mint
RARE BIT FIENDS (1994) #15 (King Hell Press) Near Mint/Mint
RARE BIT FIENDS (1994) #16 (King Hell Press) Near Mint/Mint
RARE BIT FIENDS (1994) #16 (King Hell Press) Very Fine
RARE BIT FIENDS (1994) #17 (King Hell Press) Near Mint/Mint

SPOOKY (1955) #94 (Harvey Comics) Good

WILDLIFE (FANTAGRAPHICS) (1994) #1 (Fantagraphics) Near Mint/Mint
WILDLIFE (FANTAGRAPHICS) (1994) #1 (Fantagraphics) Very Fine

X-FILES (1995) (#1-41) (TOPPS) #38 (Topps Publishing) Near Mint/Mint

X-FILES: CONSPIRACY (2014) #2 SUBSCRIPT (IDW Publishing) Near Mint/Mint

ZERO TOLERANCE (1990) #3 (First Comics) Near Mint/Mint
ZERO TOLERANCE (1990) #4 (First Comics) Near Mint/Mint

ZOT! (1984) #1 (Eclipse Enterprises) Near Mint/Mint