60% Off Codeword, Comics Auction, Poker, and All-Ages Show
Howdy!
This is our busiest time of year, as our copious spring rains here in Colorado have me mowing and trimming from sunup to sundown every day. Most of our work is taking place at our beautiful 32-acre farm in Boulder, which is truly our paradise on earth. In addition, however, we are also being extremely diligent this year in keeping up the landscaping of our Jason St. Mega-Store, as we want our thousands of out-of-state visitors to be able to take photos of our awesome comic book murals without an excess of grasses and weeds marring the pictures. So far, so good...
Another reason that we are working to improve our exterior esthetics is that we are hosting three major events at Jason St. on Saturday and Sunday. Starting at 11 AM on Saturday will be our monthly Texas Hold'em Poker Tournament. This month's tournament is a benefit for "Feeding Denver's Hungry," so I expect it to be particularly popular. If you would like to play, we only ask for a $25 donation, for which we then immediately reimburse you (as long as you register in advance...) with a $25 gift certificate to Mile High Comics. In effect, you get to play for free... Prizes are a $500 gift certificate for 1st, $200 for 2nd, and $100 3rd-5th. Our tournaments typically have 60-80 players, and are exceptionally fun. We also raise the "blinds" quickly, with a goal of crowning a champion by 3 PM. Join us this Saturday for an awesome poker experience!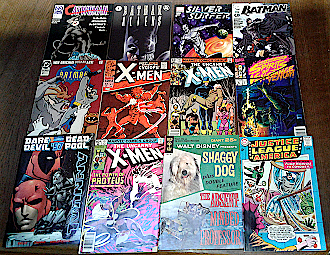 A few of the comics that will be in this Saturdays Auction

Beginning just 30 minutes after the poker tournament on Saturday will be our monthly no-minumum-bid comics and toys auction. Our head buyer, Will Moulton, is putting together an exceptionally nice spectrum of auction comics for you this month out of several awesome collections that he just purchased for us, and Lisa is doing the same with toys, statues, and Funko Pop! figures from her buys. Items in our auctions typically sell at steep discount, so if you want to have an incredibly fun morning, and also build your collection at bargain prices, stop by Jason St. on Saturday. Bidding begins at 11:30!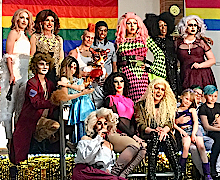 The cast of last month's All-Ages Drag Show

While Saturday is going to be incredibly fun, Sunday is Denver's annual Gay Pride, so we are going to be over-the-top busy. Bettie will begin the day putting on her makeup, Imperial Tiara, and jewels at the crack of dawn, so that she can then march down the length of Colfax Avenue in Denver's Pride Parade. We will then head over to the Civic Center Plaza Park, where Bettie has been designated as one of Denver's Pride V.I.P.'s. for 2019. We hope to see many of our friends from the Denver Community in the V.I.P. pavilion, and also among those performing on the main stage.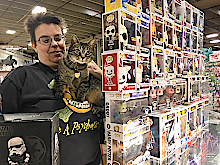 Lisa, a few of our 2,000+ Funko figures, and Cambridge our pesky store feline!

We can only allow ourselves to enjoy the festivities in the park (and to browse through the 500+ merchandise and food stands...) for a couple of hours, however, as we need to head back over to Jason St. in mid-afternoon to help set up for our 4th installment of our monthly All-Ages Drag Show. We really do not know what to expect, as hosting this month's show on Pride Sunday may spur a huge increase in attendance, or it might actually cause a decrease if people have partied too much at the park. We have no way of knowing, but we do know that all of our young performers are eager to show their skills to as wide of an audience as possible, so if you could possibly find the time to visit Jason St. on Sunday afternoon, our youth would love to see you there. Seating begins at 5 PM, and Bettie will open the show right about 6 PM.
As an aside, because our all-ages drag show is the only regularly scheduled performance event for LGBTQ youth in the nation, Denver's Fox 31 TV station is supposedly sending a crew to film our show. If you've always wanted to be on TV, attending our all-ages show on Sunday might provide you with your magic moment. Just saying...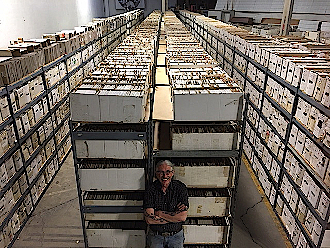 Chuck infront of our Back Issue Racks

As regards our online activities, ever since we made the decision to implement a massive 60% off COMIC-CON! discount codeword, we have seen a substantial uptick in online orders, both through or website, and through eBay. As a direct result, we are starting to fall slightly behind in our turnaround of orders that we are receiving from our website. The backlog right now is only a couple of days, but if past sale trends are any indication, we could wind up being buried by the end of this week, or early into next week. If that transpires, then I will have no choice but to halt the 60% off COMIC-CON! sale. In the meantime, however, you can still use the COMIC-CON! codeword to purchase any of our ten million back issue comics and magazines at only a net 40% of list price. This is truly a great deal for you, as only new issues, a few variants, and our professionally-graded comics are excluded. Please do enjoy this awesome codeword sale, with our sincere thanks for your continuing support of Mile High Comics.
Happy collecting!
Chuck Rozanski,
President - Mile High Comics, Inc.
June 10, 2019
P.S. Below are a few more new arrivals from Premium New-In-Stock. Great collections are still arriving every day!
MARVEL

ALL-NEW X-MEN (2015) (#1-19) #19

ALL-NEW X-MEN (2015) (#1-19) #19 Near Mint/Mint

AVENGERS (1963) (#1-402) (MARVEL) #253 Near Mint/Mint

AVENGERS (2016) (#1-11) (MARVEL NOW) #11 Near Mint/Mint

AVENGERS PRIME (2010) #3 Near Mint/Mint

CAPTAIN AMERICA (1968) (#100-454) (MARVEL) #248 Very Fine
CAPTAIN AMERICA (1968) (#100-454) (MARVEL) #249 Fine
CAPTAIN AMERICA (1968) (#100-454) (MARVEL) #260 Very Fine
CAPTAIN AMERICA (1968) (#100-454) (MARVEL) #314 Near Mint/Mint
CAPTAIN AMERICA (1968) (#100-454) (MARVEL) #360 Near Mint/Mint
CAPTAIN AMERICA (1968) (#100-454) (MARVEL) #377 Near Mint/Mint

CAPTAIN AMERICA (2004) (#1-50, 600-619) (MARVEL) #25 DIRECT CUT Very Fine

CAPTAIN AMERICA (2017) (#695-704) (MARVEL LEGACY) #699 Near Mint/Mint
CAPTAIN AMERICA (2017) (#695-704) (MARVEL LEGACY) #700 Near Mint/Mint
CAPTAIN AMERICA (2017) (#695-704) (MARVEL LEGACY) #701 Near Mint/Mint
CAPTAIN AMERICA (2017) (#695-704) (MARVEL LEGACY) #702 Near Mint/Mint
CAPTAIN AMERICA (2017) (#695-704) (MARVEL LEGACY) #704 Near Mint/Mint

CAPTAIN AMERICA (2018) (#1-UP) (MARVEL) #2 Near Mint/Mint

CAPTAIN AMERICA ANNUAL (2018) #1 Near Mint/Mint


CAPTAIN AMERICA: SAM WILSON (2015) #7

CAPTAIN AMERICA: SAM WILSON (2015) #7 Near Mint/Mint
CAPTAIN AMERICA: SAM WILSON (2015) #21 Near Mint/Mint

CAPTAIN AMERICA: STEVE ROGERS (2016) #7 Near Mint/Mint
CAPTAIN AMERICA: STEVE ROGERS (2016) #14 Near Mint/Mint

CAPTAIN MARVEL (2014) (#1-15) (MARVEL) #8 Near Mint/Mint
CAPTAIN MARVEL (2014) (#1-15) (MARVEL) #9 Near Mint/Mint

CAPTAIN MARVEL (2017) (#125-129) (MARVEL LEGACY) #125 LENTICULAR Very Fine
CAPTAIN MARVEL (2017) (#125-129) (MARVEL LEGACY) #128 Near Mint/Mint
CAPTAIN MARVEL (2017) (#125-129) (MARVEL LEGACY) #129 Near Mint/Mint

DAREDEVIL (1964) (#1-380) (MAN WITHOUT FEAR) (MARVEL) #216 Near Mint/Mint

DARK REIGN: THE LIST - AVENGERS (2009) #1 Near Mint/Mint

DARK REIGN: THE LIST - WOLVERINE (2009) #1 Near Mint/Mint

DEADPOOL (2008) (#1-63, 900, 1000) (MARVEL) #8 Near Mint/Mint
DEADPOOL (2008) (#1-63, 900, 1000) (MARVEL) #15 Fine
DEADPOOL (2008) (#1-63, 900, 1000) (MARVEL) #18 Near Mint/Mint
DEADPOOL (2008) (#1-63, 900, 1000) (MARVEL) #19 Near Mint/Mint
DEADPOOL (2008) (#1-63, 900, 1000) (MARVEL) #20 Very Fine
DEADPOOL (2008) (#1-63, 900, 1000) (MARVEL) #21 Very Fine


DEADPOOL TEAM-UP (2009) (#883-899) #899

DEADPOOL TEAM-UP (2009) (#883-899) #899 Fine

DOCTOR STRANGE (2015) (#1-26) (MARVEL) (DR. STRANGE) #25 Near Mint/Mint
DOCTOR STRANGE (2015) (#1-26) (MARVEL) (DR. STRANGE) #26 Near Mint/Mint

FLINTSTONE KIDS (1987) #9 Very Good

GHOST RIDER (1990) (#1-94) (MARVEL) #15 Very Fine
GHOST RIDER (1990) (#1-94) (MARVEL) #17 NEWSSTAND Very Good
GHOST RIDER (1990) (#1-94) (MARVEL) #27 Very Fine

HULK (2008) (#1-57) (RED HULK) (MARVEL) #5 Very Fine
HULK (2008) (#1-57) (RED HULK) (MARVEL) #9 VARIANT Near Mint/Mint

IMMORTAL IRON FIST (2006) #24 Near Mint/Mint
IMMORTAL IRON FIST (2006) #25 Near Mint/Mint
IMMORTAL IRON FIST (2006) #26 Near Mint/Mint
IMMORTAL IRON FIST (2006) #27 Near Mint/Mint

INFINITY GAUNTLET (1991) #2 Very Fine
INFINITY GAUNTLET (1991) #3 Very Fine

MIGHTY CAPTAIN MARVEL (MARVEL NOW) (CAROL DANVERS) (2016) #3 Near Mint/Mint
MIGHTY CAPTAIN MARVEL (MARVEL NOW) (CAROL DANVERS) (2016) #6 Near Mint/Mint


NEW AVENGERS (2004) (#1-64) (MARVEL) #35

NEW AVENGERS (2004) (#1-64) (MARVEL) #35 Near Mint/Mint
NEW AVENGERS (2004) (#1-64) (MARVEL) #59 Very Fine
NEW AVENGERS (2004) (#1-64) (MARVEL) #63 Near Mint/Mint

NEW AVENGERS ANNUAL (2006) #3 Near Mint/Mint

NEW MUTANTS (1983) (#1-100) (MARVEL) #25 Fine
NEW MUTANTS (1983) (#1-100) (MARVEL) #25 Very Fine
NEW MUTANTS (1983) (#1-100) (MARVEL) #87 2ND PRT Very Good

OLD MAN HAWKEYE (2018) #1 KITSON Near Mint/Mint

POWER MAN/IRON FIST (LUKE CAGE, POWER MAN #1-49) (1972) #18 Fine
POWER MAN/IRON FIST (LUKE CAGE, POWER MAN #1-49) (1972) #115 Near Mint/Mint

POWER PACK (1984) (#1-62) (MARVEL) #1 NEWSSTAND Fine
POWER PACK (1984) (#1-62) (MARVEL) #27 Near Mint/Mint
POWER PACK (1984) (#1-62) (MARVEL) #52 Near Mint/Mint
POWER PACK (1984) (#1-62) (MARVEL) #61 Very Fine
POWER PACK (2017) (#63-UP) (MARVEL LEAGCY) #63 Near Mint/Mint

POWERS (2015) (#1-8) (MARVEL/ICON) #3 OEMING Near Mint/Mint

POWERS: BUREAU (2013) #9 NEWSSTAND Near Mint/Mint

PROWLER (2016) (#1-UP) (MARVEL NOW) #1 Near Mint/Mint
PROWLER (2016) (#1-UP) (MARVEL NOW) #1 Very Fine


RED SONJA (1983) (#1-13) (MARVEL) #7

RED SONJA (1983) (#1-13) (MARVEL) #7 Near Mint/Mint

SPIDER-MAN (1990) (#1-74, PETER PARKER SPIDEY #75-98) #19 Fine
SPIDER-MAN (1990) (#1-74, PETER PARKER SPIDEY #75-98) #61 NEWSSTAND Fine

THOR (2007) (#1-12, 600-621) (MARVEL) #6 Near Mint/Mint

VENOM (2017) (#1-6, #150-165) (MARVEL) #150 MATTINA Near Mint/Mint

VENOM: LETHAL PROTECTOR (1993) #1 Very Fine
VENOM: LETHAL PROTECTOR (1993) #2 Very Fine
VENOM: LETHAL PROTECTOR (1993) #3 Very Fine
VENOM: LETHAL PROTECTOR (1993) #4 Very Fine

VENOM: SEPARATION ANXIETY (1994) #4 NEWSSTAND Fine

WAR OF KINGS (2009) #2 Near Mint/Mint
WAR OF KINGS (2009) #4 Near Mint/Mint
WAR OF KINGS (2009) #5 Near Mint/Mint
WAR OF KINGS (2009) #6 Very Fine

WEAPON X (2017) (#1-UP) (MARVEL) #1 ASPEN Near Mint/Mint

WOLVERINE (1988) (#1/2-189) (MARVEL) #6 NEWSSTAND Near Mint/Mint
WOLVERINE (1988) (#1/2-189) (MARVEL) #8 Very Fine
WOLVERINE (1988) (#1/2-189) (MARVEL) #11 NEWSSTAND Near Mint/Mint
WOLVERINE (1988) (#1/2-189) (MARVEL) #15 Near Mint/Mint
WOLVERINE (1988) (#1/2-189) (MARVEL) #21 Near Mint/Mint


X-MEN (1963) (#1-113, UNCANNY X-MEN #114-544) (MARVEL) #65

X-MEN (1963) (#1-113, UNCANNY X-MEN #114-544) (MARVEL) #65 Good

X-MEN (2010) (#1-41) (MARVEL) #4 Near Mint/Mint

ZOMBIE: SIMON GARTH (2007) #4 Near Mint/Mint

DC
CAPTAIN ATOM (1987) (#1-57) (DC) #24 Very Fine
CAPTAIN ATOM (1987) (#1-57) (DC) #42 Near Mint/Mint

CATWOMAN (2002) (#1-83) (DC) #11 Near Mint/Mint

CATWOMAN (2011) (#1-52) (DC NEW52) #23 Very Fine

CATWOMAN (2018) (#1-UP) (DC UNIVERSE) #2 Near Mint/Mint
CATWOMAN (2018) (#1-UP) (DC UNIVERSE) #3 Near Mint/Mint

CATWOMAN-THE SERIES (1993) (#1-94) (DC) #94 Fine

CAVE CARSON HAS A CYBERNETIC EYE (2016) #6 VARIANT Near Mint/Mint
CAVE CARSON HAS A CYBERNETIC EYE (2016) #8 Near Mint/Mint


CAVE CARSON HAS A CYBERNETIC EYE (2016) #11

CAVE CARSON HAS A CYBERNETIC EYE (2016) #11 Near Mint/Mint

CAVE CARSON HAS AN INTERSTELLAR EYE (2018) #2 Near Mint/Mint

CAVE CARSON/SWAMP THING SPECIAL (2018) #1 Near Mint/Mint

I, ZOMBIE (2010) #2 Near Mint/Mint
I, ZOMBIE (2010) #4 Near Mint/Mint

PLANETARY (1999) #1 (DC/Wildstorm) Very Fine

PLASTIC MAN (2018) (#1-6) (DC UNIVERSE) #2 Near Mint/Mint

POISON IVY: CYCLE OF LIFE & DEATH (2016) #4 Very Fine

PREACHER (1995) #15 (DC: Vertigo Press) Very Good
PREACHER (1995) #17 (DC: Vertigo Press) Very Good
PREACHER (1995) #33 (DC: Vertigo Press) Very Fine
PREACHER (1995) #37 (DC: Vertigo Press) Fine
PREACHER (1995) #40 (DC: Vertigo Press) Fine
PREACHER (1995) #42 (DC: Vertigo Press) Near Mint/Mint
PREACHER (1995) #42 (DC: Vertigo Press) Very Fine
PREACHER (1995) #50 (DC: Vertigo Press) Fine
PREACHER (1995) #51 (DC: Vertigo Press) Fine
PREACHER (1995) #54 (DC: Vertigo Press) Near Mint/Mint

PREZ (1973) #3 Very Good

DARK HORSE COMICS
ALIENS (1989) (#1-4) (DARK HORSE) #2 Very Fine
ALIENS (1989) (#1-4) (DARK HORSE) #3 Very Fine


ALIENS (1989) (#1-4) (DARK HORSE) #4

ALIENS (1989) (#1-4) (DARK HORSE) #4 Fine

ALIENS VS. PREDATOR (DARK HORSE) (AVP) (1990) #4 Very Fine

BATMAN VS. PREDATOR (1991) #1 DLX PREDAT Near Mint/Mint

CALL OF DUTY: ZOMBIES (2016) #5 Near Mint/Mint

CALL OF DUTY: ZOMBIES 2 (2018) #1 Near Mint/Mint

IMAGE COMICS
CANNIBAL (2016) #6 Near Mint/Mint
CANNIBAL (2016) #7 Near Mint/Mint

PLANETOID PRAXIS (2017) #6 Near Mint/Mint

PORT OF EARTH (2017) #6 Near Mint/Mint

POSTAL (2015) #2 B GOODHART Very Fine
POSTAL (2015) #19 A SEJIC Near Mint/Mint
POSTAL (2015) #25 Near Mint/Mint

POSTAL: LAURA ONE-SHOT (2018) #1 Near Mint/Mint


POWERS (2000) (#1-37) (IMAGE) #1

POWERS (2000) (#1-37) (IMAGE) #1 Very Fine
POWERS (2000) (#1-37) (IMAGE) #6 Near Mint/Mint

PRISM STALKER (2018) #5 Near Mint/Mint

PRO (2002) #1 Near Mint/Mint

YOUNGBLOOD (2017) (#1-UP) (IMAGE) #1 A TOWE Near Mint/Mint
YOUNGBLOOD (2017) (#1-UP) (IMAGE) #2 A TOWE Near Mint/Mint

INDEPENDENTS
CAPTAIN KID (2016) #5 (After-Shock Comics) Near Mint/Mint

CENTIPEDE (2017) #1 C SCHKADE (DYNAMITE Entertainment) Near Mint/Mint

FIRST STRIKE (2017) #1 A WILLIAMS (IDW Publishing) Near Mint/Mint

KING: PRINCE VALIANT (2015) #2 ZDARSKY (DYNAMITE Entertainment) Very Fine
KING: PRINCE VALIANT (2015) #3 SHALVEY (DYNAMITE Entertainment) Near Mint/Mint

PLANET OF THE APES: URSUS (2017) #1 ALLRED (Boom Studios Publishing) Near Mint/Mint
PLANET OF THE APES: URSUS (2017) #2 A RIVERA (Boom Studios Publishing) Near Mint/Mint
PLANET OF THE APES: URSUS (2017) #3 A RIVERA (Boom Studios Publishing) Near Mint/Mint

PLUNDER (2015) #4 (Boom Studios Publishing) Near Mint/Mint

TARGITT (JOHN TARGITT, MAN-STALKER) #3 (Atlas/Seaboard) Very Good

UNCLE SCROOGE (1990) (DISNEY) (#243-280) #262 (Walt Disney Company) Very Fine