Huge 60% Off COMIC-CON Codeword - All Comics And Magazines
Howdy!
As some of you may have heard, San Diego Comic-Con International has been suing other conventions in order to claim sole ownership of the word "Comic-Con." They prevailed in court against the Salt Lake City Comic-Con late last year, and that resulted in the Denver Comic-Con rebranding themselves as the Denver Pop Culture Convention. We thought at the time that removing any reference to comics from their name was a mistake, and that was driven home this weekend. Not only did they not sell out of weekend tickets (for the first time ever), but the make-up of the attendees also changed dramatically. Instead of an abundance of comics fans, the show became a massive glorification of TV and films.
I mention these seismic changes because they hit us very hard in our cash flow. Beginning with the very first Denver Comic-Con, we have had a close relationship. We hosted opening night parties for the convention for four years, and have advocated vigorously for them throughout the Rocky Mountain region. That has been a mutually beneficial relationship, with thousands of comics fans flocking to Denver from hundreds of mile away, many of whom then visited Jason St. This year, however, that visitation almost entirely stopped for us. Instead of our sales being boosted by the convention, they actually declined this weekend to below normal levels. Clearly, that was not an outcome that we anticipated, or that served us well.
In any event, whenever we experience an unexpected diminishment in our cash flow, we have no choice but to tap into our reserves by letting some of our best back issue comics and magazines go at giveaway prices. That is why, effective immediately, you can utilize our new COMIC-CON discount codeword to save a stunning 60% off on all ten million of our back issue comics and magazines. Only new issues, a few variant editions, and our professionally-graded comics are exempt. We also have all of our trade paperbacks and graphic novels on sale for you right now (with prices discounted right on the website), so this week provides you with a particularly wonderful opportunity to save money on almost everything that we offer. Please do enjoy these great savings with our sincere thanks for your continuing support of Mile High Comics.
Happy collecting!
Chuck Rozanski,
President - Mile High Comics, Inc.
June 3, 2019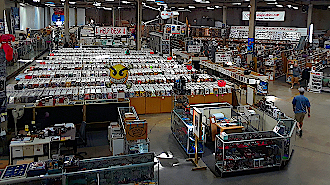 Front of the Jason Street Mega Store

P.S. Even though this past month (May) was the very best sales month in the history of our Jason St. Mega-Store, fairness dictates that the 60% off COMIC-CON discount will also apply to all of our back issue comics and magazines in the store, except for the blue stickers. If you ask when checking out, you can also receive any online book discounts... Enjoy!