Local News - Big Store Sale this Weekend!
Hi
This is William with Mile High Comics. I just wanted to write you a quick local newsletter letting everyone know everything that is going on here this weekend.
First the Denver Pop Culture Convention is happening this Friday-Sunday. Pam and I will be running the booth (#300) so drop by and say hi if you are attending the con.
Second we will also have a Free Shuttle Bus running back and forth from our Jason Street Mega Store to the Convention all weekend. The Shuttle starts at 12:00 (Noon) at the convention center each day and will be making round trips every hour until 7:30 PM on Friday and Saturday and 6:30 PM on Sunday.
Third for this weekend only we will be running extended hours:
Friday 9:00 AM-9:00 PM
Saturday 10:00 AM-8:00 PM
Sunday 11:00am-7:00 PM

Lastly we will be running a Big Convention Sale starting Friday (5/31/19) at our Jason Street Mega Store. The sale will run until the end of business on Monday (6/3/19). Below are the incredible sales for this weekend: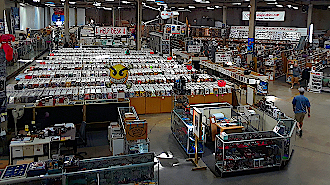 Front of the Jason Street Mega Store

*All Pop! Figures - 30% Off!
*All Action Figures - 30% Off!
*All Trade Paperbacks - 30% Off!
*All Comics Hardbacks - 30% Off!
*All Graphic Novels - 30% Off!
*All Statues - 30% Off!
*All Apparel - 30% Off!
*All Posters - 30% Off!
*All Back Issues 50% Off! (except blue stickers, $1 books, and CGC's)

Hope to see you this weekend!
William Moulton,
Operations Manager - Mile High Comics, Inc.
May 30, 2019