Memorial Day Sale 30% Off Books - 50% Off Comics
Howdy!
Our annual 50% off MEMORIALDAY! codeword sale is in full swing, with new orders being received almost hourly from destinations around the globe. If you have not yet taken advantage of this great opportunity to to shop through our entire website inventory of ten million+ back issues at half price, I urge you to do so right away. These kinds of awesome comics bargains do not come available every day. Only new issues, a few variants, and our professionally-graded comics are excluded from this across-the-board back issues sale.
In addition to our back issues codeword, our head comics buyer, Will Moulton, just asked me if he could drop the asking prices for you on all 300,000 comics graphic novels, trade paperback, and comics hardbacks that we currently have in stock. Thanks to Will's suggestion, all 300,000 of those books are now listed for you at 30% off right on our website, with no codeword needed. Enjoy!
As regards our Jason St. Mega-Store, if you are in the Denver area this weekend you really should try to stop by. Almost everything in the store will be 30% off for you, including our vast assortment of 2,000+ Funko Pop! Figures, all of our statues, all toys, and all books. We will also honor the 50% off MEMORIALDAY! codeword sale on back issues for all of our clients who visit the store. The weather may be a bit gray in Denver this weekend, but that just makes it a great opportunity to go shopping for comics, and cool toys!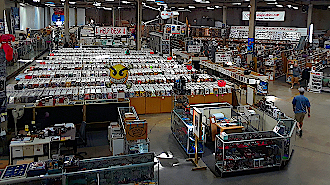 Front of the Jason Street Mega Store

Happy collecting!
Chuck Rozanski,
President - Mile High Comics, Inc.
May 23, 2019
P.S. Below is the final listing of great Silver Age and Bronze Age comics (T-Z) from the collections that Will and Pam just purchased. At half price via the 50% off MEMORIALDAY! sale, they are going quickly...

TALES OF SUSPENSE (1959) (#1-99) (ATLAS/MARVEL) #60

TALES OF SUSPENSE (1959) (#1-99) (ATLAS/MARVEL) #60 Very Good
TALES OF SUSPENSE (1959) (#1-99) (ATLAS/MARVEL) #61 Very Good
TALES OF SUSPENSE (1959) (#1-99) (ATLAS/MARVEL) #76 Very Good
TALES OF SUSPENSE (1959) (#1-99) (ATLAS/MARVEL) #81 Good
TALES OF SUSPENSE (1959) (#1-99) (ATLAS/MARVEL) #82 Very Good
TALES OF SUSPENSE (1959) (#1-99) (ATLAS/MARVEL) #83 Good
TALES OF SUSPENSE (1959) (#1-99) (ATLAS/MARVEL) #83 Very Good
TALES OF SUSPENSE (1959) (#1-99) (ATLAS/MARVEL) #97 Good
TALES OF SUSPENSE (1959) (#1-99) (ATLAS/MARVEL) #97 Fine
TALES OF SUSPENSE (1959) (#1-99) (ATLAS/MARVEL) #97 Very Good
TALES TO ASTONISH (1959) (#1-21 ATLAS, #22-101 MARVEL) #59 Fair
THOR (1962) (#83-125 JOURNEY INTO MYSTERY, 126-502) #300 Fine
THOR (1962) (#83-125 JOURNEY INTO MYSTERY, 126-502) #314 NEWSSTAND Good
THOR (1962) (#83-125 JOURNEY INTO MYSTERY, 126-502) #338 Very Good
THOR (1962) (#83-125 JOURNEY INTO MYSTERY, 126-502) #347 Near Mint/Mint
THOR (1962) (#83-125 JOURNEY INTO MYSTERY, 126-502) #348 Near Mint/Mint
THOR (1962) (#83-125 JOURNEY INTO MYSTERY, 126-502) #349 Very Fine
THOR ANNUAL (1965) #11 NEWSSTAND Fine
TOMB OF DRACULA (1972) (#1-70) (MARVEL) #2 Good
TOMB OF DRACULA (1972) (#1-70) (MARVEL) #4 Good
TOWER OF SHADOWS (1969) #3 Near Mint/Mint
TOWER OF SHADOWS (1969) #4 Near Mint/Mint


TRANSFORMERS (1984) (#1-80) (MARVEL) #3

TRANSFORMERS (1984) (#1-80) (MARVEL) #3 Fine
TRANSFORMERS (1984) (#1-80) (MARVEL) #4 Very Fine
TRANSFORMERS (1984) (#1-80) (MARVEL) #5 Very Fine
WARLOCK (1972) (#1-15) (MARVEL) #4 Near Mint/Mint
WARLOCK (1992) (#1-6) (MARVEL) #2 Very Fine
WEREWOLF BY NIGHT (1972) #16 Near Mint/Mint
WEREWOLF BY NIGHT (1972) #28 Near Mint/Mint
WEREWOLF BY NIGHT (1972) #31 Near Mint/Mint
WEREWOLF BY NIGHT GIANT-SIZE (1974) #3 Near Mint/Mint
WHAT IF... (1977) (#1-47) (MARVEL) #26 NEWSSTAND Fine
WHAT IF... (1977) (#1-47) (MARVEL) #30 NEWSSTAND Fine
WHERE MONSTERS DWELL (1970) #4 Near Mint/Mint
WHERE MONSTERS DWELL (1970) #8 Near Mint/Mint
WHERE MONSTERS DWELL (1970) #9 Near Mint/Mint
WHERE MONSTERS DWELL (1970) #10 Near Mint/Mint


WHERE MONSTERS DWELL (1970) #12

WHERE MONSTERS DWELL (1970) #12 Near Mint/Mint
WHERE MONSTERS DWELL (1970) #29 Near Mint/Mint
WORLDS UNKNOWN (1973) #5 Near Mint/Mint
X-MEN (1963) (#1-113, UNCANNY X-MEN #114-544) (MARVEL) #8 CGC 6.0 Fine
X-MEN (1963) (#1-113, UNCANNY X-MEN #114-544) (MARVEL) #14 Fair
X-MEN (1963) (#1-113, UNCANNY X-MEN #114-544) (MARVEL) #24 Very Good
X-MEN (1963) (#1-113, UNCANNY X-MEN #114-544) (MARVEL) #28 Fine
X-MEN (1963) (#1-113, UNCANNY X-MEN #114-544) (MARVEL) #58 Very Fine
X-MEN (1963) (#1-113, UNCANNY X-MEN #114-544) (MARVEL) #150 NEWSSTAND Fine
X-MEN (1963) (#1-113, UNCANNY X-MEN #114-544) (MARVEL) #150 Very Fine
X-MEN (1963) (#1-113, UNCANNY X-MEN #114-544) (MARVEL) #151 Near Mint/Mint
X-MEN (1963) (#1-113, UNCANNY X-MEN #114-544) (MARVEL) #151 Very Fine
X-MEN (1963) (#1-113, UNCANNY X-MEN #114-544) (MARVEL) #152 Near Mint/Mint
X-MEN (1963) (#1-113, UNCANNY X-MEN #114-544) (MARVEL) #153 Near Mint/Mint
X-MEN (1963) (#1-113, UNCANNY X-MEN #114-544) (MARVEL) #153 Very Fine
X-MEN (1963) (#1-113, UNCANNY X-MEN #114-544) (MARVEL) #154 Near Mint/Mint
X-MEN (1963) (#1-113, UNCANNY X-MEN #114-544) (MARVEL) #155 Very Fine
X-MEN (1963) (#1-113, UNCANNY X-MEN #114-544) (MARVEL) #157 Near Mint/Mint
X-MEN (1963) (#1-113, UNCANNY X-MEN #114-544) (MARVEL) #157 Very Fine
X-MEN (1963) (#1-113, UNCANNY X-MEN #114-544) (MARVEL) #159 Near Mint/Mint
X-MEN (1963) (#1-113, UNCANNY X-MEN #114-544) (MARVEL) #159 Very Fine
X-MEN (1963) (#1-113, UNCANNY X-MEN #114-544) (MARVEL) #161 Near Mint/Mint
X-MEN (1963) (#1-113, UNCANNY X-MEN #114-544) (MARVEL) #161 Very Fine


X-MEN (1963) (#1-113, UNCANNY X-MEN #114-544) (MARVEL) #200

X-MEN (1963) (#1-113, UNCANNY X-MEN #114-544) (MARVEL) #200 Very Fine