Local News - Memorial Day 30%-50% Off Comics and Toys Sale begins Today
Howdy!
We want to make this weekend extra special for you, so we have put together an awesome Memorial Day Sale in your honor. Effective immediately, and through the close of business on Monday, we will be offering you the following great savings throughout our huge store: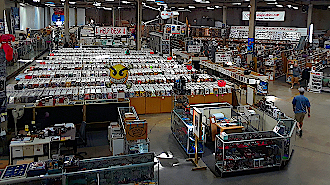 Front of the Jason Street Mega Store

*All Pop! Figures - 30% Off!
*All Action Figures - 30% Off!
*All Trade Paperbacks - 30% Off!
*All Comics Hardbacks - 30% Off!
*All Graphic Novels - 30% Off!
*All Statues - 30% Off!
*All Apparel - 30% Off!
*All Posters - 30% Off!
*All Back Issues 50% Off! (except blue stickers, $1 books, and CGC's)
In addition, for your greatest convenience, our Jason St. Mega-Store will be open for you the following hours:
Thursday - 9 AM-7 PM
Friday - 9 AM-9 PM
Saturday 10 AM-7 PM
Sunday 11 AM-5 PM
Monday 9 AM-6 PM
Please do also note that next weekend (May 31st - June 2nd) is this year's Denver Pop Culture Con weekend. That is typically our busiest weekend of the year, which generally means that, during those 72 hours of frenetic activity, we sell out of a huge number of our coolest collectibles. In a nutshell, that is precisely why we urge you to try and stop by Jason St. As soon as possible, for best selection, and before all of the DPCC craziness begins. Just saying...
Happy collecting!
Chuck Rozanski,
President - Mile High Comics, Inc.
May 22, 2019