Chuck's Heading Back To San Diego
Howdy!
Today's newsletter is coming to you from the Hilton Bayside is San Diego, right next to the convention center. I flew out here yesterday afternoon to attend this year's Harvey Milk Diversity Breakfast, which was created by the leader of the International Court System, Nicole Murray-Ramirez. The breakfast highlights advancements made in LGBTQ Rights here in the San Diego region, and was attended by over 1,000 people including every major politician in town. The opening address was given by Mayor Kevin Faulconer, who was immediately followed by Toni Atkins, the extremely influential President Pro Tempore of the California Senate. It was a great event.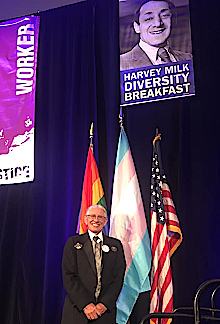 Chuck at the Harvey Milk Diversity Breakfast

Because I am so fond of the members of the Imperial Court de San Diego, this is already my fourth visit to this beautiful city in 2019. Another visit is already upcoming, as I have been invited to be a guest at the 2019 San Diego Comic-Con International. I have accepted their gracious invitation, and plan to be in town for the entire week of this year's show. I will probably be alone on this journey (and we definitely will not be exhibiting...), but that just means that I will be much more available for nice conversations. If you are attending this year's convention, I hope that you seek me out!
Speaking of conventions, Will Moulton and Pam Brandle will be manning the single booth that we rented at this year's Denver's Pop Culture Convention. Rather than hauling a huge mass of merchandise to the convention center, we instead chose to run a free shuttle bus from downtown to Jason St. approximately every hour. Our bus was a huge hit last year, so we're expanding our service in 2019. Just so you know, I cannot attend the Denver, as this time last year I was granted the honorary title of Out-Of-Town 1/2 Emperor of The Royal Court of the Golden Spike Empire, in Salt Lake City. I have my official step-down ceremony from that prestigious role during the weekend of the Denver show. Sigh...
I will close by quickly mentioning that I am now heading to the airport to catch my flight back to Denver. Tomorrow (Saturday) I will be hosting both a poker tournament and a no-minimum-bid comics and toys auction at Jason St. The action begins at 10 AM!
Happy collecting!
Chuck Rozanski,
President - Mile High Comics, Inc.
May 17, 2019
P.S. Below are a few more new arrivals (G-M) from the awesome collections of older comics that we have purchased over the past couple of weeks. All are available to you at half price when you utilize our ongoing 50% off BIGDIG! codeword. Only new issues, a few variants, and our professionally-graded comics are excluded. Those are our only exclusions, however, as our entire website backlist inventory of 10,000,000+ comics and magazines IS included as part of this weekend's half price sale. Enjoy!

GHOST RIDER (1973) (#1-81) (MARVEL) #1<

GHOST RIDER (1973) (#1-81) (MARVEL) #1 Fine
GHOST RIDER (1973) (#1-81) (MARVEL) #2 Near Mint/Mint
GHOST RIDER (1973) (#1-81) (MARVEL) #7 Good
GHOST RIDER (1973) (#1-81) (MARVEL) #10 Near Mint/Mint
GHOST RIDER (1973) (#1-81) (MARVEL) #38 Very Fine
GI JOE #2 NEWSSTAND Very Good
GI JOE #6 Very Fine
GI JOE #9 NEWSSTAND Good
GI JOE #10 2ND PRINT Very Fine
GI JOE #11 NEWSSTAND Good
GI JOE #12 NEWSSTAND Very Good
GI JOE #15 Fine
GI JOE #17 NEWSSTAND Good
GI JOE #18 Fine
GI JOE #19 Fine
GI JOE #23 NEWSSTAND Very Good
GI JOE #24 NEWSSTAND Very Good
GI JOE #25 NEWSSTAND Very Good
HULK (1962) (#1-6, #102-474, #600-635)(INCREDIBLE)(MV) #102 Fine
HULK ANNUAL (1968) #3 Very Fine
IRON FIST (1975) (#1-15) (MARVEL) #1 Fine
IRON FIST (1975) (#1-15) (MARVEL) #7 Near Mint/Mint
IRON MAN (1968) (#1-332) (INVINCIBLE IRON MAN)(MARVEL) #1 Fine


IRON MAN (1968) (#1-332) (INVINCIBLE IRON MAN)(MARVEL) #2<

IRON MAN (1968) (#1-332) (INVINCIBLE IRON MAN)(MARVEL) #2 Fine
IRON MAN (1968) (#1-332) (INVINCIBLE IRON MAN)(MARVEL) #3 Fine
IRON MAN (1968) (#1-332) (INVINCIBLE IRON MAN)(MARVEL) #3 Very Good
IRON MAN (1968) (#1-332) (INVINCIBLE IRON MAN)(MARVEL) #4 Near Mint/Mint
IRON MAN (1968) (#1-332) (INVINCIBLE IRON MAN)(MARVEL) #5 Fine
IRON MAN (1968) (#1-332) (INVINCIBLE IRON MAN)(MARVEL) #5 Very Fine
IRON MAN (1968) (#1-332) (INVINCIBLE IRON MAN)(MARVEL) #6 Fine
IRON MAN (1968) (#1-332) (INVINCIBLE IRON MAN)(MARVEL) #6 Very Good
IRON MAN (1968) (#1-332) (INVINCIBLE IRON MAN)(MARVEL) #6 Very Fine
IRON MAN (1968) (#1-332) (INVINCIBLE IRON MAN)(MARVEL) #7 Good
IRON MAN (1968) (#1-332) (INVINCIBLE IRON MAN)(MARVEL) #7 Fine
IRON MAN (1968) (#1-332) (INVINCIBLE IRON MAN)(MARVEL) #9 Near Mint/Mint
IRON MAN (1968) (#1-332) (INVINCIBLE IRON MAN)(MARVEL) #9 Very Fine
IRON MAN (1968) (#1-332) (INVINCIBLE IRON MAN)(MARVEL) #10 Near Mint/Mint
IRON MAN (1968) (#1-332) (INVINCIBLE IRON MAN)(MARVEL) #10 Good
IRON MAN (1968) (#1-332) (INVINCIBLE IRON MAN)(MARVEL) #13 Near Mint/Mint
IRON MAN (1968) (#1-332) (INVINCIBLE IRON MAN)(MARVEL) #15 Fine
IRON MAN (1968) (#1-332) (INVINCIBLE IRON MAN)(MARVEL) #15 Good
IRON MAN (1968) (#1-332) (INVINCIBLE IRON MAN)(MARVEL) #16 Good
IRON MAN (1968) (#1-332) (INVINCIBLE IRON MAN)(MARVEL) #16 Near Mint/Mint
IRON MAN (1968) (#1-332) (INVINCIBLE IRON MAN)(MARVEL) #17 Near Mint/Mint
IRON MAN (1968) (#1-332) (INVINCIBLE IRON MAN)(MARVEL) #17 Very Good
IRON MAN (1968) (#1-332) (INVINCIBLE IRON MAN)(MARVEL) #18 Very Good
IRON MAN (1968) (#1-332) (INVINCIBLE IRON MAN)(MARVEL) #21 Fine
IRON MAN (1968) (#1-332) (INVINCIBLE IRON MAN)(MARVEL) #22 Good


IRON MAN (1968) (#1-332) (INVINCIBLE IRON MAN)(MARVEL) #23<

IRON MAN (1968) (#1-332) (INVINCIBLE IRON MAN)(MARVEL) #23 Good
IRON MAN (1968) (#1-332) (INVINCIBLE IRON MAN)(MARVEL) #24 Fine
IRON MAN (1968) (#1-332) (INVINCIBLE IRON MAN)(MARVEL) #24 Near Mint/Mint
IRON MAN (1968) (#1-332) (INVINCIBLE IRON MAN)(MARVEL) #24 Very Good
IRON MAN (1968) (#1-332) (INVINCIBLE IRON MAN)(MARVEL) #25 Fine
IRON MAN (1968) (#1-332) (INVINCIBLE IRON MAN)(MARVEL) #26 Fine
IRON MAN (1968) (#1-332) (INVINCIBLE IRON MAN)(MARVEL) #26 Very Good
IRON MAN (1968) (#1-332) (INVINCIBLE IRON MAN)(MARVEL) #27 Very Good
IRON MAN (1968) (#1-332) (INVINCIBLE IRON MAN)(MARVEL) #27 Very Fine
IRON MAN (1968) (#1-332) (INVINCIBLE IRON MAN)(MARVEL) #28 Fine
IRON MAN (1968) (#1-332) (INVINCIBLE IRON MAN)(MARVEL) #28 Very Good
IRON MAN (1968) (#1-332) (INVINCIBLE IRON MAN)(MARVEL) #29 Very Good
IRON MAN (1968) (#1-332) (INVINCIBLE IRON MAN)(MARVEL) #30 Fine
IRON MAN (1968) (#1-332) (INVINCIBLE IRON MAN)(MARVEL) #30 Very Fine
IRON MAN (1968) (#1-332) (INVINCIBLE IRON MAN)(MARVEL) #31 Fine
IRON MAN (1968) (#1-332) (INVINCIBLE IRON MAN)(MARVEL) #31 Very Fine
IRON MAN (1968) (#1-332) (INVINCIBLE IRON MAN)(MARVEL) #32 Fine
IRON MAN (1968) (#1-332) (INVINCIBLE IRON MAN)(MARVEL) #32 Very Fine
IRON MAN (1968) (#1-332) (INVINCIBLE IRON MAN)(MARVEL) #33 Fine
IRON MAN (1968) (#1-332) (INVINCIBLE IRON MAN)(MARVEL) #33 Very Good
IRON MAN (1968) (#1-332) (INVINCIBLE IRON MAN)(MARVEL) #34 Good
IRON MAN (1968) (#1-332) (INVINCIBLE IRON MAN)(MARVEL) #34 Fine
IRON MAN (1968) (#1-332) (INVINCIBLE IRON MAN)(MARVEL) #34 Very Fine
IRON MAN (1968) (#1-332) (INVINCIBLE IRON MAN)(MARVEL) #35 Fine
IRON MAN (1968) (#1-332) (INVINCIBLE IRON MAN)(MARVEL) #35 Near Mint/Mint


IRON MAN (1968) (#1-332) (INVINCIBLE IRON MAN)(MARVEL) #35<

IRON MAN (1968) (#1-332) (INVINCIBLE IRON MAN)(MARVEL) #35 Very Good
IRON MAN (1968) (#1-332) (INVINCIBLE IRON MAN)(MARVEL) #36 Near Mint/Mint
IRON MAN (1968) (#1-332) (INVINCIBLE IRON MAN)(MARVEL) #37 Very Fine
IRON MAN (1968) (#1-332) (INVINCIBLE IRON MAN)(MARVEL) #38 Near Mint/Mint
IRON MAN (1968) (#1-332) (INVINCIBLE IRON MAN)(MARVEL) #38 Very Good
IRON MAN (1968) (#1-332) (INVINCIBLE IRON MAN)(MARVEL) #39 Very Fine
IRON MAN (1968) (#1-332) (INVINCIBLE IRON MAN)(MARVEL) #40 Fine
IRON MAN (1968) (#1-332) (INVINCIBLE IRON MAN)(MARVEL) #40 Very Fine
IRON MAN (1968) (#1-332) (INVINCIBLE IRON MAN)(MARVEL) #42 Fine
IRON MAN (1968) (#1-332) (INVINCIBLE IRON MAN)(MARVEL) #42 Very Good
IRON MAN (1968) (#1-332) (INVINCIBLE IRON MAN)(MARVEL) #43 Fine
IRON MAN (1968) (#1-332) (INVINCIBLE IRON MAN)(MARVEL) #43 Very Good
IRON MAN (1968) (#1-332) (INVINCIBLE IRON MAN)(MARVEL) #45 Very Good
IRON MAN (1968) (#1-332) (INVINCIBLE IRON MAN)(MARVEL) #46 Fine
IRON MAN (1968) (#1-332) (INVINCIBLE IRON MAN)(MARVEL) #46 Very Fine
IRON MAN (1968) (#1-332) (INVINCIBLE IRON MAN)(MARVEL) #46 Very Good
IRON MAN (1968) (#1-332) (INVINCIBLE IRON MAN)(MARVEL) #48 Near Mint/Mint
IRON MAN (1968) (#1-332) (INVINCIBLE IRON MAN)(MARVEL) #48 Very Fine
IRON MAN (1968) (#1-332) (INVINCIBLE IRON MAN)(MARVEL) #49 Very Fine
IRON MAN (1968) (#1-332) (INVINCIBLE IRON MAN)(MARVEL) #51 Near Mint/Mint
IRON MAN (1968) (#1-332) (INVINCIBLE IRON MAN)(MARVEL) #51 Very Fine
IRON MAN (1968) (#1-332) (INVINCIBLE IRON MAN)(MARVEL) #52 Near Mint/Mint
IRON MAN (1968) (#1-332) (INVINCIBLE IRON MAN)(MARVEL) #52 Fine
IRON MAN (1968) (#1-332) (INVINCIBLE IRON MAN)(MARVEL) #53 Very Good
IRON MAN (1968) (#1-332) (INVINCIBLE IRON MAN)(MARVEL) #55 Fine
IRON MAN (1968) (#1-332) (INVINCIBLE IRON MAN)(MARVEL) #56 Near Mint/Mint


IRON MAN (1968) (#1-332) (INVINCIBLE IRON MAN)(MARVEL) #56<

IRON MAN (1968) (#1-332) (INVINCIBLE IRON MAN)(MARVEL) #56 Very Fine
IRON MAN (1968) (#1-332) (INVINCIBLE IRON MAN)(MARVEL) #57 Fine
IRON MAN (1968) (#1-332) (INVINCIBLE IRON MAN)(MARVEL) #58 Near Mint/Mint
IRON MAN (1968) (#1-332) (INVINCIBLE IRON MAN)(MARVEL) #59 Fine
IRON MAN (1968) (#1-332) (INVINCIBLE IRON MAN)(MARVEL) #60 Very Fine
IRON MAN (1968) (#1-332) (INVINCIBLE IRON MAN)(MARVEL) #61 Very Fine
IRON MAN (1968) (#1-332) (INVINCIBLE IRON MAN)(MARVEL) #61 Very Good
IRON MAN (1968) (#1-332) (INVINCIBLE IRON MAN)(MARVEL) #63 Fine
IRON MAN (1968) (#1-332) (INVINCIBLE IRON MAN)(MARVEL) #64 Fine
IRON MAN (1968) (#1-332) (INVINCIBLE IRON MAN)(MARVEL) #65 Very Fine
IRON MAN (1968) (#1-332) (INVINCIBLE IRON MAN)(MARVEL) #66 Near Mint/Mint
IRON MAN (1968) (#1-332) (INVINCIBLE IRON MAN)(MARVEL) #66 Very Fine
IRON MAN (1968) (#1-332) (INVINCIBLE IRON MAN)(MARVEL) #67 Fine
IRON MAN (1968) (#1-332) (INVINCIBLE IRON MAN)(MARVEL) #67 Very Fine
IRON MAN (1968) (#1-332) (INVINCIBLE IRON MAN)(MARVEL) #68 Very Fine
IRON MAN (1968) (#1-332) (INVINCIBLE IRON MAN)(MARVEL) #69 Near Mint/Mint
IRON MAN (1968) (#1-332) (INVINCIBLE IRON MAN)(MARVEL) #69 Very Fine
IRON MAN (1968) (#1-332) (INVINCIBLE IRON MAN)(MARVEL) #70 Near Mint/Mint
IRON MAN (1968) (#1-332) (INVINCIBLE IRON MAN)(MARVEL) #70 Fine
IRON MAN (1968) (#1-332) (INVINCIBLE IRON MAN)(MARVEL) #71 Very Good
IRON MAN (1968) (#1-332) (INVINCIBLE IRON MAN)(MARVEL) #73 Fine
IRON MAN (1968) (#1-332) (INVINCIBLE IRON MAN)(MARVEL) #73 Near Mint/Mint
IRON MAN (1968) (#1-332) (INVINCIBLE IRON MAN)(MARVEL) #73 Very Good
IRON MAN (1968) (#1-332) (INVINCIBLE IRON MAN)(MARVEL) #73 Very Fine
IRON MAN (1968) (#1-332) (INVINCIBLE IRON MAN)(MARVEL) #75 Near Mint/Mint


IRON MAN (1968) (#1-332) (INVINCIBLE IRON MAN)(MARVEL) #75<

IRON MAN (1968) (#1-332) (INVINCIBLE IRON MAN)(MARVEL) #75 Fine
IRON MAN (1968) (#1-332) (INVINCIBLE IRON MAN)(MARVEL) #75 Very Fine
IRON MAN (1968) (#1-332) (INVINCIBLE IRON MAN)(MARVEL) #75 Very Good
IRON MAN (1968) (#1-332) (INVINCIBLE IRON MAN)(MARVEL) #76 Very Good
IRON MAN (1968) (#1-332) (INVINCIBLE IRON MAN)(MARVEL) #77 Very Fine
IRON MAN (1968) (#1-332) (INVINCIBLE IRON MAN)(MARVEL) #79 Near Mint/Mint
IRON MAN (1968) (#1-332) (INVINCIBLE IRON MAN)(MARVEL) #79 Very Fine
IRON MAN (1968) (#1-332) (INVINCIBLE IRON MAN)(MARVEL) #80 Very Fine
IRON MAN (1968) (#1-332) (INVINCIBLE IRON MAN)(MARVEL) #82 Near Mint/Mint
IRON MAN (1968) (#1-332) (INVINCIBLE IRON MAN)(MARVEL) #82 Very Good
IRON MAN (1968) (#1-332) (INVINCIBLE IRON MAN)(MARVEL) #83 Near Mint/Mint
IRON MAN (1968) (#1-332) (INVINCIBLE IRON MAN)(MARVEL) #86 Fine
IRON MAN (1968) (#1-332) (INVINCIBLE IRON MAN)(MARVEL) #87 Very Fine
IRON MAN (1968) (#1-332) (INVINCIBLE IRON MAN)(MARVEL) #88 Near Mint/Mint
IRON MAN (1968) (#1-332) (INVINCIBLE IRON MAN)(MARVEL) #88 Good
IRON MAN (1968) (#1-332) (INVINCIBLE IRON MAN)(MARVEL) #89 Near Mint/Mint
IRON MAN (1968) (#1-332) (INVINCIBLE IRON MAN)(MARVEL) #90 Very Good
IRON MAN (1968) (#1-332) (INVINCIBLE IRON MAN)(MARVEL) #91 Very Fine
IRON MAN (1968) (#1-332) (INVINCIBLE IRON MAN)(MARVEL) #92 Near Mint/Mint
IRON MAN (1968) (#1-332) (INVINCIBLE IRON MAN)(MARVEL) #92 Very Fine
IRON MAN (1968) (#1-332) (INVINCIBLE IRON MAN)(MARVEL) #93 Very Good
IRON MAN (1968) (#1-332) (INVINCIBLE IRON MAN)(MARVEL) #94 Fine
IRON MAN (1968) (#1-332) (INVINCIBLE IRON MAN)(MARVEL) #98 Near Mint/Mint
IRON MAN (1968) (#1-332) (INVINCIBLE IRON MAN)(MARVEL) #99 Near Mint/Mint


IRON MAN (1968) (#1-332) (INVINCIBLE IRON MAN)(MARVEL) #99<

IRON MAN (1968) (#1-332) (INVINCIBLE IRON MAN)(MARVEL) #99 Very Fine
IRON MAN (1968) (#1-332) (INVINCIBLE IRON MAN)(MARVEL) #100 Very Fine
IRON MAN & SUB-MARINER (1968) #1 Very Good
IRON MAN ANNUAL (1970) #2 Near Mint/Mint
KA-ZAR (1970) (#1-3) (MARVEL) #1 Near Mint/Mint
KA-ZAR (1970) (#1-3) (MARVEL) #3 Near Mint/Mint
MACHINE MAN (1978) (#1-19) (MARVEL) #1 Near Mint/Mint
MAN-THING (1974) (#1-22) (MARVEL) #2 Near Mint/Mint
MAN-THING (1974) (#1-22) (MARVEL) #4 Near Mint/Mint
MAN-THING (1974) (#1-22) (MARVEL) #5 Near Mint/Mint
MAN-THING (1974) (#1-22) (MARVEL) #6 Near Mint/Mint
MAN-THING (1974) (#1-22) (MARVEL) #7 Near Mint/Mint
MAN-THING (1974) (#1-22) (MARVEL) #9 Near Mint/Mint
MARVEL CLASSICS (1976) #2 Fine
MARVEL CLASSICS (1976) #3 Very Fine
MARVEL CLASSICS (1976) #4 Fine
MARVEL CLASSICS (1976) #6 Very Fine
MARVEL CLASSICS (1976) #7 Very Fine
MARVEL CLASSICS (1976) #8 Fine
MARVEL CLASSICS (1976) #9 Very Fine
MARVEL CLASSICS (1976) #11 Fine
MARVEL CLASSICS (1976) #12 Very Fine
MARVEL CLASSICS (1976) #13 Near Mint/Mint
MARVEL CLASSICS (1976) #14 Near Mint/Mint
MARVEL CLASSICS (1976) #15 Very Fine
MARVEL CLASSICS (1976) #16 Near Mint/Mint
MARVEL CLASSICS (1976) #17 Very Fine

MARVEL CLASSICS (1976) #19 Very Fine
MARVEL CLASSICS (1976) #20 Very Fine
MARVEL CLASSICS (1976) #21 Very Fine
MARVEL CLASSICS (1976) #22 Very Fine
MARVEL CLASSICS (1976) #23 Very Fine
MARVEL CLASSICS (1976) #24 Fine
MARVEL CLASSICS (1976) #24 Near Mint/Mint
MARVEL CLASSICS (1976) #25 Very Fine
MARVEL CLASSICS (1976) #26 Near Mint/Mint
MARVEL CLASSICS (1976) #27 Very Fine
MARVEL CLASSICS (1976) #28 Fine
MARVEL CLASSICS (1976) #29 Fine
MARVEL CLASSICS (1976) #29 Very Fine
MARVEL CLASSICS (1976) #30 Near Mint/Mint
MARVEL CLASSICS (1976) #31 Near Mint/Mint
MARVEL CLASSICS (1976) #32 Very Fine
MARVEL CLASSICS (1976) #33 Fine
MARVEL CLASSICS (1976) #33 Very Fine
MARVEL CLASSICS (1976) #34 Fine
MARVEL CLASSICS (1976) #35 Fine
MARVEL CLASSICS (1976) #36 Fine
MARVEL FEATURE (1971) (#1-12) #1 Fine
MARVEL FEATURE (1971) (#1-12) #2 Good
MARVEL FEATURE (1971) (#1-12) #3 Very Good


MARVEL FEATURE (1975) (#1-7) (RED SONJA) #1<

MARVEL FEATURE (1975) (#1-7) (RED SONJA) #1 Fine
MARVEL PREMIERE (1972) #6 Near Mint/Mint
MARVEL PREMIERE (1972) #8 Good
MARVEL PREMIERE (1972) #13 Near Mint/Mint
MARVEL PREMIERE (1972) #15 Very Fine
MARVEL PREMIERE (1972) #16 Near Mint/Mint
MARVEL PREMIERE (1972) #17 Near Mint/Mint
MARVEL SPECTACULAR (1973) #1 Near Mint/Mint
MARVEL SPECTACULAR (1973) #7 Very Fine
MARVEL SPECTACULAR (1973) #9 Very Fine
MARVEL SPOTLIGHT (1971) (#1-33) (MARVEL) #3 Near Mint/Mint
MARVEL SPOTLIGHT (1971) (#1-33) (MARVEL) #18 Near Mint/Mint
MARVEL SPOTLIGHT (1971) (#1-33) (MARVEL) #19 Near Mint/Mint
MARVEL SUPER-HEROES (1967) #12 Very Good
MARVEL SUPER-HEROES (1967) #13 Good
MARVEL SUPER-HEROES (1967) #18 Fine
MARVEL TALES (1964) (#1-291) #225 Very Fine
MARVEL TEAM-UP (1972) (#1-150) (MARVEL) #8 Near Mint/Mint
MARVEL TEAM-UP (1972) (#1-150) (MARVEL) #20 Near Mint/Mint
MARVEL TEAM-UP (1972) (#1-150) (MARVEL) #76 Very Fine
MARVEL TEAM-UP (1972) (#1-150) (MARVEL) #80 Near Mint/Mint


MARVEL TEAM-UP (1972) (#1-150) (MARVEL) #81 NEWSSTAND<

MARVEL TEAM-UP (1972) (#1-150) (MARVEL) #81 NEWSSTAND Very Fine
MARVEL TEAM-UP (1972) (#1-150) (MARVEL) #93 Near Mint/Mint
MARVEL TRIPLE ACTION (1972) #1 Near Mint/Mint
MARVEL TRIPLE ACTION (1972) #2 Near Mint/Mint
MARVEL TWO-IN-ONE (1974) (#1-100) (MARVEL) #3 Near Mint/Mint
MARVEL TWO-IN-ONE (1974) (#1-100) (MARVEL) #6 Near Mint/Mint
MONSTERS ON THE PROWL (1971) #10 Near Mint/Mint
MONSTERS ON THE PROWL (1971) #11 Near Mint/Mint
MONSTERS ON THE PROWL (1971) #12 Near Mint/Mint
MONSTERS ON THE PROWL (1971) #16 Near Mint/Mint
MS. MARVEL (1977) (#1-23) (MARVEL) (CAROL DANVERS) #19 Near Mint/Mint
MS. MARVEL (1977) (#1-23) (MARVEL) (CAROL DANVERS) #20 Near Mint/Mint
MS. MARVEL (1977) (#1-23) (MARVEL) (CAROL DANVERS) #21 Near Mint/Mint
MS. MARVEL (1977) (#1-23) (MARVEL) (CAROL DANVERS) #22 Near Mint/Mint
MY LOVE (1969) #10 Very Good
MY LOVE (1969) #19 Good
MY LOVE (1969) #21 Good
MY LOVE (1969) #22 Very Good