All Back Issues 40% Off - New 5 lb "Mystery Boxes" Ready to Ship
Howdy!
A very short newsletter today, as I am limited on time. I spent most of this afternoon in a long YouTube interview with the noted Michigan comics retailer, Dennis Barger. That interview was a follow-up to a panel discussion that I participated in earlier in the week with Dan Shahin entitled Comic Shop 2.0. Both discussions focused on the future of the comics industry, and (as I am often wont to do) I was extremely candid and forthright in my assessments.
In particular, I repeated my belief that all high overhead comics shops in America are doomed, as the future output of new comics is highly unlikely to ever replicate that which we have experienced in the recent past. As I see it, store owners who are paying huge sums in rent for mall and/or popular strip center locations are especially at risk, as there is no way that cost can ever be recovered in light of our current social distancing requirements. Some stores will stagger on for a while, but they are essentially zombie stores that voraciously eat working capital, with no chance of future life.
On a more positive note, I do see tremendous upside potential in collectibles stores, with those owners who find large amounts of cheap space benefitting the most. With 10,000-15,000 retail stores (of all kinds) projected to close during 2020, there has never been a better time to either negotiate a very low lease rate, or even to buy a place. Social and economic turmoil is most unfortunate in many ways, but the resulting tumult does create a plethora of unique opportunities for those with courage and adroitness. I am very curious to see just how many of the current comics retailers mange to morph their businesses into comics retailing 2.0...
As regards Mile High Comics, Lynne, Will, and Pam really put the hammer down this week, and caught up the vast majority of our back issue shipping backlog, in just five days. They even managed to ship the several hundred 5 lb "Mystery Boxes that were ordered, which truly blows me away. I had thought that I was going to have to pull another long weekend of sorting, but at least for now, that extra effort is unnecessary. Woo!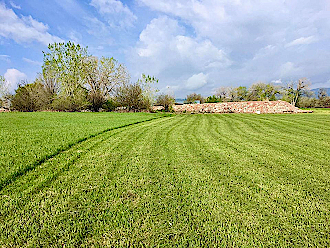 One of the fields on the Boulder farm

Truth be told, my getting away from Jason St. for a couple of days is actually a blessed relief, as it means that I can finally devote an entire day to mowing the grass and invasive weeds at my beloved farm in Boulder. That may not sound like any sort of a big deal, but if I can catch the bigger weeds (thistle, teasle, and ragweed) before they get tall, about 90% of the effort required in late June to do the same task is avoided. This weekend will be filled with very hard work, but the dividends are amazing.
While I am off at my farm, David, Lisa, and Bryan will be serving our clients at our Jason St. Mega-Store. If you would like to have a fun outing, please stop by and visit with them. Our store is running at about half of normal right now, so social distancing in our 45,000 square feet of retail space is really easy. We also have been restocking our comics, toys, and games during the shutdown, so we have thousands of items on display that have never before been available. It is definitely worth your time to visit us.
As regards our online sales, our new 40% off JOY! codeword has been receiving a very positive response, so I am going to leave it in effect for you for at least another week. That 40% off discount applies to all ten million+ of our back issue comics and magazines listed on our website, excepting only our new issues, a few variants, and our professionally-graded comics. I am also going to leave available all of our 5 lb "Mystery Boxes", as some of our clients have indicated that they would like to place new orders. The good news for everyone who would like to reorder is that all of our current boxes are almost entirely different from our first series of "Mystery Boxes," as all of those initial comics titles have now long since been allocated, and have been replaced with new selections. Enjoy!
That's it for today. Please be safe, and do try to allow yourself to have some fun with your comics. You deserve it!
Happy collecting!
Chuck Rozanski/Bettie Pages,
President - Mile High Comics, Inc.
May 15, 2020
MYSTERY BOXES (5 POUNDS OF MIXED COMICS) #1
MYSTERY BOXES (5 POUNDS OF MIXED COMICS) #1 ALL AGES
MYSTERY BOXES (5 POUNDS OF MIXED COMICS) #1 DARK HORSE MYSTERY BOXES (5 POUNDS OF MIXED COMICS) #1 DC MYSTERY BOXES (5 POUNDS OF MIXED COMICS) #1 DOLLAR BIN MYSTERY BOXES (5 POUNDS OF MIXED COMICS) #1 FCBD MYSTERY BOXES (5 POUNDS OF MIXED COMICS) #1 IMAGE MYSTERY BOXES (5 POUNDS OF MIXED COMICS) #1 INDIES MYSTERY BOXES (5 POUNDS OF MIXED COMICS) #1 MALIBU MYSTERY BOXES (5 POUNDS OF MIXED COMICS) #1 MARVEL MYSTERY BOXES (5 POUNDS OF MIXED COMICS) #1 SUPERMAN/BATMAN MYSTERY BOXES (5 POUNDS OF MIXED COMICS) #1 VALIANT MYSTERY BOXES (5 POUNDS OF MIXED COMICS) #1 VERTIGO MYSTERY BOXES (5 POUNDS OF MIXED COMICS) #1 X TITLES