Poker and Comics Auction this Saturday - Half Price Back Issues
Howdy!
I am in the office only briefly today, as I worked all weekend, and have an enormous expanse of grass to mow up at my farm. This is a critical time of year for me, as during the latter part of May, and most of June, I will be preoccupied with traveling in my role as the International Court System Imperial Crown Princess of the Americas. Right how, however, I have a ten-day stretch where I will be making a brief trip, so I can get many things done here at Mile High Comics, and also at our family farm in Boulder.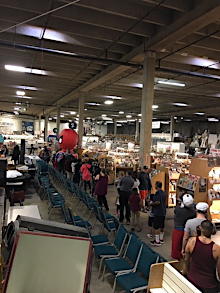 Line of X-Men Fans for X-Men day

As regards Mile High Comics, we are hosting an awesome X-MEN Day Party this afternoon, featuring free posters, all kinds of X-MEN swag, and even X-MEN cookies! This party was set up for us by the marketing folks from Twentieth Century Fox, and they seem very happy at our turnout of 200+ fans. That, in turn, makes me quite happy, as my goal is to have Jason St. act as a Community Center for everyone who lives in Colorado, whatever your interests might be. That is why we host poker games, auctions, drag shows, wrestling, comics creator signings, light saber jousting, and so much more. If it can bring joy to someone's heart, we're wanting to help!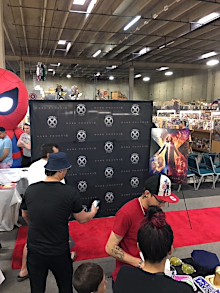 X-Men Red Carpet for X-Men day

In case you are wondering, our next two events are poker and an auction this Saturday. The poker game is a benefit designated to help to cover the initial costs of setting up the International Imperial Court LGBTQ Wall of Fame in New York's historic Stonewall Inn. This June 27th/28th is the 50th anniversary of the beginning of the Stonewall riots, which are arguably the watershed moment for the beginning of the gay rights movement in the USA. If you are curious, Wikipedia has a good description of how the riots began, and why they were so important.
As regards our no-minimum-bid auction that we have scheduled for this Saturday, it will primarily be to help my beloved wife, Nanette, to cover the costs of repairing the enormous pressurized pipe that feeds our sprinkler system. That 12" pipe had a critical seam give way two weeks ago, and we had to dig completely under the foundation of our Jason St. Mega-Store in order to repair the damn thing. Suffice it to say, we are going to have to sacrifice more than a few great comics, books, and toys in order to cover such a large repair bill. If you can visit Jason St. next Saturday morning, you will definitely be able to pick up some great bargains. Registration for the poker game and the auction begins at 10 AM, with poker beginning at 11, and the auction commencing at 11:30. Join us, if you can!
Along those same lines, I still have our 50% off BIGDIG! codeword sale in effect for you on all of our back issue comics and magazines. Only new issues, a few variants, and our professionally-graded comics are exempt from this awesome half price sale. Please take advantage of these great deals while you can, we will stop the extremely generous BIGDIG! Promotion as soon as Nanette tells us that she has regained her equilibrium.
Happy collecting!
Chuck Rozanski,
President - Mile High Comics, Inc.
May 14, 2019
P.S. Pam has been adding a slew of out-of-print >trade paperbacks, graphic novels, and comics hardbacksMarvel new books arrivals...
MARVEL

ALL-NEW CAPTAIN AMERICA: FEAR HIM TPB (2015) #1

ALL-NEW CAPTAIN AMERICA: FEAR HIM TPB (2015) #1 Near Mint/Mint
AMAZING SPIDER-MAN BY NICK SPENCER TPB (2019) #3 Near Mint/Mint
AMAZING SPIDER-MAN: WORLDWIDE HC (2016) #3 Near Mint/Mint
AMERICAN DREAM: BEYOND COURAGE TPB (MARVEL) (2008) #1 Very Fine
ATLAS: MARVEL BOY TPB (MARVEL)(URANIAN) (2010) #1 Fine
AVENGERS DISASSEMBLED: THOR TPB (2004) #1 Fine
AVENGERS: ENDGAME PRELUDE TPB (2019) #1 Near Mint/Mint
AVENGERS: INFINITY HC (2019) #1 Near Mint/Mint
AVENGERS: INFINITY WAR PRELUDE TPB (2018) #1 Near Mint/Mint
BUCKY BARNES: WINTER SOLDIER VOL. 2: TPB (2015) #1 Near Mint/Mint
CABLE VOL. 3: STRANDED HC (2010) #1 Near Mint/Mint
CAPTAIN AMERICA & HAWKEYE TPB (2012) #1 Near Mint/Mint
CAPTAIN AMERICA & THE MIGHTY AVENGERS VOL. 2: LAST TPB (2015) #1 Near Mint/Mint
CAPTAIN AMERICA BY ED BRUBAKER PREMIERE HC (2012) #2 Near Mint/Mint
CAPTAIN AMERICA BY ED BRUBAKER TPB (2012) #2 Near Mint/Mint
CAPTAIN AMERICA BY ED BRUBAKER TPB (2012) #4 Near Mint/Mint
CAPTAIN AMERICA BY KIRBY: BICENTENNIAL BATTLES TPB (2005) #1 Very Fine
CAPTAIN AMERICA BY WAID & SAMNEE: HOME OF THE BRAVE TPB (2018) #1 Near Mint/Mint
CAPTAIN AMERICA BY WAID: PROMISED LAND TPB (2018) #1 Near Mint/Mint
CAPTAIN AMERICA VOL. 1: WINTER IN AMERICA TPB (2019) #1 Fine
CAPTAIN AMERICA VOL. 2: CASTAWAY IN DIMENSOPN Z TPB (2014) #1 2ND PRINT Near Mint/Mint
CAPTAIN AMERICA VOL. 3: LOOSE NUKE TPB (2014) #1 Near Mint/Mint


CAPTAIN AMERICA VOL. 5: TOMORROW SOLDIER PREMIERE HC (2014) #1

CAPTAIN AMERICA VOL. 5: TOMORROW SOLDIER PREMIERE HC (2014) #1 Near Mint/Mint
CAPTAIN AMERICA: ADVENTURES OF CAPTAIN AMERICA TPB (2018) #1 Near Mint/Mint
CAPTAIN AMERICA: CIVIL WAR PRELUDE TPB (2016) #1 Very Fine
CAPTAIN AMERICA: DEATH OF CAPTAIN AMERICA TPB (2008) #1 Fine
CAPTAIN AMERICA: DEATH OF CAPTAIN AMERICA TPB (2008) #1 4TH PRINT Near Mint/Mint
CAPTAIN AMERICA: FIRST VENGEANCE TPB (2011) #1 Near Mint/Mint
CAPTAIN AMERICA: FOREVER ALLIES HC (2011) #1 Near Mint/Mint
CAPTAIN AMERICA: HAIL HYDRA TPB (2011) #1 Near Mint/Mint
CAPTAIN AMERICA: LAND OF THE FREE TPB (2013) #1 Near Mint/Mint
CAPTAIN AMERICA: SENTINEL OF LIBERTY (1998) #9 Near Mint/Mint
CAPTAIN AMERICA: WAR & REMEMBRANCE TPB (2ND EDITION) (2007) #1 Near Mint/Mint
CAPTAIN AMERICA: WINTER SOLDIER ULTIMATE COLLECTION TPB (2010) #1 8TH PRINT Near Mint/Mint
CAPTAIN MARVEL VOL. 2: COVEN TPB (2003) #1 Fine
CAPTAIN MARVEL VOL. 4: ODYSSEY TPB (2004) #1 Fine
CAPTAIN MARVEL: DEATH OF CAPTAIN MA HC (MV CLASSIC #43) (2010) #1 BLACK FOIL Fine
CAPTAIN MARVEL: DEATH OF CAPTAIN MARVEL TPB (2013) #1 Very Fine
CAPTAIN MARVEL: FIRST CONTACT TPB (2001) #1 Good
CASANOVA VOL. 1: LUXURIA TPB (2011) #1 Near Mint/Mint
CASANOVA VOL. 3: AVARITIA TPB (2012) #1 Near Mint/Mint
CASANOVA: GULA TPB (VOL. 3) (2011) #1 Near Mint/Mint
CHAMPIONS CLASSIC COMPLETE COLLECTION TPB (2018) #1 Near Mint/Mint
CHAMPIONS VOL. 2: FREELANCER LIFESTYLE TPB (2017) #1 Near Mint/Mint
CHAMPIONS VOL. 4: NORTHERN LIGHTS TPB (2018) #1 Near Mint/Mint
CIVIL WAR II: FALLOUT TPB (2017) #1 Near Mint/Mint
CIVIL WAR II: GODS OF WAR TPB (2016) #1 Near Mint/Mint


CIVIL WAR II: KINGPIN TPB (2016) #1

CIVIL WAR II: KINGPIN TPB (2016) #1 Very Fine
CIVIL WAR: FANTASTIC FOUR TPB (2007) #1 Very Good
CIVIL WAR: WARZONES TPB (2016) #1 Near Mint/Mint
CLOAK & DAGGER: LOST & FOUND TPB (2017) #1 Near Mint/Mint
CLOAK & DAGGER: NEGATIVE EXPOSURE TPB (2019) #1 Near Mint/Mint
CLOAK & DAGGER: RUNAWAYS & REVERSALS TPB (2018) #1 Near Mint/Mint
CLOAK & DAGGER: SHADOWS & LIGHT TPB (2017) #1 Near Mint/Mint
CLOAK & DAGGER: SHADOWS & LIGHT TPB (2017) #1 Very Fine
CONTEST OF CHAMPIONS VOL. 2: FINAL FIGHT TPB (2016) #1 Near Mint/Mint
COSMIC GHOST RIDER: BABY THANOS MUST DIE TPB (2019) #1 Near Mint/Mint
CRIMINAL VOL. 5: SINNERS TPB (2010) #1 Near Mint/Mint
DAKOTA NORTH: DESIGN FOR DYING TPB (2018) #1 Near Mint/Mint
DAREDEVIL BY MARK WAID HC (2013) #3 Fine
DAREDEVIL BY MARK WAID HC (2013) #3 Near Mint/Mint
DAREDEVIL BY MARK WAID HC (2013) #5 Near Mint/Mint
DAREDEVIL BY MARK WAID PREMIERE HC (2012) #6 Near Mint/Mint
DAREDEVIL BY MARK WAID TPB (2012) #5 Near Mint/Mint
DAREDEVIL BY MARK WAID TPB (2012) #6 Near Mint/Mint
DAREDEVIL BY MARK WAID TPB (2012) #7 Near Mint/Mint
DAREDEVIL VOL. 3: DAREDEVIL YOU KNOW TPB (2015) #1 Near Mint/Mint
DAREDEVIL/PUNISHER: SEVENTH CIRCLE TPB (2016) #1 Near Mint/Mint
DAREDEVIL: BACK IN BLACK VOL. 3: DARK ART TPB (2017) #1 Near Mint/Mint
DAREDEVIL: BACK IN BLACK VOL. 4: IDENTITY TPB (2017) #1 Near Mint/Mint
DAREDEVIL: BACK IN BLACK VOL. 5: SUPREME TPB (2017) #1 Near Mint/Mint
DAREDEVIL: BACK IN BLACK VOL. 7: MAYOR MURDOCK TPB (2018) #1 Near Mint/Mint
DAREDEVIL: BACK IN BLACK VOL. 8: DEATH OF DAREDEVIL TPB (2019) #1 Near Mint/Mint
DAREDEVIL: DARK NIGHTS TPB (2014) #1 Near Mint/Mint


DAREDEVIL: END OF DAYS HC (2013) #1

DAREDEVIL: END OF DAYS HC (2013) #1 Near Mint/Mint
DAREDEVIL: FATHER HC (2006) #1 Fine
DAREDEVIL: SEASON ONE PREMIERE HC (2012) #1 Near Mint/Mint
DEADPOOL & CABLE: SPLIT SECOND TPB (2016) #1 Near Mint/Mint
DEADPOOL VOL. 1: MERCIN HARD FOR THE MONEY TPB (2019) #1 Near Mint/Mint
DEADPOOL VOL. 3: GOOD, THE BAD, & THE UGLY TPB (2013) #1 4TH PRINT Near Mint/Mint
DEADPOOL VS. OLD MAN LOGAN TPB (2018) #1 Very Fine
DEADPOOL: SECRET AGENT DEADPOOL TPB (2019) #1 Near Mint/Mint
DECADES: MARVEL IN THE 40'S TPB (2019) #1 Near Mint/Mint
DESPICABLE DEADPOOL VOL. 1: DEADPOOL KILLS CABLE TPB (2017) #1 Fine
FALLEN SON: THE DEATH OF CAPTAIN AMERICA TPB (2ND ED.) (2016) #1 Near Mint/Mint
FROM THE MARVEL VAULT TPB (2011) #1 Near Mint/Mint
FUTURE IMPERFECT: WARZONES TPB (2015) #1 Near Mint/Mint
GAMBIT CLASSIC TPB (2009) #2 Near Mint/Mint
GUARDIANS OF THE GALAXY VOL. 1: COSMIC AVENGERS TPB (2014) #1 3RD PRINT Near Mint/Mint
GUIDEBOOK TO THE MARVEL CINEMATIC UNIVERSE HC (2016) #1 Near Mint/Mint
HOUSE OF M TPB (2006) #1 Fine
HOWARD THE DUCK VOL. 1: COMPLETE COLLECTION TPB (2015) #1 Near Mint/Mint
HULK BY WAID & DUGGAN COMPLETE TPB (2018) #1 Near Mint/Mint
HULK VISIONARIES: PETER DAVID TPB (2005) #7 Near Mint/Mint
HULK VISIONARIES: PETER DAVID TPB (2005) #7 Very Fine
HULK VOL. 1: BANNER DOA TPB (2014) #1 Near Mint/Mint
HULK VOL. 2: OMEGA HULK TPB (2015) #1 Near Mint/Mint
HULK VOL. 3: OMEGA HULK BOOK 2 TPB (2015) #1 Near Mint/Mint
HULK: BOILING POINT TPB (VOL. 2) (2002) #1 Near Mint/Mint
HULK: BOILING POINT TPB (VOL. 2) (2002) #1 Very Fine


HULK: DOGS OF WAR TPB (2001) #1

HULK: DOGS OF WAR TPB (2001) #1 Very Good
HULK: FALL OF THE HULKS PREMIERE HC (VOL. 2) (2010) #1 Fine
HULK: FROM THE MARVEL UK VAULTS TPB (2013) #1 Near Mint/Mint
HULK: FROM THE MARVEL UK VAULTS TPB (2013) #1 Fine
HULK: GROUND ZERO TPB (1987) #1 3RD PRINT Good
HULK: HEART OF THE ATOM HC (MV CLASSIC #15) (2008) #1 VARIANT Near Mint/Mint
HULK: HEART OF THE ATOM HC (MV CLASSIC #15) (2008) #1 VARIANT Very Fine
HULK: RETURN OF THE MONSTER HC (MV CLASSIC #90) (2012) #1 BORDERED Near Mint/Mint
HULK: RETURN TO PLANET HULK TPB (2018) #1 Near Mint/Mint
HULK: SON OF HULK - DARK SON RISING TPB (2010) #1 Near Mint/Mint
HULK: WORLD WAR HULK II TPB (2018) #1 Near Mint/Mint
HUMAN TORCH & THING: STRANGE TALES COMPLETE TPB (2018) #1 Near Mint/Mint
HYPERION: DADDY ISSUES TPB (2016) #1 Near Mint/Mint
IDENTITY DISC TPB (2004) #1 Fine
ILLUMINATI: LIFE OF CRIME TPB (2016) #1 Near Mint/Mint
IMMORTAL HULK VOL. 2: GREEN DOOR TPB (2019) #1 Near Mint/Mint
IMMORTAL IRON FIST COMPLETE COLLECTION TPB (2013) #2 Near Mint/Mint
IMMORTAL IRON FIST VOL. 3: BOOK OF IRON FIST HC (2008) #1 Very Fine
IMMORTAL IRON FIST: MORTAL IRON FIST TPB (VOL. 4) (2009) #1 Near Mint/Mint
INCREDIBLE HULK BY AARON COMPLETE COLLECTION TPB (2017) #1 Near Mint/Mint
INCREDIBLE HULK BY JASON AARON TPB (2012) #1 Near Mint/Mint
INCREDIBLE HULK BY JASON AARON TPB (2012) #2 Near Mint/Mint
INCREDIBLE HULK EPIC COLLECTION: GHOSTS OF FUTURE TPB (2019) #1 Near Mint/Mint
INCREDIBLE HULK: GHOST OF THE PAST TPB (1996) #1 Fine
INCREDIBLE HULK: GHOST OF THE PAST TPB (1996) #1 Very Fine
INCREDIBLE HULK: PAST PERFECT TPB (2012) #1 Very Fine


INCREDIBLE HULKS: DARK SON - ENIGMA FORCE TPB (2011) #1

INCREDIBLE HULKS: DARK SON - ENIGMA FORCE TPB (2011) #1 Fine
INCREDIBLE HULKS: PLANET SAVAGE TPB (2011) #1 Near Mint/Mint
INDEPENDENCE DAY TPB (1996) #1 Very Good
INDESTRUCTIBLE HULK BY MARK WAID COMPLETE TPB (2017) #1 Near Mint/Mint
INDESTRUCTIBLE HULK VOL. 2: GODS & MONSTERS TPB (2014) #1 Near Mint/Mint
INDESTRUCTIBLE HULK VOL. 3: SMASH TIME HC (2013) #1 Near Mint/Mint
INDESTRUCTIBLE HULK VOL. 3: SMASH TIME TPB (2014) #1 Near Mint/Mint
INDESTRUCTIBLE HULK VOL. 3: SMASH TIME TPB (2014) #1 Very Fine
INDESTRUCTIBLE HULK VOL. 4: HUMANITY BOMB TPB (2015) #1 Near Mint/Mint
IRON FIST: BOOK OF CHANGES TPB (2017) #1 Near Mint/Mint
JESSICA JONES: THE PULSE - COMPLETE COLLECTION TPB (2014) #1 Near Mint/Mint
JOURNEY INTO MYSTERY BY KIERON GILLEN TPB (2014) #2 Near Mint/Mint
JOURNEY INTO MYSTERY VOL. 2: FEAR ITSELF - FALLOUT TPB (2012) #1 Near Mint/Mint
KA-ZAR: SAVAGE DAWN TPB (2017) #1 Near Mint/Mint
LAST PLANET STANDING TPB (2006) #1 Near Mint/Mint
MAGNETO VOL. 3: SHADOW GAMES TPB (2015) #1 Near Mint/Mint
MAN-THING BY R. L. STINE TPB (2017) #1 Near Mint/Mint
MAN-THING BY STEVE GERBER COMPLETE COLLECTION TPB (2015) #2 Near Mint/Mint
MARVEL 100TH ANNIVERSARY TPB (2014) #1 Near Mint/Mint
MARVEL 1602 TPB (3RD EDITION) (2010) #1 Near Mint/Mint
MARVEL 1602: SPIDER-MAN HC (2010) #1 Near Mint/Mint
MARVEL 70TH ANNIVERSARY TPB (2009) #1 Near Mint/Mint
MARVEL BOY PREMIERE HC (2008) #1 VARIANT Very Fine
MARVEL FANFARE: STRANGE TALES TPB (2008) #1 Near Mint/Mint
MARVEL FIRSTS: 1970'S TPB (2012) #2 Very Fine


MARVEL FIRSTS: 1980'S TPB (2013) #1

MARVEL FIRSTS: 1980'S TPB (2013) #1 Fine
MARVEL FIRSTS: 1980'S TPB (2013) #2 Near Mint/Mint
MARVEL FIRSTS: 1980'S TPB (2013) #3 Near Mint/Mint
MARVEL FIRSTS: 1990'S TPB (2016) #1 Near Mint/Mint
MARVEL FIRSTS: 1990'S TPB (2016) #2 Near Mint/Mint
MARVEL FIRSTS: BEFORE MARVEL NOW TPB (2012) #1 Near Mint/Mint
MARVEL FIRSTS: WWII SUPER HEROES TPB (2013) #1 Near Mint/Mint
MARVEL FRONTIER COMICS: COMPLETE COLLECTION TPB (2015) #1 Near Mint/Mint
MARVEL KNIGHTS 2099 TPB (2005) #1 Very Good
MARVEL KNIGHTS MARVEL BOY BY MORRISON & JONES TPB (2018) #1 Near Mint/Mint
MARVEL KNIGHTS PUNISHER: PURGATORY TPB (2019) #1 Near Mint/Mint
MARVEL KNIGHTS: DAREDEVIL BY SMITH & QUESADA - GUARDIAN (2018) #1 Fine
MARVEL KNIGHTS: FANTASTIC FOUR BY MORRISON & LEE - 1234 (2018) #1 Near Mint/Mint
MARVEL KNIGHTS: HULK - TRANSFORME TPB (2014) #1 Near Mint/Mint
MARVEL KNIGHTS: SPIDER-MAN - FIGHT NIGHT TPB (2014) #1 Near Mint/Mint
MARVEL KNIGHTS: X-MEN - HAUNTED TPB (2014) #1 Near Mint/Mint
MARVEL LEGACY COMPANION TPB (2018) #1 Near Mint/Mint
MARVEL MANGAVERSE TPB (2002) #2 Fine
MARVEL MANGAVERSE: X-MEN: RONIN TPB (VOL. 4) (2003) #1 Very Fine
MARVEL MASTERWORKS #29 Fine
MARVEL MASTERWORKS NEW EDITION: ATLAS TALES TO ASTONISH (2005) #2 Near Mint/Mint
MARVEL MASTERWORKS NEW EDITION: ATLAS TALES TO ASTONISH (2005) #2 DELUXE Near Mint/Mint
MARVEL MASTERWORKS NEW EDITION: AVENGERS HC (2002) #17 Near Mint/Mint
MARVEL MASTERWORKS NEW EDITION: CAPTAIN AMERICA (2003) #4 Near Mint/Mint
MARVEL MASTERWORKS NEW EDITION: CAPTAIN MARVEL (2005) #2 Very Fine
MARVEL MASTERWORKS NEW EDITION: DOCTOR STRANGE (2003) #8 DELUXE Near Mint/Mint
MARVEL MASTERWORKS NEW EDITION: FANTASTIC FOUR (2003) #1 DELUXE Near Mint/Mint


MARVEL MASTERWORKS NEW EDITION: HULK (2003) #2

MARVEL MASTERWORKS NEW EDITION: HULK (2003) #2 Near Mint/Mint
MARVEL MASTERWORKS NEW EDITION: HULK (2003) #4 Near Mint/Mint
MARVEL MASTERWORKS NEW EDITION: HULK (2003) #6 Near Mint/Mint
MARVEL MASTERWORKS NEW EDITION: HULK (2003) #10 Near Mint/Mint
MARVEL MASTERWORKS NEW EDITION: THOR (2003) #12 DELUXE Near Mint/Mint
MARVEL MASTERWORKS NEW EDITION: THOR (2003) #15 DELUXE Near Mint/Mint
MARVEL MASTERWORKS: ATLAS ERA TALES OF SUSPENSE TPB (2014) #1 VARIANT Near Mint/Mint
MARVEL MASTERWORKS: GOLDEN AGE CAPTAIN AMERICA HC (2005) #2 Near Mint/Mint
MARVEL MASTERWORKS: GOLDEN AGE CAPTAIN AMERICA HC (2005) #5 Near Mint/Mint
MARVEL MASTERWORKS: IRON MAN TPB (2010) #3 DELUXE Near Mint/Mint
MARVEL MASTERWORKS: UNCANNY X-MEN TPB (BARNES&NOBLE) (2003) #1 Fine
MARVEL POINT ONE TPB (2011) #2 Near Mint/Mint
MARVEL SUPER HERO SPECTACULAR TPB (2016) #1 Near Mint/Mint
MARVEL SUPER HERO TEAM-UP TPB (2009) #1 Near Mint/Mint
MARVEL SUPER HEROES: LARGER THAN LIFE TPB (2017) #1 Near Mint/Mint
MARVEL TALES BY ALAN DAVIS TPB (2012) #1 Near Mint/Mint
MARVEL TEAM-UP: FREEDOM RING TPB (VOL. 4) (2006) #1 Near Mint/Mint
MARVEL TEAM-UP: FREEDOM RING TPB (VOL. 4) (2006) #1 Fine
MARVEL TEAM-UP: GOLDEN CHILD TPB (VOL. 1) (2005) #1 Fine
MARVEL TWO-IN-ONE VOL. 2: NEXT OF KIN TPB (2019) #1 Near Mint/Mint
MARVEL UNIVERSE VS. PUNISHER TPB (2011) #1 Near Mint/Mint
MARVEL UNIVERSE VS. THE AVENGERS TPB (2013) #1 Near Mint/Mint
MARVEL UNIVERSE: TIME & AGAIN TPB (2019) #1 Near Mint/Mint
MARVEL VISIONARIES: JACK KIRBY HC (2004) #2 Very Fine
MARVEL WEDDINGS TPB (2005) #1 Very Fine
MARVEL WEDDINGS TPB (2005) #1 Very Good
MARVEL WESTERNS HC (2006) #1 Fine
MARVELS PROJECT: BIRTH OF THE SUPER HEROES HC (2010) #1 Fine
MARVELS TPB (REMASTERED EDITION) (2018) #1 Near Mint/Mint
MARVELS: EYE OF THE CAMERA TPB (2010) #1 Near Mint/Mint

MARVILLE TPB (2003) #1 Fine
MIGHTY THOR VOL. 3: ASGARD/SHI'AR WAR TPB (2018) #1 Near Mint/Mint
MIGHTY THOR VOL. 4: WAR THOR TPB (2018) #1 Near Mint/Mint
NEW AVENGERS VOL.12: POWERLOSS TPB (2010) #1 Fine
NEW MUTANTS GN (MARVEL GN #4) (1982) #1 Fine
PLANET HULK: WARZONES TPB (2015) #1 Near Mint/Mint
POWER MAN & IRON FIST: COMEDY OF DEATH TPB (2011) #1 Near Mint/Mint
RED HULK: HULK OF ARABIA TPB (2012) #1 Near Mint/Mint
RED HULK: MAYAN RULE TPB (2012) #1 Near Mint/Mint
RED HULK: PLANET RED HULK TPB (2011) #1 Very Fine
RED HULK: SCORCHED EARTH TPB (2011) #1 Near Mint/Mint
RED SKULL: INCARNATE TPB (2012) #1 Near Mint/Mint
SAVAGE HULK VOL. 2: DOWN TO THE CROSSROADS TPB (2015) #1 Near Mint/Mint
SHURI VOL. 1: SEARCH FOR BLACK PANTHER TPB (2019) #1 Near Mint/Mint
SKAAR: SON OF HULK COMPLETE COLECTION TPB (2018) #1 Near Mint/Mint
SPIDER-ISLAND: WARZONES TPB (2015) #1 Very Fine
SPIDER-MAN: DEATH OF CAPTAIN STACY TPB (2004) #1 Fine
SPIDER-MEN II TPB (PETER PARKER & MILES MORALES) (2018) #1 Fine
STRANGE TALES 2 HC (2011) #1 Near Mint/Mint
SUPREME POWER: POWERS AND PRINCIPALITIES TPB (VOL. 2) (2004) #1 Near Mint/Mint
TALES OF SUSPENSE: HAWKEYE & WINTER SOLDIER TPB (2018) #1 Near Mint/Mint
TALES OF THE DRAGON GUARD HC (2010) #1 Near Mint/Mint
TALES OF THE DRAGON GUARD TPB (2011) #1 Near Mint/Mint
TASKMASTER: UNTHINKABLE TPB (2011) #1 Near Mint/Mint
THANOS RISING HC (2014) #1 Fine
THOR VOL. 1: GOD OF THUNDER REBORN TPB (2018) #1 Near Mint/Mint
THOR VS. HULK: CHAMPIONS OF THE UNIVERSE TPB (2018) #1 Near Mint/Mint
TOTALLY AWESOME HULK VOL. 1: CHO TIME TPB (2016) #1 Near Mint/Mint
TOTALLY AWESOME HULK VOL. 3: BIG APPLE SHOWDOWN TPB (2017) #1 Near Mint/Mint
TOTALLY AWESOME HULK VOL. 4: WMD PRELUDE TPB (2017) #1 Near Mint/Mint
ULTIMATE X-MEN: ULTIMATE COLLECTION TPB (2006) #1 Fine
UNBELIEVABLE GWENPOOL VOL. 4: BEYOND FOURTH WALL TPB (2017) #1 Near Mint/Mint

WEAPON X: DRAFT TPB (2003) #1 Fine
WINTER SOLDIER VOL. 2: BROKEN ARROW TPB (2012) #1 Near Mint/Mint
WINTER SOLDIER VOL. 3: BLACK WIDOW HUNT TPB (2013) #1 Near Mint/Mint
X-MEN: PHOENIX ENDSONG COLLECTION (2005) #1 TPB Fine
X-MEN: PHOENIX RISING TPB #1 2ND PRINT Fine
YOU ARE DEADPOOL TPB (2018) #1 Near Mint/Mint