Exclusive Mile Mile High Comics THANOS #1 Variant Edition
Howdy!
I was working in our Jason St. Mega-Store all by myself at 11 PM last night, when I came across a lost treasure trove of LEGION ARCHIVES hardbacks and AVENGERS and CAPTAIN AMERICA MARVEL MASTERWORKS Deluxe Editions. Our Operations Manager, Will Moulton, bought that awesome collection of scarce books from a private collector earlier this year, and carefully tucked them away to be cataloged. As oftentimes happens, another huge collection came right afterwards, and those rare books ended up buried under the mass of that newer deal, only to be rediscovered by me last night. Fun!

SPAWN FREE COMIC BOOK DAY (2019) #1
I wish that I could say that misplacing those awesome hardback books in Jason St. was an anomaly, but nothing could be further from the truth. The reality is that we buy anywhere from 3-12 private collections a day, many containing thousands upon thousands of comics and books. With only four of us on the Mile High Comics staff with any free time to put things away, great collectibles are getting misplaced pretty much every day. The good news is that (even when we don't exactly know where some items are stored...) everything in Jason St. is safe and secure, and eventually gets rediscovered.

GRUMBLE VS. THE GOON FREE COMIC BOOK DAY (2019) #1
In the meantime, our merchandise displays in Jason St. are constantly changing, as newly-purchased collectibles are integrated into our already immense existing base. In large measure, those constant additions of new items are why local fans make such a point of visiting Jason St. at least once a week, and why our visitors from out-of-town try to check in with us as frequently as they can. You just never know what we will purchase (or rediscover) next!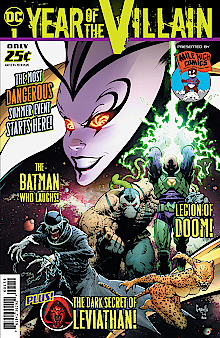 DC YEAR OF THE VILLAIN #0 Mile High Exclusive

In other news, our annual Free Comic Book Day charity effort for the transgender kids hoping to attend Camp Aranu'tiq has proven just as successful as our 2018 Matthew Shepard Foundation campaign. With ten days to go before FCBD, we have now committed half of the 200 complete sets of all 53 FCBD issues that we have set aside this year to benefit the kids. We totally sold out last year while on a similar pace, so if you want a complete set (which also includes our exclusive Mile High Comics DC Year of the Villain and THANOS #1 variants) please sign up to make a donation for $75 today. Flat rate shipping in the USA is an additional $15, and $30 International.

Mile High Comics THANOS (2019) #1

If you do not wish to donate for an entire set, you can also earn one FCBD variant from us for each $10 (net of discounts) that you spend with us over the next ten days. Just total up your order, and after deducting your FCBD! 30% discounts, allow yourself one FCBD variant for every $10 in your order. If your order is over $100, you can choose any twelve 2019 variants. Just let us know in the "Notes" as to which variants you would like to receive. Supplies are limited...
Speaking of discounts, the 30% off FCBD! codeword sale is now in effect for you on all ten million of our back issue comics and magazines, excluding only new issues, a few variants, and our professionally-graded comics. This discount codeword also applies to all back issues in our Jason St. store, excepting $1 bargain comics and the few comics with blue stickers. Enjoy!

Mile High Comics THANOS RISING#1

As an aside, the advance reviews of the new AVENGERS: ENDGAME movie are outrageously positive! Not only does it look like this will be the largest movie opening in history, but all AVENGERS/ CAPTAIN AMERICA/ IRON MAN comics are currently in very high demand. With that thought in mind, Will and I decided to publish an exclusive Mile High Comics variant edition of THANOS (2019) #1. Limited to just 3,000 copies, this is one of the rarest Marvel comics published in 2019, and has already totally sold out its standard edition. We are including this THANOS #1 variant for free with our 2019 FCBD sets, or you can purchase copies through 5/4/19 for only $9.95 each (limit three copies per client, please). We also published a THANOS RISING #1 three years ago, and it is currently retailing for $39.95. 'Nuff said...

BUFFY THE VAMPIRE SLAYER/FIREFLY FREE COMIC BOOK DAY (2019) #1
Before I go, I did want to quickly mention that our 2018 Matthew Shepard Foundation on Free Comic Book Day was the single largest event for the entire year-long International Court System campaign. We raised over $16,000 on that one day, mostly from all the online donations that we received for complete sets. I am sincerely hoping that we can at least match that success for Camp Aranu'tiq, as they have a considerable waiting list of kids who cannot afford to go to participate in this weeklong adventure without some measure of assistance.

STRANGER THINGS/BLACK HAMMER FREE COMIC BOOK DAY (2019) #1
I do also want to mention that all 100 cents of each and every dollar donated through our FCBD benefit will go directly to the Camp Aranu'tiq scholarship fund. As the sole stockholders of Mile High Comics, Nanette and I are effectively paying the wholesale cost of all the comics in this year's FCBD sets out of our own pockets, with absolutely no handling or administrative charge. We both sincerely believe that kids are our future, and that all children deserve a chance (if only for a week) to feel totally accepted by their Community. Your assistance in helping these children would be most sincerely appreciated.
Chuck Rozanski,
President - Mile High Comics, Inc.
April 24, 2019
Here are all 53 Free Comics Book Day Variants:

ANIMOSITY TALES FREE COMIC BOOK DAY (2019) #1

AVENGERS/SAVAGE AVENGERS FREE COMIC BOOK DAY (2019) #1

BLASTOSAURUS FREE COMIC BOOK DAY (2019) #1

BLOODSHOT FREE COMIC BOOK DAY (2019) #1

BOB'S BURGERS FREE COMIC BOOK DAY (2019) #1

BUFFY THE VAMPIRE SLAYER/FIREFLY FREE COMIC BOOK DAY (2019) #1

CAPTAIN CANUCK FREE COMIC BOOK DAY (2019) #1

CASPER'S SPOOKSVILLE FREE COMIC BOOK DAY (2019) #1

DARK AGE FREE COMIC BOOK DAY (2019) #1

DEADLY CLASS: KILLER SET FREE COMIC BOOK DAY (2019) #1

DEAR JUSTICE LEAGUE FREE COMIC BOOK DAY MINI COMIC (2019) #1

DEFEND COMICS: CBLDF FREE COMIC BOOK DAY (2019) #1

DESCENDANTS: DIZZY'S NEW FORTUNE FREE COMIC BOOK DAY (2019) #1

DOCTOR WHO: 13TH DOCTOR FREE COMIC BOOK DAY (2019) #1

DRAGONFLY & DRAGONFLYMAN FREE COMIC BOOK DAY (2019) #1

GHOST HOG FREE COMIC BOOK DAY (2019) #1

GILLBERT FREE COMIC BOOK DAY (2019) #1

GO FISH FREE COMIC BOOK DAY (2019) #1

GRUMBLE VS. THE GOON FREE COMIC BOOK DAY (2019) #1

H1 IGNITION FREE COMIC BOOK DAY (2019) #1

HOPE FREE COMIC BOOK DAY (2019) #1

INTERCEPTOR FREE COMIC BOOK DAY (2019) #1

KINO'S JOURNEY: BEAUTIFUL WORLD FREE COMIC BOOK DAY (2019) #1

LADY MECHANIKA FREE COMIC BOOK DAY (2019) #1

LITTLE LULU FREE COMIC BOOK DAY (2019) #1

LUCY & ANDY NEANDERTHAL FREE COMIC BOOK DAY (2019) #1

LUMBERJANES: SHAPES OF FRIENDSHIP FREE COMIC BOOK DAY (2019) #1

MALIKA: FIRE & FROST FREE COMIC BOOK DAY (2019) #1

MIDNIGHT SKY FREE COMIC BOOK DAY (2019) #0

MINECRAFT FREE COMIC BOOK DAY (2019) #1

MY HERO ACADEMIA FREE COMIC BOOK DAY (2019) #1

OUR FAVORITE THING IS MY FAVORITE THING IS MONSTER FCBD (2019) #1

OVERSTREET GUIDE TO COLLECTING FREE COMIC BOOK DAY (2019) #1

POKEMON FREE COMIC BOOK DAY (2019) #1

PUNCHLINE FREE COMIC BOOK DAY (2019) #1

RIVERDALE SEASON 3 FREE COMIC BOOK DAY (2019) #1

ROBOTECH FREE COMIC BOOK DAY (2019) #0

SHEETS STORY FREE COMIC BOOK DAY (2019) #1

SPAWN FREE COMIC BOOK DAY (2019) #1

SPIDER-MAN/VENOM FREE COMIC BOOK DAY (2019) #1

STAR WARS ADVENTURES FREE COMIC BOOK DAY (2019) #1

STARBURNS PRESENTS FREE COMIC BOOK DAY (2019) #2

STRANGER THINGS/BLACK HAMMER FREE COMIC BOOK DAY (2019) #1

STREET FIGHTER: SAKURA VS. KARIN FREE COMIC BOOK DAY (2019) #1

STRIKER FORCE 7 FREE COMIC BOOK DAY (2019) #1

TEENAGE MUTANT NINJA TURTLES FREE COMIC BOOK DAY (2019) #1

TICK FREE COMIC BOOK DAY (2019) #1

TREASURY OF BRITISH COMICS PRESENTS FUNNY PAGES FCBD (2019) #1

UNDER THE MOON: A CATWOMAN TALE FREE COMIC BOOK DAY (2019) #1

VAMPIRELLA (2019) (#0-UP) (DYNAMITE) #0

WITCH HAT ATELIER FREE COMIC BOOK DAY (2019) #1

WOLFIE MONSTER & THE BIG BAD PIZZA BATTLE FCBD (2019) #1

ZAGOR: ALIEN SAGA FREE COMIC BOOK DAY (2019) #1