New Collections
5,000+ Half Price Silver Age Comics Just Added
Howdy!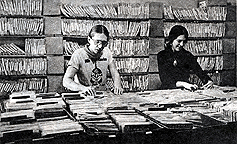 Chuck and Nanette

I'll start off today with a brief mention of two long-lost photos. Way back in 1979, I was interviewed by the Rocky Mountain News. My good friend, Mike Kott of Intergalactic Trading Company, discovered a copy of the newspaper containing that story in a box that we accidentally sent to him, and kindly returned them to me yesterday. As a part of that news article, two photographs were included, one of me alone, and the other of Nanette and I together. I thought that those of you who have known us for a while would like to see how we looked when we were still in our twenties...


Fast-forward 33 years, and Morgan Spurlock's film team has now dubbed me "The Survivor" in their new COMIC-CON EPISODE IV: A FAN'S HOPE documentary. While somewhat a melodramatic attribution, I guess that name fits, as I have seen the entire comics world change drastically during my 42-year career, and have managed to find ways to outlast a great many of my less-fortunate peers.




Chuck at 24

That having been said, I am still filled today with the same degree of hope and optimism about the future of comics and graphic illustration that I had as a very young man, so that part of me really has not changed at all. (click on any of the images for larger views)


Speaking of the Spurlock documentary, it will be coming to Denver in two weeks, on Friday evening, April 21st at the Denver FilmCenter Theater on East Colfax. I will be attending the 7 PM screening that evening, and will be participating in a Q&A afterwards. If you live near Denver, and would like to see a really fun and heart-warming film about the 2010 San Diego Comic-Con, you should join us! Other cities screening COMIC-CON EPISODE IV: A FAN'S HOPE are as follows: Washington, DC, New York, NY, Brookline, MA, Denver, CO, Salina, KS and Tucson, AZ. If you are not blessed to live in one of those locations, you can click here to view a list of online suppliers already offering Video On Demand downloading. No matter how you view the new Comic-Con movie, I think that you will really like it...

Fantastic Four #12



Batman #41

Moving on to news from our website, Pam and Will have finished grading and entering for you the major Golden Age and Silver Age comics collections that we purchased at the beginning of this week. As a direct result, our Premium New-In-Stock list for this past week is the largest in our entire online history! Just to cite a few examples, we added TALES OF SUSPENSE #39 (1st Iron Man), JOURNEY INTO MYSTERY #83 (1st Thor), SGT. FURY #1, and SEA DEVILS #1 into our listings just yesterday. That's on top of the copies of   HULK #1-#6, FANTASTIC FOUR #1-#12, and DAREDEVIL #1-#200 that we added earlier this week, just to name a very few. We even added over 500 pre-code (prior to 1955...) Golden Age comics this week, so no matter what titles you collect, the odds are excellent that we just listed some rare comics that you would love to add to your collection...




Groo #120

While the overall number of great pre-1980 comics that we just posted into our website inventory exceeds 5,000 issues, I will caution you that we only received single copies on most of these cool older comics, and they are already selling very quickly. Especially in light of the fact that they are almost all available at half the prices listed on our website when the current MADNESS! Codeword is used (please keep in mind the codeword does not apply to new comics, trade paperbacks, hard covers, graphic novels, CGCs, treasury sized items, statues, or supplies). If you would like to purchase any of these wonderful older comics from us for your collection, please be sure to place your 50% off MADNESS! order with us right away!


While I have been emphasizing our fantastic pre-1980 comics in my newsletter this week, I did also want to make note of the fact that we have also discovered more than 40,000 (!) modern and new comics during just the past ten working days. Click on any of the New-In-Stock publisher links at the end of this newsletter to view the immense numbers of comics that we just added into our website inventory for you.

Jennifer Love
Hewitt's Music
Box #1 Larrys



Mighty Avengers
HC #4 Secret
Invasion Book 2

Included among those great new comics were a few copies of the very rare MUSIC BOX (2009) #1 LARRYS VARIANT EDITION. If you would like a copy of this rare variant for free just place any order with us this week for $50, or more, and then ask for your free copy in the Notes area of our online order form. A second giveaway that I can offer you today is the $19.95 MIGHTY AVENGERS HARDCOVER #4 SECRET INVASION. If you are willing to cover just the shipping surcharge ($2 in the USA, $6 International) on this cool AVENGERS hardcover, we will give you a copy entire for free simply for placing a $20 order with us, and then asking for your copy in the Notes area. How can you beat getting a brand new $20 Marvel hardcover book for only the cost of shipping?


My only other news item for today is that I will be drinking coffee and sorting comics at our new Jason St. Mega-Store tomorrow from 10 AM - 3 PM. We had originally planned to have an Open House event tomorrow, but circumstances forced us to move the date of that big sale to April 28th, instead. That having been said, I was planning to work at Jason all day tomorrow (Saturday, April 14th) anyway, so I'm going to offer to unlock the doors, and spend the day chatting with folks who stop by to visit. We did just set up a huge new Golden Age and Silver Age display (including most of the great older comics that we purchased this week...), so this would be a chance for those of you who live in the Denver area to actually examine in person many of the older issues that we just listed on our website. I will be selling items tomorrow, and the 50% off MADNESS! codeword will be in effect on of our back issues comics, except new comics and our CGC-graded copies. Join me tomorrow, if you can!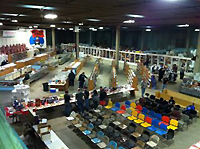 Jason St Mega-Store

The address of our Jason St. Mega-Store is 4600 Jason, which is just two blocks off the Pecos St. Exit from Interstate 70. You can call 303-477-0042 for further information and directions, or click here for a map of our location.





Happy Collecting!

Chuck Rozanski,
President - Mile High Comics, Inc.
April 13, 2012
Advance Previews
of next weeks comics from
Archie Comics

New-In-Stock Publishers
Marvel Comics
Marvel New-In-Stock Issues
Marvel Atlas Titles
Marvel United Kingdom Publishings
Marvel/Malibu

DC Comics
DC New-In-Stock Issues
DC/America's Best
DC/Homage
DC/Wildstorm
DC: Helix Press
DC: Impact Comics
DC: Milestone Press
DC: Piranha Press
DC: Vertigo Press

Dark Horse Comics
Dark Horse New-In-Stock Issues

Image Comics
Image New-In-Stock Issues
Image Homage
Image Top Cow

TPBs and HCs
Trade Paperbacks and HardCovers


Independent/Small Press Publishers
ACG
Avon Periodicals
Aardvark-Vanaheim
Abstract Studio
Acclaim/Valiant
Ajax-Farrel Publ.
Antarctic Press
Arcomics
Aspen
Atlas/Seaboard
Avatar Comics
Avon Publication

Boom Productions
Blackthorne Publishing
Bongo Comics
Boom Studios Publishing
Broadway Comics

CPM Comics
Creston
Crestwood Publishing
Caliber Press
Cartoon Books
Chaos Comics
Charlton
Claypool
Comico
Crossgen Comics
Crusade

DYNAMITE Entertainment
Defiant
Dell Publishing
EC Comics
Eclipse Enterprises

Famous Funnies Publication
Fawcett Publication
Fago Publications
Fantagraphics
Fiction House Magazines
First Comics
Fleetway-Quality Comics

G.G. Studio
Gemstone
Gilberton Publications
Gladstone
Gold Key

Harvey Comics
Harris Comics
Hillman Periodicals

I.W. Enterprises
IDW Publishing

Magazine Enterprises
Malibu Comics (Impr/Malibu Graphic
Mirage Studios
Moonstone

New England Comics
Northstar Publications

Parents' Magazine Institue
Pines Comics
Prize Publications
Pacific Comics
Prize Group/Headline

Red Circle Comics Group
Russ Cochran

Star Publications
Super Comics. Inc.
Silent Devil Productions
Sirius
Skywald Publications
Spire Christian Comics
St. John Publ. Co.
Street & Smith Publications

Tekno Comix
Toby Press
Top Shelf Productions
Topps Publishing
Tower Comics

Udon Entertainment
United Feature Comics
Ultraverse

World Color Press
Walt Disney Company
Warren Publishing Company
Whitman Publishing

Click here to view all of the Premium New-In-Stock


Click here to view all of the New In Stock


Click here to view all of the recently added Trade Paperbacks and HardCovers