60% Off On All Comics Ends Monday
Howdy!
Approximately four weeks before he passed way, I had a wonderful 3-hour breakfast conversation with comics legend, Will Eisner. I am not sure if he had a premonition that his upcoming heart surgery would result in his passing away, but Will was uncharacteristically serious that morning. The main topic that he wanted to discuss with me (and also with my eldest daughter, Rowan) was as to whether comic books, graphic novels, and sequential storytelling in general would survive into the future. He was especially concerned that the seemingly never-ending spiral of decline in new comics unit sales would ultimately lead to numbers dropping below the level of economic viability required for even turning on the printing presses.
In a moment of remarkable hubris that morning, I promised Will Eisner that I would do everything in my power to keep comics alive for decades to come. Little did I know at that time that I was making a promise to a man who would soon be departing this world, and that my own life would soon be severely impacted by both a life-threatening second bout of West Nile Fever, and also the dreadful economic hardships of the Great Recession. Nonetheless, I always kept that promise that I made to Will Eisner in the back of my mind as I gradually recovered my own health, and then set about to revitalize Mile High Comics. In some measure, my eventually going even further into debt to open and build our Jason St. Mega-Store was a tangible manifestation of my resolve to help keep the comics industry that Will Eisner helped to create in 1938 alive, and thriving.
Fast-forward nine years, and I have just finished consolidating the inventory of our last neighborhood store into our Jason St. Mega-Store. While my closing our two smaller stores in Denver is a sadness and inconvenience for the many fans who loyally supported those shops of ours for many decades, the truth of the matter is that both of those smaller stores were experiencing declines in participation, while also being hit with rapidly rising rents. It still pained me very much to close them, not only because both had been in business for just under 30 years, but also because there will inevitably be some fans who chose the moment of their local shop's closure as the time to finally bid goodbye to comics, altogether.
The good news is that the Jason St. Mega-Store (alone) in 2019 is on pace to gross as much as all three of our locations grossed last year. If we can maintain anything close to that current growth rate into next year, 2020 may see our highest grosses ever for our Colorado retail operations, superseding our sales from even the peak years of the early 2000's, when we operated six local stores in Colorado.
While our awesome growth at Jason St. is great news for Mile High Comics, it distresses me that we are seeing continuing weakness on the part of so many of our brethren in the comics retailing community. Sadly, they face the same issues of declining sales in their stores that we experienced in our smaller locations, but without the financial ability to escape that negative spiral. That, in a nutshell, is why I asked everyone who reads my newsletter to please lend a bit of support to their local comics retailer.
To clarify, all I ask is that you make some sort of a small additional purchase this week of an item, or items, that your local comics retailer already has on their shelves. Think gifts for younger friends or relatives... Just imagine how much of a difference that it could make to our entire comics world if all 120,000+ fans who have signed up to receive my newsletters were to buy just one extra back issue, book, statue, or toy in support of their local comics shop. Truth be told, I suppose that we might lose a little in sales if everyone were to agree to help their local shop instead of ordering through our website, but sometimes altruism truly is the best choice. At the very least, having asked everyone to at least think about supporting their local comic book retailer helps me in some small measure to keep my heartfelt pledge to Will Eisner. Thank you for any help that you might be able to provide...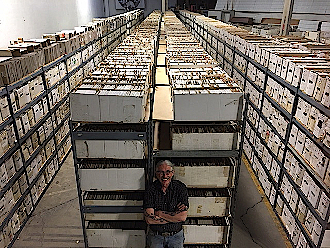 Chuck infront our our back issue racks

I will close today's newsletter with a quick reminder that our 60% off SPRINGBREAK! codeword sale will be ending on Monday. This exceptionally generous 60% off sale applies to all ten million of our back issue comics and magazines, excluding only new issues, a few variants, and our professionally-graded comics. Please bear in mind that our busiest season is about to begin in our Jason St. Mega-Store, as we get flooded with both national and International visitors during May-August. That being the case, we will need to shift a few of our 20 staff members from filling online orders, to helping visitors in the store. Barring an unforeseen circumstance, it is going to be a while before we offer you the chance to pick and choose from our very best back issues at only 40% of list. You have only three days of SPRINGBREAK! remaining.
Happy collecting!
Chuck Rozanski,
President - Mile High Comics, Inc.
April 5, 2019
P.S. Below are a few more nice back issues that were just purchased at Jason St, this week. All are 60% off through Monday (only) if you utilize the SPRINGBREAK! codeword...
MARVEL

ALL-NEW WOLVERINE (2015) #18 MATTINA

ALL-NEW WOLVERINE (2015) #18 MATTINA Near Mint/Mint

AVENGERS (2013) (#1-44) (MARVEL) #20 Near Mint/Mint
AVENGERS (2013) (#1-44) (MARVEL) #21 Near Mint/Mint
AVENGERS (2013) (#1-44) (MARVEL) #22 Near Mint/Mint

AVENGERS ASSEMBLE (#1-25) (2012) #18 Near Mint/Mint

EDGE OF VENOMVERSE (2017) #1 Near Mint/Mint

GUARDIANS OF THE GALAXY (2013) (#0.1-27) (MARVEL) #0 .1 Near Mint/Mint
GUARDIANS OF THE GALAXY (2013) (#0.1-27) (MARVEL) #1 Near Mint/Mint
GUARDIANS OF THE GALAXY (2013) (#0.1-27) (MARVEL) #3 Near Mint/Mint
GUARDIANS OF THE GALAXY (2013) (#0.1-27) (MARVEL) #4 Very Fine
GUARDIANS OF THE GALAXY (2013) (#0.1-27) (MARVEL) #8 Very Fine
GUARDIANS OF THE GALAXY (2013) (#0.1-27) (MARVEL) #9 Near Mint/Mint
GUARDIANS OF THE GALAXY (2013) (#0.1-27) (MARVEL) #10 Very Fine
GUARDIANS OF THE GALAXY (2013) (#0.1-27) (MARVEL) #11 Near Mint/Mint
GUARDIANS OF THE GALAXY (2013) (#0.1-27) (MARVEL) #12 Very Fine
GUARDIANS OF THE GALAXY (2013) (#0.1-27) (MARVEL) #13 Near Mint/Mint
GUARDIANS OF THE GALAXY (2013) (#0.1-27) (MARVEL) #14 Near Mint/Mint
GUARDIANS OF THE GALAXY (2013) (#0.1-27) (MARVEL) #16 Near Mint/Mint
GUARDIANS OF THE GALAXY (2013) (#0.1-27) (MARVEL) #17 Near Mint/Mint
GUARDIANS OF THE GALAXY (2013) (#0.1-27) (MARVEL) #23 Near Mint/Mint


GUARDIANS OF THE GALAXY (2013) (#0.1-27) (MARVEL) #24

GUARDIANS OF THE GALAXY (2013) (#0.1-27) (MARVEL) #24 Near Mint/Mint
GUARDIANS OF THE GALAXY (2013) (#0.1-27) (MARVEL) #25 Near Mint/Mint
GUARDIANS OF THE GALAXY (2013) (#0.1-27) (MARVEL) #26 Near Mint/Mint

IMMORTAL HULK (2018) #1 Near Mint/Mint

INFINITY (2013) #6 Near Mint/Mint

IRON MAN ANNUAL (2014) (#1) (FINAL FRONTIERS) #1 Near Mint/Mint

NEW AVENGERS (2013) (#1-33) (MARVEL) #9 Near Mint/Mint
NEW AVENGERS (2013) (#1-33) (MARVEL) #10 Near Mint/Mint

SHIELD (2015)(#1-12)(MARVEL)(INSPIRED BY THE TV SHOW) #2 Near Mint/Mint
SHIELD (2015)(#1-12)(MARVEL)(INSPIRED BY THE TV SHOW) #6 Near Mint/Mint
SHIELD (2015)(#1-12)(MARVEL)(INSPIRED BY THE TV SHOW) #7 Near Mint/Mint

SPIDER-MAN/DEADPOOL (2015) #30 Near Mint/Mint

DC
ADVENTURE COMICS (1938) (#32-503) (DC) #357 Good
ADVENTURE COMICS (1938) (#32-503) (DC) #358 Good

AQUAMAN (2011) (#0-52) (DC NEW52) #15 BLANK CVR Very Fine
AQUAMAN (2011) (#0-52) (DC NEW52) #16 Very Fine


BATMAN ANNUAL (2012) (#1-4) (DC NEW52) #3

BATMAN ANNUAL (2012) (#1-4) (DC NEW52) #3 Near Mint/Mint

BATMAN/TEENAGE MUTANT NINJA TURTLES II (2017) #1 Near Mint/Mint
BATMAN/TEENAGE MUTANT NINJA TURTLES II (2017) #2 Near Mint/Mint
BATMAN/TEENAGE MUTANT NINJA TURTLES II (2017) #3 Near Mint/Mint
BATMAN/TEENAGE MUTANT NINJA TURTLES II (2017) #5 Near Mint/Mint

BLACKHAWK (1957) (#108-273) (DC) #144 Fair
BLACKHAWK (1957) (#108-273) (DC) #189 Good
BLACKHAWK (1957) (#108-273) (DC) #230 Very Good
BLACKHAWK (1957) (#108-273) (DC) #238 Very Good
BLACKHAWK (1957) (#108-273) (DC) #243 Very Good

FLASH (1959) (#105-350) (DC) #116 Good
FLASH (1959) (#105-350) (DC) #118 Fair
FLASH (1959) (#105-350) (DC) #171 Very Good

GEARS OF WAR (2008) (#1-24) (DC/WILDSTORM) #1 GAMESTOP Good

HELLBLAZER (2016) (#1-UP) (DC REBIRTH) #19 Near Mint/Mint
HELLBLAZER (2016) (#1-UP) (DC REBIRTH) #20 Near Mint/Mint
HELLBLAZER (2016) (#1-UP) (DC REBIRTH) #23 Near Mint/Mint


JUSTICE LEAGUE (2011) (#0-52) (DC NEW52) #40

JUSTICE LEAGUE (2011) (#0-52) (DC NEW52) #40 Very Fine
JUSTICE LEAGUE (2011) (#0-52) (DC NEW52) #46 Near Mint/Mint
JUSTICE LEAGUE (2011) (#0-52) (DC NEW52) #47 Near Mint/Mint
JUSTICE LEAGUE (2011) (#0-52) (DC NEW52) #50 Near Mint/Mint
JUSTICE LEAGUE (2011) (#0-52) (DC NEW52) #52 Near Mint/Mint

JUSTICE LEAGUE OF AMERICA (1960) (#1-261) (DC) #30 Good

ROBIN RISES: ALPHA (2014) #1 Near Mint/Mint

SUPERMAN (1939) (#1-423) (DC) #189 Good

IMAGE COMICS
DIVINE RIGHT (1997) (#1-8) (IMAGE) #1 1/2 Near Mint/Mint
DIVINE RIGHT (1997) (#1-8) (IMAGE) #1 AM VARIANT Near Mint/Mint
DIVINE RIGHT (1997) (#1-8) (IMAGE) #1 SPANISH ED Near Mint/Mint
DIVINE RIGHT (1997) (#1-8) (IMAGE) #4 AM VARIANT Near Mint/Mint
DIVINE RIGHT (1997) (#1-8) (IMAGE) #5 PACIFICCON Near Mint/Mint

DV8 (1996) (#1-25) (IMAGE) #14 BAGGED Near Mint/Mint

INDEPENDENTS

ARAKNIS (1995) (#1-4) (MUSHROOM COMICS) #1

ARAKNIS (1995) (#1-4) (MUSHROOM COMICS) #1 (Mushroom Comics) Near Mint/Mint
ARAKNIS (1995) (#1-4) (MUSHROOM COMICS) #4 (Mushroom Comics) Near Mint/Mint
ARAKNIS (1996) (#0-2) (MYSTIC COMICS) #1 (Mushroom Comics) Near Mint/Mint

ARAKNIS: RETRIBUTION (MORNING STAR PROD) (1997) #1 (Morning Star Productions) Near Mint/Mint
ARAKNIS: RETRIBUTION (MORNING STAR PROD) (1997) #3 (Morning Star Productions) Near Mint/Mint

ASYLUM (1989) (#1-2) (MILLENNIUM) #1 (Millennium Publishing) Very Fine
ASYLUM (1989) (#1-2) (MILLENNIUM) #2 (Millennium Publishing) Very Good

BLACK REAPER #1 FOIL ED. (Millennium Publishing) Very Fine

CASEY JONES & RAPHAEL (1994) #1 (Mirage Studios) Near Mint/Mint

CASEY JONES SPECIAL: NORTH BY DOWNEAST (1994) #1 (Mirage Studios) Near Mint/Mint
CASEY JONES SPECIAL: NORTH BY DOWNEAST (1994) #2 (Mirage Studios) Near Mint/Mint

CHASSIS (MILLENNIUM/EXPAND) (1996) #1 (Millennium/Expand) Near Mint/Mint
CHASSIS (MILLENNIUM/EXPAND) (1996) #2 (Millennium/Expand) Near Mint/Mint
CHASSIS (MILLENNIUM/EXPAND) (1996) #2 VARIANT (Millennium/Expand) Near Mint/Mint

CYBERFROG (1995) (#0-7) (HARRIS) #0 (Harris Comics) Near Mint/Mint
CYBERFROG (1995) (#0-7) (HARRIS) #0 ALTERNATE (Harris Comics) Very Fine
CYBERFROG (1995) (#0-7) (HARRIS) #0 (Harris Comics) Very Fine


CYBERFROG (1995) (#0-7) (HARRIS) #1

CYBERFROG (1995) (#0-7) (HARRIS) #1 (Harris Comics) Near Mint/Mint
CYBERFROG (1995) (#0-7) (HARRIS) #1 COMM. (Harris Comics) Very Fine
CYBERFROG (1995) (#0-7) (HARRIS) #1 SIGNED (Harris Comics) Near Mint/Mint
CYBERFROG (1995) (#0-7) (HARRIS) #1 COMM. (Harris Comics) Fine
CYBERFROG (1995) (#0-7) (HARRIS) #1 SIGNED (Harris Comics) Very Fine
CYBERFROG (1995) (#0-7) (HARRIS) #2 (Harris Comics) Near Mint/Mint
CYBERFROG (1995) (#0-7) (HARRIS) #2 COMM. (Harris Comics) Near Mint/Mint
CYBERFROG (1995) (#0-7) (HARRIS) #2 VARIANT (Harris Comics) Near Mint/Mint
CYBERFROG (1995) (#0-7) (HARRIS) #2 (Harris Comics) Very Fine
CYBERFROG (1995) (#0-7) (HARRIS) #3 (Harris Comics) Near Mint/Mint
CYBERFROG (1995) (#0-7) (HARRIS) #3 (Harris Comics) Very Fine
CYBERFROG (1995) (#0-7) (HARRIS) #4 (Harris Comics) Fine
CYBERFROG (1995) (#0-7) (HARRIS) #4 DFE S&N (Harris Comics) Very Fine
CYBERFROG (1995) (#0-7) (HARRIS) #4 (Harris Comics) Very Good

CYBERFROG PREVIEW ASHCAN (1997) #0 (Harris Comics) Near Mint/Mint

CYBERFROG VS. CREED #1 (Harris Comics) Near Mint/Mint
CYBERFROG VS. CREED #1 (Harris Comics) Very Fine

CYBERFROG: RESERVOIR FROG (1996) #1 (Harris Comics) Fine
CYBERFROG: RESERVOIR FROG (1996) #1 (Harris Comics) Near Mint/Mint
CYBERFROG: RESERVOIR FROG (1996) #1 ASHCAN (Harris Comics) Near Mint/Mint
CYBERFROG: RESERVOIR FROG (1996) #1 (Harris Comics) Very Good


CYBERFROG: RESERVOIR FROG (1996) #2

CYBERFROG: RESERVOIR FROG (1996) #2 (Harris Comics) Near Mint/Mint

EVIL ERNIE: REVENGE (1994) #1 AUTH 3XSGN (Chaos Comics) Near Mint/Mint

LADY DEATH (1994) (#0-3) (CHAOS) #1 (Chaos Comics) Near Mint/Mint
LADY DEATH (1994) (#0-3) (CHAOS) #1 1/2 3X SGN (Chaos Comics) Near Mint/Mint
LADY DEATH (1994) (#0-3) (CHAOS) #1 1/2 3X SGN (Chaos Comics) Very Fine
LADY DEATH (1994) (#0-3) (CHAOS) #2 (Chaos Comics) Near Mint/Mint
LADY DEATH (1994) (#0-3) (CHAOS) #3 (Chaos Comics) Near Mint/Mint

LADY DEATH (1998) (#1-16) (CHAOS) #1 (Chaos Comics) Near Mint/Mint
LADY DEATH (1998) (#1-16) (CHAOS) #1 (Chaos Comics) Fine
LADY DEATH (1998) (#1-16) (CHAOS) #1 VARIANT (Chaos Comics) Near Mint/Mint
LADY DEATH (1998) (#1-16) (CHAOS) #1 VARIANT (Chaos Comics) Very Fine
LADY DEATH (1998) (#1-16) (CHAOS) #1 (Chaos Comics) Very Fine
LADY DEATH (1998) (#1-16) (CHAOS) #2 (Chaos Comics) Near Mint/Mint
LADY DEATH (1998) (#1-16) (CHAOS) #5 (Chaos Comics) Near Mint/Mint
LADY DEATH (1998) (#1-16) (CHAOS) #5 B&W (Chaos Comics) Near Mint/Mint

LADY DEATH & THE WOMEN OF CHAOS GALLERY (1996) #1 (Chaos Comics) Near Mint/Mint
LADY DEATH & THE WOMEN OF CHAOS GALLERY (1996) #1 PREMIUM ED (Chaos Comics) Near Mint/Mint

LADY DEATH ENCORE EDITION #1 PREMIUM (Chaos Comics) Near Mint/Mint

LADY DEATH IN LINGERIE (1995) #1 CHAOS-S/N (Chaos Comics) Near Mint/Mint

LADY DEATH SWIMSUIT SPECIAL (1994) #1 VELV SIGN (Chaos Comics) Very Fine

LADY DEATH: ALL HALLOW'S EVIL (FAN ED) #1 (Overstreet) Near Mint/Mint


LADY DEATH: BETWEEN HEAVEN & HELL (1995) #1 COMM. ED

LADY DEATH: BETWEEN HEAVEN & HELL (1995) #1 COMM. ED (Chaos Comics) Near Mint/Mint

LADY DEATH: CRUCIBLE (1996) #1 1/2 (Chaos Comics) Near Mint/Mint
LADY DEATH: CRUCIBLE (1996) #1 1/2 (Chaos Comics) Very Fine
LADY DEATH: CRUCIBLE (1996) #1 LEATHER ED (Chaos Comics) Near Mint/Mint
LADY DEATH: CRUCIBLE (1996) #4 (Chaos Comics) Near Mint/Mint
LADY DEATH: CRUCIBLE (1996) #4 MEGADEATH (Chaos Comics) Near Mint/Mint
LADY DEATH: CRUCIBLE (1996) #6 (Chaos Comics) Near Mint/Mint

LADY DEATH: DEATH BECOMES HER (1997) #0 (Chaos Comics) Near Mint/Mint
LADY DEATH: DEATH BECOMES HER (1997) #0 (Chaos Comics) Fine
LADY DEATH: DEATH BECOMES HER (1997) #0 (Chaos Comics) Very Fine

TEENAGE MUTANT NINJA TURTLES (2011) (#1-UP) (IDW Publishing) #38 A (IDW Publishing) Very Fine
TEENAGE MUTANT NINJA TURTLES (2011) (#1-UP) (IDW Publishing) #39 A (IDW Publishing) Near Mint/Mint
TEENAGE MUTANT NINJA TURTLES (2011) (#1-UP) (IDW Publishing) #40 A (IDW Publishing) Near Mint/Mint
TEENAGE MUTANT NINJA TURTLES (2011) (#1-UP) (IDW Publishing) #41 A (IDW Publishing) Near Mint/Mint
TEENAGE MUTANT NINJA TURTLES (2011) (#1-UP) (IDW Publishing) #42 B (IDW Publishing) Very Fine
TEENAGE MUTANT NINJA TURTLES (2011) (#1-UP) (IDW Publishing) #43 B (IDW Publishing) Near Mint/Mint
TEENAGE MUTANT NINJA TURTLES (2011) (#1-UP) (IDW Publishing) #44 B (IDW Publishing) Near Mint/Mint
TEENAGE MUTANT NINJA TURTLES (2011) (#1-UP) (IDW Publishing) #45 A (IDW Publishing) Near Mint/Mint
TEENAGE MUTANT NINJA TURTLES (2011) (#1-UP) (IDW Publishing) #46 A (IDW Publishing) Near Mint/Mint
TEENAGE MUTANT NINJA TURTLES (2011) (#1-UP) (IDW Publishing) #47 A (IDW Publishing) Near Mint/Mint
TEENAGE MUTANT NINJA TURTLES (2011) (#1-UP) (IDW Publishing) #49 (IDW Publishing) Very Fine


TEENAGE MUTANT NINJA TURTLES (2011) (#1-UP) (IDW Publishing) #51

TEENAGE MUTANT NINJA TURTLES (2011) (#1-UP) (IDW Publishing) #51 (IDW Publishing) Very Fine
TEENAGE MUTANT NINJA TURTLES (2011) (#1-UP) (IDW Publishing) #52 (IDW Publishing) Very Fine
TEENAGE MUTANT NINJA TURTLES (2011) (#1-UP) (IDW Publishing) #53 (IDW Publishing) Near Mint/Mint
TEENAGE MUTANT NINJA TURTLES (2011) (#1-UP) (IDW Publishing) #54 (IDW Publishing) Very Fine
TEENAGE MUTANT NINJA TURTLES (2011) (#1-UP) (IDW Publishing) #55 (IDW Publishing) Fine
TEENAGE MUTANT NINJA TURTLES (2011) (#1-UP) (IDW Publishing) #56 (IDW Publishing) Fine
TEENAGE MUTANT NINJA TURTLES (2011) (#1-UP) (IDW Publishing) #57 (IDW Publishing) Near Mint/Mint
TEENAGE MUTANT NINJA TURTLES (2011) (#1-UP) (IDW Publishing) #58 (IDW Publishing) Near Mint/Mint
TEENAGE MUTANT NINJA TURTLES (2011) (#1-UP) (IDW Publishing) #59 (IDW Publishing) Near Mint/Mint
TEENAGE MUTANT NINJA TURTLES (2011) (#1-UP) (IDW Publishing) #60 (IDW Publishing) Very Fine
TEENAGE MUTANT NINJA TURTLES (2011) (#1-UP) (IDW Publishing) #61 (IDW Publishing) Near Mint/Mint
TEENAGE MUTANT NINJA TURTLES (2011) (#1-UP) (IDW Publishing) #62 (IDW Publishing) Very Fine
TEENAGE MUTANT NINJA TURTLES (2011) (#1-UP) (IDW Publishing) #63 (IDW Publishing) Near Mint/Mint
TEENAGE MUTANT NINJA TURTLES (2011) (#1-UP) (IDW Publishing) #64 (IDW Publishing) Near Mint/Mint
TEENAGE MUTANT NINJA TURTLES (2011) (#1-UP) (IDW Publishing) #65 (IDW Publishing) Near Mint/Mint
TEENAGE MUTANT NINJA TURTLES (2011) (#1-UP) (IDW Publishing) #66 (IDW Publishing) Very Fine
TEENAGE MUTANT NINJA TURTLES (2011) (#1-UP) (IDW Publishing) #67 (IDW Publishing) Near Mint/Mint
TEENAGE MUTANT NINJA TURTLES (2011) (#1-UP) (IDW Publishing) #68 (IDW Publishing) Very Fine
TEENAGE MUTANT NINJA TURTLES (2011) (#1-UP) (IDW Publishing) #69 (IDW Publishing) Very Fine
TEENAGE MUTANT NINJA TURTLES (2011) (#1-UP) (IDW Publishing) #70 (IDW Publishing) Very Fine
TEENAGE MUTANT NINJA TURTLES (2011) (#1-UP) (IDW Publishing) #71 (IDW Publishing) Near Mint/Mint
TEENAGE MUTANT NINJA TURTLES (2011) (#1-UP) (IDW Publishing) #72 A WACHTER (IDW Publishing) Near Mint/Mint
TEENAGE MUTANT NINJA TURTLES (2011) (#1-UP) (IDW Publishing) #73 A SMITH (IDW Publishing) Near Mint/Mint
TEENAGE MUTANT NINJA TURTLES (2011) (#1-UP) (IDW Publishing) #74 A SMITH (IDW Publishing) Very Fine


TEENAGE MUTANT NINJA TURTLES (2011) (#1-UP) (IDW Publishing) #75 A SMITH

TEENAGE MUTANT NINJA TURTLES (2011) (#1-UP) (IDW Publishing) #75 A SMITH (IDW Publishing) Near Mint/Mint
TEENAGE MUTANT NINJA TURTLES (2011) (#1-UP) (IDW Publishing) #76 A COUCEIRO (IDW Publishing) Near Mint/Mint
TEENAGE MUTANT NINJA TURTLES (2011) (#1-UP) (IDW Publishing) #78 A COUCEIRO (IDW Publishing) Near Mint/Mint
TEENAGE MUTANT NINJA TURTLES (2011) (#1-UP) (IDW Publishing) #79 A COUCEIRO (IDW Publishing) Near Mint/Mint
TEENAGE MUTANT NINJA TURTLES (2011) (#1-UP) (IDW Publishing) #81 A WACHTER (IDW Publishing) Near Mint/Mint
TEENAGE MUTANT NINJA TURTLES (2011) (#1-UP) (IDW Publishing) #82 A WACHTER (IDW Publishing) Near Mint/Mint