Life Size Captain Marvel Statue Arrives - All Back Issues 60% Off
Howdy!
Life is wonderful here in Colorado today! Business is great, the weather is decent for this time of year, and all of us are reasonably healthy. That having been said, we are all busier than bugs on a hot stove right now, just trying to keep up with everything. As a case in point, I worked all weekend on the preliminaries of our getting ready for this year's Free Comic Book Day, which will be on May 4th. That's just six weeks away. Time just flies...
The good news is that our primary FCBD display from last year was never taken down, so I have at least the beginnings of our 2019 effort already done. Given that our business in Jason St. is running nearly double last year, however, we still have a lot of preparing to do. We had 4,500+ fans visit Jason St. on FCBD last year, but that was before we closed our smaller Colorado Blvd. And Lakewood stores, both of which hosted 1,000+ fans. It is actually conceivable that 10,000+ people will come to Jason St. On FCBD this year. Yow!
In case you are wondering, we will again be offering a selection of all the FCBD editions to all of our online fans, including complete sets. We have to still hold off for a while, however, until we know for certain that we received them all. This year's charity is Camp Aranu'tiq, a special summer camp that helps Transgender kids to be in a safe and nurturing environment for a week. Many of these kids live in near total alienation in small towns, or relative isolation in larger communities. This unique summer camp gives them a chance to finally meet and interact with other kids who are facing their same challenges. All 100% of our FCBD donations this year will go to help to subsidize the costs of attending this camp for a number of low income children. Visit the camp's website for more details...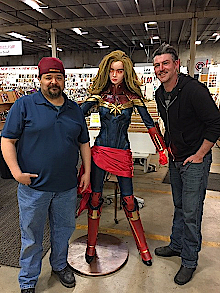 Life-Size Captain Marvel Figure

In other news, our awesome life-size Captain Marvel figure that we ordered three months ago was delivered today! With hands and eyes that light up, she adds yet another a striking figure into the wonderland of Jason St. Pictured are Will Moulton, and our amazing figure sculptor, Jason Cook
Finally, I want to quickly mention that our 60% off SPRINGBREAK! codeword sale has proven to be immensely popular. With all ten million of our back issues available at prices as low as forty cents each, we are getting inundated with orders. We are leaving SPRINGBREAK! in effect for you for another week, but if you do place an order with us today, please allow at least a week for your order to be filled. The codeword sale applies to all ten million of our back issue comics and magazines, excepting only new issues, a few variants, and our professionally-graded items. Enjoy!
Happy collecting!
Chuck Rozanski,
President - Mile High Comics, Inc.
March 18, 2019
P.S. Below are more new back issue arrivals. All can be yours at 60% off during SPRINGBREAK!
MARVEL

ALPHA FLIGHT (1983) (#1-130) #90

ALPHA FLIGHT (1983) (#1-130) #90 Near Mint/Mint
ALPHA FLIGHT (1983) (#1-130) #90 Very Fine

AMAZING SPIDER-MAN: WHO AM I HC (2015) #1 Near Mint/Mint

ASTONISHING X-MEN BY WHEDON & CASSASY ULTIMATE TPB (2012) #1 2ND PRINT Very Fine
ASTONISHING X-MEN BY WHEDON & CASSASY ULTIMATE TPB (2012) #2 2ND PRINT Fine

AVENGERS (1963) (#1-402) (MARVEL) #76 Good
AVENGERS (1963) (#1-402) (MARVEL) #91 Good
AVENGERS (1963) (#1-402) (MARVEL) #210 NEWSSTAND Very Good
AVENGERS (1963) (#1-402) (MARVEL) #212 NEWSSTAND Very Good
AVENGERS (1963) (#1-402) (MARVEL) #214 NEWSSTAND Very Good
AVENGERS (1963) (#1-402) (MARVEL) #216 NEWSSTAND Fine
AVENGERS (1963) (#1-402) (MARVEL) #218 NEWSSTAND Fine
AVENGERS (1963) (#1-402) (MARVEL) #220 NEWSSTAND Fine
AVENGERS (1963) (#1-402) (MARVEL) #221 NEWSSTAND Fine
AVENGERS (1963) (#1-402) (MARVEL) #222 NEWSSTAND Fine
AVENGERS (1963) (#1-402) (MARVEL) #223 NEWSSTAND Very Good
AVENGERS (1963) (#1-402) (MARVEL) #236 Fine
AVENGERS (1963) (#1-402) (MARVEL) #240 Near Mint/Mint
AVENGERS (1963) (#1-402) (MARVEL) #254 Near Mint/Mint
AVENGERS (1963) (#1-402) (MARVEL) #257 Near Mint/Mint
AVENGERS (1963) (#1-402) (MARVEL) #258 Fine
AVENGERS (1963) (#1-402) (MARVEL) #261 Near Mint/Mint
AVENGERS (1963) (#1-402) (MARVEL) #263 Near Mint/Mint
AVENGERS (1963) (#1-402) (MARVEL) #266 Near Mint/Mint
AVENGERS (1963) (#1-402) (MARVEL) #273 Very Fine
AVENGERS (1963) (#1-402) (MARVEL) #285 Near Mint/Mint
AVENGERS (1963) (#1-402) (MARVEL) #292 Near Mint/Mint
AVENGERS (1963) (#1-402) (MARVEL) #293 Near Mint/Mint
AVENGERS (1963) (#1-402) (MARVEL) #294 Near Mint/Mint
AVENGERS (1963) (#1-402) (MARVEL) #296 Near Mint/Mint
AVENGERS (1963) (#1-402) (MARVEL) #297 Near Mint/Mint
AVENGERS (1963) (#1-402) (MARVEL) #299 Near Mint/Mint
AVENGERS (1963) (#1-402) (MARVEL) #300 Near Mint/Mint

AVENGERS ANNUAL (1967) #11 NEWSSTAND Fine
AVENGERS ANNUAL (1967) #12 NEWSSTAND Very Fine

AVENGERS GIANT-SIZE (GIANT SIZE) (1974) #4 Fine


CAPTAIN AMERICA: DEATH OF CAPTAIN AMERICA TPB (2008) #2 4TH PRINT

CAPTAIN AMERICA: DEATH OF CAPTAIN AMERICA TPB (2008) #2 4TH PRINT Near Mint/Mint
CAPTAIN AMERICA: DEATH OF CAPTAIN AMERICA TPB (2008) #2 4TH PRINT Very Fine

CAPTAIN MARVEL (1989) (#1) (GIANT-SIZE SPECIAL) (MV) #1 Near Mint/Mint

CHILI (1969) #16 Good

CONAN OF THE ISLES GN (1988) #1 Near Mint/Mint

CONAN: HORN OF AZOTH GN (1990) #1 Near Mint/Mint

CONAN: SKULL OF SET GN (1989) #1 Near Mint/Mint

CONAN: WITCH QUEEN OF ACHERON GN (MARVEL GN #19) (1985) #1 Near Mint/Mint

DRACULA: SYMPHONY IN MOONLIGHT & NIGHTMARES GN (1986) #1 Near Mint/Mint

EPIC GRAPHIC NOVEL (MOEBIUS) #1 Very Fine
EPIC GRAPHIC NOVEL (MOEBIUS) #2 Near Mint/Mint
EPIC GRAPHIC NOVEL (MOEBIUS) #3 Near Mint/Mint
EPIC GRAPHIC NOVEL (MOEBIUS) #4 Near Mint/Mint
EPIC GRAPHIC NOVEL (MOEBIUS) #5 Near Mint/Mint
EPIC GRAPHIC NOVEL (MOEBIUS) #6 Near Mint/Mint
EPIC GRAPHIC NOVEL (MOEBIUS) #7 Near Mint/Mint
EPIC GRAPHIC NOVEL (MOEBIUS) #8 Near Mint/Mint

EPIC GRAPHIC NOVEL: INCAL (MOEBIUS) #1 Near Mint/Mint
EPIC GRAPHIC NOVEL: INCAL (MOEBIUS) #2 Near Mint/Mint
EPIC GRAPHIC NOVEL: INCAL (MOEBIUS) #3 Near Mint/Mint

EPIC GRAPHIC NOVEL: LIEUTENANT BLUEBERRY #1 Near Mint/Mint
EPIC GRAPHIC NOVEL: LIEUTENANT BLUEBERRY #2 Fine

ESSENTIAL MOON KNIGHT TPB (2006) #1 Very Fine

EXCALIBUR (1988) (#1-125) (MARVEL) #4 Near Mint/Mint
EXCALIBUR (1988) (#1-125) (MARVEL) #18 NEWSSTAND Near Mint/Mint
EXCALIBUR (1988) (#1-125) (MARVEL) #25 Very Fine

GHOST RIDER (1990) (#1-94) (MARVEL) #1 Near Mint/Mint
GHOST RIDER (1990) (#1-94) (MARVEL) #5 2ND PRT Fine
GHOST RIDER (1990) (#1-94) (MARVEL) #8 Near Mint/Mint


GHOST RIDER (1990) (#1-94) (MARVEL) #9

GHOST RIDER (1990) (#1-94) (MARVEL) #9 Near Mint/Mint
GHOST RIDER (1990) (#1-94) (MARVEL) #18 Near Mint/Mint

HEARTS & MINDS: VIETNAM LOVE STORY GN #1 Near Mint/Mint

HULK (1962) (#1-6, #102-474, #600-635)(INCREDIBLE)(MV) #337 Near Mint/Mint
HULK (1962) (#1-6, #102-474, #600-635)(INCREDIBLE)(MV) #359 Near Mint/Mint

IMMORTAL IRON FIST (2006) #8 Near Mint/Mint

INFINITY GAUNTLET (1991) #1 Near Mint/Mint
INFINITY GAUNTLET (1991) #1 Very Fine
INFINITY GAUNTLET (1991) #2 Near Mint/Mint
INFINITY GAUNTLET (1991) #3 Fine
INFINITY GAUNTLET (1991) #4 Near Mint/Mint
INFINITY GAUNTLET (1991) #5 Near Mint/Mint
INFINITY GAUNTLET (1991) #6 Fine

IRON MAN (1968) (#1-332) (INVINCIBLE IRON MAN)(MARVEL) #167 NEWSSTAND Fine
IRON MAN (1968) (#1-332) (INVINCIBLE IRON MAN)(MARVEL) #168 NEWSSTAND Fine
IRON MAN (1968) (#1-332) (INVINCIBLE IRON MAN)(MARVEL) #169 NEWSSTAND Fine
IRON MAN (1968) (#1-332) (INVINCIBLE IRON MAN)(MARVEL) #170 NEWSSTAND Fine
IRON MAN (1968) (#1-332) (INVINCIBLE IRON MAN)(MARVEL) #178 NEWSSTAND Fine
IRON MAN (1968) (#1-332) (INVINCIBLE IRON MAN)(MARVEL) #228 Near Mint/Mint
IRON MAN (1968) (#1-332) (INVINCIBLE IRON MAN)(MARVEL) #230 Near Mint/Mint
IRON MAN (1968) (#1-332) (INVINCIBLE IRON MAN)(MARVEL) #231 Near Mint/Mint
IRON MAN (1968) (#1-332) (INVINCIBLE IRON MAN)(MARVEL) #232 Near Mint/Mint
IRON MAN (1968) (#1-332) (INVINCIBLE IRON MAN)(MARVEL) #247 Near Mint/Mint
IRON MAN (1968) (#1-332) (INVINCIBLE IRON MAN)(MARVEL) #249 Near Mint/Mint
IRON MAN (1968) (#1-332) (INVINCIBLE IRON MAN)(MARVEL) #250 Near Mint/Mint

KREE-SKRULL WAR (1983) #1 Near Mint/Mint
KREE-SKRULL WAR (1983) #2 Near Mint/Mint

LONGSHOT (1985) (#1-6) (MARVEL LIMITED SERIES) #1 Very Fine

MAD ABOUT MILLIE (1969) #4 Good
MAD ABOUT MILLIE (1969) #12 Good

MARADA, THE SHE-WOLF GN (1985) #1 Near Mint/Mint

MILLIE THE MODEL (1945) #177 Good

MILLIE THE MODEL (1945) #183 Good

MILLIE THE MODEL ANNUAL (1962) #9 Good

ORIGINAL SIN HC (2014) #1 Near Mint/Mint

OUTLAW KID (1970) #8 Very Good

PETER PARKER (1976) (#1-263) (SPECTACULAR SPIDER-MAN) #154 Near Mint/Mint

PUNISHER (1987) (#1-104) (MARVEL) #1 NEWSSTAND Very Fine

RAWHIDE KID (1955) (#1-151) (MARVEL) #94 Very Good

RINGO KID (1970) #9 Very Good

SECRET EMPIRE HC (2017) #1 Near Mint/Mint

SECRET WAR (2004) #1 Very Fine
SECRET WAR (2004) #2 Very Good

SECRET WARS (1984) #2 Near Mint/Mint
SECRET WARS (2015) #8 Near Mint/Mint

SGT. FURY AND HIS HOWLING COMMANDOS (1963) #62 Very Good
SGT. FURY AND HIS HOWLING COMMANDOS (1963) #70 Fine
SGT. FURY AND HIS HOWLING COMMANDOS (1963) #73 Fine

SILVER SURFER (1987) (#1-146) (MARVEL) #55 Near Mint/Mint

SOLO AVENGERS (AVENGERS SPOTLIGHT #21-40) (1987) #40 NEWSSTAND Fine

SPECIAL MARVEL EDITION #5 Fine

SPIDER-MAN (1963) (AMAZING SPIDER-MAN) (#1-441) #96 Very Good
SPIDER-MAN (1963) (AMAZING SPIDER-MAN) (#1-441) #100 Fine
SPIDER-MAN (1963) (AMAZING SPIDER-MAN) (#1-441) #102 Very Good
SPIDER-MAN (1963) (AMAZING SPIDER-MAN) (#1-441) #154 Very Good
SPIDER-MAN (1963) (AMAZING SPIDER-MAN) (#1-441) #197 NEWSSTAND Fine
SPIDER-MAN (1963) (AMAZING SPIDER-MAN) (#1-441) #282 NEWSSTAND Fine
SPIDER-MAN (1963) (AMAZING SPIDER-MAN) (#1-441) #285 Fine
SPIDER-MAN (1963) (AMAZING SPIDER-MAN) (#1-441) #319 Fine


SPIDER-MAN (1963) (AMAZING SPIDER-MAN) (#1-441) #320

SPIDER-MAN (1963) (AMAZING SPIDER-MAN) (#1-441) #320 Very Fine
SPIDER-MAN (1963) (AMAZING SPIDER-MAN) (#1-441) #321 Near Mint/Mint
SPIDER-MAN (1963) (AMAZING SPIDER-MAN) (#1-441) #322 Near Mint/Mint
SPIDER-MAN (1963) (AMAZING SPIDER-MAN) (#1-441) #323 Very Fine
SPIDER-MAN (1963) (AMAZING SPIDER-MAN) (#1-441) #324 Fine
SPIDER-MAN (1963) (AMAZING SPIDER-MAN) (#1-441) #324 Near Mint/Mint
SPIDER-MAN (1963) (AMAZING SPIDER-MAN) (#1-441) #324 Very Fine
SPIDER-MAN (1963) (AMAZING SPIDER-MAN) (#1-441) #327 Near Mint/Mint
SPIDER-MAN (1963) (AMAZING SPIDER-MAN) (#1-441) #328 Near Mint/Mint
SPIDER-MAN (1963) (AMAZING SPIDER-MAN) (#1-441) #328 Very Fine
SPIDER-MAN (1963) (AMAZING SPIDER-MAN) (#1-441) #348 INSERT Fine

SPIDER-MAN (1990) (#1-74, PETER PARKER SPIDEY #75-98) #4 Very Fine
SPIDER-MAN (1990) (#1-74, PETER PARKER SPIDEY #75-98) #12 Fine
SPIDER-MAN (1990) (#1-74, PETER PARKER SPIDEY #75-98) #13 Fine
SPIDER-MAN (1990) (#1-74, PETER PARKER SPIDEY #75-98) #13 Near Mint/Mint

SPIDER-MAN ANNUAL (1964) #5 Very Good

SPIDER-MAN: NOTHING CAN STOP THE JUGGERNAUT TPB (1989) #1 Very Good

SPIDER-MAN: SAVAGE LAND TPB #1 Fine

SPIDER-MAN: TROUBLE ON HORIZON PREMIERE HC (2012) #1 Near Mint/Mint

SPIDER-MAN: TROUBLE ON HORIZON TPB (2013) #1 Very Fine

SPIDER-MAN: WORLD'S GREATEST HERO TPB (2012) #1 Very Fine

STAR WARS: ROGUE ONE ADAPTATION HC (2018) #1 Near Mint/Mint

STAR WARS: THE MARVEL COVERS HC (2015) #1 QUESADA Near Mint/Mint

THANOS: A GOD UP THERE LISTENING HC (2014) #1 Near Mint/Mint

THANOS: INFINITY CONFLICT HC (2018) #1 Near Mint/Mint

THANOS: INFINITY RELATIVITY HC (2015) #1 Near Mint/Mint

THANOS: INFINITY SIBLINGS HC (2018) #1 Near Mint/Mint

THOR (1962) (#83-125 JOURNEY INTO MYSTERY, 126-502) #178 Good


THOR BY STRACZYNSKI TPB (2008) #1 7TH PRINT

THOR BY STRACZYNSKI TPB (2008) #1 7TH PRINT Near Mint/Mint
THOR BY STRACZYNSKI TPB (2008) #2 3RD PRINT Near Mint/Mint

THOR: AGES OF THUNDER TPB (2009) #1 Very Fine

THOR: HEAVEN & EARTH HC (2011) #1 Near Mint/Mint

THOR: TALES OF ASGARD TPB (2011) #1 Fine

TWO-GUN KID (1948) #98 Very Good

WESTERN GUNFIGHTERS (1970) #5 Very Good

WOLVERINE (1988) (#1/2-189) (MARVEL) #10 Near Mint/Mint

WOLVERINE & NICK FURY: THE SCORPIO CONNECTION GN (1990) #1 GN Fair

WOLVERINE: ORIGIN PREMIERE HC (MV CLASSIC #2) (2006) #1 Near Mint/Mint

WOLVERINE: ORIGINS (2006) #16 Near Mint/Mint

X-FORCE (1991) (#1-129) (MARVEL) #11 Near Mint/Mint

X-MEN (1991) (#1-275) (MARVEL) #4 Very Fine
X-MEN (1991) (#1-275) (MARVEL) #5 Near Mint/Mint
X-MEN (1991) (#1-275) (MARVEL) #202 Near Mint/Mint

X-MEN: DAYS OF FUTURE PAST TPB (2ND EDITION) (2011) #1 3RD PRINT Near Mint/Mint

DC
ACTION COMICS WEEKLY (1988) (#601-642) (DC) #620 Near Mint/Mint
ACTION COMICS WEEKLY (1988) (#601-642) (DC) #632 Very Fine
ACTION COMICS WEEKLY (1988) (#601-642) (DC) #633 Very Fine
ACTION COMICS WEEKLY (1988) (#601-642) (DC) #634 Very Fine
ACTION COMICS WEEKLY (1988) (#601-642) (DC) #635 Very Fine

BATMAN (1940) (#0-713) (DC) #645 Near Mint/Mint
BATMAN (1940) (#0-713) (DC) #667 Near Mint/Mint
BATMAN (1940) (#0-713) (DC) #668 Fine

BATMAN STRIKES (2004) #36 Very Fine

BATMAN/SUPERMAN/WONDER WOMAN: TRINITY DELUXE HC (2016) #1 Near Mint/Mint

BATMAN: GOTHIC HC DELUXE EDITION (GRANT MORRISON) (2015) #1 Very Good

BATMAN: THE CULT TPB (JIM STARLIN) (BERNI WRIGHTSON) (1991) #1 Fine

CATWOMAN (2002) (#1-83) (DC) #44 Near Mint/Mint
CATWOMAN (2002) (#1-83) (DC) #45 Near Mint/Mint
CATWOMAN (2002) (#1-83) (DC) #46 Near Mint/Mint
CATWOMAN (2002) (#1-83) (DC) #47 Near Mint/Mint
CATWOMAN (2002) (#1-83) (DC) #48 Near Mint/Mint
CATWOMAN (2002) (#1-83) (DC) #49 Very Fine
CATWOMAN (2002) (#1-83) (DC) #70 Near Mint/Mint

CATWOMAN (2011) (#1-52) (DC NEW52) #23 Near Mint/Mint

DARK KNIGHT: MASTER RACE HC (2017) #1 Near Mint/Mint

DC 100 PAGE SUPER SPECTACULAR (1971) #16 Fine

DC SCIENCE FICTION GRAPHIC NOVEL (1985) #2 Near Mint/Mint
DC SCIENCE FICTION GRAPHIC NOVEL (1985) #3 Very Good
DC SCIENCE FICTION GRAPHIC NOVEL (1985) #5 Near Mint/Mint

GI COMBAT (1957) (#44-288) (DC) #101 Good
GI COMBAT (1957) (#44-288) (DC) #148 Very Good
GI COMBAT (1957) (#44-288) (DC) #153 Very Good
GI COMBAT (1957) (#44-288) (DC) #160 Very Fine

GREAT SUPERMAN COMIC BOOK COLLECTION SC (1981) #1 Very Good

GREATEST BATMAN STORIES EVER TOLD TPB (1988) #1 Very Good

GREATEST TEAM-UP STORIES EVER TOLD TPB (1989) #1 Very Fine

NIGHTWING REBIRTH HC (2017) #1 Near Mint/Mint

OUR ARMY AT WAR (1952) #166 Good

OUR ARMY AT WAR (1952) #237 Very Good
OUR ARMY AT WAR (1952) #240 Very Good
OUR ARMY AT WAR (1952) #243 Very Good
OUR ARMY AT WAR (1952) #244 Fine
OUR ARMY AT WAR (1952) #245 Very Good

OUR FIGHTING FORCES (1954) #117 Good
OUR FIGHTING FORCES (1954) #132 Very Good
OUR FIGHTING FORCES (1954) #133 Very Good
OUR FIGHTING FORCES (1954) #134 Fine
OUR FIGHTING FORCES (1954) #135 Very Good
OUR FIGHTING FORCES (1954) #140 Very Good

RONIN TPB (1987) #1 Near Mint/Mint

SCALPED DELUXE EDITION HC (2015) #4 Near Mint/Mint
SCALPED DELUXE EDITION HC (2015) #5 Near Mint/Mint

SEVEN SOLDIERS OF VICTORY HC (2010) #2 Very Fine

SGT. ROCK (OUR ARMY AT WAR #1-301) (1977) #370 NEWSSTAND Very Good
SGT. ROCK (OUR ARMY AT WAR #1-301) (1977) #398 NEWSSTAND Very Fine

SGT. ROCK ANNUAL (1982) #3 NEWSSTAND Fine

STAR SPANGLED WAR STORIES (1952) #146 Very Good
STAR SPANGLED WAR STORIES (1952) #157 Good
STAR SPANGLED WAR STORIES (1952) #158 Very Good
STAR SPANGLED WAR STORIES (1952) #161 Very Good
STAR SPANGLED WAR STORIES (1952) #163 Very Good
STAR SPANGLED WAR STORIES (1952) #166 Very Good

SUICIDE SQUAD (1987) (#1-67) (DC) #11 NEWSSTAND Fine
SUICIDE SQUAD (1987) (#1-67) (DC) #12 Near Mint/Mint
SUICIDE SQUAD (1987) (#1-67) (DC) #16 Near Mint/Mint
SUICIDE SQUAD (1987) (#1-67) (DC) #17 Near Mint/Mint


SUICIDE SQUAD REBIRTH HC (2017) #1

SUICIDE SQUAD REBIRTH HC (2017) #1 Near Mint/Mint

SUICIDE SQUAD UNWRAPPED BY JIM LEE HC (2018) #1 Near Mint/Mint

SUPERMAN FOR ALL SEASON DELUXE EDITION HC (2014) #1 Very Good

SUPERMAN: SECRET IDENTITY HC (2016) #1 Near Mint/Mint

SWEET TOOTH HC (2015) #2 Near Mint/Mint

TEEN TITANS (2011) (#0-30) (DC NEW52) #23 .1 DELUXE Very Fine
TEEN TITANS (2011) (#0-30) (DC NEW52) #23 .2 DELUXE Very Fine

WATCHMEN HC (2008) #1 2ND PRINT Very Good

WEIRD WAR TALES (1971) (#1-124) (DC) #1 Good
WEIRD WAR TALES (1971) (#1-124) (DC) #2 Fair
WEIRD WAR TALES (1971) (#1-124) (DC) #5 Very Good
WEIRD WAR TALES (1971) (#1-124) (DC) #10 Good

WORLD'S FINEST DELUXE EDITION HC (2008) #1 Near Mint/Mint

DARK HORSE COMICS
ALIENS: LIFE & DEATH TPB (2017) #1 Very Fine

GROO: MAIDEN TPB (2002) #1 Near Mint/Mint

GROO: NURSERY TPB (2002) #1 Very Fine

INDIANA JONES OMNIBUS TPB (2007) #1 Very Fine

MOEBIUS O: THE HORNY GOOF & OTHER UNDERGROUND STORIES (1990) #1 Fine

MR. MONSTER (DARK HORSE) (VOL. 2) (1987) #6 Near Mint/Mint

IMAGE COMICS
BATTLESTAR GALACTICA TPB (1995) #1 Very Good

BOMB QUEEN (VOL.3) (GOOD, BAD, & THE LOVELY) (2007) #4 Very Good

BOMB QUEEN (VOL.4) (SUICIDE BOMBER) (2007) #1 Very Fine


INVINCIBLE: FAMILY MATTERS TPB (VOL. 1) (2003) #1

INVINCIBLE: FAMILY MATTERS TPB (VOL. 1) (2003) #1 Near Mint/Mint

OUTCAST HC (ROBERT KIRKMAN & PAUL AZACETA) (2016) #2 Near Mint/Mint

REVIVAL DELUXE HC (2013) #2 Very Fine

SOUTHERN BASTARDS HC (2015) #1 Near Mint/Mint

SPAWN (1992) #146 Near Mint/Mint
SPAWN (1992) #147 Near Mint/Mint
SPAWN (1992) #148 Near Mint/Mint
SPAWN (1992) #149 Near Mint/Mint
SPAWN (1992) #150 CAPULLO Very Fine
SPAWN (1992) #150 JIM LEE Very Fine
SPAWN (1992) #150 MCFARLANE Near Mint/Mint
SPAWN (1992) #150 SKETCH ALT Very Fine
SPAWN (1992) #150 TAN Very Fine
SPAWN (1992) #170 Very Fine

WALKING DEAD VOL.10: WHAT WE BECOME TPB (2009) #1 2ND PRINT Fine

WALKING DEAD VOL.11: FEAR THE HUNTERS TPB (2009) #1 2ND PRINT Very Fine

WALKING DEAD VOL.12: LIFE AMONG THEM TPB (2010) #1 Fine

WALKING DEAD: DAYS GONE BYE TPB (VOL. 1) (2004) #1 10TH PRINT Near Mint/Mint
WALKING DEAD: DAYS GONE BYE TPB (VOL. 1) (2004) #1 10TH PRINT Fine
WALKING DEAD: DAYS GONE BYE TPB (VOL. 1) (2004) #1 2ND PRINT Good

WALKING DEAD: HEART'S DESIRE TPB (VOL. 4) (2005) #1 5TH PRINT Fine

WALKING DEAD: HERE WE REMAIN TPB (VOL. 9) (2009) #1 2ND PRINT Fine

WALKING DEAD: MADE TO SUFFER TPB (VOL. 8) (2008) #1 2ND PRINT Fine

WALKING DEAD: MILES BEHIND US TPB (VOL. 2) (2004) #1 6TH PRINT Very Good

WALKING DEAD: SAFETY BEHIND BARS TPB (VOL. 3) (2005) #1 3RD PRINT Fine

WALKING DEAD: THE CALM BEFORE TPB (VOL.7) (2007) #1 3RD PRINT Very Good

INDEPENDENTS

303 (AVATAR) (2004) #6 WRAPAROUND

303 (AVATAR) (2004) #6 WRAPAROUND (Avatar Comics) Near Mint/Mint

ALBINO SPIDER OF DAJETTE (VEROTIK) (ADULT) (1996) #1 (Verotik) Near Mint/Mint

AMAZING HEROES SWIMSUIT SPECIAL (SPOOF COMICS) #5 1993SIGNED (Spoof Cards & Comics (Div./Friendly) Fine

AWAKENING (1995) (#1-2) (VOID COMICS) #1 (Void Comics) Near Mint/Mint
AWAKENING (1995) (#1-2) (VOID COMICS) #2 (Void Comics) Near Mint/Mint

BADGER: HEXBREAKER GN (FIRST COMICS) (1987) #1 (First Comics) Near Mint/Mint

BATTLE CRY (VOLUNTEER COMICS) (1997) #1 (Volunteer Comics) Very Fine

BEOWULF GN (1984) #1 (First Comics) Near Mint/Mint

BEST OF SPIDER-MAN SC (1986) #1 (Ballantine Books) Near Mint/Mint

BLACK ANGEL (1996) #1 (Verotik) Near Mint/Mint

BLOOD & ROSES ADVENTURES TPB #1 (Knight Press) Very Fine

BROUGHT TO LIGHT GN #1 (Eclipse Enterprises) Near Mint/Mint

BUCK GODOT: ZAP GUN FOR HIRE GN #1 (Studio Foglio) Near Mint/Mint

BUNNY (1966) #13 (Harvey Comics) Good

CALIGULA HC (2012) #1 SIGNED (Avatar Comics) Near Mint/Mint

CALVIN & HOBBES: SOMETHING UNDER THE BED IS DROOLING GN (1988) #1 (Andrews, McMeel & Parker) Near Mint/Mint

CANVAS TPB (2004) #1 (Fantagraphics) Near Mint/Mint

CHAOS: NIGHTMARE THEATER #1 (Chaos Comics) Near Mint/Mint

CHILDREN OF THE NIGHT TIDE GN (1986) #1 (Fantagraphics) Near Mint/Mint

CLASSIC FILES MAGAZINE: DOCTOR WHO FIRST BAKER YEARS (1986) #2 (PSI FI MOVIE PRESS) Very Good

CORTO MALTESE: FABLE OF VENICE GN (1990) #1 (NBM) Fine

COURTYARD TPB (2003) #1 (Avatar Comics) Fine

CROW COLLECTED TPB (KITCHEN SINK) (1995) #1 (Kitchen Sink Publishing) Near Mint/Mint

CRY FOR DAWN (1989) #1 SIGNED (Cry For Dawn Productions) Very Fine
CRY FOR DAWN (1989) #2 SIGNED (Cry For Dawn Productions) Fine
CRY FOR DAWN (1989) #3 SIGNED (Cry For Dawn Productions) Near Mint/Mint
CRY FOR DAWN (1989) #5 SIGNED (Cry For Dawn Productions) Near Mint/Mint
CRY FOR DAWN (1989) #9 SIGNED (Cry For Dawn Productions) Fine

CRY FOR DAWN COMPILATION PREVUE (1993) #1 S&N (Cry For Dawn Productions) Very Fine

CRYPT OF DAWN (1996) #1 LTD ED (Sirius) Near Mint/Mint
CRYPT OF DAWN (1996) #1 LTD ED (Sirius) Very Fine
CRYPT OF DAWN (1996) #1 LTD SIGN (Sirius) Near Mint/Mint
CRYPT OF DAWN (1996) #3 (Sirius) Near Mint/Mint
CRYPT OF DAWN (1996) #4 (Sirius) Near Mint/Mint
CRYPT OF DAWN (1996) #5 (Sirius) Near Mint/Mint

DAN TURNER, HOLLYWOOD DETECTIVE SPECIAL MOVIE EDITION #1 (Malibu) Very Fine

DAWN (1995) (#1-6) (SIRIUS) (1995) #1 1/2 SIGNED (Sirius) Near Mint/Mint
DAWN (1995) (#1-6) (SIRIUS) (1995) #1 B ARMORSGN (Sirius) Near Mint/Mint
DAWN (1995) (#1-6) (SIRIUS) (1995) #1 1/2 SIGNED (Sirius) Very Fine
DAWN (1995) (#1-6) (SIRIUS) (1995) #1 B ARMORSGN (Sirius) Very Fine
DAWN (1995) (#1-6) (SIRIUS) (1995) #1 B LIGHTSGN (Sirius) Near Mint/Mint
DAWN (1995) (#1-6) (SIRIUS) (1995) #2 LIMITEDSGN (Sirius) Near Mint/Mint
DAWN (1995) (#1-6) (SIRIUS) (1995) #3 LIMITEDSGN (Sirius) Near Mint/Mint
DAWN (1995) (#1-6) (SIRIUS) (1995) #3 LIMITEDSGN (Sirius) Very Fine
DAWN (1995) (#1-6) (SIRIUS) (1995) #4 LIMITEDSGN (Sirius) Very Fine
DAWN (1995) (#1-6) (SIRIUS) (1995) #4 LIMITEDSGN (Sirius) Fine
DAWN (1995) (#1-6) (SIRIUS) (1995) #5 LIMITEDSGN (Sirius) Near Mint/Mint
DAWN (1995) (#1-6) (SIRIUS) (1995) #6 (Sirius) Near Mint/Mint
DAWN (1995) (#1-6) (SIRIUS) (1995) #6 LIMIT/SIGN (Sirius) Near Mint/Mint
DAWN (1995) (#1-6) (SIRIUS) (1995) #6 LIMIT/SIGN (Sirius) Very Fine
DAWN (1995) (#1-6) (SIRIUS) (1995) #6 LIMIT/SIGN (Sirius) Fine

DAWN: LUCIFER'S HALO TPB (SIRIUS) (1997) #1 (Sirius) Near Mint/Mint

DEATHDEALER (1995) (#1-4) (VEROTIK) (FRANK FRAZETTA) #1 (Verotik) Near Mint/Mint
DEATHDEALER (1995) (#1-4) (VEROTIK) (FRANK FRAZETTA) #1 (Verotik) Very Fine


DEATHDEALER (1995) (#1-4) (VEROTIK) (FRANK FRAZETTA) #2

DEATHDEALER (1995) (#1-4) (VEROTIK) (FRANK FRAZETTA) #2 (Verotik) Near Mint/Mint

DEVILMAN (1995) (#1-3) (VEROTIK) (ADULT) #1 SAN DIEGO (Verotik) Near Mint/Mint

DOCTOR WHO: VOYAGER TPB (2007) #1 (Panini Publishing Ltd.) Near Mint/Mint

DOOM PATROL (1987) (#1-87) (DC) (DC VERTIGO) #19 (DC: Vertigo Press) Very Fine
DOOM PATROL (1987) (#1-87) (DC) (DC VERTIGO) #27 (DC: Vertigo Press) Near Mint/Mint
DOOM PATROL (1987) (#1-87) (DC) (DC VERTIGO) #28 (DC: Vertigo Press) Near Mint/Mint
DOOM PATROL (1987) (#1-87) (DC) (DC VERTIGO) #29 (DC: Vertigo Press) Near Mint/Mint

DR. WATCHSTOP GN (1989) #1 (Eclipse Enterprises) Near Mint/Mint

DRAMA (DAWN)(JOSEPH MICHAEL LINSNER)(SIRIUS) (1994) #1 (Sirius) Near Mint/Mint
DRAMA (DAWN)(JOSEPH MICHAEL LINSNER)(SIRIUS) (1994) #1 SIGNED (Sirius) Near Mint/Mint

ELEVEN OR ONE: AN ANGRY CHRIST COMIC #1 (Sirius) Near Mint/Mint
ELEVEN OR ONE: AN ANGRY CHRIST COMIC #1 SIGNED (Sirius) Near Mint/Mint
ELEVEN OR ONE: AN ANGRY CHRIST COMIC #1 SIGNED (Sirius) Very Fine
ELEVEN OR ONE: AN ANGRY CHRIST COMIC #1 SIGNED (Sirius) Fine

ERIC CANETE SKETCHBOOK (1996) #1 (Verotik) Near Mint/Mint
ERIC CANETE SKETCHBOOK (1996) #1 (Verotik) Very Fine

FUTURAMA COMICS (2000) #20 (Bongo Comics) Near Mint/Mint
FUTURAMA COMICS (2000) #21 (Bongo Comics) Very Fine
FUTURAMA COMICS (2000) #22 (Bongo Comics) Near Mint/Mint

GE ROUGE (GLENN DANZIG) (1997) #1 (Verotik) Near Mint/Mint
GE ROUGE (GLENN DANZIG) (1997) #1 (Verotik) Very Fine

GOTH (1995) (#1-3) (G.O.T.H.) (VEROTIK) (GLENN DANZIG) #1 (Verotik) Near Mint/Mint
GOTH (1995) (#1-3) (G.O.T.H.) (VEROTIK) (GLENN DANZIG) #2 (Verotik) Near Mint/Mint
GOTH (1995) (#1-3) (G.O.T.H.) (VEROTIK) (GLENN DANZIG) #3 (Verotik) Near Mint/Mint

HARVEY POP COMICS (1968) #2 (Harvey Comics) Good

HELLBLAZER (1988) (#1-300) (DC VERTIGO) #1 (DC: Vertigo Press) Fine
HELLBLAZER (1988) (#1-300) (DC VERTIGO) #2 (DC: Vertigo Press) Very Fine
HELLBLAZER (1988) (#1-300) (DC VERTIGO) #4 (DC: Vertigo Press) Near Mint/Mint
HELLBLAZER (1988) (#1-300) (DC VERTIGO) #8 (DC: Vertigo Press) Near Mint/Mint
HELLBLAZER (1988) (#1-300) (DC VERTIGO) #9 (DC: Vertigo Press) Very Fine


HELLBLAZER (1988) (#1-300) (DC VERTIGO) #10

HELLBLAZER (1988) (#1-300) (DC VERTIGO) #10 (DC: Vertigo Press) Fine
HELLBLAZER (1988) (#1-300) (DC VERTIGO) #12 (DC: Vertigo Press) Very Fine
HELLBLAZER (1988) (#1-300) (DC VERTIGO) #13 (DC: Vertigo Press) Very Fine
HELLBLAZER (1988) (#1-300) (DC VERTIGO) #235 (DC: Vertigo Press) Very Fine

HELLSPACE (1997) (#1) (Zen Publishing) (NIRA X) (ZEN COMICS) #1 (Zen Publishing) Near Mint/Mint
HELLSPACE (1997) (#1) (Zen Publishing) (NIRA X) (ZEN COMICS) #1 (Zen Publishing) Very Fine

HUNGARIAN RHAPSODY GN (1986) #1 (Catalan Communications) Near Mint/Mint

I AM COYOTE GN (1984) #1 (Eclipse Enterprises) Near Mint/Mint

IGRAT (GLENN DANZIG) (1996) #1 (Verotik) Near Mint/Mint
IGRAT (GLENN DANZIG) (1996) #1 TOUR 1995 (Verotik) Near Mint/Mint
IGRAT (GLENN DANZIG) (1996) #2 (Verotik) Very Fine

IGRAT ILLUSTRATIONS (1997) #1 (Verotik) Near Mint/Mint

IGRAT TPB (1996) #1 (Verotik) Near Mint/Mint

JOSIE & THE PUSSYCATS (JOSIE #1-106) (1963) #58 (Archie Comics) Very Good

LADY DEATH: DRAGON WARS (1998) #1 (Chaos Comics) Near Mint/Mint

LAST VOYAGE OF SINBAD GN (1988) #1 (Catalan Communications) Near Mint/Mint

LYNCH MOB (1994) #4 (Chaos Comics) Near Mint/Mint

MESSIAH (1997) (#1) (VEROTIK) (ADULT) #1 (Verotik) Near Mint/Mint

MIRACLEMAN (1985) (#1-24) (ECLIPSE) #1 (Eclipse Enterprises) Fine
MIRACLEMAN (1985) (#1-24) (ECLIPSE) #1 (Eclipse Enterprises) Near Mint/Mint
MIRACLEMAN (1985) (#1-24) (ECLIPSE) #3 (Eclipse Enterprises) Near Mint/Mint
MIRACLEMAN (1985) (#1-24) (ECLIPSE) #5 (Eclipse Enterprises) Near Mint/Mint
MIRACLEMAN (1985) (#1-24) (ECLIPSE) #6 (Eclipse Enterprises) Near Mint/Mint
MIRACLEMAN (1985) (#1-24) (ECLIPSE) #7 (Eclipse Enterprises) Near Mint/Mint
MIRACLEMAN (1985) (#1-24) (ECLIPSE) #8 (Eclipse Enterprises) Near Mint/Mint
MIRACLEMAN (1985) (#1-24) (ECLIPSE) #9 (Eclipse Enterprises) Fine
MIRACLEMAN (1985) (#1-24) (ECLIPSE) #10 (Eclipse Enterprises) Near Mint/Mint

MIRACLEMAN BOOK TPB #3 (Eclipse Enterprises) Near Mint/Mint

MOVING FORTRESS GN (1988) #1 DIXON SGN (Four Winds Publishing) Near Mint/Mint

MR. MONSTER (ECLIPSE) (1985) #2 (Eclipse Enterprises) Near Mint/Mint
MR. MONSTER (ECLIPSE) (1985) #2 (Eclipse Enterprises) Very Fine
MR. MONSTER (ECLIPSE) (1985) #3 (Eclipse Enterprises) Near Mint/Mint
MR. MONSTER (ECLIPSE) (1985) #4 (Eclipse Enterprises) Near Mint/Mint

MR. MONSTER'S HIGH-OCTANE HORROR 3-D (1986) #1 W/OGLASSES (Eclipse Enterprises) Near Mint/Mint

MUSINGS (CALLIOPE COMICS PRESENTS) (1993) #3 (Calliope Comics) Very Fine

MY NAME IS GIRLS GN (TROUBLE WITH GIRLS VOL. 2) (1989) #1 (Marvel Malibu/Ultraverse) Near Mint/Mint

NEXUS: THE ORIGINAL NEXUS GRAPHIC NOVEL #1 (First Comics) Near Mint/Mint

NIGHTBREED CHRONICLES GN (CLIVE BARKER) (1990) #1 (Trade Items) Near Mint/Mint

NYGHT SCHOOL: DREAMS AND NYGHTMARES GN (1994) #1 (Brainstorm Comics) Near Mint/Mint

OMEN (1998) (#1-5) (CHAOS) #1 CARCASS (Chaos Comics) Near Mint/Mint
OMEN (1998) (#1-5) (CHAOS) #1 RIP (Chaos Comics) Near Mint/Mint
OMEN (1998) (#1-5) (CHAOS) #1 VOODOO (Chaos Comics) Near Mint/Mint
OMEN (1998) (#1-5) (CHAOS) #1 OBLIVIA (Chaos Comics) Near Mint/Mint
OMEN (1998) (#1-5) (CHAOS) #1 TEAM (Chaos Comics) Near Mint/Mint
OMEN (1998) (#1-5) (CHAOS) #1 VEX (Chaos Comics) Near Mint/Mint
ORIENT GATEWAY GN (1987) #1 (Catalan Communications) Near Mint/Mint

PHANTOM LADY: CRIME NEVER PLAYS TPB (1994) #1 (Verotik) Near Mint/Mint

PITT TPB (1996) #1 (Full Bleed Studios) Near Mint/Mint

PURGATORI (1998) (#0-7) (CHAOS) #1 (Chaos Comics) Near Mint/Mint
PURGATORI (1998) (#0-7) (CHAOS) #1 PREMIUM (Chaos Comics) Near Mint/Mint
PURGATORI (1998) (#0-7) (CHAOS) #2 (Chaos Comics) Near Mint/Mint
PURGATORI (1998) (#0-7) (CHAOS) #2 (Chaos Comics) Very Fine
PURGATORI (1998) (#0-7) (CHAOS) #3 (Chaos Comics) Near Mint/Mint
PURGATORI (1998) (#0-7) (CHAOS) #4 (Chaos Comics) Near Mint/Mint

PURGATORI: DRACULA GAMBIT (1997) #1 CENTENNIAL (Chaos Comics) Near Mint/Mint

PURGATORI: DRACULA GAMBIT SKETCHBOOK #1 (Chaos Comics) Near Mint/Mint


PURGATORI: VAMPIRE'S MYTH (1996) #1 LTD CHROMI

PURGATORI: VAMPIRE'S MYTH (1996) #1 LTD CHROMI (Chaos Comics) Near Mint/Mint
PURGATORI: VAMPIRE'S MYTH (1996) #2 WRAPAROUND (Chaos Comics) Near Mint/Mint
PURGATORI: VAMPIRE'S MYTH (1996) #2 WRAPAROUND (Chaos Comics) Very Fine
PURGATORI: VAMPIRE'S MYTH (1996) #2 WRAPAROUND (Chaos Comics) Fine

REID FLEMING, WORLD'S TOUGHEST MILKMAN (1986) #1 (Eclipse Enterprises) Near Mint/Mint

RETURN OF MISTER X TPB (1986) #1 (Vortex Comics, Inc.) Fair

SANDMAN (1988) (#1-75) (DC/VERTIGO) #2 (DC: Vertigo Press) Very Fine

SATANIKA (1996) (#0-11) (GLENN DANZIG) #1 (Verotik) Very Good
SATANIKA (1996) (#0-11) (GLENN DANZIG) #3 (Verotik) Very Good
SATANIKA (1996) (#0-11) (GLENN DANZIG) #4 (Verotik) Fine
SATANIKA (1996) (#0-11) (GLENN DANZIG) #5 (Verotik) Near Mint/Mint
SATANIKA (1996) (#0-11) (GLENN DANZIG) #6 (Verotik) Near Mint/Mint
SATANIKA (1996) (#0-11) (GLENN DANZIG) #7 (Verotik) Near Mint/Mint
SATANIKA (1996) (#0-11) (GLENN DANZIG) #8 (Verotik) Near Mint/Mint
SATANIKA (1996) (#0-11) (GLENN DANZIG) #9 (Verotik) Near Mint/Mint
SATANIKA (1996) (#0-11) (GLENN DANZIG) #10 (Verotik) Near Mint/Mint

SATANIKA ILLUSTRATIONS #1 (Verotik) Near Mint/Mint

SCARY TALES (1975) #16 (Charlton) Fine

SCOOBY DOO (1970) (#1-30) (GOLD KEY) #2 (Gold Key) Good

SCORPION (1975) #3 (Atlas/Seaboard) Fine

SCOUT (#1-24) (1985) #1 (Eclipse Enterprises) Near Mint/Mint
SCOUT (#1-24) (1985) #7 (Eclipse Enterprises) Near Mint/Mint

SCOUT: WAR SHAMAN (ECLIPSE)(#1-16) (1988) #4 (Eclipse Enterprises) Near Mint/Mint
SCOUT: WAR SHAMAN (ECLIPSE)(#1-16) (1988) #6 (Eclipse Enterprises) Near Mint/Mint
SCOUT: WAR SHAMAN (ECLIPSE)(#1-16) (1988) #12 (Eclipse Enterprises) Near Mint/Mint
SCOUT: WAR SHAMAN (ECLIPSE)(#1-16) (1988) #13 (Eclipse Enterprises) Near Mint/Mint

SEA HUNT (1958) #11 (Dell Publishing) Very Good

SEDUCTION OF THE INNOCENT (1985) (#1-6) (ECLIPSE) #1 (Eclipse Enterprises) Fine
SEDUCTION OF THE INNOCENT (1985) (#1-6) (ECLIPSE) #4 (Eclipse Enterprises) Near Mint/Mint


SIMPSONS COMICS (BONGO) (1993) #108

SIMPSONS COMICS (BONGO) (1993) #108 (Bongo Comics) Near Mint/Mint
SIMPSONS COMICS (BONGO) (1993) #109 (Bongo Comics) Near Mint/Mint
SIMPSONS COMICS (BONGO) (1993) #110 (Bongo Comics) Near Mint/Mint
SIMPSONS COMICS (BONGO) (1993) #111 (Bongo Comics) Near Mint/Mint
SIMPSONS COMICS (BONGO) (1993) #133 (Bongo Comics) Near Mint/Mint
SIMPSONS COMICS (BONGO) (1993) #200 (Bongo Comics) Very Fine
SIMPSONS COMICS (BONGO) (1993) #202 (Bongo Comics) Near Mint/Mint
SIMPSONS COMICS (BONGO) (1993) #203 (Bongo Comics) Near Mint/Mint

SIXX (1994) (#1-4) (ZYGOTIC STUDIOS) #2 (Zygotic Studios) Near Mint/Mint

SKIZZ GN (ALAN MOORE) (1989) #1 (Titan Distributing) Near Mint/Mint

SMILEY (THE PSYCHOTIC BUTTON) (CHAOS) (1998) #1 PREMIUM (Chaos Comics) Very Fine

SNOWMAN GN (MILO MANARA) (1990) #1 (Catacomb Publications) Near Mint/Mint

SPIDER-MAN U.K. ANNUAL #1986 (Marvel United Kingdom Publishings) Fine

SUNGLASSES AFTER DARK #1 (Verotik) Near Mint/Mint
SUNGLASSES AFTER DARK #3 (Verotik) Near Mint/Mint
SUNGLASSES AFTER DARK #4 (Verotik) Near Mint/Mint
SUNGLASSES AFTER DARK #5 (Verotik) Near Mint/Mint
SUNGLASSES AFTER DARK #6 (Verotik) Near Mint/Mint

SUNGLASSES AFTER DARK SAN DIEGO #1/2 #1 (Verotik) Near Mint/Mint
SUNGLASSES AFTER DARK SAN DIEGO #1/2 #1 (Verotik) Very Fine

SWAMP THING, SAGA OF (1982) #33 NEWSSTAND (DC: Vertigo Press) Very Fine
SWAMP THING, SAGA OF (1982) #34 NEWSSTAND (DC: Vertigo Press) Near Mint/Mint
SWAMP THING, SAGA OF (1982) #35 (DC: Vertigo Press) Near Mint/Mint
SWAMP THING, SAGA OF (1982) #36 (DC: Vertigo Press) Fine
SWAMP THING, SAGA OF (1982) #38 (DC: Vertigo Press) Fine
SWAMP THING, SAGA OF (1982) #39 (DC: Vertigo Press) Fine
SWAMP THING, SAGA OF (1982) #40 (DC: Vertigo Press) Fine
SWAMP THING, SAGA OF (1982) #41 (DC: Vertigo Press) Very Fine
SWAMP THING, SAGA OF (1982) #42 (DC: Vertigo Press) Near Mint/Mint
SWAMP THING, SAGA OF (1982) #67 (DC: Vertigo Press) Fine

TALES OF THE BEANWORLD (1985) #1 (Eclipse Enterprises) Fine
TALES OF THE BEANWORLD (1985) #2 (Eclipse Enterprises) Fine
TALES OF THE BEANWORLD (1985) #19 (Eclipse Enterprises) Fine


TAROT: WITCH OF THE BLACK ROSE (2000) #33 VARIANT

TAROT: WITCH OF THE BLACK ROSE (2000) #33 VARIANT (Broadsword Comics) Near Mint/Mint
TAROT: WITCH OF THE BLACK ROSE (2000) #34 (Broadsword Comics) Near Mint/Mint

TEARS OF DAWN (1994) #2 LIMITEDS&N (Sirius) Near Mint/Mint

TOMBSTONE BLUES #1 (Volunteer Comics) Near Mint/Mint

VALIANT MASTERS: SHADOWMAN VOL. 1: SPIRITS WITHIN HC (2013) #1 (Valiant Comics) Near Mint/Mint

VALKYRIE (1987) #1 (Eclipse Enterprises) Near Mint/Mint

VALKYRIE (1988) #1 (Eclipse Enterprises) Near Mint/Mint

VENUS DOMINA #1 (Verotik) Fine
VENUS DOMINA #2 (Verotik) Near Mint/Mint
VENUS DOMINA #3 (Verotik) Near Mint/Mint

VENUS DOMINA CANDELMASS EVE SPECIAL #1 EMOND (Verotik) Fine
VENUS DOMINA CANDELMASS EVE SPECIAL #1 PENARANDA (Verotik) Very Fine
VENUS DOMINA CANDELMASS EVE SPECIAL #1 STEVENS (Verotik) Near Mint/Mint
VENUS DOMINA CANDELMASS EVE SPECIAL #1 (Verotik) Very Fine

VENUS DOMINA ILLUSTRATIONS #1 (Verotik) Fine
VENUS DOMINA ILLUSTRATIONS #1 (Verotik) Very Fine

VENUS DOMINA WINGBIRD SAN DIEGO SPECIAL #1 (Verotik) Near Mint/Mint

VEROTIK ILLUSTRATED #1 (Verotik) Near Mint/Mint
VEROTIK ILLUSTRATED #2 (Verotik) Very Fine
VEROTIK ILLUSTRATED #3 (Verotik) Near Mint/Mint

VEROTIK ROGUES GALLERY OF VILLAINS #1 (Verotik) Near Mint/Mint
VEROTIK ROGUES GALLERY OF VILLAINS #1 (Verotik) Very Fine

VEROTIKA #1 (Verotik) Near Mint/Mint
VEROTIKA #2 (Verotik) Near Mint/Mint
VEROTIKA #3 (Verotik) Near Mint/Mint
VEROTIKA #4 (Verotik) Very Fine
VEROTIKA #5 (Verotik) Near Mint/Mint
VEROTIKA #6 (Verotik) Near Mint/Mint
VEROTIKA #7 (Verotik) Near Mint/Mint
VEROTIKA #8 (Verotik) Very Fine
VEROTIKA #9 (Verotik) Near Mint/Mint

VEROTIKA #10 (Verotik) Near Mint/Mint
VEROTIKA #11 (Verotik) Very Fine
VEROTIKA #12 (Verotik) Very Fine
VEROTIKA #13 (Verotik) Near Mint/Mint
VEROTIKA #14 (Verotik) Very Fine
VEROTIKA #15 (Verotik) Near Mint/Mint

VEROTIKA EAST #1 (Verotik) Near Mint/Mint
VEROTIKA EAST #2 (Verotik) Near Mint/Mint

WEIRD ROMANCE (1988) #1 (Eclipse Enterprises) Fine

WILL EISNER PRESENTS! #1 (Eclipse Enterprises) Near Mint/Mint

WINGBIRD AKUMA SHE #1 (Verotik) Near Mint/Mint

WINGBIRD BLACK & WHITE BONDAGE #1 (Verotik) Near Mint/Mint

WINGBIRD IGRAT X #1 (Verotik) Near Mint/Mint

WINGBIRD RETURNS #1 (Verotik) Near Mint/Mint

WINTERWORLD (1987) (#1-3) (ECLIPSE) #1 (Eclipse Enterprises) Very Fine

WITCHBLADE (1995) #87 VARIANT (Image Top Cow) Fine
WITCHBLADE (1995) #89 (Image Top Cow) Near Mint/Mint
WITCHBLADE (1995) #90 (Image Top Cow) Very Fine
WITCHBLADE (1995) #91 (Image Top Cow) Near Mint/Mint
WITCHBLADE (1995) #92 (Image Top Cow) Near Mint/Mint

WITCHBLADE COLLECTED EDITIONS SET (#1-4) (1996) #1 (Image Top Cow) Near Mint/Mint
WITCHBLADE COLLECTED EDITIONS SET (#1-4) (1996) #1 2X SIGNED (Image Top Cow) Near Mint/Mint

WONDER WOMAN: DC COMICS WAR YEARS 1940-1946 HC (2015) #1 (Chartwell Books) Very Fine

WORLD OF WOOD (1986) #2 (Eclipse Enterprises) Near Mint/Mint
WORLD OF WOOD (1986) #3 (Eclipse Enterprises) Near Mint/Mint
WORLD OF WOOD (1986) #4 (Eclipse Enterprises) Near Mint/Mint
WORLD OF WOOD (1986) #5 (Eclipse Enterprises) Near Mint/Mint

ZOT! (1984) #19 (Eclipse Enterprises) Near Mint/Mint
ZOT! (1984) #20 (Eclipse Enterprises) Near Mint/Mint

ZOT! (1984) #22 (Eclipse Enterprises) Near Mint/Mint
ZOT! (1984) #24 (Eclipse Enterprises) Near Mint/Mint
ZOT! (1984) #27 (Eclipse Enterprises) Near Mint/Mint
ZOT! (1984) #32 (Eclipse Enterprises) Near Mint/Mint
ZOT! (1984) #33 (Eclipse Enterprises) Very Fine
ZOT! (1984) #35 (Eclipse Enterprises) Near Mint/Mint