Silver Age DC Comics Plus CLASSICS ILLUSTRATED
Howdy!
I had a longtime client of Mile High Comics write to say that he was leaving us today because of my filling my newsletter with too much information about my efforts in the LGBTQ Community, and my work with the homeless. I understand his frustration on some levels, as most commercial newsletters are essentially just chatty ads trying to sell you goods or services via spiffy prose. If you subscribed to the Mile High Comics newsletter intending to hear only about the latest comic book collections we have purchased, or what our discount sale is for that day, I can see where my insertion of my personal efforts as regards social change could easily be viewed as an unwelcome intrusion.
Turning things around, however, I have had hundreds (if not thousands) of our readers compliment me on my efforts toward positive social change, and my advocating for our local LGBTQ Community. If my helping others in a very public fashion (and then writing about my experiences in this newsletter) means that I offend some people, that is an unintended consequence, but a burden that I am also prepared to bear. The truth of the matter is that I have always written my newsletters from the heart, and in a very personal way, because that is how I approach the world at all times. As much as I do need the support of fans from the world of comics to keep our beloved company going, I would still walk away from it all tomorrow if all I could write about is sales. That is not who I am, and my newsletters will never, ever, hew to the "only business" model.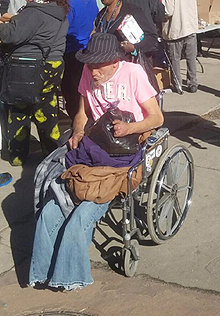 This really nice man needs our help, too.

Going one step further, after 47 years of selling comics, I feel like I owe an obligation to give back to our community, and our nation. This newsletter provides me with the ability to reach thousands of like-minded comics fans who also want to help others. As such, this newsletter becomes an amazing catalyst for much positive action. Aside from the tremendously successful gift certificate promotions that I offer online, the auctions, autograph parties, free comic book events, clothing drives, and other community activities that we host at our Jason St. Mega-Store allow everyone who so wishes to contribute toward helping those in need.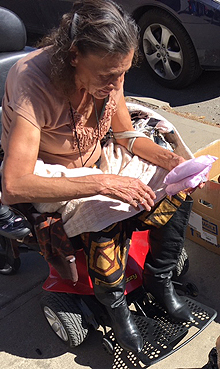 These are the people for whom I work.

The net result of our efforts at Mile High Comics is that over the past three years, we have raised well over $100,000.00 in donations for groups serving the poor and homeless, the disabled, the terminally ill, gay youth, suicide prevention, veterans, sexually abused kids, and many others in need. If my writing in this newsletter about advocating and working for these people means that I have lost some readers, that is a cost I am willing to bear. I seek to offend no one, but I am also not about to change. 'Nuff said.
Moving on to news from the comics world, Will and Pam both added very large groupings of older comics into our inventory at the end of last week. Some were from new collections, and some were issues that are being relisted in new inventory categories. No matter what the case might be, I thought that you might have an interest in seeing some examples of our most recent efforts. Below are links to several runs of key Silver Age and Bronze Age titles ( MAD, MYSTERY IN SPACE, OUR ARMY AT WAR, OUR FIGHTING FORCES, RIP HUNTER, SEA DEVILS, SHOWCASE, and WATCHMEN. We also just located a great collection of CLASSICS ILLUSTRATED, CLASSICS ILLUSTRATED, JR., and some of the very scarce CLASSICS specials, entitled THE WORLD AROUND US. All of these issues can be purchased at 30% off when our ongoing SWEETHEART! codeword is utilized.
I did want to mention quickly that our annual 30% off SWEETHEART! codeword sale on all of our back issues will end tomorrow (Tuesday) at noon. Our half price trade paperbacks sale (40% off on hardbacks) also ends tomorrow at noon. No codeword is needed to obtain the 40%-50% book discounts, as they are already posted for your right in our website.
Thank you for your kindness, and your support of Mile High Comics.
Happy collecting!
Chuck Rozanski,
President - Mile High Comics, Inc.
February 20, 2017