4-Day Book Sale All TPB's 50% Off - HC's 40% Off
Howdy!
I want to begin today by thanking everyone who contributed items (or made a cash donation) toward our "Women Giving Back to Women" event at Feeding Denver's Hungry. We had over 700 homeless, disabled, and elderly people show up yesterday for our weekly food distribution, of which approximately 200 were women and girls. We gave away all of the personal items, cosmetics, and clothes that we had brought for them within an hour, and received heartfelt gratitude in return. None of this could have come to pass without your support, however, so I want you to know that all of us at Mile High Comics are very grateful for your help.
Moving on to comics news, Will and Pam have both purchased major comics collections in the past two days. We have not yet had a chance to grade those issues, however, so they will be spotlighted in Monday's newsletter. In the meantime, I thought that I would enplanement a very short duration sale, placing all 200,000 of our trade paperbacks on sale for you at 50% off, and all 50,000 of our comics hardback collections at 40% off. No codeword is needed with this awesome book sale, as our book prices have been slashed for you right on our website. Please note, however, that this very generous book sale must end promptly next Tuesday, at noon. Enjoy!
Speaking of books, did you know that we have a newly arrived books listing? We update this listing daily to reflect not only the collections that we are purchasing, but also our new weekly arrivals from Diamond Distributing. I'm asking Will to put a small section of our newly arrived books listing at the end of this newsletter, just so that you can easily see an example of our weekly update.
In other news, our annual 30% off SWEETHEART! codeword sale will also be ending at noon, on Tuesday. The SWEETHEART! codeword provides you with a 30% off discount on all ten million! of our back issue comics and magazines, excepting only new issues, a few variants, and our CGC graded issues. You have only four days left. 'Nuff said.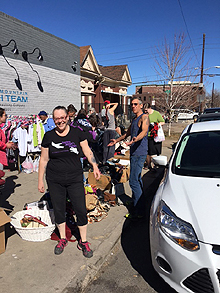 Kristina Fellows and Dale Epps were helping everywhere!

I will close today's newsletter with a few photos from yesterday's Feeding Denver's Hungry "Women Giving Back To Women" day. If you are ever in Denver, and would like to help us, please send a message to me at chuckrozanski@gmail.com. I'll be sure to get you all the relevant information. We would love to have you join us!
Happy collecting!
Chuck Rozanski,
President - Mile High Comics, Inc.
February 17, 2017

P.S. Over 400 Mile High Comics fans from the Denver area voted for Empress 43 Norrie Reynolds of the Imperial Court of the Rocky Mountain Empire, in last April's election. I want those of you who placed your faith in Norrie's abilities (and her dedication to the disadvantaged in our community...) to know that it was Norrie Reynolds and Kristina Fellows who conceptualized, and then organized, "Women Giving Back To Women." Both Norrie and Kristina also worked their tails off yesterday, so they absolutely deserve our gratitude for doing a wonderful thing for these ladies in need in our community.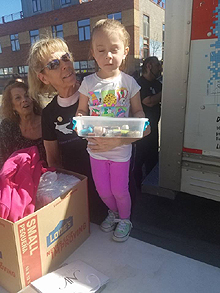 Norrie and her able assistant, Kristina's daughter!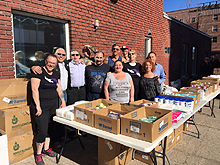 Imperial Court members at "Women Giving Back To Women."

A few Trades that are instock now!

ACG COLLECTED WORKS: ADVENTURES INTO THE UNKNOWN HC (2012) #3 Near Mint
ADVENTURES OF HAMTARO: HOME FOR HAMTARO GN (VOL. 1) (2002) #1 HC Very Fine
ADVENTURES OF TINTIN HC (2004) #6 9TH PRINT Near Mint
AMERIMANGA (2002) #2 Very Fine, #3 Fine, #3 Very Fine
ANNOYING ORANGE VOL. 5: TRANSFARMERS HC (2014) #1 Near Mint
ARANA VOL. 1: HEART OF THE SPIDER DIGEST TPB (2005) #1 Near Mint
ARCHIE COMICS SPECTACULAR: SCHOOL DAZE TPB (2013) #1 Very Fine
AVENGERS: ULTRON UNLIMITED TPB (2001) #1 Near Mint
BATMAN/SUPERMAN VOL. 1: CROSS WORLD HC (2013) #1 Very Fine
BATMAN: A DEATH IN THE FAMILY TPB (1988) #1 2ND PRINT Very Good
BATMAN: KNIGHTS END TPB (KNIGHTFALL) #1 2ND PRINT Very Fine
BATMAN: THE LONG HALLOWEEN TPB (1999) #1 10TH 2009 Very Fine
BECKETT YU GI OH COLLECTOR (2003) #4 Very Fine
BEST OF NATIONAL LAMPOON (MAG) #4 Very Good, #5 Very Fine
BIRDS OF PREY: OF LIKE MINDS TPB (2004) #1 Very Fine
BOMB QUEEN TPB (2006) #4 Good
CAPTAIN AMERICA: CLASSIC YEARS HC SLIPCASE COLLECTION #1 Very Fine
CAPTAIN AMERICA: DEATHLOK LIVES TPB (1993) #1 Fine
CARTOON NETWORK BLOCK PARTY: BLAST OFF (VOL. 4) (2006) #1 Near Mint
CARTOON NETWORK BLOCK PARTY: CAN YOU DIG IT (VOL. 3) (2006) #1 Near Mint
CARTOON NETWORK BLOCK PARTY: READ ALL ABOUT TPB (VOL.2) (2005) #1 Fine, #1 Near Mint
CARTOON NETWORK JAM PACKED ACTION TPB (2004) #1 Near Mint
CROW COLLECTED TPB #1 7TH PRINT Very Fine
DARK KNIGHT TRADE PAPERBACK (WARNER) (1986) #1 Very Fine
DEATH OF SUPERMAN TPB #1 Near Mint
DREAMLAND CHRONICLES TPB (2006) #1 Fine, #2 Fine, #3 Fine
ELEKTRA SAGA TPB #1 Very Fine
EMMA FROST: BLOOM DIGEST TPB (VOL. 3) (2005) #1 Near Mint
ESSENTIAL MARVEL HORROR TPB (2006) #2 Fine, #2 Near Mint
GOLDEN AGE GREATS SPOTLIGHT (2003) #17 Near Mint
GRAVITY: BIG CITY SUPER HERO DIGEST (2005) #1 Very Fine, #1 Near Mint
GREATEST JOKER STORIES EVER TOLD TPB (WARNER) #1 2ND PRINT Very Fine
GREEN LANTERN: SECRET ORIGIN TPB (2010) #1 Fine
HARVEY HORRORS: CHAMBER OF CHILLS SOFTIE TPB (2013) #1 Very Fine, #2 Near Mint, #3 Near Mint, #4 Near Mint, #5 Near Mint
HARVEY HORRORS: WITCHES TALES SOFIE TPB (2013) #1 Very Fine, #2 Near Mint, #3 Near Mint, #4 Near Mint, #5 Very Fine
HAWKEYE VOL. 2: LITTLE HITS TPB (2013) #1 Fine, #1 Very Fine
HELLBOY & THE BPRD: 1952 TPB (2015) #1 Very Fine
HUMAN TORCH: BURN DIGEST (VOL. 1) (2005) #1 Near Mint
IDENTITY CRISIS TPB (2006) #1 Near Mint
JUSTICE LEAGUE ADVENTURES: FRIENDS AND FOES TPB (VOL.2) (2004) #1 Very Fine, #1 Near Mint
JUSTICE LEAGUE UNLIMITED: CHAMPIONS OF JUSTICE TP (V.3) (2006) #1 Very Fine
JUSTICE LEAGUE UNLIMITED: JAM PACKED ACTION TPB (2005) #1 Very Fine, #1 Near Mint
KNIGHTS OF THE DINNER TABLE: BUNDLE OF TROUBLE #6 2ND PRINT Fine
LEGENDLORE: TAINTED SOUL TPB #1 Very Fine
LIVEWIRES: CLOCKWORK THUGS YO DIGEST TPB (2005) #1 Near Mint
MACHINE TEEN: HISTORY 101001 DIGEST TPB (2005) #1 Near Mint
MAI VOL #3 Very Fine, #3 Very Fine
MAN-EATING COW BONANZA #2 Near Mint
MARVEL ADVENTURES SPIDER-MAN: DOOM WITH VIEW DIGEST TPB (2006) #1 Near Mint
MARVEL ADVENTURES SPIDER-MAN: FIERCEST FOES DIGEST (2008) #1 Near Mint
MARVEL ADVENTURES SPIDER-MAN: FORCES OF NATURE DIGEST (2008) #1 Near Mint
MARVEL ADVENTURES SPIDER-MAN: SECRET IDENTITY DIGEST (2007) #1 Near Mint
MARVEL ADVENTURES: AVENGERS DIGEST (2006) #5 Near Mint
MARVEL ADVENTURES: FANTASTIC FOUR DIGEST TPB (2006) #2 Near Mint, #3 Very Fine, #3 Near Mint, #4 Near Mint, #5 Fine, #5 Near Mint, #6 Near Mint, #8 Near Mint, #9 Near Mint
MARVEL ADVENTURES: HULK DIGEST (2007) #4 Near Mint
MARVEL ADVENTURES: IRON MAN DIGEST (2007) #2 Near Mint
MARVEL AGE FANTASTIC FOUR DIGEST TPB (2004) #1 Near Mint, #2 Near Mint, #3 Very Fine, #3 Near Mint
MARVEL AGE SENTINEL DIGEST TPB (2004) #2 Near Mint
MARVEL AGE SPIDER-MAN DIGEST TPB (2004) #4 Very Fine
MARVEL HOLIDAY SPECIAL DIGEST TPB (2006) #1 Near Mint
MARVEL MASTERWORKS NEW EDITION: FANTASTIC FOUR (2003) #12 DELUXE Near Mint
MARVEL NEMESIS: IMPERFECTS DIGEST TPB (2005) #1 Near Mint
MARVEL UNIVERSE: SPIDER-MAN AND THE AVENGERS TPB (2012) #1 Near Mint
MARY JANE: HOMECOMING DIGEST TPB (VOL. 2) (2005) #1 Near Mint
MAUS: A SURVIVOR'S TALE HC (EVERBIND BOOKS EDITION) #1 Very Fine
MIXXZINE (1997) #1 1-3 Very Fine, #1 1-3 Near Mint
MYRIAD: SAN JOAQUIN COLLECTION #1 Fine, #1 Very Fine
ORIGINS OF MARVEL COMICS COLLECTION (1974) #1 Good
POPPIES ADVENTURES: SERPENTS IN PARADISE GN (2003) #1 Fine
POWERPUFF GIRLS: TITANS OF TOWNSVILLE TPB (VOL. 1) (2003) #1 Near Mint
RICK & MORTY TPB (2015) #4 Near Mint, #4 Near Mint
ROBOCOP VOL. 2: LAST STAND PART 1 TPB (2014) #1 Very Fine
ROY THOMAS PRESENTS CAPTAIN VIDEO HC (2013) #1 Very Fine
SCOOBY DOO: SPACE FRIGHT TPB (VOL. 6) (2006) #1 Very Fine, #1 Near Mint
SCOOBY DOO: SURF'S UP TPB (VOL. 5) (2006) #1 Near Mint
SENTINEL: PAST IMPERFECT DIGEST TPB (VOL. 3) (2006) #1 Very Fine
SHELL SHOCK TPB #1 Fine
SHOJO BEAT (2005) #3 Fine, #3 Near Mint
SHOWCASE PRESENTS: SUPERMAN TPB (2005) #1 Fine
SPIDER-GIRL PRESENTS: AVENGERS NEXT DIGEST TPB (2006) #1 Near Mint
SPIDER-GIRL: BETRAYED DIGEST TPB (VOL. 7) (2006) #1 Very Fine, #1 Near Mint
SPIDER-GIRL: TURNING POINT DIGEST TPB (VOL. 4) (2005) #1 Near Mint
SPIDER-MAN: BACK IN BLACK TPB (2008) #1 Good
SPIDER-MAN: CLONE GENESIS TP #1 Near Mint
SPIDER-MAN: HOOKY GN (1986) #1 Near Mint
STAND: AMERICAN NIGHTMARES HC (2009) #1 Very Good, #1 Fine, #1 Near Mint
STAR WARS: A NEW HOPE SPECIAL EDITION TPB #1 Near Mint, #1 DFE S&N Near Mint
STAR WARS: BATTLE OF THE BOUNTY HUNTERS (1996) #1 Very Fine
STAR WARS: DARK EMPIRE COLLECTION TPB #1 4TH PRINT Near Mint
STAR WARS: EMPIRE STRIKES BACK SPECIAL EDITION TPB #1 Near Mint, #1 DFE S&N Near Mint
STAR WARS: HEIR TO THE EMPIRE TPB #1 DFE S&N Near Mint
STAR WARS: RETURN OF THE JEDI SPECIAL EDITION TPB #1 Near Mint, #1 DFE S&N Near Mint
STAR WARS: SHADOWS OF THE EMPIRE: EVOLUTION TPB #1 Near Mint
STORMWATCH TPB (2013) #2 Near Mint
SUPER HERO SQUAD DIGEST: SQUADDIES FOREVER TPB (2010) #1 Very Fine, #1 Near Mint
SUPERMAN ADVENTURES: LAST SON OF KRYPTON TPB (VOL. 3) (2006) #1 Near Mint
SUPERMAN ADVENTURES: NEVER ENDING BATTLE TPB (VOL. 2) (2004) #1 Near Mint
TABOO #5 Fine
TEEN TITANS: GO-BRING IT ON TPB (VOL. 3) (2005) #1 Near Mint
TEEN TITANS: GO-TRUTH, JUSTICE, PIZZA TPB (VOL. 1) (2004) #1 Near Mint
TOMB RAIDER: SAGA OF THE MEDUSA MASK TPB (2000) #1 2ND PRINT Fine, #1 2ND PRINT Very Fine, #1 2ND PRINT Near Mint
TORCHY TPB #1 Very Fine, #1 Near Mint
TRIALS OF SHAZAM TPB (2007) #2 Very Fine, #2 Near Mint
TROLLORDS CLASSICS VOL. #1 Very Fine, #1 Near Mint
TWILIGHT ZONE VOL. 3: THE WAY BACK TPB (2015) #1 Very Fine
UNEXPURGATED CARL BARKS #1 Very Fine
WONDER WOMAN '77 TPB (2016) #2 Near Mint, #2 Near Mint
X-MEN CROSSROADS TPB (1998) #1 Very Fine
X-MEN MOVIE TPB #1 X PHOTO Near Mint
X-MEN SURVIVAL GUIDE TO THE MANSION (1993) #1 Near Mint
X-MEN VS. APOCALYPSE: THE TWELVE TPB (2008) #1 Fine
X-MEN VS. THE AVENGERS TPB (1993) #1 Fine
X-MEN: UNLIKELY SAGA OF XAVIER, MAGNETO, AND STAN LEE (2006) #1 Fine