New Arrivals - MAD, NATIONAL LAMPOON, Charlton Titles
Howdy!
I have been running all day, just trying to catch up. I started off with an important business breakfast, then arrived at Jason St. Just in time to purchase a really nice collection. Tomorrow's New-In-Stock will feature a really nice run of older MAD MAGAZINE, a couple of issues of PANIC, and several rare NATIONAL LAMPOON editions. All will be available to you at a full 30% off when you utilize our ongoing SWEETHEART! codeword.
Here are some photo arrays of other great comics and magazines that we just received:
In other news, our big clothing and toiletries giveaway for women will be held this Thursday, beginning at 11 AM. If you live anywhere near Denver and would like to help us, the volunteers from "Feeding Denver's Hungry" will gather at 10 AM on Thursday at Li'l Devils Bar, located one block north of the corner of Broadway and Alameda. We will then ahead down to Urban Peak to help the teens at about 10:30, and then over to the St. Francis Center at 11:00. We should be done by 12:30.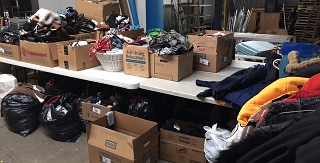 Tables Full of Donated ladies clothes

So you know, while our most concentrated effort this week will go toward helping girls and women (we do already have well over 100 homeless women who rely upon us for help...), we will also be helping the boys and men with clothing and food. We are expecting at least 30 volunteers to help us empty six trucks this week, so join us for a very fun time, that also ends up making you feel really good.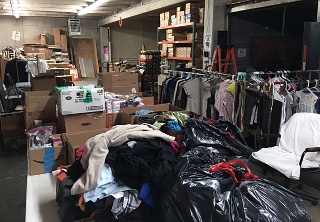 Sorting area of Donated Ladies clothes

I will close today's newsletter with a photo of myself, Thomas Herron, and Steven Ault. We were the three top place winners in our quarterly Royal Poker Club Tournament of Champions! I took second prize, which is my best Championship finish to date. I lost to my best friend, Steven, with my King/10 suited to his King/3, when the flop contained both a king, and a darn 3. Oh well, maybe next time I'll be able to hold on for First place...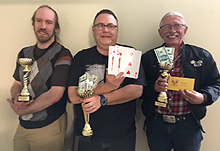 Thomas Herron, Steven Ault, and Chuck Rozanski. Winners of the Royal Poker Club Tournament of Champions

Happy collecting!
Chuck Rozanski,
President - Mile High Comics, Inc.
February 13, 2017