Mad Magazines, National Lampoon, Eisner's Spirit 30% Off
Howdy!
The biggest news for today is that I purchased a fantastic MAD MAGAZINE collection on Saturday. It begins with #26, and then runs for nearly twenty years!, through #250. This awesome single owner collection also contained MAD SPECIALS, several very early MAD calendars, and also a nice run of SPIRIT magazines from both Warren Publishing and Kitchen Sink Press. The final component of this collection were a slew of early NATIONAL LAMPOON issues, all of which feature early Underground Comix art. Fun!
As this week's New-In-Stock and Premium New-In-Stock links clearly illustrate, Will and Pam have also been avidly buying collections for us. Our diversity and depth of selections continue to expand for you, quite literally by the day. All of these items are also available to you at a full 30% off of the prices listed on our website, via our ongoing NEWHOPE! codeword. Only new issues, a few variants, and our CGC-graded issues are excluded from the codeword. Will is posting several nice arrays of MAD MAGAZINES for you below.
In other news, I just finished helping Jim Scharper's "Feeding Denver's Hungry" volunteers with unloading two gigantic pickup truckloads of used clothing on our Jason St. loading dock. We will now spend the rest of the day sorting these donated items on a dozen folding tables, so that we can then distribute them to the homeless at Urban Peak and the St. Francis center on Thursday morning.
Two truckloads of used clothing may seem like a lot, but when you consider that we seek to assist over 500 homeless, elderly, and disabled clients, we are actually still quite short on warm clothes. If you live in the Denver area, and could help us out by dropping off some used clothing at any one of our three stores, we would be genuinely grateful. While coats, jackets, sweaters, and jeans are in highest demand, we accept darn near anything, as long as it is clean and still usable. We also don't need you to sort things, so you can just drop off your used clothing in clean trash bags. I spent all day last Sunday creating a highly efficient clothing sorting area for "Feeding Denver's Hungry" on our huge Jason St. loading dock, so we now have plenty of room for lots more donations.
So you know, one type of clothing that we especially need right now is clothing for women and girls. The general assumption about homelessness is that it strikes only men. Nothing could be further from the truth. Sadly, approximately 30% of the homeless clients that we serve each week are women and girls. As the women who volunteer with "Feeding Denver's Hungry" are well aware, being homeless is especially heartbreaking when you are female. Not only are you physically vulnerable, but maintaining personal appearance and hygiene becomes an enormous difficulty.
With that thought in mind, our female volunteers (led by Kristina Fellows and ICRME Empress 43 Norrie Reynolds) have created a special women's day on Thursday, February 23rd. On that day we are going to try and have a full compliment of items available that women need to not only improve their appearance and hygiene, but also to help them in finding employment. If you could please donate any of the items listed below, all of our volunteers would be sincerely grateful. We will gladly accept shipments from out-of-state for this women's event, and would ask that you direct all packages to:
Mile High Comics
Attn: ICRME Giveaway
4600 Jason St.
Denver, CO 80211

Here is the request from Kristina and Norrie:
"CALLING ALL GIRLS!
It's our time to shine and step up to the plate. Lately we've seen far to many women on the streets in desperate need of hygiene and girly thing's soooooo, the women of "Feeding Denver's Hungry" and of ICRME thought it was time to get our girly on. We are doing a girly donations drive, and here's what we need...
Purses
Handbags
Backpacks
Makeup bags
Personal Hygiene Products
Hairbrushes
Combs
Detangler spray
Hair Ties
Deodorant
Wet wipes
Chapstick
Lip gloss
Hand sanitizer
Toothpaste
Toothbrushes
Body Spray
Small mirrors
Nail files
Nail clippers
Grooming tools
Q-tips
Small soaps
Small shampoos
Small cream rinse
Small body lotion

Also, new or gently used clothing such as:
Bras
Socks
Shoes
Hats
Gloves
Coats
Sweaters
Jeans
Leggings

If you have any items to donate please drop them off at any Mile High Comics location, and we will get those items picked up, and distributed to women and girls in need. Thank you in advance to all you beautiful ladies out there changing the life of one Soul one day at a time."
If you can help with anything from the list above, we would be most grateful.
I will close today's newsletter with a photo of our Jason St. store kitty, Cambridge, wrapping herself for immediate shipment. She's cute as can be, but also a little snippet who knows full and well that she's adored...
Happy collecting!
Chuck Rozanski,
President - Mile High Comics, Inc.
February 1, 2017

P.S. Our benefit poker game for Denver's Children's Hospital raised over $2,200 last Saturday! The winner of First Place, John! donated his $500 gift certificate back to us to raffle off at a future benefit. Thank you, John, for showing us all amazing kindness and class!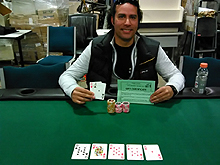 Winner of the Poker Tournament (John)